Now normally I would steer clear of any restaurant that bills itself as the "best outdoor patio dining in LA," but I had to meet a friend in the area and decided to give Eveleigh a try. One of LA's innumerable local, seasonal, market-driven, farm-to-table gastropubs, the restaurant has managed to stick around for a couple of years which I took as a good sign. The restaurant is run by Jordan Toft, a Sydney native who worked in Australia and Europe before coming to California to open Eveleigh with owners Nick Mathers & Nick Hatsatouris.

YELLOW JACKET - mezcal, yellow chartreuse, st germain, orange bitter
Most Mezcal cocktails that I've had fall along the margarita style but this blends the smoky heft with a potent herbal flavor; a wonderful use of Mezcal in an old fashioned cocktail.



PRESCRIPTION JULEP 14 - cognac, rye whiskey, pot still Jamaican rum, mint, cane sugar
The cognac and rye certainly make their presence felt but it the minty sweetness of the julep helps take some of the edge off.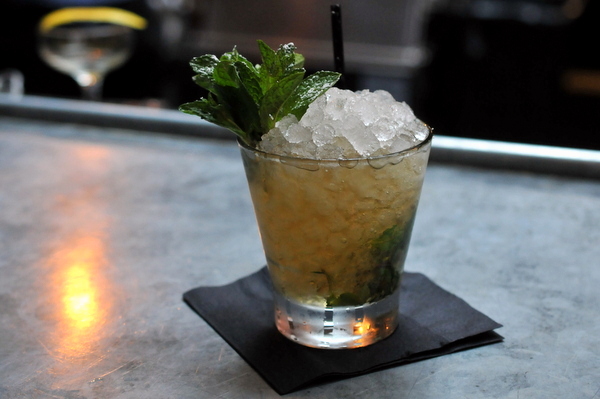 GRILLED MONTEREY SQUID - aioli, lemon, olive oil, chili flakes
Grilled squid is one of my go-to items on any menu and this certainly didn't disappoint. The beautifully caramelized squid offered couples a potent savor with the essence of the sea. The aioli brings a creamy fattiness to the snappy texture of the squid while the lemon adds a brilliant acidic balance to the entire dish.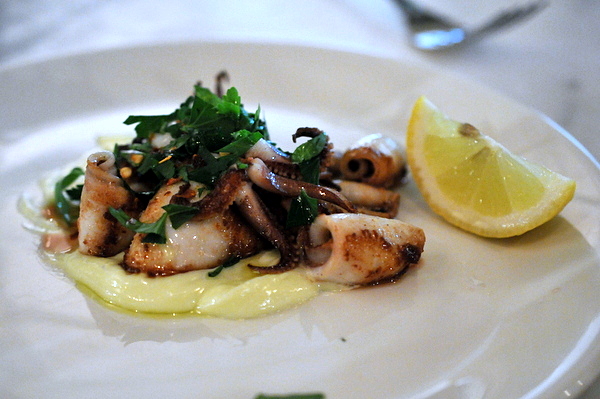 DUNGENESS CRAB TAGLIATELLE
Continuing on with the slate of sea dishes we moved onto a dungeness crab tagliatelle. Definitely more one-note than the previous dish, the sauce has an overbearing note of crab mustard and as much as I enjoy the stuff, I would have liked a bit more complexity.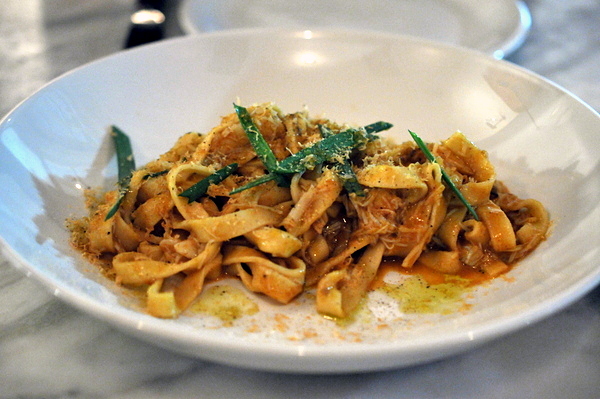 LIVE WHOLE SEA URCHIN - citrus and ponzu
I'm a sucker for uni and it doesn't get much fresher than this. The first piece was absolute bliss, icy cold, creamy and sweet without any trace of bitterness. The roe is so good that it doesn't need accompaniments, but the ponzu and citrus are natural pairings.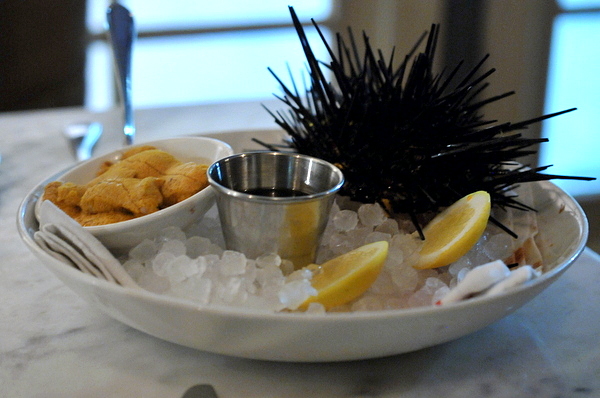 EVELEIGH BURGER - selection of dry aged cuts, fontina, tomato-chorizo relish, pickles, mustard aioli, french fries
The one defining characteristic of Eveleigh's signature burger is its stupendous beefy savor set off by the light buttery flavor of the Fontina. The relish and mustard bring a stinging acidic zest while the lettuce, onions and pickles add a much-needed succulence.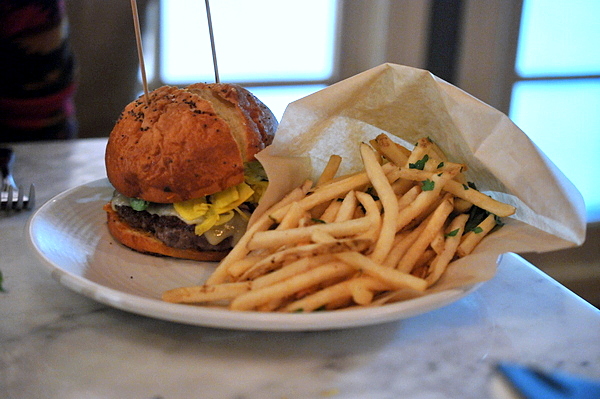 GRILLED RAPINI - chili, anchovy, vinegar, garlic
I tend to shun vegetable dishes, but I do have a soft spot for simple grilled preparations like this rapini: beautifully grilled, still-crisp and laden with fresh bitter nutty flavor suffused with char.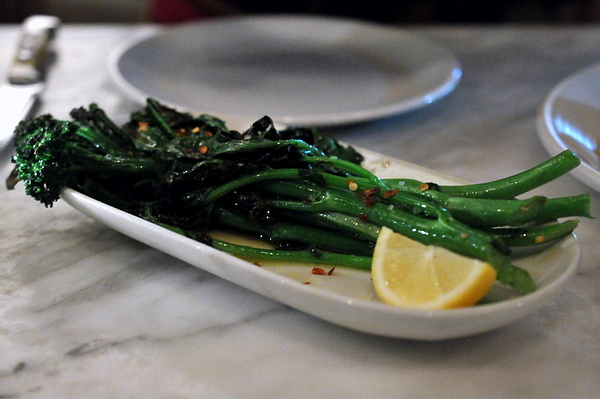 PATATAS BRAVAS - fried russet potatoes, thyme, rosemary, sea salt, chili pepper aioli
Though I'm a fan of potatoes I've always found patatas bravas a bit heavy, and the overfried potatoes were especially ponderous this late in the meal. Despite that, I enjoyed the herbaceous verve of the thyme and rosemary as well as the bite of the aioli, though I wouldn't have minded a bit more heat on the dish.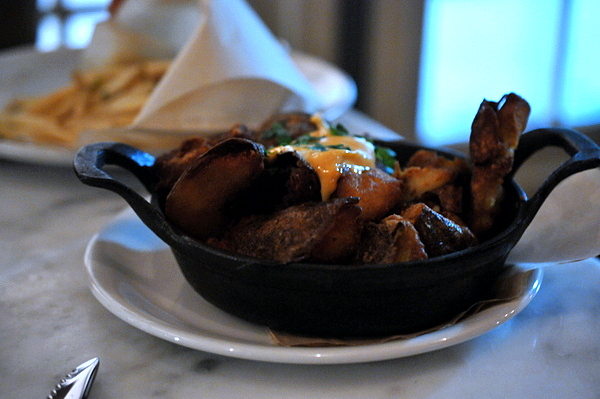 WARM DOUGHNUTS - spiced sugar, plum jam, whipped cream
We asked our server to bring out a random dessert and he picked the doughnuts. Warm fluffy and dusted with a delightful cinnamon-sugar I didn't even bother with the cream or jam, preferring to enjoy the doughnuts on their own.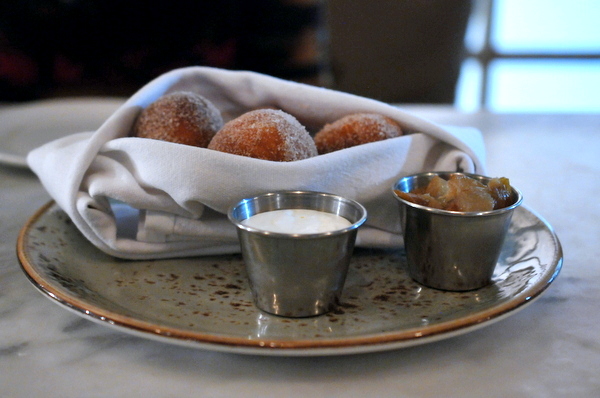 With solid food and cocktails, Eveleigh pretty much lived up to my expectations. Though the decor smacks of hipster pseudo-rusticity, the food is enjoyable if not groundbreaking; you certainly could do worse in WeHo.