716 N. Highland Ave
Los Angeles, CA 90038

It may be hard to believe but Ludovic Lefebvre, the king of pop-ups, has finally grown up and settled down. Partnering with the two dudes, Jon Shook and Vinny Dotolo, Ludo has opened his first permanent spot, Trois Mec. Rather than take the easy way out and creating a permanent version of his famous pop-up, Ludo opted for more of a bistronomy concept, serving fine dining in a more casual setting. Taking a page from Grant Achatz's Next, Trois Mec utilizes a ticket system for its reservations with diners paying in advance for a prix fixe menu.

Elderflower Mugwort Beer
The welcoming cocktail consisted of a light beer made from mugwort, an aromatic herb used in Asian medicine. The beer is initially blunted by a sweet elderflower syrup, but a clean bitterness is apparent on the finish.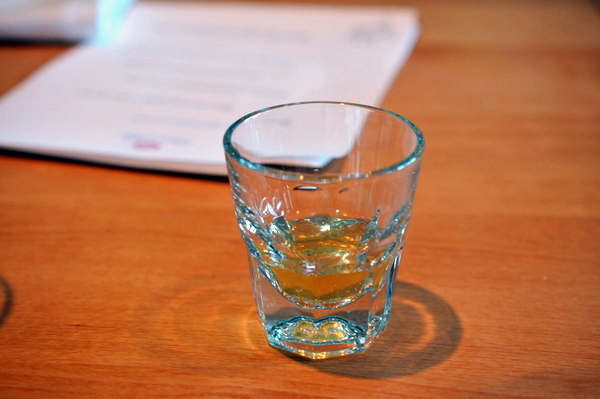 Herb Tart - gem lettuce, watercress vinaigrette
2011 Éric Texier Rouletabulle
This course has evolved so much since my last visit. Instead of a blunt one dimensional pastry, the vegetables play an integral role headlined by the vinaigrette. The dressing brings acidity that elevates the vegetables giving them the strength to match the buttery heft of the tart



Buckwheat Popcorn - rice vinegar powder
2011 Éric Texier Rouletabulle
The tiny granules have a crunchy savor similar to Japanese rice crackers that would be delicious but a bit simplistic on their own but the vinegar adds a delightfully nervy twang that really sets the "popcorn" off.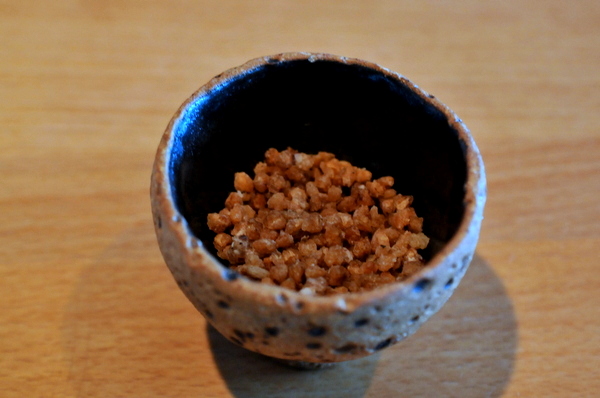 English Peas - miso mayo, asparagus, mustard flower, marinated salmon roe
2011 Éric Texier Rouletabulle
Despite having the fresh levity of a salad, this dish packs an immensely satisfying savor.that made it my favorite course of the night. The taut grassy peas are tinged with an overarching acidity coupled with the deep umami essence of the marinated roe, easy to appreciate yet fantastically complex and nuanced.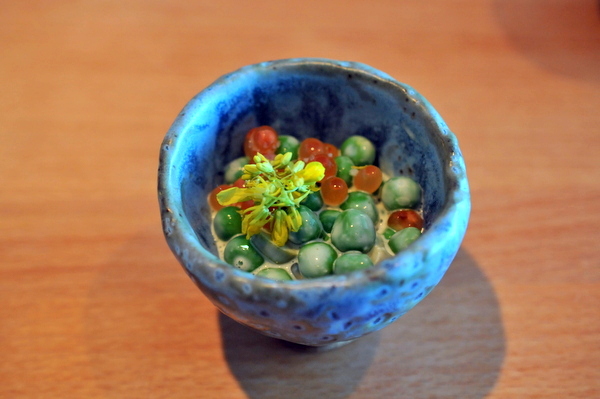 Grilled Chicken - sesame, mustard
2011 Éric Texier Rouletabulle
Our server called this Trois Mec's answer to Kyochon. In all honesty, the morsel lacks the simple glut of flavor of a fried chicken, but the bird certainly stands out on other merits. The flesh is moist and dense with an abiding wood smoke flavor tinged with the nutty sesame crust.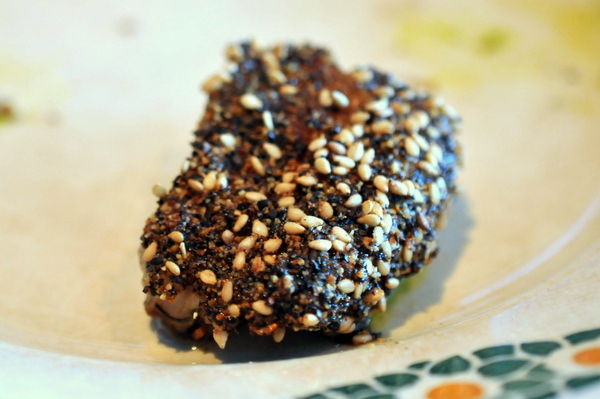 Asparagus - brioche, egg yolk, yuzu, green alder
2011 Domaine Bru-Baché, Jurancon Sec
Straddling the line between succulent and snappy, this was one of the most precisely cooked presentations of asparagus that I've ever had. The spry spears of white and green asparagus are deftly complimented by a bright yuzu gel while a buttery brioche soil adds a lovely buttery crunch.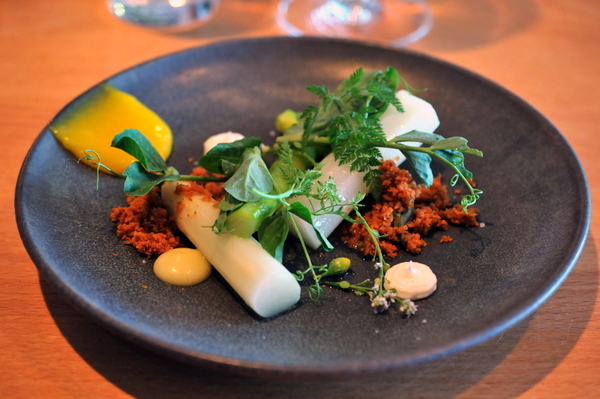 Carrot - bbq, orange, yogurt, avocado, watercress
2011 Domaine Maurice Schoech Pinot Auxerrois Vieilles Vignes
Curried carrots. Yogurt. Acid. Taken in pieces this course feels disjointed and jumbled but as a whole, the dish forms a coherent picture of smoky sweet barbeque sauce. While I appreciated the creativity behind this dish, I've never been a fan of cooked carrots so I found this dish a bit challenging especially in the uneven bites. In addition while my carrots were cooked to an even tenderness, two of my companions has nearly inedible fibrous cores on theirs.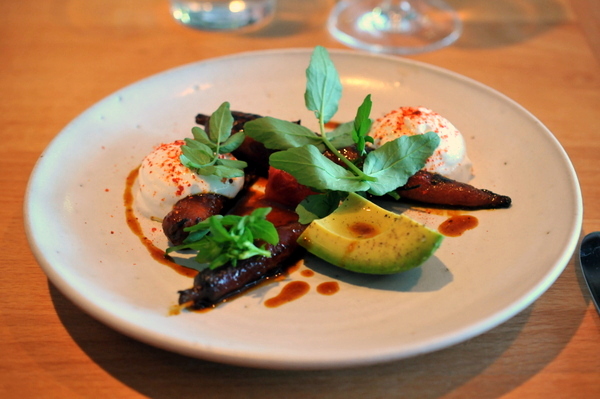 Potato Pulp - brown butter, bonito, onion soubise, salers
2008 Henri Prudhon & Fils, Saint-Aubin 1er Cru, Sur le Sentier du Clou
Ludo has been responsible for some of the most delicious potato dishes that I've ever eaten. With this course he wraps the starch in a cover of soft creamy cheese and dressing it with classic accompaniments of butter and onion in a way that still highlights the potato,. While I appreciated the purity of flavor, I would have liked a protein to headline the dish.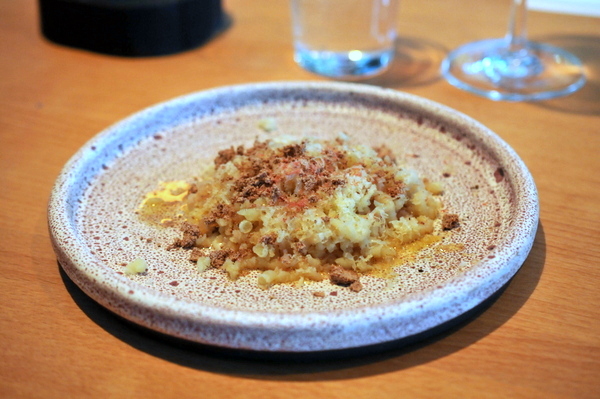 Rib Cab - shallot broth, black walnut clover spelt
Domaine Maume, Gevrey-Chambertin
Ludo has cooked up some amazing steaks in his time and this French onion soup inspired creation is among his best work. The meat is wonderfully tender and laden with rich beefy goodness. The fragrant shallot broth adds another level of complexity to the beef while the spelt imparts a soft nutty rusticity to the dish.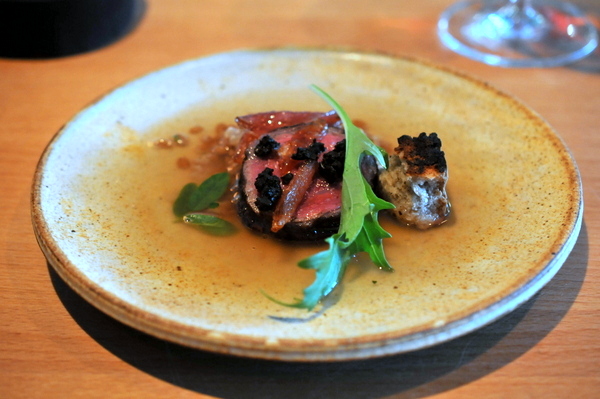 Strawberry - almond ice cream, rhubarb, rose ice, olive oil ice
NV Patrick Bottex Vin du Bugey-Cerdon La Cueille
A cross between strawberry shortcake and strawberries and cream, the dessert struck a beautiful balance between fruit and richness. The sweet floral perfume of the vanilla soaked strawberries is complimented a quinelle of creamy almond ice cream while the dense cake soaks gives some much-needed heft to the dessert.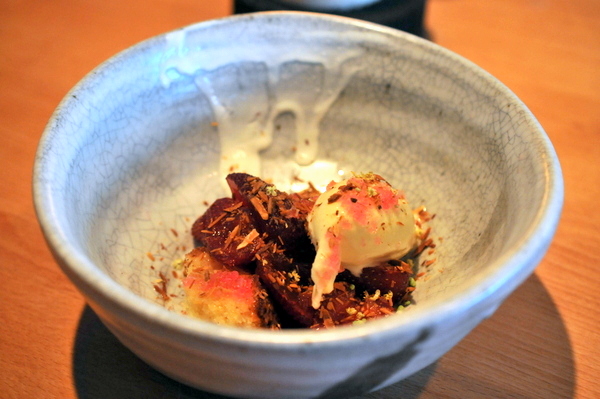 Cumin Caramel Tart
I was expecting something obscenely sweet but the tart was actually quite balanced with the cumin which imparted a light spice on the finish.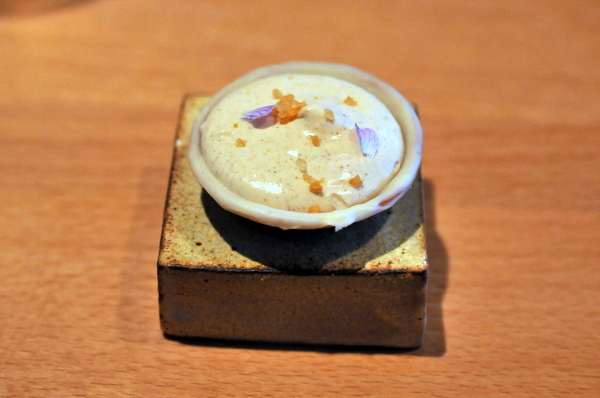 After attending one of the soft opening dinners at the beginning of the month, I thought the menu still needed some fine tuning with a number of dishes still lacking balance. Perhaps I shouldn't be surprised, but in the two weeks since my last visit, Ludo fine tuned the courses and dispelled most of my concerns. The menu may be a bit less ostentatious and eclectic than what he was doing at LudoBites but the food feels a bit more refined and elegant and more importantly: no less delicious.