22 Hawthorne Street
San Francisco, CA 94105
(415) 685-4860

Ideally with a restaurant of Benu's caliber I like to wait at least a year between visits to give the menu time to change however one of my companions had never tried the place so we made a point to go during what has become our annual Bay Area trip.

thousand-year-old quail egg - potage, ginger
prager, grüner veltliner, federspiel, hinter der burg, wachau, austria 2011
The meal starts off with a riff on Century Egg congee. The potage is much richer and has a smoother consistency than typical congee and really overshadows the egg which is more for a textural contrast. The diminutive pi dan is created by covering the eggs in an alkaline clay that turns the white a translucent brown and gives the yolk a disconcertingly green-gray color and creamy consistency.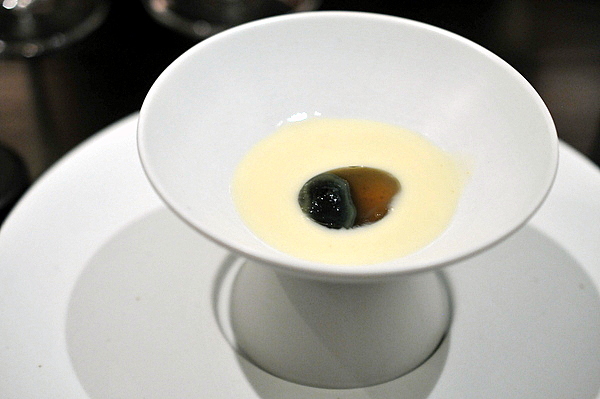 oyster - pork belly, kimchi
prager, grüner veltliner, federspiel, hinter der burg, wachau, austria 2011
Like the pidan, our second snack seems to be a constant at Benu. Inspired by Jayook Bokum, the dainty bite features a umami pork belly cream and cool saline rush wrapped in a crunchy shell of funky umami kimchi.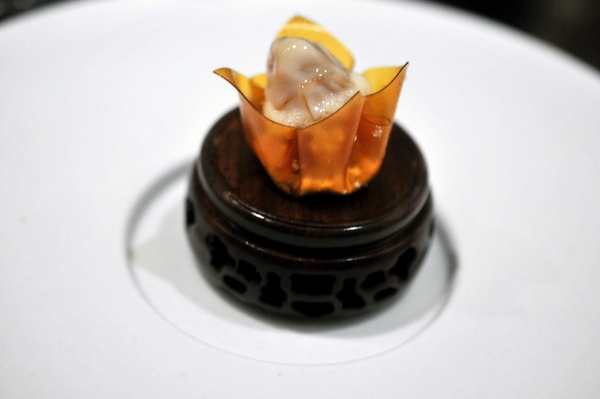 salmon roe - eggplant, buckwheat, perilla
matsuura, narutotai, namagenshu ginjo, tokushima, japan
This reminded me of a similar course I had the previous evening at Crenn. Both featured a mix of toasty grains and salmon roe and had the same overarching flavor profile: smoky umami savor tinged with a sweet malty contrast. While this was tasty it lacked the same nuance and complexity of Crenn's version.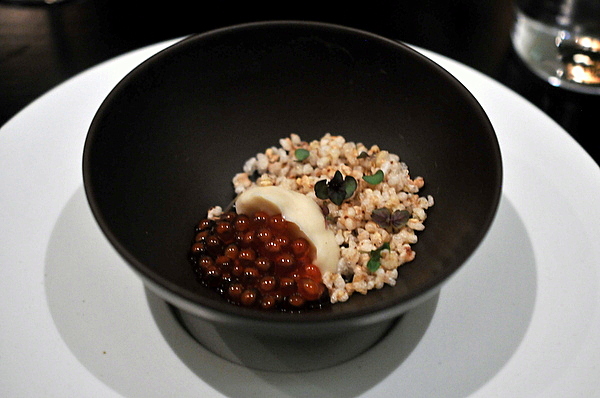 anchovy - celery, peanut
hitachino, red rice ale, ibaraki, japan
Moving back to the snacks this next course look and tasted like a grown up version of the dried anchovy and slivered almonds I used to eat as a kid. The crunch and brine of the fish is matched with a sticky honeyed sweetness and refreshing vegetal bitterness.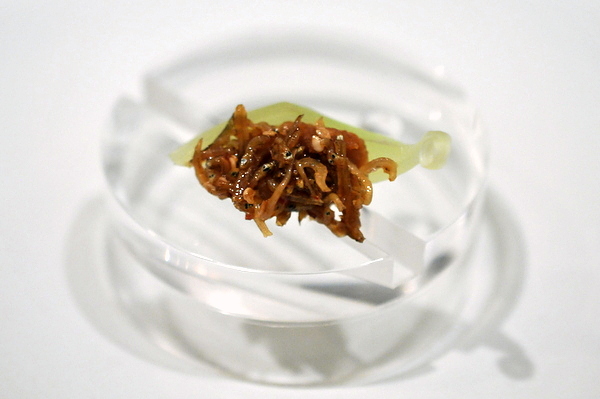 faux shark's fin - dungeness crab, caviar, rousong
hitachino, red rice ale, ibaraki, japan
The faux shark's fin is one of Lee's signatures and with the real thing verboten, this is a fairly good substitute. I miss the soup



"xo sausage" - with basil curd
hitachino, red rice ale, ibaraki, japan
I didn't really get any XO flavor from the sausage though it was loaded with plenty of richness with a light herbaceous verve from the basil curd.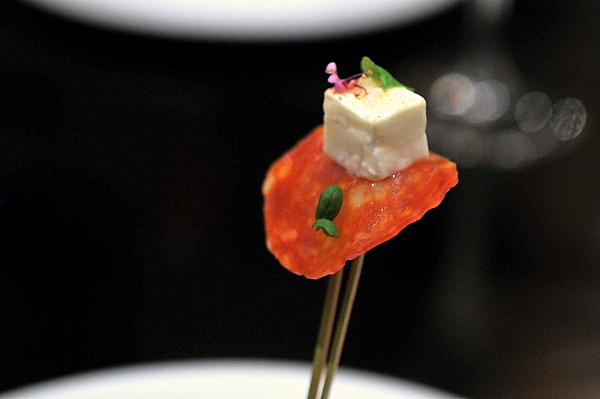 acorn beggar's purse - with black truffle
hitachino, red rice ale, ibaraki, japan
The beggar's purse is an appetizer first served at the vaunted Quilted Giraffe one of New York's hottest restaurants in the 80's. The original featured a mix of caviar and creme fraiche wrapped in a little crepe bound with a single chive. Lee's version has a pronounced nutty sweetness that gives way to a rich truffle-soaked savor.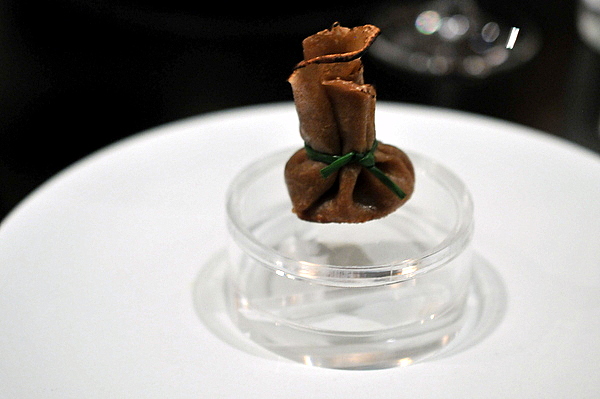 almond tofu - green apple, chia seed
This sweet little snack marked the transition to more substantial courses silky sweet tofu is balanced by a bracing green candy-tinged apple tang.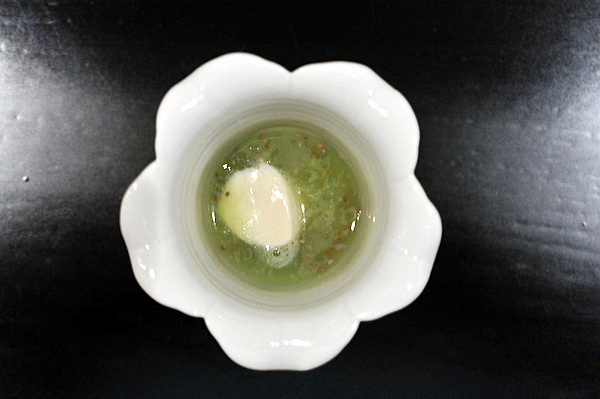 cold noodles - pickled hearts of palm, shrimp roe, mint
von hövel, riesling kabinett, sharzhofberger, mosel, germany 2008
Our first composed dish was a plate of perfectly al dented cold noodles the supple noodles contrast nicely with the crunchy chunks of palm heart. The bits of shrimp roe pack a profound brine coupled with an intense gingery bite.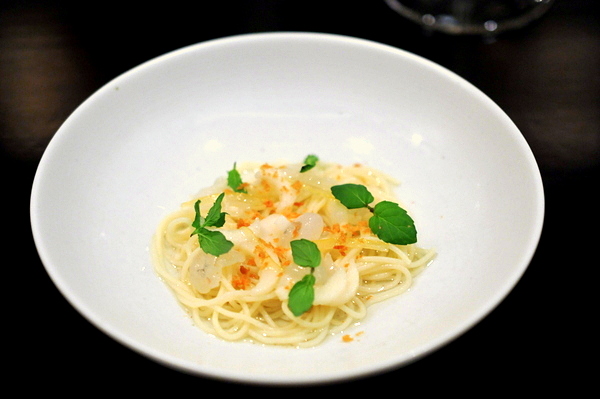 lobster coral xiao long bao
duchesse de bourgogne, flemish red brown ale, belgium
Next up was arguably Benu's signature dish now. The dumplings are filled with a lush fantastically rich saline elixir. The vinegar adds complexity though the dumplings certainly have more than enough to stand on their own. My one complaint was the texture of the wrapper which was a bit dry at the top,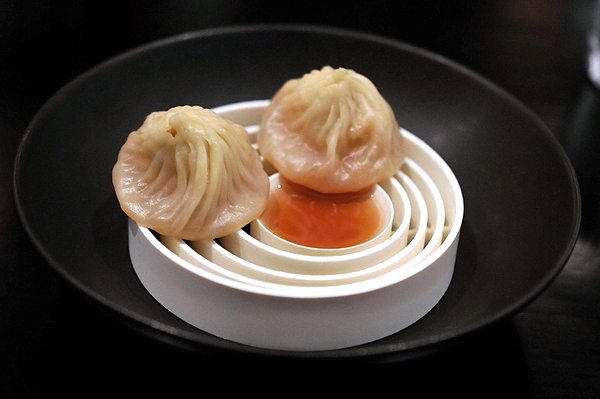 pig's head - with lentil hozön and bönji
duchesse de bourgogne, flemish red brown ale, belgium
For anyone who says they don't like offal I challenge them to try this course. Inspired by Momofuku's pig head torchon this course is dripping with porcine sapor. The lentils add a gritty contrast to the jellied bits of head cheese while the tangy pickled onions add a vital countervailing tang.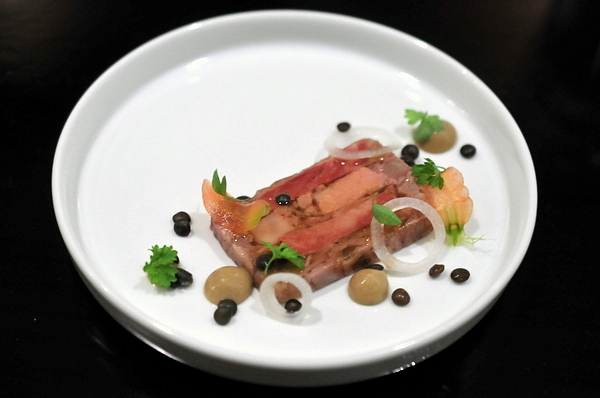 whiting - crispy mushrooms, haiga rice, burdock, charred scallion
cuilleron, marsanne, les vignes d'á côté, rhône, france 2012
This was probably my favorite course of the night. The fish combines the best elements of a perfect sear and sashimi fleshy, flaky, yet supple and gellied. The fish has a profound savor that pairs beautifully with the earthy char of the mushrooms and scallons.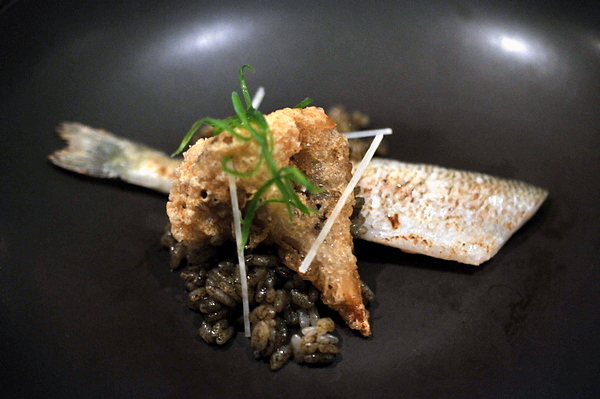 25 head Kippin abalone from Iwate, 2008 - potato purée, tender kale, braising jus
el maestro sierra, oloroso sherry, jerez, spain
The only decision diners have to make with the tasting menu is whether or not to replace the quail with a prized Kippin abalone. The supplement comes with a $230 tariff making this the most expensive abalone I've ever paid for. As expected the abalone is tender with an almost elemental xian-wei further heightened by the dark pool of braising jus made from pork neck, chicken feet, and sake.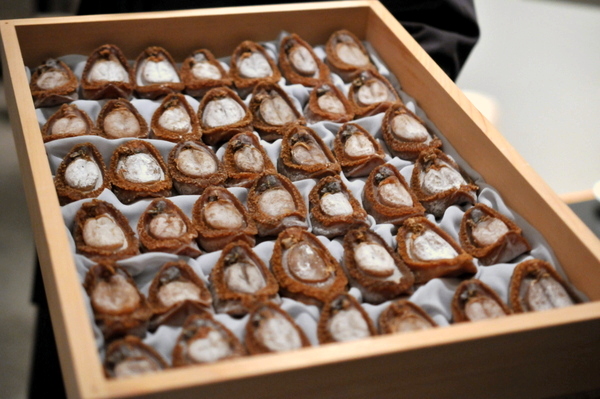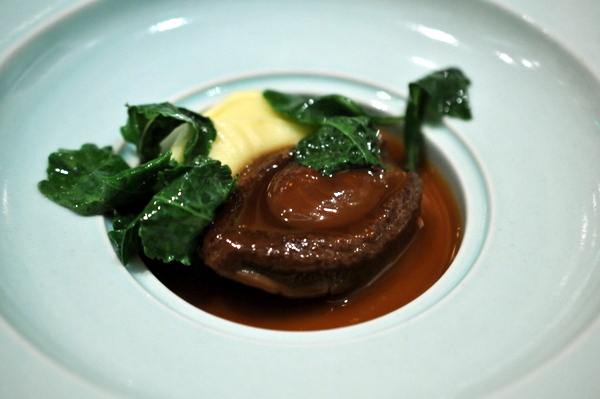 roast quail - lettuce heart, mustard
cristom, pinot noir, sommer's reserve, willamette valley, oregon 2011
The normal course a quail served with a tender succulent lettuce. The breast was a touch overdone but still packed with plenty of gamy relish.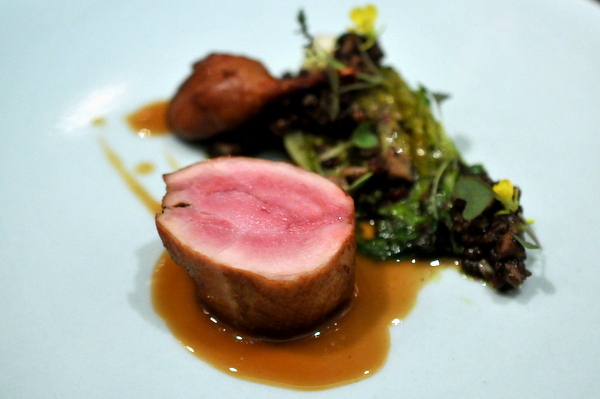 beef braised in pear juice and charcoal-grilled - lily bulb, sunflower, fermented pepper
clos st. jean, châteauneuf-du-pape, rhône, france 2008
Our final savor was a braised beef short rib laced with a sweetness from the pear juice then grilled over charcoal to impart a deep smoky savor, while the succulent greens and lily bulb add a much needed hit of moisture.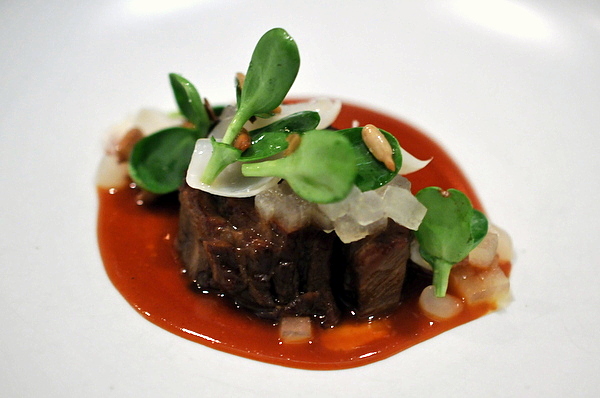 shellfish consommé and raft - Jinhua ham, crysanthemum
blandy's, verdelho, madeira, portugal 1968
Our soup course is still built around the same variant on "gao tong" that was used in Lee's faux sharks fin soup. The spongy fish cake "raft" was a bit disconcerting but the broth was quite delicious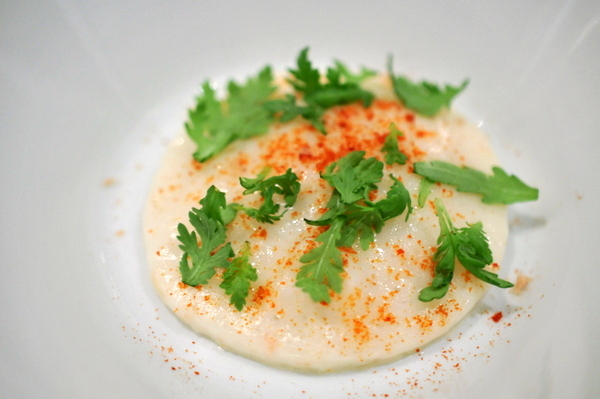 sake lees sherbet - strawberry, yuzu
The sake lees sherbet has always been one of Benu's standout dishes and this is no different. The light yeasty tang of the sherbet is complimented by the jammy sweetness of the strawberry and the electric tang of the yuzu. Not much to look at but it sure packs a fantastic flavor.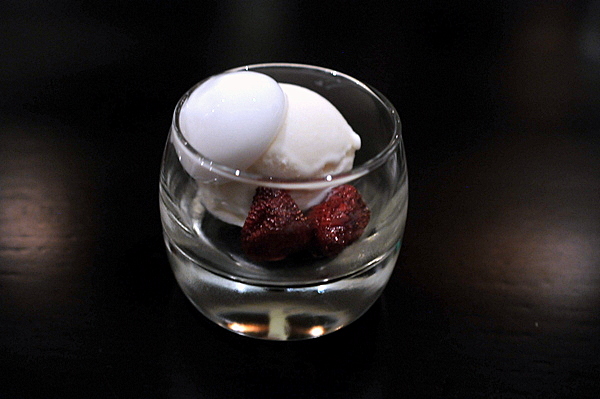 sesame white cake - with salted plum
uroulat, jurançon, southwest france 2011
The final course of the night was a beautifully composed cake, dense and spongy the sweet white cake is topped with a salty ume boshi glaze that adds fantastic funky twang to the homespun dessert. I think the action of cutting and serving the cake adds a comforting sense of community to close out the meal.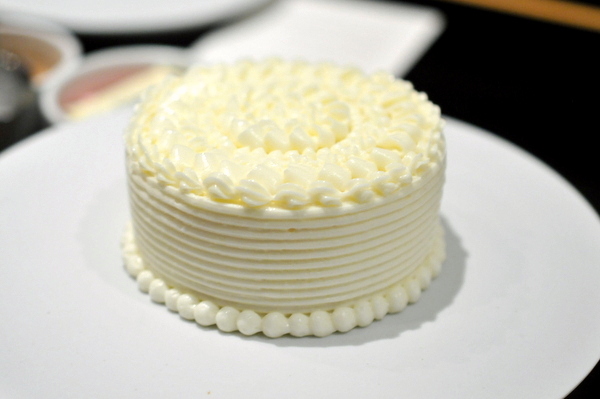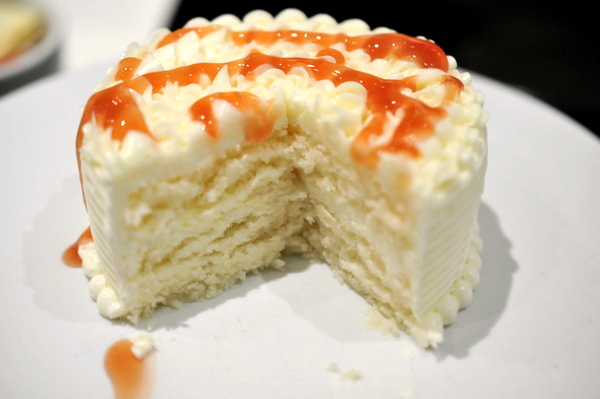 After three visits, I still don't know what to think about Benu. My first visit came about six months after the restaurant opened and at the time I felt the restaurant still had some growth needed to reach its full potential. My second trip was a much more polished experience, that saw the promise fulfilled. This visit falls somewhere between the two; the gentrified Asian flavors were still enjoyable but the overall menu felt like a regression. Perhaps the result of my meal the previous night, when compared to the complexity and sophistication of Atelier Crenn Benu just feels a bit simplistic.