521 W. 7th Street
Los Angeles, CA 90014
(213) 261-3479

Since mid-August I'd been hearing quite a bit of buzz around Q, a brand new purist sushi restaurant in downtown slated to open September 18. Invariably the opening was delayed and the restaurant had an extended friends and family period that just ended. I was lucky enough to secure a seat for opening night when one of my friends booked the entire 10-seat bar.

Funded by a group of high powered lawyers, Q sushi is run by Chef Hiroyuki Naruke and specializes in Edomaezushi. Prior to coming to Los Angeles, Chef Naruke spent more than 25 years as an Itamae, the last handful running his own 6-seat restaurant in Roppongi called Nogizaka Sushi. Now most purist sushi restaurants already claim to specialize in Edomaezushi so I was wondering how Q planned to differentiate itself; particularly with the brand new Sushi Zo barely a mile away. Like any culinary style, sushi has evolved with time, but Chef Hiro seeks to show sushi as it was not what it has evolved into today.

In contrast to his emphasis on tradition when it comes to the food, the space is decidedly modern, lots of warm dark wood but very clean sleek lines and a low bar so diners have a clear view of the action.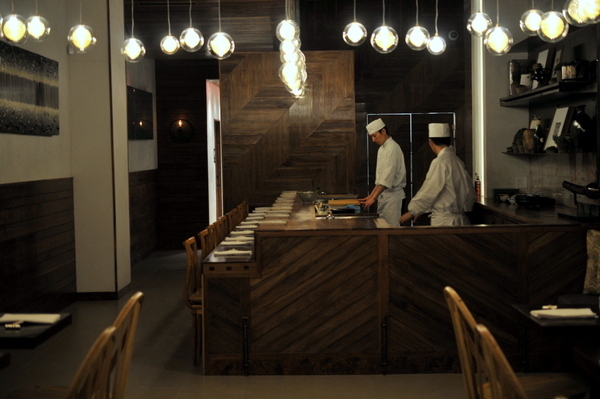 NV G. H. Mumm & Cie Champagne Mumm de Crémant Blanc de Blancs
We opened the evening with a bottle of elegant Mumm Champagne. The bubbly has a pronounced nose of honeyed brioche coupled with a touch of lemon and stone fruit. Plenty of acid and minerality keep the finish dry and clean.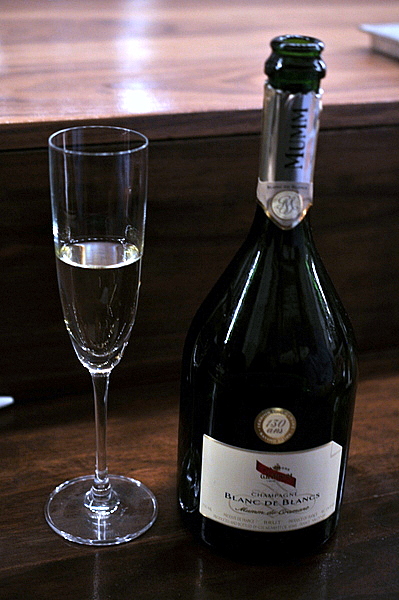 Shigoku Oyster - Yuzu, Daikon, Dashi
Our first course was a beautifully prepared example of my new favorite oyster. The Shigoku has a fantastically creamy body, drenched in a yuzu and dashi mixture which moderates the salinity while imparting a umami undertone and highlighting the oyster's sweetness.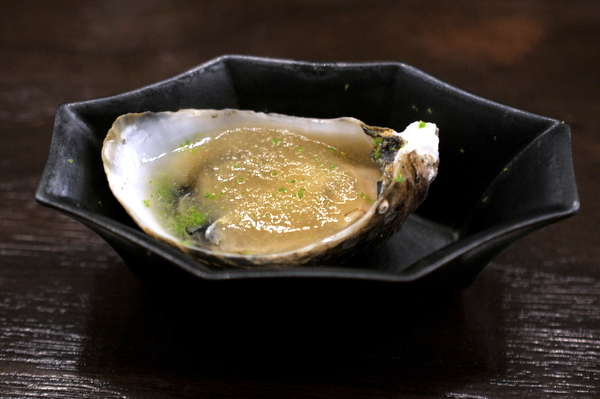 Saba - Mackerel, Cucumber
Next up was Japanese Mackerel wrapped in a paper thin layer of cucumber. With loads of crunch and freshness upfront, the fish actually takes a back seat to the cucumber at the start of this dish. Only later does the oily salty twang of the Mackerel become more apparent along with a ginger-y bite that lingers on the palate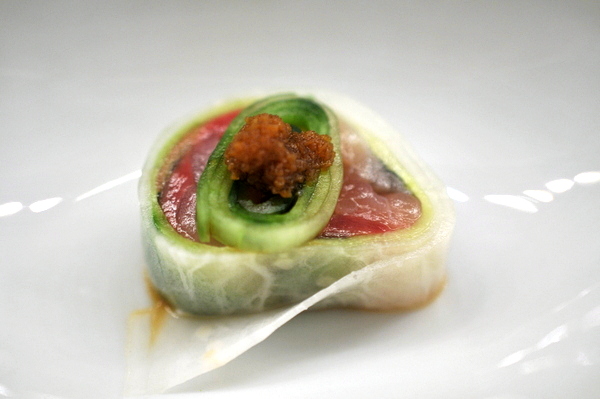 Seared O-Toro - Sansho, Shishito, Chili Oil
It goes without saying that the seared Spanish O-Toro could have easily stood on its own. The blistered and rough exterior provides a nice tactile contrast to the oil-soaked center. The chili sauce reminded me of of a Chinese XO Sauce, with a darker rich umami musk and hint of spice that accentuated the heft of the fish.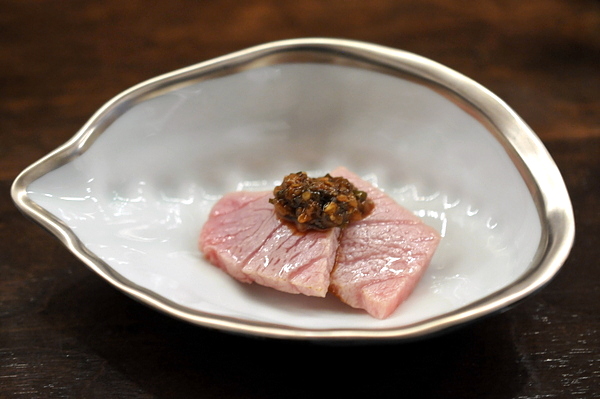 Ankimo - Monkfish Liver
I've come to realize that I'm very finicky when it comes to ankimo. I only enjoy the stuff when it has a creamy texture and this couldn't be further from that. With a dense almost plastic-y texture and boiled egg white funk this was probably the weakest course of the night for me.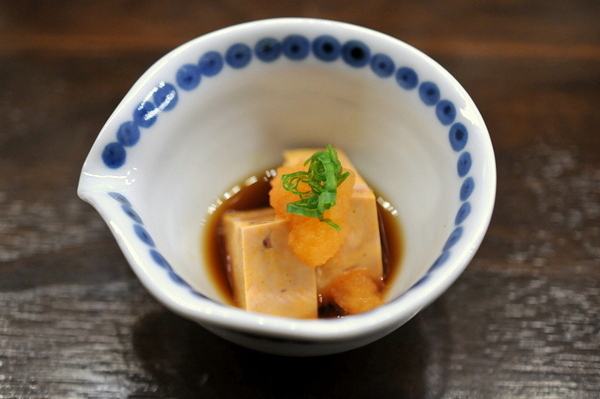 Uni - Saikyo Miso
Despite this being the restaurant's official opening night much has already been written about Hiro-san's marinated Uni. Preserved in Saikyo Miso, the uni loses much of it's moisture and salinity. The resulting roe has a dense, tacky creaminess and a blue cheese like pungency that is unlike anything I've ever tasted before. I was a bit taken aback after the first bite but the flavor grew on me quickly.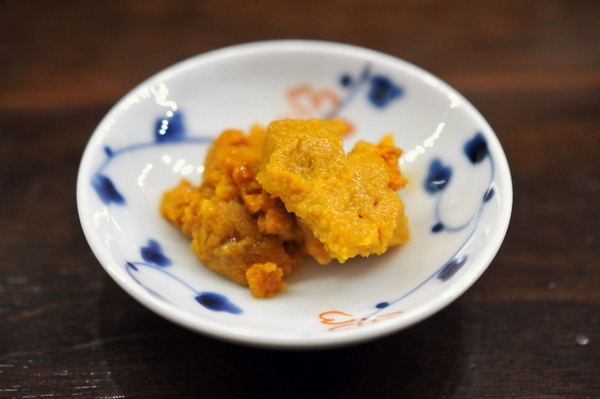 Inaka Miso Soup - Soy, Wakame, Rice
To close the tsumami (appetizer) portion of the meal we were each given a small cup of miso soup filled with a mix of wakamae, daikon, and rice. The broth has a hearty soulful feel along with a smoke-tinged savor, the perfect counter for the cold night outside.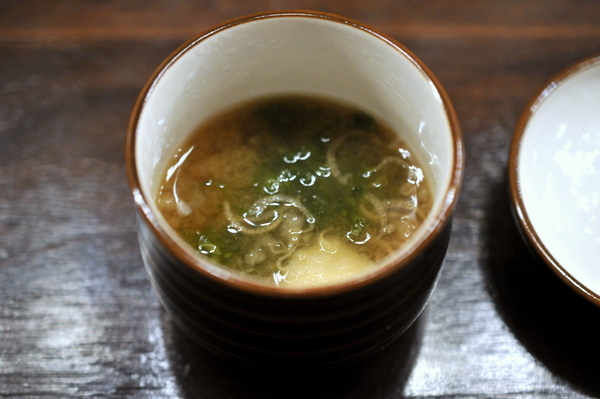 Hawaiian Ginger
Being the traditionalist that he is, I wasn't surprised to find that Hiro makes his own gari from Hawaiian ginger. The result is a keen ginger-y heat and a firm succulent crunch that stands out from the typical fare.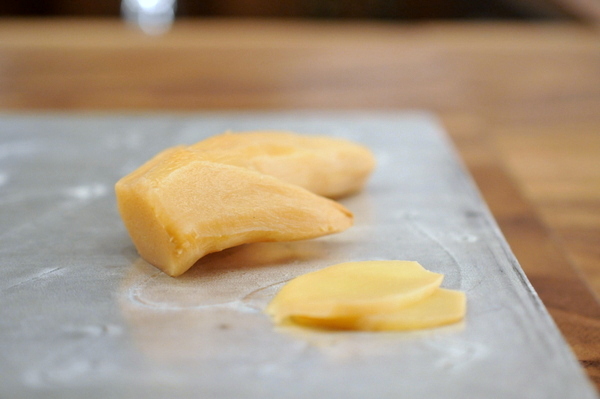 Hirame Kobujime - Kelp Marinated Halibut
The nigiri portion of the meal began with a textbook Hirame Kobujime. Kobujime is a preservation method developed during the Edo period in Japan used to extend the life of raw fish before refrigeration. The technique involves salting then wrapping the fish in dried kelp. The preserved fish loses much of its water content resulting in a dense fleshiness along with a salt-laced buttery flavor.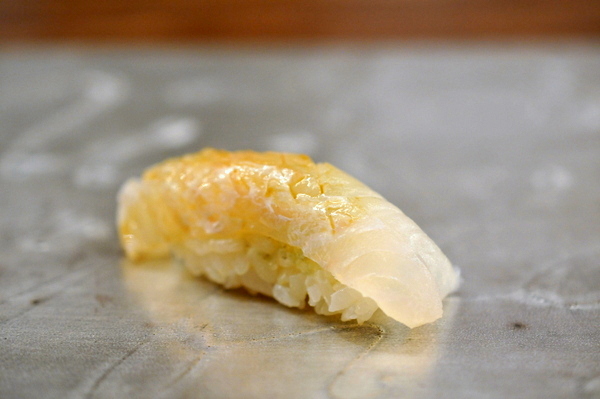 Kasugo - Baby Snapper
Next up was a flash seared baby snapper giving the mild fish a whisper of smoke. The texture is snappy with a touch of sinewy crunch making for a very satisfying textural experience.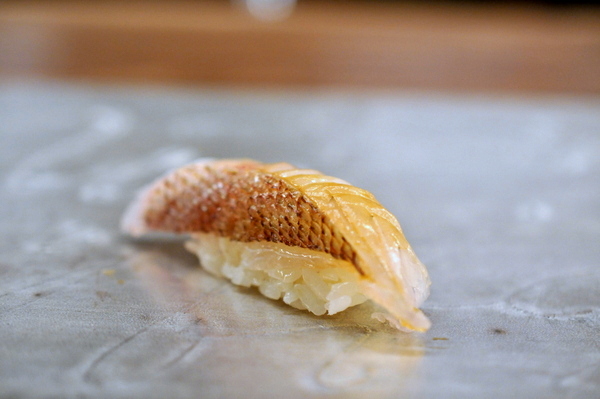 Kubota Manjyu, Junmai Daiginjo, Niigata Prefecture
One of the diners brought a bottle of Kubota Manjyu to pair along with the sushi. The tipple is clean with subtle floral notes and a subtly creamy mouth feel which went well with the deeper flavor profiles of the Edomae-style sushi. Thanks for the treat Brian.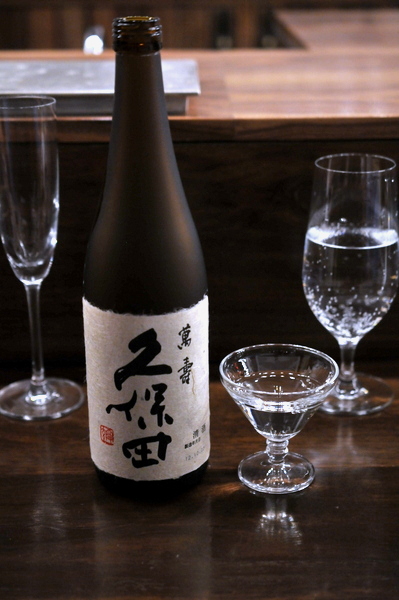 Zuke - Marinated Tuna
Like Kobujime, Zuke is another old fashioned method for preserving fish. The fish is soaked in soy sauce where the high sodium content draws out the fish's extra water. Though rendered moot with modern refrigeration, I enjoyed the subtle changes the technique imparts to the fish. Not quite as extreme as Kobujime, the soy marinade still preserves much of the natural texture as well as the clean almost metallic twang of the tuna.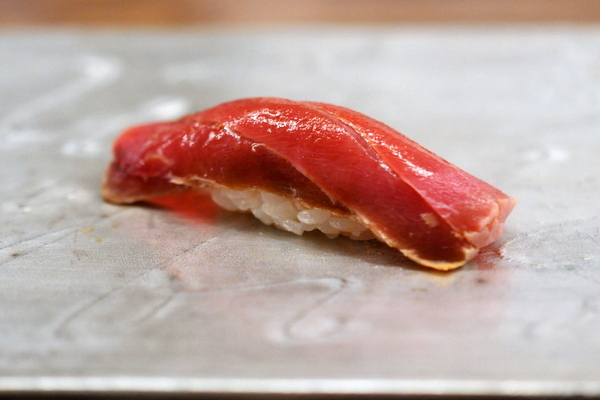 Aoyagi - Orange Clam
Like many of the fishes, Hiro-san's Aoyagi defies conventional expectations as well. The flesh is tender and almost spongy with a relatively mild flavor. Though there is a touch of that ocean-y fragrance it pales in comparison to the clam's intrinsic sweetness.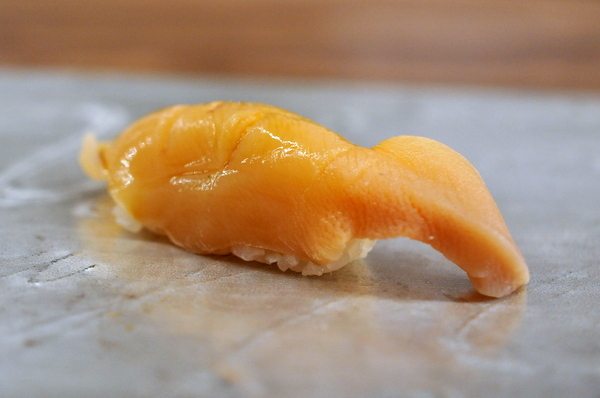 Kurodai - Black Snapper
With a deep red core that lightens to a white band at the edge and flecks of silver thrown in, Kurodai has one of the most arresting color patterns of any sushi fish. Texturally this had a fir snap to it, there was a touch of sinew as well but I didn't mind the texture.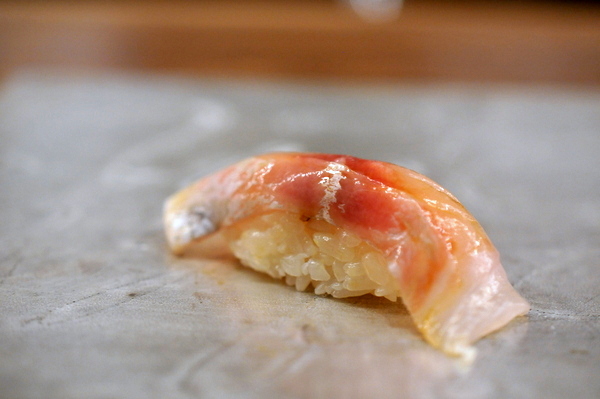 Chu-Toro - Medium Fatty Tuna
Unlike the majority of fishes at Q, the toro is served fresh. First up was a medium fatty that combined the best elements of both Akami, and O-Toro. The fattier elements are immediately apparent in the creamy mouth feel and rich oily flavor but there is an underlying steely note that lingers on the finish.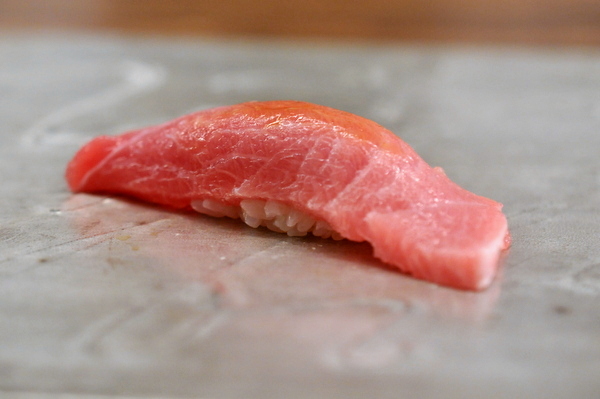 O-Toro - Fatty Tuna
Hot on the heels of the Chu-Toro came the real thing, bright pink and threaded with tiny white veins of fat the O-Toro is an example of full-throated buttery decadence.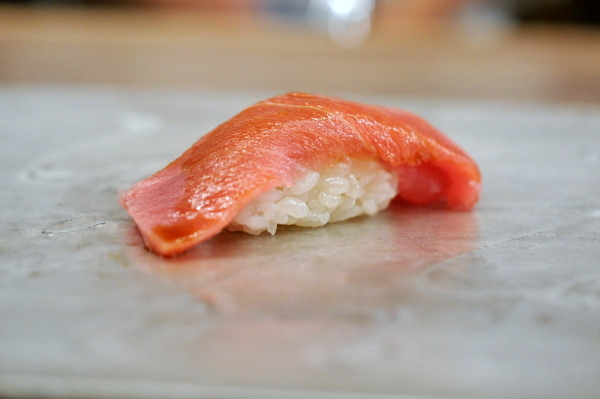 Kohada - Gizzard Shad
Next up was a prototypical Kohada, beneath the beautiful silver-blue skin lies an unabashedly dense flesh exudes dark earthy oil.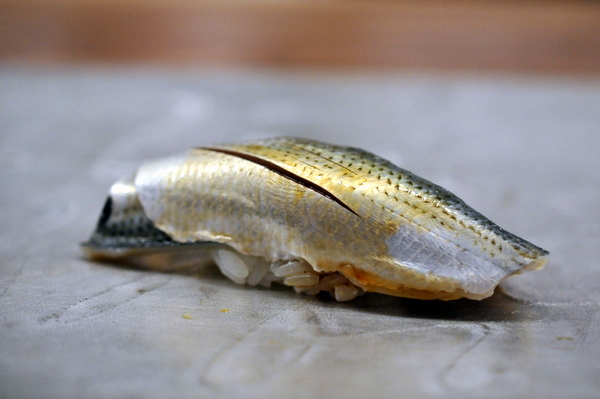 Jyokigen, Junmai Ginjo, Yamagata Prefecture
The Kubota dispensed with, we decided to order one of the more full bodied sakes the restaurant had on offer. The rich aromas of pear are coupled with a yeasty creamy verve that complimented the earthy weight of Hiro's rice.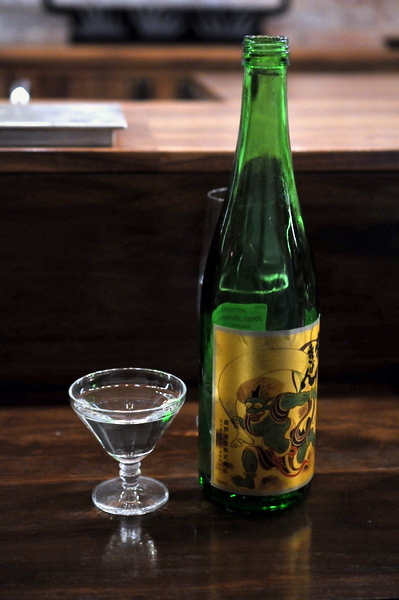 Shiro Ebi - White Shrimp
Prior to this I've only seen Shiro Ebi at Urasawa and have always found it inferior to the more prevalent amaebi. Hiro's had a keen sweetness that I've never noticed as well as a vegetal foil from the crispy nori wrapper.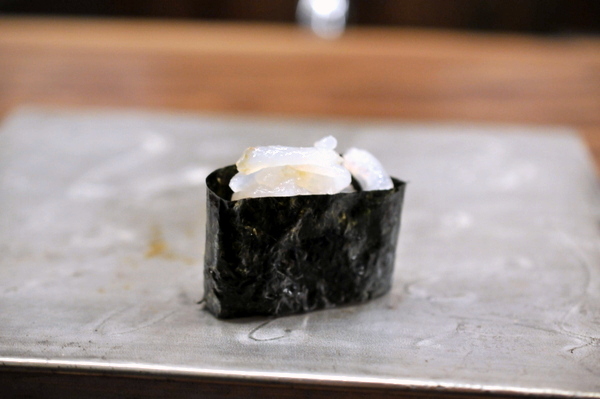 Hotate - Scallop
A fantastically textured scallop, the lithe jellied texture and wonderful saline sweetness are as good as any I've ever tasted.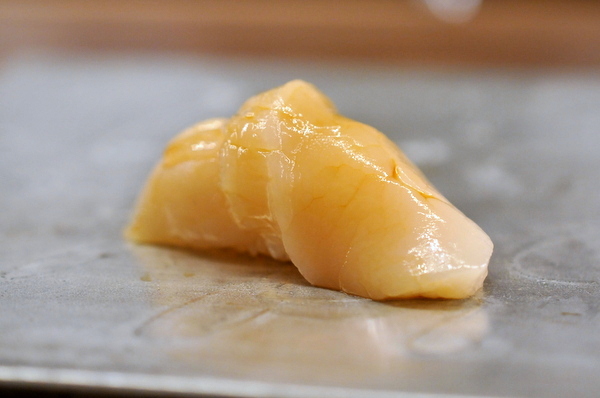 Uni - Sea Urchin
This was quintessential uni, the creamy velvety texture is like sin on the tongue while the flavor calls to mind the richness of foie tinged with a cool ocean-y verve.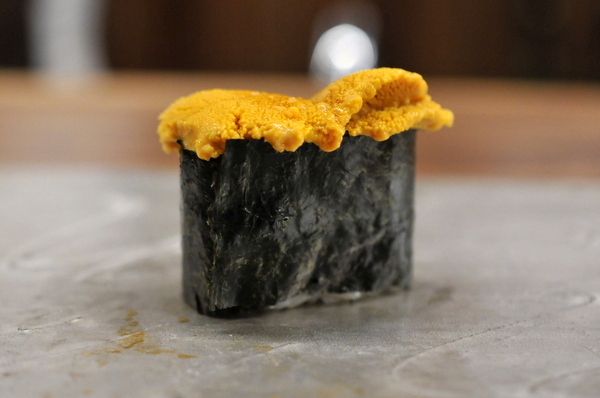 Anago - Sea Eel
This was a fantastic anago. Most preparations rely heavily on the sauce and though Hiro-san does dress his with tsume, he is sparing with the stuff which makes it possible to appreciate the natural flavors of the eel.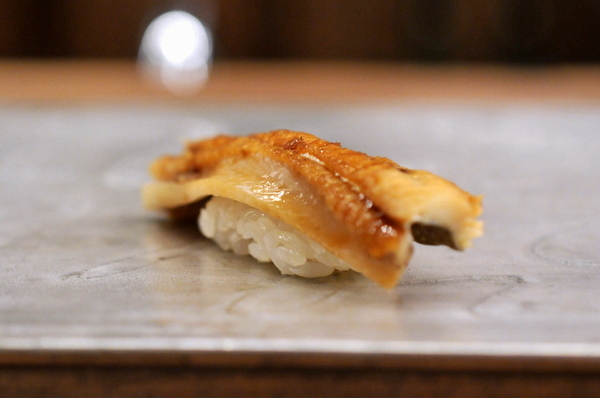 Tamago - Egg
The tamago looks like a pound cake but has a dense nuttiness touched with a faint salty-sweetness that felt out of place in an egg dish. Our server Mai let us in on a little secret, that Hiro-san's Tamago is actually 60% shrimp which would account for the unique flavor.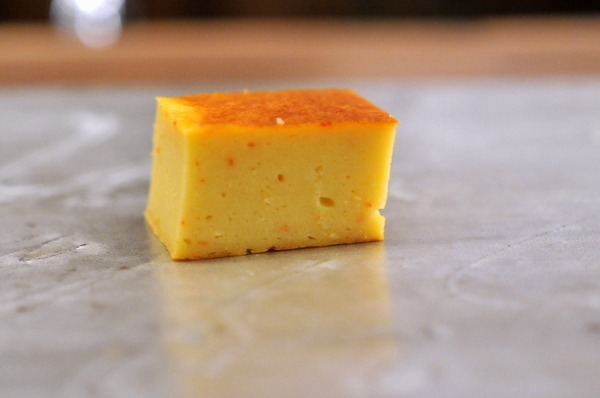 Sake Kobujime - Kelp Marinated Scottish Salmon
The entire party was still hungry after the Tamago so we pleaded with Hiro to empty his fish case. The first supplement was a fantastic scottish salmon, dense, supple, and buttery kissed with a hint of smoke that fits perfectly with the fish.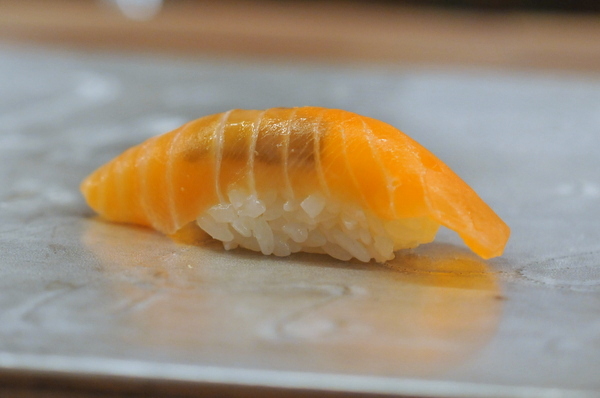 Aoyagi Kobashira - Orange Clam Adductor Muscle
A number of my dining companions mistook this for another scallop but it was actually the adductor muscle of an orange clam. The texture is reminiscent of a scallop though a fair bit firmer. The dark earthy tones of the muscle are beautifully accented with a delectable uni sauce.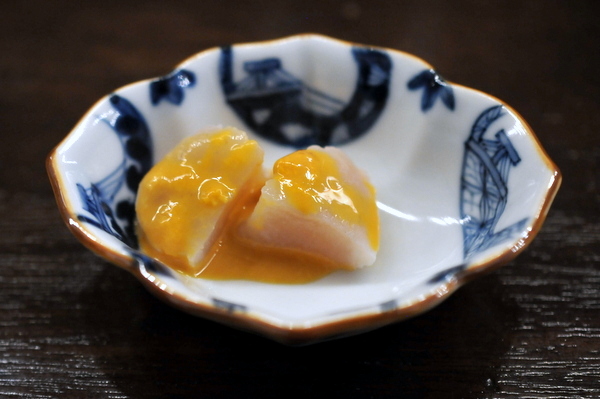 Saba - Mackerel
The Saba was absolutely sublime tonight. Served fresh, the fish has a lissome slickness to it. There is a pronounce oiliness to the Mackerel but the dusting of yuzu zest provides a countervailing sense of lift.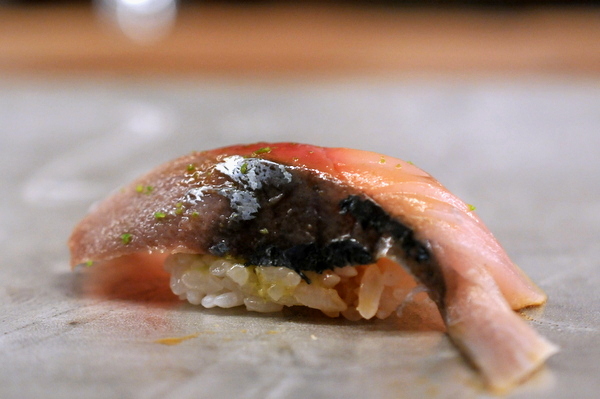 2011 Jean-Paul & Benoit Droin Chablis
The 2011 Droin doesn't have much complexity or mystery, but there is a very approachable mix of fresh apple, and lemon zest. The wine lacks the typical tension and is perhaps a bit fat but still a very enjoyable if somewhat atypical entry-level Chablis.



Engawa - Halibut Fin
The engawa proved to be one of the strongest pieces of the night. Along with its uniquely muscled texture the fish has an earthy savor that leaves a pleasing whisper of buttery richness on the tastebuds.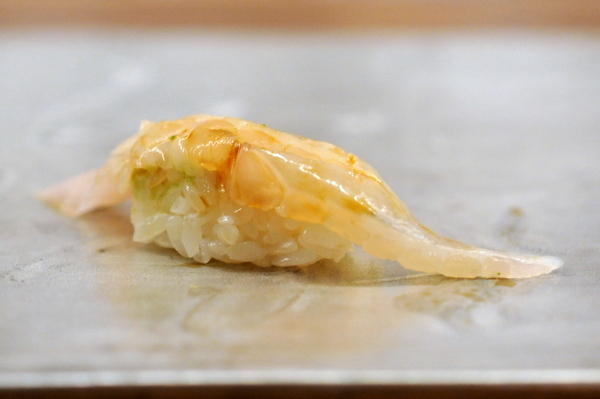 Kohada Maki - Gizzard Shad Roll
For our last "savory" Hiro-san served us a Kohada roll, pairing the silver-skinned fish with finely julienned cucumber and once again the vegetable is an effective foil for the oily weight of the fish.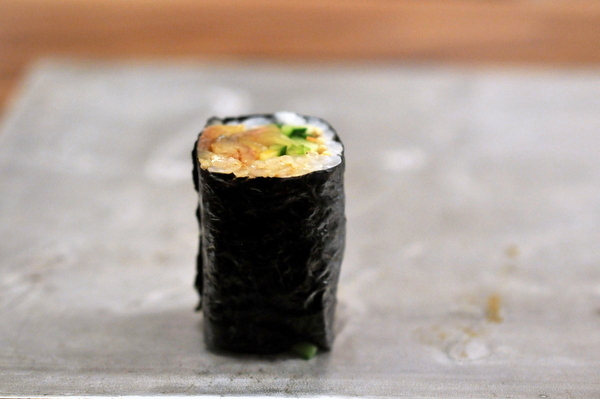 Miso Tofu
Since we'd already had our tamago, Hiro-san decided to serve us pieces of his homemade miso tofu. Admittedly this was a bit of a struggle for me, a bit nutty but with a funky yeasty undertone, it reminded me more of a medium-bodied cheese than tofu.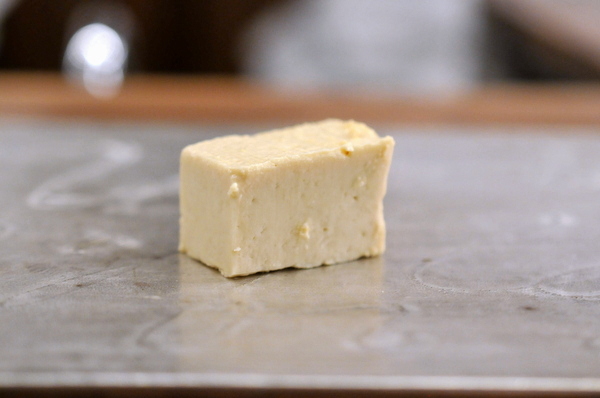 Most traditional sushi chefs tend to have an air of quiet intimidation about them. Hiro-san however gives off a calm humility seemingly content to craft immaculate pieces of nigiri for his guest's enjoyment. For the most part he seems to have a fairly calm demeanor though he did occasionally joke with us.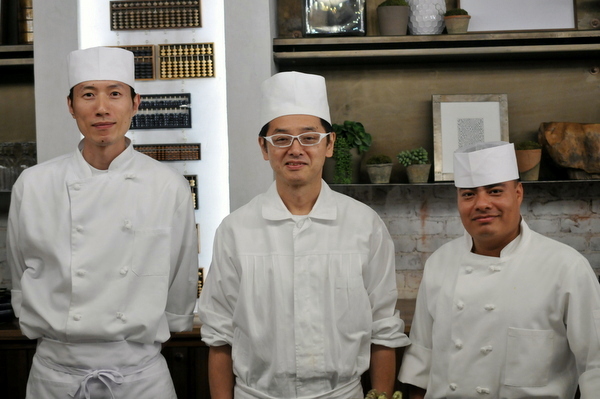 Apparently, this was my first experience with true Edomae style sushi. With effective refrigeration readily available these days, the emphasis on preservation techniques used during the Edo-period have faded. As one of my companions pointed out most sushi today all has a very similar texture and I've seen this more and more myself. At Q the difference between textures is quite pronounced especially with the cured or marinated items. Likewise familiar fishes take on new more umami-heavy flavor profiles thanks to the Nekaseru fermentation technique that Hiro employs. The rice is also more heavily flavored and a bit denser than many other restaurants. To fully appreciate Chef Hiro's talent, diners will have to throw out their expectations of what defines traditional sushi built up from places like Mori or Zo and approach Q with an open mind.