624 S La Brea Avenue
Los Angeles, CA 90036
(310) 362-6115

I've been a fan of Manzke since we first crossed paths at Bastide back in 2008. After leaving Bastide I expected Manzke to strike out on his own but he wound up at Church & State instead. Following his departure from Church & State in March 2010, an early appearance during the first incarnation of Test Kitchen lent gave the impression that a new offering from Manzke was imminent.

Turns out Manzke likes to do things at his own pace and since that meal in August 2008 Manzke has worked the occasional pop-up taken turns at the helm of Milo & Olive and Petty Cash and even opened a couple of restaurants in the Philippines for good measure.

California Carrot - mezcal, beet jam
Harvard (with Honors) - cognac, punt e mes, chartreuse, bitters
Smash - basil-infused rye, meyer lemon
Republique's cocktail program is run by Erik Lund, a protege of Julian Cox, Lund spent a year as Rivera's Program Director before leaving to captain the bar at MessHall. The cocktail list features a mix of elevated classics and unique creations. The California Carrot definitely falls into the latter category, an expressive mix of sweet vegetal funk and petrol-y mezcal. The Harvard was a stately classic cocktail, boozy with a herb-y medicinal character. The Smash was an easy-drinking refreshing libation tart and crisp with a whiff of fragrant basil.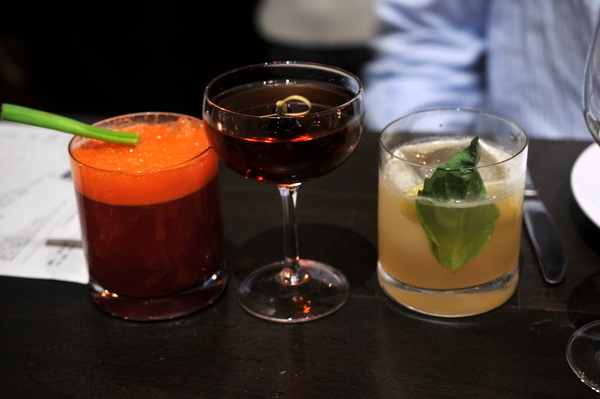 Iced Oysters - Shigoku (washington), Blackberry Point (prince edward island)
Naturally the Shigoku was a must order, the deep cupped bivalve was a creamy gem of melon-y saline. This was my first experience with Blackberry Point oysters, big succulent and creamy, there was a trace of bitterness to start but the oyster finished with a clean pronounced salinity.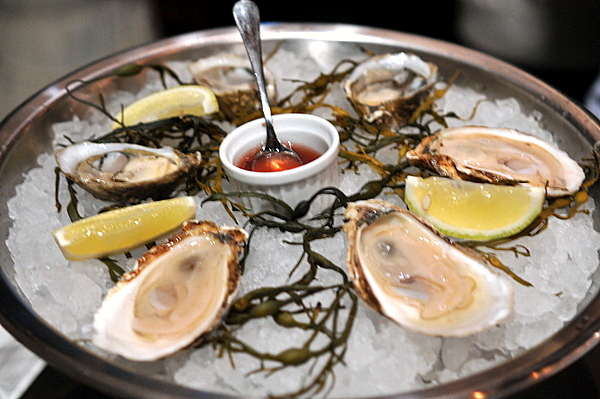 Hamachi Crudo - citrus, celery, jalapeño, crispy wild rice
A fairly conventional crudo presentation, the fattiness of the fish is countered by a balanced attack of citrus, spice, and even a touch of bitter succulent levity from the celery.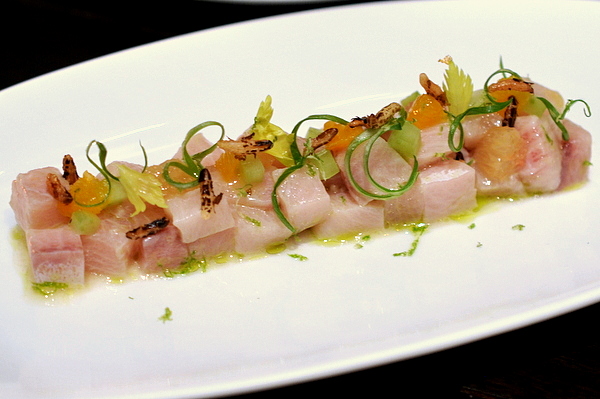 Gulf White Prawns - green cabbage, persimmon, pistachio, chili, lime
The salad was absolutely delightful multifaceted mix of vegetables, citrus, and spice; the vibrant Southeast Asian flavors were underscored by a touch of sweet coconut; a complex blend of flavors and textures that harmonize perfectly. I thought the prawns might have been a bit dull by comparison, but they were actually quite expressive with a pleasing rare snap and pronounced saline relish. Manzke previewed a similar course during his second stint at Test Kitchen but with hamachi instead of prawns.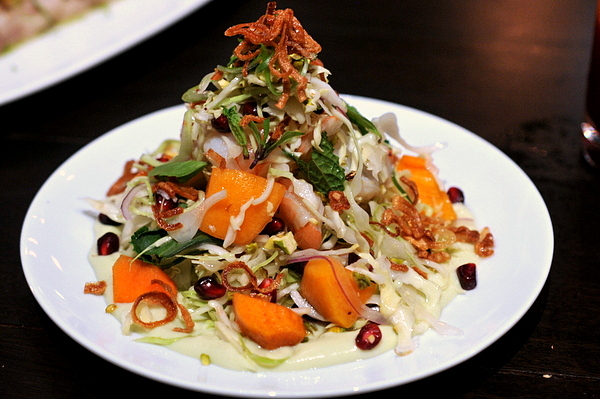 Grass-Fed Beef Tartare - tarragon aioli, pickled red onion, potato chips
Manzke's tartare deftly shows his penchant for re-imagining classic bistro fare. The tang of the pickled onion and the richness of the aioli feel at once familiar yet simultaneously novel thanks to the tarragon's herby anise smack and the light grassy twang from the beef itself. The tartar was equally delicious on its own or scooped onto the salty potato chips.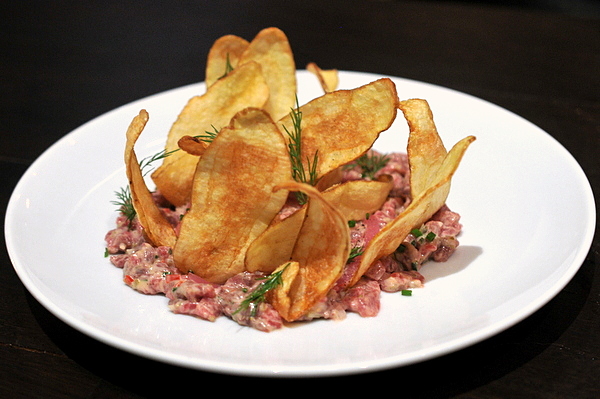 Escargots en Croûte - garlic, parsley
Beneath the buttery pastry crust lurked a classic escargot preparation; a toothsome mollusk soaked in a bed of warm melted butter enlivened with aromatic herbs and garlic.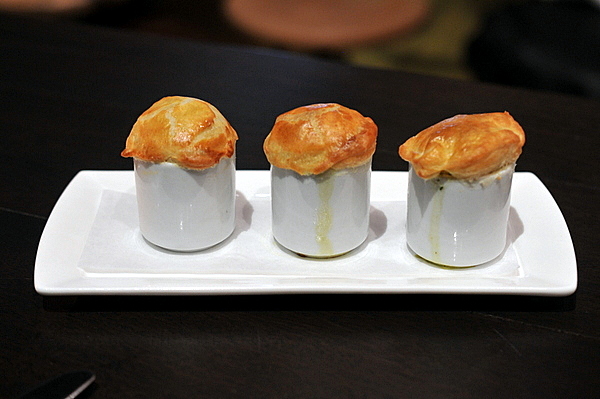 Warm Baguette - on request
With so many intriguing dishes, we had planned to forgo the bread course but we needed something to sop up the remnants of the escargot.



Daiquiri Martinique - rhum agricole, lime
Collins du Jour - dry vermouth, grapefruit, tonic
Fair Hills Farms Fuji Apple - whiskey, apple brandy, vermont maple
Moving onto our second round of cocktails we decided to try some of the more classic cocktails. Though today the name Daiquiri conjures to mind something frozen, too vivid, and too sweet; the original recipe is a minimalist mix of lime and rum that was straightforward yet satisfying. The Collins was a light effervescent tipple reminiscent of a simple adult grapefruit soda. The Fuji Apple was the most interesting of the three cocktails a sweet libation with a note of wintry spice.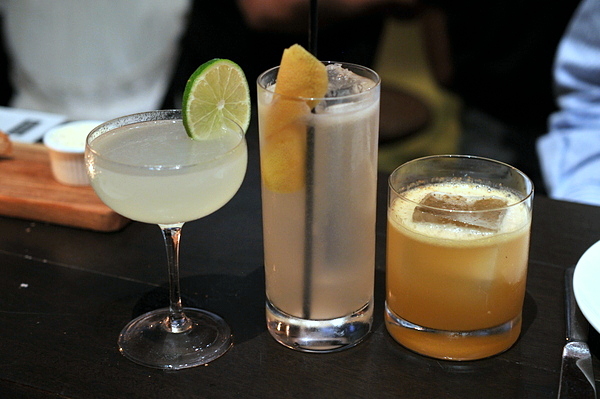 Eggs on Toast - santa barbara uni, soft-scrambled eggs
This is the third iteration of Manzke's uni toast and for me a step back from his previous Test Kitchen versions. I found the scrambled eggs a bit discordant though I did enjoy the fresh levity of the chives with the uni.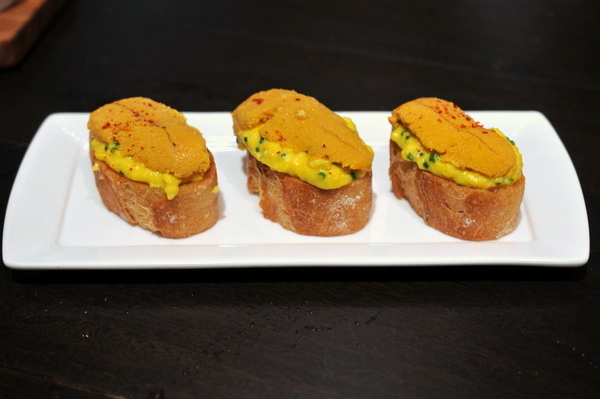 Parmesan Beignets - sweet potato, vadouvan, erik's maple syrup
This course is a case of if it ain't broke don't fix it. The previous version of this course had a laser focus on the deep cheesy flavor and airy fried savor and didn't confuse the issue with vadouvan and sweet potato.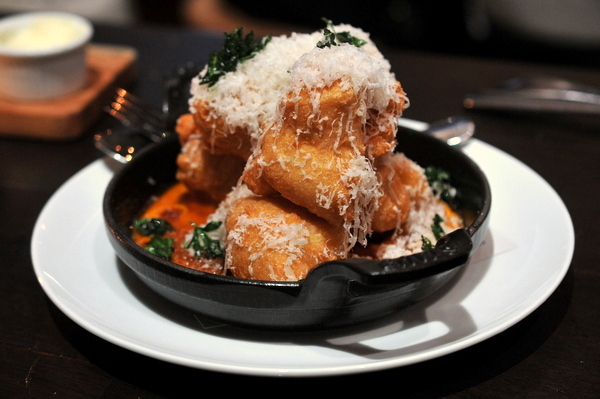 Chanterelle Mushroom - spring brook farm raclette, wild arugula
Manzke's tarte flambées quickly became one of his signatures at Church and State and with good reason. The paper-thin crust is airy and crisp. I quite enjoyed the interplay between the nutty arugula and the earthy chanterelles though the caramelized onions a bit too intense for my liking.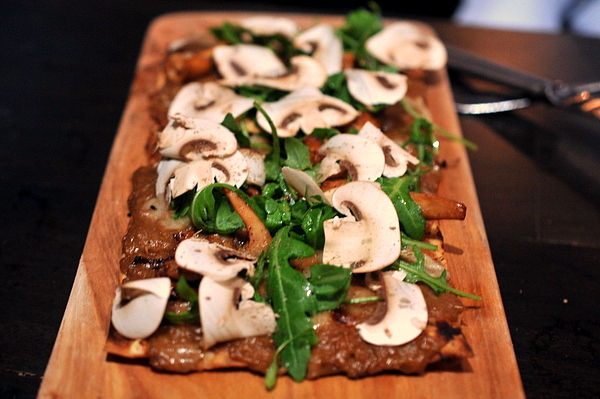 Negroni Blanc - gin, americano, vermouth blanc
Never a huge fan of Negronis, we ordered this for sake of completeness and it didn't hurt that Lund said this was his favorite cocktail on the menu. I well balanced and nuanced like drinking smooth liquid velvet with a touch of dirty earth.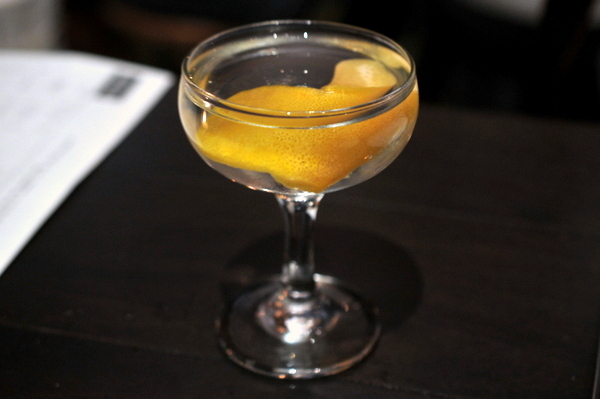 Pig Ear Salad - crispy pork rinds, raw root vegetables, chili vinaigrette
After a couple of mixed courses the meal got back on track with the pig ear salad. The ears and pork rinds pack an immense amount of porcine savor between them, but the crisp vegetables and tang of the vinaigrette kept the dish feeling light as a feather. The sliced red peppers had a fair amount of heat to them for good measure.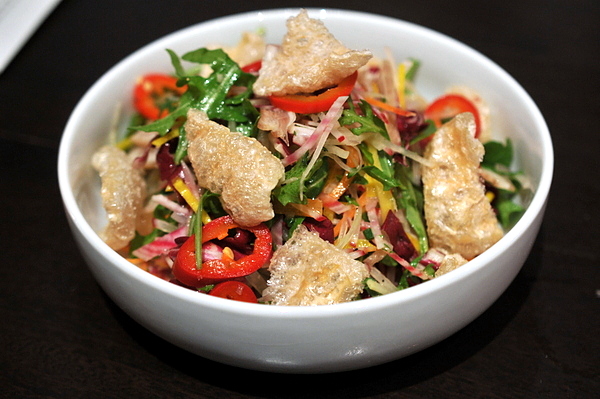 Emrich-Schönleber, Riesling Halenberg Großes Gewächs, 2008, Nahe, Germany
Though I tend to prefer dry reds, I still have a soft spot for my gateway wine, Riesling. The expressive nose showed off a lovely minerality mixed with citrus and pineapple and a touch of herbaceousness to boot. On the palate the wine is bone dry with a taut acidity and touch of effervescence.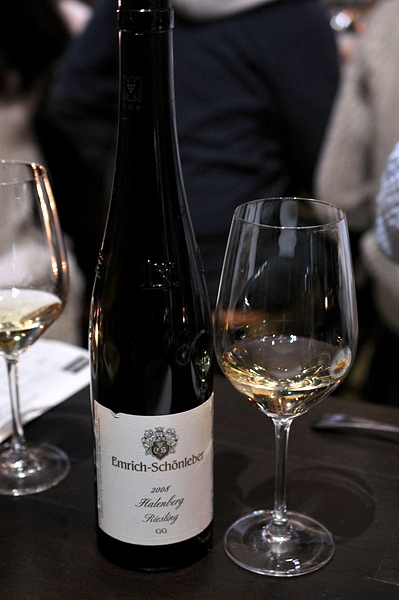 Wood Oven Brussels Sprouts - frisée, lardons, soft egg
I'm not a fan of brussels sprouts but the lardons and poached egg won me over. The salad had all the qualities of a classic Salad Lyonnaise, but with a steady bitter undertone.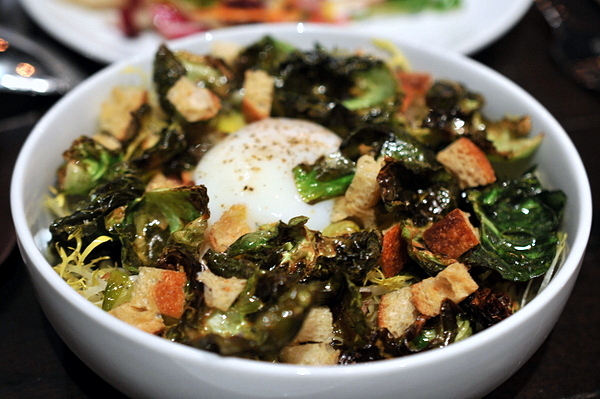 Spaghetti Rustichella - manila clams, razor clams, garlic, chili flake
Just a spot on shellfish-based pasta, the noodles are supple and toothsome suffused with a resonant shellfish brine while the subtle touch of herbs and spice lend the dish an extra dimension.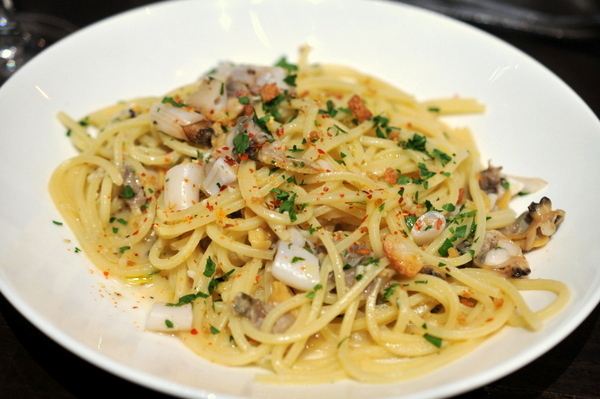 Risotto Nero - atlantic calamari, mediterranean octopus
The risotto was every bit as good as the spaghetti, spot-on texturally with a pronounced citrus twang keeps things light and lively, a deft contrast to the hearty meaty octopus and the supple enigmatic squid.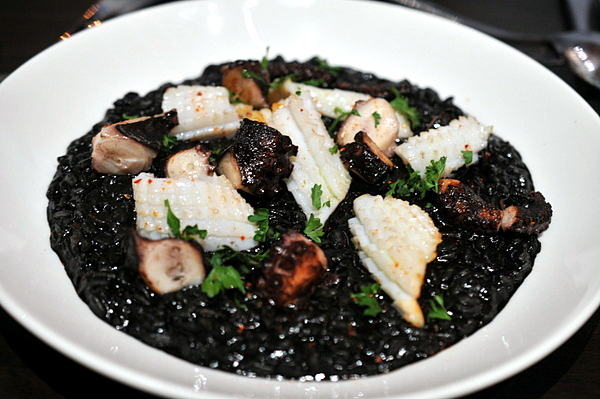 Cook Ranch Pig's Head - lentils, bacon, frisée, farm egg
Pork, frisée and eggs round 2? Yes, please! This course was even more imbued with porcine goodness than the brussels sprouts. Each sliver of jellied pig's head were a bit intense on their own, the flavors were moderated by the roughage coupled with the starchy heft of the lentils.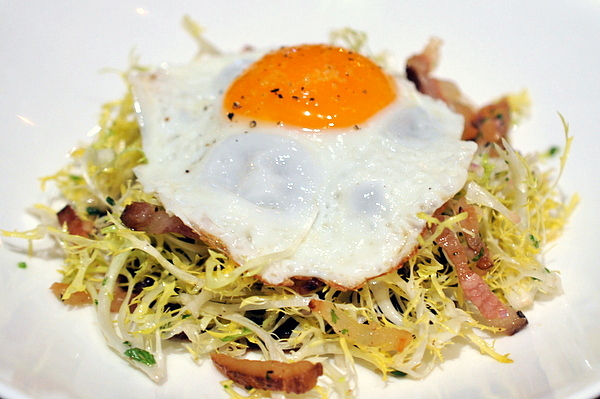 Sage Panna Cotta - butternut squash, pumpkin seeds
Pôt de Crème - caramel
Passion Fruit Tart - mascarpone sabayon
Bomboloni - hazelnut ice cream, chocolate sauce
We were given a dessert sampler of sorts to end the meal. The panna-cotta was the lightest of the dessert, nuanced sweetness is met with urgent fragrance from the sage. Being a sucker for pot de creme and caramel, that was easily the most approachable of the desserts for me; creamy salty-sweet, I wish I had one all for myself. The passion fruit tart was equally as impressive bracing fruit is matched with a buttery crust augmented by a dollop of creamy mascarpone. The Bomboloni were a nice twist to the classic Italian pastry; filled with a hazelnut ice cream then drenched in chocolate sauce it was like combining a donut with an ice cream sandwich.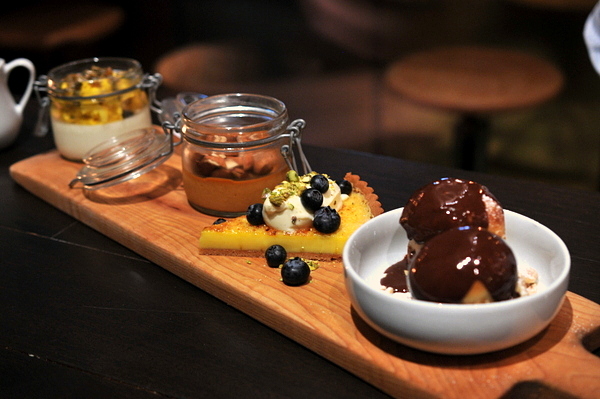 Republique was was a meal over five years in the making and it was worth the wait. Manzke's signature style can be seen in every course and the resulting elevated take on bistro fare is approachable yet elegant, familiar yet thought-provoking. The restaurant was packed during my visit and I don't expect things to change any time soon.