St. Regis Hotel
2 E 55th St
New York, NY 10022
(212) 710-2277

Adour, located in the St. Regis is Alain Ducasse's new New York venture. The restaurant emphasizes food made for wine pairings although I didn't feel the restaurant did anything particularly spectacular with regard to the wine pairings.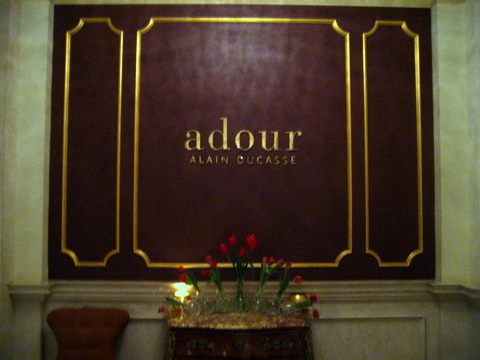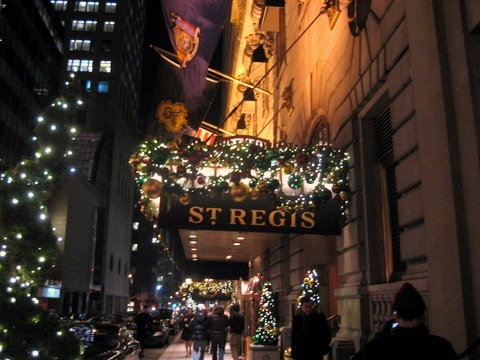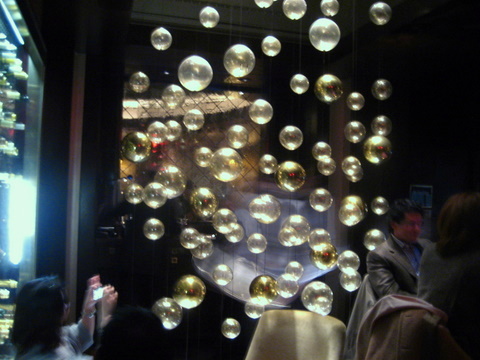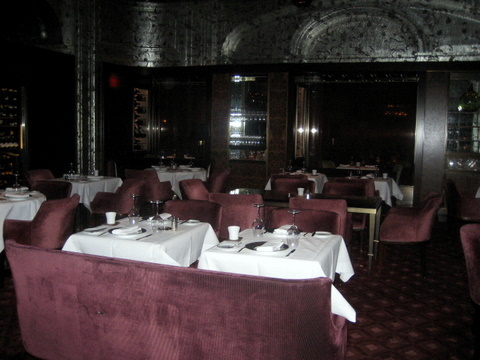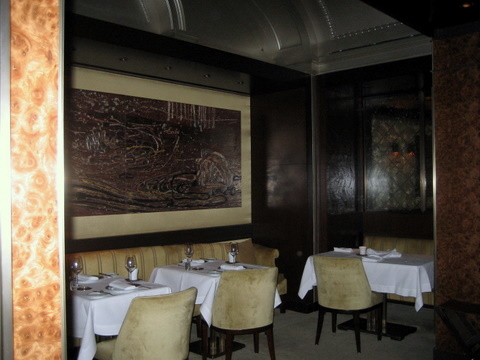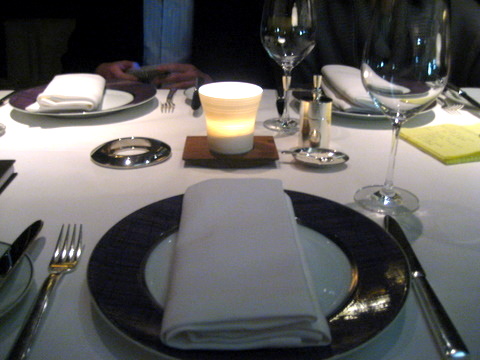 Amuse: Butternut Squash Soup - with Chive Cream
To start we were served a smooth butternut squash soup with chive cream. The problem with butternut squash is it can be too sweet but had a savoriness accented by salt crouton bits. The chive cream lingers long after the butternut squash dissipates giving a refreshing vegetal note.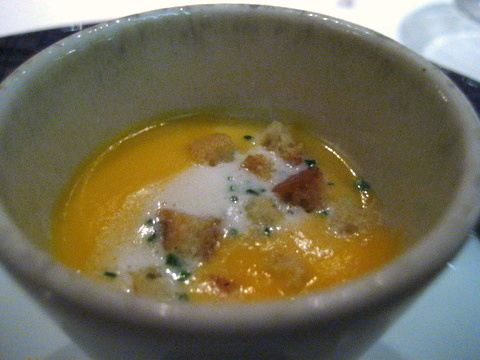 Bread - Olive, Sourdough, Baguette
The breads were extremely unimpressive, cold and hard they had distinctive flavors but awful textures. I don't think anyone ate more than a bite of each. For some unknown reason they paired olive butter with the breads, including an olive bread.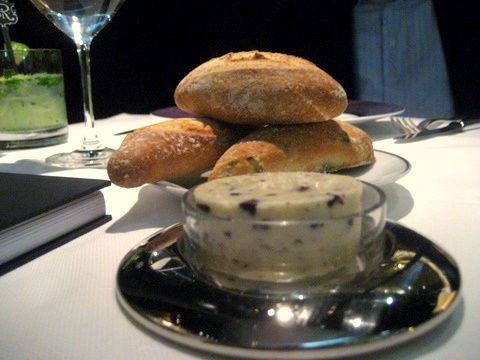 Supplement: Duck Foie Gras Terrine - Qunice Chutney/Gelée Huckleberry/Duck Vinaigrette, Toasted Baguette
The first of two supplements was a foie gras terrine layered with fruit gelée. The terrine had a nice smooth texture but lacked enough unctuousness for my taste.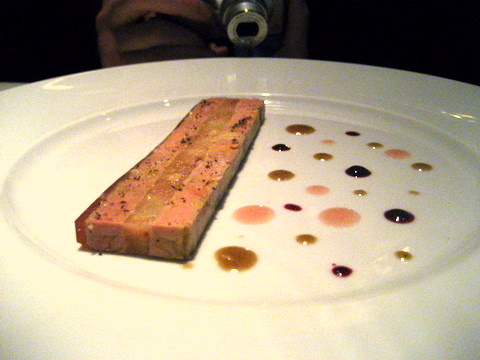 Supplement: Sweetbread "Meuniére" - Egg Purse, Wild Mushrooms, Brioche
The sweetbreads were very firm, with a rich gamy component that worked very well with the mushrooms. I thought the egg white was a touch too firm but my dining companions seemed to enjoy it.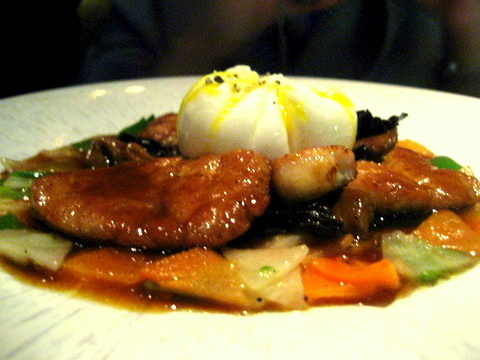 01: Cucumber Vinegar Marinated Hamachi - Avocado, Granny Smith, Long Pepper, Green Apple Mustard
The fish was a touch warm but was nicely flavored by the light freshness of the cucumber vinegar. The addition of the accouterments definitely distracts from the natural flavor of the fish. After a couple of trials we felt the green apple mustard (which tastes a lot like a green Jolly Rancher) was the best paring with the hamachi as it added a unique flavor while allowing the fish to come to the fore.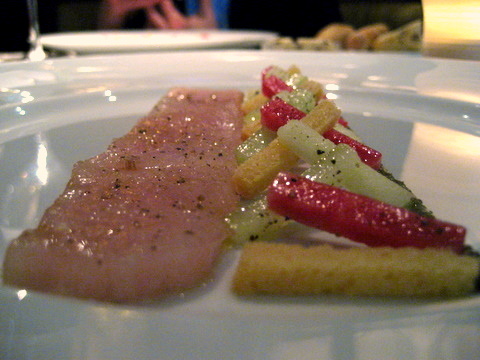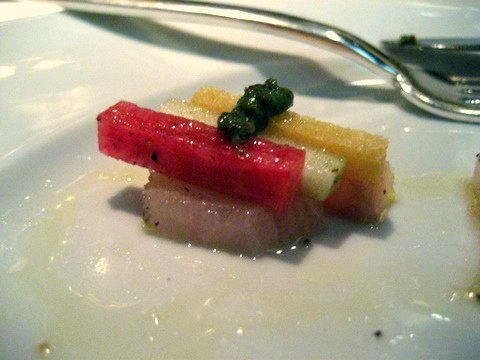 02: Glazed Multicolor Vegetable Composition - Natural Jus Reduction
The kitchen took a very structured approach to this course, Each of the cooked vegetables had a subtle difference but I think the cooking gave the dish a uniform sweetness, not quite as good as the fresh versions served in San Francisco.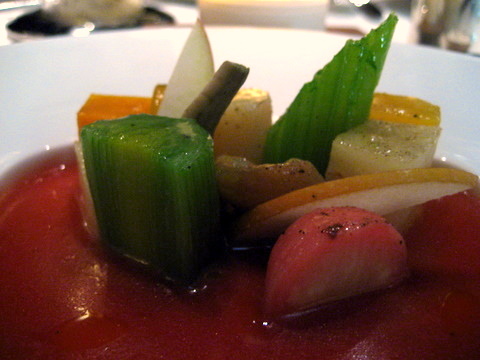 03: Butter Poached Maine Lobster - Pasta Impression, Zucchini Rings, Tomato Petal
The lobster was quite inconsistent, some of it was nice and supple while other pieces were overcooked and rubbery. The tomato and zucchini tended to be a bit salty although was quite nice when taken with the pasta. I was a bit apprehensive about the use of a red sauce with the lobster but it turned out pretty well.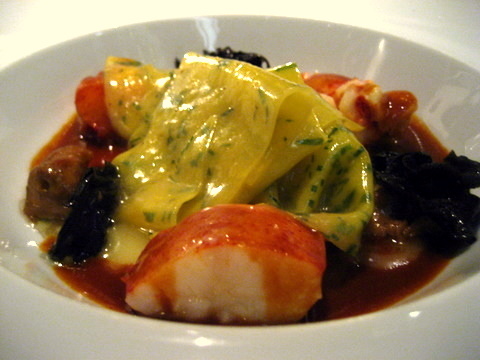 04: Duck Breast Fillet "Au Plat" - Creamy Polenta, Shallots, Radish, Nicoise Olives
The last savory course was a duck breast served with a salty Asian flavor. I thought the breast was a touch overdone and dry, the result was a kind of gritty texture that detracted from the dish. I typically don't care for polenta but this had a salty sweetness that reminded me of Chinese tapioca dessert.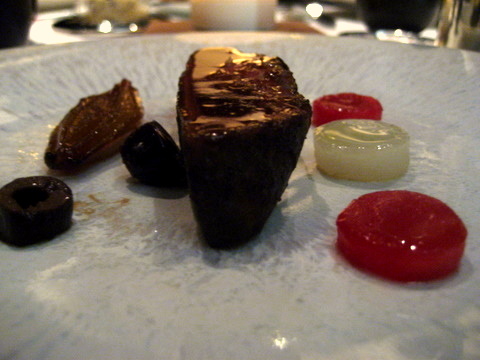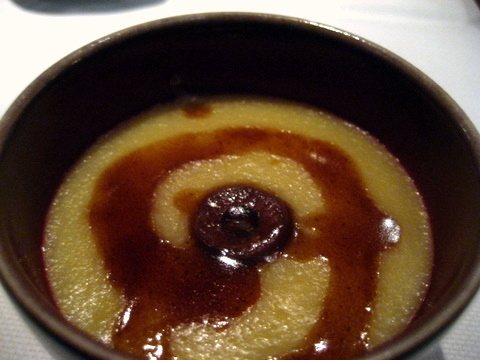 05: Apple Sablé - Granny Smith Sorbet, Calvados Emulsion, Vanilla Cream
Sablé cookie is basically a short bread, paired with apple sorbet and vanilla this reminded me of an apple pie or tart. The distinctive preparation of each ingredient results in a stellar multi-dimensional affair, the various textural and temperature contrasts elevate this far above your typical apple pie.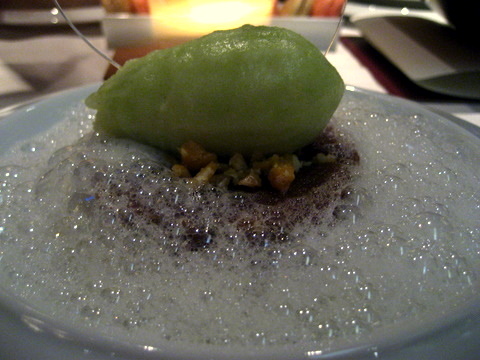 Mignardises - Raspberry Macaroon, Chocolate Macaroon, Passionfruit White Chocolate, Vanilla Rum Dark Chocolate
Fairly typical mignardises, the raspberry macaroon was particularly good with a hard outer crunch that yielded a soft chewiness sweetened with a jammy raspberry center.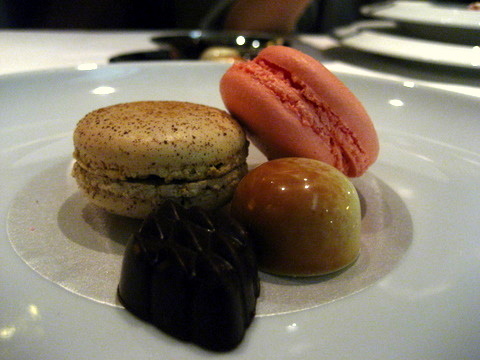 Overall I was a bit disappointed with my first fine-dining experience in New York. The courses were technically solid, but aside from the dessert, they lacked something that would make them truly memorable. For a restaurant that supposedly put so much effort into its wine, the only thing truly impressive was the price, 2.5 glasses and a cocktail ended up costing one of my companions $135, more than the cost of the tasting menu ($110).