In addition to some of the top fine dining restaurants of the world, New York is home to some famous junk food (pizza and hot dogs) as well. We decided to do a crash course in New York Hot Dogs, hitting three different places in one afternoon. We originally wanted to include Nathan's on there as well but couldn't find one nearby.

Papaya King - 179 E 86th St, New York, NY 10028 (212) 369-0648
This chain which opened in 1931 started out serving tropical fruit drinks hence the "Papaya" in the name. The restaurant was incredibly packed with a small counter where diners could eat after ordering. The hot dogs came out almost immediately after ordering. We ordered two hot dogs with sauerkraut and a papaya drink. The hot dogs had a nice firm snap and the kraut added a sour bite that went nicely with the mustard. The snap apparently comes from the use of natural casing on the hot dog The drink was thick with this vague unidentifiable fruitiness and a slightly eggy slightly tangy undertone very much like an Orange Julius, somehow strangely satisfying.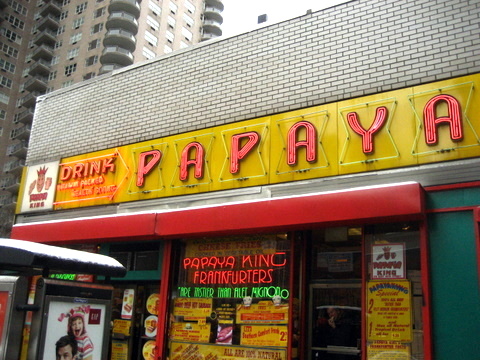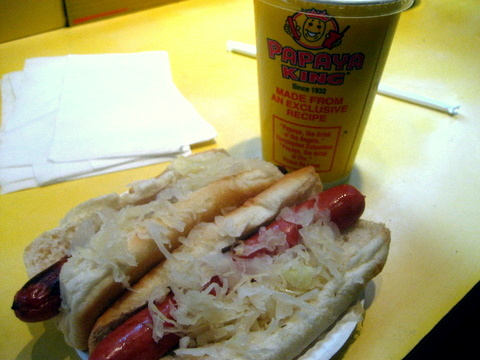 Gray's Papaya - 402 6th Ave, New York, NY 10011 (212) 260-3532
Gray's Papaya is basically a clone of Papaya King. We decided to order the same thing that we got at Papaya King, 2 hot dogs with kraut and a papaya drink. In light of the happenings on Wall Street this combo has been renamed the Recession Special and it costs a mere $4.45. The hot dogs are almost perfect clones of the Papaya King dogs but they are just the slightest bit less snappy. The papaya drink has a similar sweetness but the texture is a bit thinner with the tart yogurt aspect more apparent and less creaminess.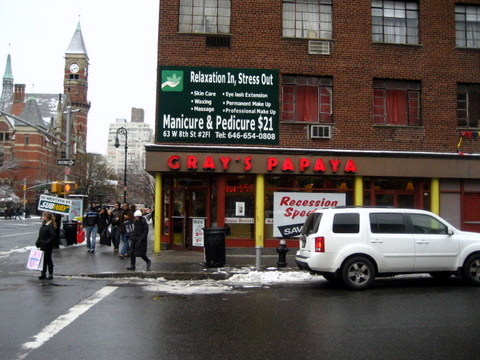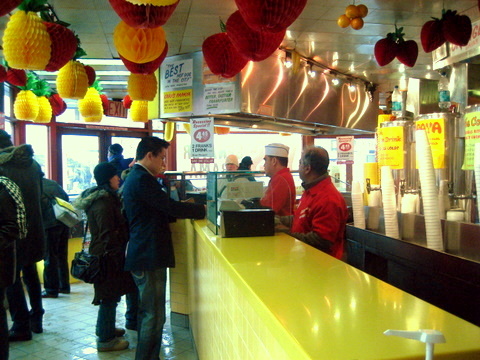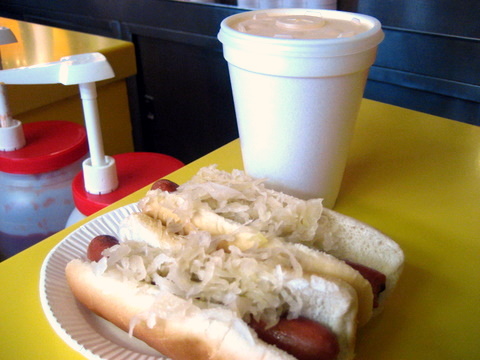 Sabrett's
No hot dog tasting would be complete without a street vendor "dirty water" hot dog. We went with one of the many Sabrett's stands dotting the city since one of my coworkers recommended the brand. The hot dog was served with the same kraut we had on the previous dogs. This was the weakest of the three by far, no snap, the dog actually had very little to distinguish it from any other hot dog I've eaten in the past.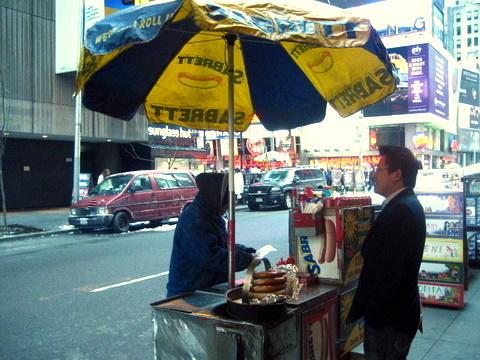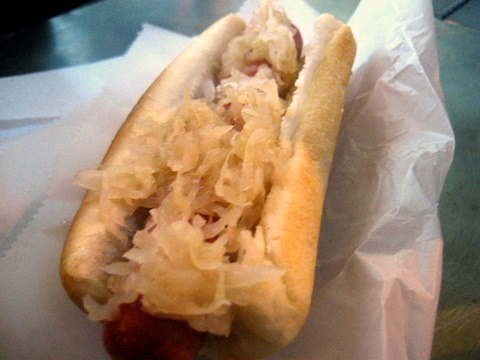 In the end, the King reigns supreme. After trying Papaya King, they really were onto something, pairing those hot dogs with the creamy refreshing papaya drink. Gray's Papaya is a very close second and I could easily see the decision going the other way on a different day. Both of these places deserve recognition as a distinctive feature of New York's culinary landscape.