Beechwood
131 1/2 Main St
Seal Beach, CA 90740
(562) 493-4500

There is something about barbecue that seems so quintessentially American. Grilling meats drenched in sauce over an open flame seems to be indelibly linked to summer. So it was I found myself craving some BBQ before spending a day at the beach.

Located on Main Street in Seal Beach, Beechwood is a 2 minute walk from the sand. Maybe even more noteworthy than the food is the ever changing wall of exquisite beers.

Lena's Famous Fried Pickles
Given the lofty name, I felt compelled to try this and they didn't disappoint. Full of flavor, these tangy savory morsels are the perfect accompaniment to an ice cold beer. I would have preferred a crisper texture, though I suspect the softness is the result of being cooked in hot oil and there isn't much to be done about that.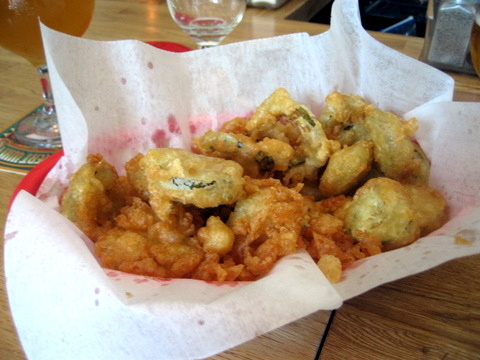 Fried Green Tomatoes
Following the pickles came more fried vegetables. The tomatoes are breaded and fried giving them a crisp exterior, though in contrast to the pickles, these were too firm for my liking.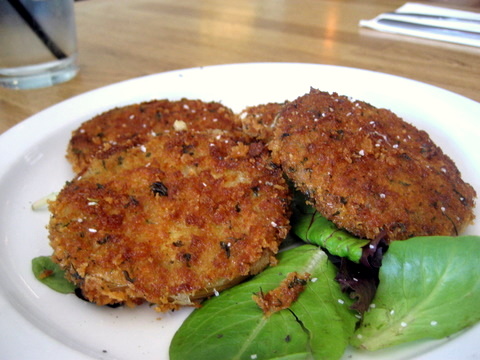 Beef Short Rib
Now we come to the heart of the meal, at Beechwood, the meats are seasoned with a dry rub and supposedly good enough to eat sans sauce, though the restaurant offers bottles of sauce on the side for those who want it. I am partial to beef ribs myself but I found these to be too lean and dry. Normally I like my meat to stand on it's own, but I actually found myself using the sauce to add a bit more flavor and moisture.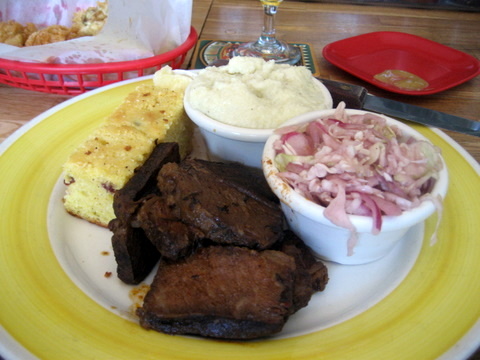 I have to say I was a bit disappointed by the food at Beechwood though the beer selection is easily one of the most interesting in Orange County. Given this restaurant is 10 minutes from my house and 5 minutes from work, I know I'll be back here to toss off a few beers hopefully I'll be able to resist the urge to come here during work.

Phil's BBQ
3750 Sports Arena Blvd
San Diego, CA 92110
(619) 226-6333

After the lackluster experience at Beechwood, a friend recommended that I try Phil's BBQ in San Diego. Widely considered the best BBQ in San Diego, when I arrived there was a line going around the side of the building. Above the bend was a sign that read "Approximate wait time from this point 21 minutes 14 seconds" an oddly precise version of those accursed signs one sees while standing in amusement park lines. The crowd was once a great endorsement for the restaurant and a painful test of patience.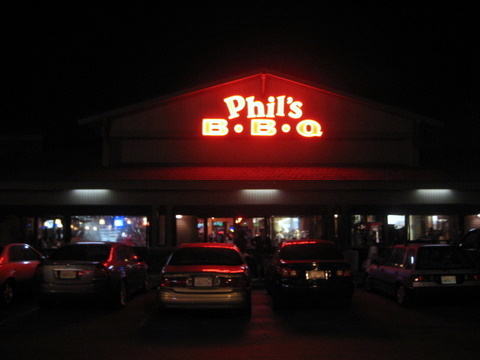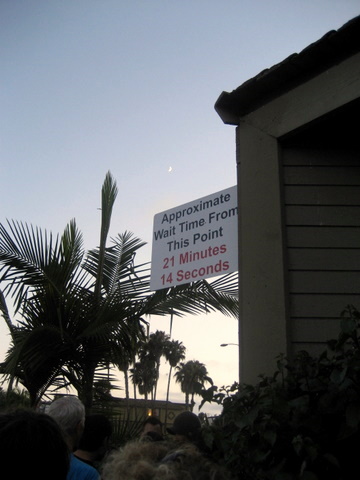 Beef Rib Tickler
The Beef Rib Tickler had a single beef rib and sides of onion rings and cole slaw. The beef rib was everything I was hoping for, heavy layers of fat mixed into the moist tender lean meat. There is a pretty heavy layer of sauce but the richness of the beef still came through.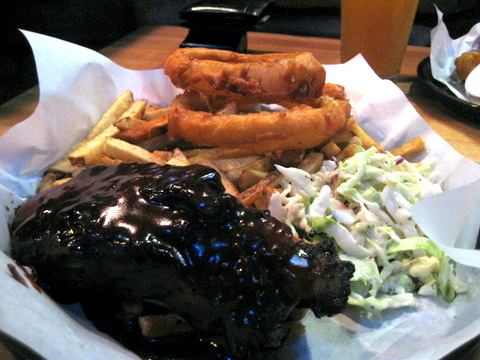 Baby Back Rib Dinner - Half Rib Dinner
As a kid there would always be baby back ribs at our family barbecues so this is the particular meat I most associate with barbecue. I'm not normally wild about baby backs but, Phil's were nicely cooked, tender and juicy, and a quick flick of the wrist was all it took to separate the meat from the bone. Unlike the beef, the sauce was far more prominent on these ribs.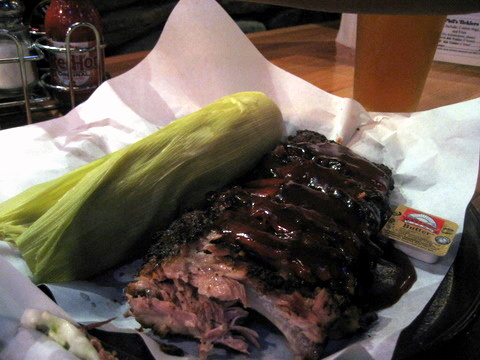 BBQ Broham - Grilled pork shoulder seasoned, char grilled on a bed of cole slaw and topped with BBQ Sauce
The shoulder was a much leaner and firmer meat, that gave off a strong flavor of smoked wood. The cole slaw helped soften this somewhat, but it still tasted too much like eating wood chips for my liking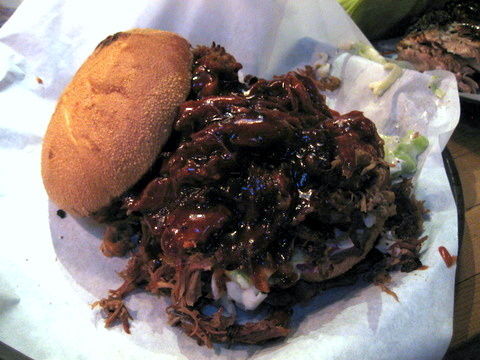 Colossal Onion Rings - Fresh Batter Dipped
The onion rings definitely lived up to their moniker, the fresh batter was thick and crunchy yielding a soft sweet oniony interior. Delicious alone or dipped in ranch.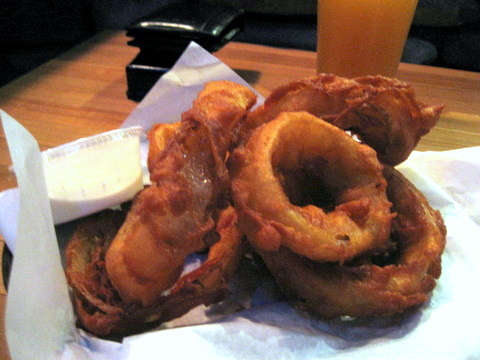 From the food, I can certainly see why there is a line around the side of the building. The meat is tender and flavorful and the sauce is well balanced particularly with the beef ribs. Sadly the beer is lackluster compared with the varied and obscure offerings at Beechwood. Combine the strengths of each and I could easily see the line outside the restaurant doubling.