1050 S Flower Street
Los Angeles, CA 90015
(213)749-1460

I had heard a lot of great things about Rivera both regarding the new life that Sedlar was bringing to fine Latin dining and the brilliant cocktails of master bartender (don't call him a mixologist) Julian Cox.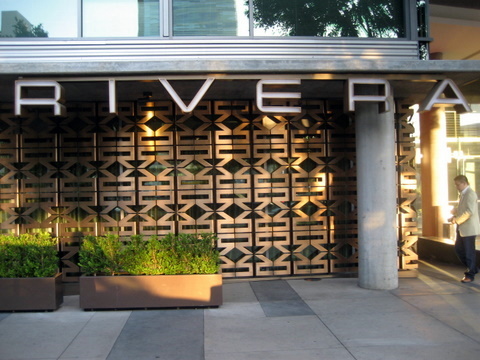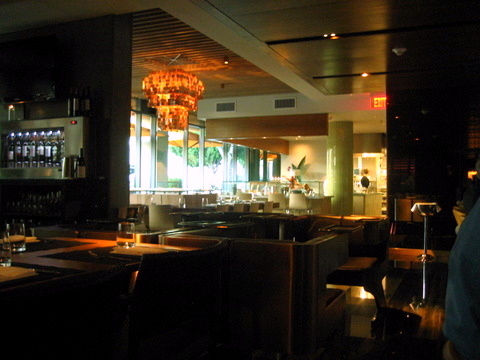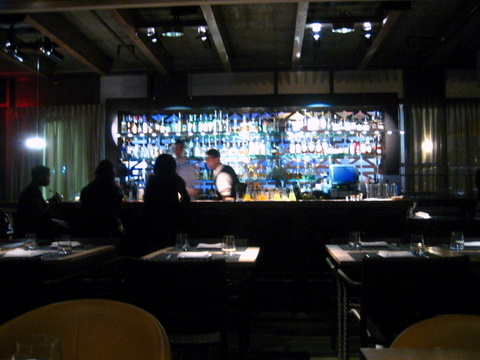 rivera's cup - BLANCO TEQUILA, LIME, CUCUMBER
A twist on the Gordon's Cup, using tequila in place of the traditional gin. A very well balanced cocktail blending the tang of lime with the freshness of cucumber.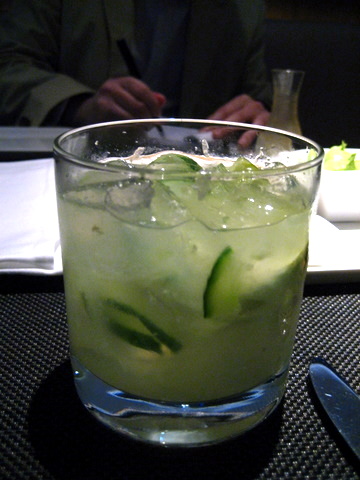 mint julep - BOURBON, MINT, SUGAR, CRUSHED ICE
Despite being at a restaurant known for its innovative cocktails, my companion chose to go with a classic instead with the mint and sugar calming the heat of the bourbon quite nicely.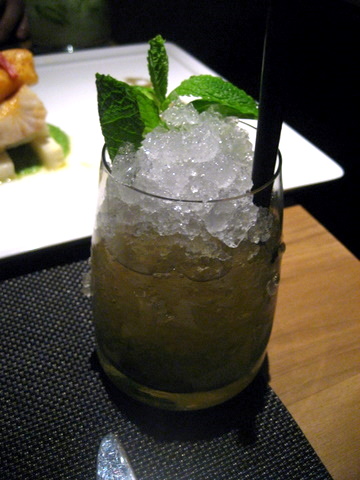 01: tortillas florales - HOUSEMADE NIXTAMAL TORTILLAS, "INDIAN BUTTER"
We started with a serving of fresh warm tortillas pressed with a dried flower and served with "Indian Butter" aka guacamole. The combination is simple but the buttery tortilla serves as the perfect base for the rich salty sweet butter definitely not your average bread course.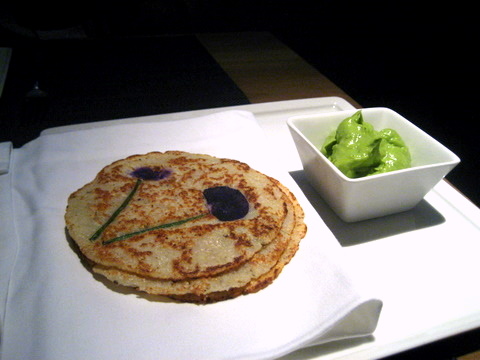 02: caballito de sopas dobles - TWO LATIN SOUPS, DIFFERENT FLAVORS, DIFFERENT TEMPERATURES
This was a fun little course, basically a shooter of two types of soup which change regularly. For us it was lobster bisque and a fennel apple soup. Immediately apparent is the temperature contrast, first the warmth of the bisque which builds to an almost painful level then the cool soothing relief of the fennel/apple soup. The flavors are almost an afterthought though a delicious lobster/fennel combination is apparent on the finish.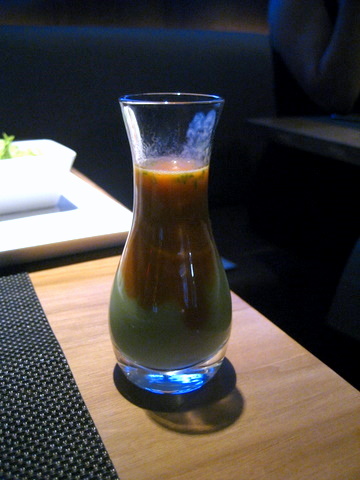 03: bacalao negro fresco - SEARED BLACK COD, SERRANO HAM CRISP
This is one of the few times I've had black cod that wasn't served in a miso glaze. The fish is perfectly cooked exhibiting a flaky supple texture, perfect with the ham crisp which seems to draw out the natural flavor of the cod. The heaviness of the meat is well-balanced by the addition of salsa verde making for a thoroughly enjoyable experience.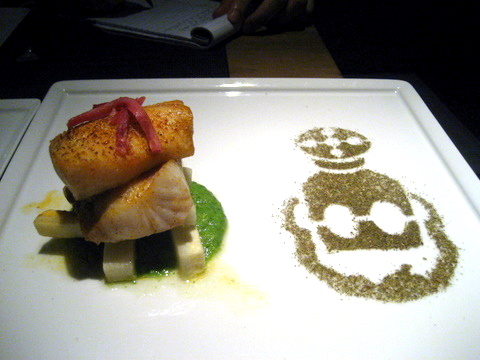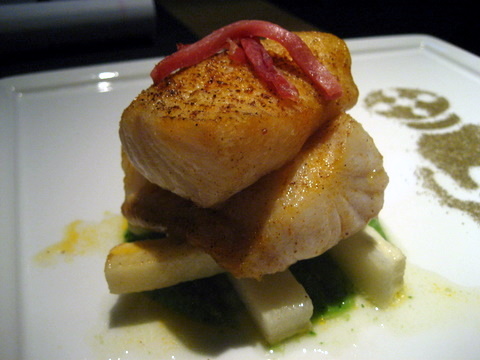 04: playa bar seviche - AHI TUNA, SERRANOS, LIME, AVOCADO
The seviche was served more like a crudo or sashimi, with slices of fish dressed with lime, resting atop a bed of crispy jicama and slices of fresh avocado on the side. Fairly traditional in flavor, I found this dish a bit dull, the fish texture wasn't particularly impressive and the flavors while appropriate were perhaps a bit muted.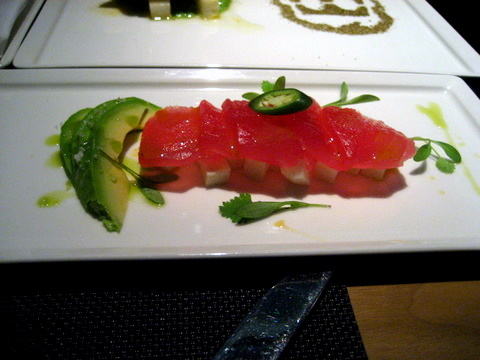 05: chile pasilla relleno - PICKLED MILD CHILE, BURRATA CHEESE, SERVED CHILLED
I had no idea what to expect with this course. What immediately hit me was the smoky flavor of the pepper followed by a tart bitterness. The cheese added a creamy smooth mouthfeel that added a nice textural contrast, though the flavor was completely covered by the pepper.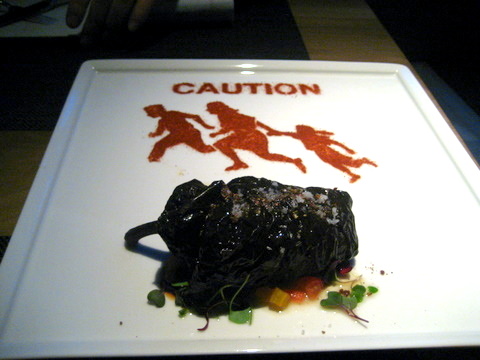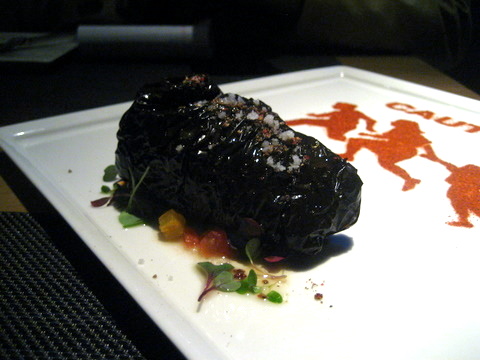 06: cordorniz cubana - GRILLED QUAIL, BLACK BEANS
The quail was beautifully cooked with a luscious texture and the natural flavor of the bird immediately apparent. Normally I'd shun any accouterments and solely focus on the bird but the mushrooms were a lovely compliment, earthy with a faint brine, so very satisfying when taken with the quail.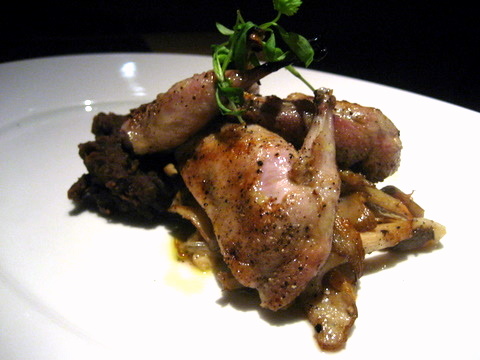 07: cordero vasco - BASQUE LAMB CHOPS, CHORIZO, PIQUILLOS, OLIVES, CAPERS
A very well prepared lamb, though I wasn't expecting much from this dish. Expecting the olives and capers would overpower the lamb, I was surprised to find they added a gentle tang to the smoky flavor of the meat. The frisee provided a bitter counterpoint to the heavier taste of the meat making for a well balanced and nicely flavored course.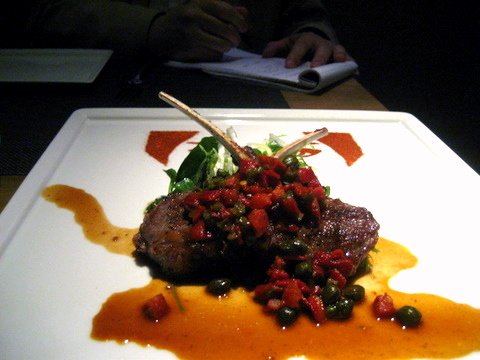 strawberry fields - BLANCO TEQUILA, VELVET FALERNUM, STRAWBERRIES
I decided to stick with tequila for my second drink, this time pairing them with strawberries and Falernum which is a syrup of almond, ginger/cloves, and lime. The strawberries made this much sweeter but the Falernum added a bit of spice and bite which kept me from feeling too girly.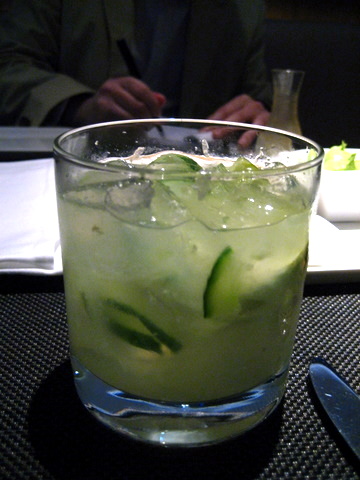 sloe gin fizz - SLOE GIN, LEMON, SUGAR, SODA
My companion again opted for a classic cocktail. This was my first experience with Sloe Gin Fizz and it reminded me of a root beer or ginger beer. Quite tasty especially with the thickened egg white to give it some texture.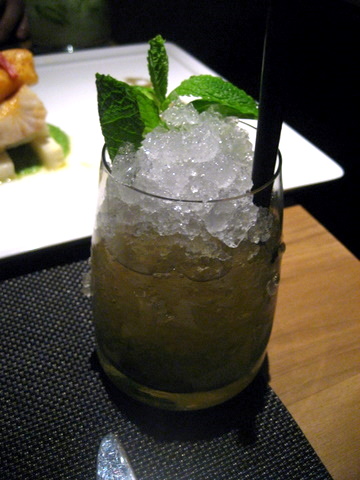 08: maya puerco pibil sous vide - BANANA LEAF BRAISED PORK SHOULDER, PERUVIAN POTATOES
Sous Vide pork shoulder just sounds like a great idea. I was thinking about this course all night and by the time it arrived, I was almost certain it wouldn't live up to the dish in my mind. Turns out the course was even better than I thought, the sous vide preparation trapping the natural juices of the meat rendering it utterly tender and flavorful despite the fairly low fat content. This pork is meant to be enjoyed alone, eat the potatoes sparingly if you must but I beg you at least try sample the pork in its natural state.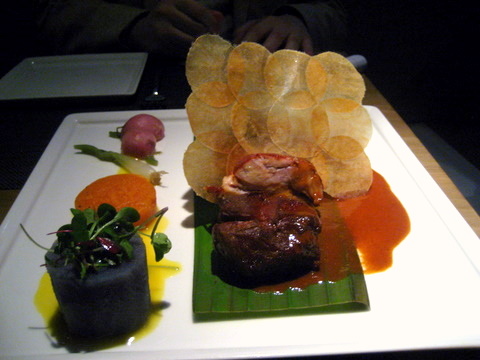 09: olive oil cake - STRAWBERRIES, CREME FRAICHE
An extremely dense olive oil cake exhibiting a blunt sweetness. Decently tasty but still a bit simple even with the strawberries and creme fraiche.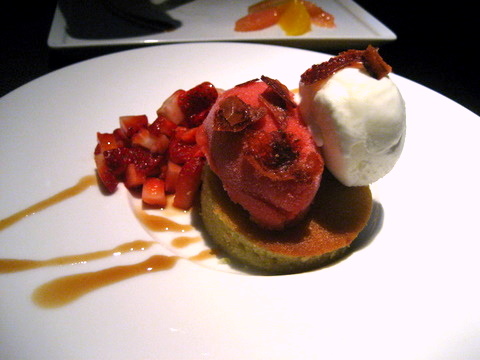 10: baba cachaca - CITRUS, DULCE DE LECHE
The standout dessert of the night. The sweet bread came soaked in cachaha and exhibited a nice sweetness that was taken to even dizzier heights when enjoyed with the dulce de leche. The cara cara oranges were a vital addition as they kept the dulce de leche from being too overwhelming.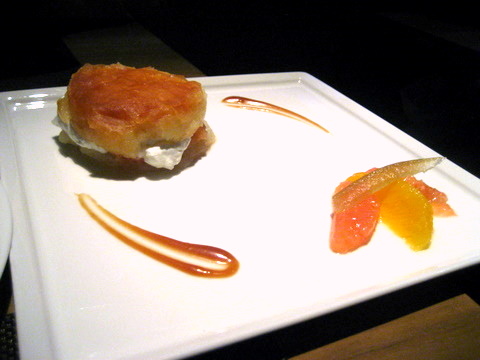 11: estudio en flan - THREE DIFFERENT STYLES OF THE CLASSIC DESSERT, WITH THREE COMPLEMENTARY SAUCES
The last dessert was a trio of flans and sauces:
*Light Flan with Blackberry Curry - More like a heavy cream than a flan, this tasted strongly of vanilla and paired nicely wiht the tart blackberry.
*Medium Flan with Lime Mint Pepper - A bit firmer and more flavorful than the first, a perfect example of the classic flan.
*Heavy Flan with Strawberry Anise Orange - Easily my favorite of the three, quite dense with a strong taste of caramelized sugar somewhat reminiscent of a creme brulee.
As the flan got heavier, it was better able to stand on its own without the complimentary sauce. An interesting idea though without too much experience with flan I felt some of the subtlety of the light flan was lost on me.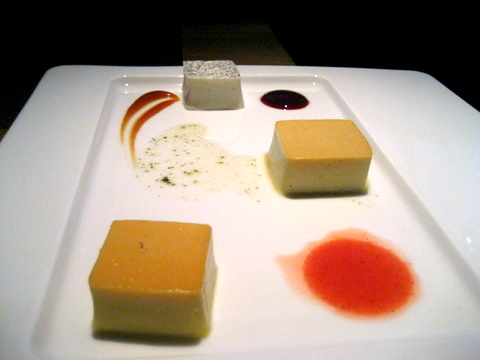 Without a doubt Rivera exceeded my expectations. I didn't enjoy every course but that was due to personal preference rather than any lapse by the kitchen. I heard mentions of a new Summer menu and though Summer is almost over rest assured I will be back (cocktail in hand) to taste what Chef Sedlar has in store.