2945 E Broadway
Long Beach, CA 90803
(562) 438-1235

I came to La Parolaccia based on the recommendation from a reader who mentioned they served Neapolitan style pizza with a well done crispy crust. The restaurant touts its pizzas are fired in an oven imported from Italy so I was expecting a down to earth homey restaurant run by people passionate about their food.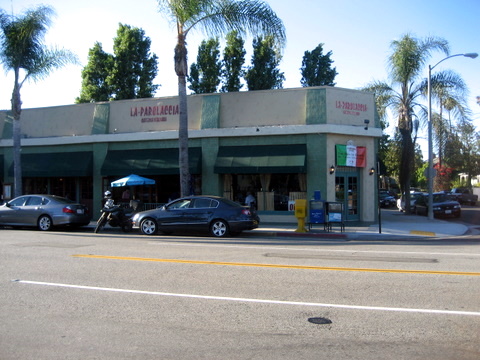 Bread
The bread, fairly lackluster in and of itself, came with a sweet tomato paste that served to excite the palate nicely.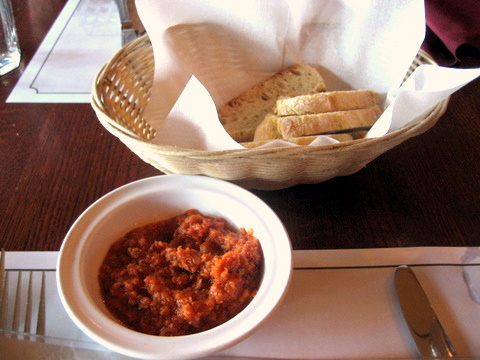 Carpaccio di bue Naviglio Grande - Thinly sliced raw beef topped with a creamy gorgonzola cheese sauce
The beef was indeed thinly sliced and came topped with a rich creamy sauce but it desperately lacked salt. This was so painfully bland it was hard to enjoy the tenderness of the beef. There was an option to have this served with arugula and lemon which would have gone a long way to adding some flavor and textural contrasts while moderating the heaviness of the cheese.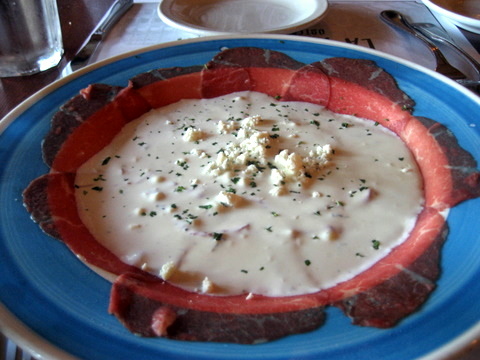 Risotto Molisana - Italian Arborio rice, sliced chicken breast, green peas, cherry tomato, asparagus roasted eggplant, parmesan cheese, a pinch of rosemary, white wine
Ever since I had risotto at Studio, I have felt oddly compelled to order it whenever it is available. This was a fairly standard example, rice slightly overcooked, classic seasoning of parmasean and white wine. The use of chicken and simple vegetables reinforced the comfort food feel of the dish.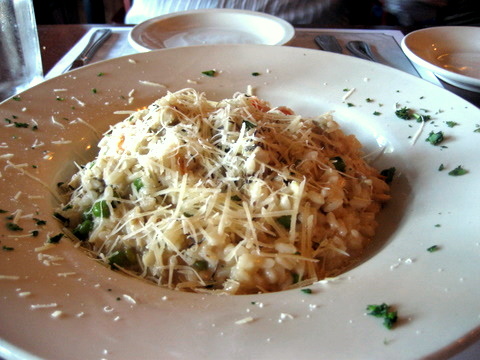 Marherita - Tomato sauce, fresh mozzarella cheese, fresh basil
The most classic of Neapolitan pizzas, the Marherita comes simply adorned with tomato sauce, mozzarella, and basil. The flavors on this pizza were a bit duller than most, typically the tomato sauce has a vibrant tang and the mozzarella gives a subtle brine. Both of those were missing here resulting in a flat tasting pie, though the crust was satisfyingly crisp as promised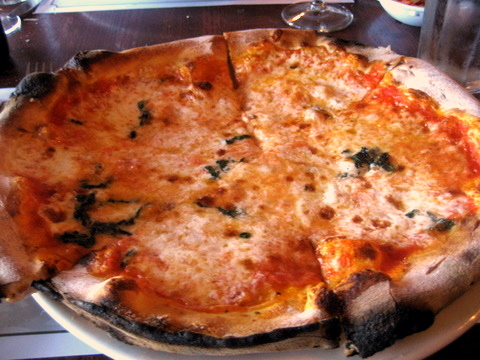 Reggiana - Tomato sauce, mozzarella cheese, porcini mushrooms, Italian prosciutto
I am normally a fan of mushroom and prosciutto pizza but the prosciutto on this pizza came out with a slight funk. What's worse, the mushrooms tasted as if they came straight from a can, overly salty and almost slightly moldy.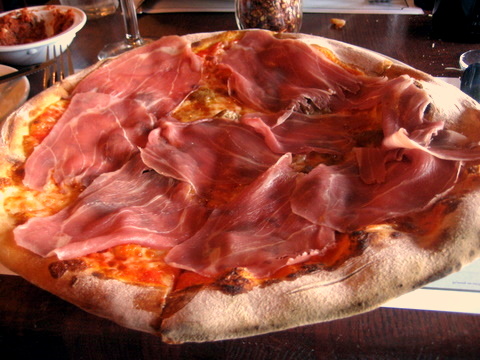 So the dough is wonderfully crispy, but I left La Parolaccia with the glaring weaknesses in the Reggiana and Carpaccio on my mind. A decent pie crust is not enough to overcome the lackluster flavor profiles.