22 Hawthorne Street
San Francisco, CA 94105
(415) 685-4860

Since Thomas Keller started The French Laundry in 1994, three people have held the title Chef de Cuisine. In addition to technique and skill it takes a certain amount of ambition to rise to Chef de Cuisine at the French Laundry. Though CdC at The French Laundry could justifiably be considered the apex of any chef's career, I suspect same ambition that enabled these rare few to lead one of the world's greatest kitchens also drives to leave and create something of their own. The first, Eric Ziebold left in 2004 after 8 years to open CityZen, now one of DC's most acclaimed restaurants.

During the kitchen tour at my visit to The French Laundry in 2007, I remember wondering when Chef Corey Lee would leave to start his own restaurant. In an industry known for quick staff turnover, Chef Corey Lee has bucked that trend spending his entire career with the Thomas Keller Restaurant Group, climbing steadily from line cook to Chef de Cuisine at The French Laundry. The other shoe finally dropped in 2009 with Chef Lee's departure and the subsequent opening of Benu.

buckwheat lavash - nori, sesame
The bread is a dry buckwheat cracker that possesses a deep nutty sweetness and a hint of nori-driven salinity.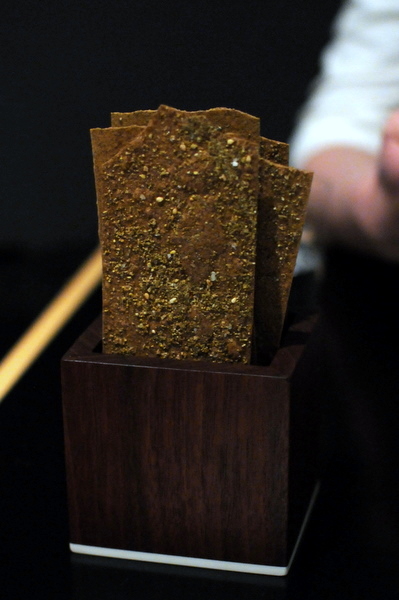 01: thousand-year-old quail egg - homemade tofu, chrysanthemum, black moss
hiedler, grüner veltliner, löss, kamptal, austria 2008
It probably comes as no surprise that Thousand-year-old egg is something of a misnomer. The actual preservation process involves coating the eggs in an alkaline mixture of clay, ash, salt, lime and rice hulls to raise the pH of the egg over a period from several weeks to several months. The result is a translucent jellied exterior and an inky black yolk that carries a slightly sulfurous tang. Accompanying the egg is an herbal viscous broth of chrysanthemum and black moss with a globule of incredibly dense supple tofu. A nuanced and elegant amuse but one very keeping with the Asian flavors Chef Lee is trying to showcase. The wine is quite big for a grüner, notes of yeasty toast vie with a layer of underlying acidity.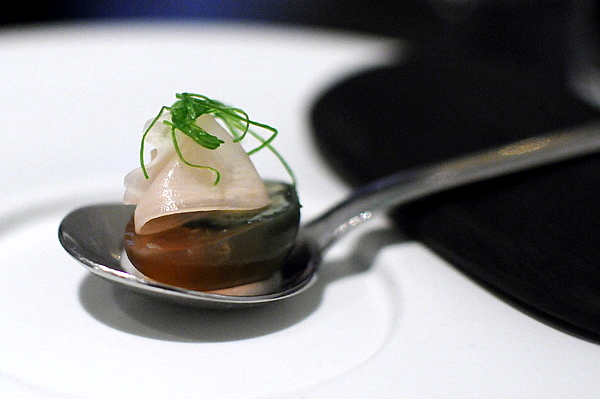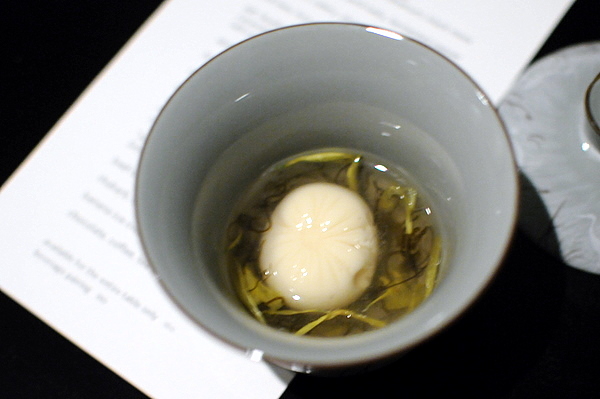 02: oyster - cabbage, pork belly, fermented pepper
hiedler, grüner veltliner, löss, kamptal, austria 2008
Combining oyster and pork belly can be tricky as neither is given to sharing the spotlight with an equally bold accompaniment. Though both were beautifully prepared, I thought the two stepped on one another resulting in a muddled flavor instead of the crisp brine and decadent unctuousness they normally display. The combination of the cabbage and fermented pepper reminded me of a mild kimchi which went exceedingly well with both proteins in the dish. The grüner with the previous course was even more effective with this the dichotomy paralleling the clash of the oyster and pork belly.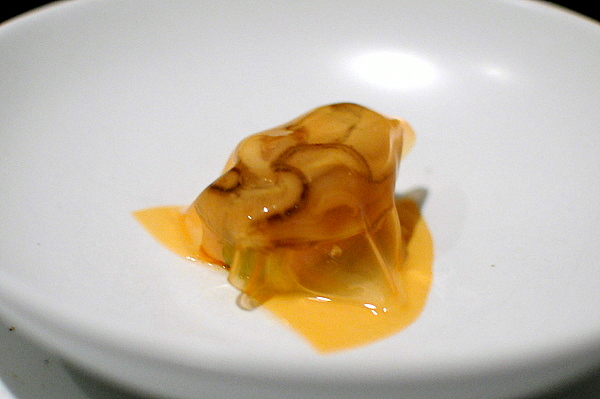 03: sea urchin - celery, almond, dark chocolate
wakatake, onikoroshi "demon slayer", junmai daiginjo, shizuoka, japan
Chef Lee must have been channeling his inner Gagnare with this course because this cerebral melange would have been right at home on the menu at Twist. The result of mixing uni with celery and chocolate is an entirely unique flavor profile at once earthy, dusky, and bitter as well as sweet and briny and that's without factoring the fresh vegetal crunch of the celery. An impeccably constructed course, the duet was simply a bit disconcerting for my tastes. The name Demon Slayer belies the refinement of this sake, incredibly mild with a silky smooth and slightly viscous texture.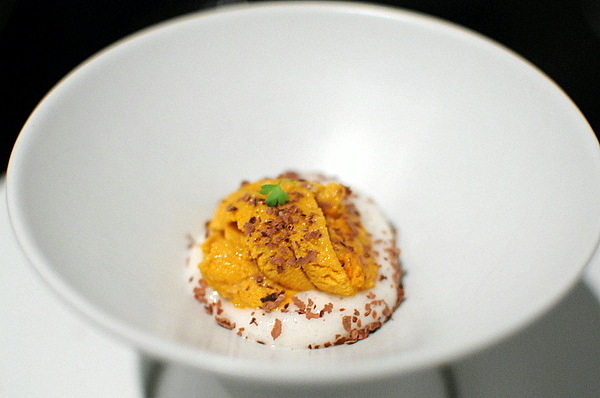 04: sake lees - foie gras, mountain yam, yuzu
wakatake, onikoroshi "demon slayer", junmai daiginjo, shizuoka, japan
Lees refer to the deposit of dead yeast that remain at the bottom of the vat during fermentation. Bottled wine directly on lees without filtering is supposed to add a nutty toasty note. This dish centers around an "ice cream" made from sake lees, yeasty with a milky grain sweetness. The foie is presented as a pudding, the characteristic richness is present but elusive; always just on the edge of my consciousness. The course is finished with a delicate yet effusive aroma of yuzu. The sake pairs especially well with this course, the flavors of the lees helps accentuate the sake's rougher edges.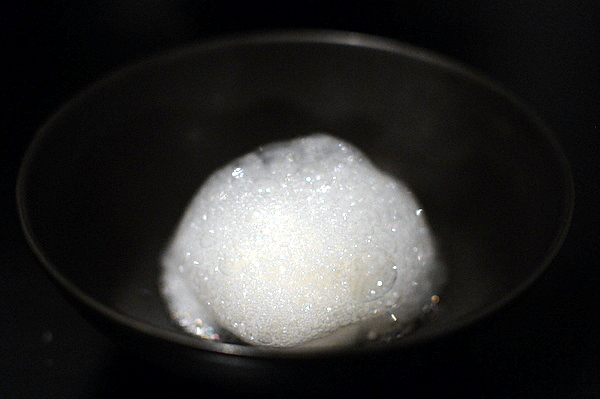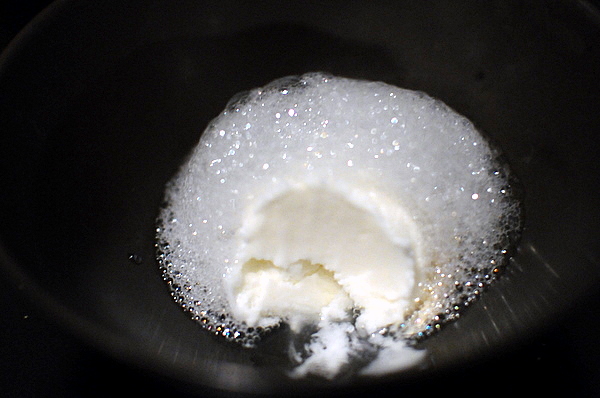 05: eel - feuille de brick crème fraîche, lime
caramelized anchovy - peanut, lily bulb
salt and pepper squid
kiuchi brewery, hitachino nest, white ale, ibaraki, japan
This course was described as Chef Lee's play on izakaya fare. The first course was reminiscent of an eel spring roll. The flavor of the gelee was more like a beef consomme, mild and slightly nutty, nothing like what I was expecting for a liquefied anchovy. The final course was my favorite of the trio, a salt and pepper squid "chip" that has a slight molecular feel about it. Salty, briny, and slight bit of heat replicate the key flavors of a salt and pepper squid with a crisp texture reminiscent of shrimp chips. This course continues the unconventional pairings and what would be more appropriate to pair with izakaya fare than beer. I've always enjoyed witbiers and Kiuchi's is an especially bold and focused example, the aromas of citrus and coriander are quite powerful, though the palate contains a slight malty sweetness.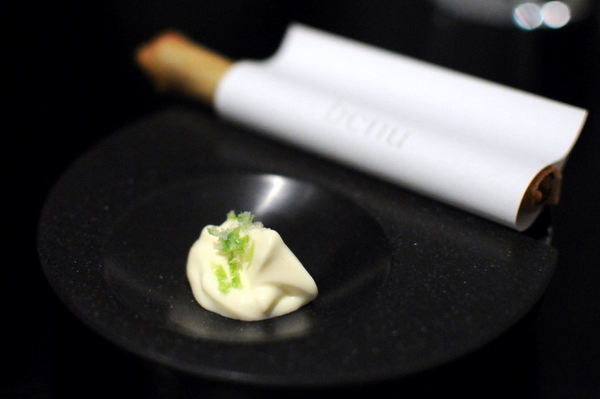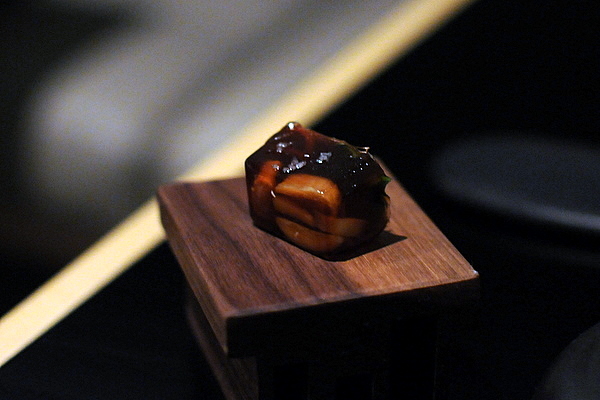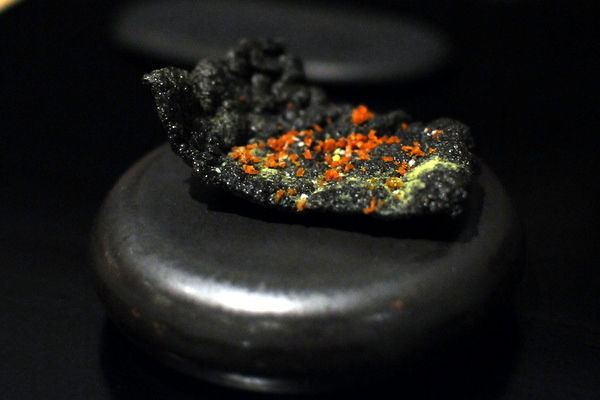 06: abalone grenobloise
de ladoucette, pouilly-fumé, loire, france, 2008
The meal shifts gears with this course, going from avant garde small plates to a more traditionally structured course progression. First up was a beautifully caramelized abalone, immensely sweet with a texture that starts out tender and supple but gets firmer towards the mollusk's center. Grenobloise means "of Grenoble" and refers to a city in southern France; dishes labeled with this designation incorporate a combination of brown butter, capers, parsley, and lemon. With this dish, the admixture simultaneously enhances the shellfish's natural sweetness while adding a multifaceted tartness. I tend to struggle with Sauvignon Blanc, but this was a fairly straightforward glass, mineral notes on the attack evolve to pineapple and tropical fruit on the finish.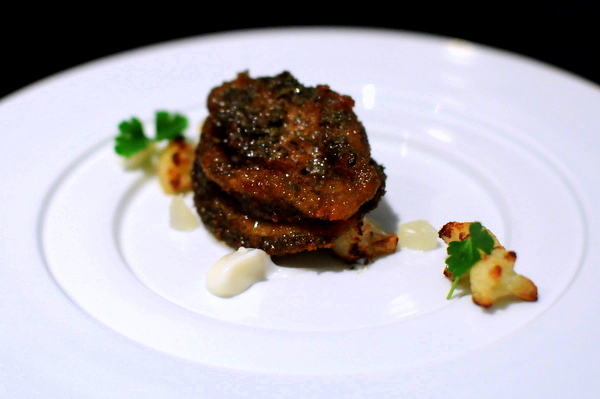 07: first of the spring vegetables - dashi, parmesan
de ladoucette, pouilly-fumé, loire, france, 2008
The melange of vegetables includes peas, asparagus, radishes, greens and mushrooms as well as other unidentified vegetables. The distinct flavors and textures create a riot of sensation that is softened and unified by umami overtures from the dashi. The tangy funk of the Parmesan contrasts with the vegetables and emphasizes their simple elegance. Interestingly the Sauvignon Blanc exhibited more grassy tones when taken with the vegetables.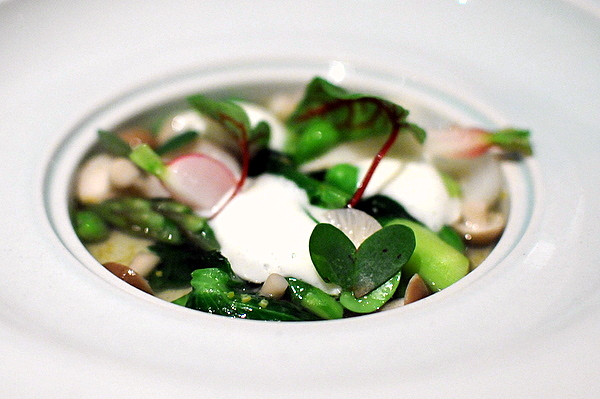 08: monkfish liver torchon - turnip, apple, brioche
von simmern, erbacher marcobrunn, riesling kabinett, rheingau, germany, 2009
Given the similarities between ankimo and foie gras, I was expecting something along the lines of the exquisite foie gras torchon at French Laundry, which to this day is still my favorite foie gras preparation. This didn't have the creamy mouth feel I was expecting, instead the texture was slick, refined, almost like a gelatin. The flavor was similarly restrained with only a trace of the characteristic flavor of the monkfish liver.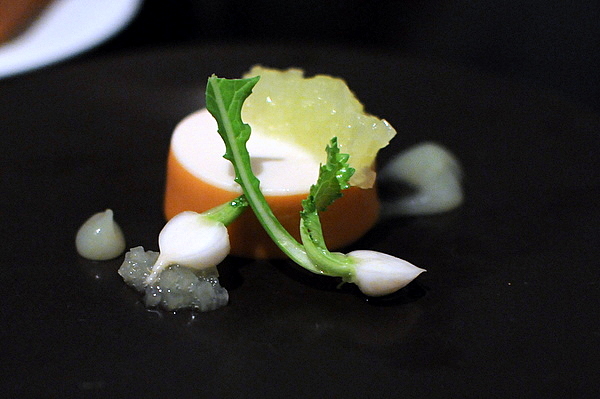 09a: lobster porridge - with flavors of green curry
marcel deiss, pinot gris, beblenheim, alsace, france 2004
This reminded me of something out of Red Medicine or Lukshon, the dish is a celebration of the subtle nuances of green curry. Typical green curry consists of coconut milk, green curry paste, aubergine, fish sauce, Kaffir lime leaves, and Thai basil, the result is a lovely ballet of spice and sweetness; shame that the lobster gets lost in the mix. The accompanying wine offers a complex bouquet, tightly wound acidity evolves a slight hint of fruit over a bed of flinty chalky minerality.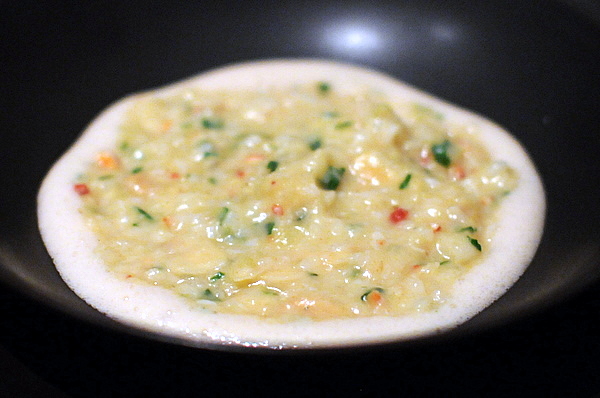 09b: risotto - sea urchin, english peas, black truffle
marcel deiss, pinot gris, beblenheim, alsace, france 2004
I've been enjoying vegetable risotto more and more, the peas give the rice a vegetal cast which helps counter the ample weight of the cream. The interplay between the black truffle is particularly delicious so much so that I could have done without the sea urchin at all. Still I appreciated the velvety feel of the urchin roe and the delicate brine it brought to the table.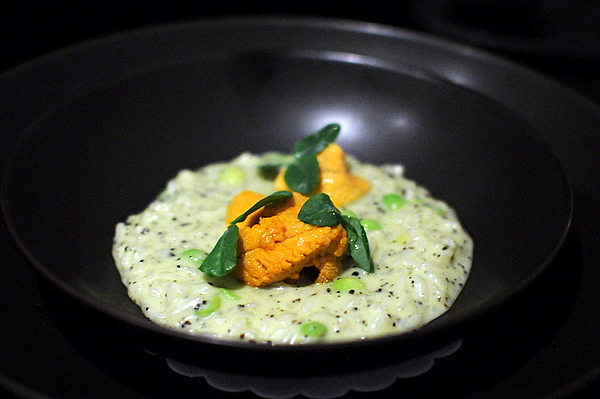 10: "shark's fin" soup - dungeness crab, Jinhua ham, black truffle custard
blandy's, verdelho, madeira, portugal, 1968
This is one of Chef Lee's signature dish and has been on the menu since the restaurant opened. The soup actually does not include any sharks fin, simulating the shredded cartilage with a mix of gels designed by a chemist in San Diego. The soup is a consommé of Jinhua ham which also one of the key ingredients of the broth in traditional preparations. Crabs also feature prominently as a flavoring agent in many preparations of shark's fin soup. The black ooze at the bottom is not an homage to the recent BP oil spill but a black truffle custard and the only non-traditional ingredient in the dish. The staff stresses this course is NOT a traditional sharks fin and those who go in expecting that will be disappointed. Despite the warning I couldn't help making comparisons between the two. Unfortunately the synthetic shark's fin doesn't exactly capture the snappy texture of true sharks fin and the Jinhua ham soup is more one dimensional than the thick stock of "gao tong" or high soup normally used. At the same time I was thoroughly impressed at the sheer brazenness of this dish, taking a time-honored classic and recreating it with Chef Lee's personal stamp. Who knows, with a proposal to ban the sale, possession, and distribution of shark's fin in California, this may be the closest people in San Francisco will get to tasting this delicacy. The 1968 Blandy's was an able substitute for the traditional aged cognac pairing; intensely complex, the Madeira offers everything from dark complex spice and earth to caramel and dried fruit and citrus.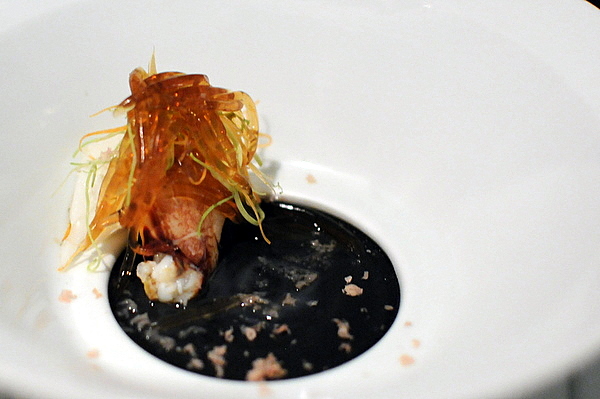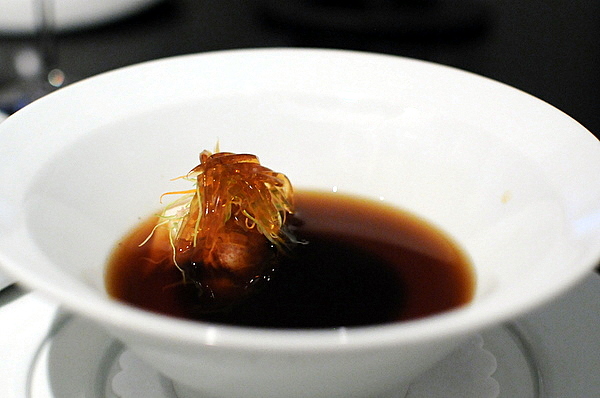 11: beef braised in pear - endive, date, watercress
roger sabon, prestige, châteauneuf-du-pape, rhône valley, france 2004
Super tender and fatty, this beef reminded me of a Japanese Wagyu even though true Japanese Wagyu has been unavailable in the states following the discovery of foot and mouth disease in the Miyazaki beef stock back in mid-2010. Naturally beef of this caliber could stand on its own with ease but the Asian pear used to braise the meat cuts the beefy richness with a sweetness reminiscent of cha shu. Slivers of the vegetable help to further temper the weight of the meat while the thick chewy date delivers a smack of ripe red fruit. The course came paired with a CdP that had just enough body to stand up to the beef, the wine was quite expressive with notes of ripe fruit as well as aromas of herbs, saddle, and even some soft spice.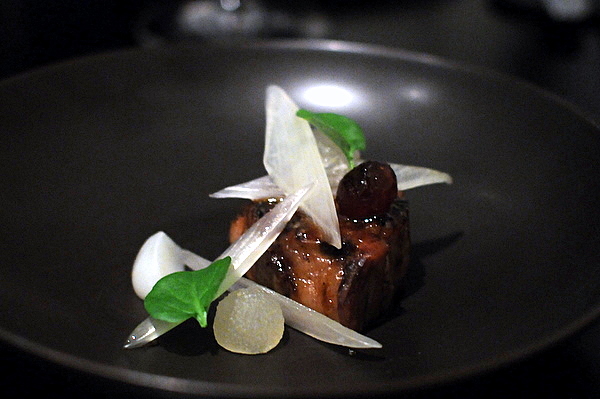 12: rhubarb, cucumber, white sesame
The white sesame sorbet is nothing short of splendid, a lovely exposition of sweet nutty interplay that contrasts the tart rhubarb, while the cucumber imparts an almost savory like component to the palate cleanser.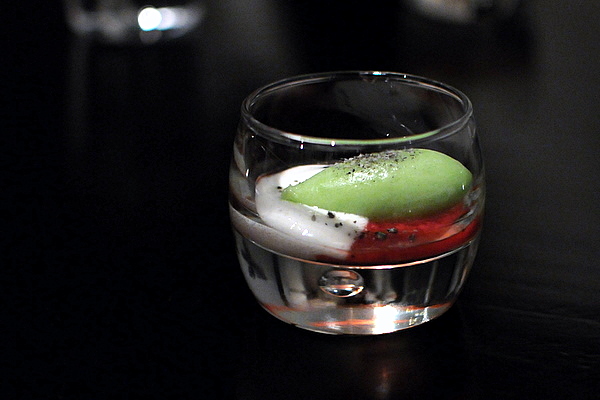 13: banana ice cream - burnt acorn, ginger
château doisy daëne, barsac, sauternes, france, 2005
With the potential extinction of bananas at hand I have resolved to eat more of this most loathed fruit while I still can. The ice cream was actually quite enjoyable sort of like a semi-liquid banana nut bread. The ginger managed to give the dish a warm soothing feel despite large parts of it being frozen.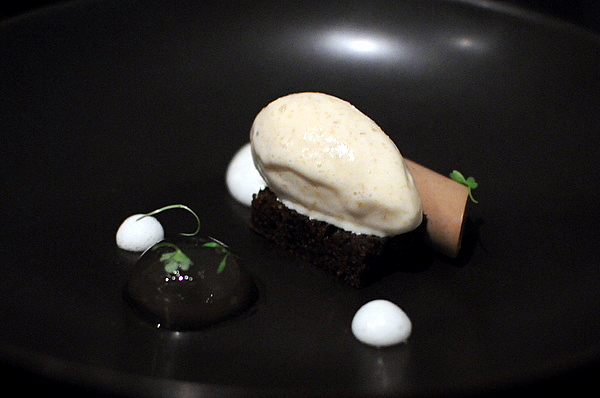 14: chocolate, coffee, tea
The final course consisted of four house-made truffles, green tea white chocolate, sesame sea salt, walnut milk chocolate, and dark chocolate with espresso ganache, a delicious way to end the meal.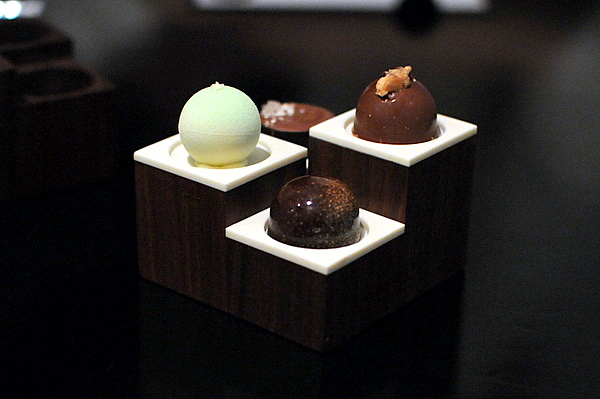 Benu was one of my most anticipated meals in a while and so I approached it with extremely high expectations. Though not every course Those expecting an experience similar to Laundry will be disappointed. Instead Chef Lee draws heavily on his own culinary heritage while maintaining the attention to detail and exacting standards that are a hallmark of his time at Laundry. Certainly Eastern influences abound, but the term "fusion" seems too coarse and inelegant to describe his cuisine. In fact, Chef Lee's food defies traditional quantification; intricate and deliberate, every piece on the dish has a role to play. The early courses felt more cerebral and adventurous and the later dishes were more satisfying on a sensual level.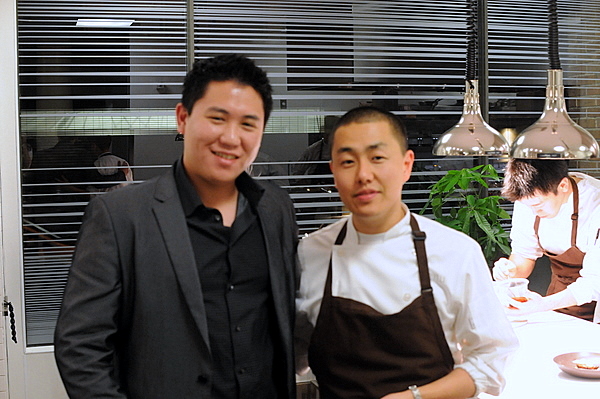 Even though I believe The French Laundry and Benu are completely different, it is difficult not to make comparisons between the two. So has the student surpassed the master? In my opinion, not yet, but both Benu and Chef Lee are young and the restaurant is off to a very fast start. I look forward to returning after the restaurant has had more time to develop. I foresee Benu remaining a mainstay of the San Francisco culinary scene for many years to come with Michelin stars in the offing