3337 1/2 W 8th St
Los Angeles, CA 90005
(213) 427-0601

Magnum is the pop-up restaurant of Joseph Mahon and David Haskell. The duo previously paired up for a two-day stint at Biergarten in December of last year. This time the two have taken over Pal Cabron, another K-town eatery known for their Cemitas and Clayudas. Chef Mahon who got his start in New York at places like Cafe Boulud, Danube, and Bouley, was previously head chef at Bastide. Running the front of the house is David Haskell most recently of Vertical Wine Bistro; brash and outspoken, Haskell doesn't take himself too seriously despite having worked at the likes of Le Cirque in New York and Guy Savoy in Paris.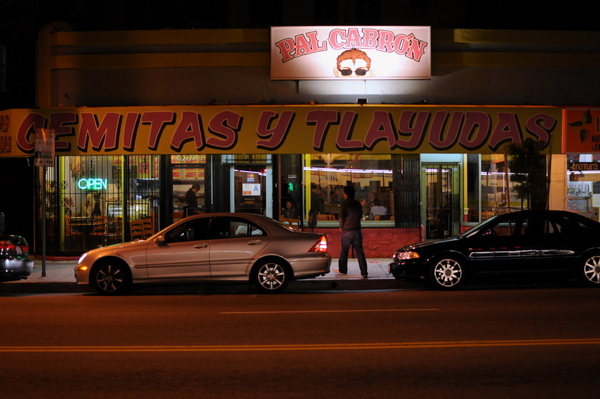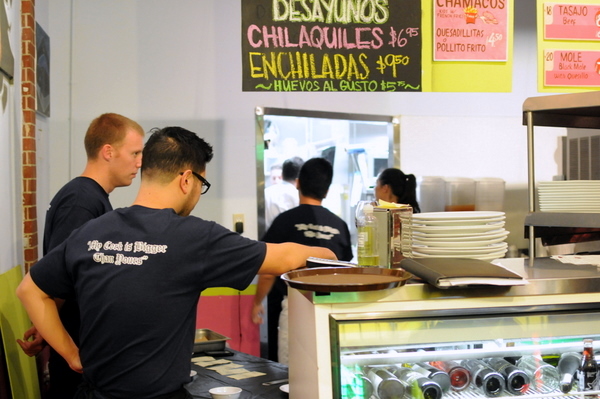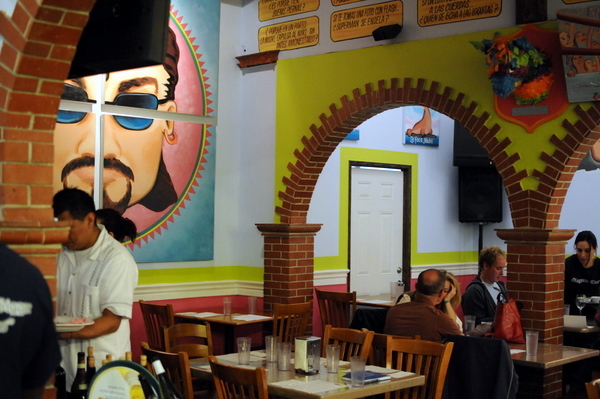 Amuse: Onion Apple Custard - Poached Shrimp / Chicharones
A pleasing start to the meal, the duet of onion and apple provides a creamy savory sweet base that in conjunction with the chicharones reminded me of a Funyun while the poached shrimp adds a bit of textural muscle to the bite.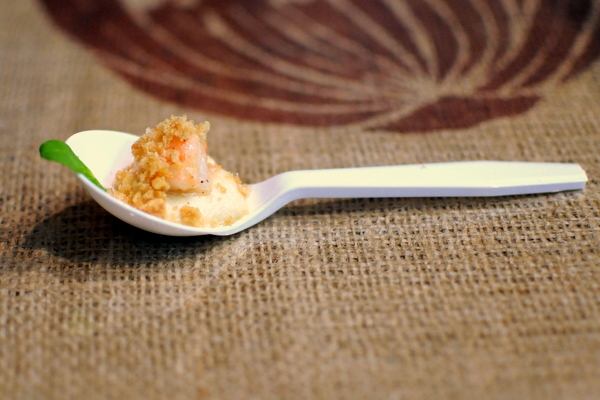 01: Pozole - Romaine / Mint / Radish / Lime
2008 I Favat: Fiano di Avellino, Italy: Fiano
The first course was a pazole, which despite its thin brothy feel, was intensely peppery, savory and satisfying thanks to the generous slab of tender fatty pork. The fresh bright mint and light citrus accompaniments both contrasted nicely with the weighty essence of the soup. The accompanying wine, a dry Italian white which Haskell likened to an unrefined milkshake, developed a flavor reminiscent of blue cheese when taken in conjunction with the soup.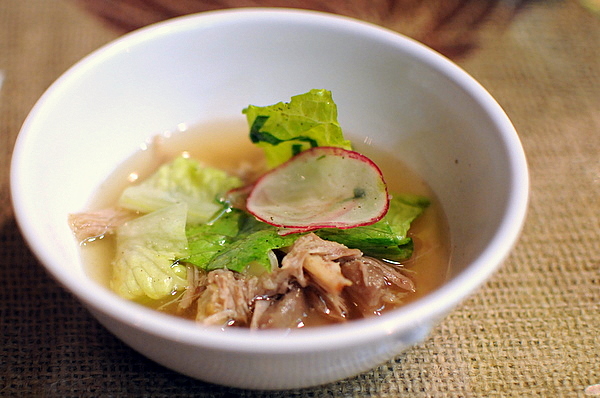 02: Roasted Beet Salad - Crispy Veal Tongue / Wild Arugula / Pumpkin Seeds / Creamy Feta Dressing
2009 Luigi Giusti "Le Rose di Settembre": Marche, Italy: Lacrima di Morro
Though I'm not normally a huge fan of beets, I find they do better when paired with something to attenuate their saccharinity; in this case, crispy veal tongue. In addition to the resultant salty sweet flavor profile, the contrasting textures play off one another beautifully making this course more about sensation than taste.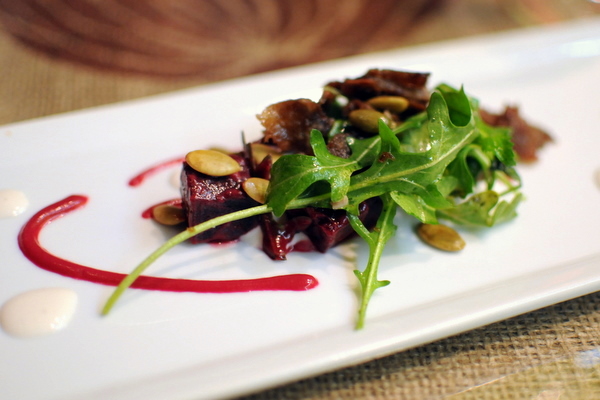 03: Scallop - Crushed Avocado / Chickpeas / Spicy Tomato-Mussel Broth / Cilantro
NV Drusian: Valdobbiadene, Italy: Prosecco
Fatty, supple and bursting with flavor, this was simply a beautiful diver scallop. The acidity of the tomato and creaminess of the avocado provide complexity and contrast while the mussel refocuses attention on the shellfish. The wine was a refined prosecco that built nicely on the tang of the broth.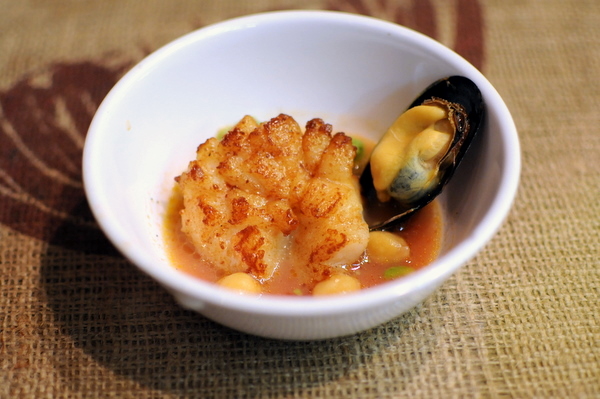 04: Chilled Poached Shrimp - Cabbage / Grated Horseradish / Tomato-Ketchup Sauce / Orange / Peanuts
2009 Valle Isarco "Südtirol-Eisacktaler": Aldo Adige, Italy: Pinot Grigio
It is rare that a table of foodies comes to a consensus regarding a dish but we all likened this course to shrimp cocktail, but I suppose it was to be expected given the primary ingredients in cocktail sauce are ketchup and horseradish. The key to this dish was the cabbage which brought a crisp succulent levity to the dish. Haskell described his frustration at having to pair wine with horseradish and ketchup, but I thought the minerally pinot he selected did the job admirably.



05: OG Foie Gras Cemita - por My Last Bite: Jo Stougaard
Oaxacan Mezcal
To create his version of the cemita, Chef Mahon applying French techniques and flavor to the popular Mexican street food and the marriage couldn't be better. The foie remains the star of the dish but the bitter char of the bread and smoky sweet sauce both add balance and depth, a thoroughly fun and delicious course. The Mezcal was a wonderful addition as well, all woody and rustic tones, such a contrast to the refined character of the cemita.



06: Poached Egg - Fried Pig Ears / Black Beans / Scallion Creme
Francesco Rinaldi: Grignolino d'Asti, Italy: Grignolino
Hard to go wrong with eggs, pork, and beans. Each element in the troika brings something distinct to the table: the beans offer a dark smoky heft and heavy starchy texture, the egg tempers the texture with a rich silkiness, and the pig ear adds a crispy porcine sapor. My only complaint was the ears were a bit overdone.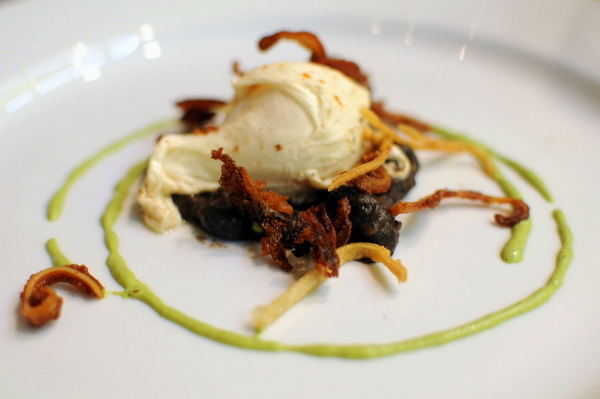 07: Squid - Chorizo / Cucumber / Jicama / Sesame Seeds
2005 Tenuta Badia di Morrona "Vinsanto": Terricciola, Italy: Trebbiano, Malvasia Bianca, Colombana
Squid and sausage are simply a match made in heaven as my recent experience at Lukshon will attest to. The duo produces a wonderfully nuanced salty brine that stands nicely on its own. As Haskell promised, the wine takes on a maple syrup like character, the missing element in the squid and chorizo "McGriddle."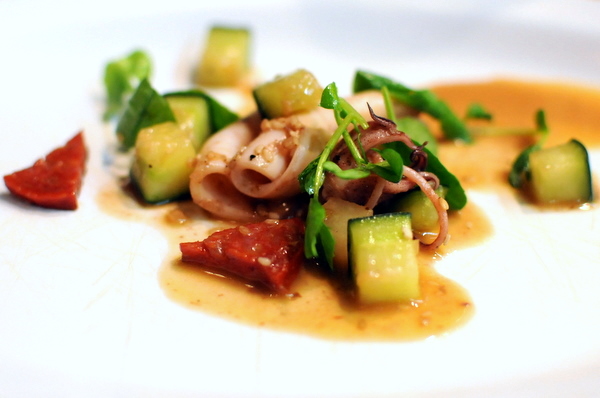 08: Flank Steak - Cactus Salad / Chilies / Grilled Corn Sauce
Valle Dell'Acate "Il Moro": Sicily, Italy: Nero d'Avola
Our final savory was a flank steak that felt very Ludoesque to me. The meat possesses a nice coarse grain and full-bodied beefy char. Paring the cactus was a masterstroke, its unabashed smoky flavor was the perfect addition to the rustic flank steak. Meanwhile the grilled corn sauce adds a fragrant sweetness reminiscent of vanilla ice cream. The wine was a fruit-driven easy drinking Sicilian red that Haskell likened to a "blueberry sauce" for the beef.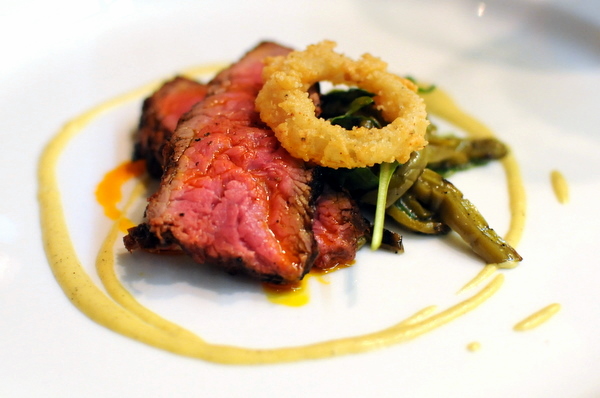 09: Flan - Pineapple / Vanilla-Carmel Sauce
Hakutsuru Brewing Company "Sayuri": Nigori Sake
Fitting to close the night with a flan course. The consistency was just the way I like it; creamy, not to firm with a straightforward flavor of caramelized sugar accented with fresh pineapple and mint. As the final wine of the evening the Nigori Sake was supposed to bring the pairings back to the milkshake theme that was established with our first pour though anytime Haskell pours something milky its hard not to wonder at the dubious origins of the drink.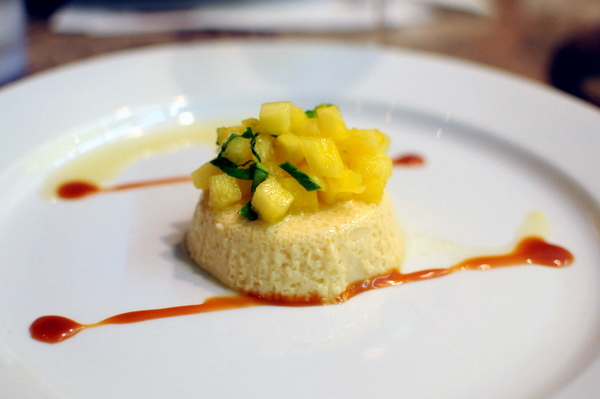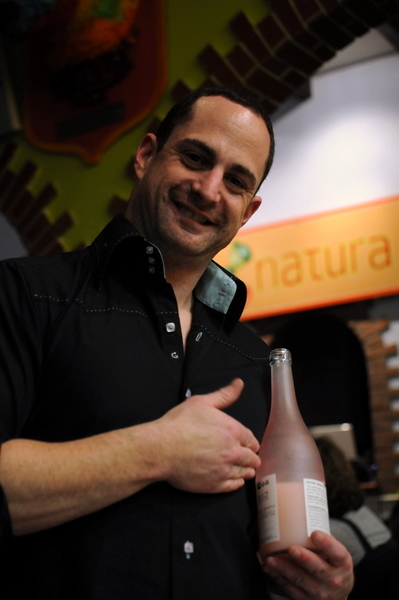 As with the previous iteration, Chef Mahon incorporates elements of the host restaurant into his dishes and the ensuing fare was both inventive and delicious. Meanwhile Haskell, as he is wont to do, tells a story with his wines, resulting in a progression that is far more thoughtful than most. I wasn't sure what to expect with Magnum but I left quite satisfied and am eagerly waiting to see where they pop-up next.