655 S Grand Avenue
Los Angeles, CA 90007
(213) 747-2141

Having been to Test Kitchen 20+ times during its 4 months in existence, I find it hard to believe I never made it to one of the 9 dinners hosted by "resident" chef Ricardo Zarate. With the imminent opening of Zarate's new restaurant, Picca, I thought it might be worthwhile to pay a visit to his old haunt, Mo-Chica. Where Picca's fare is described as Modern Peruvian, Mo-Chica's menu has a humbler more traditional feel to it.

Peru possesses an incredibly rich culinary history, drawing heavily from African, European, Chinese, and Japanese influences. My first time in a Peruvian restaurant, I was surprised to learn that it served a fried rice that bore obvious similarities to the one I grew up on. In fact Zarate, who is known for his authentic Peruvian style of cooking, has extensive experience in Japanese cuisine.

With my limited experience in Peruvian cuisine, I lacked the knowledge to verify the authenticity of the food, but the unpretentious digs in Mercado La Paloma certainly give credence to Mo-Chica's claims. Unfortunately, the locale also means that alcohol is verboten.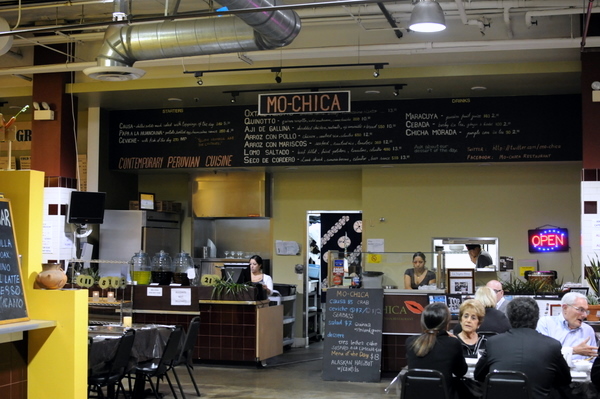 CEVICHE DEL DIA - Seabass, Seaweed, Peruvian Corn, Leche de Tigre
Without a doubt, ceviche is Peru's most well-known dish, called a part of the country's "national heritage" and even having a day declared in its honor. Featuring a white fish, seabass in this preparation, marinated in lime and served with chili onions the dish couples the freshness of raw seafood with a spicy tang. Unlike most preparations, Mo-Chica includes large kernels of corn as well as toasted kernels, which adds a palpable weight to the dish.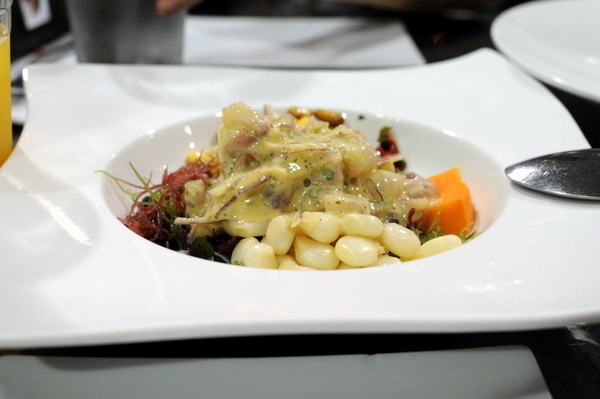 CAUSA DEL DIA - Peruvian Potato Salad of the Day
This was unlike any potato salad I've ever eaten. The layered salad consists of potato on top of crab and avocado finished with a dollop of aji sauce, tomato, and cilantro. The potato itself is extremely fine grained and mild well-suited to the sweet creamy crab and the whole amalgam is seasoned beautifully by the spicy aji resulting in a dish that feels satisfying without being overly heavy.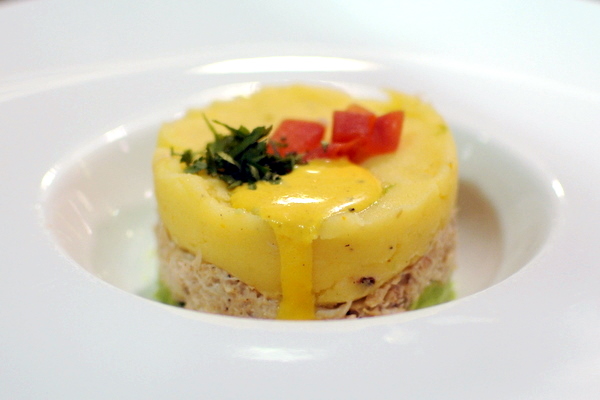 LOMO SALTADO - Prime Beef Fillet, French Fries, Red Onions, Roman Tomatoes
A popular chifa (Chinese-inspired) dish that features marinated strips of beef stir fried with red onions and tomatoes with rice and french fries. The beef itself was a bit tough, so much so that I actually preferred the vegetables, which had absorbed much of the same flavor as the meat. The thick cut fries are exceedingly dense, perfect for sopping up any gravy that might be left in the bowl.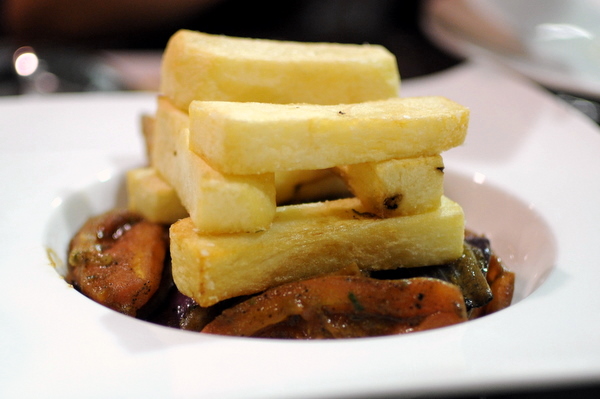 SECO DE CORDERO - Lamb Chunk, Cilantro Beer Stew, Peruvian Canary Beans, Salsa Criolla
This was probably the strongest course of the night. Slow cooked in a sauce of beer and cilantro, a gentle flick of the fork was all it took to separate large chunks of the tender flavorful lamb from the bone. The Creole style salsa, a blend of onion, pepper, and lime, added a zesty exclamation to the dish.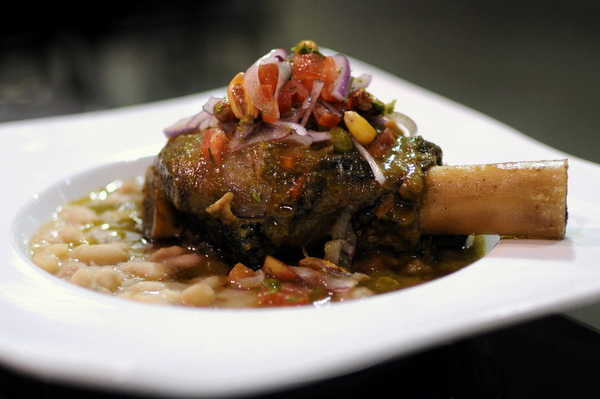 PASSION FRUIT CREME BRULEE
From a technical standpoint this was a fairly standard creme brulee, creamy texture, thin caramelized top; the one thing that set this dish a part was the tangy-sweet zip of the passion fruit incorporated into the custard.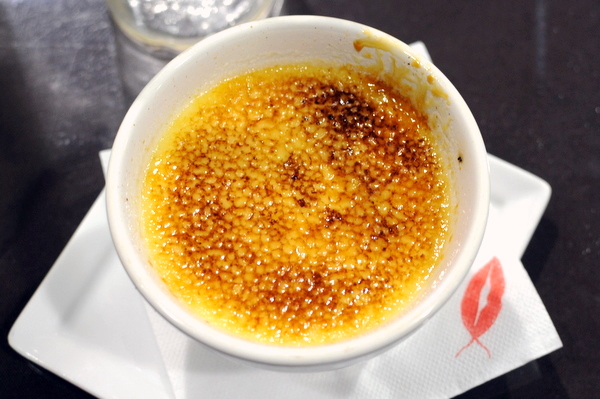 TRES LECHES CAKE
I feel compelled to order this whenever I see it on the menu. As expected, the cake was thoroughly saturated with milk resulting in an incredibly dense moist texture while the powerful sweetness of the cake is complimented by a liberal helping of cinnamon.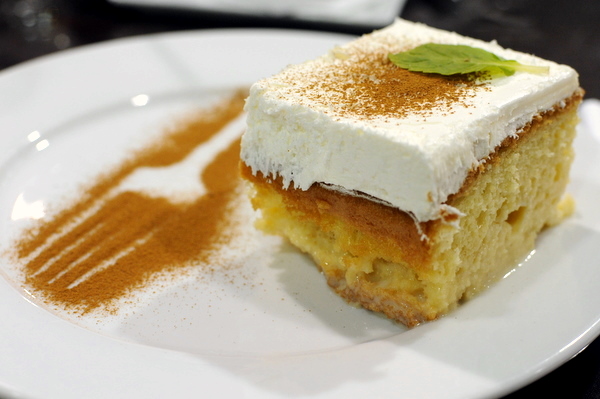 Finesse is not the name of the game at Mo-Chica. With each of the savory dishes featuring some sort of starch: corn, potato, or beans, the food at Mo-Chica is unrepentantly heavy. At the same time, the dishes feature bold flavors, bright acidity, or vivid spice which acts as a countervailing force to the weight of the starches. With minimal distraction, the entire focus falls squarely on the food, which is more than good enough to carry the load.