1313 E 6th Avenue
Denver, CO 80218
(303) 831-1962

Chef Alex Seidel and his partner Paul Attardi worked together at Mizuna before opening Fruition in 2007. Since then, Fruition has built a strong reputation around its sophisticated comfort food and amassed a growing number of accolades including Best New Chef from Food & Wine and #3 on 5280's list of Top 25 Restaurants in Denver. The restaurant prides itself on using high quality ingredients. In fact, many of the vegetables as well as chicken, eggs, and cheese are provided by Verde Farms in Lakespur Colorado which Seidel himself runs.

As the restaurant didn't offer a tasting menu, I chose to make one for myself by selecting a couple of the more intriguing appetizers.

Jenlain N6, Brasserie Duyck, France
Fruition has a small but solid beer list dominated by quality Belgian brews. I should have stuck with one of those instead of trying the Jenlain, I mean what do the French know about beer anyway. The flavor is fairly generic, dominated with malt grains as well as a light funk.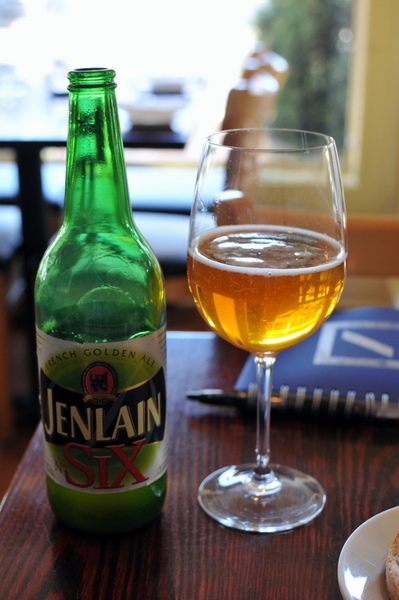 Porcini Mushroom Consomme - Seared Diver Scallop, Slow Braised Beef Short Rib, Bone Marrow Agnolotti
The soup was fairly typical of a mushroom consomme, subtly earthy and savory but I was intrigued by the heavy pairings. The short rib was fairly muted but the scallop added a resplendent salinity. The bone marrow agnolotti was the best part of the dish, the marrow having melted into a rich liquid that filled the mouth upon mastication.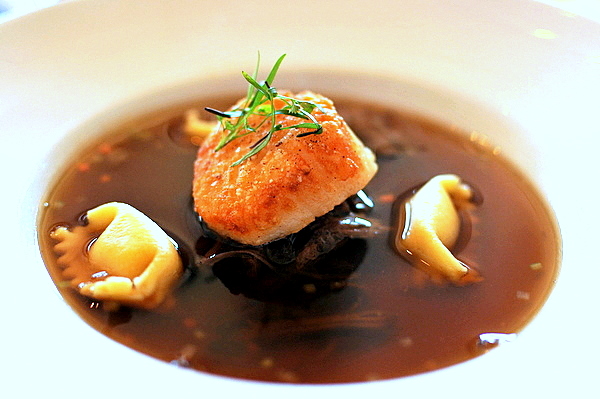 Potato-Wrapped Oysters Rockefeller - Parmesan Leek Emulsion, Bacon Lardons, Baby Spinach
Created at the turn of the 19th century at Antoine's restaurant in New Orleans, the original recipe for Oysters Rockefeller called for oysters on the half shell baked with herbs in a butter sauce. Fruition's dish is radically different; starting with oysters wrapped in a chip-like layer of fried potato to the accompaniment of savory lardons. The the creamy leek emulsion and bitter spinach provides relief from the salty troika of potato, oyster, and bacon.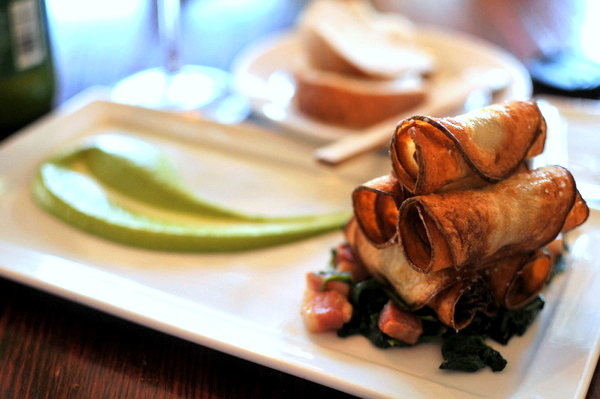 Pasta Carbonara - House-Cured Pork Belly, Hand-Made Cavatelli, Six Minute Egg, Parmesan Broth
Pasta Carbonara is sometimes referred to as a poor man's pasta with one origin tracing the dish back to Italian coal miners, but if cheese, fatty pork, and a runny egg are poor man's food then I don't want to be rich. The belly is profoundly tender and rich while the yolk acts as an emulsifier for the savory Parmesan broth. The bright pea shoots add some much needed vegetal tones to counterbalance the decadence.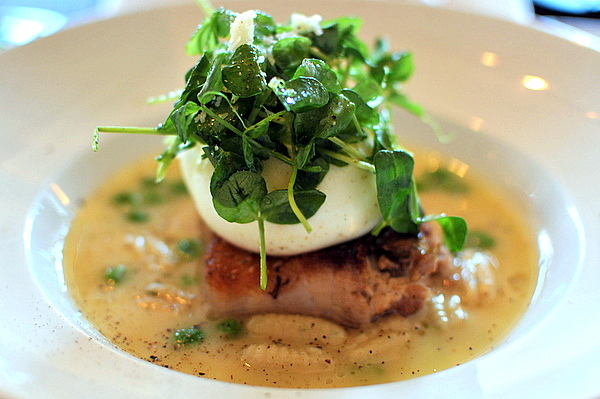 Eku 28, Bavaria, Germany
I decided to go with a high gravity Doppelbock for dessert. The beer is intensely malty with sweet molasses and spice as well as a pronounced warmth from its 11% abv.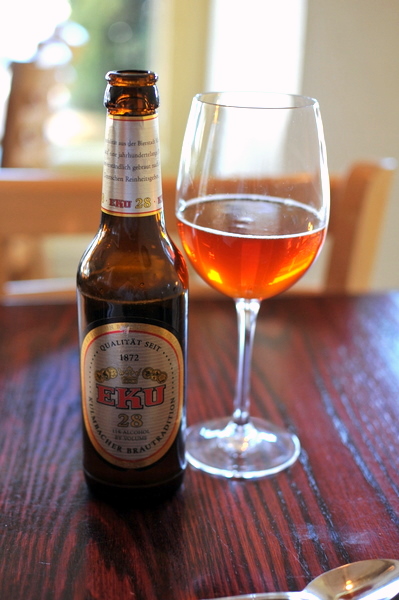 Lemon Meringue Pie - Graham Cracker Crust, Fresh Blueberry Compote
The Lemon Meringue Pie was a fitting signature dessert for the restaurant, direct and unpretentious. The flavor is bright and tart on the attack coupled with a butteriness from the crust as well as a slight sugary finish from the meringue.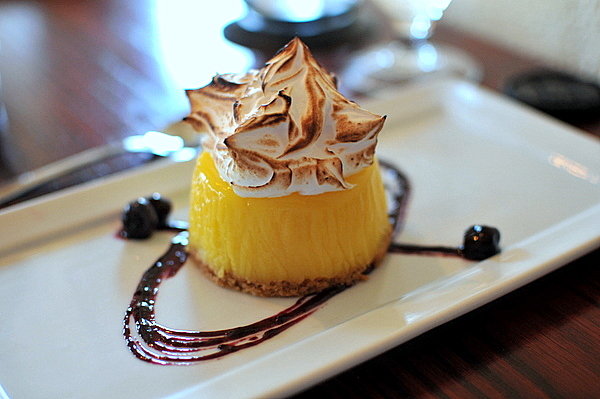 Everything about Fruition exudes a homey warmth and the restaurant seems to go out of its way to be low key. The menu tends to favor bold flavors, savory and rich but with just enough fresh vegetables from the farm thrown in to moderate the weightier components. Seidel and crew pull off Fruition's sophisticated comfort food every effectively and it is easy to see how that fare has captured approval of so many.