1431 Larimer St
Denver, CO 80202
(303) 820-2282

It is hard to research restaurants in Denver without stumbling upon Rioja. The restaurant has won a slew of awards is ranked #12 on 5280's top 20, but Rioja isn't just popular with the critics as it has the second most reviews on Yelp of any restaurant in Denver.

The restaurant is headed by Jennifer Jasinski a California native and longtime apprentice of Wolfgang Puck. Jasinski began cooking at home at a young age out of necessity and quickly discovered a natural talent that lead her to pursue her passion first at Santa Barbara City College then at the Culinary Institute of America. After graduation she moved to New York to work at the Rainbo Room where a chance meeting with Wolfgang Puck would eventually lead to a 10-year long relationship that saw Jennifer moving throughout his restaurant empire. In 2000 she settled in Denver and became the Executive Chef at Panzano. Then in 2003 she and her partner, Beth Gruitch opened Rioja to rave reviews. Perhaps borrowing a page from her mentor Jennifer has begun building her own empire centered around Denver's Larimer Square first purchasing Bistro Vendôme in 2006 and then opening Euclid Hall in 2010.

Upon arriving I heard the people ahead of me ask for a seat at the kitchen counter. This was the one time dining alone came in handy as I was able to score the last seat overlooking the kitchen.

Amuse - gorgonzola, pickled onion
The cheese was fairly subdued under the red wine sauce, but picked up on the finish with a lingering blue ripeness and piquancy from the onion.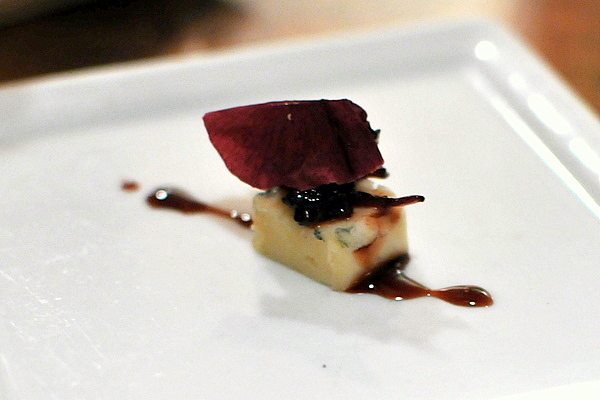 01: fresh bacon - cardamom spiced Kurobuta pork belly, Madras curry scented garbanzo bean purée
2008 Torres Viña Esmeralda, Penedes
The fresh bacon is Rioja's signature dish and it is easy to see why; moist slow cooked that remains intensely savory rich without being heavy. The garbanzo bean purée is surprisingly effective, contributes a sense levity to the pork. The wine is a white from Spain, the floral blend of Moscatel and Gewurtztraminer compliments the aromatic spices of the dish nicely.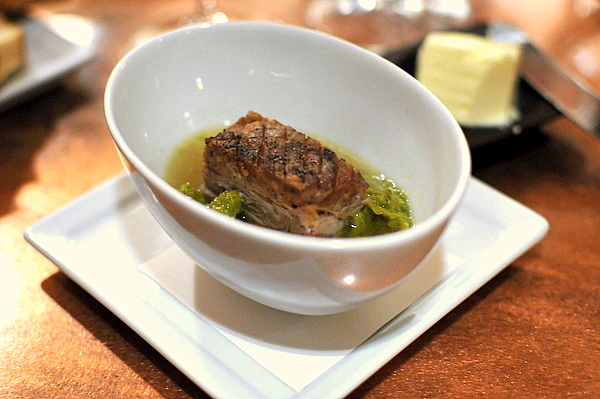 02: seared sea scallops - vanilla brown butter veloute, hazelnut sage pistou, glazed root vegetables
2009 Esperanza Verdejo-Viura, Rueda
The scallop itself was quite enjoyable, nicely cooked with the breadcrumbs adding a vivid textural contrast. The brown butter velouté heightened the natural essence of the scallop but seemed a bit excessive at times while the sage pistou would have been a better pairing sans hazelnut which deadened the herbaceousness of the sauce. The wine was another Spanish blend with the tropical overripe aromas of Sauvignon Blanc featuring prominently.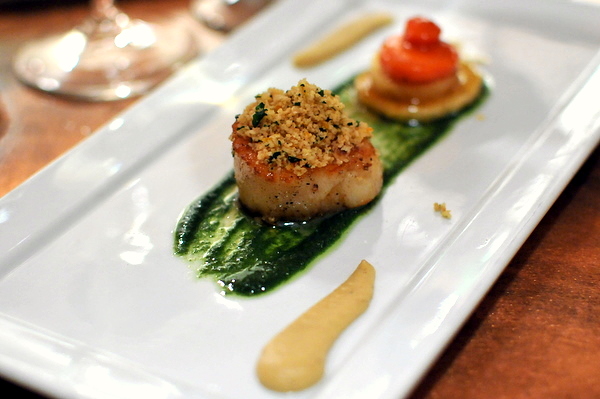 03: Dungeness crab salad - celery root remoulade, wilted frisée, confit Meyer lemons, caper Meyer lemon vinaigrette
2009 Josef Ehmoser Grüner Veltliner, Austria
This course felt like it should have come at the start of the meal. The crab tasted unusually flavorful against the frisée and Meyer lemon. Perhaps the vegetal and tart accompaniments provided such contrast that the typically subdued flavor of the crab seemed especially apparent. The wine was the quintessential Grüner, floral and stone fruit nose against a backdrop of minerality, an excellent pairing with the crab.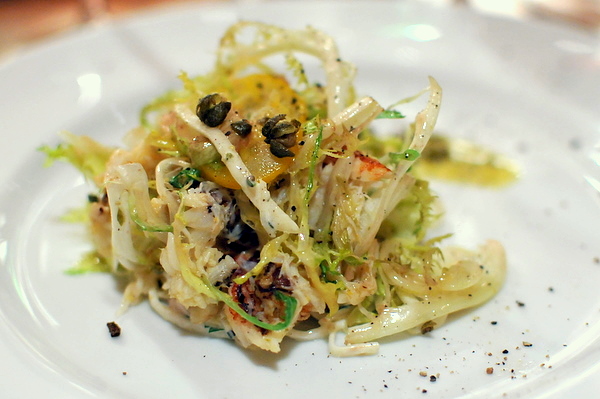 04: caramelized onion risotto with black truffle sausage stuffed quail - black trumped and maitake mushrooms, parmesan, black truffle essence, red wine gastrique
2008 Zenato Valpolicella Superiore, Italy
Though the tasting is nominally constructed by the kitchen, I made a point to have this included in the menu. The caramelized onion and rich cheese gave this a flavor reminiscent of French Onion Soup. Hearty and satisfying in its own way, the risotto was a bit monolithic, overpowering the sausage stuffed quail which should have had enough flavor to stand up to anything. The wine, an inky rich easy drinker with loads of ripe red fruit, berries, plum, and cherries with just enough nuance thrown in to keep things interesting.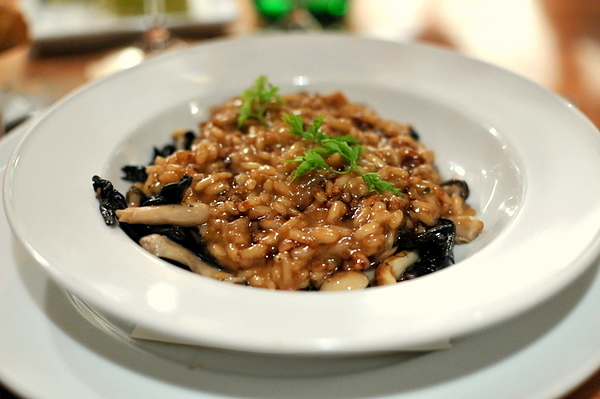 05: milk poached pork tenderloin - basil roasted cauliflower, poached apples, green grapes, candied cashews, curry emulsion
2007 Shoofly Aussie Salute, Victoria
Though the meat looked painfully dry it was actually quite tender. A bit bland on its own, the mild tenderloin was the perfect protein to highlight the delightful interplay between the curry and fruit. The wine was just what you'd expect from an Australian blend of Grenache, Shiraz, and Viognier that exhibits succulent juicy ripe fruit mixed with strong black pepper notes delicious but a bit big for the pork.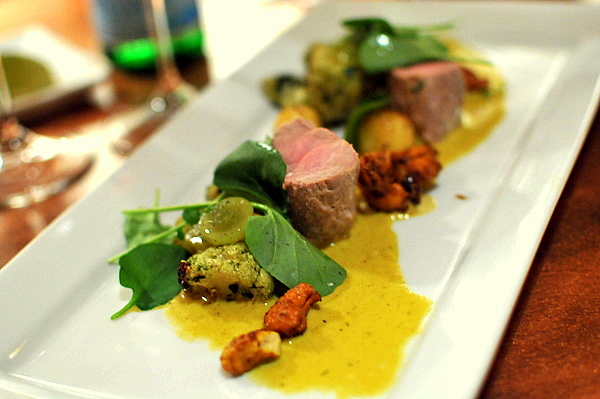 06: beignets - sweet goat cheese and black mission fig filled pastries, ruby port wine reduction
The beignet was made a la minute deliciously light and fluffy filled with with a deliciously savory sweet goat cheese fig amalgam.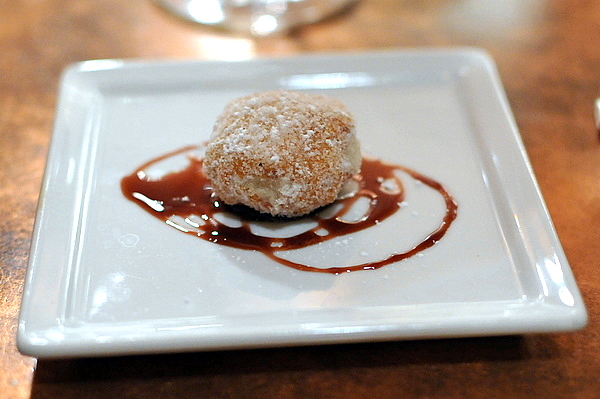 Though I've never been a huge fan of Mediterranean flavors I thought Rioja paired them very effectively with local seasonal ingredients. Ultimately I can see why the restaurant has the following it does, the food is well executed and the flavors were interesting without being esoteric. If you do choose to go, I recommend the tasting menu which provides a good idea of what the kitchen can do and is a downright steal at $41.50 for 6 courses.