9575 W Pico Blvd
Los Angeles, CA 90035
(310) 277-0210

Steve Samson and Zach Pollack's dinner at Test Kitchen was one of the few that I missed over the restaurant's four month run. The duo have worked together on and off starting at Grace before parting ways and reuniting at Sona. The pair then moved to Orange County to head David Myers' Pizzaria Ortica. Located in the old Test Kitchen space, Sotto marks the duo's first independent venture and focuses extensively on the cuisine of Southern Italy.

Abbondio Menta Verde
At most restaurants non-alcoholic drinks are something of an afterthought, but Sotto stocks a selection of obscure Italian sodas. The most intriguing of the bunch was the mint soda that most of us likened to a sweetened watered down mouthwash.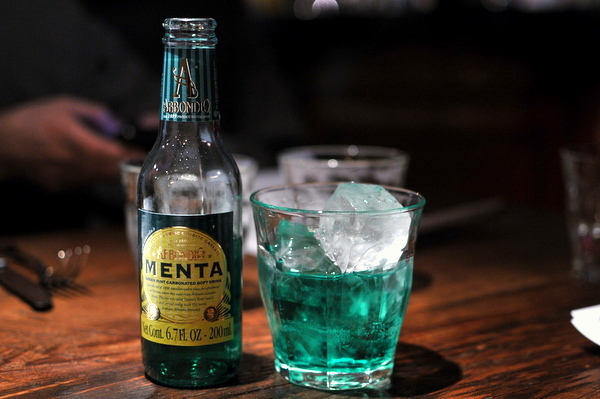 Fresh Water
Sotto filters their own water in-house that they claim improves the flavor of food and is quick to offer diners a taste test versus tap water. Their filtered water does indeed taste better, crisper with a trace of minerality, by comparison the tap water tasted slightly metallic.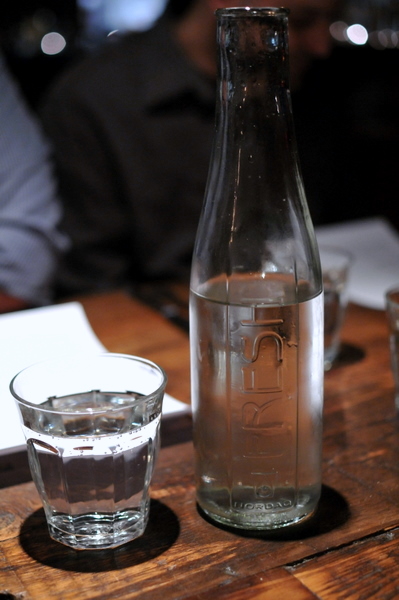 Tiger's Blood - Campari, Ramazzotti, muddled orange, lemon juice, soda water
We ordered this drink on the basis of name alone. The drink had an effervescent citrus attack and bitter finish, surprisingly gentle for something named Tiger's Blood.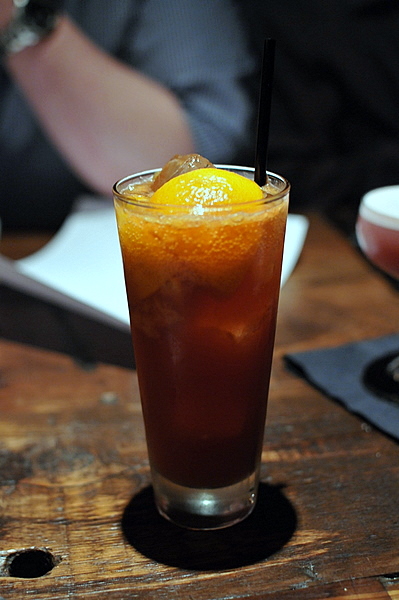 Giralomo Sour - Amaro Abano, Luzardo Bitter, fresh lemon, sugar, egg white
Amaro is an herbal liqueur that features heavily in Sotto's cocktails and its subtle medicinal flavor was evident in the Giralomo Sour.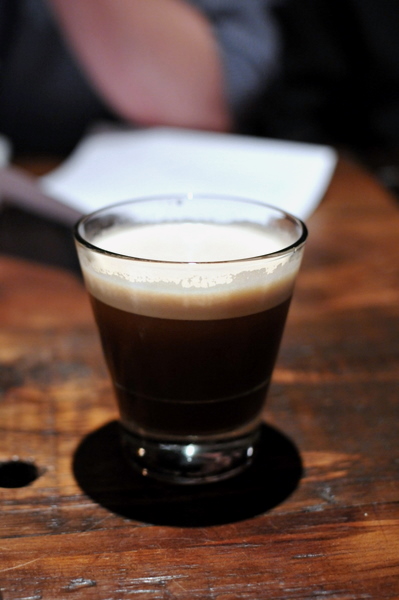 Clover Club - Gin, lemon juice, raspberry syrup, egg white
Sotto was serving the drink as to celebrate the initial repeal of prohibition when the Cullen-Harrison Act went into effect allowing the manufacture and sale of beer below 3.2%. The Clover Club was a classic cocktail that predated prohibition and was a favorite of Franklin Delano Roosevelt who signed the law into effect. Thick frothy body, refreshing ripe berry fruit and fresh citrus finish I can see why FDR liked this.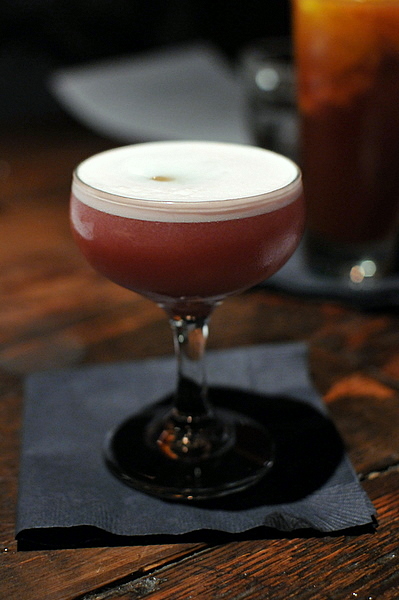 Housemade bread - lardo pestato
The bread was a gift from the kitchen, the charred rustic bread is slathered with a smoky layer of lard the resulting amalgam was reminiscent of a sausage pizza.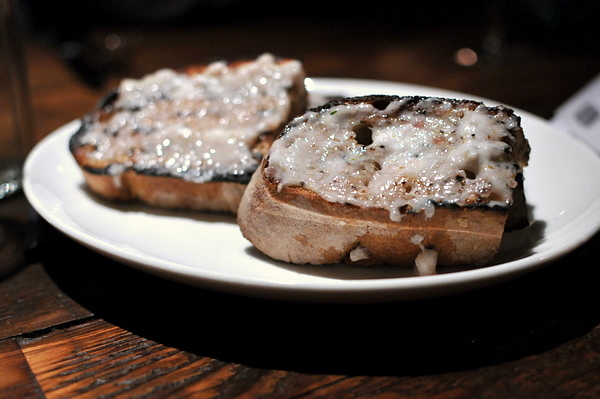 Friarelli peppers al forno - Pantelleria capers, oregano
Friarelli is the Italian name for Shishito peppers. The simply grilled peppers are fleshy with bitter, vegetal, and burnt coffee-like flavors.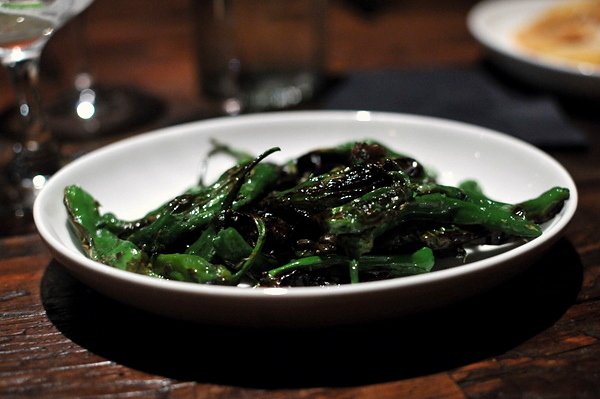 Chickpea panelle - lemon, ragusano
Panelles are Sicilian fritters made from chickpea flour and are a popular street food in Palermo; from tasting these I can understand why. The crisp exterior and creamy interior have a delicious fried sapor that felt elusively familiar.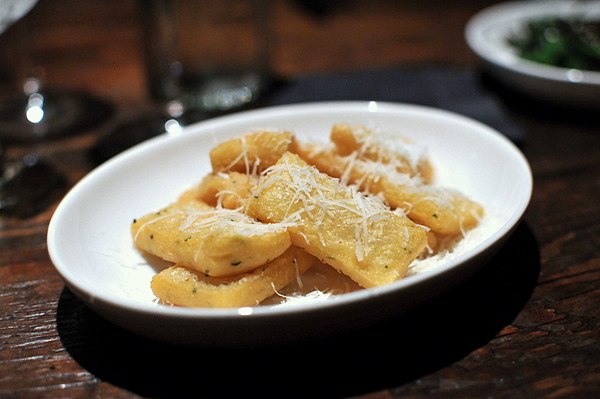 Don Teflon - Reposado Tequila, Olorosso sherry, Aperol, orange bitters, flamed orange peel
The Olorosso sherry was on display here its sweetness in conjunction with the tequila gives the drink a flavor similar to maple syrup, quite nice with the orange oil aromas.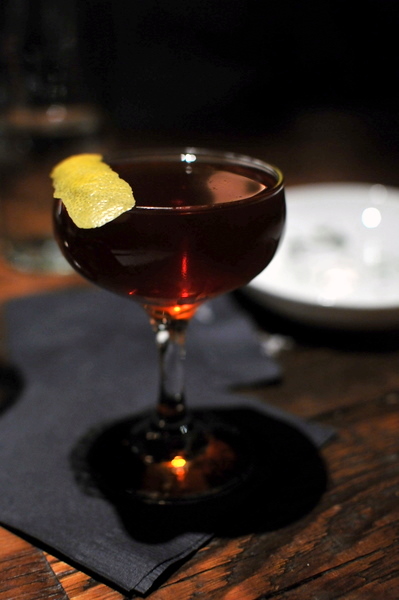 5th Amendment - Bourbon, Barolo Chianto, Ramazzotti, bitters
Intensely woody with a flavor profile along the lines of an Old Fashioned, this was one of the more classically styled libations of the evening.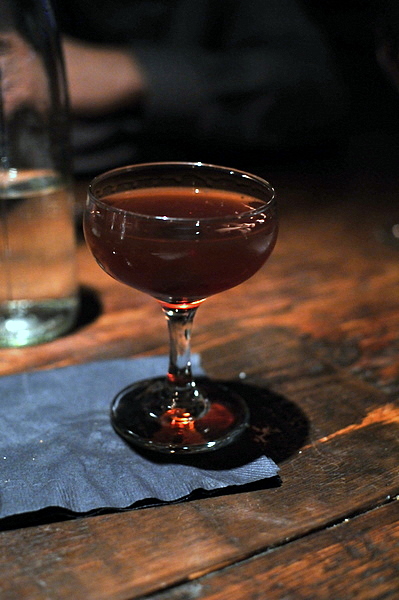 Tomato-braised octopus ai ferri - chickpeas, preserved lemon, chard, bottarga
Recently my experiences with octopus have all been consistently very good and this was no different. The octopus was immensely tender, fleshy, and smoky and good enough to stand on its own. The accompanying melange was a hearty mix of chickpeas and bitter greens set off by the bright acidity of the tomato sauce.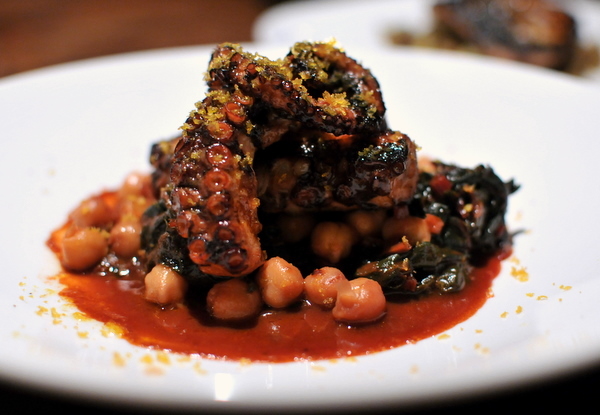 Grilled mackerel in scapece - cauliflower, cured lemons, pesto pantesca
The typically oily mackerel was wonderfully tender and delightfully tangy with an almost Asian savoriness while the crumbled bits of cauliflower added restraint.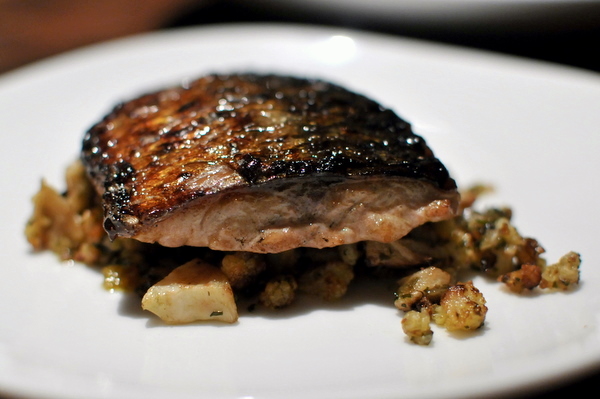 Beef brisket alla Genovese - onions, ozette potatoes, parsley
When I think of a dish "alla Genovese" I think of a lightly flavored dish using pesto but this was anything but light. The brisket was fork-tender with a rich sweet fattiness that one of my companions likened to Chinese roast duck. The potatoes were a delicious time-honored accompaniment while the parsley added a touch of fresh green flavor.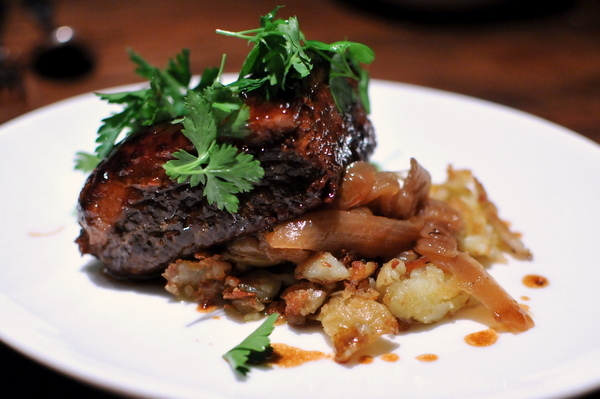 Wild fennel minestra - mustard greens, farro, calabrian chilies, egg
The minestrone or "big soup" was just that, exuding a rustic warmth grounded by the farro grain, the inclusion of chilies, fennel and an egg elevated this from your typical variation.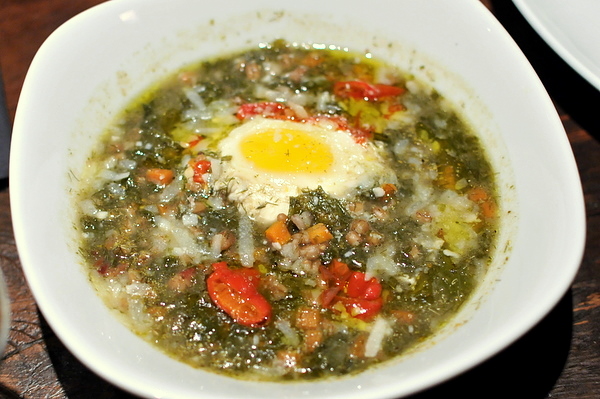 Typico Italiano - Meletti amaro, London dry, fresh grapefruit and lemon juices, honey, majoram
Probably the best cocktail of the night, the drink displayed harmoniously interleaved sweet, herbal, and acidic flavors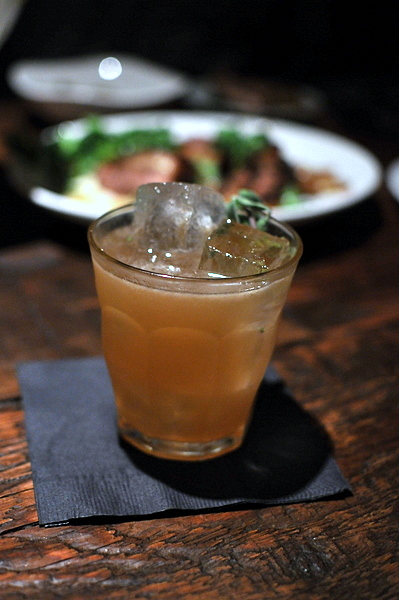 1995 Dom Perignon Oenotheque
This was a holdover from an epic Urasawa dinner two of my friends treated me to last summer. Disgorged in 2008, the Oenotheque has a surprisingly youthful feel for a '96; with aromas of vibrant lemon and slate/mineral and less of the dry yeasty toast that I was expecting.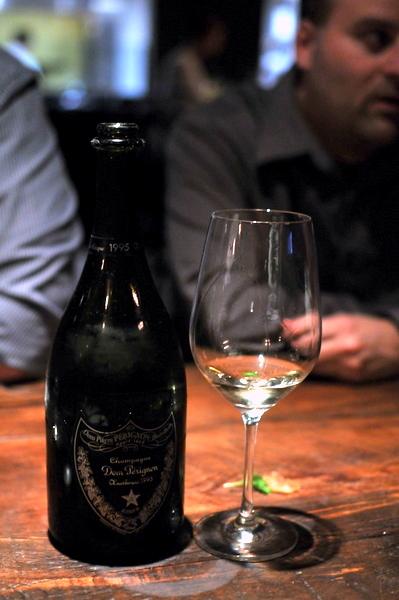 Casarecce - braised lamb ragu, egg, pecorino
Sotto's pasta is all made by hand giving it a distinctive starchy weight and homemade feel. First up was a Casarecce, the plump dense noodles soaked up the hearty lamb sauce while the cheese added a pleasing sharpness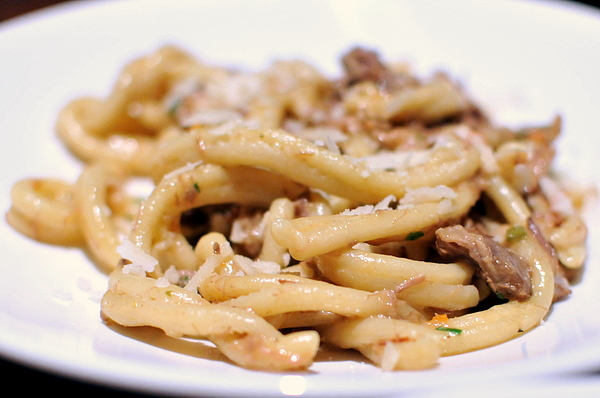 Maharrones de pungiu - sugo semplice, Fiore Sardo
The pasta itself has a nice chewiness and simplicity that pairs nicely with the "simple sauce" which is remarkably arresting; its bright acidity capturing the focus of this dish. I imagine this is how my grandmother would make pasta, if my grandmother were Italian.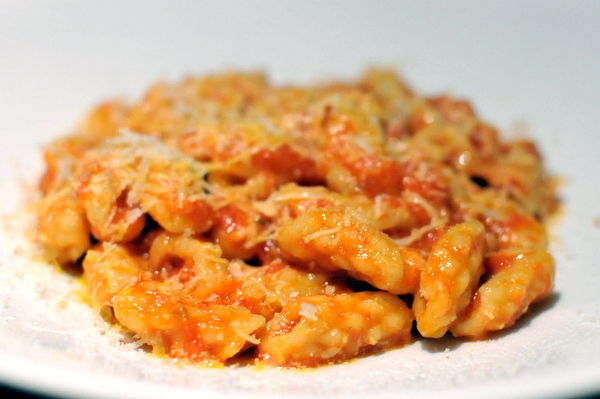 Squid ink fusilli lunghi - pistachios, bottarga, mint
The squid ink gave the pasta a distinctive oily black sheen that more than one person likened to black licorice. The flavor was deceptively light with faint hints of mint coupled with pistachios. Personally I would have liked a heavier emphasis on sea food given the use of squid ink.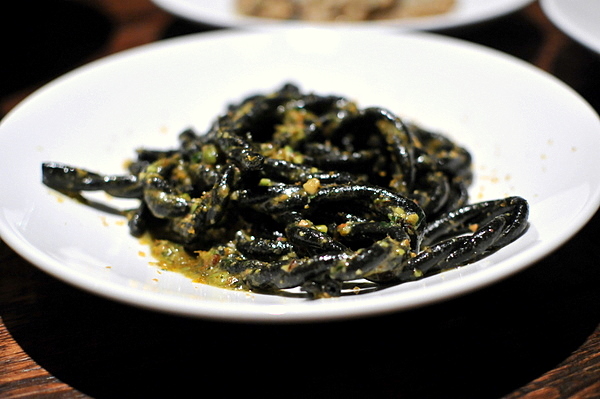 Toasted grain capunti - ragu bianco, black trumpets, rapini greens
We shared some of the champagne with Zack and Steve and they expressed their gratitude in pasta form. This was one of the better pastas of the night. The wheat pasta has a light yeasty bitterness complimented by the the tomato-less ragu which is further imbued with the depth of black trumpets and finished with a vegetal counterpoint from the rapini.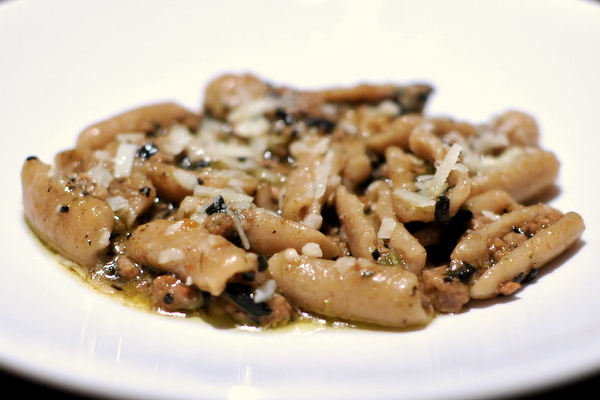 Abbondio Pompelomo & Fragola
Of the non-alcoholic beverages the grapefruit and strawberry was the most intriguing to me but the flavor turned out to be surprisingly subdued, more like a lemonade than anything else.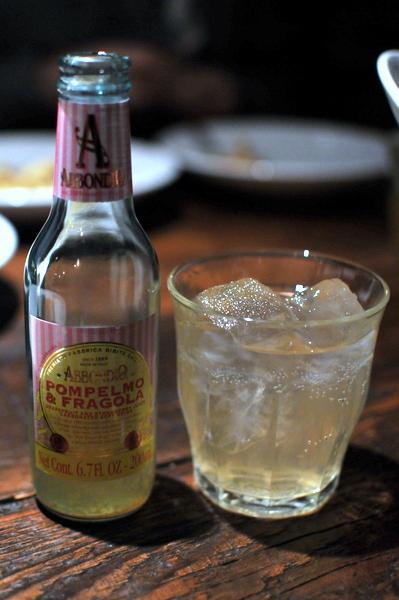 Margherita - tomato, mozzarella, basil, EVOO
Sotto boasts a Neapolitan pizza ovens built hand-built by Stefano Ferrara whose ovens grace a number of top eateries including Mario Batali's Eataly in New York. A third-generation oven maker from Naples he has personally installed fewer than 10 ovens in the US with Sotto's being the first in California. With that in mind I had extremely high expectations for the pizza. To that end we had to start with that classic Neapolitan pizza, the Margherita. The flavors were spot on vivacious tomato, weighty cheese and peppery basil zest all offset by a sublime wheat dough that was soft on the inside but perfectly crisp and charred on the crust.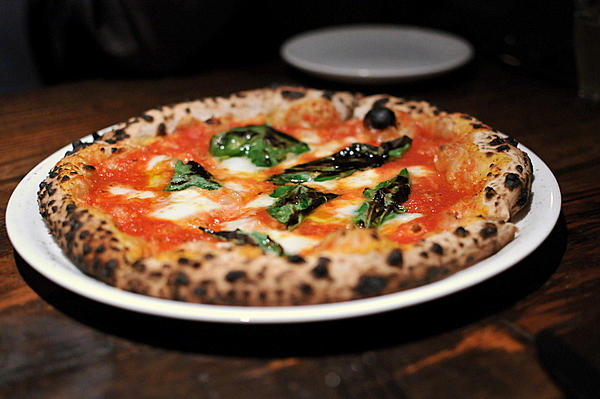 Guanciale - house-cured pork cheek, ricotta, scallions, fennel pollen
I had high hopes for this pizza, thinking the rich pork cheek would be the dominant component of the dish. Instead the ricotta won the day, its stolid flavor overcoming the intensity of the guanciale.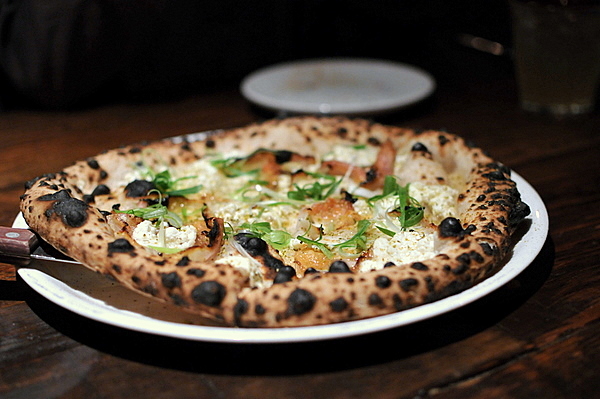 San Pellegrino Limonata
I was expecting something more along the lines of their sparkling water with a subtle lemony zing but this was so intensely lemony that it almost had an artificial feel to it that Kevin likened to a urinal cake.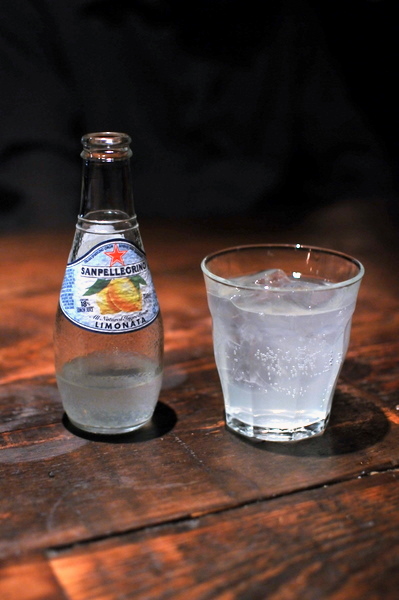 Boscaiola - hen of the woods, wild ramps, nettles, Sardinian aged goat cheese
This was far and away the most interesting of the pizzas, texturally complex with savory, earthy, and vegetal flavors that were austere enough to make the pizza feel somewhat healthy.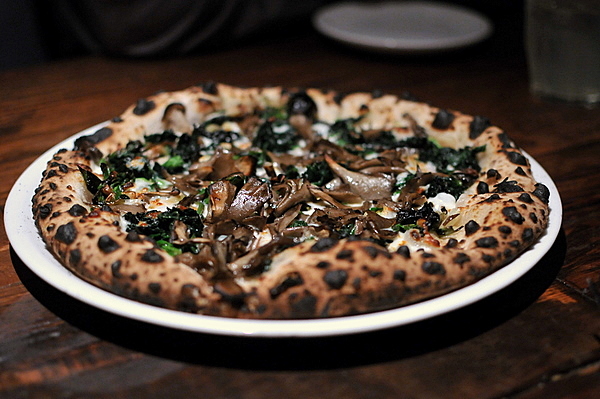 Sheep's milk yogurt panna cotta - thyme, honey, almond amaretti
I've had so many elaborate panna cottas that don't hold a candle to Sotto's. The texture is light and creamy with just a slight gamy tang to give the panna cotta a presence when taken with the floral honey and aromatic thyme.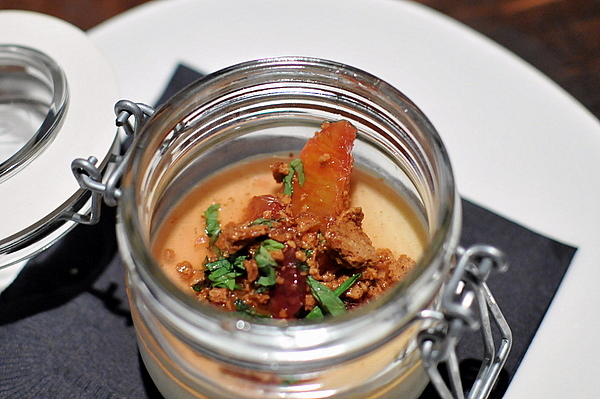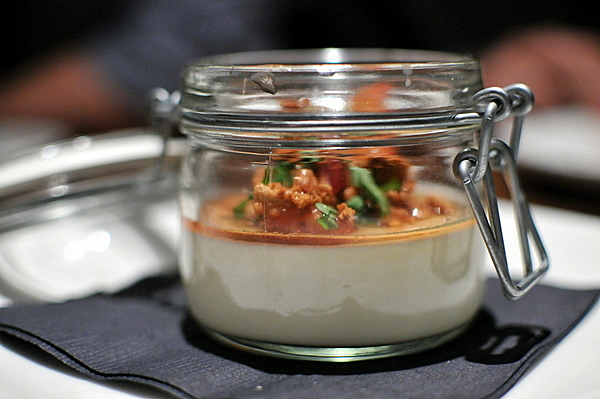 Bittersweet chocolate crostata - hazelnuts, salted rosemary caramel
This is a another case of less being more. The chocolate crostata is refreshingly direct making it easier to appreciate the nuances of and interplay with the savory-sweet caramel.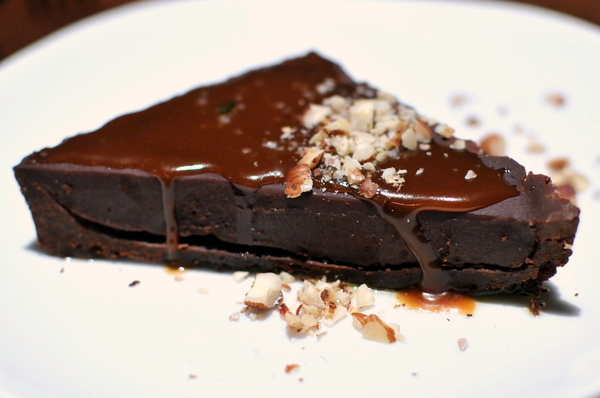 I confess Italian food is something of a challenge for me. The flavors didn't blow me away, but that was more the result of my own personal preferences. Without a doubt, the dishes faithfully captured the soulful charm of Southern Italian cuisine. The overall effect is a sense of homey warmth and you can almost feel the Samson and Pollack's idiosyncrasies and character in each handmade slice of pizza or bite of pasta.