435 North Fairfax Avenue
Los Angeles, CA 90048
(323) 782-9225

Eight courses of foie gras?!? This meal should come with its own surgeon's general warning. As much as I love foie gras I have to admit I was a bit concerned with eating eight courses of the stuff. The impetus behind the meal is the upcoming ban on the production and sale of foie gras which takes effect July 2012. Lefebvre, Dotolo, and Shook wanted to call attention the law and celebrate the ingredient they so love working with.

Personally I suspect the trio also enjoyed tweaking the noses of the foie protesters who have harassed diners outside numerous restaurants; it was certainly an added bonus for me. I expected the protesters to be out in force when I arrived, but there were surprisingly few for a dinner that incorporates foie gras into every dish.

01: marble foie gras terrine - prosciutto, fennel, yogurt, honey, bruleed figs
2002 Brut, Grand Cru Godmé, Verzenay
First up was a relatively conventional preparation of foie gras, a marbled terrine. Ludo sandwiched thin layers of proscuitto and fig between thick creamy slabs of terrine giving the liver a seamless salty sweet interplay. I also appreciated the contrast between the bitter char of the toast with the floral saccharinity of the honey as well as the herbal tang of the marinated fennel all of which added another layer of complexity and flavor to the dish.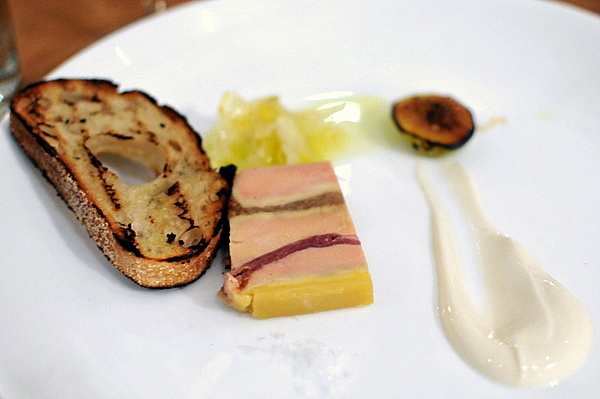 02: foie gras crudo - dates, lemon confit, black ash brioche, mushrooms
2008 Mas Jullien, Vin de Pays de l'Herault
The second dish was another Ludo creation, that he first debuted at 7.0. The foie is almost a secondary element a buttery velvety whisper on the tongue that elevates and augments the delicate flavors surrounding it. Again a cerebral and nuanced dish except for the lemon confit which added a potent burst of concentrated citrus that I quite enjoyed but overwhelmed the dish in large quantities.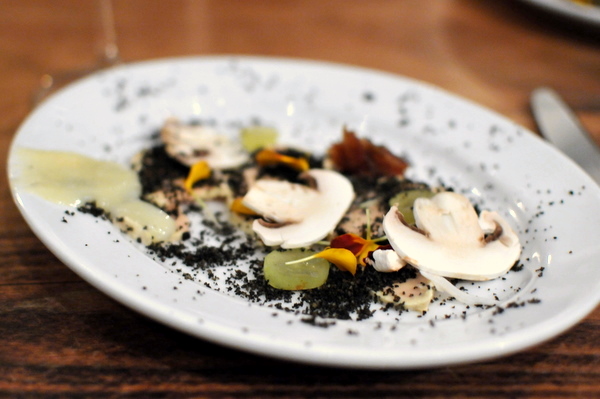 03: smoked foie gras - veal tongue, pumpernickel, crab apple
2007 Riesling, Kirchspeil, Grosses Gewachs, Keller
After two dishes from Ludo, it was time for the Animal boys to show their stuff. The veal tongue easily stole the show here: deliciously slick with a satisfying pastrami-like sapor tempered by the sweet tang of the crab apple relish. The quinelle of liver added a palpable sense of smoke tinged while the sauce delivered a spicy mustard bite taken together with the veal reminded me of a deconstructed hot dog.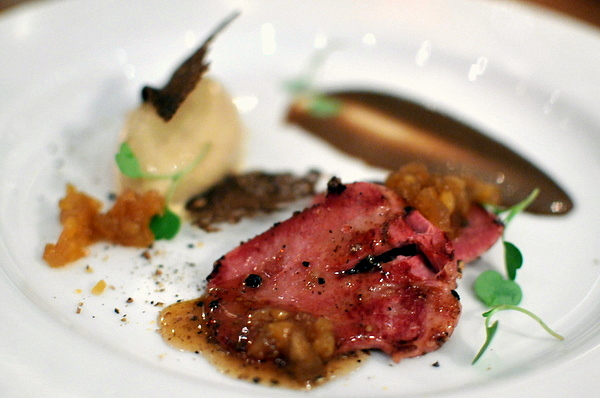 04: foie gras ssam - herbs, peanuts, green curry, bib lettuce, plum char siu
2009 Gewurztraminer, Grand Cru Kaefferkopf, Alsace
Ssam literally means wrapped in Korean, but this lettuce wrap had more of a Vietnamese flavor to it thanks to the accompanying herbs. The foie was a seared preparation, topped with peanuts and resting atop a lemongrass tinged curry. The gravity of the foie is dramatically diminished by the vegetables leaving behind a satisfying sense of richness coupled with a savory tinge from the fried onions. I didn't see the char siu anywhere but this didn't need it. The pleasing juxtaposition of heavy and light ingredients made this my favorite for the night.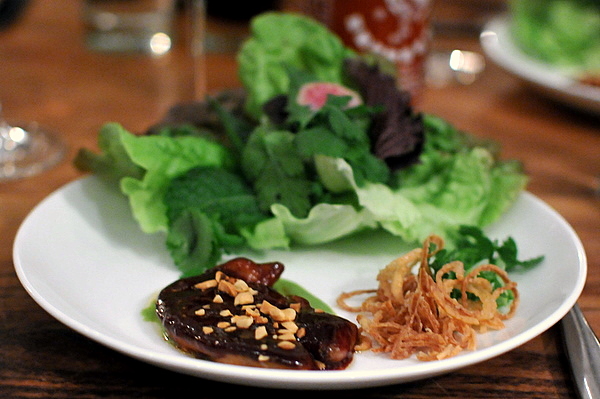 05: steamed foie gras - cabbage, mustard ice cream, duck fat potato, juniper berries
1999 Sauternes, Cru D'Arche-Pugneau
Ludo's previous incarnation of steamed foie still stands as one of my favorites of all time. This recaptured some of the magic coupling the slick decadent liver with the enveloping bitter crunch of the cabbage. Cabbage and foie is a classic pairing that has fallen out of favor but I feel it offers so much more versatility than sweeter preparations. With both this dish and the crudo, Ludo clearly shows of a level of control and complexity often overlooked when preparing foie.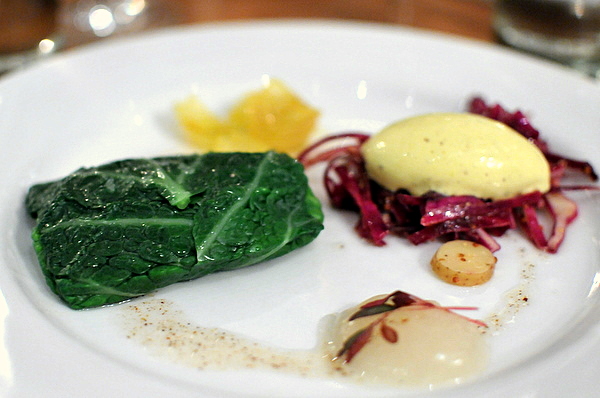 06: roasted foie gras - cheeseburger flavors, benton's bacon
Hopf Helle Weisse
If anyone could make a foie gras taste like a burger, it would be the two dudes. The condiments certainly gave the impression of a burger, particularly the sweet pickles and pimento cheese. I appreciated what the chef was trying to do with this course but it didn't scream burger to me the way the smoked foie reminded me of a hot dog.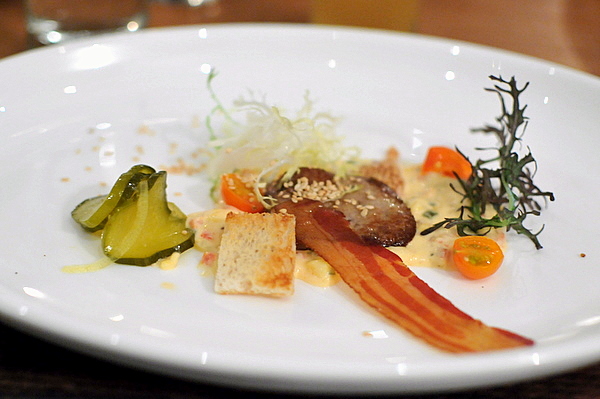 07: liquid foie gras agnolotti - corn, black truffle
2003 Barolo, 'Rocche dei Brovia,' Brovia
The last course consisted of five agnolotti stuffed with a concoction of sweet corn and foie then topped with shaved black truffles. The sweetness of the corn and earthy aroma of the black truffle are immediately apparent. The foie is more of a supporting element, lending a savory twang to counter the weight of the other two flavors.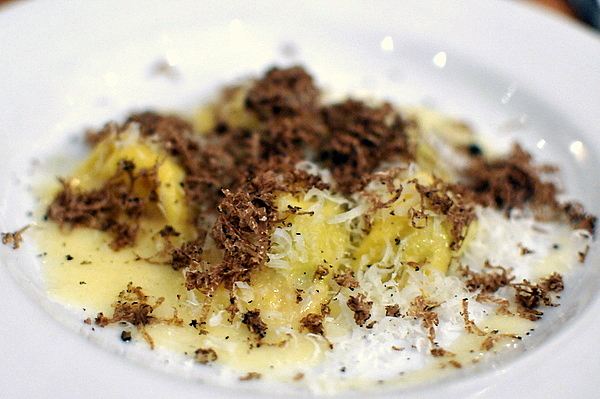 08: brownie sundae - foie gras chantilly, caramel, vanilla ice cream
Noval 20 year tawny port
The foie here was almost invisible, and even tasting the chantilly cream on its own, I got more of a salted caramel essence than the savory offal kick I was expecting. Regardless this was a delicious dessert, sweet, creamy and satisfying I was stuffed but I would have been happy to put down another one of these.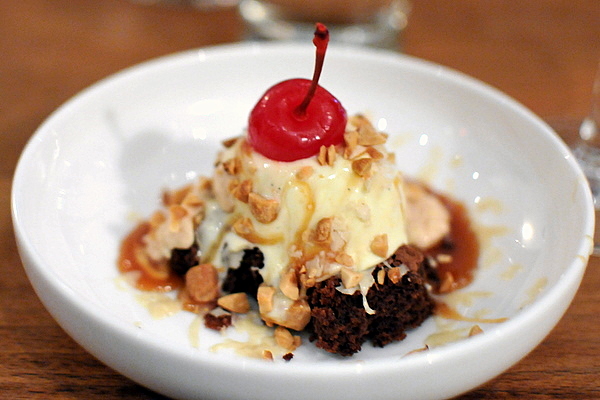 Despite knowing the prowess of Ludo and the Two Dudes, I must admit that I approached this meal with some trepidation. Would the food be too heavy? Would I need a triple bypass in the morning? Happily neither of these happened. This meal showed a surprising amount of finesse while celebrating the versatility of this beautiful ingredient. With only two nights, this is certainly a high-demand event and if you couldn't get a reservation but still want to check it out, I recommend showing up early, and trying to score a seat at the bar.