6640 Washington Street
Yountville, CA 94599
(707) 944-2380

A temple of gastronomy. A culinary Mecca. Of course I am referring to The French Laundry. My first trip here still stands out as one of my single most memorable dining experiences of my life. I was actually fortunate enough to visit the restaurant again this year on Valentines Day and though I wouldn't normally revisit a restaurant of this caliber so quickly when someone offers to pay its hard to turn down.

This time around we booked the private dining room, which takes reservations up to a year in advance. I highly recommend this route to anyone who can fill a table and has a flexible travel schedule as it is much easier than trying to fight through the normal reservation line.

CANAPE 01: GOUGERES
Though I've had many a gouger, French Laundry's have consistently ranked among the top and this was perhaps the best one yet. The dainty little puff burst upon mastication releasing a veritable flood of warm cheesy Mornay that left me craving more.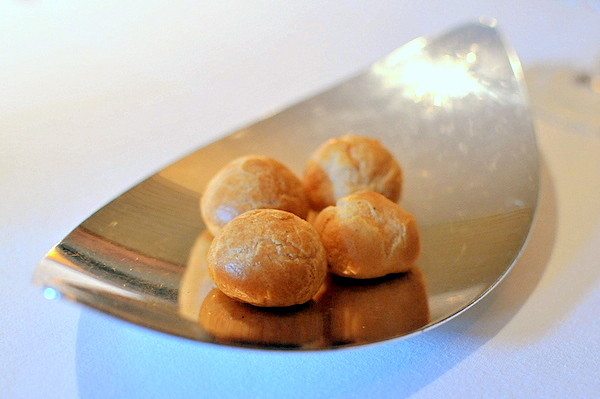 CANAPE 02: SALMON TARTARE CONE
Like the gougeres, the salmon tartare cones always preface the main meal. The salmon is so finely minced it takes on an almost creamy consistency nice against the buttery richness and crunch of the sesame tuile.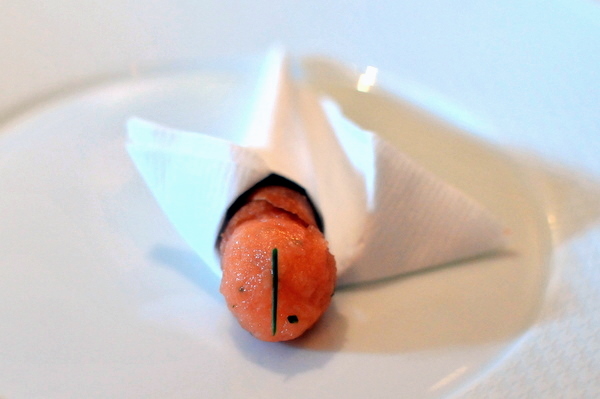 01: "OYSTERS AND PEARLS" - "Sabayon" of Pearl Tapioca with Island Creek Oysters and White Sturgeon Caviar
Gaston Chiquet, Blanc de Blancs d'Ay, Grand Cru MV
As much as I harp on the importance of contrast and balance, pure unadulterated decadence has its place as well. Raw, the oysters have a distinct minerality, but butter poaching them strips off the more assertive flavors while leaving the salinity intact. The heady richness of the "sabayon" adds a luxurious heft while the caviar ratchets up the salinity of the dish. At once simple in its focus yet elegant in its execution, one of my companions declared that had the meal ended after this course he still would have left happy.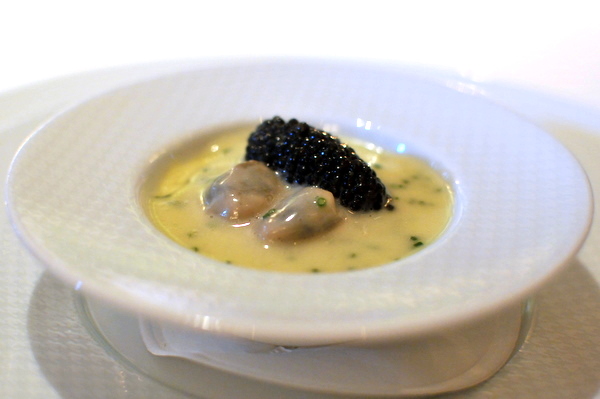 02: WHITE TRUFFLE CUSTARD - Veal Ragout with Black Truffle and Chip with Chive
Gaston Chiquet, Blanc de Blancs d'Ay, Grand Cru MV
I asked about this during my visit in February and was told that the course was available only by request. I had this my during my first visit years ago and still think about the course from time to time. This time around the fragrant aroma of truffle was diminished by a dark savory weight from the veal.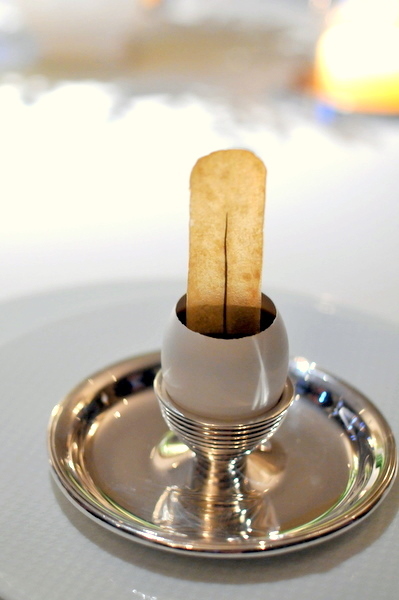 03: SALAD OF FRENCH LAUNDRY GARDEN BEETS - Hass Avocado, Compressed Cucumber, Red Ribben Sorrel and Yuzu "Gastrique"
Weegmuller Riesling, "Haardter Herzog," Kabinett, Pfalz 2007
As much as I dislike beets I was curious to see what kitchen could do with them. In the end I'd say the dish was a moderate success, the typical cloying sweetness is balanced nicely by the floral sweetness of the yuzu, but texturally the beets were pretty much unchanged, dense, soft, and blunt.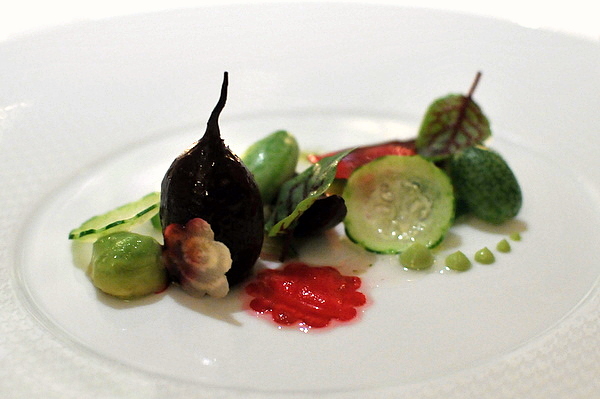 04: "PB&J" - Moulard Duck "Foie Gras," Peanut "Génoise," Concord Grape Gelée, Celery Branch and Petite Sirah Reduction
Oremus, Tokaji Aszú, 5 Puttonyos, Tokaj 2002
The foie gras was a supplement to the regular meal and always well worth the additional cost. Laundry typically serves their foie cold, usually some sort of torchon preparation though our waiter did mention a warm preparation was available upon request. The liver has a consistency akin to soft butter or in this case a creamy peanut butter. The Concord grape gelée offers a nuanced sweetness while the celery gives the dish a magnificent crunch and contrasting bitter tinge.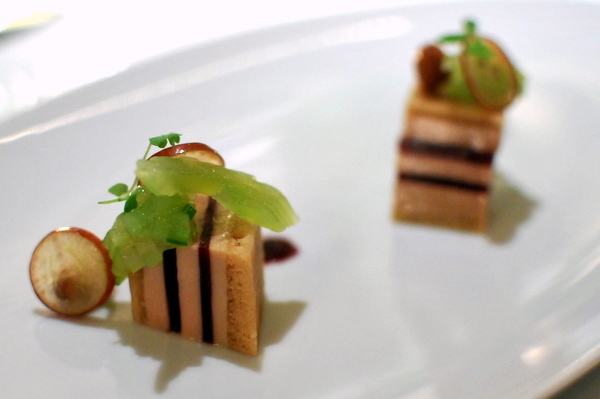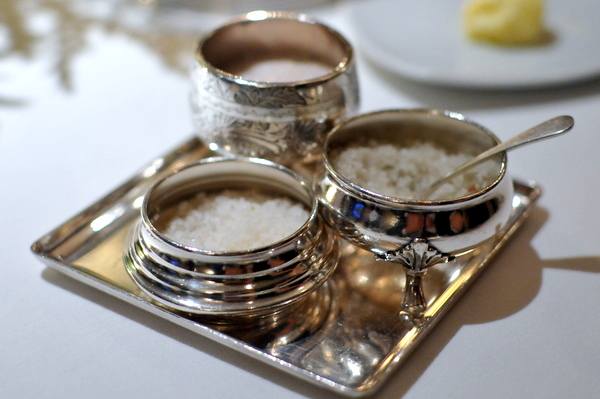 05: COLUMBIA RIVER STURGEON "EN PERSILLADE" - "Ragoût" of Summer Pole Beans, Frisée, and Dijon Mustard Emulsion
Vincent Girardin, Puligny-Montrachet, "Les Folatières," Burgundy, 1er Cru 2007
The sturgeon was the one course that missed the mark for me. Though the fish was cooked perfectly giving it a pleasing dense flakiness, but in terms of taste it was just boring. The beans were equally satisfying texturally but didn't add much flavor-wise. A more savory or earthy accompaniment would have worked better to highlight the delicate flavors of the fish.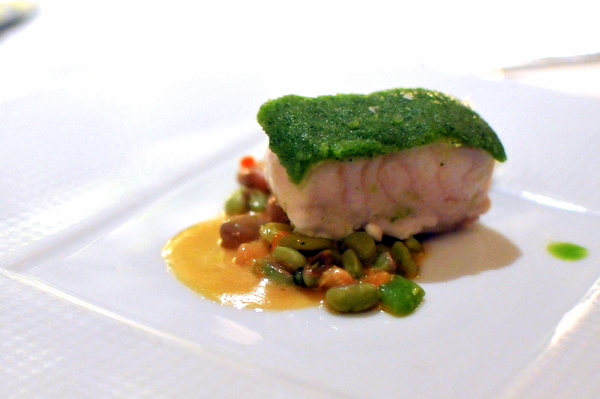 05: SWEET BUTTER-POACHED MAINE LOBSTER TAIL - Bluefoot Mushrooms, Marble Potatoes, Red Radish, Parsley and Padrón Pepper "Vierge"
Lopez de Heredia, "Viña Gravonia," Blanco, Rioja 2001
Of the three butter poached lobster preparations I've had at the French Laundry, this was the most traditional and cohesive of the bunch. As always, the lobster tail remains the star of the show; its decadent buttery sweetness and taut snappy crunch are simply unmatched. The potatoes and radish give the dish a satisfying complexity while the musky salinity of the fungi heightens the lobster's natural brine.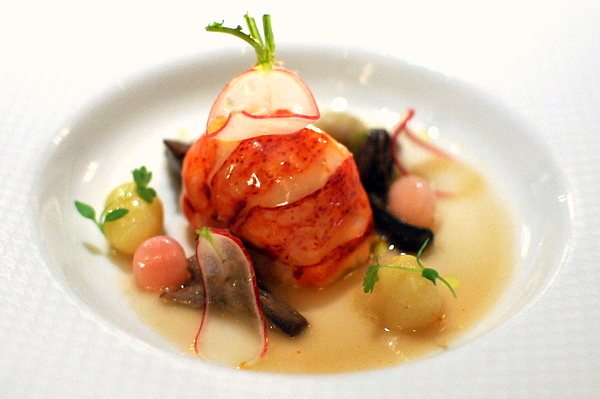 06: DEVIL'S GULCH RANCH RABBIT SIRLOIN - Baby Corn, Mission Fig, Swiss Chard, and Black Truffle Sauce
Arnot-Roberts, Trousseau, "Luchsinger Vineyard," Clear Lake 2010
The rabbit is lissome and delicate yet immensely flavorful while the black truffle sauce is luxuriously weighty yet restrained enough to compliment the meat rather than overshadow it. The accompaniments of corn and fig are profoundly sweet while the chard provides a verdant bitter counterpoint. The resulting combination is nothing less than refinement personified.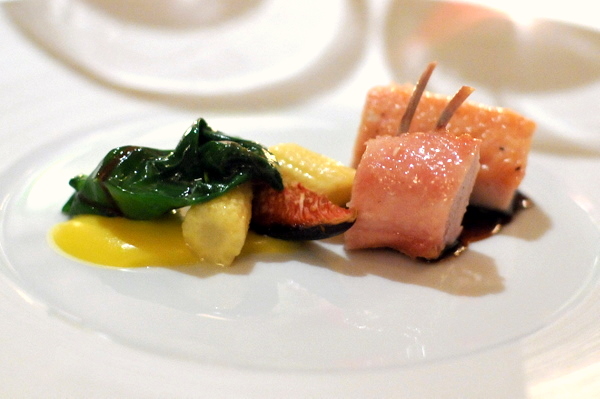 07: MARCHO FARM NATURE-FED VEAL - "Lasagne de Langue de Veau," Toybox Tomatoes, Globe Artichoke, Romaine Lettuce and Castelmango "Mousseline"
Tenuta Friggiali, Brunello di Montalcino, "Donna Olga," Tuscany, 2004
The veal's sheer profundity and depth of flavor coupled with its exquisite texture was nothing short of magnificent. The lasagna of veal tongue provided complex nuances of a robust and slightly piquant salinity while the verdant succulence of the lettuce and sharp zing of the tomatoes added a contrasting levity to th emeat. I used to wonder what all the hubbub about veal was; leave it to Keller and his crew to open my eyes.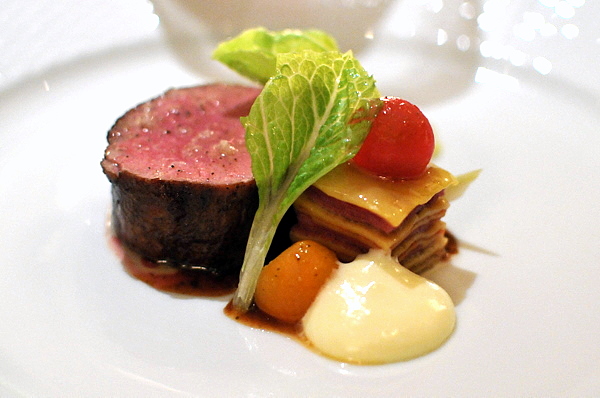 08: "TOMME DE BREBIS" - Bacon-Onion Marmalade, Cipollini Onion, Jacobsen's Farm Apples and Watercress
Failla, Syrah, "Estate," Sonoma Coast
The Tomme de Brebis was a fairly innocuous and approachable cheese, with a middling texture and subtle undercurrent of sharpness that highlighted the interplay of the vibrant bacon-onion marmalade with the more restrained apple and watercress.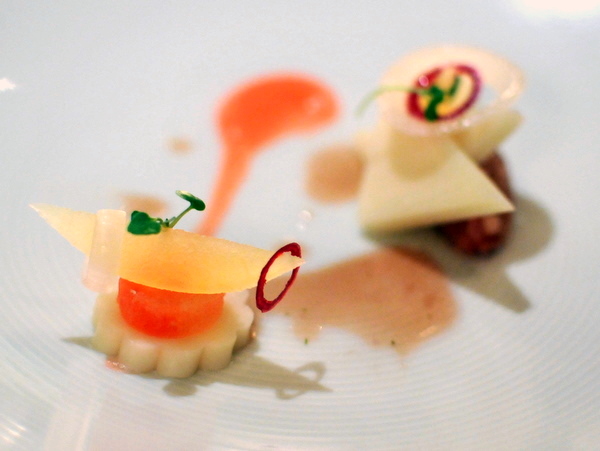 09: YELLOW WATERMELON SORBET - Basil-Honey and Saba Vinegar
The watermelon sorbet served as a wonderful palate cleanser and bridge between the savory and sweet courses; the summery freshness and sweet succulence of the melon is augmented by the dark viscous sweetness of the Saba.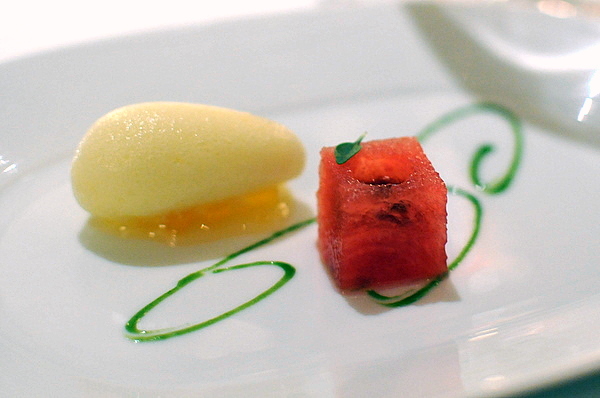 10: CARAMÉLIA CHOCOLATE "CRÈMEAUX" - Gros Michel Banana, Candied Pine Nuts, "Dentelle" and Salted Popcorn Ice Cream
Château Rieussec, 1er Cru Classé, Sauternes 1989
The final documented course was a decadent chocolate shot through with intensely sweet caramel. The saccharine weight of the chocolate is masterfully countervailed by the salty punch of the popcorn ice cream. A masterful use of savory and sweet elements that left me hungering for more.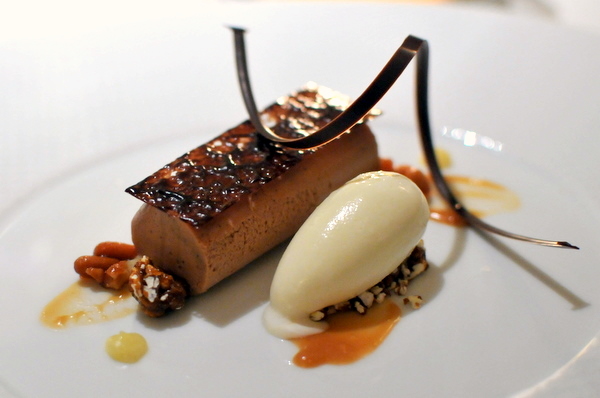 11: "COFFEE AND DOUGHNUTS" - Espresso Semifreddo and Sugar Doughnut Holes
No meal at The French Laundry would be complete without Keller's signature "Coffee and Doughnuts." The combination is almost laughably simple, pairing airy beignets (read: donut holes) with an espresso semifreddo (a.k.a: coffee ice cream), but despite its simple nature this dessert never fails to please.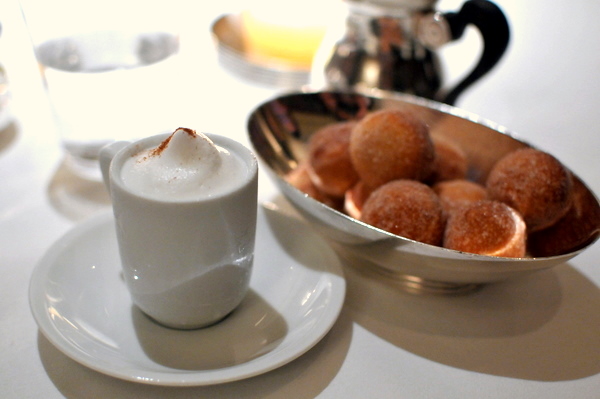 MIGNARDISES 01: HOUSE-MADE CHOCOLATE TRUFFLES
Completing the meal was a sextet of chocolates: ginger & rum, PB&J, bing cherry, olive oil, hazelnut crunch, and meyer lemon. I sampled all six of mine and they were superb. That these chocolates compare favorably with those sold at any gourmet chocolatier speaks volumes about the kitchen's attention to detail in all that they do.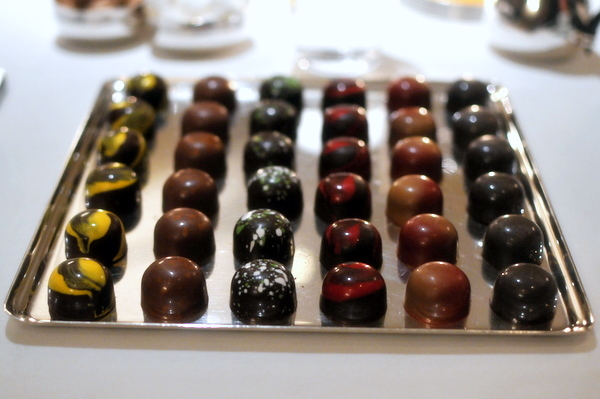 MIGNARDISES 02: CHOCOLATE COVERED MACADAMIA NUTS
Accompanying the chocolates was a bowl of macadamia nuts covered in hard caramel. The addictive sweet crunch and delightfully toasty char of the nuts kept me eating these long after I was full.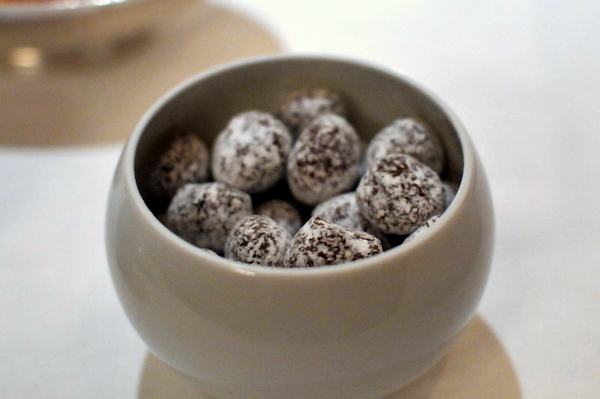 Chef Hollingsworth wasn't working Monday, but Executive Sous Chef Philip Tessier was a very able surrogate. After helping Keller open Per Se, Tessier was tapped to lead the kitchen at Bouchon and earlier this year made the move to the kitchen at French Laundry.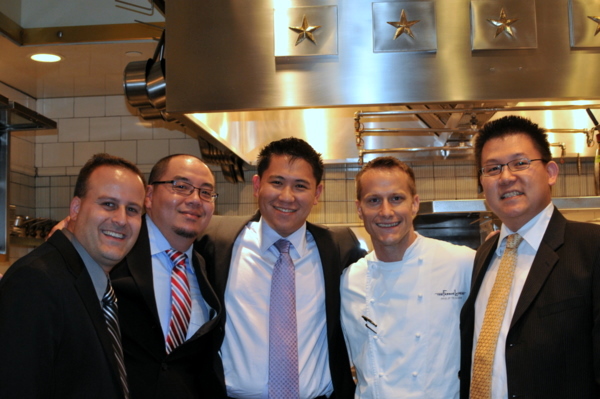 French Laundry was the capstone to a modernist-heavy dining trip that featured Atelier Crenn, Saison, and Baumé,. French Laundry may seem dated by comparison but in practice the restaurant is just as captivating despite its decision to eschew more avant-garde techniques. What the kitchen does excel at is creating food that tastes damn good. The lobster and veal in particular were among the best I'd ever eaten. Performing at such a high level is no mean feat and to do it for over 15 years speaks to an unwavering meticulousness and relentless demand for perfection that borders on obsession. There aren't many restaurants where I expect my next experience to be as good or better than the last, but The French Laundry is certainly one of them.