12565 Washington Blvd
Los Angeles, CA 90066
(310) 398-7700

After bringing the food truck phenomenon mainstream with Kogi, Roy Choi has expanded his burgeoning empire first with Chego, and now A-Frame (and soon Beechwood Kitchen in Venice). Built in a defunct IHOP, A-Frame is labeled as a modern picnic serving good food that is meant to be shared and enjoyed without the pretension of more refined restaurants.

CRISTOPHER OAXACAN - Mezcal, habanero, lime, orange
Nothing subtle about this drink, the combination of mezcal and habanero combines for a one-two punch of smoke and spice tempered ever so slightly by a sweet citrus tang.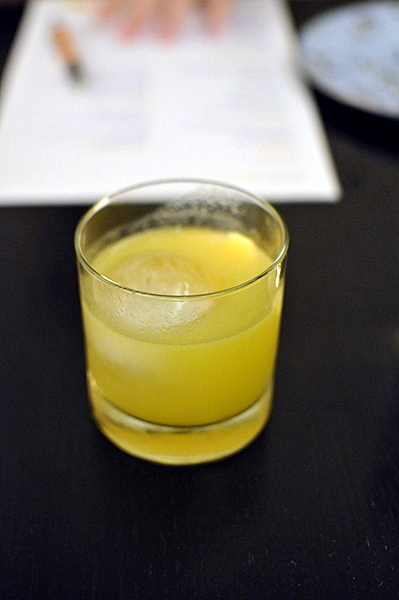 SCARLET SWIZZLE - Rum, Grand Marnier, falernum, lime, bitters
I really had a hard time describing this drink. Besides the slight burn of the rum, the combination of falernum, lime and bitters balance one another nicely resulting in a pleasing but somewhat nondescript libation.



CURED STRIPED BASS - with clarified watermelon juice, Thai basil, cucumber and pickled watermelon rind
A prototypically light fish course, that felt a bit watered down for my tastes. I would have preferred a more robust sweet herbaceousness from the combination of melon, basil and cucumber, but given that this was the first course the light freshness wasn't entirely unwelcome.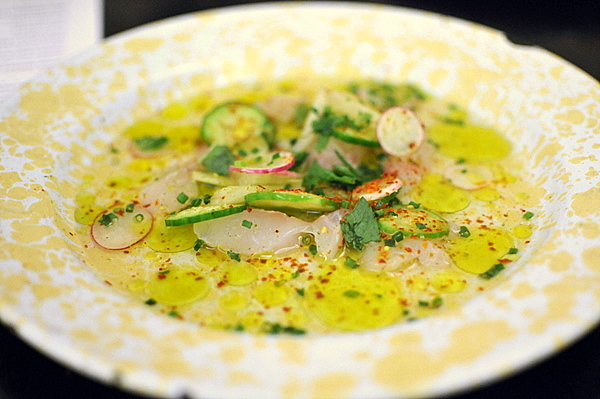 SESAME LEAF WRAPPED SHRIMP TEMPURA - with fresh cucumber and herbs and shoyu dipping sauce
This was one of the strongest courses of the night. The shrimp itself was overshadowed by the addictively tangy bite of the dipping sauce and the fresh zest of the accompanying herbs. The sesame dusted cucumber provided a pleasing succulent respite between bites of the tempura.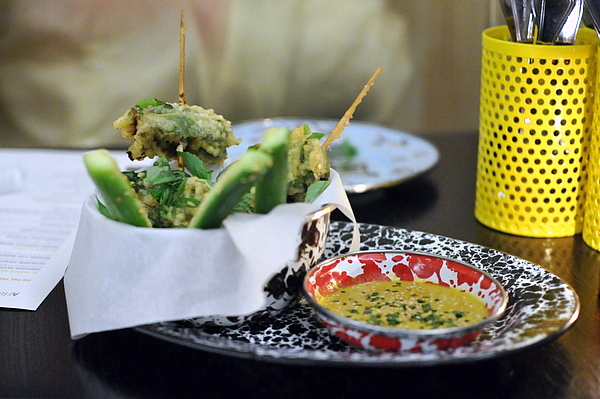 CHARRED BABY OCTOPUS - with carrot kochujang puree, bok choy, pickled vegetables and nori seaweed
I rarely pass up an octopus course these days and though the mollusk could have been a touch rarer, the sweetness of the lightly caramelized exterior complimented the crisp vegetal levity of the vegetables nicely.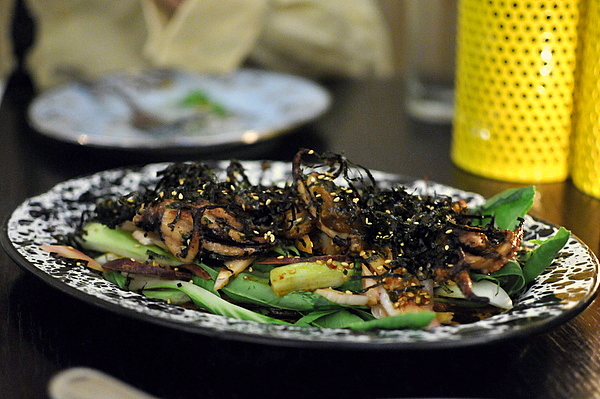 CLAM CHOWDER - with green curry, lemongrass, pancetta, coconut milk and toasted sourdough
Another contender for best dish of the night, the mixture of curry, lemongrass and coconut milk is reminiscent of a tom yum soup while the pancetta and clams add a subtle umami sapor to the broth.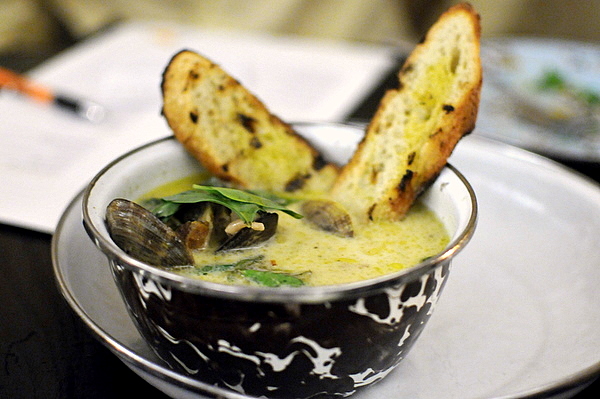 THE TRICK - Tequila, cucumber, ginger, lemongrass, chile salt
I almost always order cucumber-based cocktails and this was right up my alley with a piquant spice and fresh undercurrent thanks to the cucumber.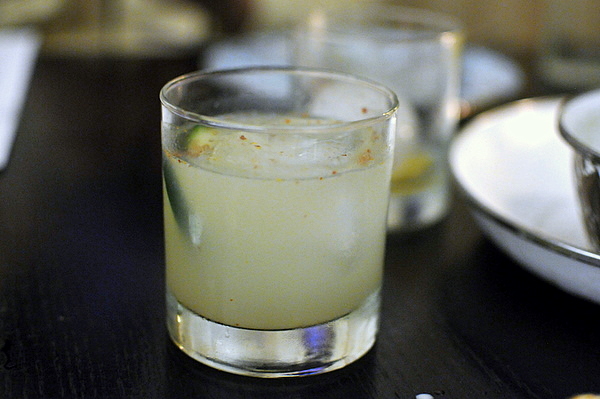 DEL MAR - Bourbon, grapefruit, vanilla, honey, allspice
I was hoping for an assertive bourbon drink tempered by the grapefruit and other accompaniments, but the Del Mar definitely favored the allspice and vanilla, giving the drink a sweet spiced warmth that I found reminiscent of Christmas.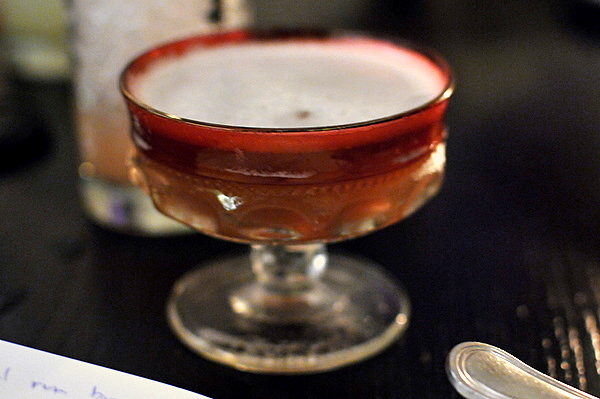 FURIKAKE KETTLE CORN - buttered Blazin' J's Hawaiian style
Part of the "modern picnic" experience is the use of communal tables where strangers can get to know each other and share a meal. Chris and Janice, the couple sharing our table was kind enough to offer us some of their kettle corn which I found quite tasty; the typical salty sweet combination is amped up with a heady buttered richness.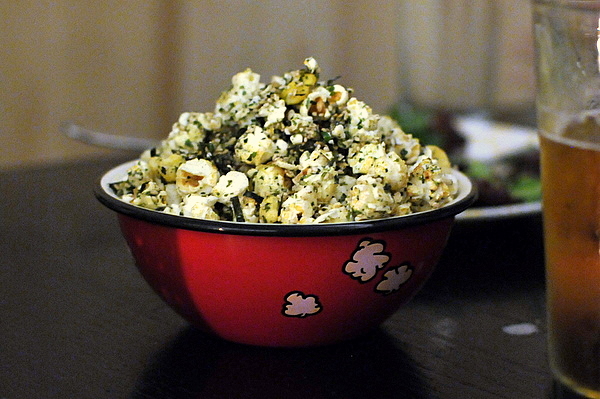 BABY BACK RIBS - air-dried and hoisin-chili glazed
I'm not really sure how I feel about this course; on the one hand, I enjoyed the crisp exterior of the meat, but at the same time I found the ribs a bit dry. The glaze gave the meat a flavor reminiscent of chashu, basically BBQ with an Asian flair.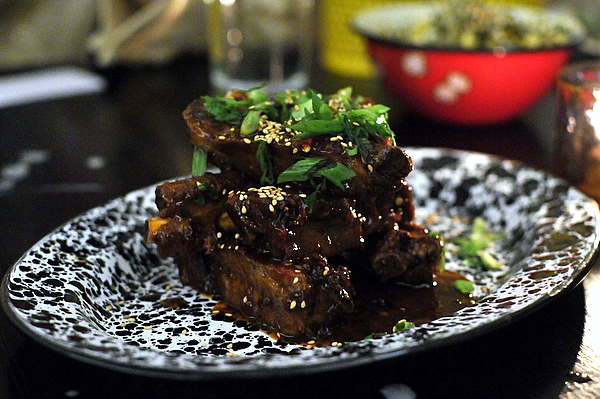 ROASTED LAMB - with toasted sesame oil, shoyu and garlic served with fresh herb salad and salsa verde
The roasted leg of lamb was a nice change from the more common lamb chops. With generous bits of fat, the meat was one of the gamier preparations of lamb that I've had lately but the salad and tang of the salsa verde deftly countered the weight of the meat.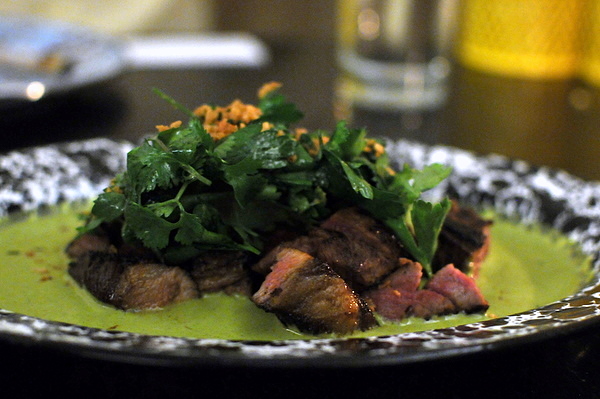 DYN-O-MITE - butter and sour cream twice baked duchesse potato with chives and parmesan crust
Duchesse potatoes are typically a combination of mashed potato and egg; this preparation is augmented by heavy doses of butter and cream as well as a nutty salinity from the parmesan. A simplistic and satisfying dish that reflects the unpretentious nature of the restaurant.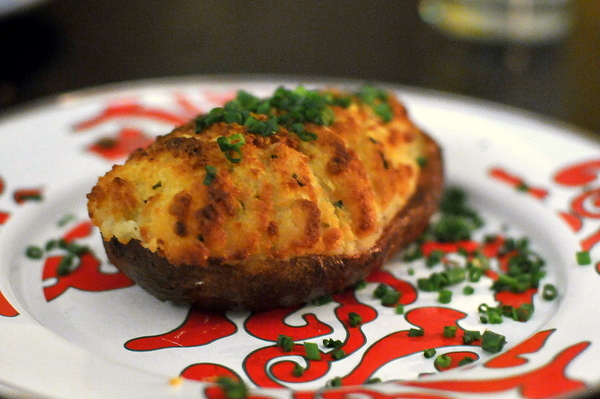 KNUCKLE SANDWICH - braised bowl of oxtail, tendons, knuckles and other forgotten pieces served with soy chili dipping sauce, and toasted bread
I had envisioned a bowl of fried bits and pieces rather than the soupy preparation that we got. A touch bland on its own, the knuckle sandwich reminded me of a Chinese beef noodle soup once we poured the soy dipping sauce into the bowl.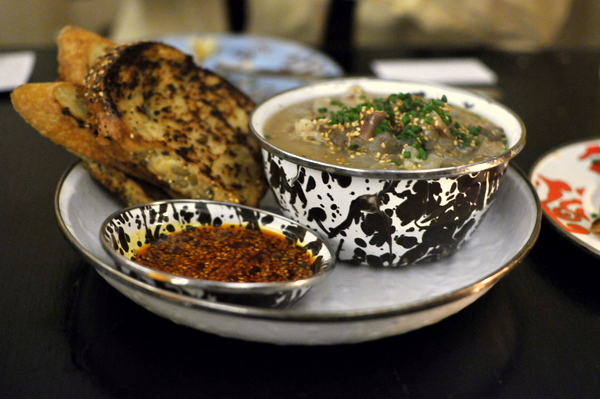 FRESCAS FIZZ - Gin, hibiscus, lemon, egg white, orange bitters
My final drink of the evening was an aromatic gin mixture topped with a thick frothy head of whipped egg.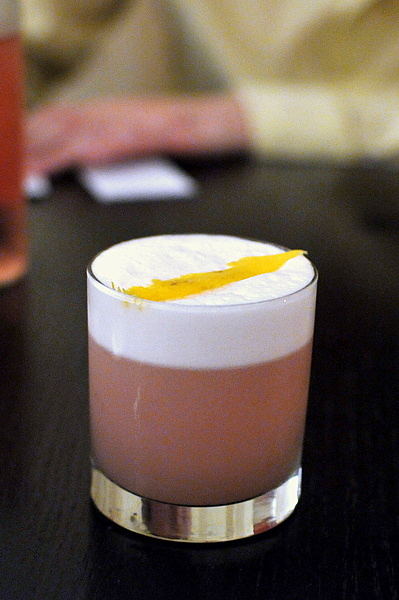 WAIALUA HAWAIIAN NATURAL - Lilikoi soda
Though A Frame has a good selection of alcoholic offerings, they also offer an interesting selection of soft drinks. Though lilikoi is Hawaiian for passion fruit, this drink had more of a peach or melon like flavor.



THICK ASS ICE CREAM SANDWICHES - black pepper szechuan ice cream and salted chocolate cookie
The sweetness of the ice cream is tinged with the subtle fragrance of the Szechuan peppercorns, a savory compliment to the salted chocolate cookies.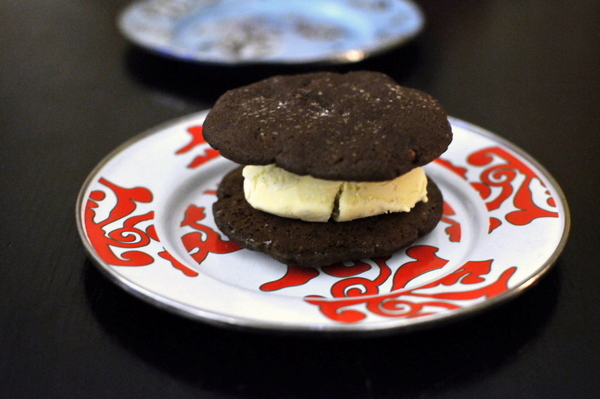 CHU-DON'T-KNOW-MANG - pound cake cinnamon churros, with malted chocolate milk and vanilla ice cream
Definitely one of the more creatively named courses I've seen. Beneath the crunchy thick exterior of the churro, lurked a soft dense absorbent cake-y core. We were advised to take a bite of the churro then dip it into the milk and let it soak up the heady chocolate and vanilla goodness.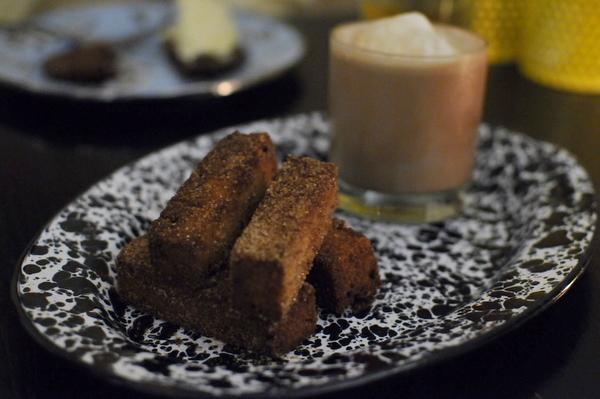 A Frame doesn't have the sophistication or polish of other contemporary Asian restaurants like Lukshon or Red Medicine, but the food is comfortable, satisfying and fun, everything a picnic should be.