1337 14th Street Northwest
Washington, DC 20005

With 500 bottles and 50 taps Birch & Barley and its upstairs pub Churchkey have the most extensive beer selections that I've ever seen. Open for two years, Birch & Barley has wracked up an impressive number of local accolades but I probably would have missed out were it not for a friend's recommendation. After checking out the menu I was intrigued enough to give the restaurant a shot. To pair with that the restaurant offers a seasonal new American menu with an emphasis on using local ingredients whenever possible.
The kitchen is headed by Chef Kyle Bailey who attended the CIA in Hyde Park and worked at Cru, Blue Hill at Stone Barn, and Allen & Delancey before coming to Birch and Barley. Cru's emphasis on wine and the cocktail pairing Bailey instituted at Allen & Delancey gave Bailey a deeper insight into the finer points of food and beverage pairings, making him uniquely suited to helming the kitchen at Birch and Barley. Handling pastry duties is Tiffay MacIsaac who also worked at Cru and Allen & Delancey as well as a number of other restaurants in New York. MacIssac is the Executive Pastry Chef for Neighborhood Restaurant Group and oversees the dessert program at many of their properties which include 9 restaurants, a bakery, a wine shop and a catering service. Rounding out the trio of key figures at Birch and Barley is their Beer Director, Greg Engert. Besides launching and managing Birch & Barley and Churchkey, Engert is also responsible for the beer programs at NRG's other restaurants. Renowned for his knowledge and palate, Engert won Somellier of the Year from Food & Wine in 2010, the first time a beer expert has won the award.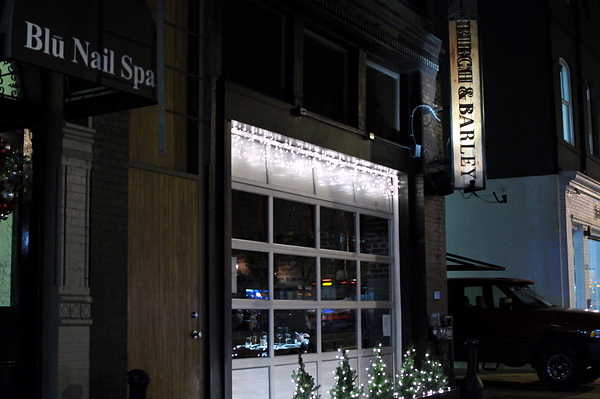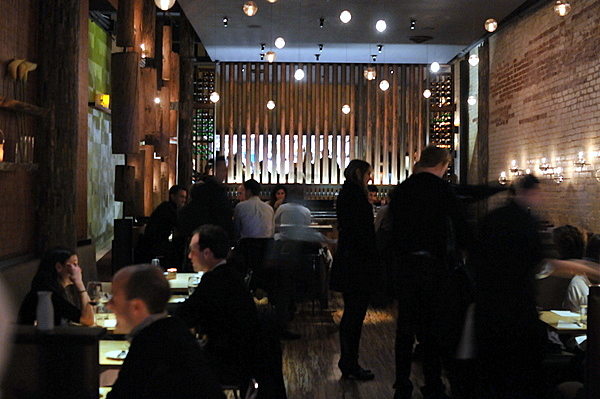 Amuse: Arancini
The meal opened with a single Arancini, the fried rice ball is dusted with shaving of Parmesan and served on a bed of sweet puree resulting in light savoriness coupled with a hint of sweetness.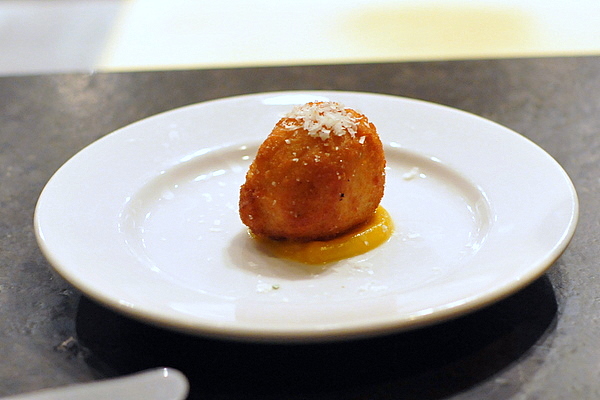 01: Arctic Char Tartare
- Yuzu Gelée, Candied Ginger, Soy-Mirin, Sesame Crisp
ALLAGASH WHITE
| Allagash Brewing Company | Witbier | Maine | 5.2 % | 42º | Tumbler | 13 Oz.
I was expecting this to be similar to a salmon tartare but the Arctic Char has a markedly firmer texture and more nuanced flavor. The citrus, ginger, and soy compliment the fish naturally while the crisp adds a savory textural weight. The Allagash is a classic witbeir with loads of citrus and coriander to compliment the yuzu and ginger.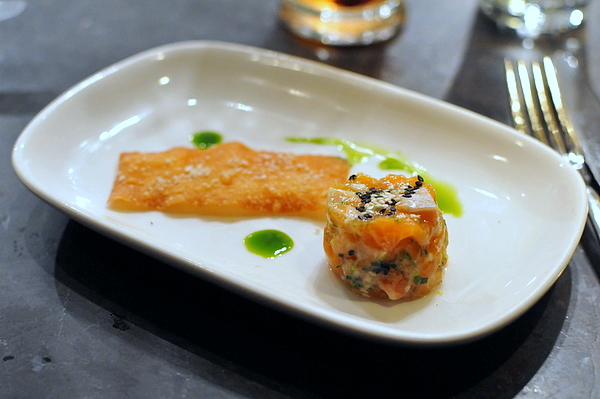 Supplement: Crispy Farm Egg
- Roasted Pork Belly, Apple-Cornichon Gastrique, Frisée, Mache
AYINGER BRÄU WEISSE
| Privatbrauerei Franz Inselkammer | Helles Hefeweizen | Germany | 5.1 % | 42º | Grand Pilsener | 16 Oz.
In addition to the tasting menu there were a number of very intriguing a la carte selections and the kitchen was kind enough to incorporate them in the tasting menu. First up was a lightly fried farm egg, the thin crust hides a nice molten core complimented by the rich pork belly. The dish is further elevated by a bitter-sweet accent from the gastrique and greens. The Ayinger is the embodiment of a pils, effervescent with light aromas of toasty malt and citrus.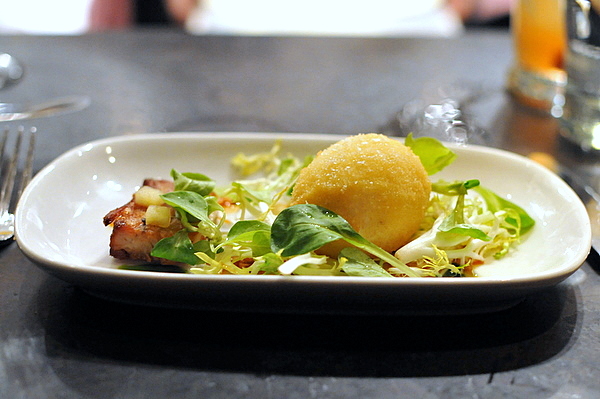 02: Pan-Seared Red Snapper
- Baby Gold Beets, Endive, Golden Raisins
RHINOEL
| Lost Rhino Brewing Company | Dubbel | Virginia | 5.5 % | 48º | Goblet | 12 Oz.
I've often found cooked snapper to be overly dry but that wasn't the case here. The fish is flaky and moist with a light salinity that plays well with the endive, but lacks the strength to stand up to the sweetness of the beets and raisins. The accompanying beer is a winter seasonal dubbel, which has typical notes of ripe fruit and brown sugar that complimented the sweeter elements of the dish but was a bit heavy for the fish.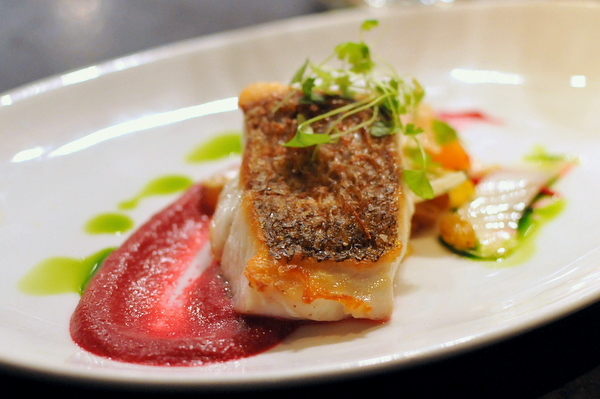 Supplement: Seared Sweetbreads
- Parsnips, Red Pickled Apples, Marjoram, Foraged Chickweed
ELLIE'S BROWN ALE
| Avery Brewing Company | English Brown Ale | Colorado | 5.5 % | 48º | Nonic Pint | 16 Oz.
Just an immaculate nugget of sweetbread tender meaty with just a light hint of the characteristic offal. The parsnips add a pleasing starchy weight while the apples give the dish a touch of piquancy to counter the weightiness of the offal. The pairing was a brown ale that came loaded with toasty malts and a powerful nuttiness as well as a earthy bitterness to cleanse the palate.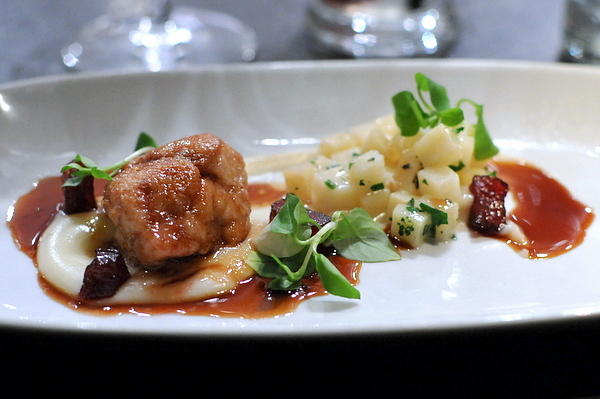 Supplement: Hand-Cut Tagliatelle
- Razor Clams, Mussels, Fennel Confit, Grapefruit Beads, Saffron
MISTINGUETT
- Brasserie Sainte Hélène | Belgian Blond Ale | Belgium | 6.5 % | 48º | Tulip | 10 Oz.
Like cocktails with cucumber, I feel compelled to order razor clams whenever I see them on the menu. Unfortunately they were a bit lost beneath the mussels, fennel, and citrus. Despite that this was a very well developed dish with lithe supple pasta and a lovely harmony between the brine of the shellfish and the aromatic herbs and citrus. We go back to a lighter style of beer here, the Mistinguett is a Belgian Blonde that opens with a sweet malt tinged with fruity spice but finishes with a light essence of hop.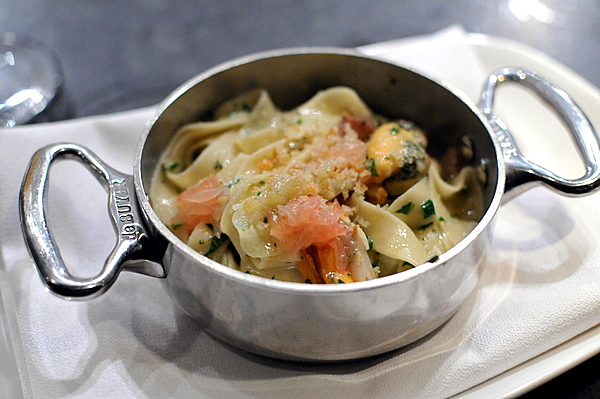 Handmade Potato Gnocchi
- Braised Oxtail, Horseradish Creme Fraiche, Celery
PAULUS
| EXCLUSIVE | Brouwerij Leroy | Flanders Oud Bruin | Belgium | 6.0 % | 48º | Tumbler | 10 Oz.
Though the Gnocchi was a bit soft for my liking, the flavor of the dish can't be faulted. The heady rich gravy and braised oxtail is tempered by the spicy zing of the horseradish. The Paulus is a complex sour ale combining tart fruits with a distinctly vinous character which complimented the darkly savory oxtail as well as the tangy horseradish.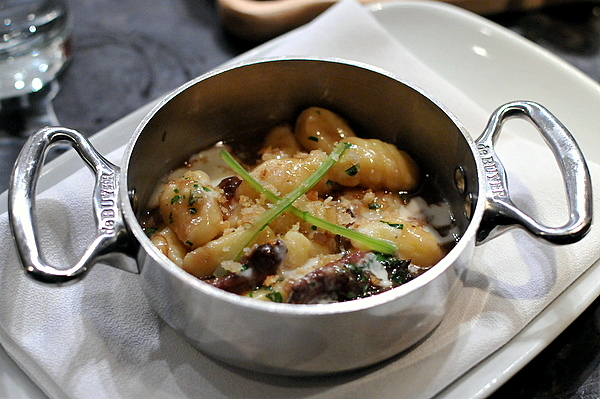 Grilled Wagyu Skirt Steak
- Handmade Couscous & Farm Carrots
NATAS
| DC Brau & Stillwater Artisanal | Belgian Imperial Porter | District of Columbia | 7.5 % | 54º | Goblet | 12 Oz.
The final savory was a grilled Waygu Skirt Steak from Strube farms in Texas. The beef itself wasn't as tender as I was expecting though Skirt Steak does tend to be one of the tougher cuts though I did appreciate the fine grain of the meat. The couscous provided a nice starchy heft but I thought the purple carrots were disconcertingly sweet. The Natas is a darkly bitter stout produced by two local brewers, the aromas of char and smoke compliment the rich beefy weight of the meat very well.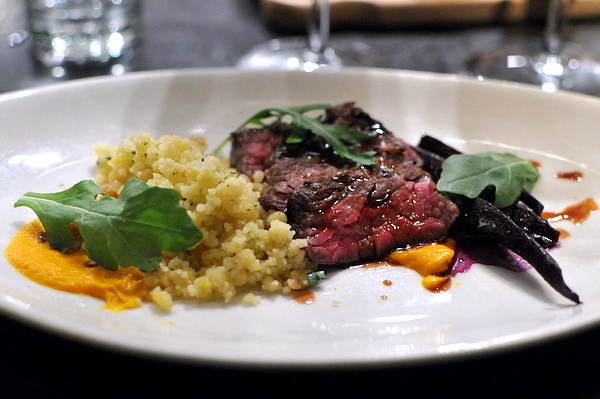 Goat's Milk Cheesecake
- Salted Olive Oil Ice Cream, Port-Poached Seckel Pears, Pistachios
TIDINGS ALE (Brewed w/ Virginia Wheat, Maryland Wildflower Honey & Spices)
- Port City Brewing Company | Belgian Strong Blond Ale | Virginia | 7.8 % | 48º | Tulip | 13 Oz.
MEPH ADDICT 12-14-2010 (Avery Mephistopheles Brewed w/ Coffee)
- Avery Brewing Company | Imperial Stout | Colorado | 15.5 % | 54º | Snifter | 10 Oz.
I don't normally care for cheesecake but the goat's milk added an interesting savory funk that I quite enjoyed, but for me the star of the show was the olive oil ice cream. The Tidings Ale, seasonal Winter ale, includes hints of citrus and spice with a slightly viscous sweetness that is well-suited to the temperate sweetness of the dessert. The Meph Addict wasn't part of the meal but I felt I'd be remiss without mentioning it. The beer was a limited release last year so it is likely impossible to find by now. A super heavy stout, the beer is like an chocolate/coffee malt that served as a liquid dessert to end the meal.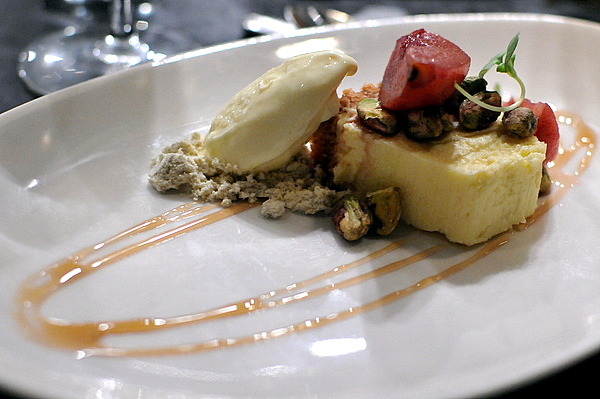 In my experience restaurants that emphasize their beer, cocktails, and wine invariably suffer when it comes to food. Happily that wasn't the case here, while there were some things that didn't work for me, on the whole the food was quite enjoyable. As expected the beers are just as impressive and Greg's insight and care has given me a new found appreciation for the versatility when pairing beer with food. If you love good beer do yourself a favor and visit Birch and Barley and if you don't enjoy beer you just might after a visit here.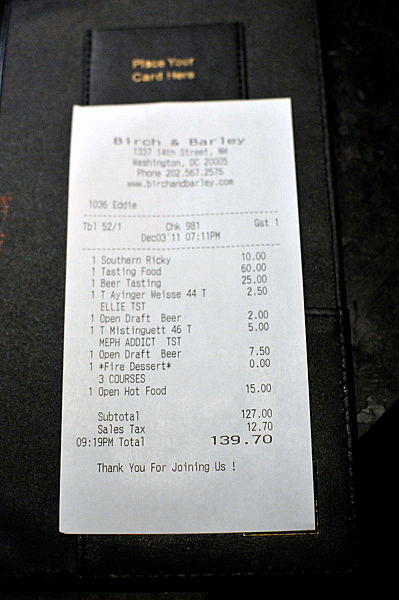 I don't think I've ever gone to the same restaurant for consecutive meals, but my friend who recommended Birch and Barley also mentioned their brunch was worth trying. Looking at the menu a number of items jumped out at me but I decided to go with the restaurant's famous fried chicken.
Fried Chicken & Waffles
- Belgian Waffle, Buttered Pecans, Maple-Chicken Jus
Food and Wine rated Birch and Barley's fried chicken one of the best in the nation and I can see why. The chicken itself is juicy and flavorful and though the batter was a touch heavy I enjoyed the forceful crunch; I wish they sold this stuff by the bucket. The Belgian waffle is equally enjoyable, while the chicken jus helps keep the sweetness of the maple syrup in check.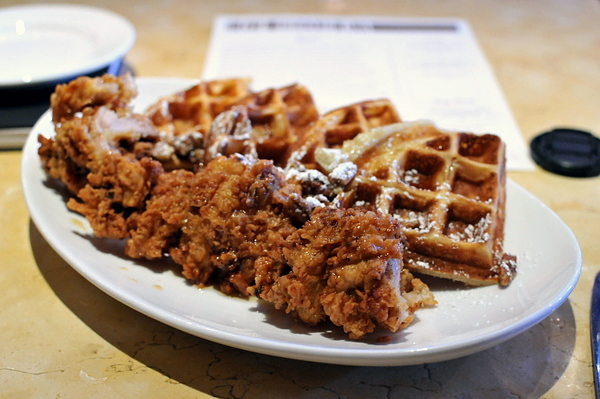 Freshly Fried Donuts
- Toffee-Bacon, Lemon-Poppy Glazed, Bittersweet Chocolate
I was expecting donut holes rather than two full on donuts. The cakey consistency of the donuts was a bit heavy for me but the flavors were absolutely delicious. The toffee-bacon offers a pointed savoriness that reminded me slightly of Chinese you tiao. The lemon poppy glazed was my favorite with a resonant lemon flavor and subtle undercurrent of poppy. The final donut was simple by comparison, with a bitter chocolate aroma lingers on the palate.
Forget all the stereotypes of brunch being a way to get rid of the leftovers from earlier in the week. Birch and Barley serves up delicious renditions of classic brunch fare. If you don't mind drinking in the morning, I suggest trying the boozy brunch which includes an entree, donut holes, and two cocktails for $30; just don't expect to get much done the rest of the day.