1956 N Tustin St
Orange, CA 92865
(714) 998-0098

When a discussion about the best sushi in the OC comes up, I invariably mention Oshima as one of the candidates so it's hard to believe I've never written about the place before.

The restaurant is the prototypical strip mall sushi joint, very little exterior decor except for the name. The interior is equally cookie cutter with Japanese wood paneling, a handful of dark wood tables and a 10-seat bar that is omakase only. Naturally I didn't come to Oshima for the decor, but for the food particularly those items on the "From Japan" board.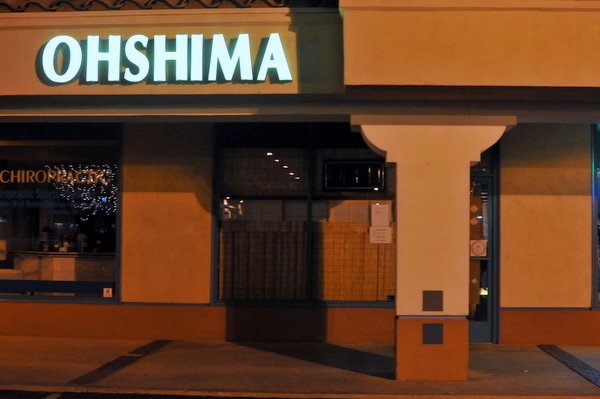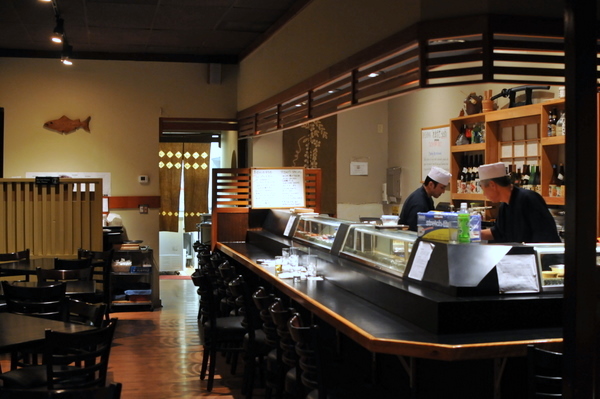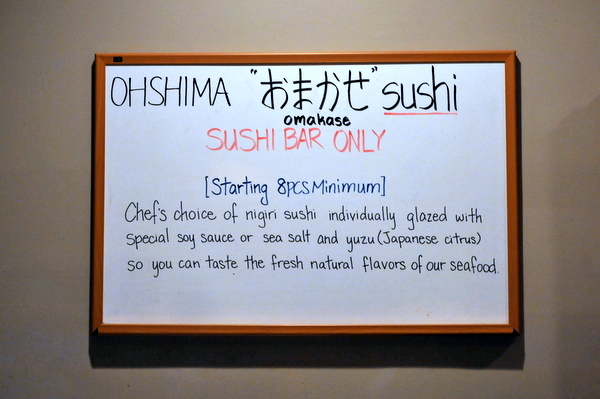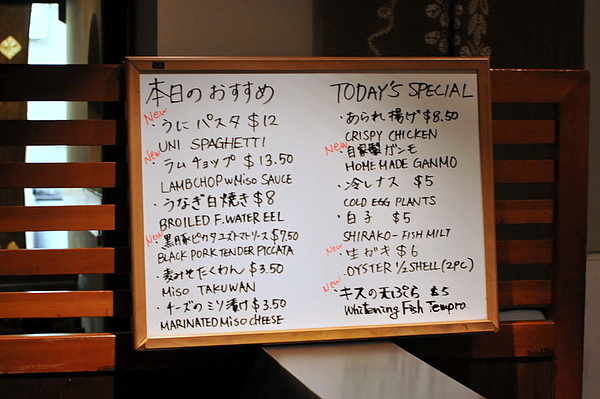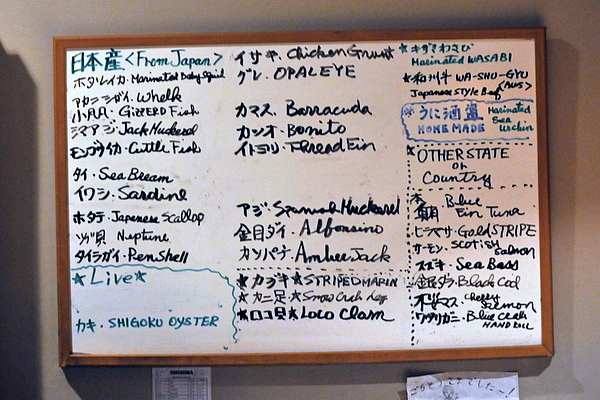 Radish & Seaweed
The meal started with a small dish of boiled radish and seaweed. The root vegetable sweetness is quite intense but the seaweed does provide some savory contrast.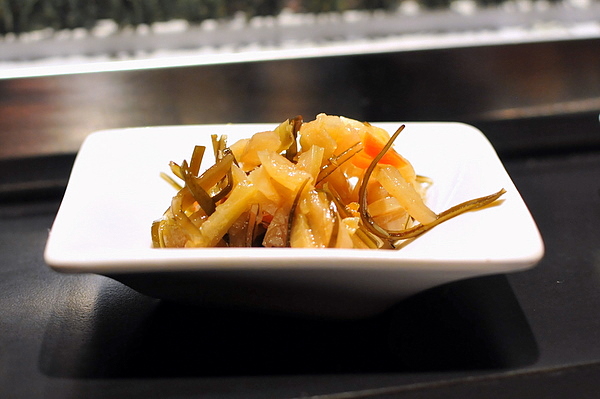 Tai - Sea Breem
I've noticed that tai is a common opener to omakase dinners and Oshima use classic citrus and sea salt accompaniments to add flavor to the firm but mild flesh.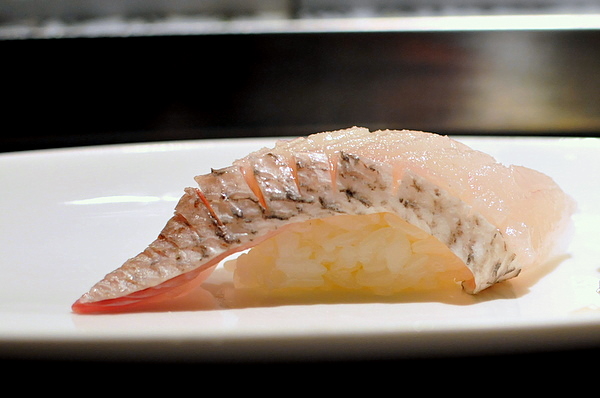 Maguro - Bluefin Tuna
This was a solid example of bluefin, the fish displays a uniformly smooth texture utterly free of sinew and gristle. I have come to appreciate the simplicity of tuna though I don't know if I'll ever prefer it to its richer cousin toro.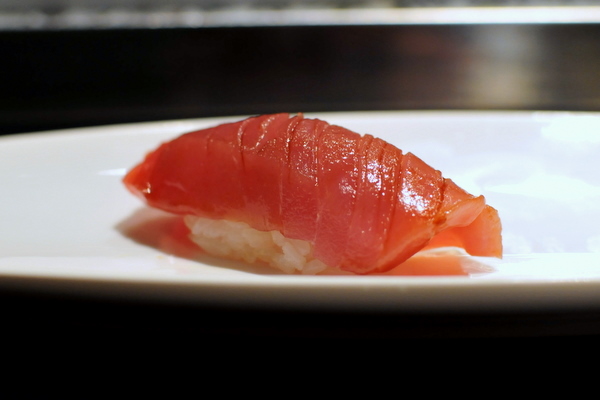 Hotate - Japanese Scallop
Its been a while since I've had scallop nigiri so I especially appreciated its tender jellied consistency and the lingering essence of shellfish though I wouldn't have minded some salt or yuzu kocho for emphasis.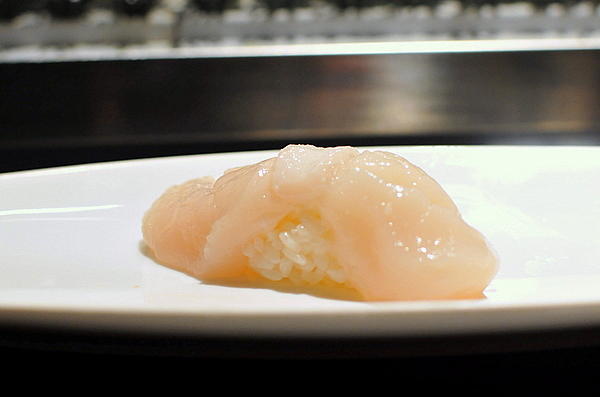 Sakuramasu - Cherry Salmon
I tend to think of salmon as an "American" fish, but Cherry Salmon is a variety that lives in the rivers of Korea and Japan before returning to the Pacific to spawn. Adults have a beautifully vivid pattern of black and red stripes along their bodies. The flesh has a deeper uniform orange tone in contrast to the more common orange and beige bands of common salmon nigiri and is perhaps a touch firmer. The flavor is substantially different as well as I detected an overwhelming essence of spring onion coming from the fish, quite nice!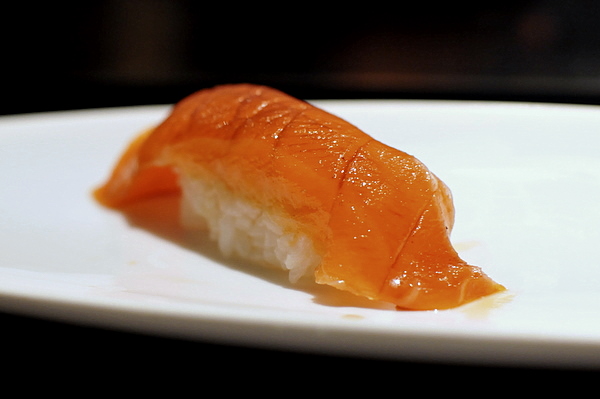 Suzuki - Sea Bass
The sea bass was one of my favorite pieces of the night, the tender fatty texture feels wonderful on the palate and the mild flavor of the fish is augmented by the spicy-sour punch of yuzu kocho.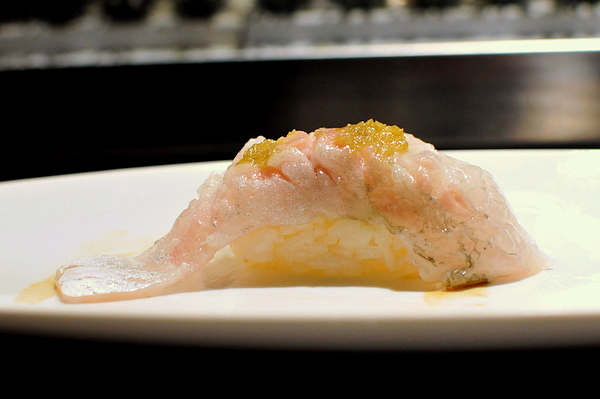 Kanpachi - Amberjack
Once a favorite, Kanpachi has since been superseded by more obscure fish like Shima Aji, still a good piece of Amberjack can be quite enjoyable. This was a prototypical example of Amberjack, taut yet slightly gellied with a hint of satisfying fish oils.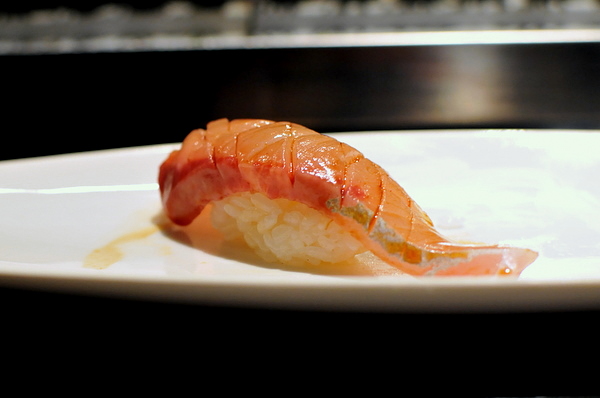 Isaki - Chicken Grunt
The Grunt family of fish is named for the sound it can produce by grinding its teeth and the Chicken Grunt species is found along costal waters from Japan to Northern Australia. The fish looks a lot like kurodai or black snapper, but has a denser slightly snappy consistency. The flavor is perhaps a touch more apparent than tai or hirame, but still relies mostly on the ponzu as well as the scallion and radish.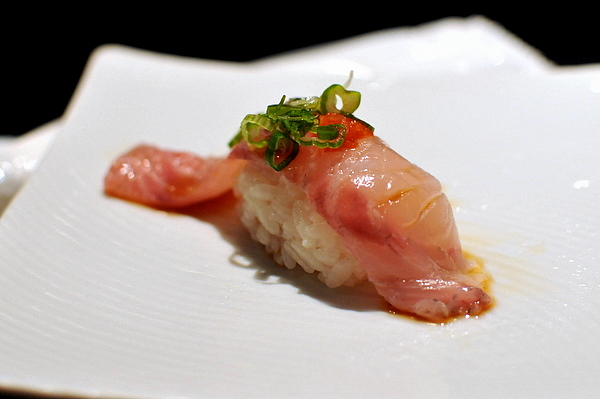 Yuzu Omoi
A blend of yuzu juice and sake, this is like a more delicious version of a kamikaze thanks to the expressive citrus notes that accompany it.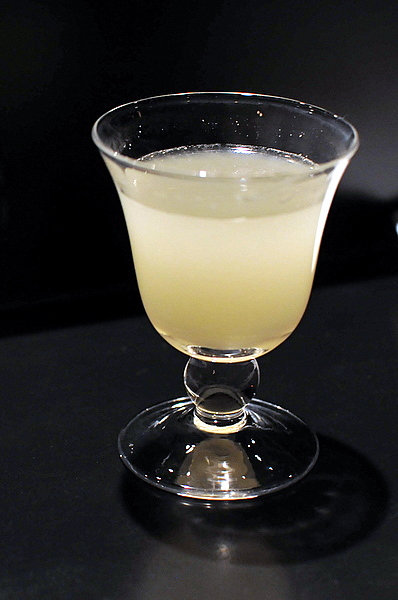 Tairagai - Pen Shell Clam
I think I've only had raw Pen Shell Clam once before at Maki Zushi, though they referred to it as Halfmoon Scallop. The flesh has a slightly yellower hue than the more common scallop as well as a firmer denser texture and more aggressive salinity and I would have liked a sprinkling of salt and citrus to help balance the flavor.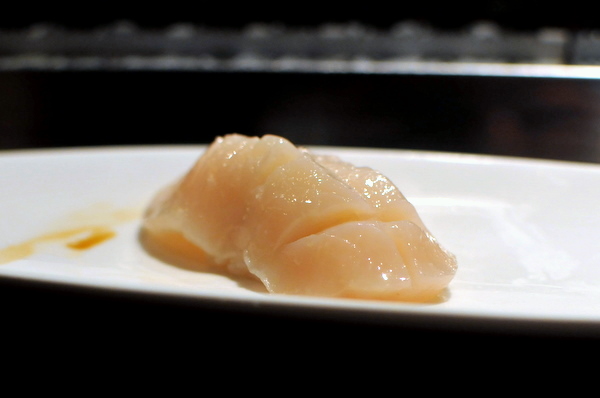 Black Cod
I've enjoyed my share of black cod with miso but there is something to be said for this simpler preparation. No seasoning or sauce, just a bitter char which plays very well with the fish's inherent fattiness.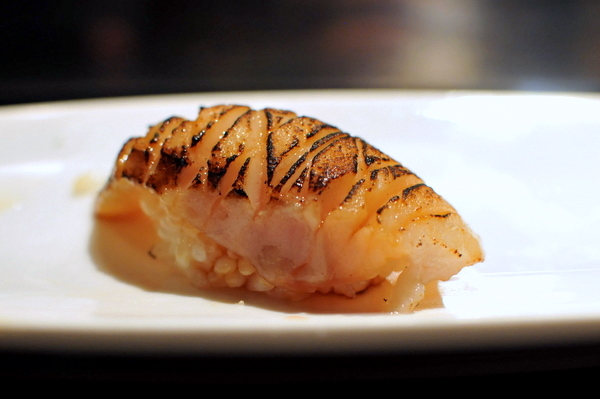 Aji - Spanish Mackerel
Aji is another of those fishes that I use as a yardstick for sushi restaurants. Oshima's was firmer than most with barely any oiliness to speak of and what the ponzu and scallion masked what little flavor there was. The fish was enjoyable, just not what I'd typically associate with Aji.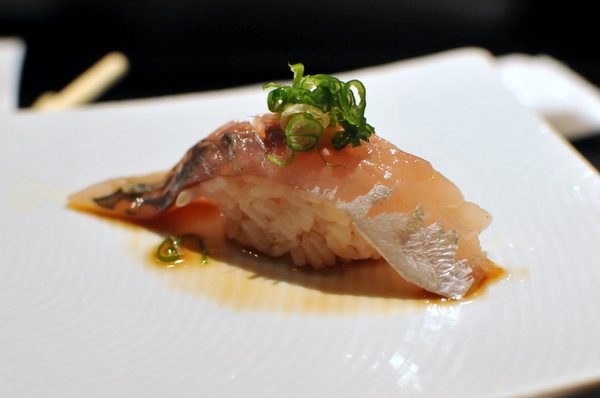 Hiramasa - Golden Stripe
I've never heard the name Golden Stripe before, all I knew was that Hiramasa was an Australian cousin to yellowtail. I had the fish a number of times spring of this year and found it to be a bit fattier than regular Kanpachi. This time around I wasn't able to detect much difference from the Amberjack above.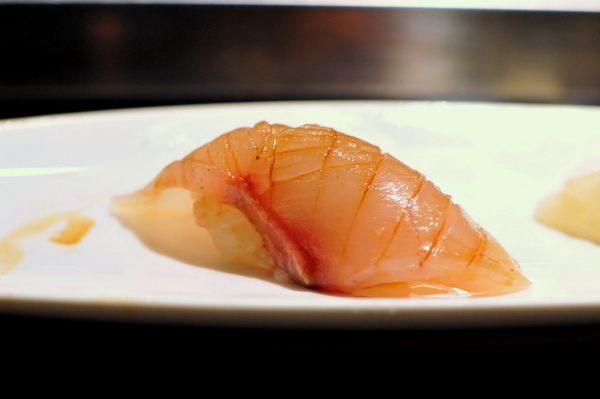 Binnaga - Albacore Belly
The albacore belly comes doused in a "secret sauce" and topped with a fried garlic chip. Though the seared belly exudes a buttery smokiness the flavor is lost on the palate, drowned by the garlic and sauce.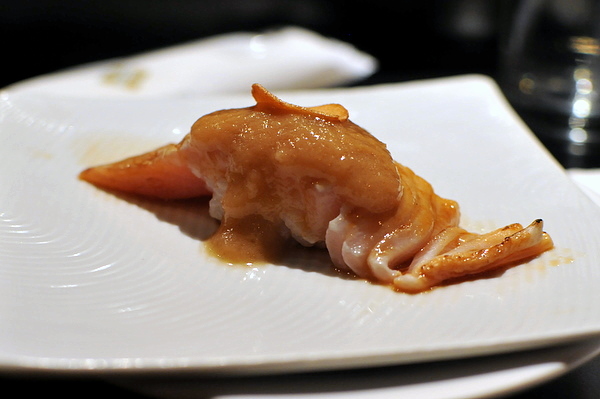 Uni - Sea Urchin
Oshima forgoes the traditional seaweed wrapper around their uni, noting that uni should stand on its own and having the unbridled sweet brine of the uni I was inclined to agree. Our chef boasted "Uni Number 1!" and though I have had better, Oshima's is certainly up there.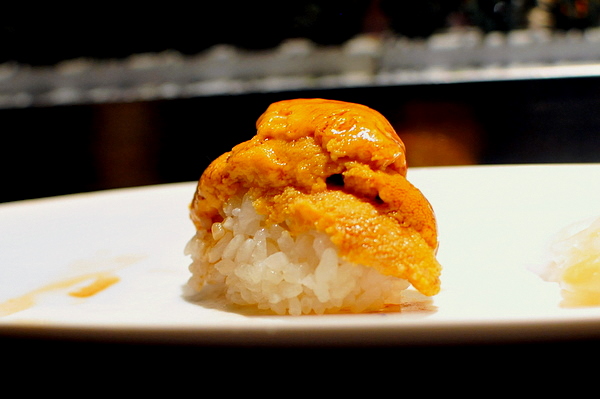 Shigoku Oyster
This is my first experience with this species of oyster. A Pacific oyster from Willapa Bay, Shigoku ("Ultimate" in Japanese) are a sustainably farmed variety developed by Taylor Shellfish in 2009. The oysters are compact, dense, and simply delicious. For me, these oysters redefine sweetness when it comes to shellfish. Though a single oyster is not enough to make a fair comparison, in time I think Shigokus may dethrone Kumamotos as my favorite oysters.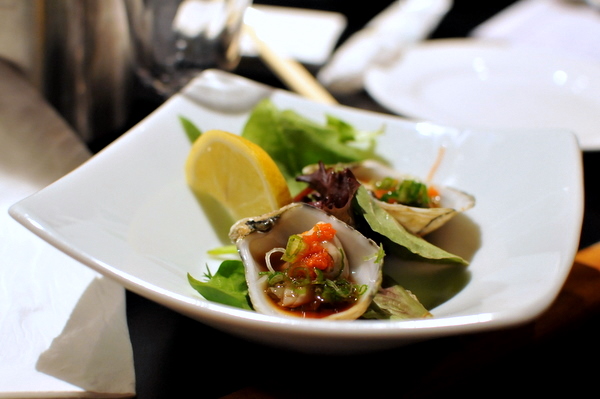 Marinated Uni
After trying the fresh uni I was curious about their marinated uni. Compared to the regular version, the marinated variety lacks the explosive sweetness and has a lingering bitter brackishness. The one saving grace was the fresh wasabi which gave the urchin an added bite.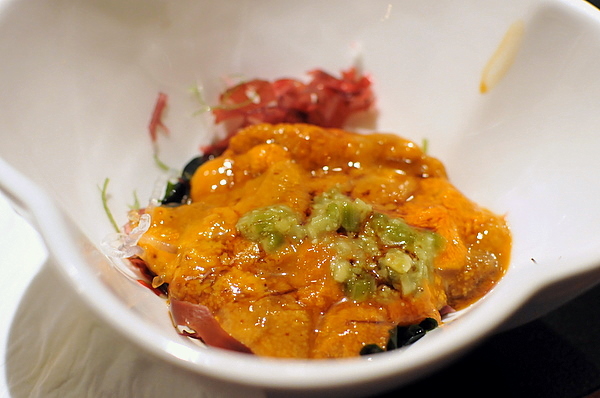 Shirako - Fish Milt
After raving about the Shigoku, our chef asked us if we wanted to try his "favorite" and we naturally said yes. It turned out to be shirako which I noticed had a lightly salty boiled egg essence to it. Though I've had shirako before, this was the first time that I'd seen it with this wrinkly brain shape, before it always looked like a formless ovoid.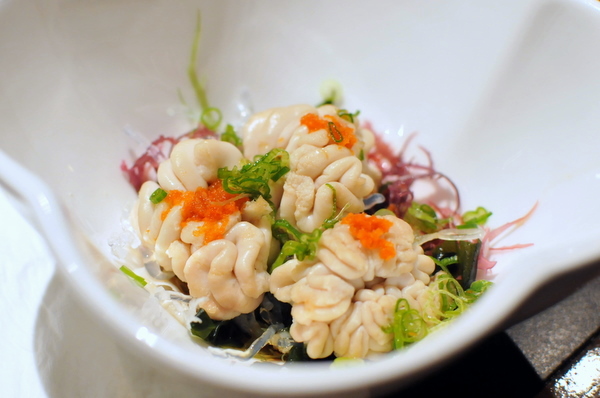 Kamasu - Barracuda
Prior to this I've only had Barracuda at Mori Sushi and both times it was blowtorched. Without the extra dimension the fish was a bit bland, though the texture was unique: muscular and sinewy on on end then soft on the other.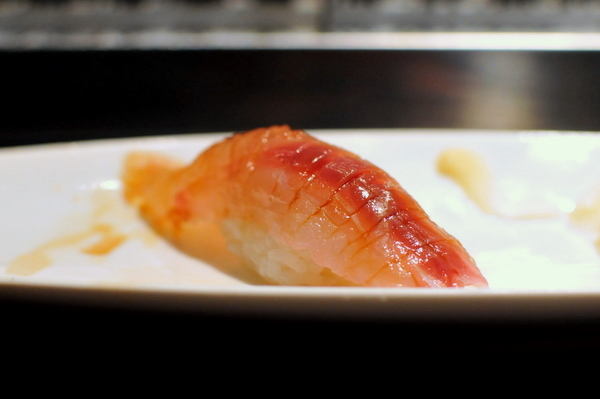 Wa-shu Gyu - Beef
Having read lots of good things about the beef, we opted to try it in sushi form rather than as a hot appetizer. Basically a delicious sliver of steak, the meat has a nice beefy sapor, but again the sauce and garlic chip feel a bit heavy handed.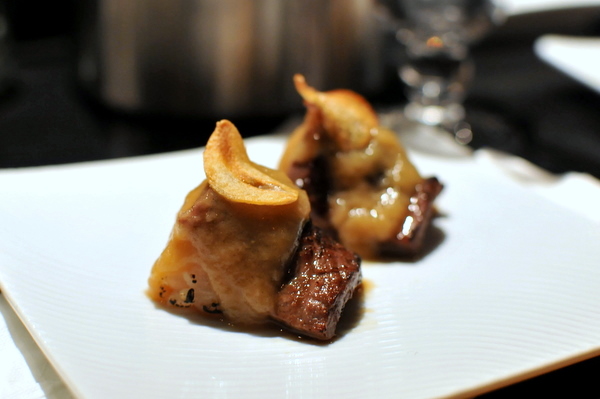 Neptune
I don't even know what this but I want more. The snap was reminiscent of a razor clam, crunchy and cartilagenous while the flavor has a deeper bitterness than the earlier scallop.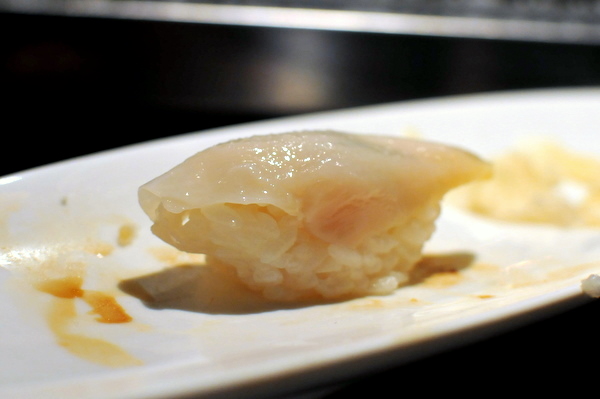 Katsuo - Bonito
Bonito is a type of tuna, the flesh is pinker with a bit more fat and flavor. The result is a slightly smoky essence and a meaty texture that that dissolves on the tongue.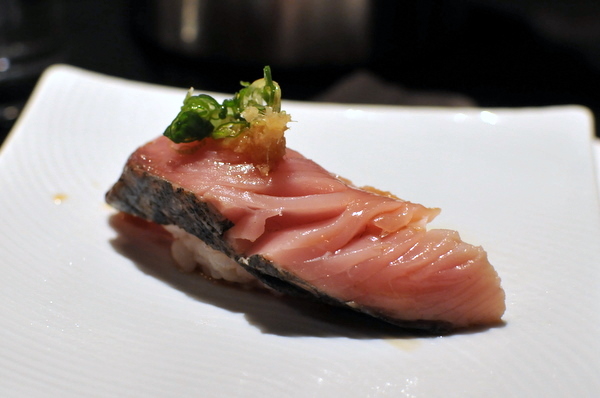 Tsubugai - Whelk
Like the more common Conch, Whelk is a form of sea snail. The texture is very much like an overcooked steamed clam with a correspondingly earthy bitterness.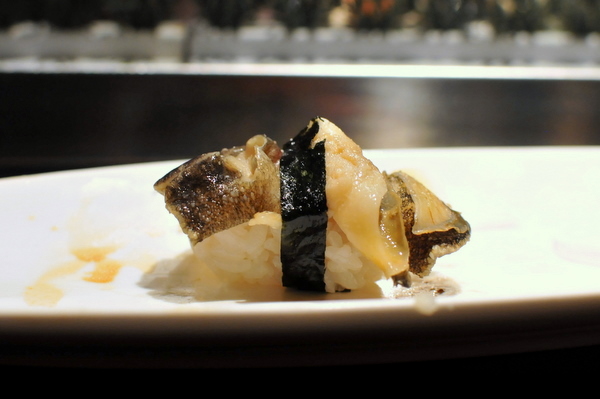 Itoyori - Thread Fin
This is another new fish for me. A quick Google search, lists this as a Snapper variety. The texture is softer and more uniform than traditional tai but the same mild flavor is there. In fact the citrus and salt explode on the palate with this fish.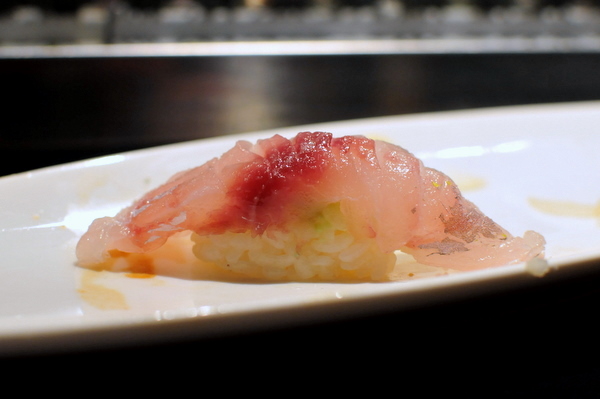 Horagai - Loco Clam
Referred to as Loco Clam, Horagai is actually a large conch. The clam looks meaty and pliant, but the texture was surprisingly dense and compact, reminding me of sangaki.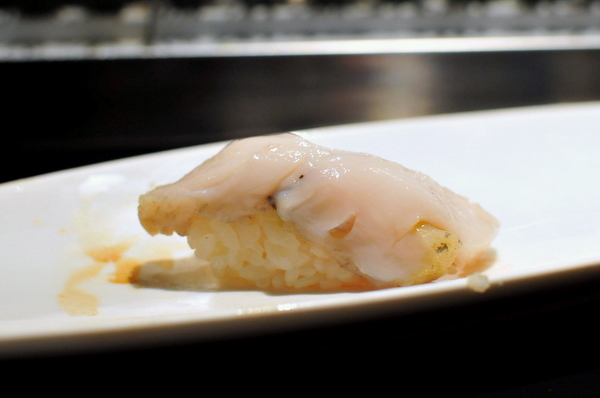 Kinmedai - Golden Eye Snapper
This was my first experience having seared Golden Eye Snapper. Again I enjoy the bitterness and I think cooking helps separate the flakes of the fish as well making the whole thing quite tender, a nice contrast to the crunch of the charred rice.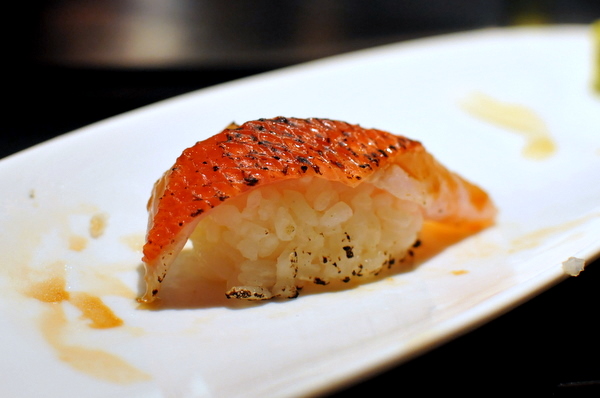 Iwashi - Sardine
Through 20+ pieces of sushi, we'd had surprisingly few examples of oily fishes so we decided to order some sardine to shake things up. The silver skinned fish exudes a pungent oily musk tempered by a bit of citrus.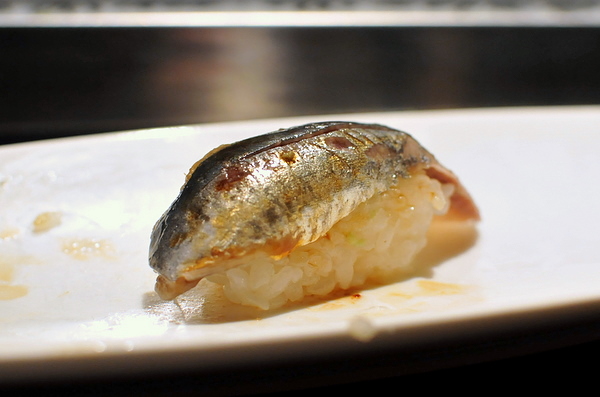 Toro - Fatty Tuna
At this point we saw Shige open a new pack of toro so we had to try it. Shige handles the toro himself, removing all the gristle and leaving behind a quivering piece of fish butter.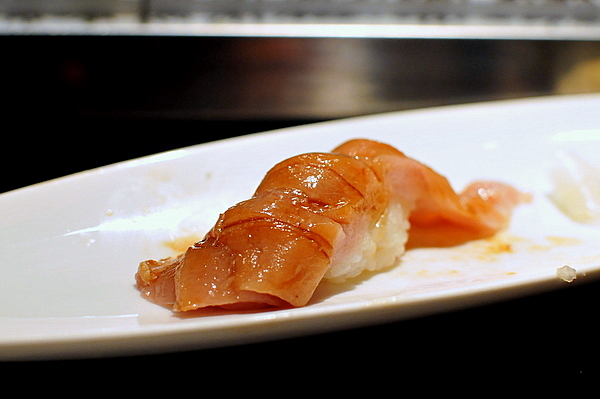 Taki Kani Tekmaki - Blue Crab Hand Roll
After 27 pieces we were still hungry so we opted for a pair of hand rolls hoping the rice would help fill us up. Instead the roll is mostly creamy sweet crab, fairly typical but tasty.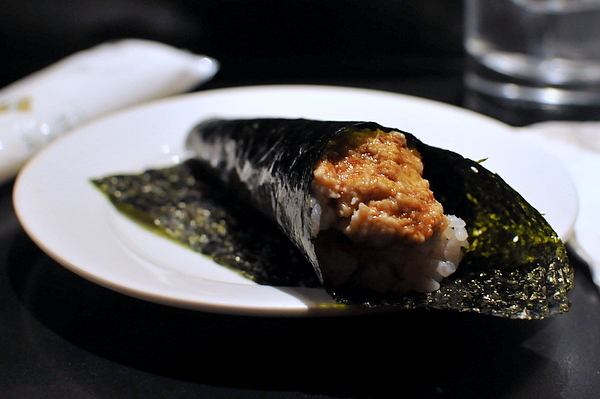 Kohada - Gizzard Shad
Like the sardine, Kohada is an oily silver skinned fish. The tiny silver sliver has a texture that feels almost dry while the flavor is unabashedly fishy, definitely an acquired taste.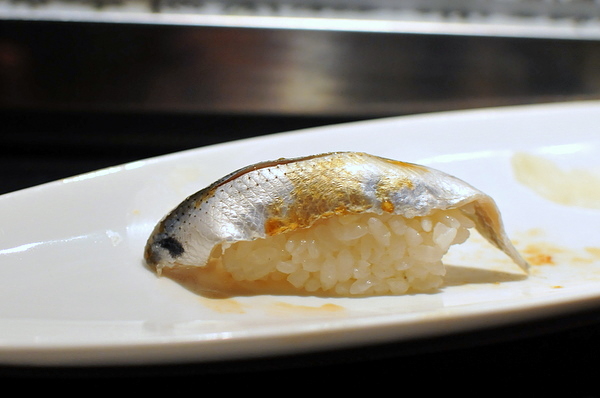 Shima Aji - Jack Mackerel
Shima Aji has become a must try fish for me after I first had it at Urasawa. Surprisingly the fish has remained consistently delicious, perhaps some self-selection bias at play with only good sushi bars stocking the fish. This ended up being my favorite of the night thanks to its nuanced oily flavor and sensuously slick fleshy mouthfeel.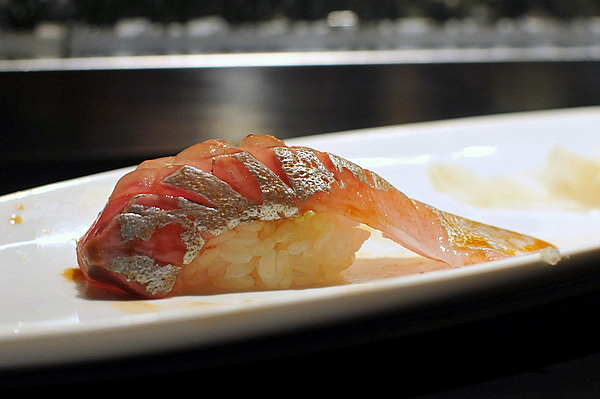 Negitoro Maki - Toro and Scallon Roll
We originally planned to call it a night but the couple next to us opted to end with a Negitoro roll and knowing a good idea when we heard it, we chose to follow suit. The scallion provides a nice contrast and freshness to balance the weight of the toro, though I wouldn't have minded a bit of radish a la Nana-san or Urasawa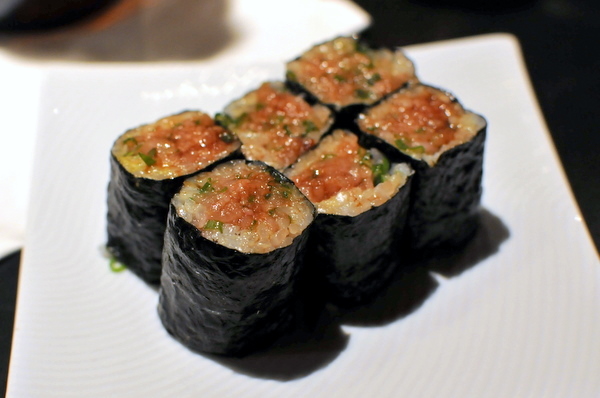 Tamago - Egg
The traditional closer to the meal, dense eggy sweet with a hint of seaweed.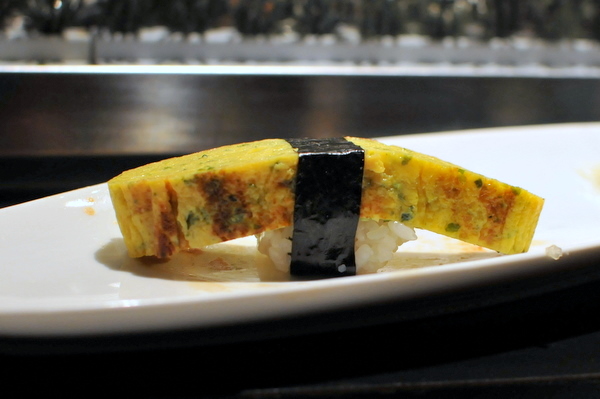 At the end of the night, the chefs posed for a picture. From left to right we have: our chef Yuji, Miki, and the owner Shige.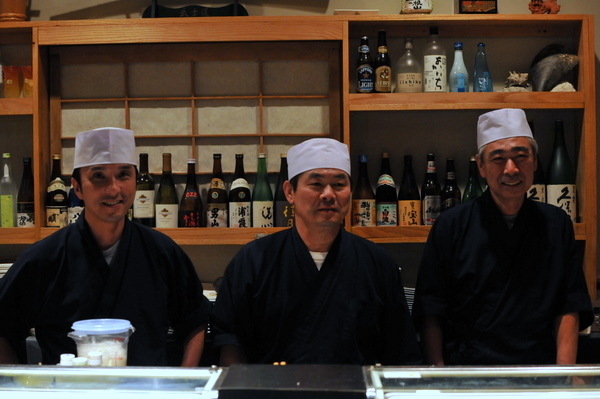 As I said before this is my third time here and the restaurant never fails to impress. If anything Oshima has taken some positive steps to be a more authentic sushi experience such as eschewing the medley of rolls popular with the American crowd. The restaurant still maintains a fairly substantial cooked menu and some items are reported to be quite good, but the star is definitely the nigiri. Bottom line: Oshima is as good of a pure sushi experience as you are likely to find in OC.