11359 Santa Monica Blvd
West Los Angeles, CA 90025
(310) 477-7886

Il Grano is one of those restaurants I've been meaning to visit for years now, but it finally took a private dinner organized by KevinEats to get me there. The restaurant was first opened in 1997 and has long been on the forefront of Italian cuisine in LA with a constantly evolving highly seasonal menu. Il Grano's chef/owner, Salvatore Marino got an impromptu apprenticeship at his father's restaurant Villa Capri. Despite his background, Sal took a detour to the world of high finance before coming back to cooking. Marino honed his talents by working his way through Italy including stops at Gualtiero Marchesi and Tornavento, which have 5 Michelin stars between them. A year ago Marino brought on Walter el Nagar-Cestrone as his chef de cuisine. Another classically trained Italian chef, Walter also brings modern with him some modern techniques that made appearances several times throughout the meal.

IL BENVENUTO - La cozza ripiena e la sua maionese | Zuppetta alle ortiche e burrata | Tartare di filetto alla colatura e caviale di tarfuto | Ostrica, Gorgonzola e arance
The meal kicked of with a creative quartet of canapes. We were told to start with the Shigoku oyster in a blue cheese sauce, though I enjoyed the creamy punch of the gorgonzola, it masked the oyster's natural flavor. Next up was a mussel stuffed with ricotta and wrapped with a delicious savory exterior. The beef tartare that followed was superb, slick toothsome flesh with tender pearls kissed with the aroma of truffle. The intro ended with a shot of thick nettle soup that had a bitter flavor reminiscent of matcha.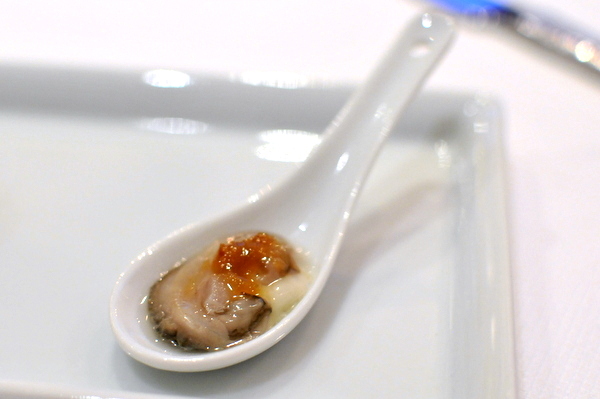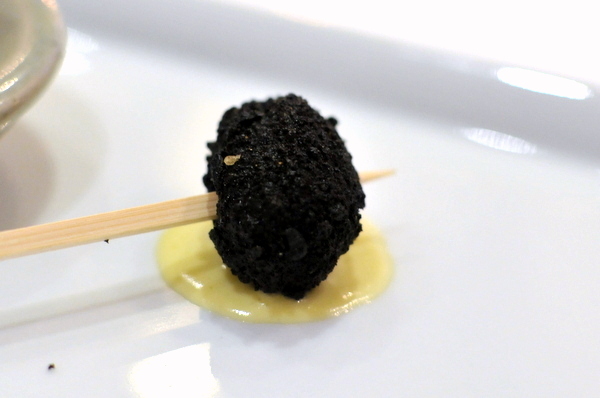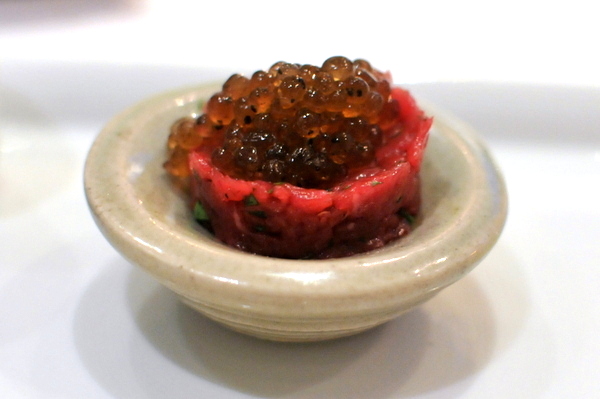 CRUDO - Flash smoked red snapper, thyme, garlic, japanese sea urchin sauce, cilantro blossom
With beautiful presentation and faultless technique, this wouldn't have been out of place at a Japanese restaurant and in fact Marino sources his fish from the same Japanese wholesale markets that top sushi chefs use. The normally mild flesh of the tai conveyed a deep sense of woody smoke while the uni added a tinge of sweetness on the back end. The thyme and garlic are present but never overshadow the fish itself.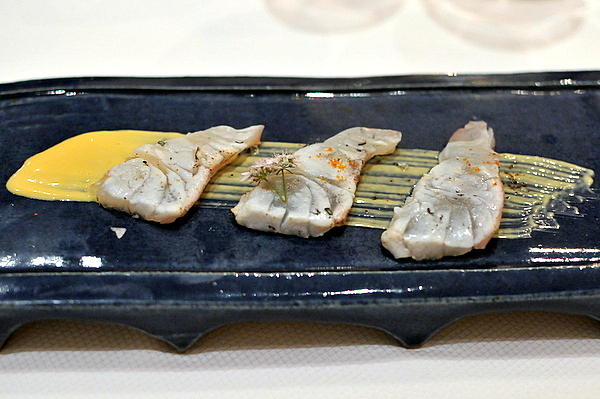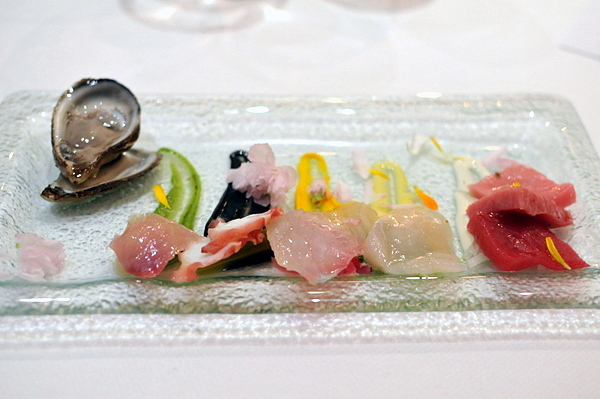 VITELLO TONNATO - Veal's eye of round, sousvide for 12h@51c, with salsa tonnata and celery
Here we have a faithful rendition of the classic summer Piemontese dish. The sauce has the faithful comforting flavor of canned tuna mixed with creamy mayo and the vegetal bite of the celery leaf. The one nod to modern technique is the sous vide veal which manages to be dense and satisfying but with a silky delicate texture.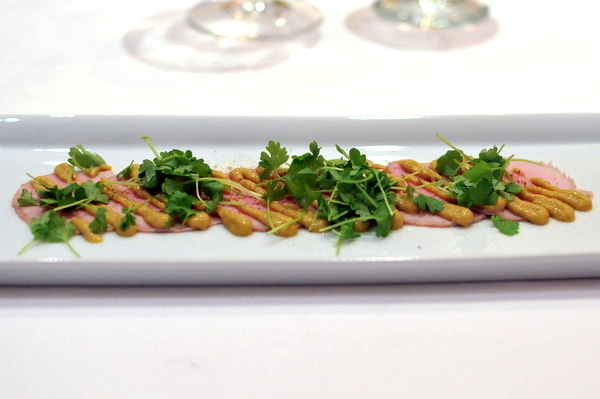 TORCIONE DI FEGATO GRASSO ALL'EMILIANA - Foie gras au torchon, mostarda di Cremona, amaretti, butter nut squash foam
French Laundry cemented au torchon as my favorite foie preparation so the liver itself was easy to enjoy, but but I would have liked lighter accompaniments than the squash and mostarda, a mix of candied fruit and mustard oil.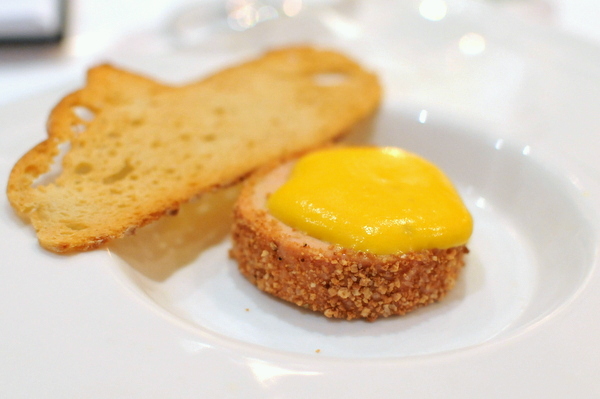 SPAGHETTI CON FUNGHI , PISELLI E FAVE - Fresh eggs pasta with our pancetta, chanterelle, black trumpet, english pea and fava beans
A number of my companions considered this the best course of the night and I can certainly see why. You've got the sweet fresh verdance of the peas and favas mixed with the earthy essence of the fungi and finished with a heavy dose of butter in the sauce for good measure.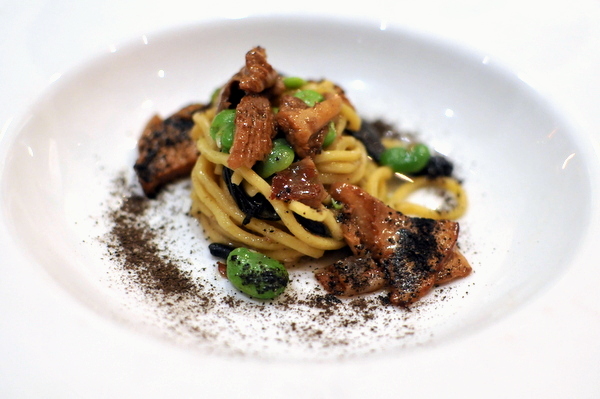 FREGOLATA - Sardinian fregola with squid ink, canocchie reduction and seafood texture and temperature
This was my favorite pasta of the night, delightfully firm with a lively spice and citrus notes, the pasta is delicious enough on its own. However the real star is the mixed seafood from firm translucent shrimp bursting with sweetness to the perfectly snappy squid.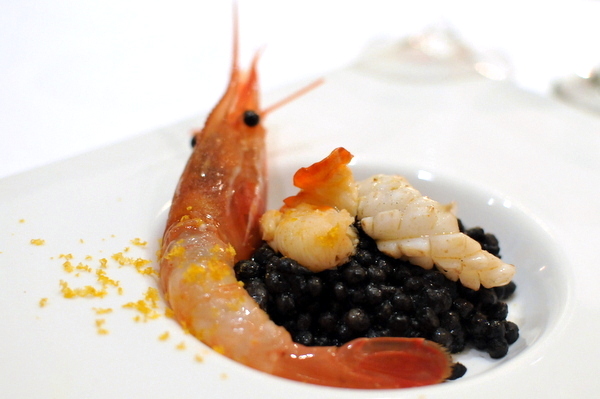 RAVIOLI DEL PLIN AI TRE ARROSTI E TARTUFO - Roasted beef, veal and pork stuffed plin ravioli, mirepoix, parmigiano reggiano, roasted meat air
The third pasta was refreshingly straightforward. The ravioli were stuffed with a mix of meat that gives the dish a simple savor; enjoyable enough, but a touch simplistic compared to the rest of the meal.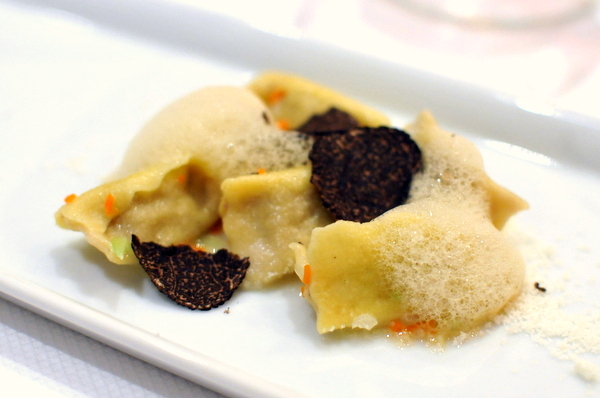 PAPPARDELLE AL CACAO AL SUGO DI CAPRA - Fresh eggs and cocoa pasta with and cut goat's ragout and pecorino fiore sardo
This is my first time having pasta made from cocoa but hopefully not my last. The cocoa gives the noodle a bitterness that is well suited to the rusticity of the dish. The goat itself is cooked through but the rough texture fits with the meat's salty tang.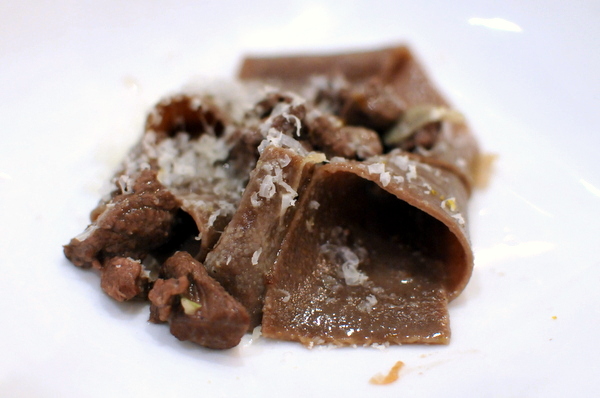 IPPOGLOSSO AL PROFUMO DI MARE - Sous vide halibut with oyster juice, cauliflower cous cous and salicornia
The oyster juice was poured over a bed of dry ice releasing a flavor infused gas very Alinea-esque, but helping set the right mindset. The halibut is moist and tender but predictably mild though thankfully the sea beans provided a nice dose of snap and salinity. The dish is set in a blue stock made from cabbage and though the blue color is natural chef wouldn't reveal how he achieved it.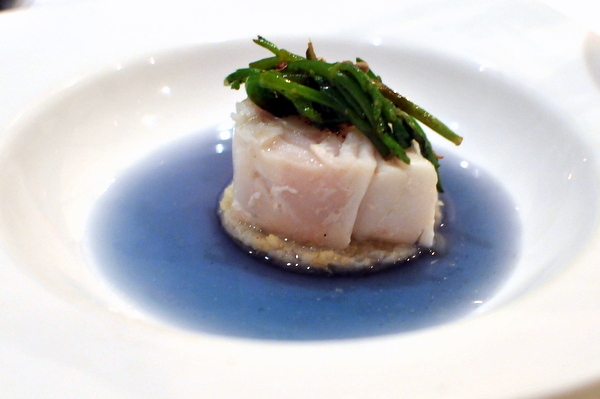 LINGUA DI MANZO AL BARBA FORTE - Beef tongue, smoked potatoes cream, horseradish air
Just a spectacular beef tongue, the exterior is firm and almost hammy while the interior feels slick yet muscular. The creamy potato goes well with the richness of the tongue and the air adds a surprisingly pure note of horseradish.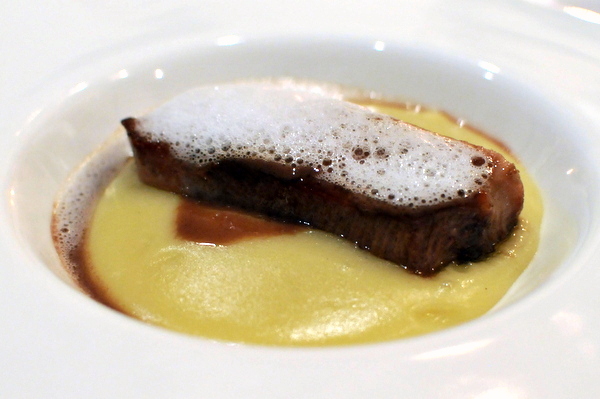 PICCIONE E FEGATO GRASSO - Two ways sousvide squab, seared foie gras, butternut squash and mustard
The final savory of the night was a sublime squab. The breast was cooked to a medium rare while the leg was a bit more well done. Despite my general preference for dark meat I actually preferred the breast this time, not quite as flavorful but moist and juicy. The seared foie was also done well but this late in the meal, my stomach rebelled at the oiliness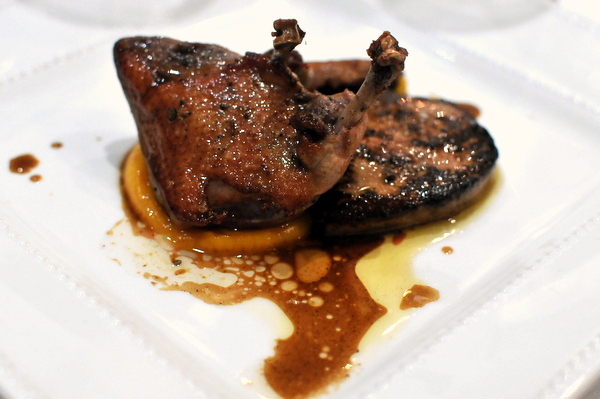 IL SORBETTO - Almond sorbet
The sorbetto was just what the doctor ordered to soothe my stomach after all that food. The green almond adds a clean refreshing flavor accompanied by a floral zing from the lemon blossom and zest.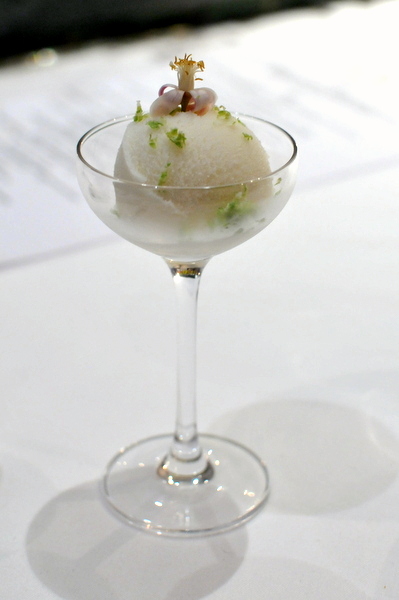 PASTIERA NAPOLETANA - Ricotta and grain easter pie, pink lady apple
The name says it all with this dessert, a ricotta based cake served in Naples during Easter time. The origin for this dessert could reach as far back as the Roman Empire though the modern version is thought to have originated in a Neapolitan convent. The chilled cake is moist but dense with bits of candied citrus for textural contrast.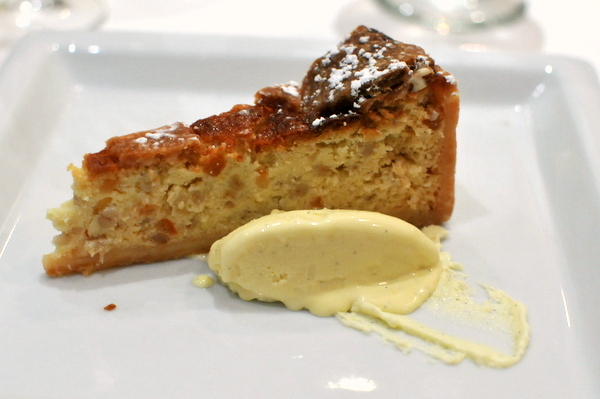 Marino takes a very simple approach to his cooking, believing its best to let the ingredients speak for themselves. To that end, Marino is obsessive about sourcing the freshest ingredients, not only scouring farmers markets but growing a large selection of vegetables including supposedly over 40 varieties of tomatoes. At the same time Il Grano's menu constantly evolves to reflect not only the season but culinary happenings in Italy; giving diners in LA the same food that people in Italy are eating today. It is clear from the long hours, the attention to detail, and the constant fine tuning that Marino loves what he does, visit Il Grano and you will too.