676 South Avenue 21
Los Angeles, CA 90031

I've been meaning to try Ethiopian food for some time now so when my friend mentioned Bereket, an Ethiopian supper club, I was immediately intrigued. Run by sisters, Kedist and Becky Tsadik, Bereket offers a gentrified and more approachable take on Ethiopian flavors coupled with the Californian ethos of using local and sustainable ingredients. The name Bereket means gift in Amharic and the sisters donate a portion of proceeds from each meal to charities in Ethiopia.

The original impetus for the restaurant came from Kedist who identified a potential market for upscale Ethiopian fare while pursuing her MBA at UCLA Anderson. After much cajoling, she convinced her sister Becky to make the move from Chicago to California to run the back of the house while she handles the front. According to Kedist, the two want to open a permanent place and are using the pop-up meals to generate awareness and gauge interest.

Despite both having day jobs, the sisters have managed to put together 10 or so dinners this year each in a different space. For their final event this year the duo chose a downtown loft on the former PBR Brewery (insert hipster joke here) that had been converted into work/live lofts.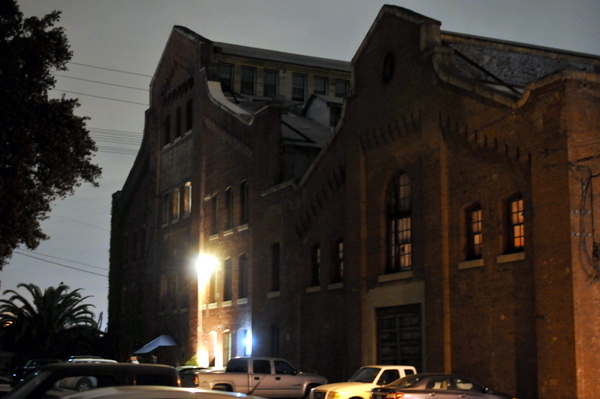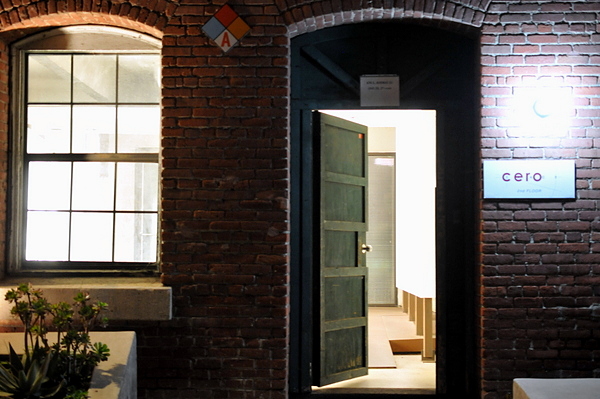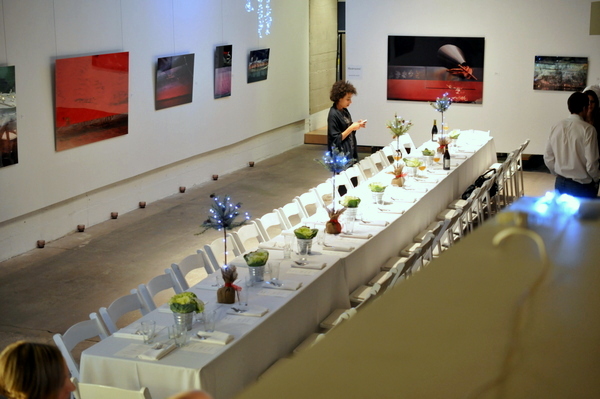 T'ej
The meal began with a welcoming cocktail of Tej, a homemade honey wine similar to mead. The sweet effervescent brew is mixed with hops for a countervailing herbal bitterness.


Hefeweizen, Schneider Weisse
Surprisingly dark for a Hefeweizen, this was a bit riper and fuller bodied than I was expecting but still restrained enough that it didn't overpower the kale salad.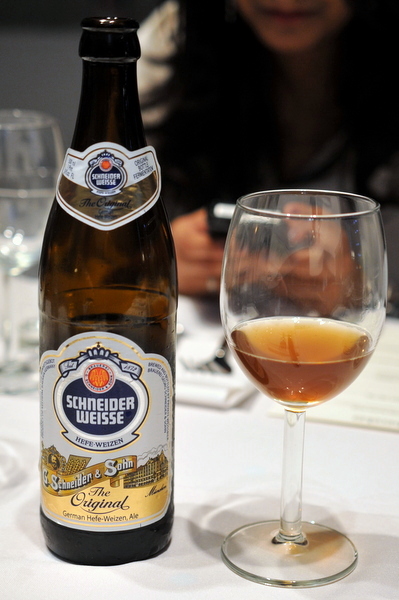 winter black kale - tuscan lacinato kale, radicchio, fuyu persimmons, toasted barley, chevre, lemon shallot vinaigrette
The salad begins the a fresh citrus tang from the vinaigrette that gradually fades away revealing the bitterness of the kale and radicchio. I'm not normally a fan of persimmons, but I found there sweetness key in tempering the rampant astringency of the greens. The toasted barley adds a hard compact crunch to the lush leafy feel of the kale while the chevre melts on the palate giving the dish an enveloping buttery lushness and light gamy smack.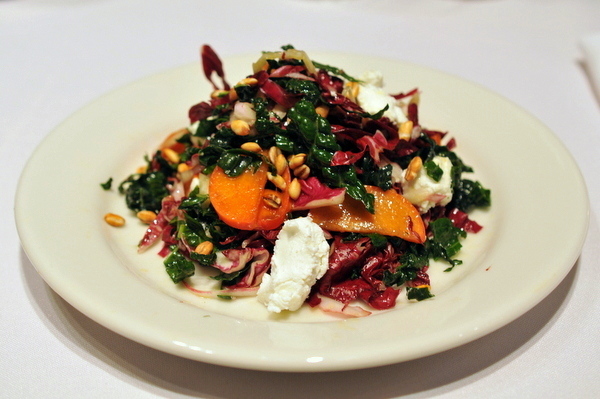 2010 Yves Breussin, Vouvray, Loire Valley, France
The Vouvray was a suggestion from a sommelier friend and proved to be an excellent pairing with our second course. Hints of stone fruit and honeysuckle give the wine an approachable roundness up front balanced by a bright acidic finish.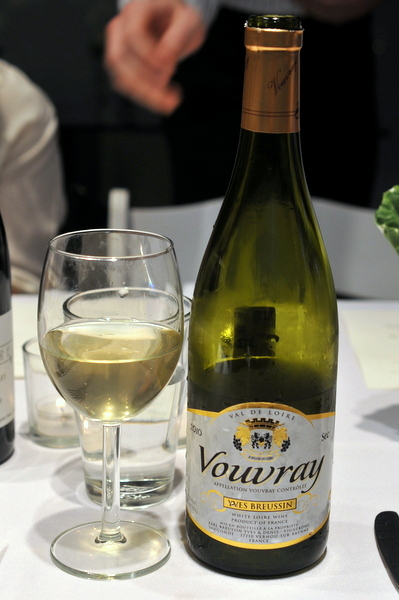 SPRIMP PIRI PIRI - serrano pepper, herbed butter, bitter greens salad
Our second course consisted of shrimp with a spicy dry rub made of African Birds Eye Chili that heightened the salinity of the shrimp beautifully. A side of chili sauce and fresh lime is available for those who wanted some extra flavor though I felt the dark spice and acidity were better used to dress the salad. As an aside, Kedist mentioned they previously did a version with raw beef that intimidated diners, but sounded delicious to me.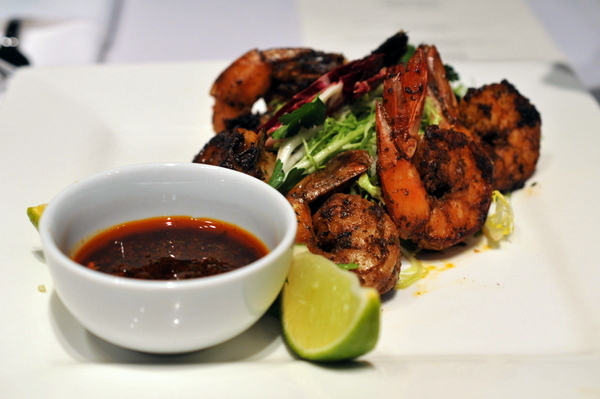 The Saint, Crispin Natural Hard Apple Cider
Fitting for a cider, The Saint exudes waves of crisp apple flavor, but with underlying notes of other fruits as well as a slight yeasty funk thanks to the addition of Trappist beer yeasts.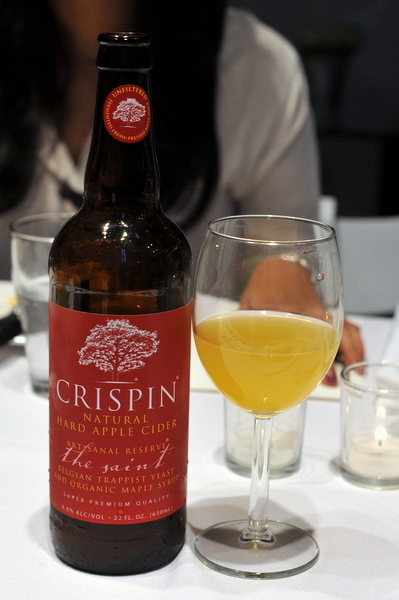 HOLIDAY MEDLEY - tumeric spiced yellow split peas, collard greens gomen, firey split red lentils, roasted delicata squash
This course eschews all the modern trappings of its predecessors in favor of a simpler more authentic feel. The medley came with endless rolls of Injera, a spongy yeast risen flatbread made of teff flour that we used in lieu of utensils. I don't normally like lentils or chickpea but the simple treatment of spices was quite satisfying with the tangy heft of the bread.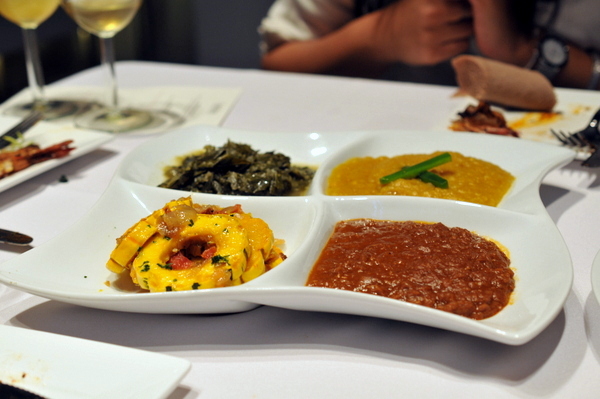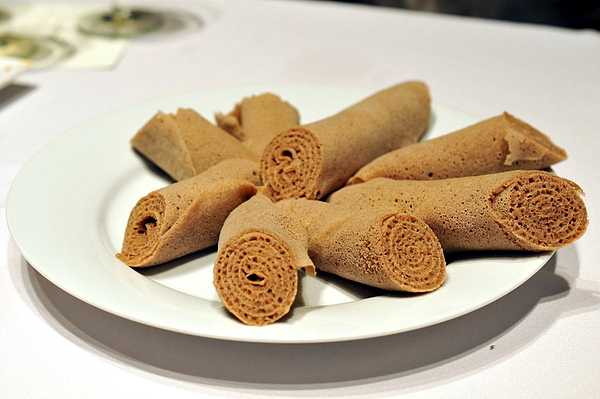 2007 Torbreck, The Steading GSM, Barossa Valley, Australia
After asking Becky for paring advice I went with this Grenache-Syrah-Mouvèdre blend from Torbreck. Alongside aromas of ripe fruit there is an undercurrent of spice and exotic wood and even some notes of game. The Steading has the power of a New World wine but with the complexity of a quality CdP.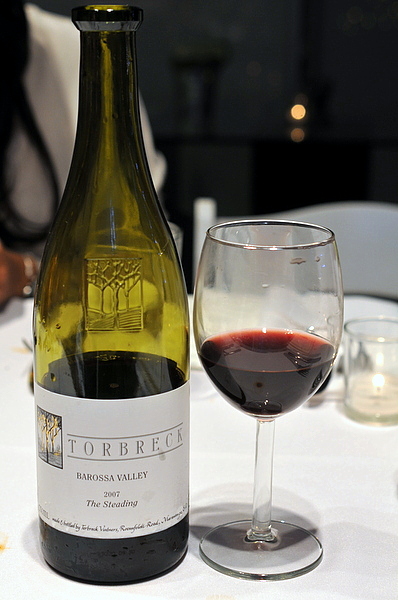 BERBERE BRAISED BEEF SHORT RIBS
Our final savory was a slow cooked short rib served in a sauce of berbere, a spice mix with chili, garlic, ginger, basil rue, pepper, fenugreek, and korarima. The rib could have used a bit more cooking time to help tenderize the meat but the sauce offered a dark intoxicating mixture of spice and meaty savor. I even used the leftover injera from the previous course to sop up the excess gravy.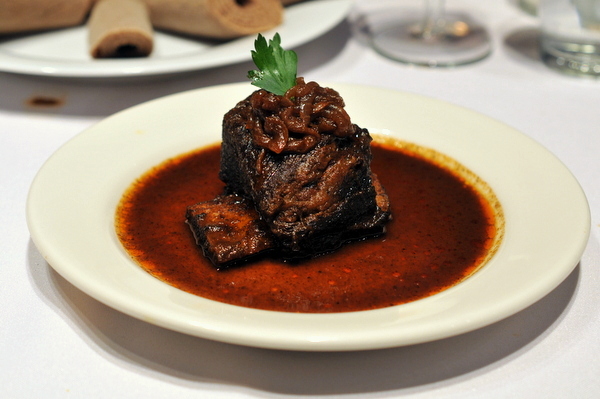 11.11.11 Vertical Epic Ale, Stone Brewing
Our final beer proved to be the best pairing of the night, a rich Belgian-style pale beer brewed with spices and cinnamon to restrain the beer's fruity sweetness giving it a very complimentary flavor profile to the pie.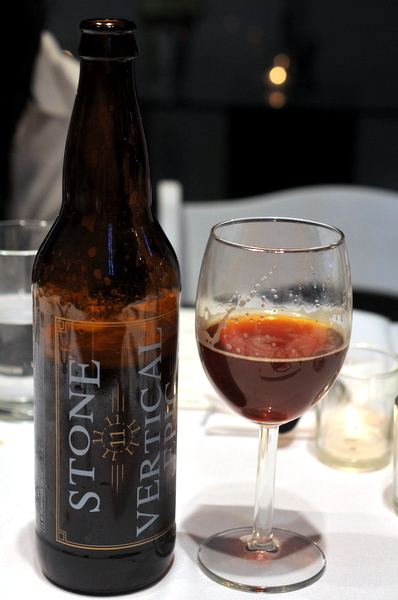 ETHIOPIAN SPICED PUMPKIN PIE - whipped cream, chocolate coffee reduction
Pumpkin pie isn't traditionally Ethiopian by any means but the homespun holiday classic is filled with spices whose savor offsets the pumpkin's cloying sweetness. The chocolate coffee reduction was expectedly dark and rich which highlighted the dessert's sweeter side.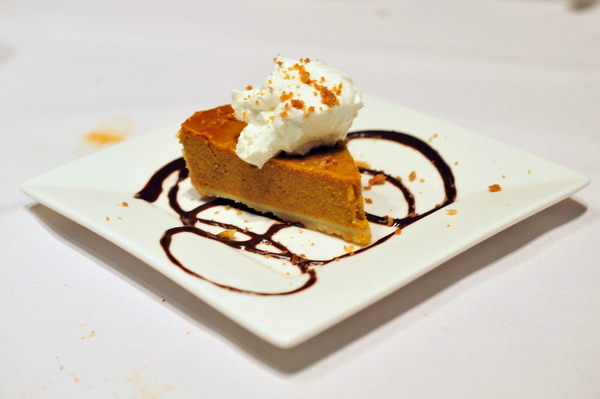 ETHIOPIAN COFFEE - cloves, cardamom, cinnamon
In the spirit of the holidays, the sisters presented each diner with a small pouch of spiced Ethiopian coffee to take home.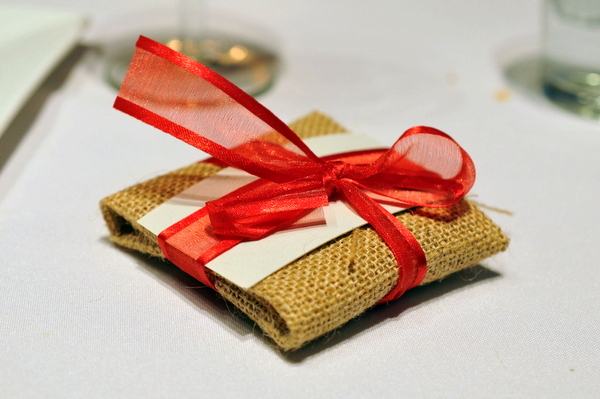 While purists might decry the modern touches, I thought Becky's cooking strikes a unique balance between the soulful heartiness of traditional Ethiopian fare and the use of contemporary sensibilities.