3799 Las Vegas Blvd S
Las Vegas, NV 89109
(702) 891-7925

My last trip to Joel Robuchon's Las Vegas flagship so enamored one of my companions that he couldn't wait to return. With a larger party this time around we were able to secure the private dining room which felt noticeably more formal than the warm and inviting main dining room.

Naturally we opted for the full 16-course Menu Degustation and with such a large party we decided to go with a formal wine pairings rather than just selecting a couple bottles.

La Pomme Verte - en émulsion sur une gelée de pamplemousse ruby et avocat, rafraichi à la menthe
Tintero Elvio «Sori Gramella» Moscato d'Asti 2011
Our amuse was a blend of avocado and grapefruit that was both creamy and bracing. Though I'm a huge fan of acidity this dish was a bit too astringent and austere.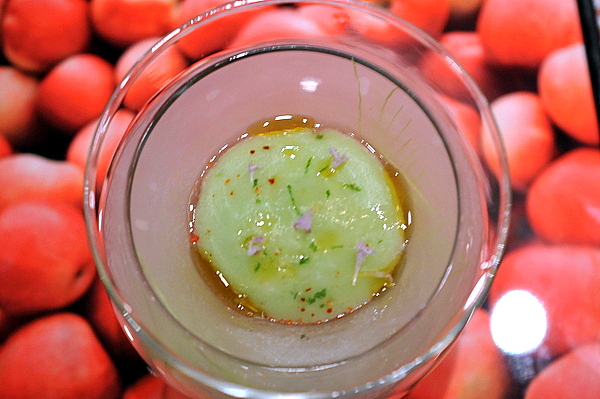 La Tomate - en salade, huile d'olive au basilic, tomate et mozzarella en gelée
Tintero Elvio «Sori Gramella» Moscato d'Asti 2011
One of the most visually arresting dishes I've ever seen, this features a thick tomato steak coated with herbs and balsamic and a dish of tomato gelee dotted with mozzarella and tomato and basil purees. Unlike my previous visit we were advised to use the tomato water as a "dressing" for the base of the salad. The result is a delightful blend of succulent tomato with robust herbaceousness and a gritty tang from the mozzarella, truly a gentrified yet faithful variation of the timeless Caprese salad.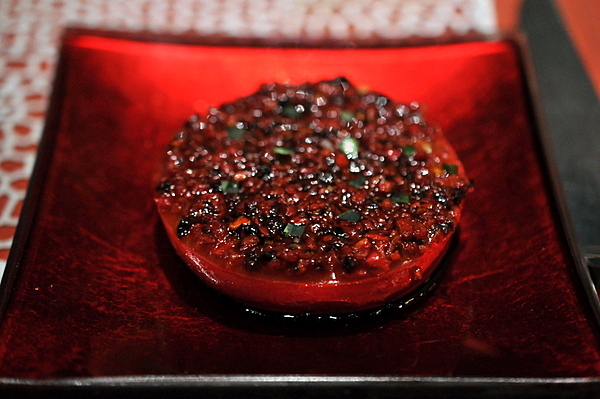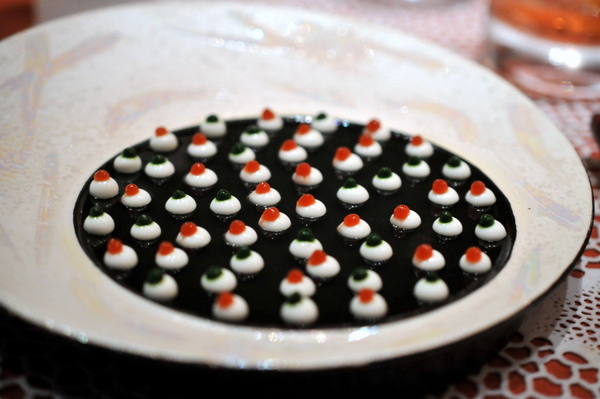 Le Caviar - le navet rouge et le radis avec un carpaccio de hamachi
Domaines Schlumberger, Grand Cru Saering, Riesling, Alsace 2007
Had I not had this course recently I might not have noticed but, the slices of fish felt a hair thinner and less substantial this time around which made it less less able to balance out the harshness of the pickled radishes.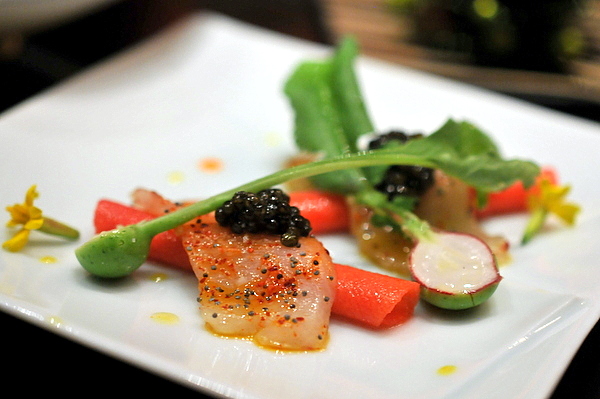 Le Caviar - tartare de saumon aux jeunes pausses de shiso
Domaines Schlumberger, Grand Cru Saering, Riesling, Alsace 2007
Salmon tartare with caviar is nothing groundbreaking but the creamy body and nuanced salinity made this preparation worthy of the name Robuchon.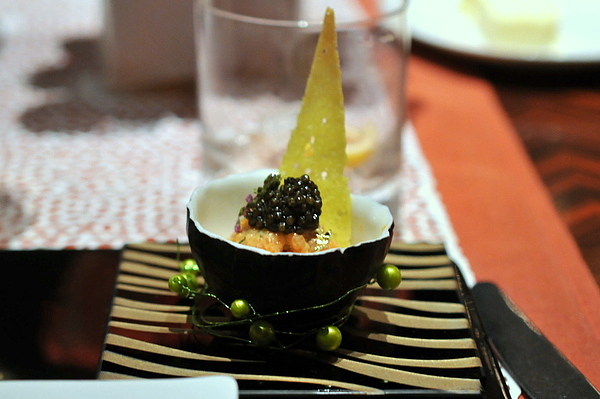 Le Caviar - une crème de chou-fleur glacée tremblotante
Domaines Schlumberger, Grand Cru Saering, Riesling, Alsace 2007
Of the trio, I thought this dish made the most effective use of the caviar. The roe bursts with vibrant salinity that contrasts beautifully with the restrained sweetness of the cauliflower though I thought the decision to omit the dashi gelée reduced the dish somewhat.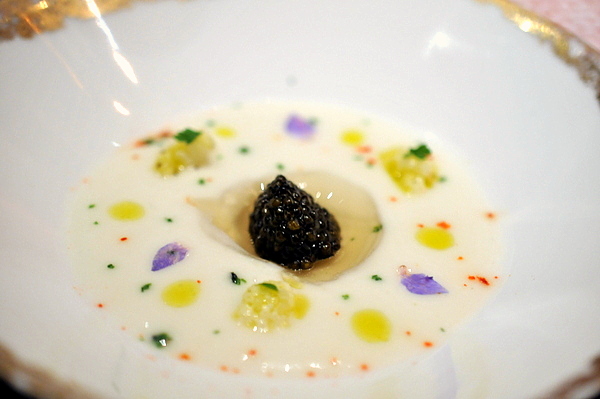 La Grenouille - la cuisse en fritot à la purée aillée et au coulis de persil
Domaines Schlumberger, Grand Cru Saering, Riesling, Alsace 2007
One of Robuchon's signatures, this course pairs the intoxicating blend of fragrant sauce and earthy mushrooms with the salinity of the frog leg while the crispy shroud of phyllo adds a buttery savor and textual contrast to the mix. This is the only course that actually improved since my previous visit with the flavors and textures feeling a bit more vivid and forceful this time around.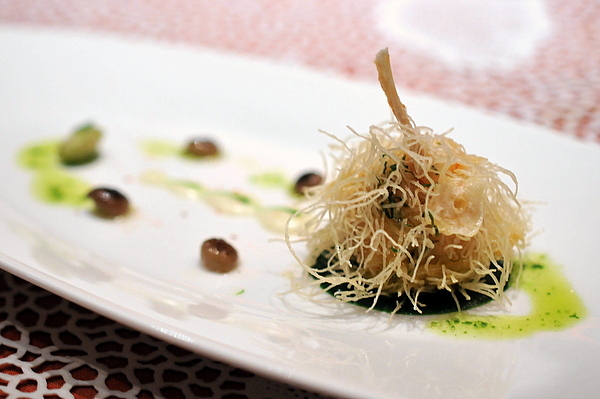 La Saint-Jacques - la noix poêlée dans une nage au curry vert
Maison Olivier Leflaive, Chassagne-Montrachet 2009
Finally, proof that the staff at Joel Robuchon is indeed mortal. Though the rich green curry was as zesty and aromatic as I remember, the scallop itself was horribly overdone and rubbery. When I mentioned the issue to our waiter he seemed to shrug it off which I found a bit insulting.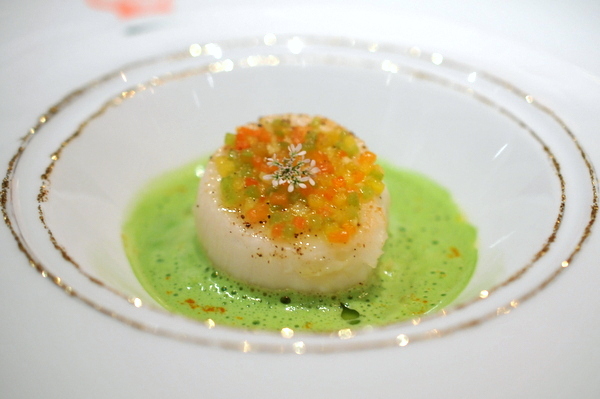 Les Crustacés - le homard rôti au vinaigre de riz pomme ratte écrasée aux oursins et beurre salé
Maison Olivier Leflaive, Chassagne-Montrachet 2009
Another new course, the pairing of lobster and uni was certainly a winsome one but the mealy texture of the crustacean made the dish a bit one dimensional. The potato gave the dish an overarching starchiness which would have contrasted nicely with the lobster had it been a bit firmer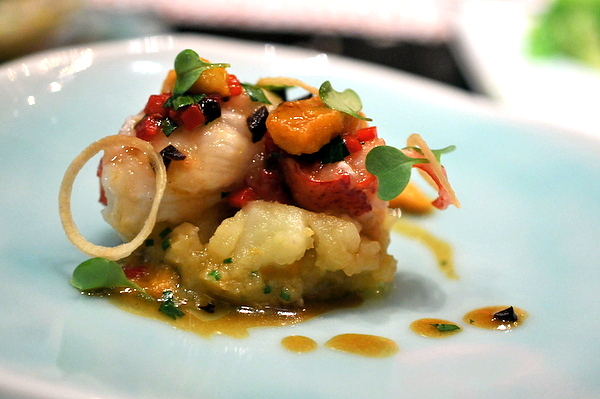 Les Crustacés - la langoustine truffée en cuite en ravioli
Maison Olivier Leflaive, Chassagne-Montrachet 2009
Another of Robuchon's signatures the langoustine was as brilliant as its ever been. A tender starchy skin enrobes a supple bounty of langoustine that convneys a resonant briny sweentess. The truffles provide an acute earthiness while the shredded cabbage adds a bitter vegetal couterpoint to the dish.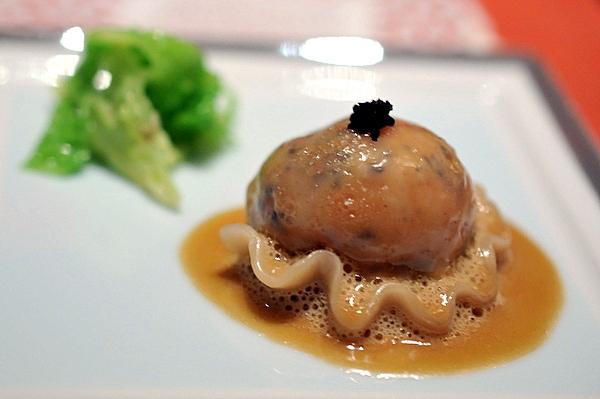 Les Crustacés - la crevette royale dans un bouillon coralline végétale
Maison Olivier Leflaive, Chassagne-Montrachet 2009
The third course of the crustacean trio was quite the change from its rich buttery siblings. The ball of ground tiger prawn is imbued with the sweet brine of shellfish while the vegetable broth has a soothing zen-like tea flavor.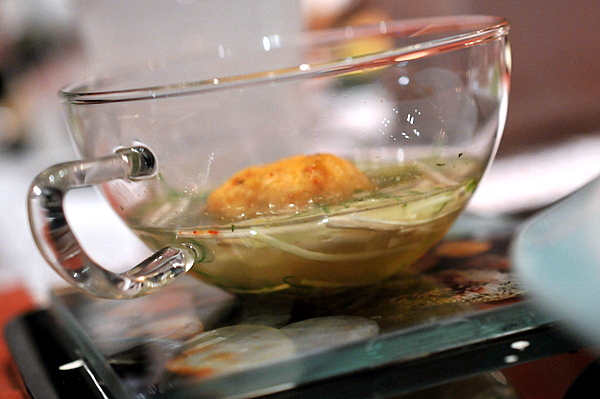 Le Kabocha - en symphonie soyeuse au foie gras et gingembre
Julien Pilon «Lône» Condrieu 2010
To say that I've never been a fan of kobocha squash would likely be putting it mildly. The squash puree is well suited to the unctous base of but the sweetness would have still been a bit much if not for the ginger which was key in balancing the sweetness of the kobocha... a silky symphony indeed.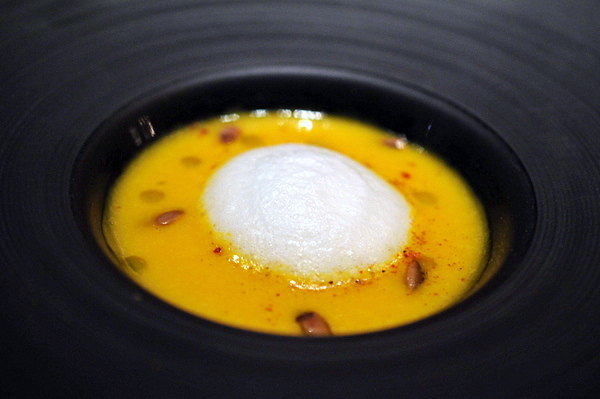 Le Bar - cuit en peau aux cinq épices, avec une sauce au verjus
Julien Pilon «Lône» Condrieu 2010
Roundly disliked by our entire party, this is the first course that I've had at Joel Robuchon that I thought was inherently flawed. Ironically the bass itself was absolutely sublime. The pungent funky tang of the verjus was far too powerful for the delicate fish.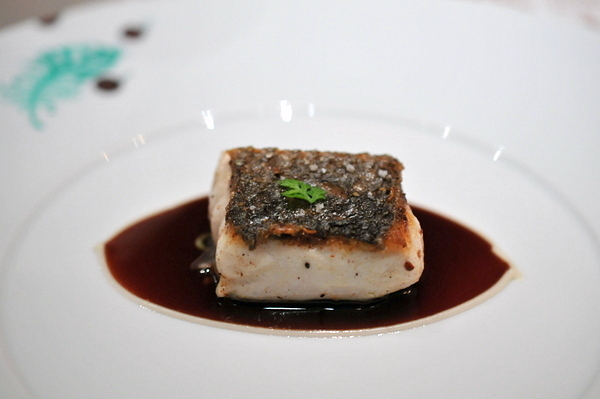 Le Veau - en côte au plat avec un jus gras et escorté de taglierinis de légumes au pistou
Château Tour Seran, Médoc 2004
The sous vided veal exhibited all the best traits associated with the meat, tender and supple. A bit delicate for the final protein of the night, the mild flavor of the meat might have been an issue were it not for the accompaniments of pungent garlic and rich aromatic pesto.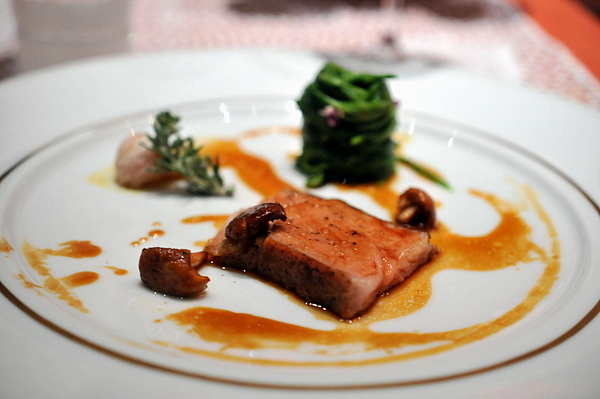 Le Soja - les jeunes pousses cuites comme un risotto aux zestes de citron vert et ciboulette
Château Tour Seran, Médoc 2004
The faux risotto was one of my favorite courses from the last trip and it remains just as sublime. The creamy sauce is reminiscent of a traditional risotto while the sprouts bring a vegetal levity not found in conventional preparations..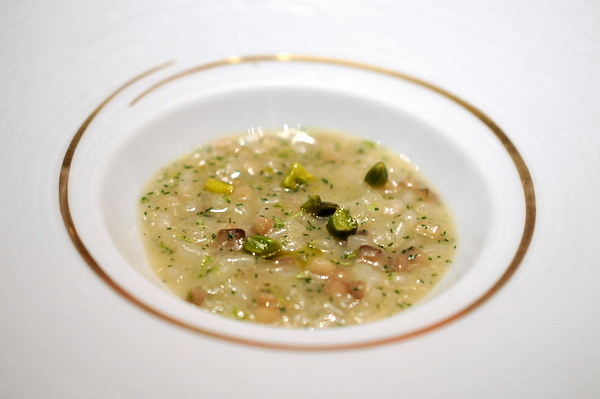 La Fraise - une panna cotta au «dulce de leche», glace au lait sur un biscuit chiffon toasté
Château Lamonthe Guignard 2ème Cru, Sauternes 2009
This was one of the few pleasant surprises of the entire meal. My last visit also featured a sublime strawberry dessert that I thought couldn't be surpassed, but this preparation was even better. The varied sweetness of the fruit and panna cotta compliment each other beautifully while the biscuit added a lovely underlying butteriness.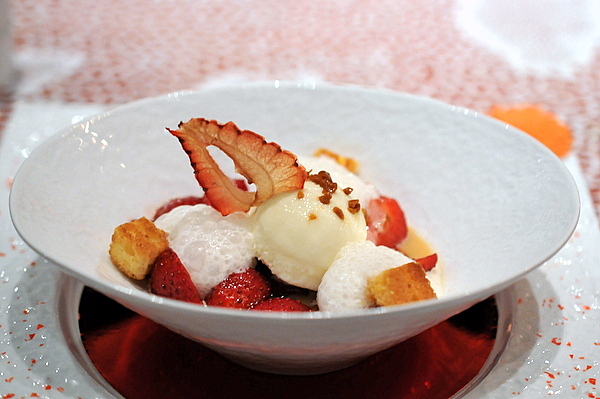 Le Citron - en gelée de miel d'acacia, créme onctueuse sur un croustillant au Gianduja
Château Lamonthe Guignard 2ème Cru, Sauternes 2009
The citron looks deceptively delicate but the flavors proved to be quite bold. The conventional pairing of hazelnut ice cream with an ethereal crisp of Gianduja chocolate is deftly contrasted with the tart citric essence like a quixotic lemon-drenched Ferrero Rocher.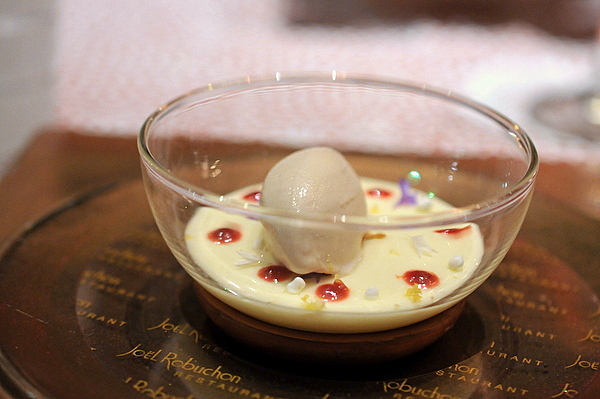 Le Moka - Le Thé - escortés de mignardises
Back in the main dining room our server brought the tea cart without being prompted this time around the staff seemed annoyed that we requested it. Likewise we were brought a selection of mignardises for the table rather than being able to pick our own selections. While I had no problems with the after dinner snacks, the presentation or lack thereof, bothered me greatly.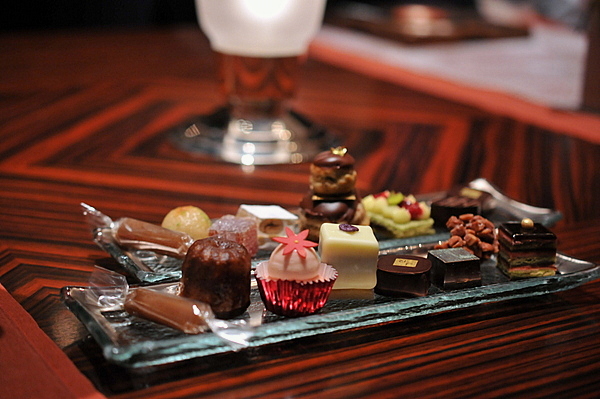 Its rare for me to visit a restaurant of this caliber twice in such a short span of time, but the large number of repeat courses afforded me an accurate baseline for comparing the two experiences. Unfortunately aside from the frog and strawberry the food was consistently weaker this time around. Likewise, the service was colder and less attentive; perhaps functions of being in the private dining room. While this experience does take some of the luster off Robuchon's image, even on an off night Robuchon surpasses most other restaurants. I recommend avoiding the private dining room if at all costs; save the $250 premium and spend it on a nice bottle of wine instead.