2121 East 7th Pl
Los Angeles, CA 90021
(213) 514-5724

Though I'd known of Ori Menashe for a couple of years I hadn't had many opportunities to try his food. The young chef spent much in of his youth in Israel before returning to the States to pursue his passion for cooking. A protégé of Gino Angelini, Menashe has spent time in both La Terza and Angelini Osteria as well as other restaurants including Mozza so it stands to reason when the time came for him to strike out on his own, he chose the cuisine that he knew best. Conventional wisdom says restaurants are difficult businesses that often lose money, but a young chef looking for a partner couldn't ask for anyone better than Bill Chait. Chait's recent investments have included some of LA's hottest restaurants: Rivera, Playa, Sotto, Picca and Short Order and every indication has Bestia joining their ranks.

White Negroni - ford's gin. kina l'avion d'or. suze. grapefruit twist
Refreshing - campari. cocchi americano. fresh lime. evaporated cane sugar. seltzer
Aromatic - persimmon-infused rye. dolin dry vermouth. amer-bestia. lazzaroni maraschino
The White Negroni was the booziest of the cocktails but also the most multifaceted. The nose is rife with fresh citrus oils while the palate offered an herbal blend of woody aromatics. The Refreshing certainly lived up to its name, with loads of acidity and bitterness reminiscent of pink grapefruit. Though I don't care for persimmon, the fruit worked wonders here; imparting a fruity levity that balanced the intensity of the rye without adding too much overt sweetness.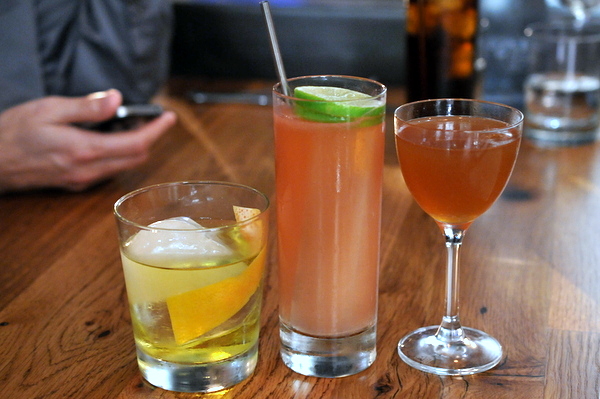 Hand-Harvested Diver Scallop Crudo - squid ink bottarga. chili oil. lemon. scallion. breadcrumbs
An absolutely stellar crudo, the thinly sliced scallop was exceedingly fresh and paired with ingredients that highlighted different facets of the mollusk.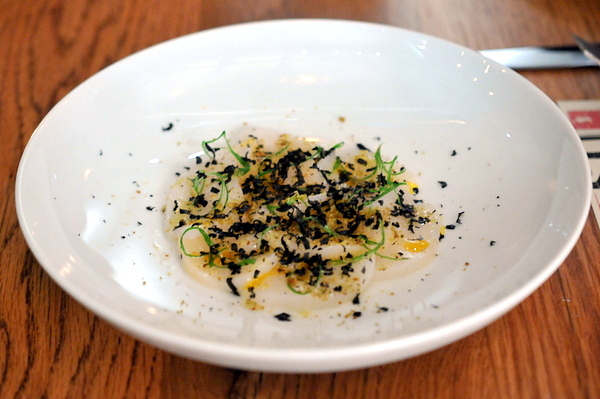 Housemade Salumi - chef's selection of cured meats. traditional condiments. grilled bread
The six cuts included: copa di testa (head cheese), pancetta, copa, wild boar sausage, black pepper and saffron salumi, and a Mangalista sausage. The head cheese was my favorite with its muted sapor and jellied texture. Our server highlighted the Mangalitsa, a breed of pig that he dubbed the "Kobe of pork." Personally I had a difficult time noticing the difference, while perhaps a bit more tender the flavor reminiscent of pepperoni. The grilled bread that came with the Salumi was the biggest surprise, char and garlic butter intertwine beautifully making the bread rustic yet elevated.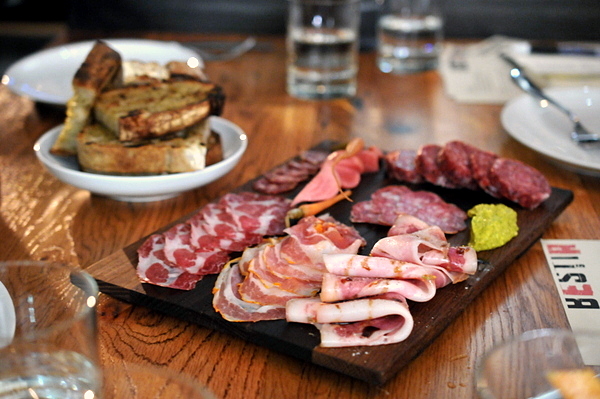 Scofflaw - rye whiskey. grenadine. lemon juice. dry vermouth
Crusta - amaro nonino. germain-robin craft method brandy. combier. fresh lemon
Sling - st. george botanivore. benedictine. cherry heering. fresh lemon. angostura. seltzer
I liked the bracingly fresh tang of the Scofflaw while the rest of the table preferred the Crusta which blended fresh lime and cinnamon and sugar for an Autumnal sweetness. The Sling wasn't bad by any means, with a keen cherry lollipop sweetness on the attack.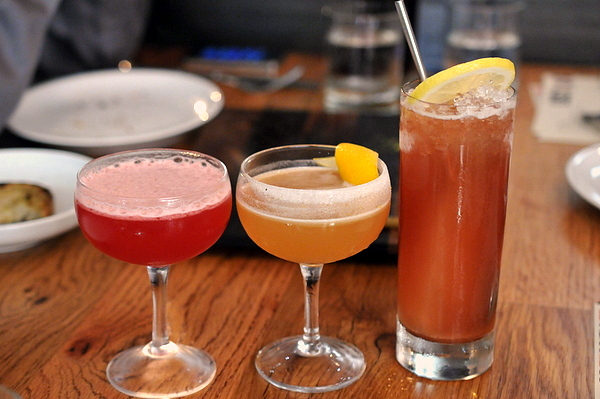 Grilled Octopus - warm lentils. guanciale. braised greens. salsa di acciughe
Our server explained that the octopus was first cooked with wine corks to tenderize it. A quick check on Google shows plenty of people trying to validate this assertion with little to no success (Mythbusters anyone?) Regardless of how its done, the octopus came out fork tender and infused with pork and the characteristic tang of anchovies. The lentils were quite tender and their starchy heft delivered a sense of substance.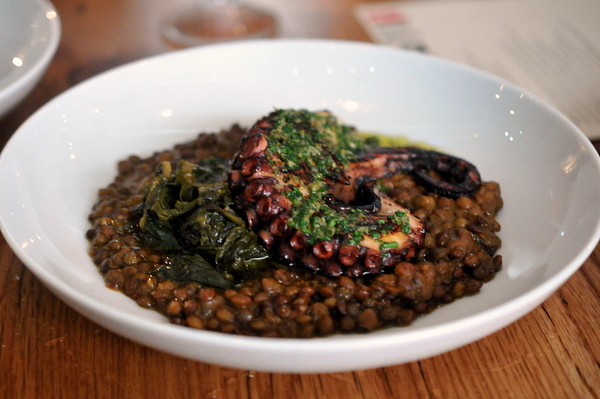 Steamed Mussels - spicy housemade 'nduja. fennel seeds. preserved lemon. grilled bread
I've never been a fan of the classic French recipe for Mussels with white wine, but the combination of mussels and sausage is a whole other story. The sausage spread infuses the mussels with a spicy porcine savor that tempers the oft brackish flavor of the mussels. The soup is also delightfully seasoned with the ripe tang of the preserved lemon and the anise-seed flavor of the fennel.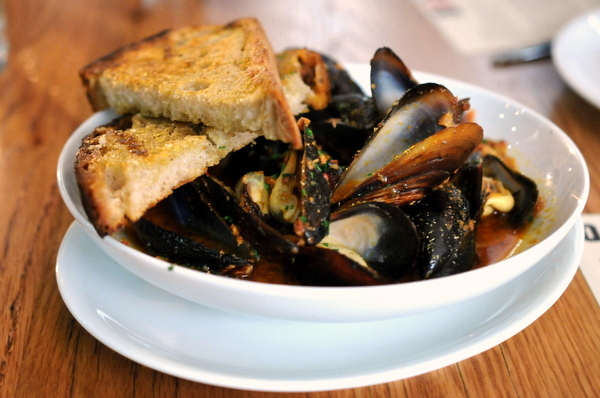 Beef Heart Tartare - crostino. mint. pine nuts. champagne vinegar
As much as I love raw meat I have to admit that even I was a bit apprehensive about eating raw ground beef heart. The meat was finely ground and turned out to be fairly mild, with but a slight whiff of cold wet iron. The mint and champagne vinegar were quite forward which added complexity and contrast to the meat.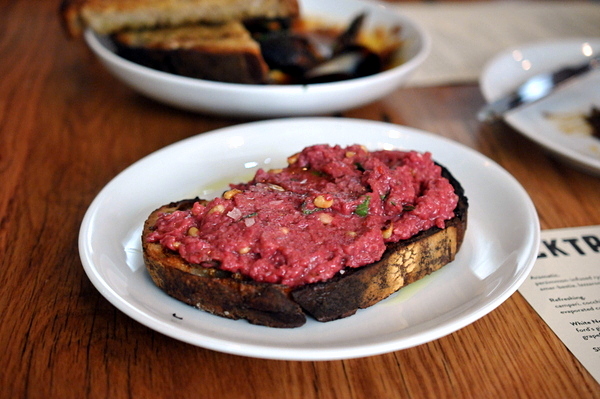 Margherita - san marzano tomatoes. mozzarella. basil. olive oil. sea salt
The quintessential Neopolitan style pizza, the Margherita combines tomato mozzarella and basil in a ebullient acidic and aromatic blend. The dough was nicely tender at its core though I would have liked a bit more crispness on the crust.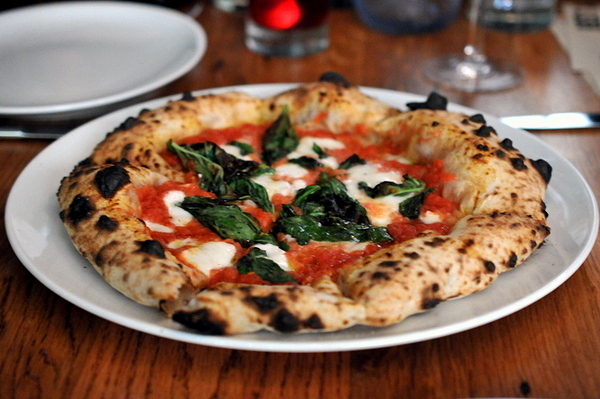 Tartufo - black truffle. fior di latte. grana padano
Our second pizza featured generous heaps of earthy black truffle. The pizza came topped with two variations of relatively mild cheeses which enabled the full force of the fungus shine through.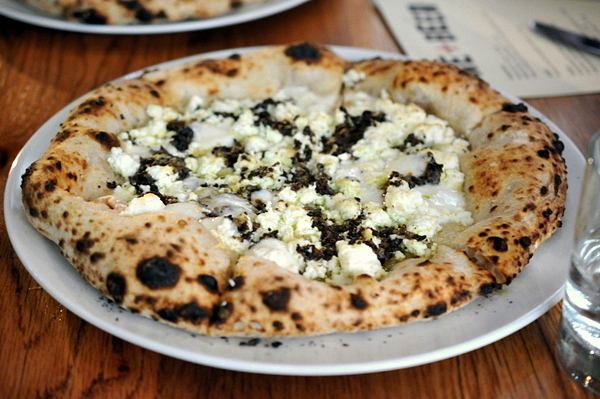 Bucatini all'Amatriciana - charred semolina bucatini. housemade guanciale. tomato. pecorino sardo
The Bucatini was the first in a string of superb pastas. The bucatini has a coarse starchy al dente texture and a bit of yeasty flavor while the sauce, a simple blend of pork and tomato, which combined to give the dish a gentrified yet timeless feel.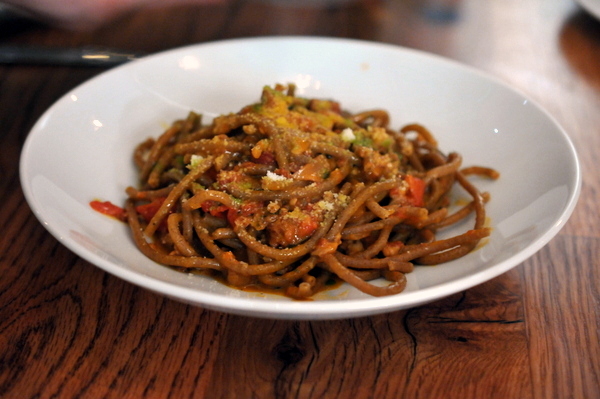 Spaghetti Mancini alle sea urchin - al dente. squid ink & mullet bottarga. garlic. calabrian chile. bread crumbs
Fresh uni is an excellent way to start any dish and coupled with amplifying effect of the bottarga gave the noodles an intense brine. Though I loved the flavor I thought the pasta felt a bit underdone giving it an imperceptible crunchy core that left bits of pasta stuck in my teeth with each bite. Now I love my pasta al dente but this was even a bit much for me though Chef Menashe assured me that this was intentional and a result of the long drying time Mancini farms uses on their pasta.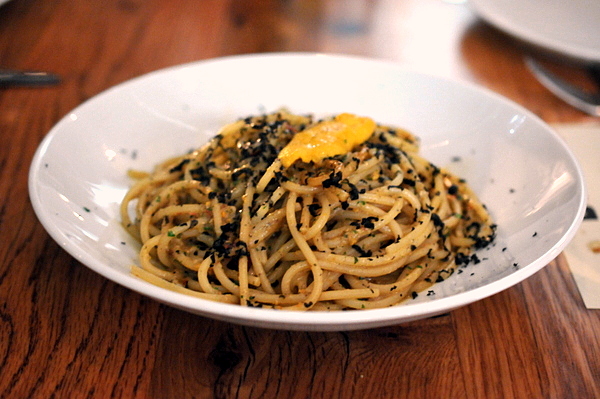 Pappardelle di Castagne - hand-cut chestnut pasta. mushroom ragu. poached farm egg
Featuring a mix of mushrooms and poached eggs I had to have this dish. I was a bit concerned about the chestnut pasta but it proved to be quite mild with a supple firmness to them. Naturally the dark flavor of the mushrooms features prominently in this dish, savory to the point of bitterness but the mass of the egg white provides a moderating element to the ragu.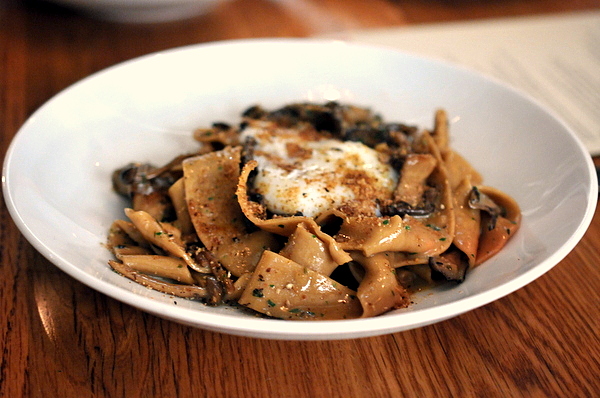 Cavatelli alla Norcina - ricotta dumplings. housemade pork sausage. black truffles. grana padano
The cavatelli proved to be my favorite by a wide margin. The tender dumplings were a touch soft for my tastes but the brown butter sauce infused with the potent musk of the truffle and fatty savor of the sausage proved to be a heady concoction indeed.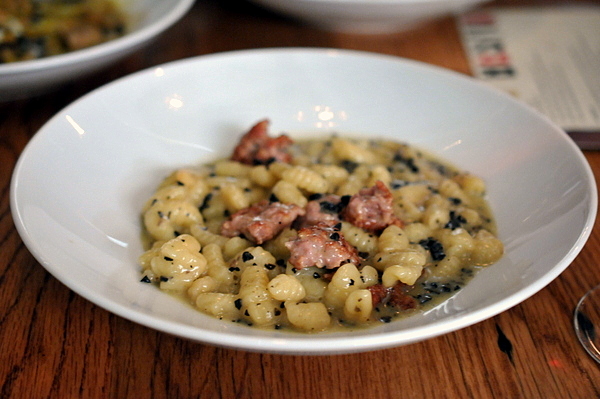 "coffee & donuts" - spiced Chestnut Zeppole. softly whipped cream. coffee gelato
Taking a page from The French Laundry, Bestia has created its own version of their vaunted dessert. The Chestnut Zeppole has a denser texture and a hard lightly caramelized exterior. The gelato tastes like fresh ground coffee and its lingering essence provides the perfect bittersweet counterpoint to the sugar coated donuts.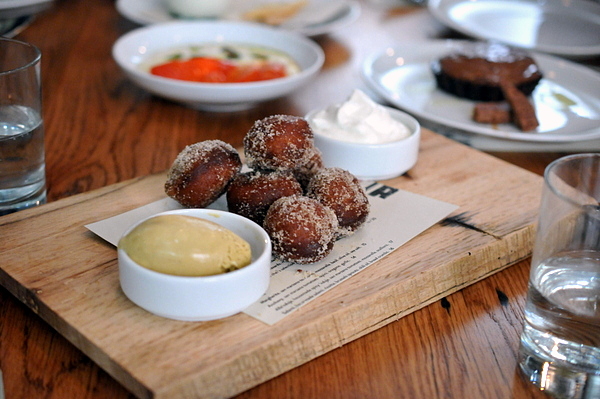 marscarpone Rice Pudding - hachiya persimmons. orange blossom pistachios. persimmon caramel
This was a gift from Bestia's pastry chef, Genevieve Gergis, who told us that her husband, Ori Menashe, loved it and insisted that we try it. The tender rice is coated with a mild cream which lets the ripe sweetness of the persimmons shine through.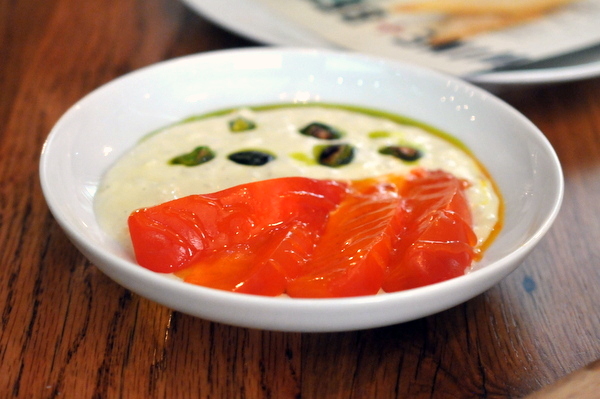 valrhona fair trade bittersweet Chocolate Budino Tart - salted caramel. cacao crust. olive oil. sea salt
Built around a duet of chocolate, a bitter chocolate crust is filled with the sweet creamy budino. The rich chocolate is laced with floral olive oil and sea salt then finished with a haunting echo of burn sugar sweetness.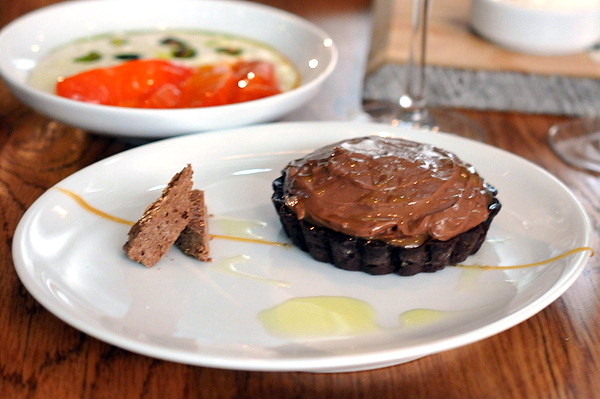 crème fraîche Panna Cotta - early winter tangerines. meyer lemon cookies
A bit runnier than the typical panna cotta the lightly tart custard is heightened with the more aggressive tartness of the two citrus fruits.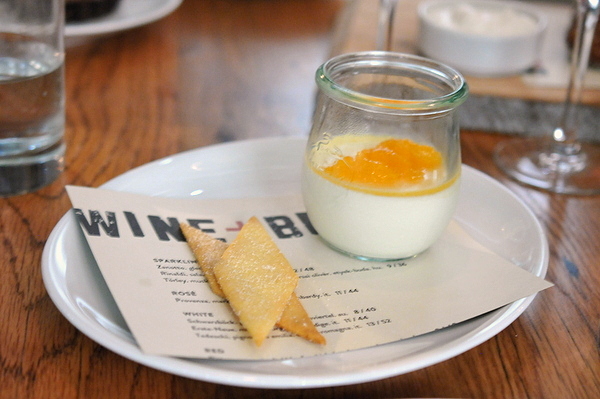 Bestia has been getting rave reviews right out the gate and from what I tasted they deserve every bit of it. Relying heavily on locally sourced ingredients paired with expert execution, Menashe et al deliver pan-Italian cuisine is as soulful as it is delicious.