1615 N Cahuenga Blvd
Los Angeles, CA 90028
(323) 465-1750

I generally avoid media diners as a matter of principle, but the my friend swayed me with the idea of a whole hog dinner. I hadn't heard much about Chef Efrain Cuevas aside from what my friend told me. The Illinois-native actually worked as a civil engineer in Berkeley before working as a guest chef at Ghetto Gourmet, an underground dinner party in Oakland. Following his passion for food he moved back to Illinois and founded his own underground supper club, Clandestino while simultaneously working as the chef for a local elementary school where he use organic ingredients to create a menu that appealed to the primarily Latino student body. Earlier this year the chef made the trip back out west to take the CdC position at 3 Dog Cantina.

Bacon-wrapped Strawberries
Habanero Mimosa
The bacon comes from the remnants of a whole-hog dinner that Chef Cuevas held the previous week. The meat was cured for 8 days then smoked for 5 hours. The thick cut strips still retain much of their oil a rich smoky-sweet foil to the luscious tang of the strawberries. The combination is reminiscent of prosciutto and melon but with bolder more emphatic flavors. In keeping with the breakfast theme our first cocktail was a fruity effervescent mimosa amped up with the spicy kick of habanero.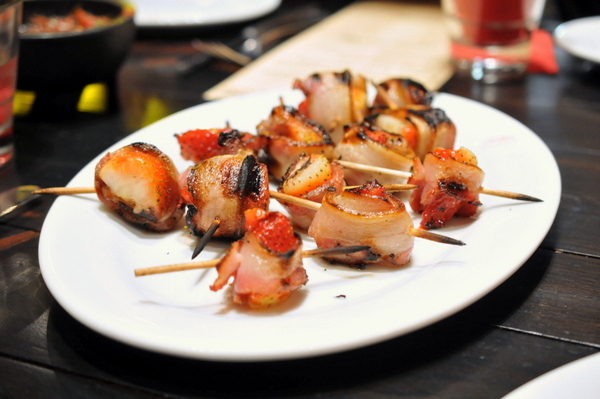 Bacon & Shrimp Quesadilla
Michelada
We had more of the delicious bacon for our second course. The fatty bacon came tinged with a salinity from the bits of grilled shrimp while the avocado and a cilantro sour cream provided a moderating creaminess and herbacous counterpoint. The quesadilla came pared with a Michelada, think of a Bloody Mary with a Latin flair and though I'm not a fan of savory cocktails the use of shrimp brine gives this a rich salty flavor that made this the most effective pairing of the night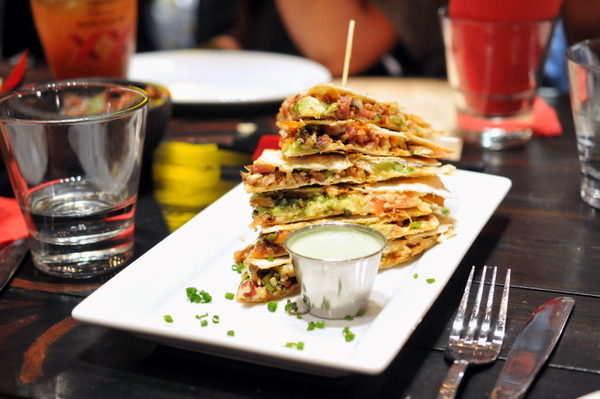 Jamon y Queso Taco
Victoria Beer
Instead of more bacon our final course use a ham that had been slow roasted for 10 hours giving it a carnitas like texture and rich porcine savor. The cheese provides a nice sharpness while the pineapple jam gives the taco a subdued spicy-sweetness. A relative newcomer to the States, Victoria has been around since 1865 making it Mexico's oldest beer. Victoria is a Vienna style lager with a pretty pedestrian flavor though a touch more robust than the popular American pilsners.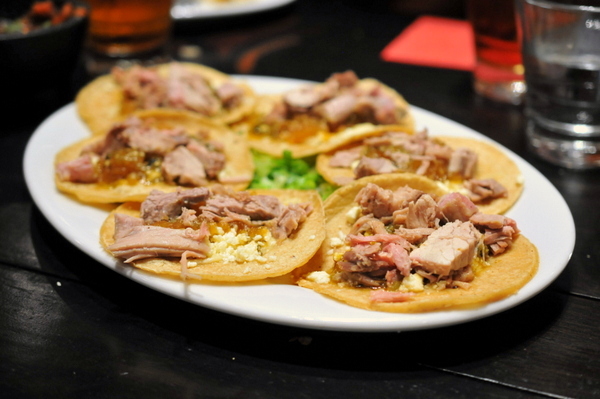 Jalapeno Pancake
Jalapeno-infused Tequila
Dessert consisted of a jalepeno pancake covered in maple and cinnamon butter. I was expecting a bit more heat but the pancake actually had a fairly classic flavor profile. The tequila packed quite a bit of heat and helped heighten the vegetal notes of the pancake.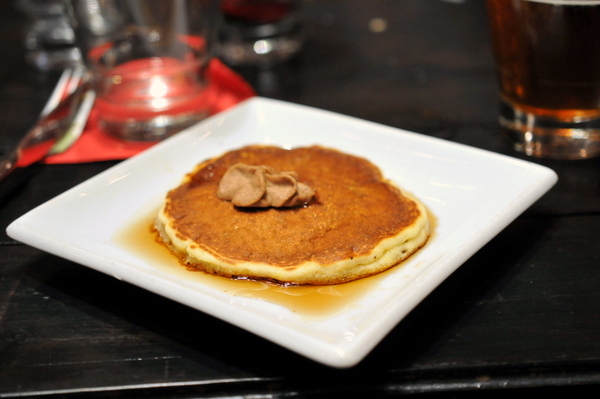 I wasn't sure what to expect but I came away fairly satisfied by Cuevas' food but given pork's versatility, I would have liked to see a bit more variety. Ironically the regular menu had a number of intriguing dishes particularly the oysters con ceviche and chivo crispy tacos.