8700 West 3rd Street
Los Angeles, CA 90048
(424) 272-5849

"It's not what you know its who you know." As much as I'd like to pretend otherwise, I'd probably have passed on Barbershop had I not crossed paths with Chef Walter el Nagar in the past. I first met the talented young chef while he was Chef de Cuisine during a very impressive dinner at Il Grano early last year.

Born the son of a chef, El Nagar tried his hand at college before being drawn into the world of cooking. El Nagar's career exemplifies the transitory lifestyle of a chef and after working his way through Italy, France, England and Norway made the move to California in 2008. From there he would continue his itinerant ways, opening a restaurant in Mexico in 2009 before spending a year in Texas. In 2010 Walter found his way back to the LA area, working at Locanda del Lago, La Botte, and Il Grano.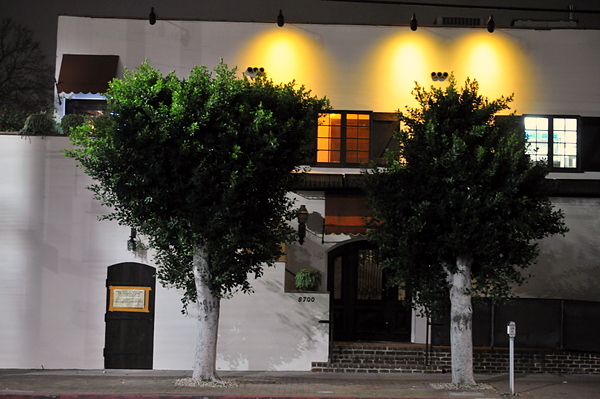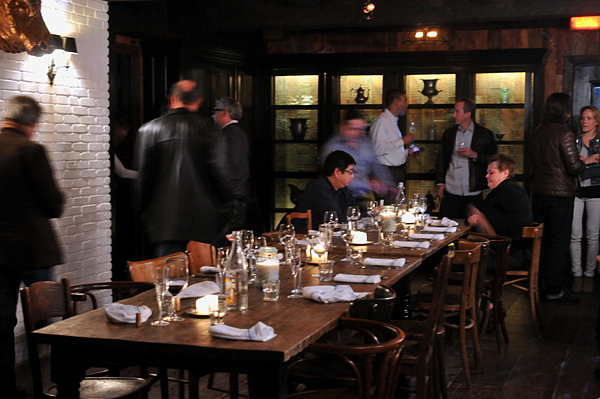 Amuse
NV Bortolomiol Prosecco Valdobbiadene Brut
The Amuse consisted of an Italian "chicharron" made of fried pasta dough, chicken terrine with Parmesan, a Luna Oyster with passion fruit, and a spherified Italian spritzer of prosecco and aperol. The oyster was my favorite thanks to the prosecco which developed a sweet fruitiness when taken with the oyster. The chicharone was a bit of a let down because the name had me expecting something with a bit more flavor.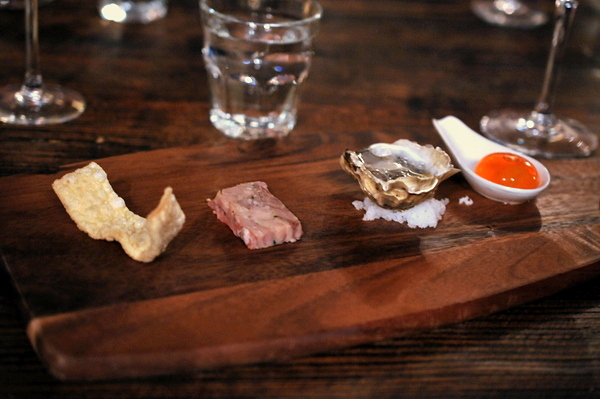 Crudo di pesce, salse d'accompagnamento - DTLA fish market crudo
Pietracupa Greco di Tufo
It seems Chef Nagar's time at Il Grano was well spent. Leveraging painstakingly cultivated relationships with top fish mongers, Walter has put together a stunning raw fish presentation consisting of: scallop with meyer lemon, Amberjack with beet, Traveling Jack with blood orange mayo, Red Sea Bream with Cilantro, and Yellowtail with Kiwi. I appreciated the fact that the seafood was the star in each case though I would have liked a bit more pop from some of the sauces.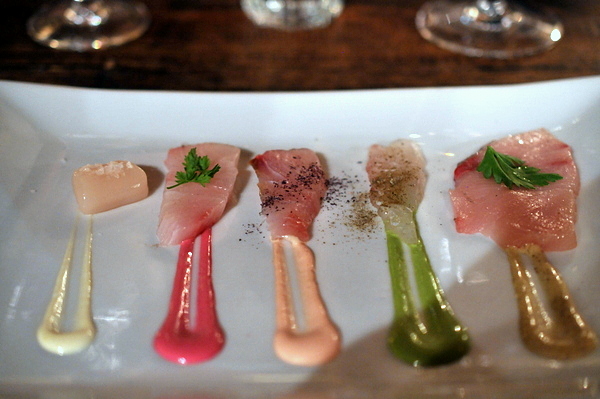 Insalata di funghi, tarfuto e midollo - Mushrooms salad, black truffle and bone marrow
Paitin di Pasquero-Elia Ca Veja Nebbiolo d'Alba, Piedmont, Italy
With the healthy dose of bone marrow one would be hard pressed to call this a salad. The buttery heft of the marrow and earthy musk of the truffles this dish would have been intensely heavy were it not for the light tang of the pickled mushrooms.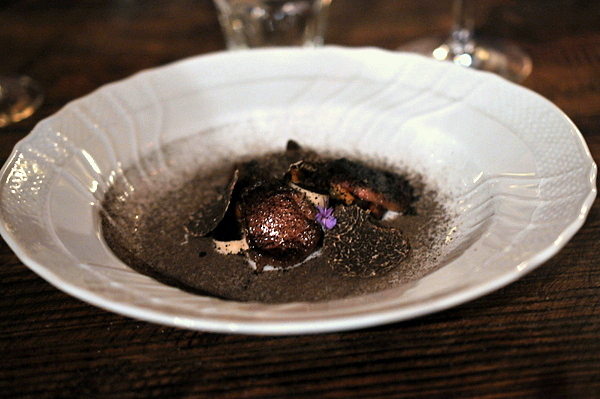 Risotto alle zucca torta, Gorgonzola e liquirizia - Caranoli risotto with butternut squash, Gorgonzola cheese and licorice
Nottola Vino Nobile di Montepulciano
I thought the squash might make this dish overly sweet, but the cheese was more than a match for the gourd. The Gorgonzola evolves on the palate starting with a heavy blue funk that fades away leaving a residual caramelized sweetness that left me wanting more (I even used a piece of bread to clean the residual sauce from the plate). The rice was perfectly cooked with an even al dente texture; one of the most technically exacting risotto preparations that I've had in some time.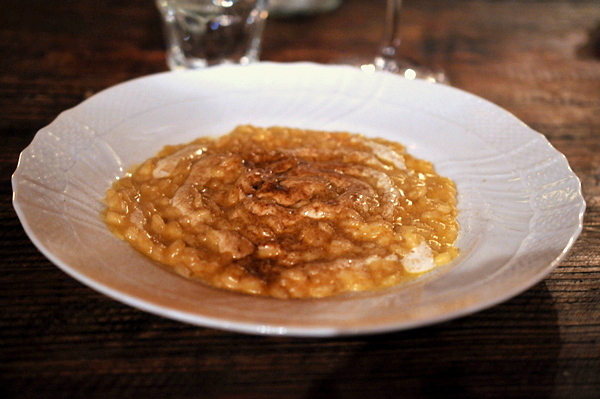 Spaghetti cozze, bottarga e fagioli - Spaghetti with Carlsbad mussels emulsion, cannellini beans and bottarga
Venica & Venica Collio Fruilano
I liked the idea of the light seafood pasta but there needed to be a bit more balance between the mussel and the mullet roe. Instead the emulsion was a overwhelmed by the similar yet far more powerful flavor profile of the bottarga. Though I'm not a huge fan of beans, I thought their starchy heft contrasted with the al dente pasta beautifully.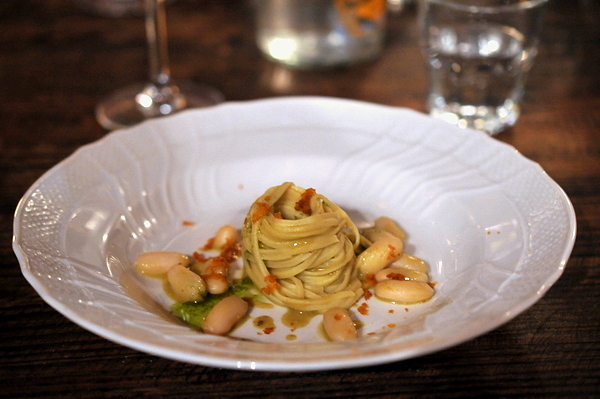 Rana pescatrice con il suo fegato, zabaione alle ostriche e piselli - Monk fish tail and liver, oyster and prosecco zabaione, English pea
Feudi di San Gregorio Falanghina Sannio
The sous vided monk fish had one of the best textures I've ever tasted out of the fish; spongy but still supple, the mild flesh drank in the pungent twang of the oysters. The peas were a wonderful addition to an already stellar dish; their lush green levity effectively countered the briney potency of the oysters. The ankimo was a welcome sight to my foie starved eyes but with an eggy/offaly flavor was best enjoyed alone, it didn't quite fit with the rest of the dish.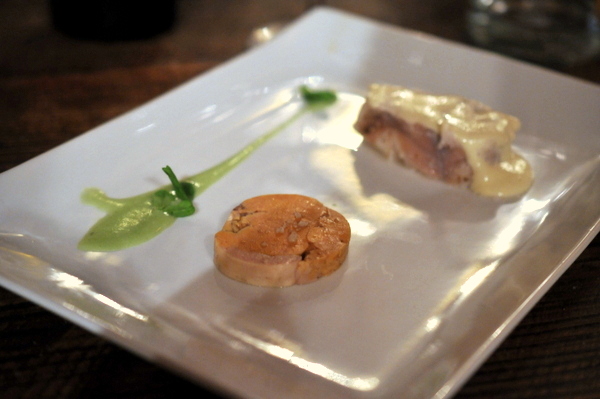 Sorbetto alla birra trappista - Trappist beer sorbet
Rife with creamy booziness bitterness, the sorbet intermezzo was a fun little break between the lighter seafood dishes and our final two meat-heavy savories.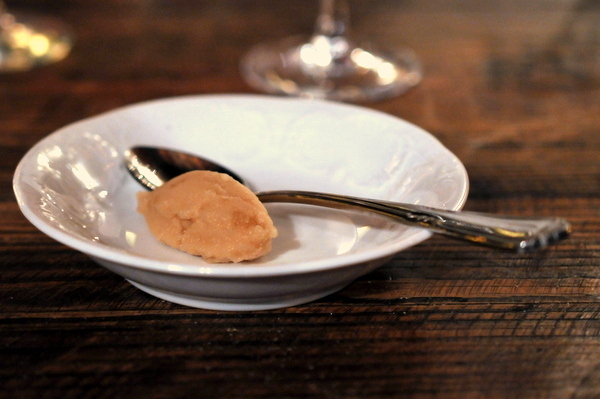 Amatriciana senza pasta - Pork jowl, pecorino foam, tomatoes
Terre di Balbia Balbium Rosso Calabria IGT
Nagar's penchant for modernist techniques is clearly on display in this deconstructed Amatriciana but the ingredients adhere strictly to the classic recipe with little more than pork cheek, tomatoes, and pecorino. The sous vided cheek meat is utterly stunning, one of the tenderest pieces of pork that I've ever eaten with beautifully rendered fat evenly distributed throughout and a thin layer of crisp skin on top. The porcine sapor of the jowl is richly complimented by the foam which infused the dish with the cheese's salinity while the tomato adds a focused countervailing acidity.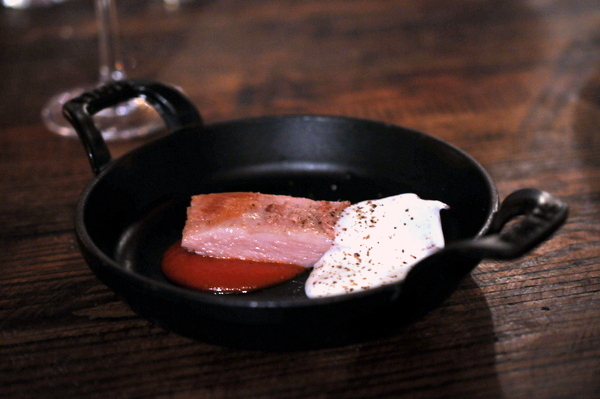 Torrone descruito con I cachi - Deconstructed torrone with persimmon variation
Here we have a play on the classic Italian dessert. Beneath the pistachio and almond powder is a dense sticky-sweet core reminiscent of nougat. Accompanying the dessert are two preparations of persimmon, their cloyingly sweet flavor was actually quite welcome with the neutral sweetness of the torrone.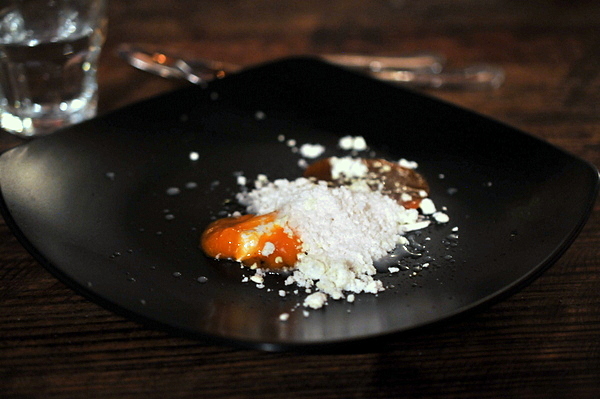 Torta di mele con fior di latte - Apple pie, milk ice cream
Cascina Ca Rossa "Birbet" Brachetto
Our final course was a modern take on the "Apple Pie." The "crust" consisted of a moist pound cake topped with a lightly savory ice cream and a ring of sweet cooked apple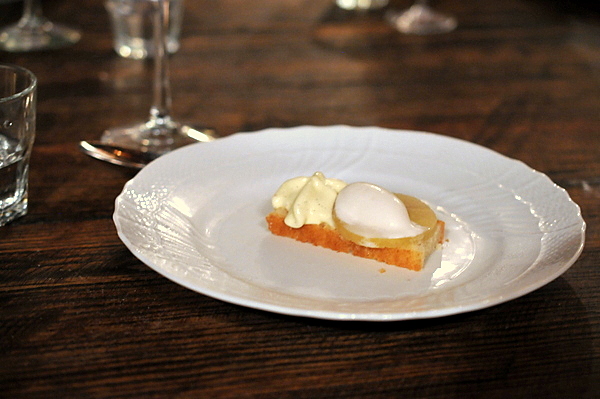 While at Il Grano Chef Nagar provided a sense of dynamism and modernism to balance Marino's ingredient-driven Italian fare. He's brought that same balance with him to Barbershop, displaying avant garde techniques firmly rooted in soulful Italian culinary tradition. Complimenting El Nagar is his partner and wine director Mario Vollera whose warm effusive style gives the restaurant an atmosphere similar to an intimate dinner party. The Barbershop pop-up at A.O.C. as a trial run for an eventual brick-and-mortar restaurant, from what I tasted he's more than ready.