8171 Santa Monica Blvd
West Hollywood, CA 90046
(323) 848-2722

Something of a genius when it comes to seafood, Cimarusti's Providence has been the go-to place for seafood fine dining in LA ever since it opened in 2005. Naturally, when I heard he was opening a new restaurant I knew I had to be there on opening night. Named for his maternal grandparents, Connie and Ted's focuses on simply prepared fish and shellfish done in classic New England style. Housed in the heavily renovated former home of the Silver Spoon, Connie and Ted's has a modern yet casual feel that is at odds with the down-home inspiration for the restaurant.

Down East Punch - cognac, rum, housemade lamill coffee syrup, whole milk
Ted's Cup - housemade scotch-based liqueur, mint, cucumber, citrus, birch beer
Indian Summer - tequila, cocchi americano rosa, valerian tea, lime, blood orange
The Down East Punch wasn't a punch at all, but more of a boozed up ice coffee, now if they only served this at Starbucks I'd be there every day. The Ted's Cup was effectively an alcoholic root beer, my companions all enjoyed it but I found the flavors a bit off. The Indian Summer had an oddly savory component to it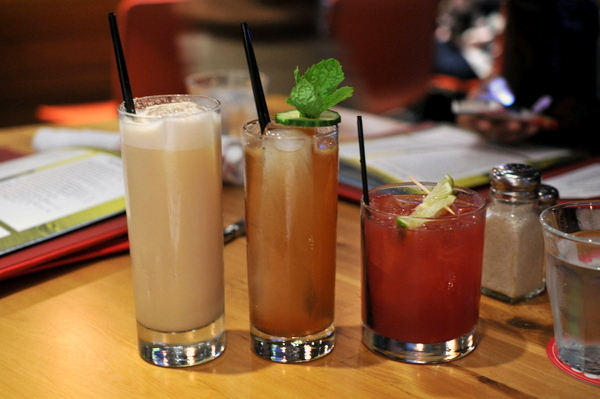 Fresh Raw Oysters - Chef's Choice
With 19 types of oysters to choose from, we opted to take the easy way out and let the chef decide. Though we told our waiter we wanted 6 varieties instead of the usual 12 so that everyone in the group could have one. I ended up with: Hama Hama - creamy mouthfeel with saline balanced by citrus; Crystal Point - crisp muscular oyster with an intense brine; Eagle Miyagi - a medium bodied oyster with a lingering salty finish; Pemaquid - firm texture, with an overarching essence of seaweed; Wellfleet - concentrated salinity, with a lean texture; Tatamagouche - meaty and well balanced medium brine with a nutty sweet accents, the most nuanced of the six and my favorite of the bunch.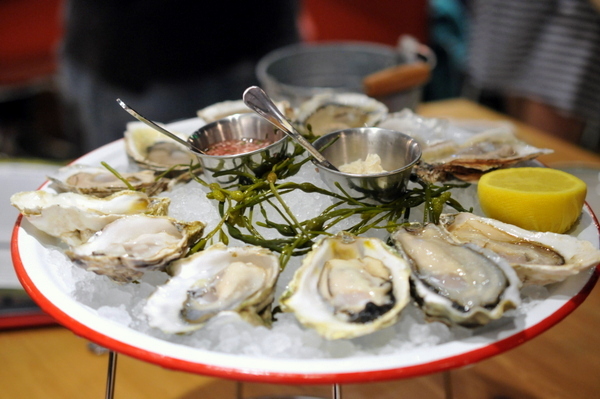 The Dickerson - rye, gran classico, dry vermouth, citrus peel
Catalina Eddy - Jamaican rum, white demerara rum, house made banana cordial, honey, lime
Royal Treatment - gin, dubonnet rouge, lemon
The second round of cocktails was definitely on the stiff side. First up, The Dickerson offered boozy heat mixed with a candied sweetness reminiscent of an apricot Jolly Rancher. The Catalina Eddy had a tropical complexion of banana and coconut mixed with the heft of the rum. The gin was quite prominent in the Royal Treatment with a touch of bitterness and citrus-y zest.



Jo's Wicked Good Chowda' - New England, Manhattan, Rhode Island clear
Naturally we had to try all three types of chowder on offer. The classic New England-style was buttery and rich though kind of light on the clam flavor. I've never been a fan of Manhattan chowder, and this won't be the cup that changes my mind, thinner with an acidic tang thanks to the tomato based soup. Ironically it was the obscure Rhode Island clear that proved to be my favorite with the most pronounced clam flavor of the trio.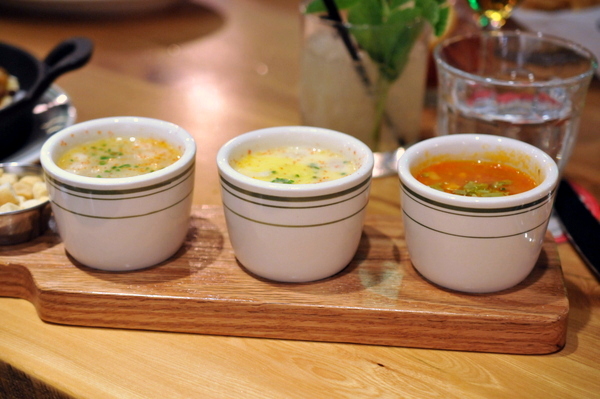 Stuffies - linguiça, garlic, butter, breadcrumbs
The Stuffies are classic New England fare, the spicy meaty heft of the sausage was delicious but also overpowered the clam.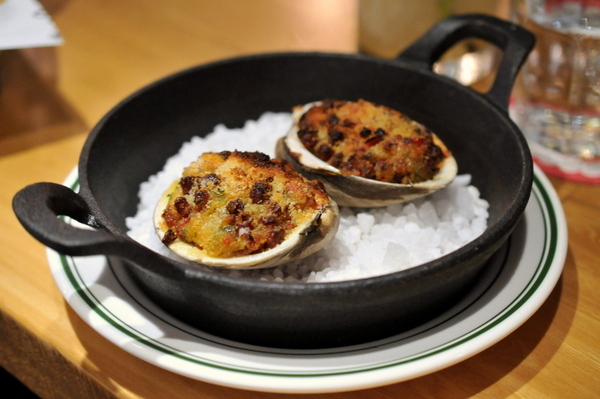 Fried Calamari - marinara or sauce Figeroa
A very well executed version of fried calamari. The batter is light but crisp and full of fried savor while the squid beneath was supple with a light touch of salinity. A splash of lemon juice or the spicy tang of the Figeroa made the fried squid even better.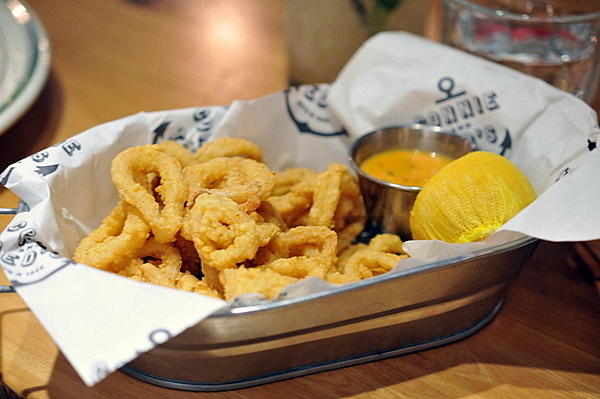 Asparagus au Gratin - roasted asparagus, parmesan cheese, sauce Figeroa
The asparagus was one of the unexpected treats of the night. The tender spears had a light vegetal bitterness that contrasted nicely with the rich zest of the Parmesan and the spice of the velvety Figeroa.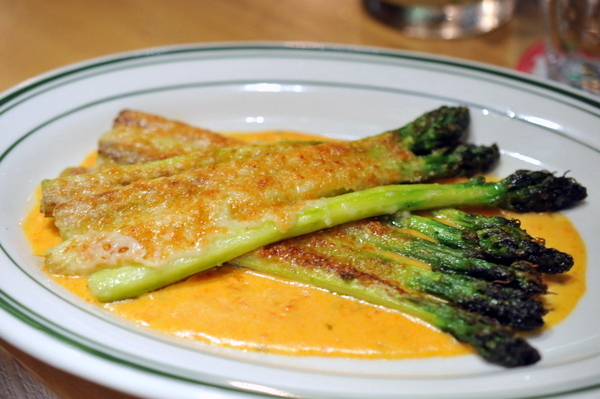 Josephine's Clam Cakes - tartar sauce
Another classic fried New England treat, while I thought the puffed morsels had a bit too much batter but the bits of clam were quite tender.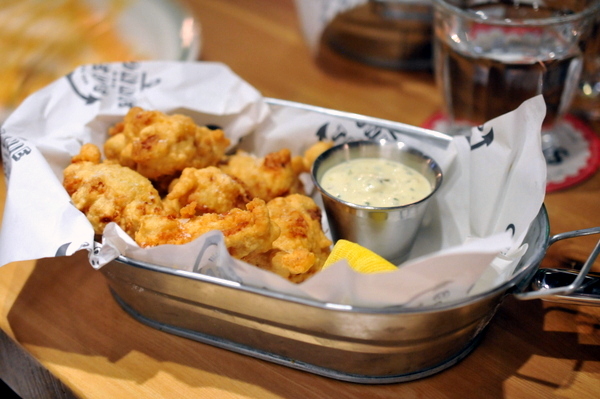 Oysters Rockefeller
Though I typically prefer my oysters raw, the Oysters Rockefeller have their own charms, creamy and rich but balanced by a bitter counterpoint from the spinach and a light toasty crunch from the charred breadcrumbs.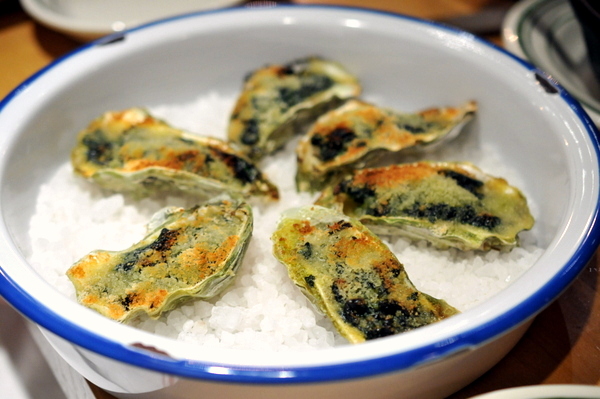 New Bedford Scallop - grilled in its shell with lemon and salted butter
I first encountered this course at Providence and it was every bit as delicious this time around. The surface of the scallop is nicely scorched but the interior remains raw with a delightful jellied mouthfeel. The scallop's intrinsic sweetness is nicely embellished by the heady aroma of melted butter.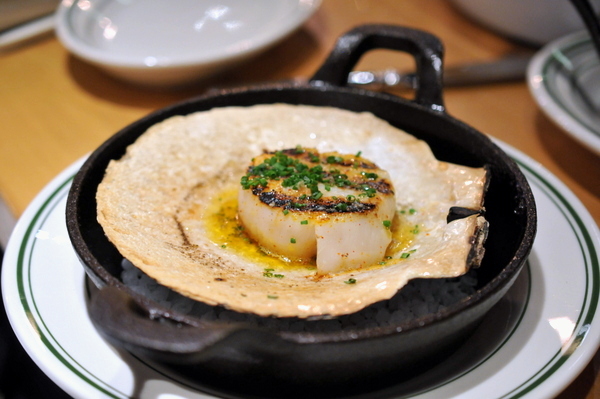 Sailor's Delight - dry gin, strawberries, rhubarb, lemon, egg white, soda
Narragansett Cooler - bourbon, orange juice, ginger ale
Not really sure if I could picture a sailor drinking the Sailor's Delight, the sweet juicy libation has a nice frothy topping of whipped egg white and a vivid strawberry aroma so intense that I couldn't even taste the alcohol. The Narragansett was equally easy drinking with gentle notes of citrus and wood, the lightly effervescent drink is wonderfully refreshing.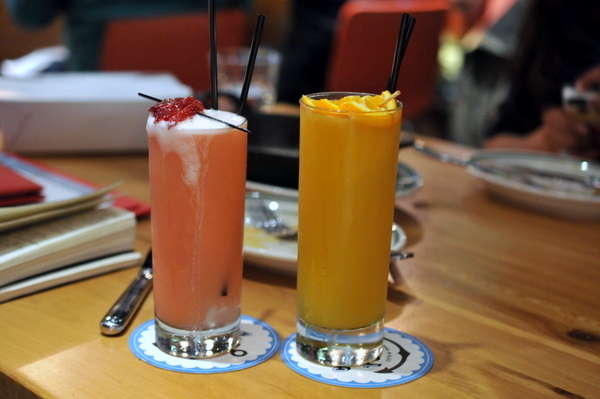 Deviled Oysters
The deviled oysters were the best of the three cooked presentations, unlike the Rockefeller, the salinity of the oyster was especially prominent even among the creamy spice of the sauce.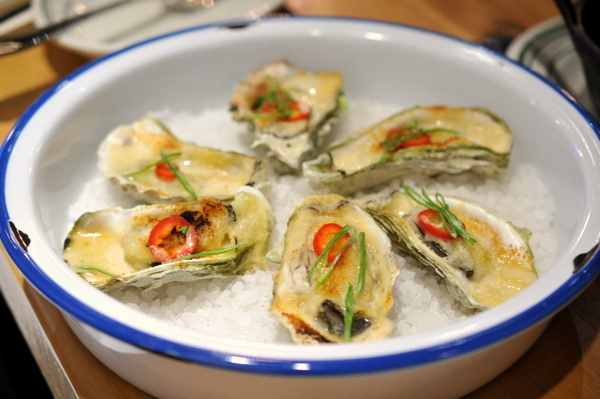 Angels on Horseback
Originaly an appetizer from the UK, the fancifully named Angels on Horseback involve wrapping oysters with bacon. The result is a lusty smoke filled salinity that can be a bit blunt though the tangy cream sauce did help matters somewhat.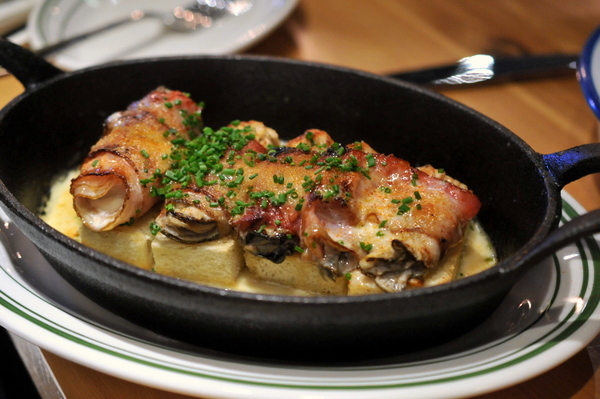 Nancy's Peekytoe Crab Cake - cole slaw, tartar sauce
The crab cake looked a bit insubstantial but the flavor of the peekytoe crab was actually quite clear-cut while the fresh tangy slaw provides a nice lift from the fried weight of the crab.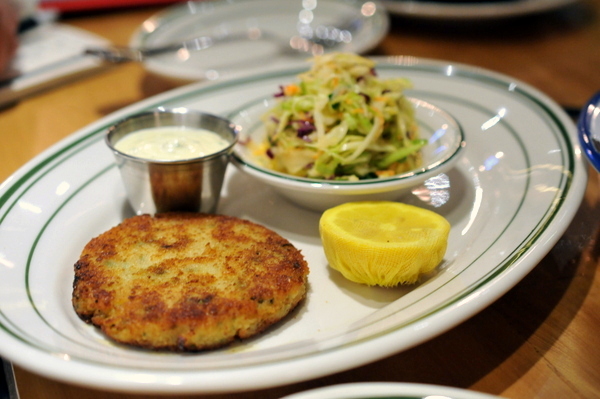 Brouwerij West, Dog Ate My Homework, Blackberry Saison
I was expecting something sweet but despite the dark red color and subtle aromas of blackberries the beer had a dry yeasty complexion on the palate with grape-y vinous notes on the finish.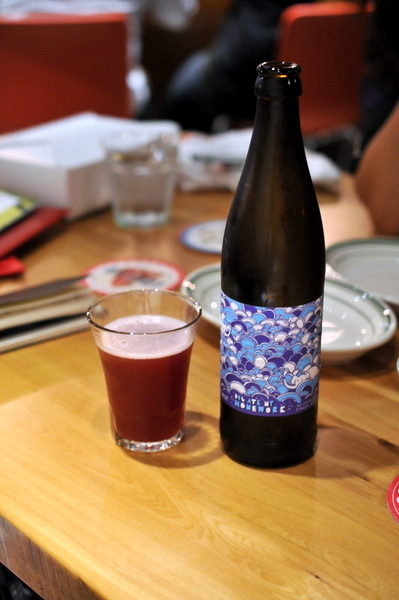 Wild White Mexican Shrimp - grilled, scampi butter, heirloom squash
The shrimp were grilled beautifully, still retaining a crunchy snap and an intense saline sweetness augmented by flavors of garlic and butter.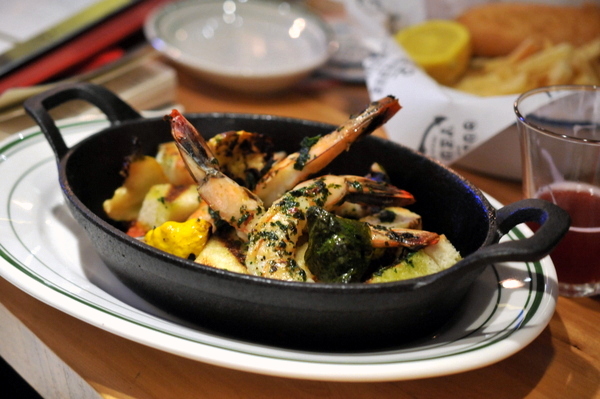 Fried Pacific Oyster - cole slaw, spicy mayo
The fried oyster sandwich proved to be quite the treat. Under the crisp batter, the oyster have softened giving the bivalves a lush almost creamy disposition. The cole slaw, mayo and the sweet house-baked bread were all lovely accompaniments to the tasty fried treats.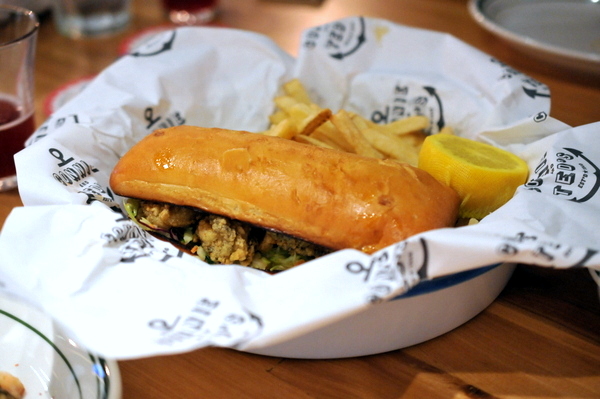 Lobster Roll - hot drawn butter or mayonnaise
No visit to a New England seafood joint would be complete without trying the lobster roll. This was a pretty spot on presentation with generous chunks of cool snappy lobster meat that was by turns sweet, savory, and even a little spicy. The meat is covered in a light layer of velvety mayo while a handful of celery leaves adds a bitter herbaceous counterpoint. An airy buttery roll wraps everything together into one cohesive package.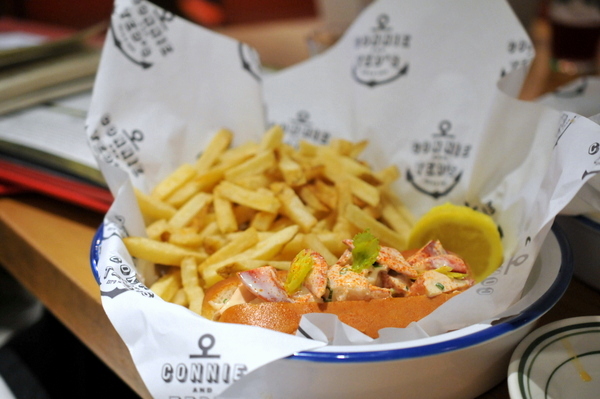 Cismontane, Holy Jim Falls XPA
This was a fantastic beer, light and crisp with a lemonade like attack but plenty of herb-y hops on the finish.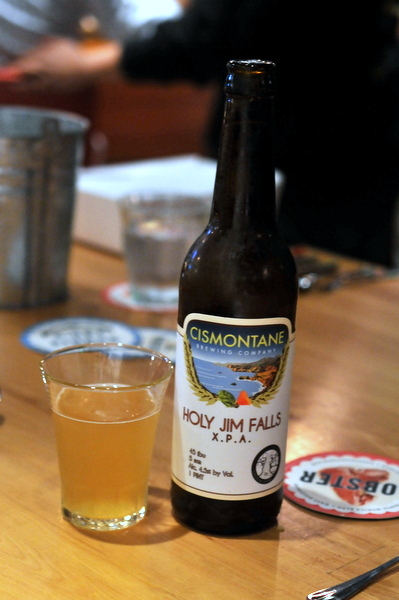 Grilled Catch of the Day - True Cod, Massachusetts
Like the lobster roll, we absolutely had to try the catch of the day. We opted to have the plain and simple preparation as we wanted to be the star of the dish and boy was it ever. The purity and character of the cod abounds in the saline essence and plump translucent flakes of sublime and supple fish.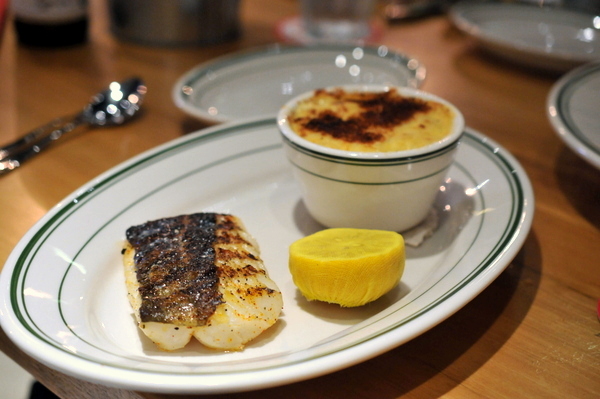 Ed's Portuguese Fish Stew - hake, manilla clams, mussels and linguiça
This dish looked awesome on the menu but I found it a bit underwhelming. Though I'm normally a fan of potatoes I found their hearty starchy heft a bit blunt and the tomato based sauce was a bit distracting from the shellfish.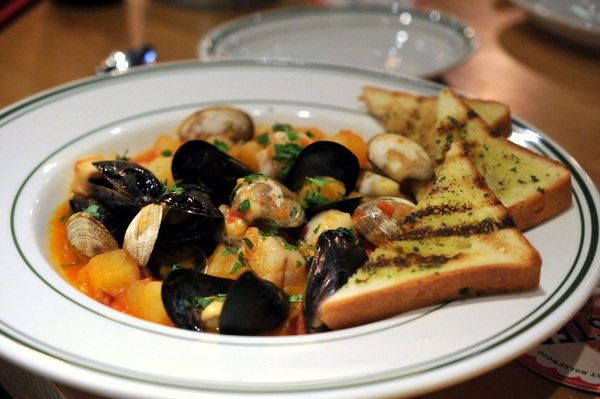 New England Boiled Dinner - mussels, steamers, lobster, linguiça, potatoes, steamed corn
Like the preceding dish this was a hearty stew-like mixture but I thought the flavors of the seafood were more apparent here. While the seafood was enjoyable, for me the best part of the dish was the broth, that distilled the multifaceted essence of the shellfish into a heady bisque-like elixir.



Bone-In Angus Rib Eye - char-grilled, maitre d' butter, fries
While Connie and Ted's is primarily a seafood restaurant they do offer a couple of steaks as well. One of my companions is diabetic and opted try the rib eye instead of dessert.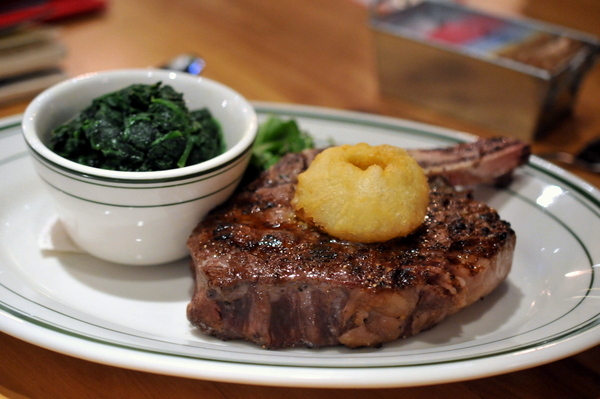 Strawberry Rhubarb Pie - a la mode
This classic homespun dessert felt right at home on the dessert menu at C&T. Simultaneously redolent of tart rhubarb and strawberry jam and wrapped in a deliciously sugared crust.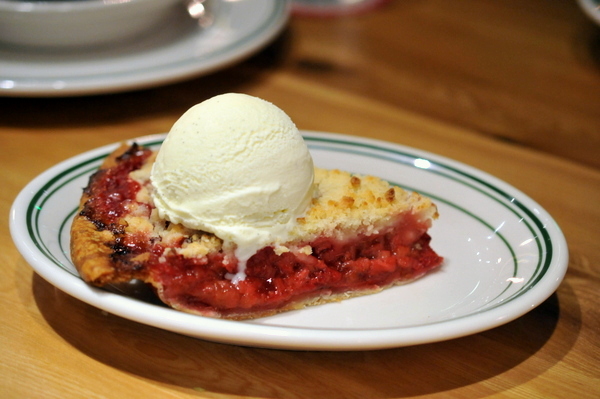 Rocky Road Brownie - chocolate ice cream and hot fudge sauce
Composed of dense rich brownie, cool chocolate ice cream, and a pitch black fudge sauce, this dessert is a chocolate lover's dream. A bit overly heavy for my tastes, though the bits of nuts help break up the monolithic heft of the chocolate troika.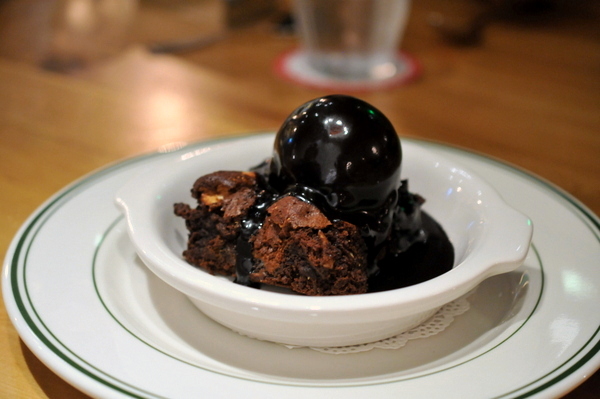 Indian Pudding - classic new england cornmeal and molasses pudding with vanilla ice cream
Made from cornmeal this dessert had a weighty Autumnal spice to it; enjoyable but not really my kind of dessert.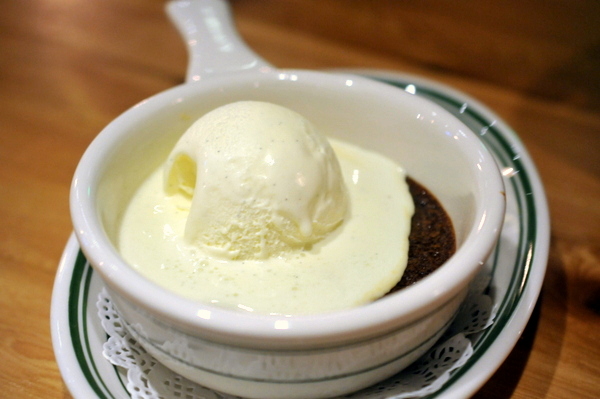 House-Made Ice Cream - wet nuts
When Cimarusti came by our table he insisted that we try his wet nuts explaining that they were a childhood favorite of his. Wet nuts are a common dessert topping made from walnuts and maple syrup; warm soft and oozing maple goodness the walnuts were tasty though I don't know if I'd call this a must order.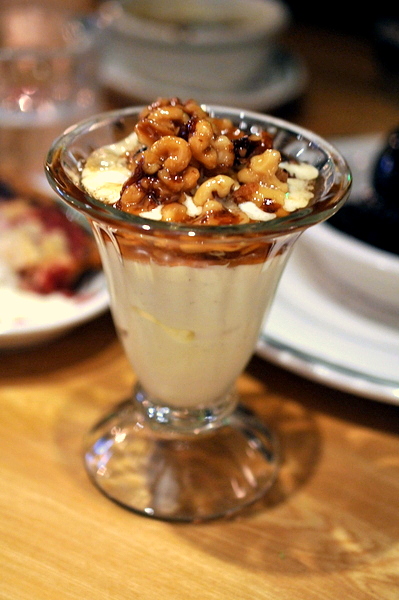 Blondie - vanilla ice cream and salted caramel sauce
Another suggestion from the chef, this was hands down the best dessert of the night. Texturally the blondie has a nice crust and moist dense interior with a salty-sweet balance that makes this dessert truly shine.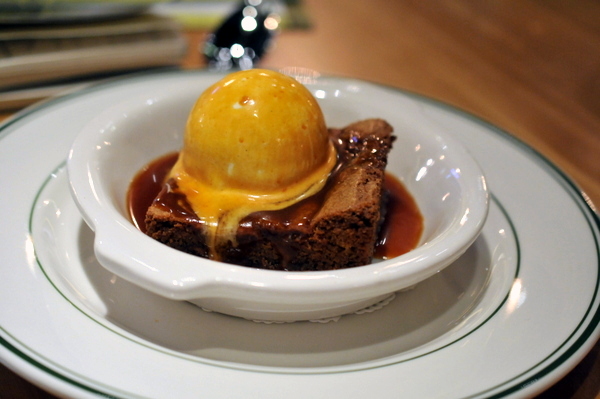 When I first heard that Michael Cimarusti was opening a casual New England-style seafood restaurant I wasn't sure what to think. Given the style of cooking he was doing at Providence this seemed like a step back in terms of ambition and complexity but at the same time I could appreciate his desire to honor his roots and pay homage to the cooking that first inspired him.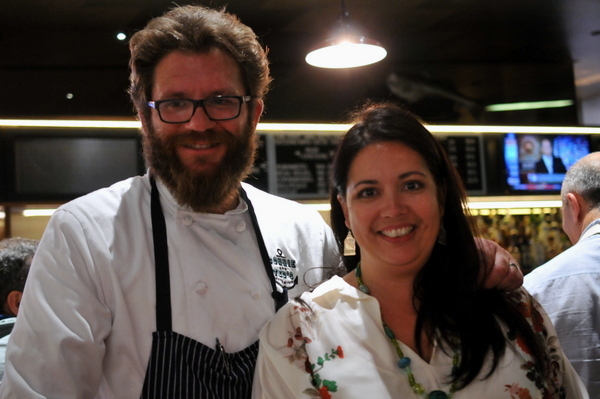 It goes without saying that the seafood at Connie and Ted's is superb, the classic dishes give the place a soulful comforting feel yet everything is executed with the utmost precision and skill one would expect from Cimarusti and his team. There were a couple of service issues and pacing was a bit off but I suppose they can be forgiven considering it was opening night and the place was packed the entire time. With its combination of profound yet approachable flavor I suspect a seat at Connie and Ted's isn't going to be easy to come by for quite some time.