212 North Canon Dr
Beverly Hills, CA 90210
(310) 276-6900

Chef Kazunori Nozawa, a.k.a. the Sushi Nazi built his reputation at his eponymous Sushi Nozawa while simultaneously helping to introduce LA to authentic Edomae-style sushi. After running the single restaurant for most of his career, Nozawa has been expanding at a breakneck pace the past five years. In 2008 he debuted SUGARFISH a restaurant that promised the same quality of fish as Sushi Nozawa but served in a less intimidating setting. Since then the chain has expanded to 8 locations with more planned including one in Calabasas and even a rumored New York outpost.

One of the more revolutionary changes that came with SUGARFISH was the decision to do away with sushi bar model and moving prep to the kitchen in the name of efficiency and affordability. Despite the success of SUGARFISH, Nozawa recognized that some diners still demand a traditional sushi experience and for them he has created Nozawa Bar. Tucked away in the back corner of the Beverly Hills SUGARFISH, Nozawa Bar is an intimate 10 seat room that offers an extended omakase-only menu prepared in front of guests. Despite bearing Nozawa's name, the bar is actually run by Chef Osamu Fujita, a master sushi chef in his own right who worked for Nozawa in LA before embarking on a career as a corporate chef opening restaurants across the country.

Dungeness Crab - with seaweed
Despite being little more than a few pieces of crab on a bed of vinegared seaweed, this would prove to be the most "composed" dish of the night. The crab is subtle on its own, but the nervy tang of the seaweed brings out a countervailing sweetness from the crustacean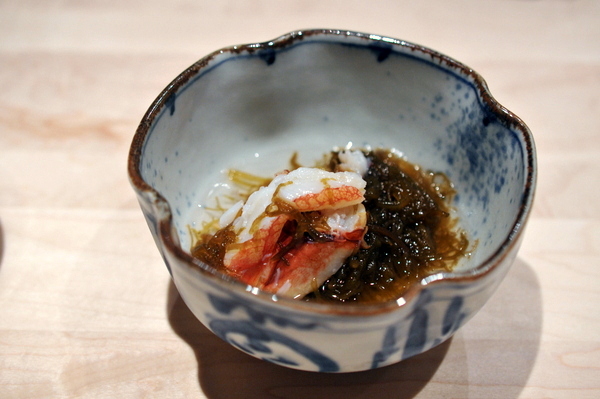 Kirin Ichiban-Shibori
Nozawa Bar offers a limited if eclectic alcohol selection with 3 offering of beer, wine, and sake. We opted to start with round of Kirin beers, the 100% malt beer has strong notes of grainy warmth but remains crisp and refreshing as a lager should.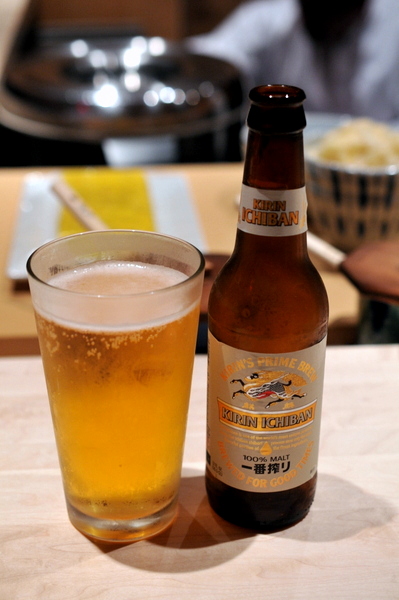 Maguro and Tako Sashimi - Tuna and Octopus
Moving onto sashimi we were given three pristine pieces of bluefin and a matching number of raw octopus slices. The tuna needed a bit of soy and wasabi to compliment its naturally light flavor but the octopus came dressed with flakes of sea salt. Texturally the two couldn't have been more different where the tuna had a silky and slightly oily feel to it, while the octopus has an elusive slickness coupled with a satisfying snap. The sucker exemplified this duality most clearly with a slippery outer layer wrapped around an almost crunchy muscle.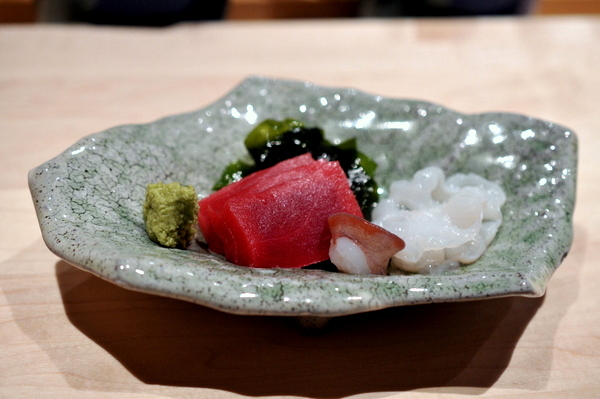 Toro - Fatty Tuna
Moving onto nigiri we started off with a deceptively red toro. Despite its deeper than usual color the fatty tuna still had the fine soft consistency and intense burst of oily goodness typically associated with toro. Nozawa was known for his warm, loosely packed rice and Chef Fujita continues the tradition warning us to scoop the piece up carefully from below.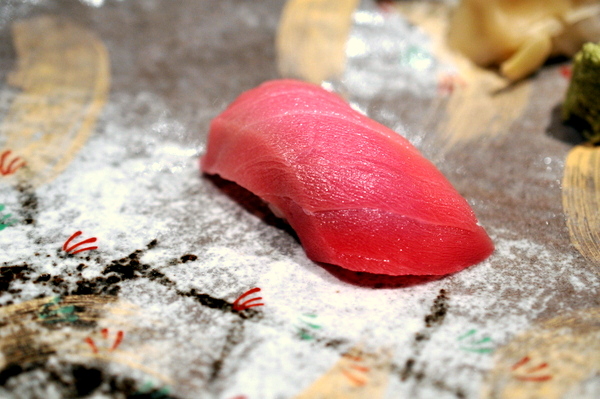 Ika - Squid
Next up was a thick slab of marble white squid, the ika was softer than normal quickly rendering into a thick slightly sticky creamy consistency. A piece of shiso leaf adds a fragrant floral contrast to the concentrated soy and nutty warmth of the rice.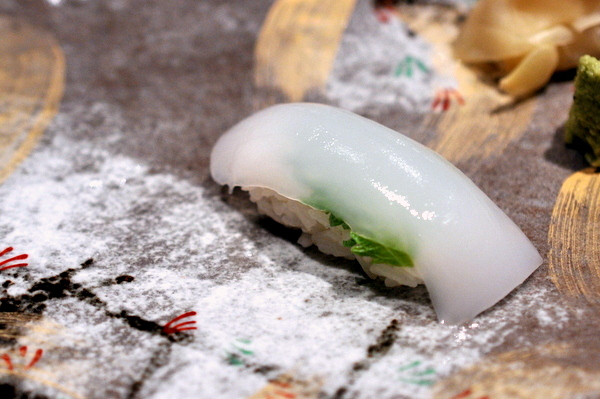 Uni - Sea Urchin
I likened this to a deconstructed gunkan, though all the elements are present the seaweed is more of a flavor and texture contrast than a vessel to contain the urchin. The cool mound of roe started off with lovely sweetness but the flavor turned into a slightly harsh salinity on the finish.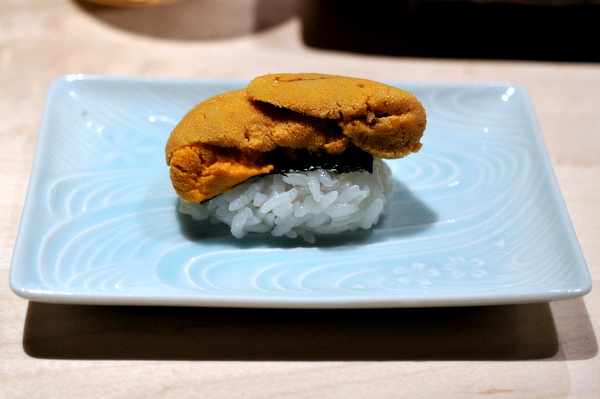 Nozawa Premium - Junmai, Saga Japan
After dispensing with our beers we opted for a sake specially brewed for Nozawa, a medium bodied variety with a bit of sweetness and viscosity that made for an easy drinking sake.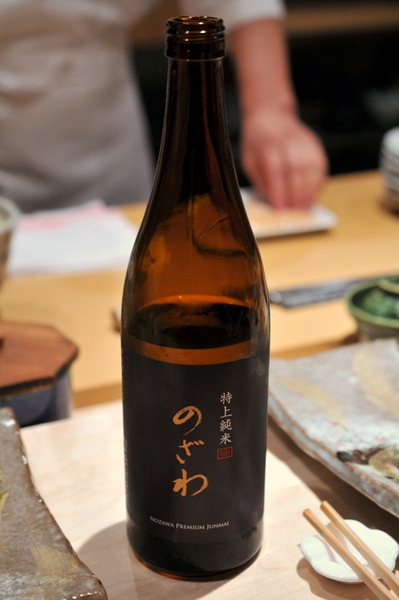 Kani - King Crab
The inherent salinity of the crab was quite enjoyable but the soy was actually a detriment,overpowering the delicate character of the crab and imparting a lingering bitterness to the bite.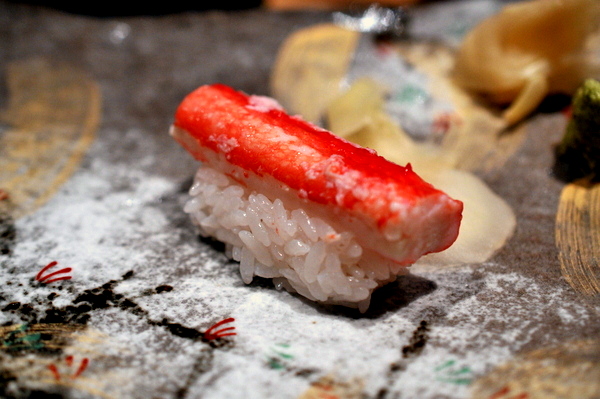 Hotate - Scallop with Yuzu Ponzu
The Hokkaido Scallop was one of my favorites from the original Sushi Nozawa and it was again one of the highlights of the night. The seductively smooth jellied consistency and intrinsic sweetness are augmented by the spicy tang of the house made yuzu kocho and ponzu mixture.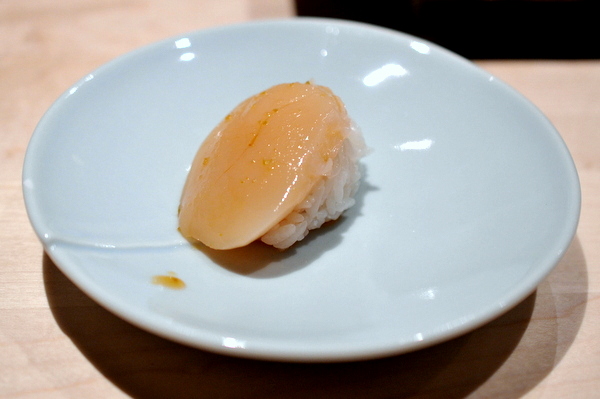 Kampachi - Amberjack
Pretty prototypical Kampachi, the fish has a tight snappiness mingled with just a hint of fat that also imparts a light oiliness on the palate.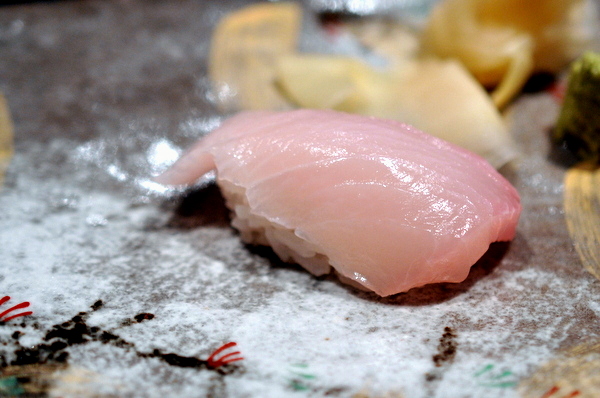 Lobster Hand Roll
Next up was a generous mound of cool lobster served up on a bed of very warm rice wrapped in a crunchy specially procured seaweed. The lobster had a cool creamy sweetness that like the king crab, this was better enjoyed without soy. Unfortunately I had a piece of shell in my lobster roll, but that aside from that misstep this was quite enjoyable; much better than I remember it being at Nozawa.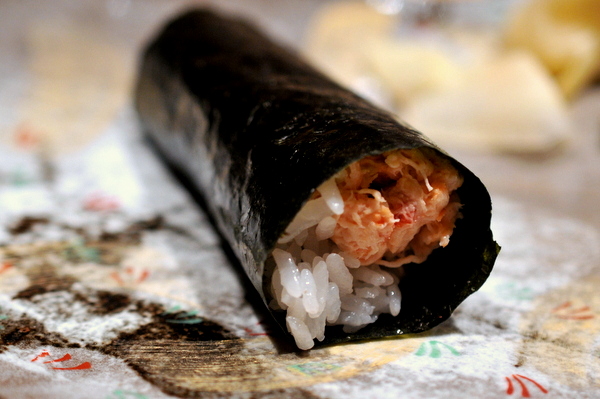 Kumamoto Oysters - Spicy Ponzu
Next up was a trio of Kumamoto oysters, smaller than normal the tiny bivalves had a full firm texture unfortunately their flavor was overpowered by the ponzu. Despite the ponzu's heavy-handed attack, I appreciated the trace of spice that lingered long after each bite.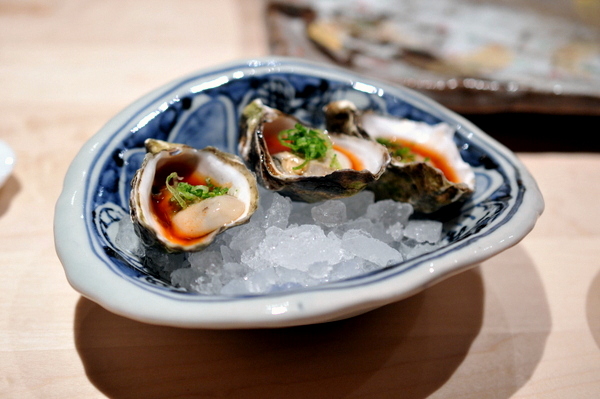 Ankimo - Monkfish Liver with White Miso

Chef Fujita takes an interesting approach with his monkfish liver preparation. Instead of serving slices off the lobe he creates a pate which enhances ankimo's creaminess. Though the white miso works with the liver a lighter touch might have been called for as the sauce was overly sweet at times.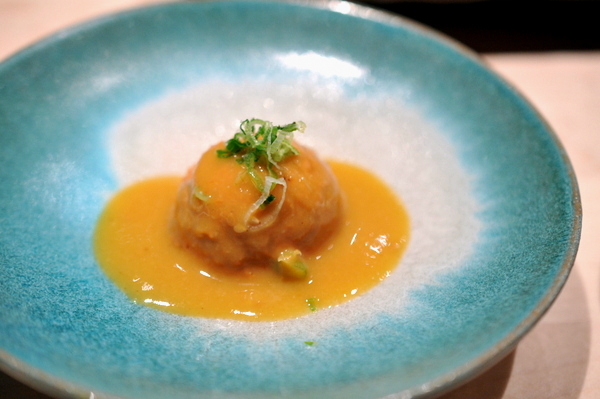 Kinmedai - Golden Eye Snapper
Along with Shima Aji, Kinmedai is one of the newer cuts of fish that I've really come to enjoy, the slick oily fish has more flavor and a more complex and nuanced texture than the more commonly available Red Snapper.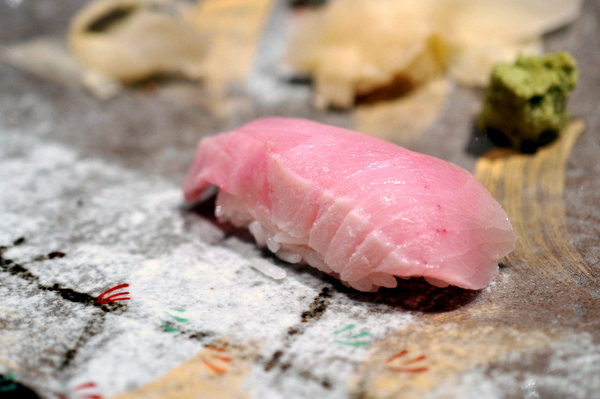 Ikura - Salmon Roe
The ikura came out just the way I liked it, bracingly cool taut little spheres filled with a heady brine of smoke and salt. Be sure to eat this one without soy as the roe has more than enough flavor on its own.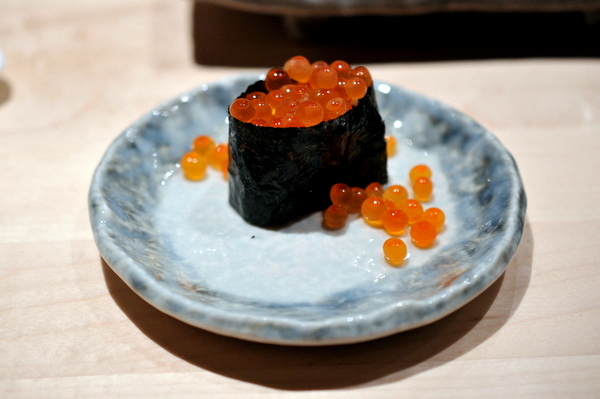 Katsuo - Skipjack Tuna
With a flavor and texture in between akami and toro, katsuo often combines traits from the best. This piece was a bit on the lean side but still possessed an enviably soft texture. The fish came coated with a garlic sauce but regular soy sauce would have been been a more effective compliment.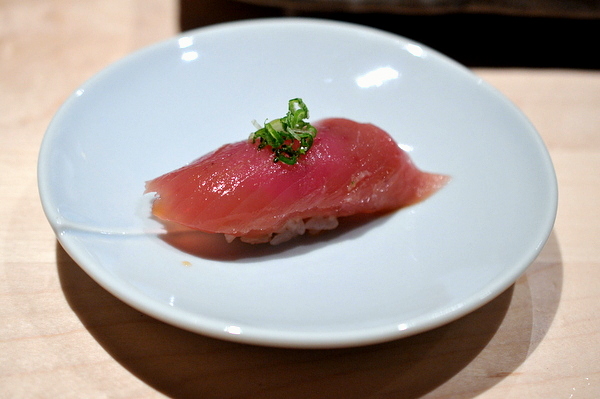 Amaebi - Sweet Shrimp
The Amaebi was everything one would expect from a premium restaurant: crisp firm flesh that exudes a subtle aroma of fresh seawater. Lighter accompaniments of salt and yuzu worked quite well with the shrimp, amplifying its natural charms.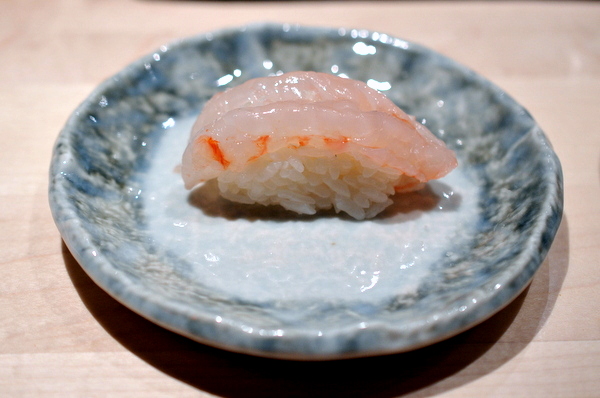 Toro Temaki - Fatty Tuna Hand Roll
A classic toro temaki, the fatty tuna has an almost steely character on its own but a drop of soy transforms the flavor into something buttery and sweet. As with the lobster roll the temperature contrast was especially pronounced on this course.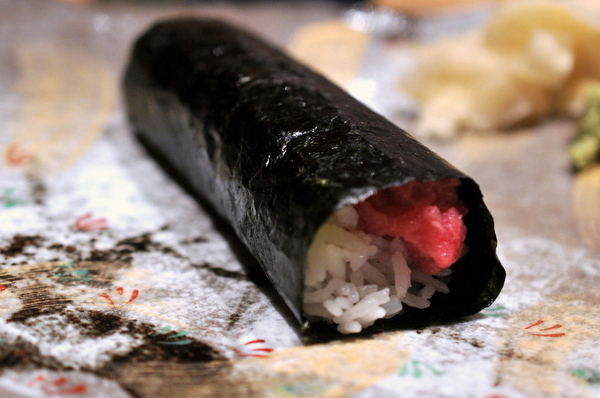 Anago - Sea Eel
More tender than I was expecting for anago, the bite was lean with a fine-grained mealy texture. The accompanying sauce was applied with a light touch, sweet but not overwhelming like the white miso used earlier.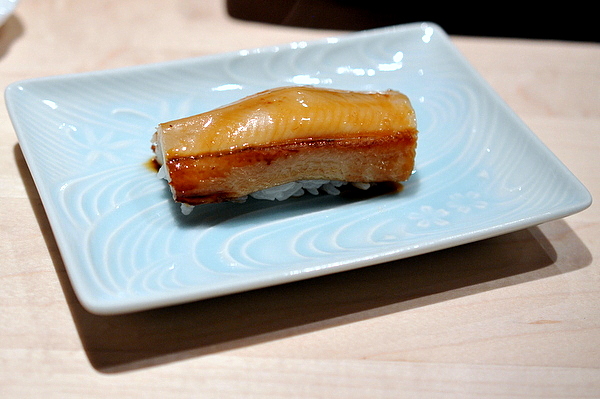 Tamago - Egg with sour plum and shiso
I've never been a huge fan of tamago but I really enjoyed Fujita-san's preparation. The hammy sweetness of the egg is deftly tempered by the acidic bite of the umeboshi paste stuffed into the Tamago's center.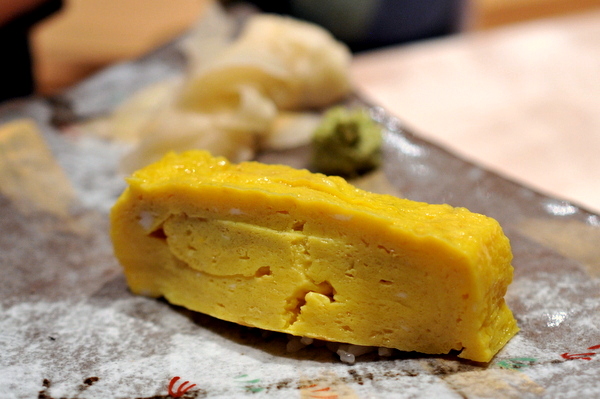 Lychee Ice Cream - with berries
The meal finished with a simple ice cream accented with fresh berries, the multifaceted sweetness was a nice way to cleanse the palate after all that fish.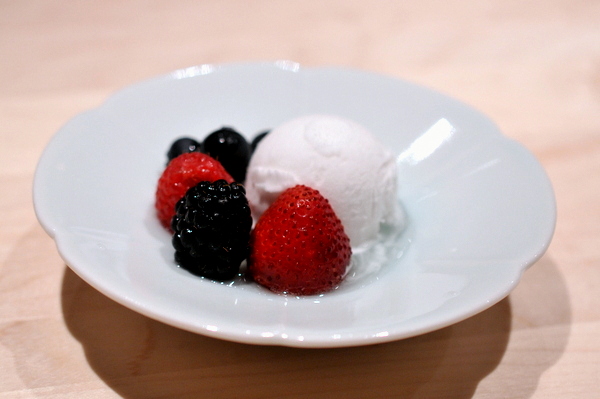 Though I don't normally give much thought to things like the atmosphere I feel compelled to talk about it here. Diners who spend the effort to get seats at the Nozawa Bar are obviously aware of the chef and his fearsome reputation. Despite having no part in the day-to-day operations of Nozawa Bar, the spirit of the Sushi Nazi still casts an intimidating shadow over the restaurant. As a result, the meal started off very stiffly with diners speaking in quick hushed whispers or not at all; afraid that if we made a mistake Nozawa would appear out of thin air to throw us out. To his credit, Chef Fujita did what he could to lighten the mood, reminding us that talking was allowed (though dancing on the table was strictly forbidden) and even joking with us as the night went on.

Simply put Nozawa Bar is all about the fish; and while the selection wasn't as varied as I might have hoped the quality was consistently excellent. Likewise I quite enjoyed the warm rice though I'd heard of people having issues with the rice but aside from one piece I was able to keep everything together without too much trouble. My only complaint in terms of food was the decision to serve most of the fish unseasoned. While some people might appreciate the ability to add soy and wasabi to taste, I would have preferred to trust the chef to do it properly instead of having me fumble through the process.