3455 S. Overland Avenue
Los Angeles, CA 90034
(310) 836-6252

Niki Nakayama has been one of my favorite chefs ever since I first tried her food at a special Kaiseki dinner my friend arranged back in 2010. An LA native, Niki got her start at Takao in Brentwood working under Takao Izumida and Morihiro Onodera (Mori Sushi). After a three year sabbatical across Japan, Niki returned to open Azami, which quickly became famous for its all female roster of sushi chefs and Niki's omakase menu. When we first crossed paths she was running Inaka; known more as a casual lunch spot, Niki was still offering private Kaiseki dinners to those in the know. Then in April 2011, Niki opened a new restaurant n/naka, an intimate space focusing solely on the modern Kaiseki meals that are her true passion.

Saizuke - Fanny Bay Oyster, Maui Onion, Spicy Russet Potato Dashi, Sanbaizu Gelée, Ponzu Reduction
French Sparkling, Domaine Rosier "Cuvée Jean Philippe", Blanquette de Limoux, France 2010
The meal started off with an exquisitely dressed Fanny Bay Oyster; the plump little bivalve comes adorned with a delightfully fresh and sapid fried onion. A sauce of dashi, vinegar, and ponzu coats the tongue with an enchanting smoky umami savor, coupled with the oyster and onion this dish packed an amazing amount of flavor into a single bite.



Zensai - Hokkaido Scallop, Santa Barbara Shrimp, Sweet Shrimp Tomalley, Purple Potatoes, Purple Yams, Carrot Purée
Verdejo, Martinsancho, Rueda, Spain 2010
The Zensai came headlined by a duet of shellfish: the Hokkaido Scallop was prototypically sweet, dense and supple and though the grilled shrimp was a bit tender for my taste, the offal-y twinge of the shrimp liver was a nice touch. Incredibly the most memorable aspect of this dish was the starchy heft of the the humble potatoes and yams. The accompanying wine was a racy Spanish white, a lovely mineral driven acidity is accompanied with soft floral and citrus aromas.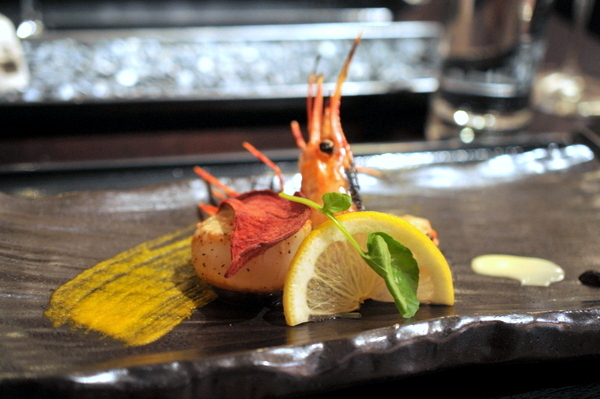 Modern Zakuri - Big Eye Toro Tartare, Uni Butter, Chives, Dashi
Pinot Blanc, Dopff & Irion, Alsace, France 2007
Though not quite as prized as Bluefin tuna, the Mebachi toro had plenty of oily richness deftly tempered by bits of onion interspersed in the tartare. A dollop of uni butter and thickened soy add a concentrated salinity that draws out the inherent flavor of the fish while a small pool of dashi gives a gentler overarching savor. The accompanying pinot blanc was a soft fruit driven affair with just a touch of oxidative funk on the nose.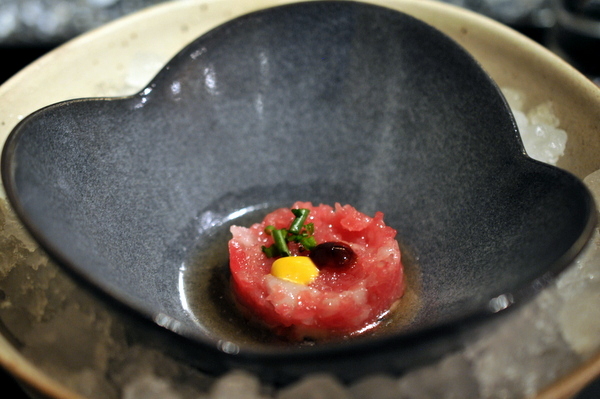 Tsukuri - Mebachi (Big Eye Tuna), Tai (Snapper), Hamachi (Yellowtail), Kumamoto Oyster with Ponzu
Sake Junmai Ginjo, "Shichida" Tenzen Brewery, Saga, Japan
The modern sashimi dispensed with, we were given a selection of more traditional sashimi. Naturally, it goes without saying that all the fish was fresh to a fault though overall I felt this dish lacked the intricacy of the preceding courses. The Mebachi was extremely lean resulting in a slightly steely complexion. The snapper was crisp with a trace of bitterness. The Hamachi was the best of the trio suppl and tender yet with a hint of fatty warmth. The Kumamoto was a compact and dense example with an intrinsic salinity nicely balanced by the tang of the ponzu.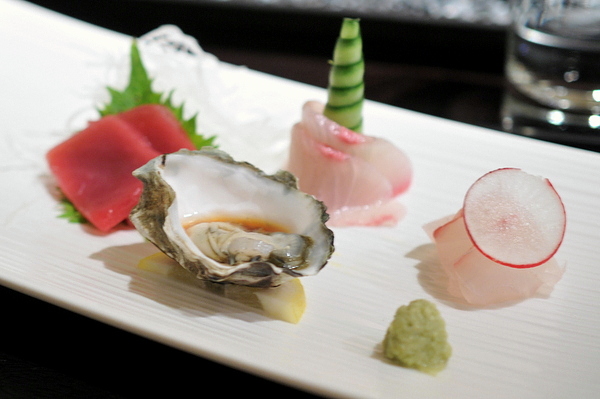 Mushimono - Sea Bass Tororo, Mitsuba, Japanese Yamaimo Mountain Yam, Dashi
Muller Thurgau, Kurtatsch Cortaccia, Alto Adige, Italy 2010
The cube of ivory white fish is perfectly steamed, resulting in a seductively silky texture and densely satisfying heartiness suffused with a light vegetal bitterness from the mitsuba. The dashi was a spot on pick for this dish simultaneously conveying plenty of flavor but with a finesse well suited to the delicacy of the fish. Though I don't typically have a problem with yamaimo and its mucilaginous texture, the feel really contrasted with the polished luxury exuded by the rest of the dish.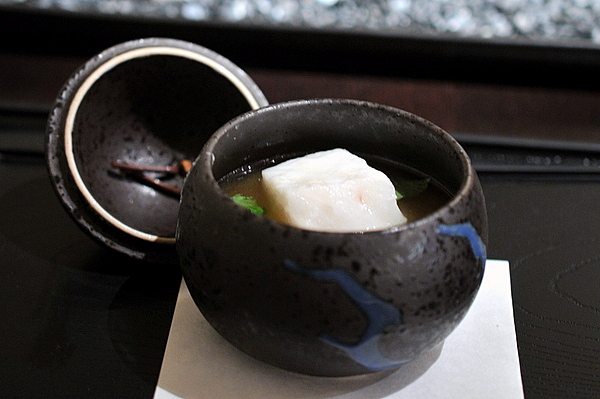 Shiizakana - Spaghettini with Shaved Black Abalone, Pickled Cod Roe, Italian Summer Truffles, Garlic, Ponzu, Daikon Radish Sprouts
Greco di Tufo, Villa Mathilde, Campania, Italy 2010
Where the last dish conveyed a sense of polish and grace, this course was all about bold lusty sensations. The pasta has a taut snappiness and comes smothered in a heady sauce of creamy pickled roe. The robust salinity of the abalone and roe are tempered nicely by the bitter sprouts while the truffle adds an overarching sense of indulgence to the dish.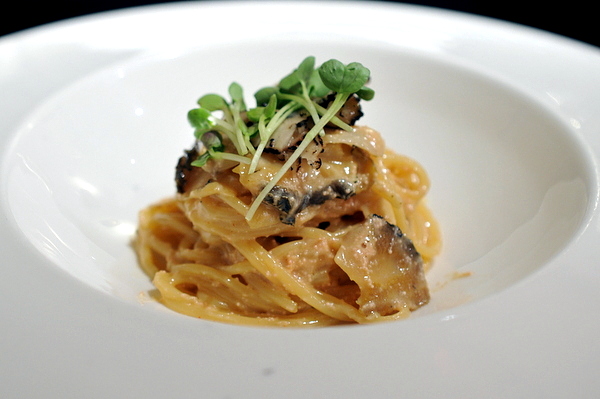 Niku - Japanese Matsuzaka A5 Rib Eye on Ishiyaki Rock
Pinot Noir, Ampelos Cellars "Fiddlestix Vineyard", Santa Rita Hills, CA 2008
The Beef Houbayaki remains a relative fixture on an otherwise seasonally changing menu. Knowing that I'd had the dish before Niki kindly upgraded us to the meat course served with the Modern Kaiseki instead. With minimal seasoning this dish is all about enjoying the majestic savor of the A5 Matsuzaka beef.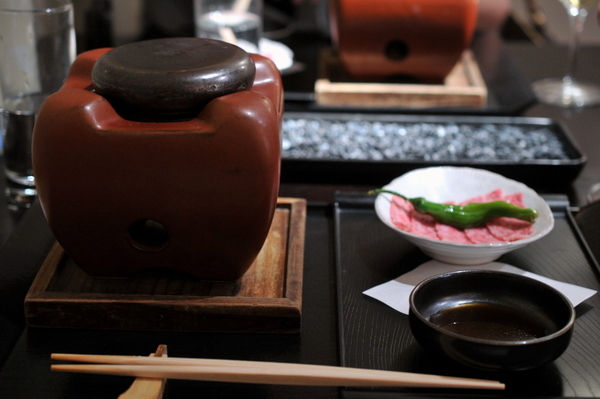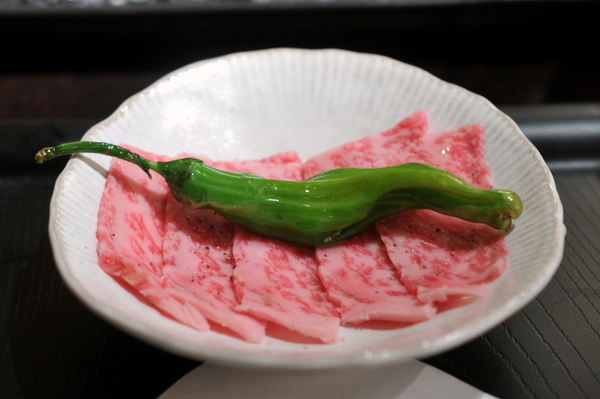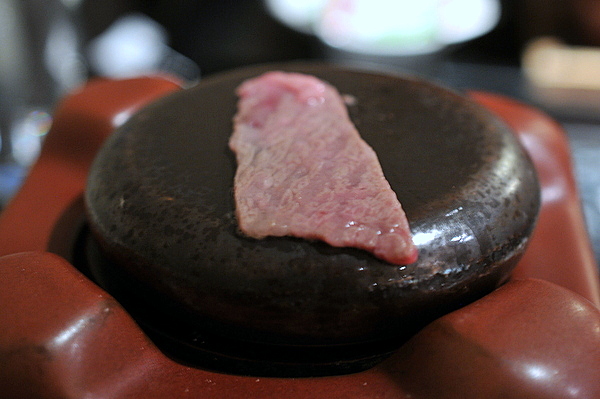 Shokuji - Toro (Fatty Big Eye Tuna)
Sake Junmai Yamahai Karakuchi, Tenzen "Shichida" Brewery, Saga, Japan
Moving onto sushi we started with more of the delightful Big-Eye Tuna Toro. The reddish pink fish is threaded with delicate white veins of fatty goodness while the warm rice added a soothing temperature contrast to the cool tuna jelly.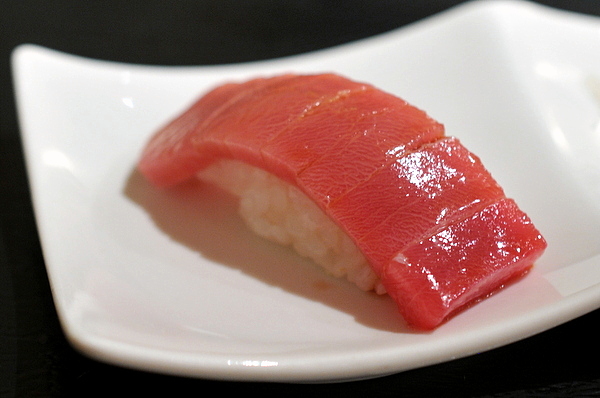 Shokuji - Tai (Snapper)
Sake Junmai Yamahai Karakuchi, Tenzen "Shichida" Brewery, Saga, Japan
The snapper had a classic profile, lean and mild with a light brush of citrus to give it some zing.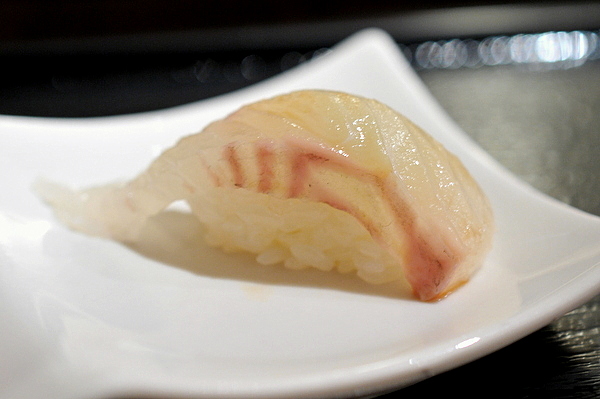 Shokuji - Aji (Spanish Mackerel)
Sake Junmai Yamahai Karakuchi, Tenzen "Shichida" Brewery, Saga, Japan

The mackerel had a silky almost ethereal feel to it while the topping of myoga adds a lovely springtime zest to the natural oiliness of the fish.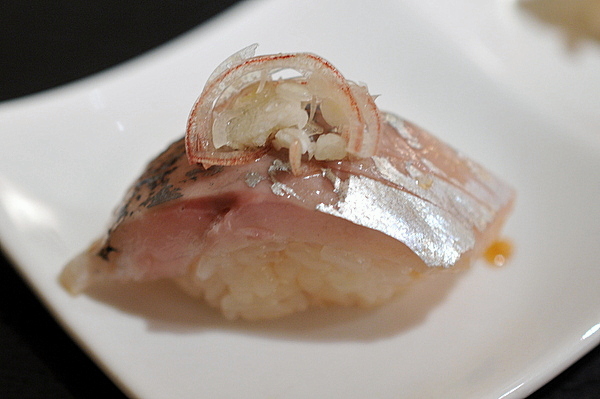 Shokuji - Amaebi (Sweet Shrimp)
Sake Junmai Yamahai Karakuchi, Tenzen "Shichida" Brewery, Saga, Japan
Fresh sweet shrimp is always a treat and this was no exception. Brushed with a light touch of soy, the shrimp is cool crunchy and delicious.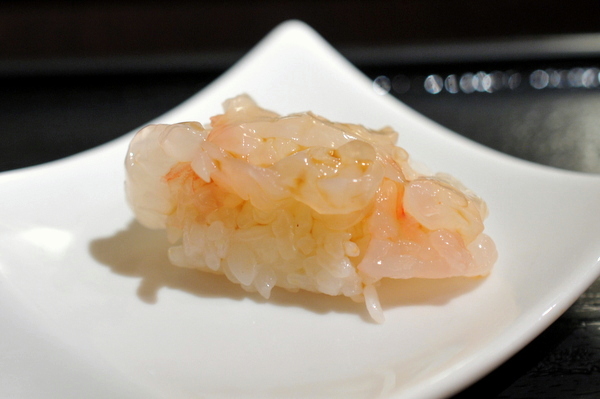 Shokuji - Shima Aji (Striped Jack)
Sake Junmai Yamahai Karakuchi, Tenzen "Shichida" Brewery, Saga, Japan
The Shima Aji was probably my favorite piece of nigiri not only for its supple texture and nuanced flavor but the yuzu kocho made for a nice change from the traditional soy and wasabi combination.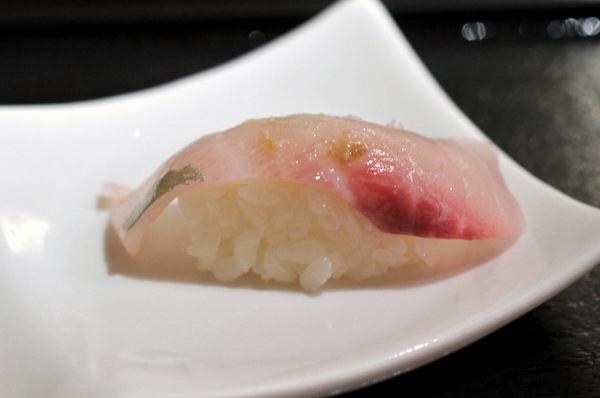 Shokuji - Uni (Sea Urchin)
Sake Junmai Yamahai Karakuchi, Tenzen "Shichida" Brewery, Saga, Japan
Our final savory was a piece of uni that came without the seaweed wrapper. The urchin roe was super creamy and while initially sweet there was a harsh brininess on the finish.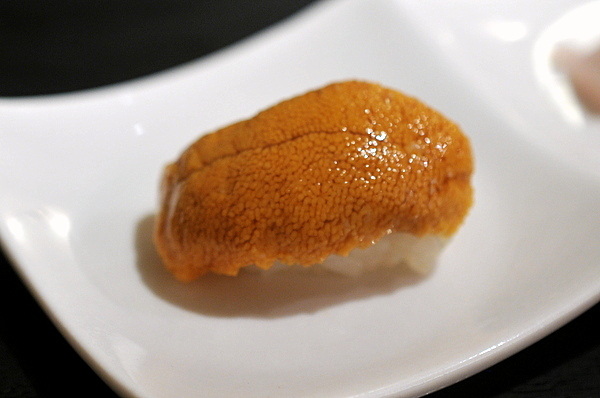 Mizumono - Green Tea Cheesecake, Seasonal Fruit, Black Sesame Créme Brûlée
Muscat de Beaumes de Venise, Delas, Rhône Valley, France 2010
Unlike most Asian restaurants, Niki doesn't skimp on the dessert. A rich fragrant green tea cheesecake was served along side sweet seasonal fruits while the creme brûlée coupled a candied sweetness with the nutty aroma of sesame.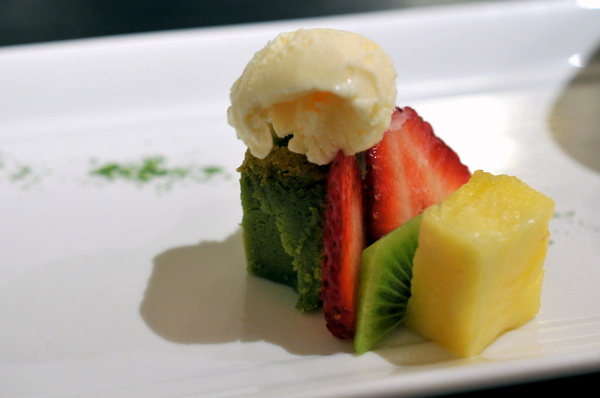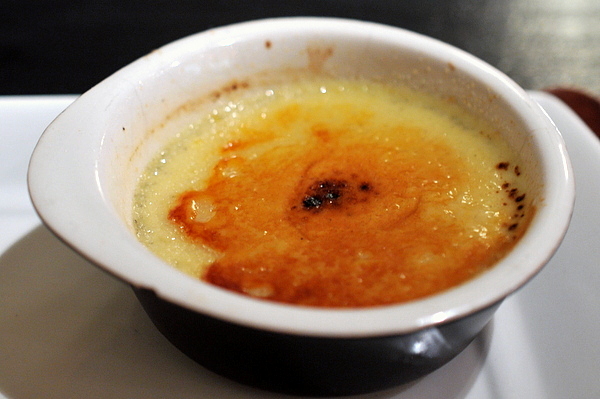 I came to n/naka with high expectations and Niki didn't disappoint; as always her cooking blends the best facets of kaiseki tradition with superlative technique and creativity. With n/naka's ever changing seasonal menu there's always something new to delight diners old and new.