3333 South Bristol Street
Costa Mesa, CA 92626
(714) 352-2525

On a whim, my friend and I decided to try the recently opened Charlie Palmer at Bloomingdales in South Coast Plaza. The restaurant is the California branch of Charlie Palmer's restaurant empire which includes the more well-known Aureole in New York and Las Vegas.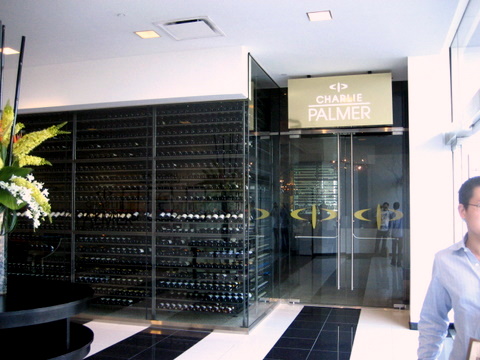 I was pleasantly surprised at the dining room and bar which were more upscale than I expected.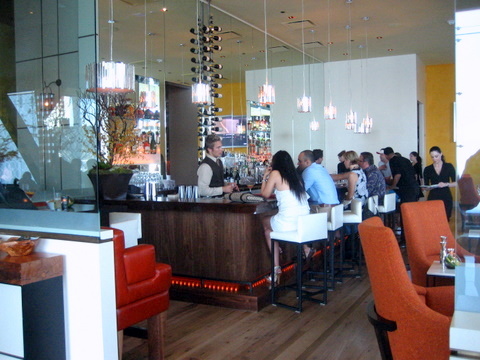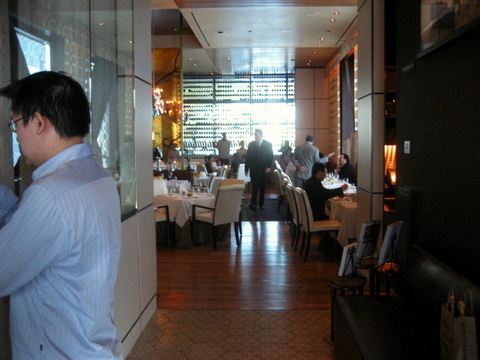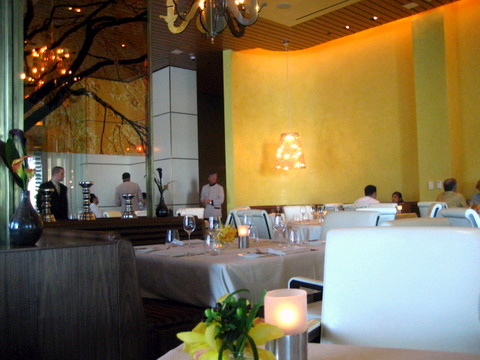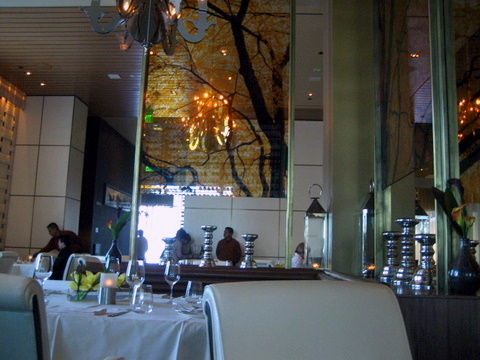 The restaurant also has a wine shop attached and unlike most restaurants charges retail plus a $25 dollar service charge for their wines. By and large the prices are on the upper end of retail but less than most restaurants would charge. We ended up bringing our own wines but we still had cocktails and added a bottle of dessert wine. The wine list at Charlie Palmer is easily the most advanced I have ever seen, basically a tablet PC loaded with the restaurant's wine inventory, definitely a cool talking point. We ended up bringing our own wines but we did order a half bottle of dessert wine to pair with dessert and the foie gras. Service was a bit off we expected the champagne first, but the sommelier opened the cab first. Not a terrible faux pas but we ended up opening the champagne immediately afterwards and at one point each of us had 5 drinks on the table simultaneously.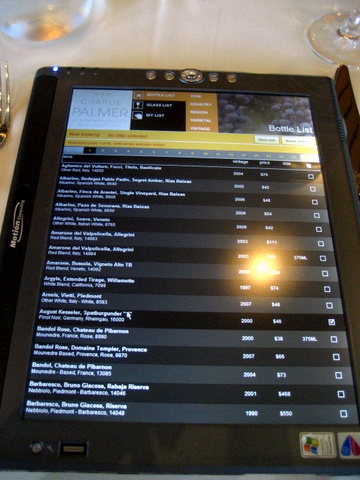 OMG - Mount Gay Rum, Contreau, Pineapple, Lime
I feel emasculated admitting that I ordered this. I couldn't quite define what I was tasting with this drink, all I could really get was a general sweetness.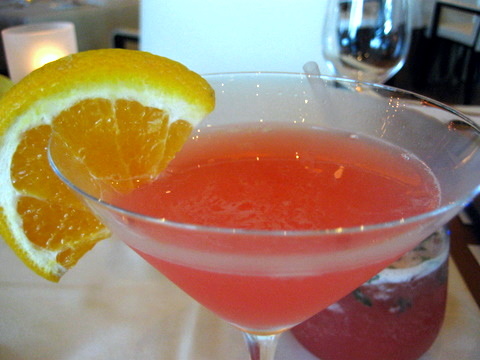 Blood Orange Mojito - Bacardi O, Blood Orange, Lime, Mint, Soda
An interesting mojito with intense blood orange notes on the finish.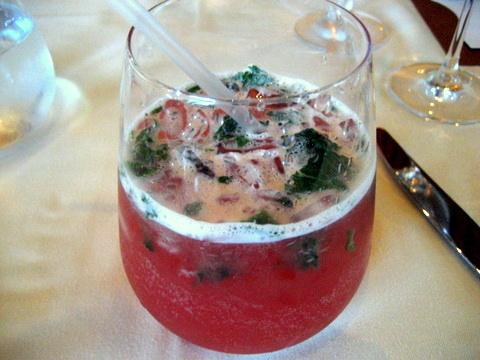 1998 Shafer Cabernet Sauvignon Hillside Select, USA, California, Napa Valley, Stag's Leap District
The wine started out intensely jammy, loads of dark fruit, some tobacco. Exposure to air changed the wine somewhat resulting in more spice and mint.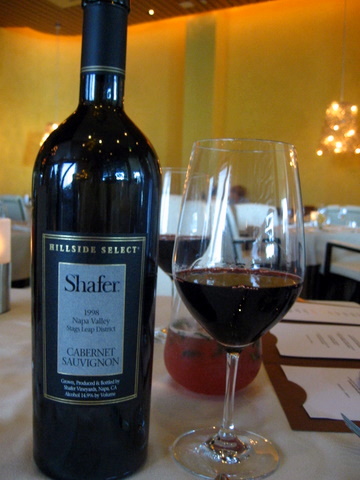 NV Krug Grande Cuvée, France, Champagne
Intense nose and flavor of yeast and toast on opening as well as some citrus. Acidity starts out very strong and subsides somewhat over time.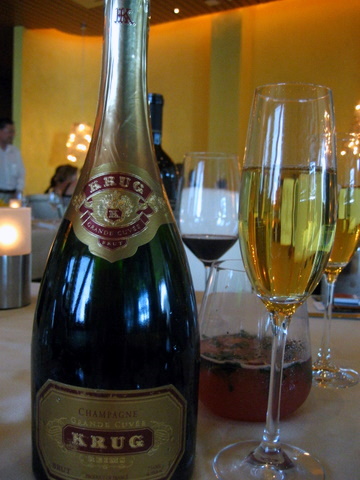 2005 Francis Tannahill 'Passito' Gewurztraminer, USA, Oregon, Foris Vineyard
After consulting with the sommelier my friend and I decided on a late harvest Guwurz from Oregon. The wine was intensely sweet with flavors of candied apricot, raisins, and a hint of spice, unctuous and easy drinking.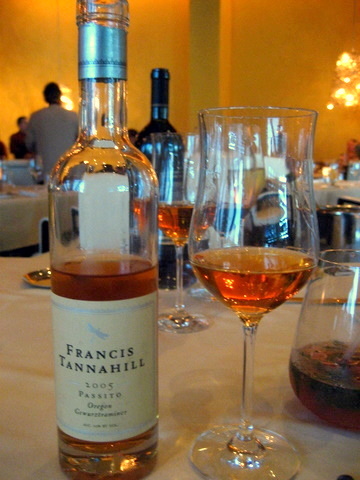 Amuse: Blue Cheese Custard - Pickled Stone Fruit
A fairly tasty amuse, the flavor of blue cheese was quite mild and went very well with the smooth cool custard.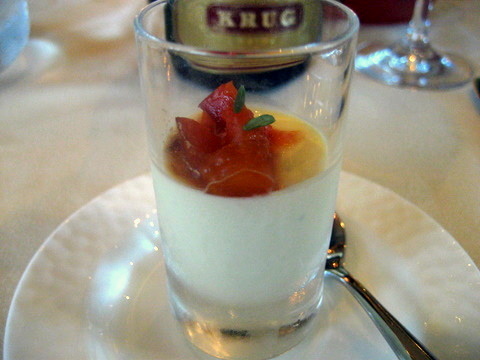 Bread - Olive, Multi-grain, Mini-baguette
Fairly standard breads. I liked the baguette the best.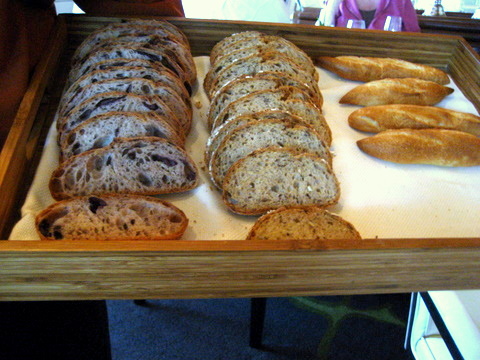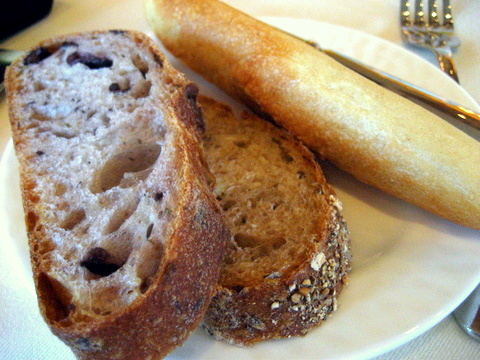 01: Chilled Pacific Oysters - Smoked Cocktail Sauce, Meyer Lemon Mignonette
A fairly classic preparation of oysters. Nothing particularly good or bad about this offering.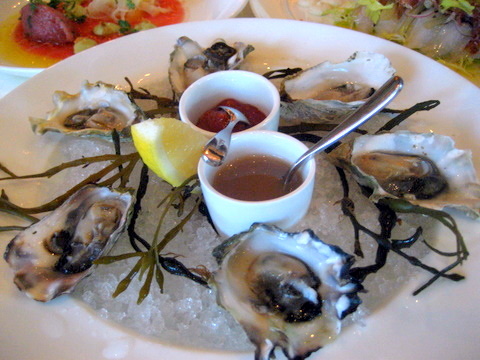 02: Kampachi Sashimi - Pickled Celery Salad, Spicy Capicola, Black Lava Salt
A very disappointing dish, I love the natural taste of Kampachi, but it takes a back seat to the other flavors in this dish. The fish was utterly lost against the bitter green flavor of the celery and masked by the intense saltiness of the capicola and lava salt. To ensure the diner tastes absolutely no yellowtail, the fish came in covered in oil.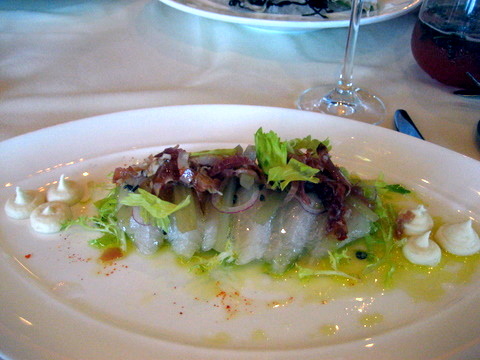 03: Ahi Tuna Carpaccio - Avocado Mousse, Shaved Fennel, Mandarin Oil
Another fish overpowered by the rest of the plate. The carpaccio was covered in a citrus oil that was just a bit too heavy. I do enjoy citrus with fish but the oil coated the fish completely making it impossible to taste anything else. If that wasn't enough this dish was also liberally covered with rock salt making it unbearably salty. Oil and salt, I see a pattern with the raw fish.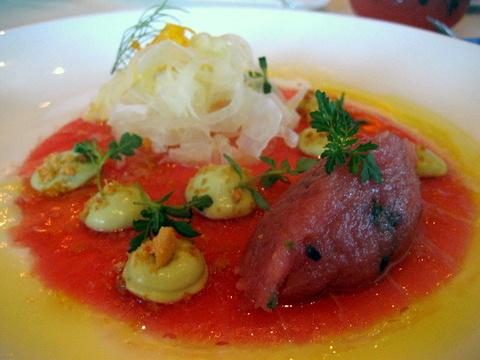 04: Artisan Salumi Santana - Rustic Pate, Dijon, Country Bread
A plate of Italian cold cuts, with summer sausage, prosciutto, pepperoni and plenty of cured meats. After the last two courses I really would have appreciated a break from the onslaught of sodium, but alas it was not to be.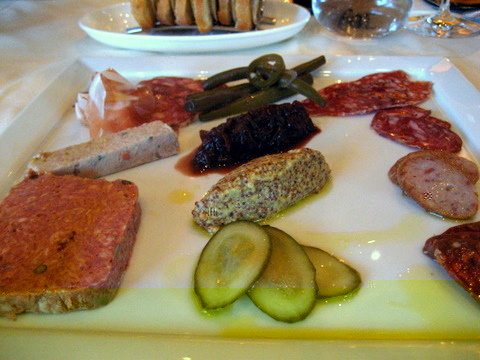 05: Seared Hudson Valley Foie Gras - Apricot Tarte Tatin, Carmelized Apricot
Finally a change, the foie gras was passable, not quite as fatty as I would have liked resulting in a faint livery flavor. The apricots served as a nice bridge with the wine which was loaded with apricot flavor as well.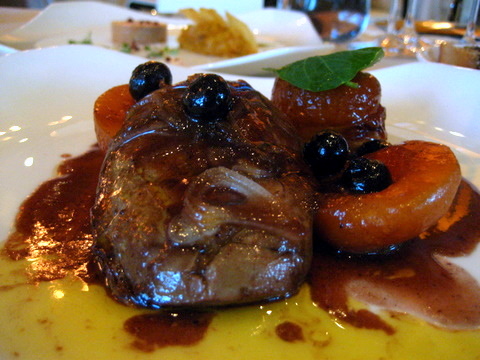 06: Chilled Foie Gras Torchon - Pineapple Chutney, Rum Rasin Brioche
This was probably my favorite course of the night. The foie was seasoned with the right amount of salt and the mildly sweet pineapple added some fruitiness without overpowering the foie gras.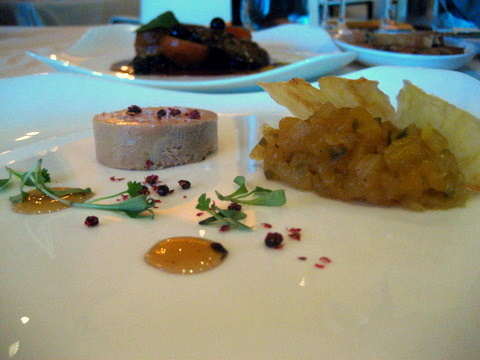 07: Ricotta Tortellini - Sweet Pea Variation, Carrot Emulsion
I didn't care for this dish at all. This reminded me of a similar flavor pairing I had in San Francisco. The use of sweet pea and carrots makes this dish sickly sweet. The ricotta tortellini was grainy and already slightly sweet when combined with the sauce it threatened to bludgeon my tastebuds into oblivion with its sweetness.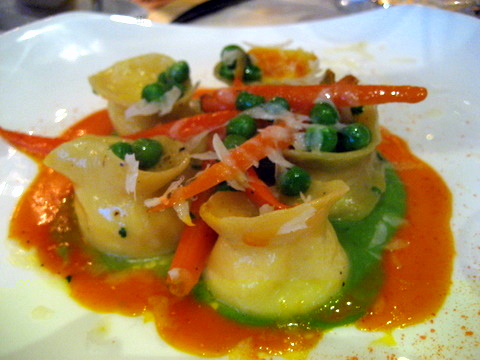 08: Wild Mushrooms - Shallot, Fresh Thyme
A disappointing course, overly salty and heavy not at all pleasing to eat.



09: Farro Risotto - Morels
The farro was a fairly solid dish, texture a bit tough but much more balanced in flavor.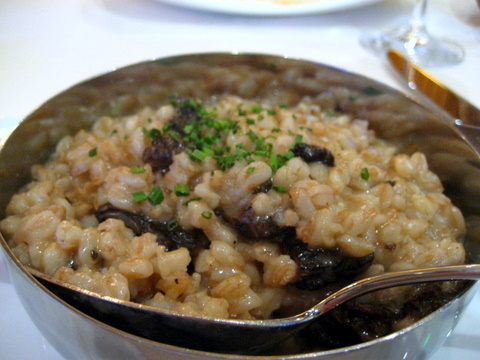 10: Shrimp Kabobs A la Plancha - Tamarind Chive Glaze, Caponata Salad
Another weak course, the shrimp was badly overdone and had a rubbery texture. Not a big fan of the tamarind glaze which gave a heavy sweet and sour flavor or the caponata. No harmony between the flavors at all.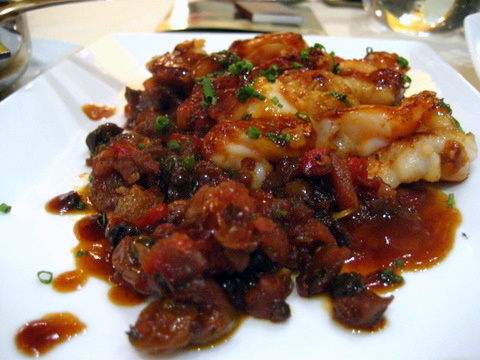 11: Crisp Pork Belly - Melon, Pickled Onion, Aged Sherry Vinegar
After a string of very good pork bellies I suppose I was due for a weaker one. The pork was too lean and a bit overcooked. I realize the idea was to make it crisp, but with the lack of fat the meat just ended up being tough and dry.



12: Cremini Mushrooms - Oxtail Ragout
I know I sound like a broken record, but these mushrooms, like much of the rest of the meal were overly salty and not at all appealing.



13: Mushroom Fried Rice - Coriander
I seriously wonder where these people get their mushrooms. There is none of the rich earthiness that I love in mushrooms. Also the rice was overly dry and hard, even for fried rice.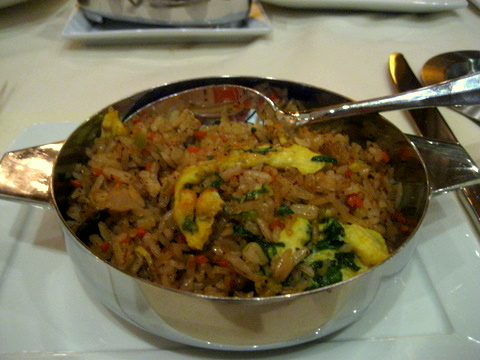 14: Chino Farms Strawberries - Frozen Cream Cheese, Angel Food, Shiso
A bit simple and straightforward but quite good strawberries, cake, cream, and a bit of sweet mintiness all work together very well.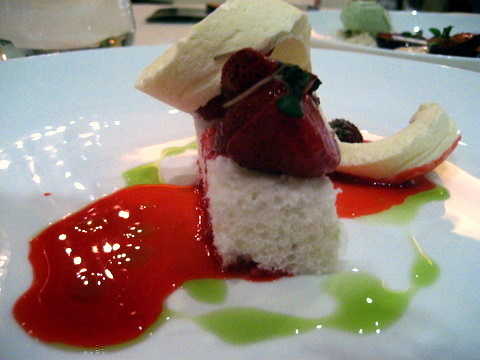 15: Caramelized Milk Panna Cotta - Pickled Stone Fruit, Garden Basil, Crispy Meringue
The panna cotta was a bit sweet, but still very good. The pickled stone fruit was a nice foil to the panna cotta as was the basil ice cream. The basil ice cream was a pure expression of basil, definitely a distinctive experience for me.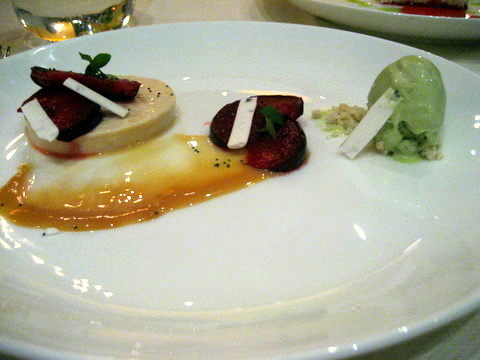 Petit Fours
Tasty petit fours, but nothing impressive or distinctive.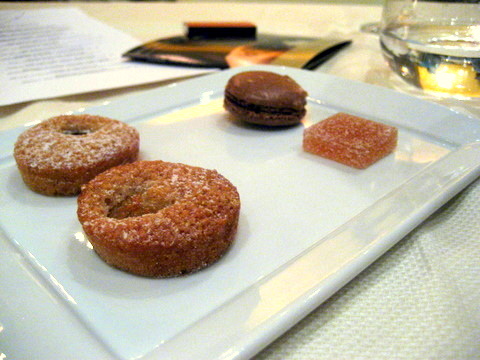 At the end of our meal we took a brief tour of the kitchen. The chef was kind enough to speak with us, apparently he used to work at Aureole in New York (yes I was drunk in the picture).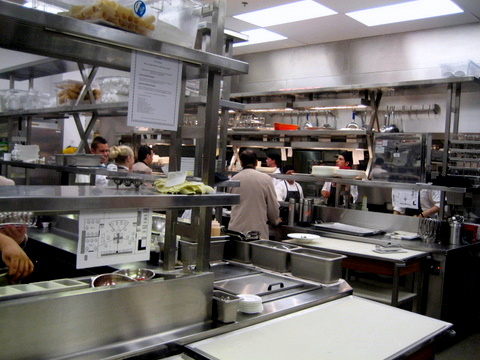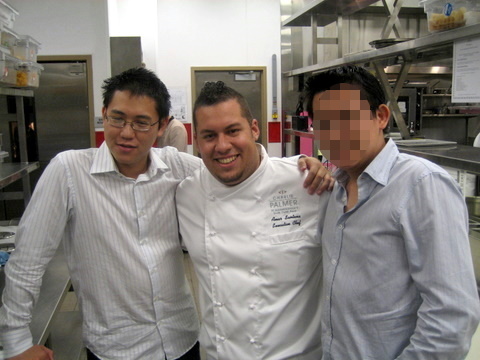 Its been a while since I have had a meal this bad. Maybe it can be chalked up to an off night or simply the restaurant needing more time, but I got the feeling some of it has to do with the dishes themselves. Walking out of the restaurant, I felt this might be a nice place to get a drink after shopping but I wouldn't come here for a serious dining experience.