6416 Irvine Boulevard
Irvine CA 92620
(949) 336-7272

So my friend recently got married. The catch is that his wife is in Korea so he is moving to be with her. For his last meal he wanted a burger, from the Counter. Not a bad choice all things considered, a burger is quintessential American food and The Counter is almost up there with Father's Office in terms of hype. The idea is a good one, serve custom made burgers using a wide variety of upscale (for burgers at least) ingredients.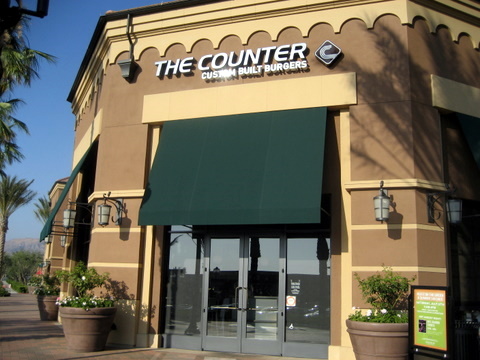 The restaurant offers a surprisingly wide selection of beers and wines. I was surprised to see a selection of Belgian ales including two trappist brews. I tried the Trappistes Rochefort 8 and found it quite good, intense fruit on the nose and very sweet and creamy on the palate with a strong maltiness. The alcohol was a bit much and there was quite a bit of head, partially due to my lazy pouring.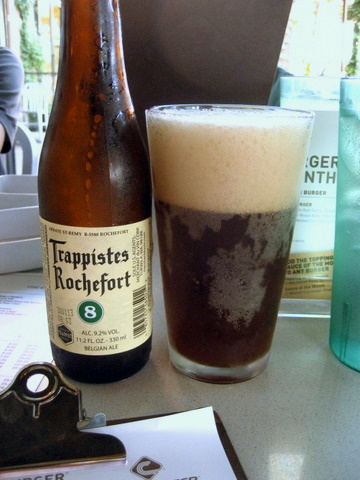 Fries, Sweet Potato Fries, Onion Strings
I actually wanted to try the fries and onion strings, but my friends wanted sweet potato fries. Our waitress mentioned they offer a sampling of all three but don't like to advertise it for some reason. I actually found all three fairly good. The fries were tasty but I am hard pressed to say what was particularly impressive about them. Sweet potato fries have been gaining popularity at trendy pubs and burger joints. I tend to shy away from them because I am not a fan of the sweetness, I enjoyed these because of their milder flavor and actually prefered these to the vaunted fries at Father's Office. The onion strings reminded me of the awesome blossom at Chili's but maybe a touch oilier.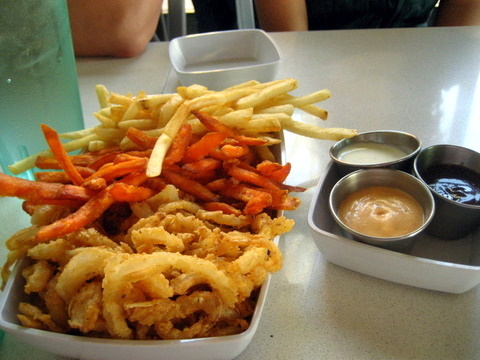 I took pictures of all the burgers but I forgot to record the ingredients so I am going by what I can see in the picture. I also didn't try any of these but everybody seemed to enjoy their food

1/3lb. Beef Burger #1 - Caramelized Onions, Grilled Pineapple, Sprouts, Danish Blue Cheese, Guacamole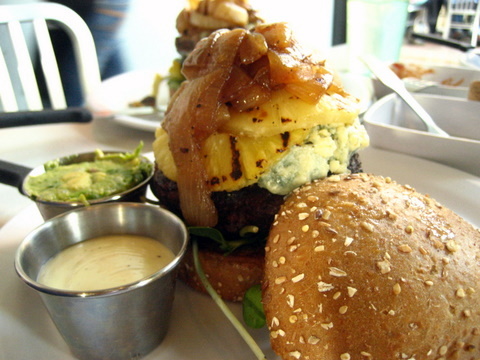 1/3lb. Beef Burger #2 - Caramelized Onions, Sautéed Mushrooms, Danish Blue Cheese, Roasted Corn and Black Bean Salsa, Jalapenos, Mixed Baby Greens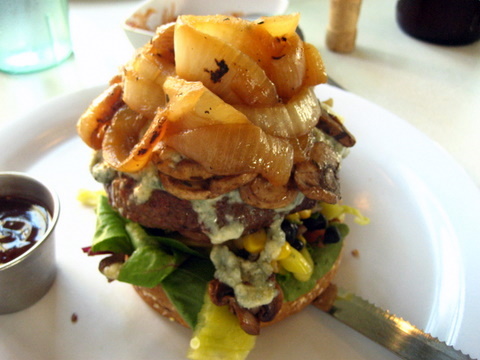 1/3lb. Turkey Burger - Grilled Pineapple, Herb Goat Cheese Spread, Dill Pickle Chips, Dried Cranberries, Lettuce Blend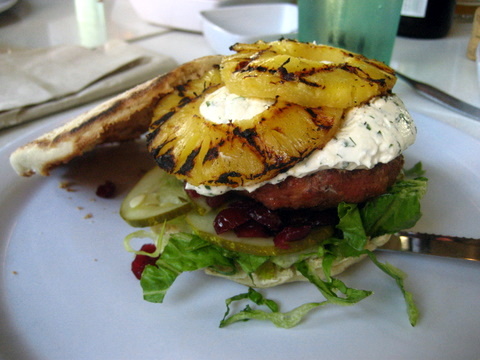 1/3lb. Veggie Burger - Sharp Provelone, Roasted Corn and Black Bean Salsa, Dried Cranberries, Tomatoes, Mixed Baby Greens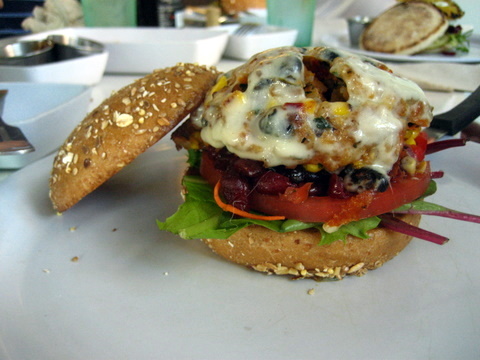 2/3lb. Beef Burger - Scallions, Grilled Pineapple, Gruyére, Hard Boiled Eggs, Mixed Baby Greens, Guacamole, Caramelized Onion Marmalade
I came here with low expectations after a couple weak reviews from trusted sources. Overall the burger is nothing special, the beef has a nice charred flavor but everything else was a bit bland. The scallions didn't have much flavor despite being generously heaped on top of the burger. Likewise the guacamole was utterly bland, no richness or butteriness at all. I don't even know what to say about the onion marmalade, I expected something resembling caramelized onions, instead I got something slightly sweet and watery. The burgers that came were all far too large to put together and eat so we had to use a fork and knife so I felt like I wasn't tasting a complete burger at any one time. All things considered, the burger didn't even meet my lowered expectations.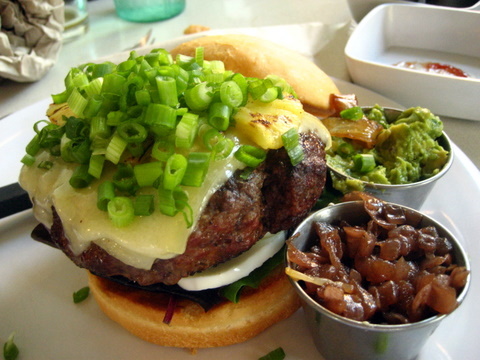 The Counter is a great idea in concept, but the execution leaves something to be desired. I just don't know how combining so many ingredients can lead to such a tasteless burger. In the contest between The Counter and Father's Office... wait what am I saying? There is no contest, Father's Office by a landslide.