1600 S Disneyland Dr
Anaheim, CA 92802
(714) 956-6755

This is my second trip to Napa Rose in as many months. I had just completed my first quarter of my MBA program (out of nine!) and was about to join a new group. I figured a final dinner with my soon-to-be former groupmates would be a fitting way to end the quarter. I made a last minute reservation for the day after our last final and got a late table, sadly one of my teammates could not join us.

We started off the meal with a round of Red Trolley Beer which I discovered I have quite a fondness for. We decided on a bottle of wine to share between the table. My classmates were aware I bought a bottle of $5000 wine my last visit and joked not to select something so expensive. Our server overheard the banter and saw fit to mention a pair of "tourists" recently bought a bottle of $5000 dollar wine. I corrected her, much to my amusement, and let her know that I purchased the wine and I am very much a local. For our dinner, I selected a bottle of Goldeneye Pinot Noir by Duckhorn Vineyards which garnered universal approval from the table. The wine had a vibrant and heady aroma of cherry, earth, and cedar. The mouthfeel was silky-smooth with flavors ranging from strawberry, mushrooms, and pepper.

Bread - Ciabatta, French, Crispy Flatbread, and Olive
The bread was the same as during my last trip a couple weeks ago. I didn't try much but I imagine it was as good as last time.

Not seeing a main course that really caught my eye I decided to order a variety of appetizers to sample the chefs cooking. Most of my classmates selected an entreé with one other choosing an appetizer.

Sauteed Hand Harvested Scallops - with a Sauce of Lemon and Lobster accented with Tahitian Vanilla
A very good presentation of scallops although not quite up to my previous experience at Napa. The sauce was very nice with a mix of sweetness from the corn to balance the acidity of the lemon and the rich flavor of shellfish to mellow everything out.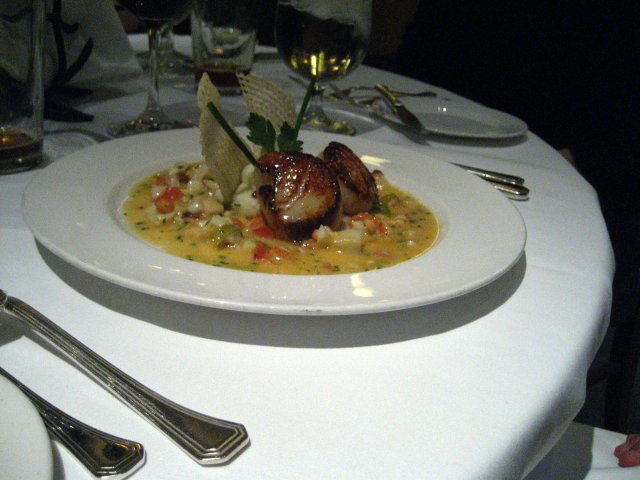 "Kona Kampachi" Carpaccio and Ahi Tartare - Avacado Mousseline and Ruby Red Grapefruit Vinaigrette
A fairly disappointing course especially given the freshness of the fish. Each piece of kampachi came topped with ahi tartare slathered in some sort of oil. I find tartare in oil to be especially distasteful, the oil masks the natural texture of the fish and robs the taster of the original flavor of the meat. The combination of all the flavors ended up bitter and earthy, not quite the way I enjoy my fish.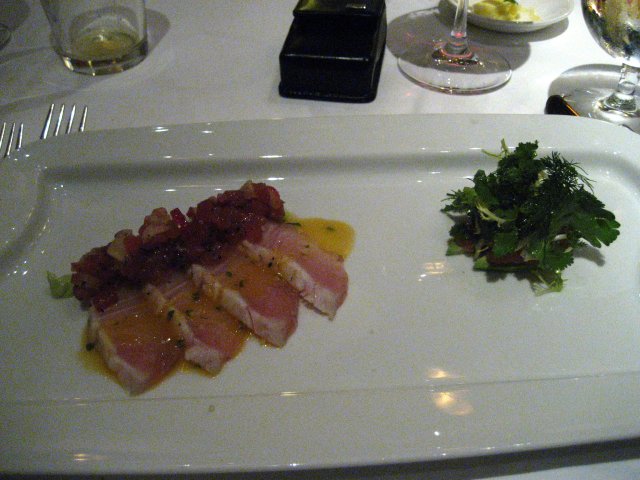 Porabella Mushroom Bisque "Cappuccino" - with Brandied Thyme Froth
I ordered this on the recommendation of one of my teammates. Being an employee of Disney, he has dined at Napa Rose on occasion and mentioned this soup is a permanent fixture on the menu. I found it quite good the flavor of the thyme paired well with the mushroom soup. I would have liked the soup a touch thicker, but this was perfectly acceptable.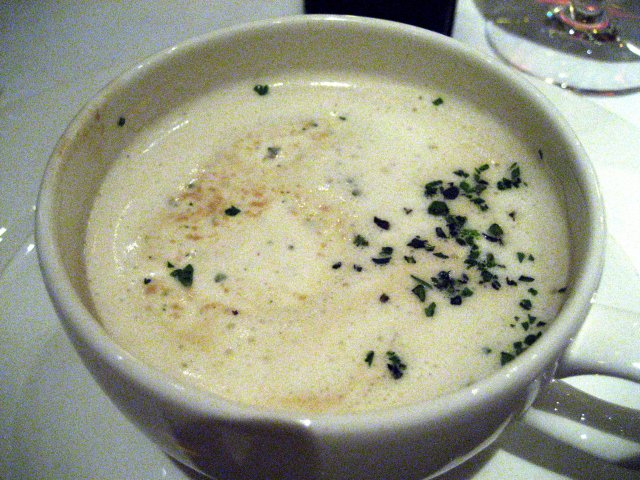 Wine Country Duck Confit - Baby Root Vegetable Fricassee and Porcini Mushroom Foam
For some reason duck confit always appeals to me more in my mind than in reality. The idea of a duck leg cooked in its own fat sounds delicious but the outcome is always a bit drier than I expect. This was a fairly standard confit, dry but very flavorful with a nicely crisped skin.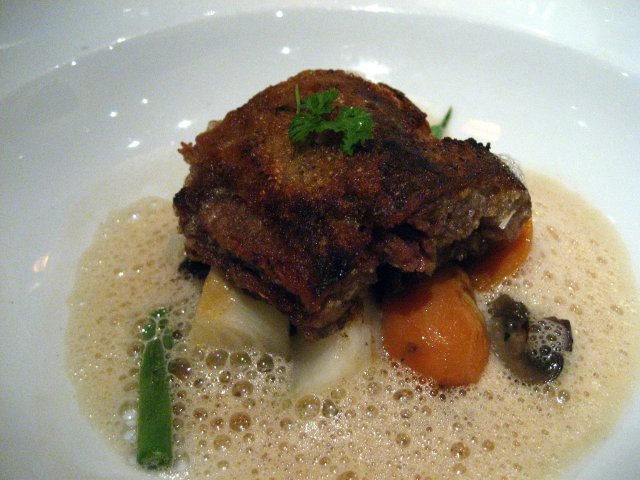 Lobster "Pierogis" - in a light Sour Cream and Dill Broth
My last course was also a mild disappointment. I felt the broth was too thin and mild and the dough too thick and dense. In the end the course tasted more like sourdough bread than anything else. A shame since lobster and dill sound like a wonderful combination.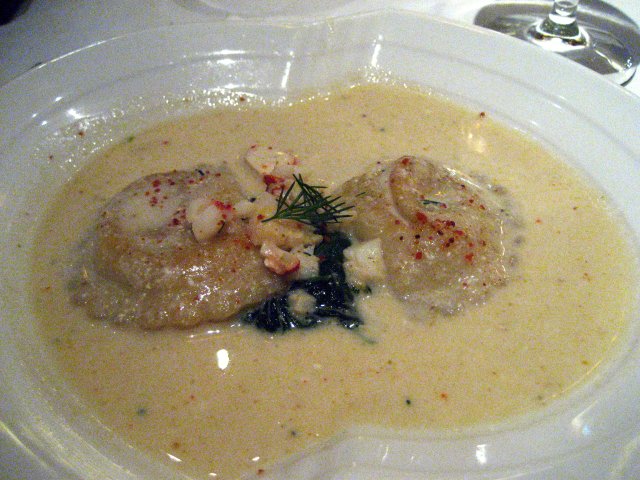 Vegetarian Entree - Winter Vegetables and Mushrooms
One of my classmates is a vegetarian. While there are no specifically vegetarian or vegan items in the menu the staff is happy to whip up something tailored to a person's tastes. I did not try this dish but my classmate enjoyed it.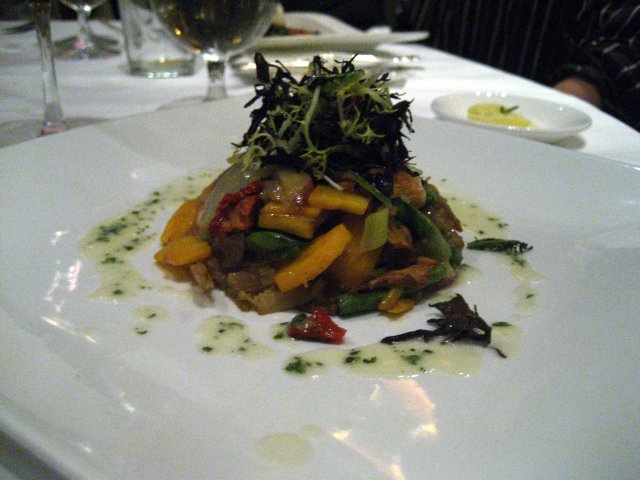 Porcini Mushroom Crusted Monkfish - Roasted Fennel, Braised Veal, Chard and Fingerling Potatoes
A fairly nice piece of fish. The meat was moderately dense yet flaked easily although, the sauce and accompaniments were a touch too sweet for my tastes.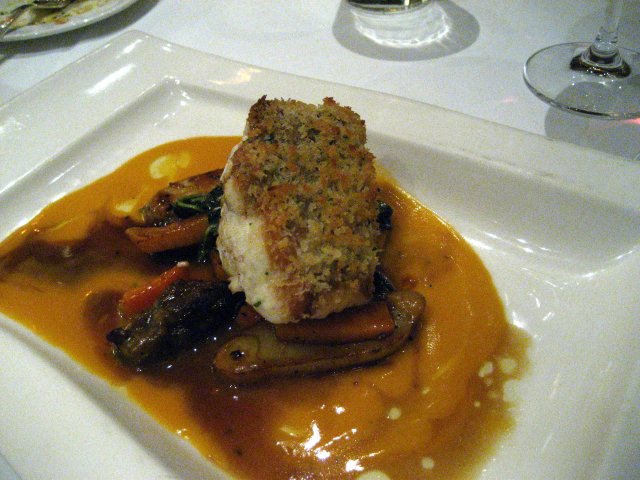 Grilled Colorado Lamb "Double Chop" - Winter Squash Raviolis, Wild Mushrooms, Braised Lamb Shoulder and Petit Syrah Jus
Easily my favorite entreé of the night. A tender and flavorful lamb chop with a hint of game and paired with a rich earthy medley of vegetables and mushrooms. The sauce added the perfect amount of complexity and the wine felt as if it were made for this course.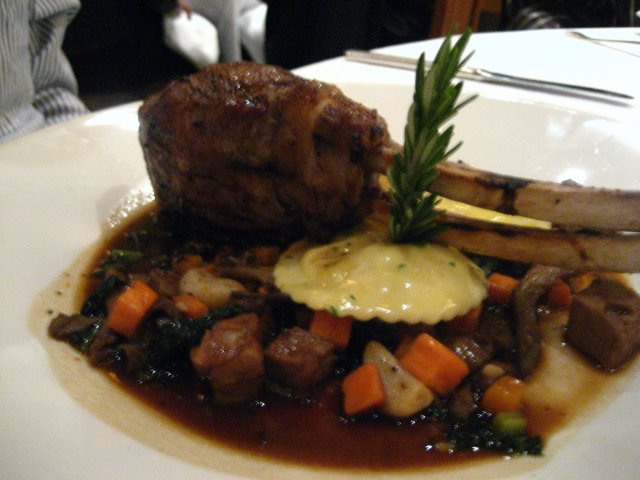 Slowly Braised Angus Beef Short Rib - Smoked Tomato, Blue Cheese Polenta and Zinfandel Essence
Having recently discussed the merits of braising short ribs ad nauseam with a coworker I felt eminately prepared to evaluate this course. The beef was perfect tender fibers held together by glutinous melted fat and tendon. So soft you could eat it without a knife. My only complaint was the polenta was a touch too salty for my tastes.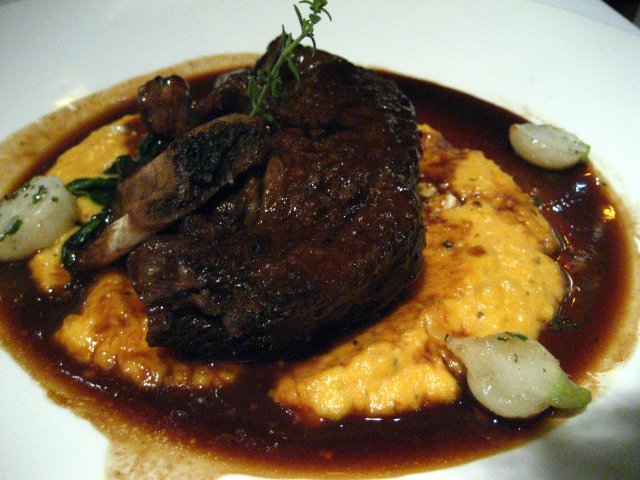 Dessert

Coffee Mousse Cake - with Toffee, Vanilla Tuile and Bailey's Pot de Creme
An enjoyable dessert with a wide mix of textures if a homogeneous in terms of flavor. The coffee mousse cake was soft and creamy and came topped with crunchy bits of toffee. Beside it was a tuille filled with vanilla or some sort of heavy cream. Lastly a thick creamy pot de creme flavored with Baileys Irish Cream.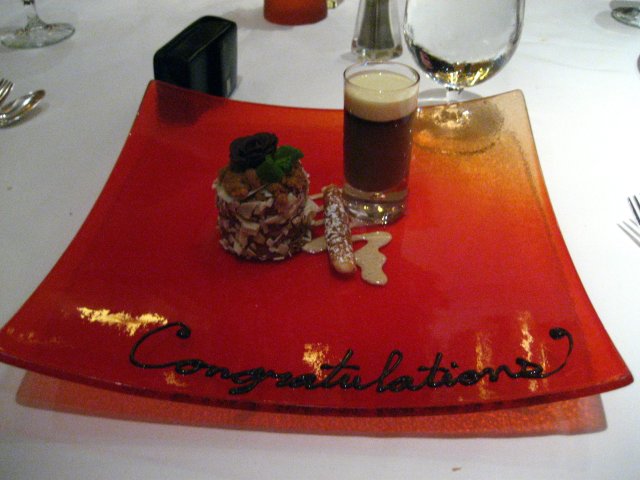 While not as opulent as my previous excursion to this restaurant, this was a fitting and welcome end to the first quarter of school. I am happy to report my group agreed with my assessment and appreciated the chance to unwind and relax with one another.