1600 S Disneyland Dr
Anaheim, CA 92802
(714) 956-6755

I am happy to report a new record for food expense. In fact the tax alone is more than all but a handful of my previous bills. What could have such an astronomical cost that it renders French Laundry and even Urasawa "cheap" in comparison? Read on and find out.

My first trip to Napa Rose was one of my earliest forays into fine dining and one of my first meals with wine yet it stands out as one of my worst dining memories. I remember being thoroughly unimpressed with the food. I wonder how much of that was due to my inexperience at the time. I had just graduated college and was mere months into my first full time job. I ordered the seven sparkling sins and thought they were a colossal disappointment. Perhaps something to do with a mild case of sticker shock.

With a few more years and many more expensive meals down my very ample belt, I thought to give Napa Rose another go. I have to say this experience was much better. My friend and I came here almost on a whim. We were planing to go to Grace in Los Angeles but I was too lazy to drive up there. Instead we settled on Napa for no reason other than I hadn't been in a long time (he went recently for a final dinner with his classmates).

Our waiter was named Mickey, highly appropriate at a Disney-owned restaurant. For our pre-dinner drinks my friend had his customary mojito although they added a dark color liquid on top(coke?). I tried something new a cucumber martini inspired by the cucumber water at Gustaf Anders. The martini consisted of vodka, with cucumber, dill, and crushed ice, just as refreshing as the water was.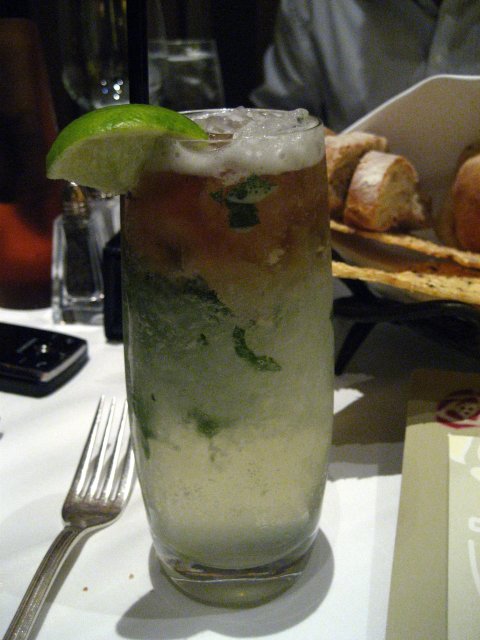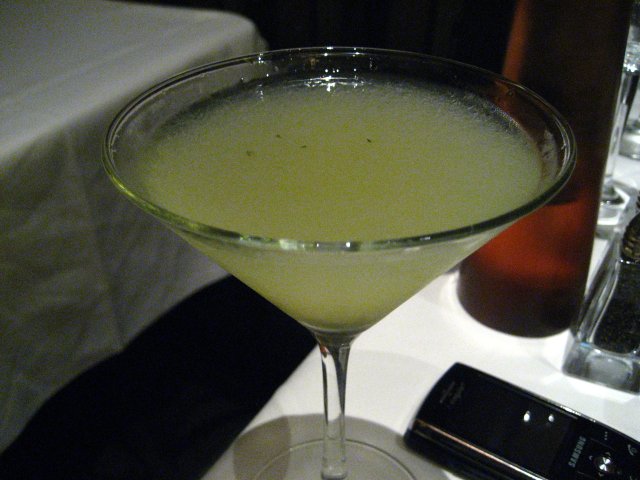 Bread - Ciabatta, French, Crispy Flatbread, and Olive
I am definitely a man of simple tastes when it comes to bread. Just give me something warm, with a hard crackly crust but a soft yielding center and let me slather it with soft butter. The French bread matched that description exactly. The Ciabatta and olive were both noteworthy as well, but my favorite was the crispy flatbread. Possessing a lightly cheesy flavor it can be eaten plain or paired with a dish equally well.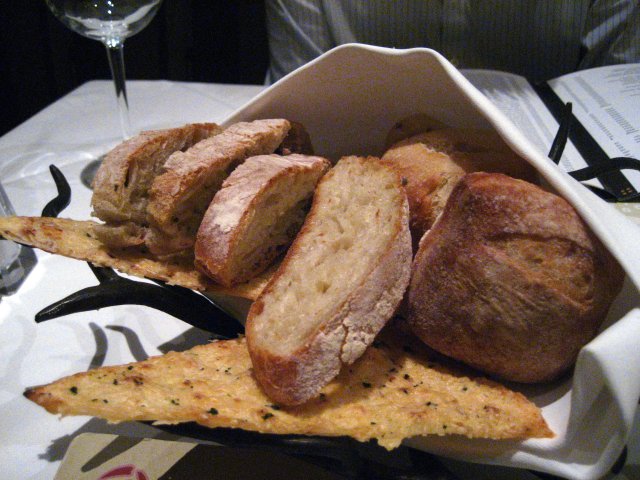 Amuse: Savory and Sweet - Parsnip Apple Puree with Sage and Ham
The server who brought these to the table described them as akin to salty creme bruleé. Not exactly a ringing endorsement in my book. Fortunately the dish turned out a bit better than I imagined. The sweetness of the apple was imbued throughout the dish but definitely in a subdued form with the parsnip sage and ham coming out stronger.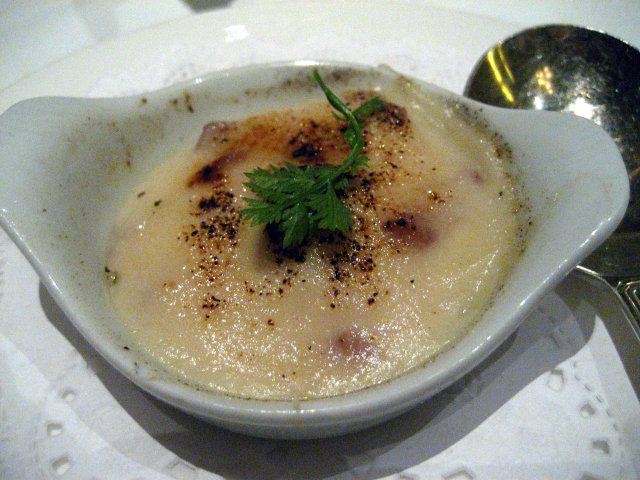 Oak Roasted Scallops - Wild Arugula Salad with Creamy Tangerine Vinaigrette
Nora, Albarino, Rias Baixas DO, Spain 2005
Our first true course was probably my favorite throughout the night a balanced pairing of varied flavors and textures with no one aspect vying for undue attention. Fresh meaty scallops roasted perfectly with scorching on the outside but still rare on the inside. The sweetness of the scallops contrasted sharply yet in an organized and integrated fashion with the bitterness of the arugula and the peppery acidity of the vinaigrette. The resistance of the scallops was offset by the smooth creaminess of the avocado and the light crispness of the arugula. To top it off the wine paired with this was a brilliant example of an albarino, cool and clean with strong notes of fruit from nose to finish.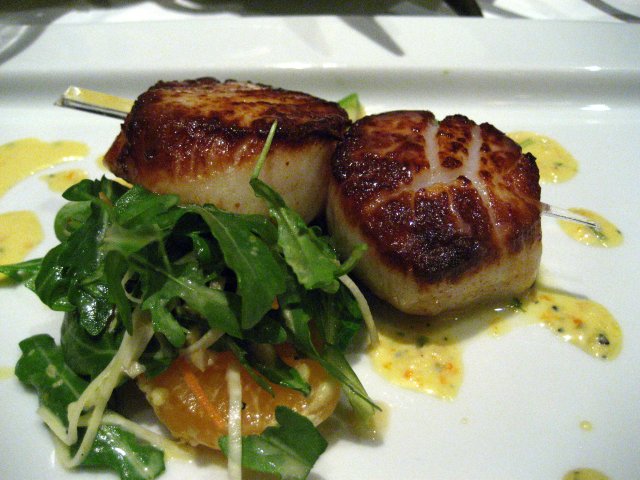 Braised Pheasant Crêpes - Sautéed Sonoma Mushrooms and Sage Jus
Tantara, Pinot Noir, Santa Maria Valley 2005
Our second course was a braised pheasant crepe. The pheasant had a smoky rich flavor with a hint of gaminess that seemed somehow appropriate. The texture was soft but not fatty as duck or squab. The crepes were perfectly done and the mushrooms and sage added the right amount of earthiness. The wine paired with this was a pinot (a varietal fast becoming a favorite of mine) that had a bit more weight than I am used to, but went well with the crepes and the next two courses.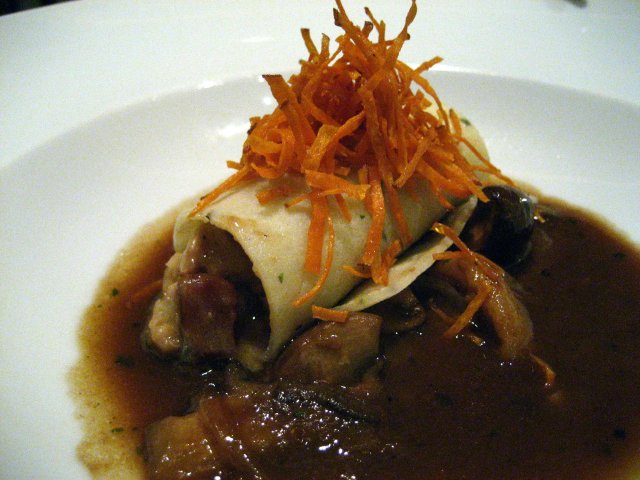 Supplement: A Simple Risotto - Golden Chanterelles, Parmigiano-Reggiano and Shaved Truffles
The risotto was a bit of a let down after two very strong courses. I found the rice a bit too hard and not as slick as I would have liked. Having sought out fine risotto time and again with my girlfriend my standards might be a bit high, but I tend to judge risotto primarily on the texture. I mean considering the accompanying ingredients how could the flavor be bad?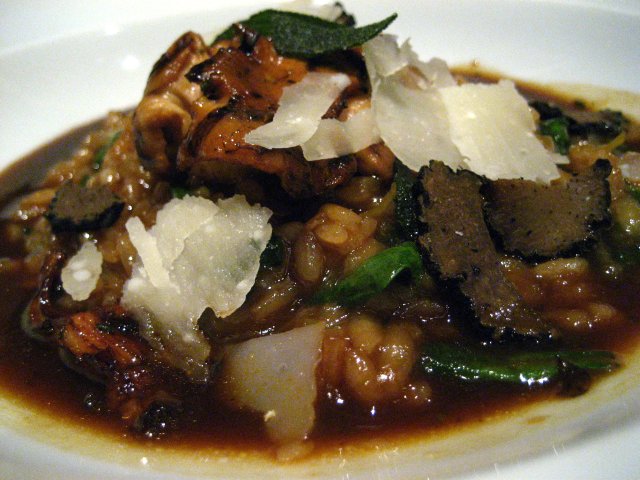 Supplement: Grilled House Made Sonoma Rabbit Bratwurst - Roasted Fingerling Potatoes, Fennel and Autumn Squash
The second supplemental course was a unique preparation of rabbit. The bratwurst tasted well like bratwurst. The sides however were a bit disappointing. I felt the soft grainy texture and cloying sweetness of the squash an unpleasant contrast to the lively spicy flavor of the meat.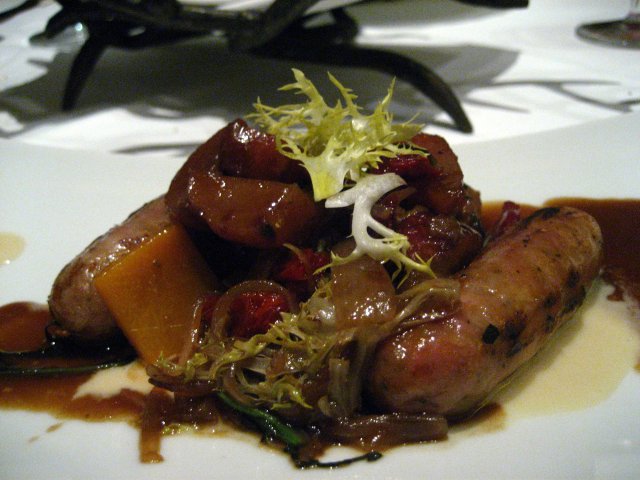 Grilled Montana Buffalo - Pumpkin Ravioli, Braised Greens and Castillo Pumpkin Coulis
Rudd, "Crossroads" Cabernet Sauvignon, Oakville 2004
When we first ordered the tasting menu our waiter came by and told us they were out of buffalo and they were replacing the dish with filet mignon. After consulting with the chef he returned and whispered conspiratorially we have two more pieces would you like them. We happily agreed, I mean how often does one get to eat buffalo. The buffalo steaks we got were huge, easily full 12 ounce portions. Never having been fond of pumpkin I found the sauce and raviolis overly sweet although I thought the buffalo was flavorful and well prepared. They must have had a busy night because they also ran out of the Rudd that was paired with the wine. Our waiter decided to pour us glasses of 2005 Caymus in place of the Rudd. I found the Rudd very fruit forward with intense flavors, a very typical California Cab. The Caymus was much subtler, with more complex flavors and requiring more effort to decipher, more of an old world type wine.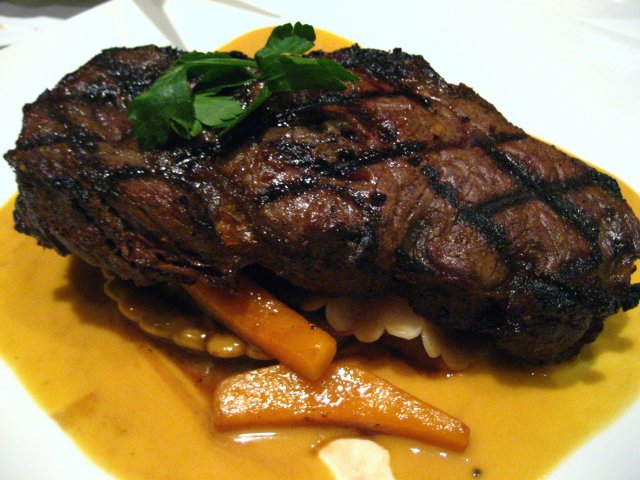 Wine Country Apple Galette - Walnut Ice Cream and "Cider Caramel"
Levendi, Late Harvest Chardonnay, Napa Valley 2005
Our dessert was an apple tart with perfectly done dough, the apples were well cooked, a bit on the rare side for a tart but I liked it. The walnut ice cream wasn't too intense adding a simple sweetness with the merest suggestion of nuts, reminding me very much of a sesame ice cream I once had. The wine wasn't too intensely sweet and paired very well with the dessert, remaining drinkable even after eating the dessert.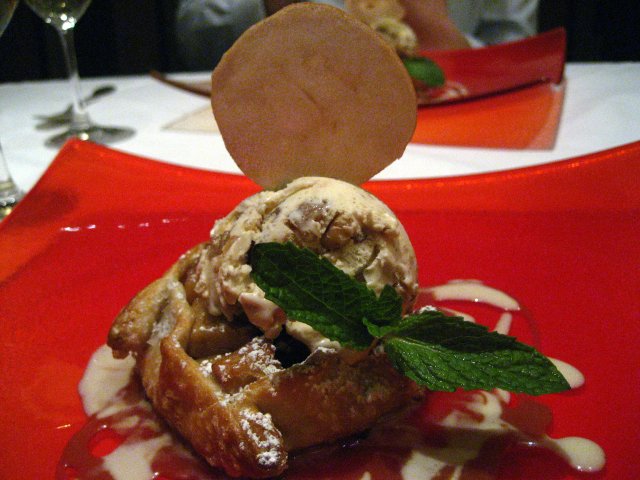 So now we get to the good stuff, the "Wine of the Day." The WotD is none other than 1999 Domaine de Romanee Conti. Perhaps the finest wine in the world and '99 was a particularly good year with near perfect ratings from the major reviewers. The wine cost $4750, and the resulting tax from the wine was comparable to the cost of the entire meal. Sadly the wine was an investment and the closest I got to tasting it was reading the Robert Parker review.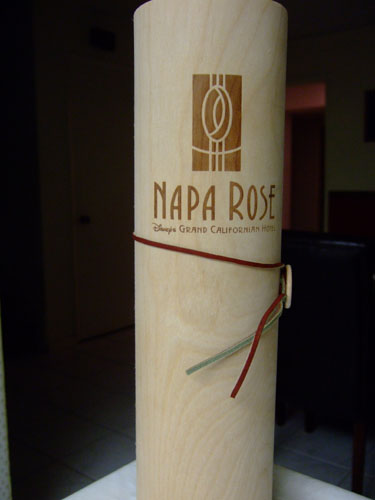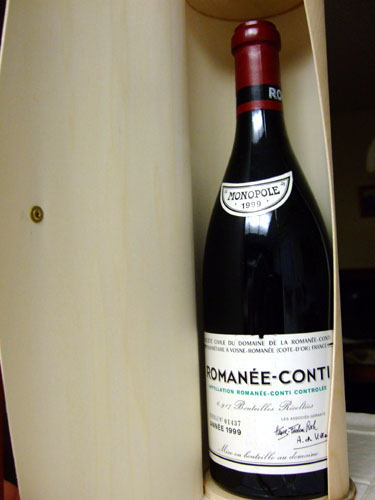 During my second trip to Napa Rose, the restaurant finally lived up to the lofty expectations I once had. The food was well prepared and stayed true to the Californian theme, the wine pairings were impeccable, and the entire meal was a satisfying experience. I would come back, but the only question I have is how can I top the extravagance of this trip.