10506 Santa Monica Blvd.
Los Angeles, CA. 90025
(310) 470-4992

La Cachette has always been a marginal restaurant on my list. However I heard several people rave about the foie gras. Given that it is one of the girlfriend's favorite dishes I figured might as well try it. Getting in can be confusing, the address is off Santa Monica. We parked a block up the street and entered through what ended up being the back door. The front is actually in a little alley off Thayer. It was a bit uncomfortable entering through the back since we had to walk through the entire dining room to get to the host's station, thankfully we were early and there was only one party. The decor of the dining room struck me as fairly quaint, and maybe a touch old fashioned. Upon closer inspection some of the paint seems chipped and in general the dining room is starting to show some age.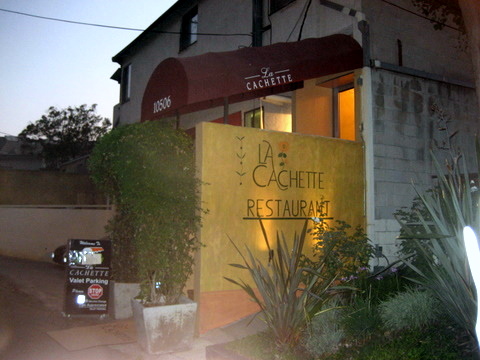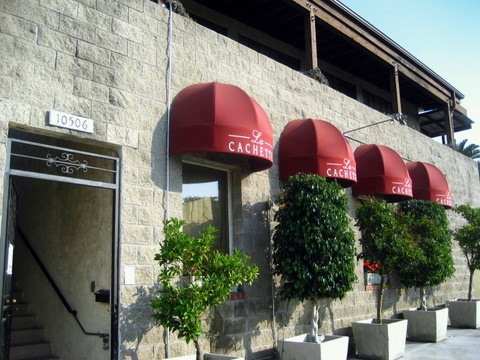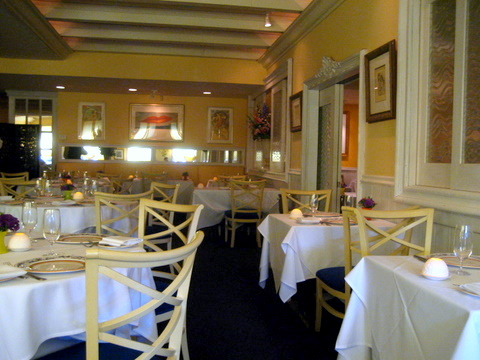 Amuse: Sundried Tomato Tart - Herb Pureé, Saffron, and Toasted Olive bits
A very visually appealing amuse, beautifully arranged, nice color definitely eye candy. And it tasted as good as it looked the tomato was sweet and dense with a bit of bitterness from the olive and some green flavors from the puree. The tart was light and fluffy, each layer distinct and crisp. They do their tarts here just the way I like flaky, crisp and buttery.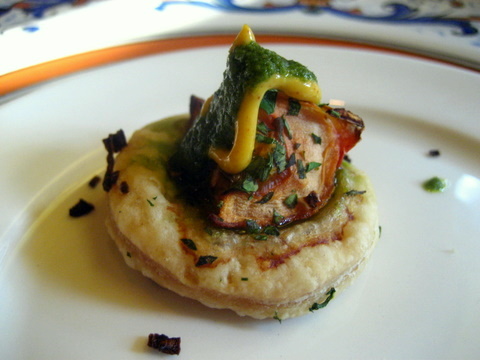 Bread - Butter and Taponade
The bread here is decent, warm with a hard exterior and moist soft interior. Very simple and straightforward, paired nicely with the traditional butter as well as the taponade.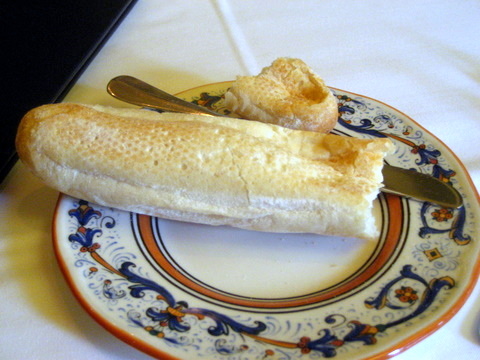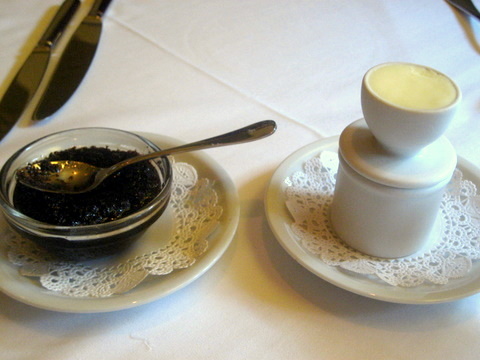 01a Leek Salad - Tomato, Brioche, Vinaigrette
A nice light salad a very good way to start a summer meal. The leeks had a nice rough texture and a mild sweetness that went very well with the dressing.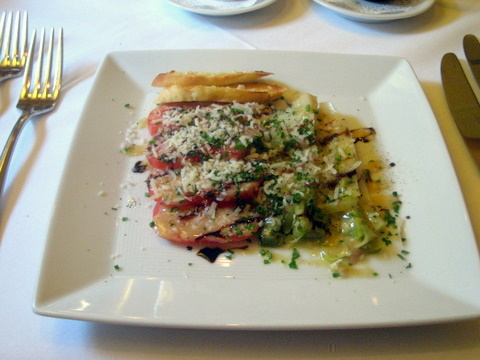 01b Napoléon of Foie Gras - Layers of Sautéed Foie Gras, Foie Gras Terrine and thin Caramelized Puff Pastry served with Black Fig Relish and a Muscat Grappe Sauce with Verjus
Several people considered the foie at La Cachette the best in the city so I had been looking forward to this for a long time. When I started eating foie gras I preferred the seared preparation, but lately I have been favoring terrine and au torchon so I was excited to get a chance to mix the two. Sadly, the texture of the terrine was soft as if it has been melted, and it lacked the silky richness I associate with terrine. I am not sure if the terrine was cooked or this was due to the hot seared foie gras on top, either way it was a shame. The puff pastry was brilliant just like before but the foie was a disappointment.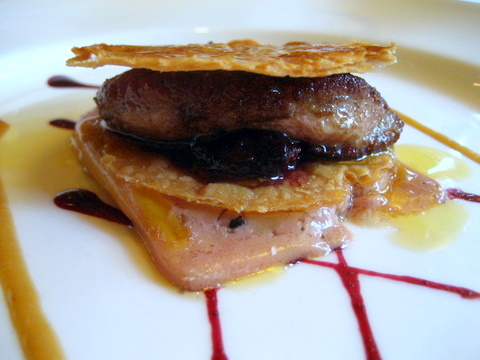 02a Lightly Fried Calamari - Stuffed with Smoked Salmon Pureé and Tempura Squash Blossom
The calamari was one of the off-menu specials for the night. The squid was good, but nothing remarkable. The smoked salmon stuffing inside the squid was bad, it tasted like smoked salmon but the flavor was jarring when mixed with the calamari. And the fish was so processed, I couldn't even enjoy the natural texture of the fish. Actually my favorite part of this course was the blossom which was nicely fried, with an airy crunch to it.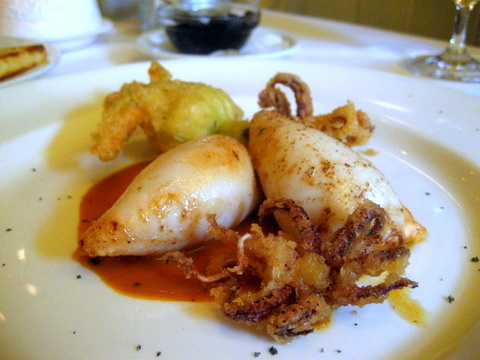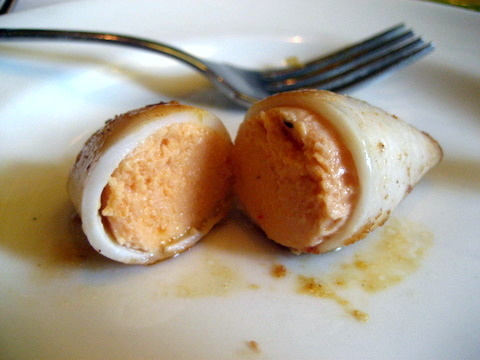 02b Terrine of Foie Gras - Jean-Francois' Duck Foie Gras Terrine, seasoned with Sauternes and Black Pepper, served with Brioche Toast and a Rhubarb-Goji Berry Jam
Since the Napoléon didn't go so well I decided to try the Terrine. This is more like it! The block of fatty liver is very dense, slightly sweetened with a hint of Sauternes and seasoned with pepper to prevent the dish from being to unctuous or cloying. Smooth and rich, perfect alone or with bread and jam. If I had one complaint it was the presentation, a slab of foie gras and some jam on the side with a plate of toast isn't the most aesthetically pleasing, thankfully it tasted much better than it looked.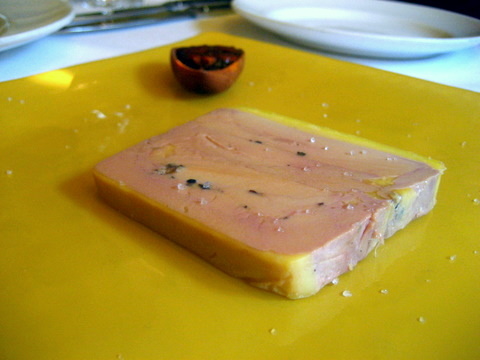 03a Grilled Alaskan King Salmon - Sauerkraut, Roasted Fingerling Potatoes and Smoked Salmon Salad
I thought this was horribly overcooked, and my girlfriend thought it was passable but nothing special. Ditto for the potatoes and sauerkraut The side of smoked salmon with mayo seemed out of place, why add more salmon to the dish?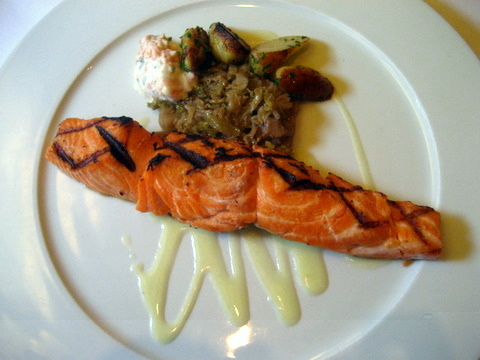 03b Veal Sweetbreads - Sautéed Veal Sweetbreads with a Morel Port Sauce lightly creamed, served with a Provencal Beef Daube Raviolis
This was my first time having sweetbreads as an entrée at Kevin Taylor and Sona, I had fried Sweetbreads as a component in dishes and I loved them. Here I found the sweetbreads a bit tough, and heavy, with a flavor somewhat akin to liver. The beef daube raviolis presented an interesting diversion although they weren't particularly memorable either. All in all a competent if forgettable dish.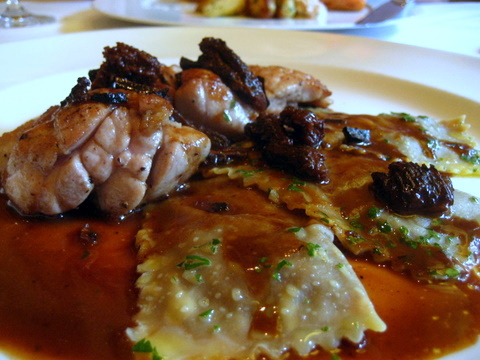 04a Chocolate Soufflé
A very prototypical chocolate soufflé, nothing to complain about but nothing worth noting either.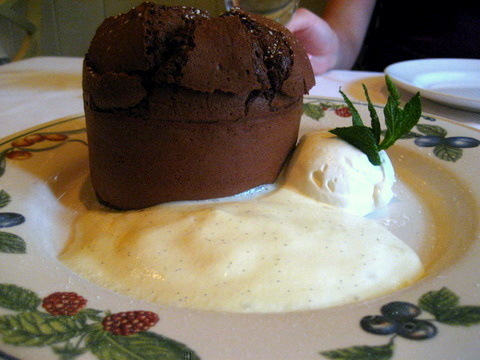 04b Strawberry Rhubarb Tart
Again the crust of the tart was quite good, I just wish the same could be said for the strawberry and rhubarb. I didn't care for the texture, it felt like the fruit was cooked a bit too long and the flavor seemed so monotonous, I could have been happy with just one bite rather than the whole dessert.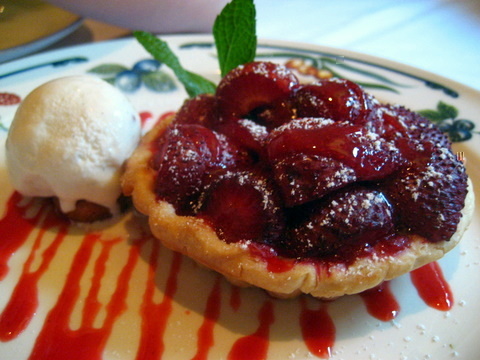 Competent seems to suit the restaurant very well. The service is prompt and helpful, what one would expect from a restaurant of this caliber. With regards to the food, there were some standouts, but for the most part everything was just okay. My first impression after dining at La Cachette, was tired, although I eventually thought comfortable might be appropriate. The restaurant seems to have reached equilibrium, the staff knows what it does well and is happy to keep on doing it, there doesn't seem to be any spark of adventure or excitement. I think the restaurant can be very good, it just needs something to shake it out of the funk it has settled in.