1641 Edinger Avenue
Tustin, CA 92780
(714) 259-0783

Compared to LA, Orange County has a relative dearth of high-end sushi restaurants, so any new opening is cause for excitement. Maki Zushi literally translates to rolled sushi. With a name like that I assumed the restaurant specialized in various rolls rather than nigiri. Looking at the chopsticks, the wrapper says "maki-zushi & hardcore sushi." When I asked Sakamoto-san he proudly declared they did hardcore sushi, which I took to mean more traditional offerings of nigiri. Although in all honesty the words "hardcore sushi" didn't inspire much confidence, and had it not been for other bloggers, I might not have tried this place.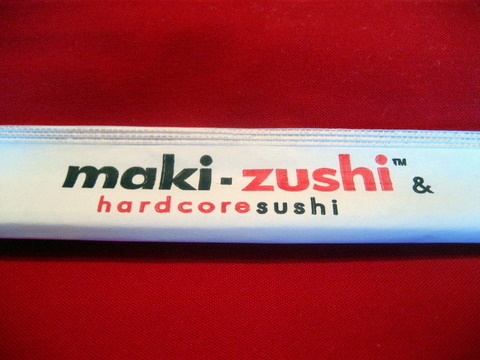 The restaurant is located in detached building in a small shopping center in Tustin. The exterior of the restaurant is fairly plain as is the interior. Once inside, we were greeted warmly by the owner/chef Yoshio Sakamoto. He seemed to make a point of speaking to every guest sitting at the bar. He seemed genuinely pleased that we chose to order the omakase, and proceeded to take personal care of our food. I get the feeling Sakamoto-san is trying to be responsive to the needs of his customers. As a result, he offers the best of both worlds, serving mostly rolls and more accessible dishes while retaining the ability to offer a more traditional experience as well.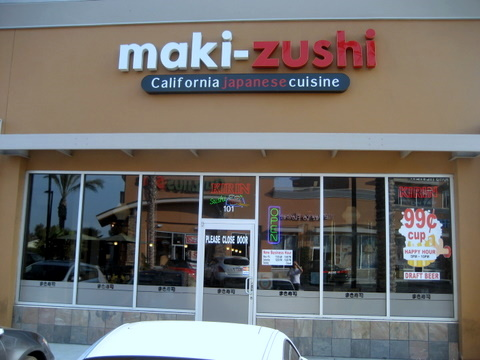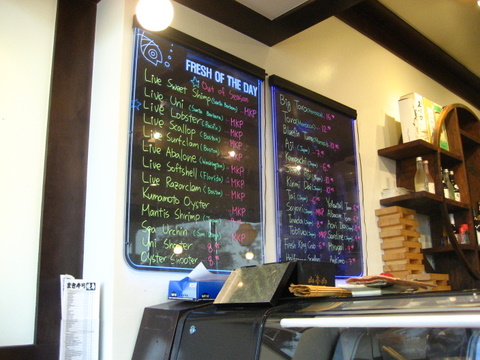 Once we settled on the omakase, we were each given a place setting with fresh wasabi, and wasabi marinated cucumbers as well as bowls of miso soup. I don't care too much for miso soup and I couldn't detect anything special about this particular bowl. I did enjoy the cucumbers with their soft crunch and hint of sinus-clearing wasabi.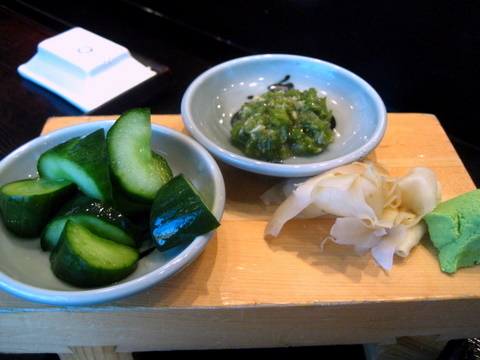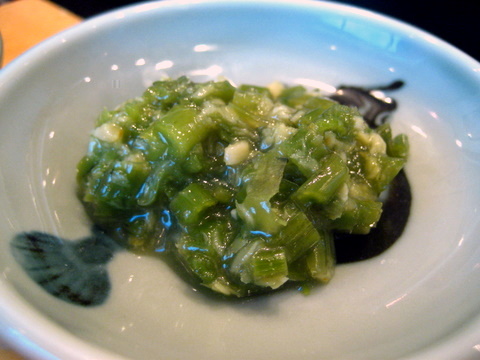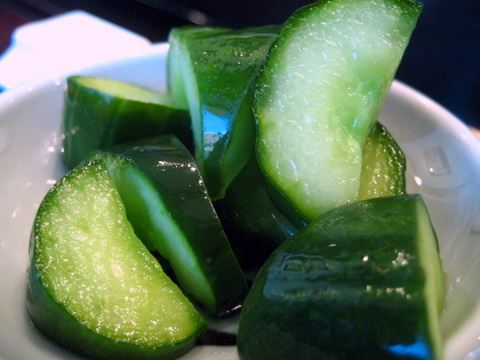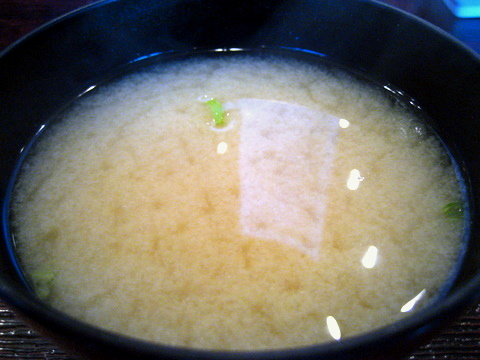 The fish served during the meal was divided by groups, first came the silverfish.

01 Iwashi - Japanese Sardine
Not one of my favorite fishes but this was a pretty good example, a good oily flavor, but I don't care for the texture all that much.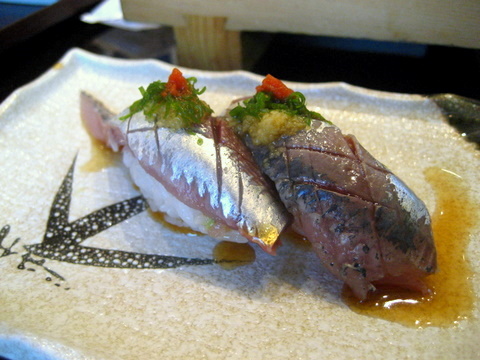 02 Soft Shell Crab Tempura
Sakamoto-san asked if we wanted a soft shell crab which he proceeded to show us, aside from Urasawa, I don't remember any chef in the States showing off live seafood before serving it. Despite not being a huge fan of soft-shell crab I decided to try it. Overall this was very good for what it was, nicely fried, but I am still distracted by the texture of the shell even though it is edible.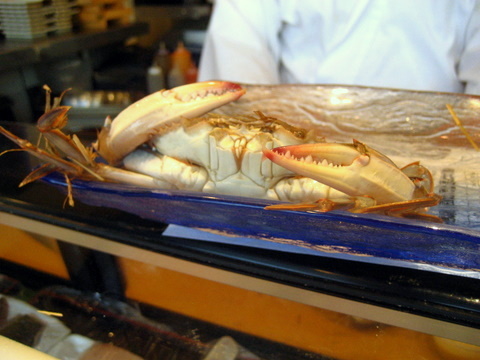 03 Iwashi no Hone Senbei - Fried Sardine Bone
Very interesting visually, the presentation of deep fried fish bones is something I have not seen in the states. A nice flavor but it leaves my mouth feeling very dry. I had a similar dish in Japan but it was just the spine of the fish. I enjoyed that much more so I think a smaller portion here might have been in order.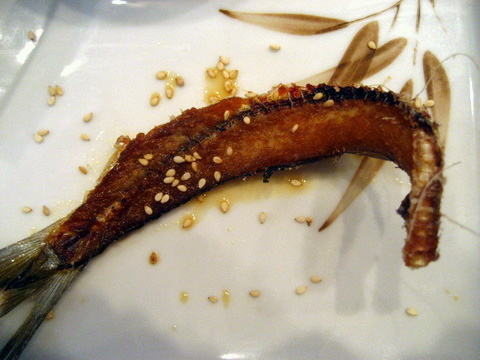 04 Aji - Spanish Mackerel
The first truly standout bite I have had all night. The Aji had all the oiliness I come to expect from truly good mackerel and a nice dense and soft texture that made this a pleasure to eat.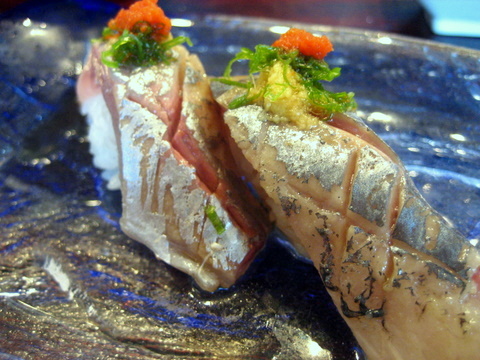 05 Tobiuo - Flying Fish
This was my first time having Tobiuo, I wanted to order it once at Abe, but they were out that night. This was probably the most visually pleasing dish of the night. The fish had a very mild flavor and reminded me of halibut although the texture was a bit firmer. The mild flavor of the fish lent itself very well to the wasabi infused masago and a little bit of lime juice.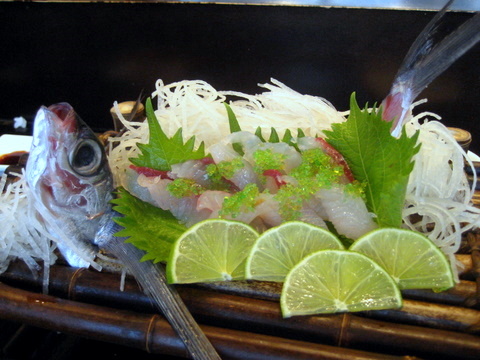 06 Shima Aji - Yellowjack
Delicious, I loved the sweet flavor and soft lithe texture of this fish. The sensation when biting through the flesh was very satisfying.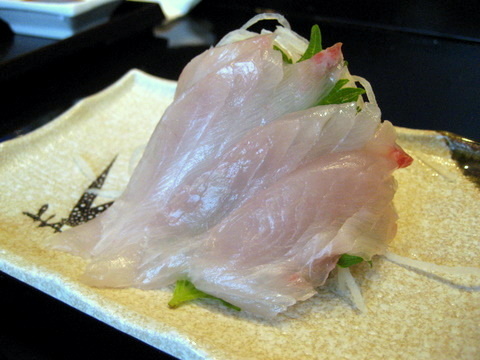 07 Shako - Mantis Shrimp
Another first for me, I had hoped to try this in Japan but no luck. The mantis shrimp was served cooked and had a mild flavor and a very dense texture. I didn't enjoy the texture but Sakamoto-san didn't seem surprised, he said Shako was more of an acquired taste.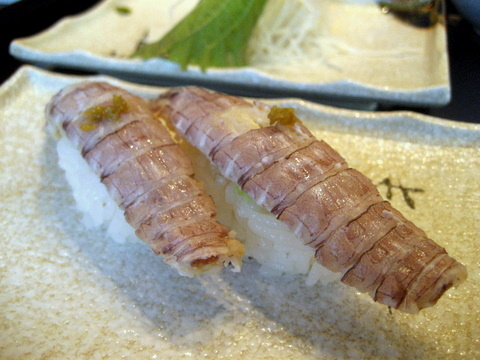 08 Aji no Hone Senbei - Fried Spanish Mackerel Bone
Very much like above, an interesting treat but theres just so much the bones become brittle and leave the tongue feeling very rough.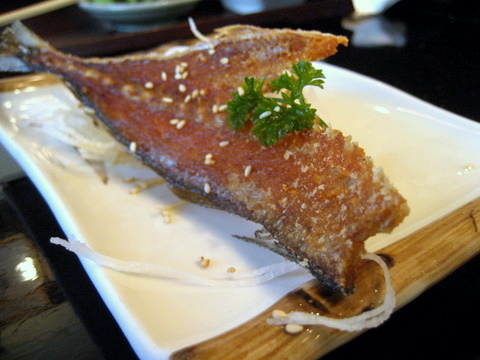 09 Amaebi - Sweet Shrimp
A longtime sushi favorite of mine. This was an unusual presentation thanks to the addition of a quail egg yolk. The shrimp itself was crisp but yielded a sweet creaminess after a few seconds. The egg added its own brand of creaminess and a slick texture that was unique and memorable. Texturally, this kind of reminded me of the amaebi with shrimp brain at Urasawa but the flavors here worked much better.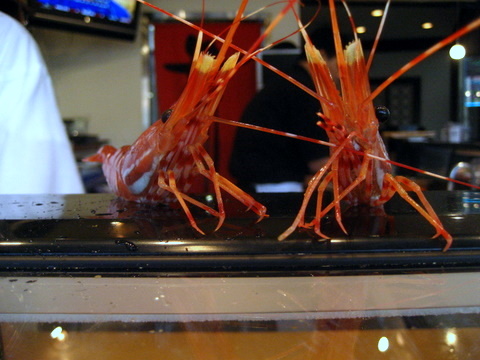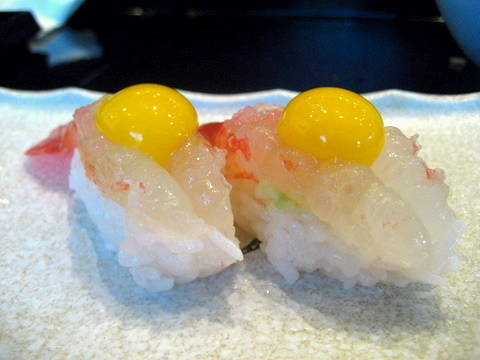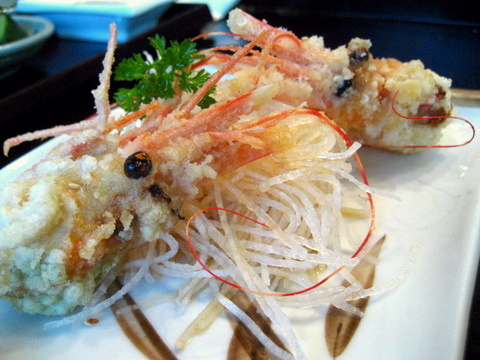 Now onto a whitefish duo, Tai and Kinmedai.

10 Tai - Red Snapper
I seem to have two different experiences with red snapper, some places the fish is overly soft and unappealing and some have this delicate firmness to them that is extremely wonderful. This falls into the latter category and is probably my second favorite tai after Tsukiji in Gardena.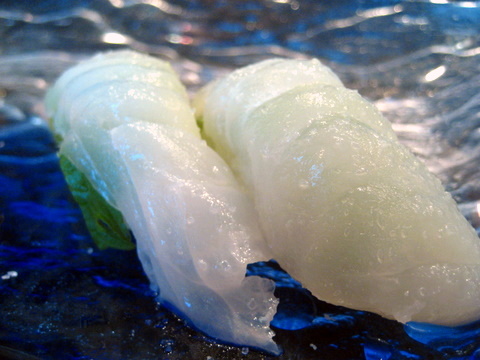 11 Kinmedai - Alfonsino (Golden Eye Snapper)
Another rarity that I have only been seeing recently. I first experienced this fish at Zo but I believe they called it Golden Eye Snapper. Although looking at the photos, this looks and tasted more like the kurodai. At any rate this was one of the best fishes of the night and easily the best example of kinmedai I have ever tasted.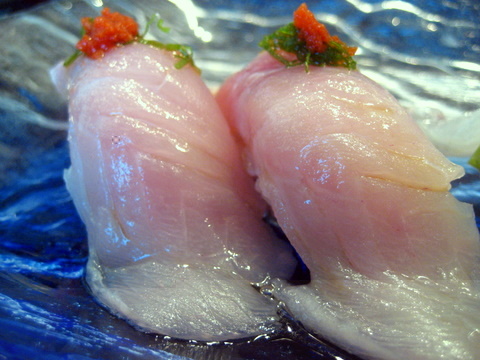 12 Tairagai - Halfmoon Scallop
Yet another first for me. The scallop was extremely fresh, with a hint of sweet brine that pairs well with just a hint of the citrus. I had a hard time differentiating this from the more standard hotategai, I think it might be just a touch firmer.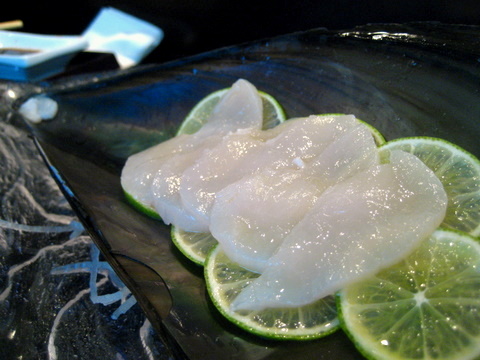 13 Sazae - Turban Sea Snail
I mistook this for Conch when it was presented to us. Sakamoto-san corrected me, saying Sazae is much better. Truth be told I couldn't really tell, the meat was similarly firm, perhaps a bit crisper. Like Conch, this dish came with black pieces of the liver mixed in with the meat. No matter how many times I try the liver I just can't appreciate the dark bitter flavor or spongy texture, despite the liver supposedly being the best part.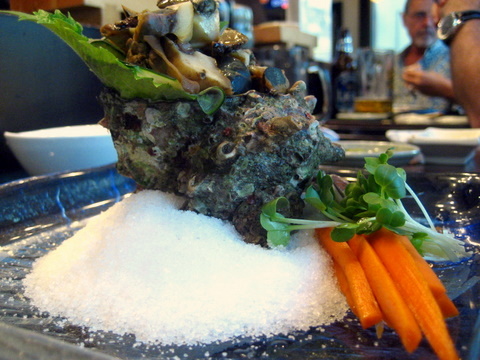 14 Ubagai - Surf Clam
I heard Sakamoto-san call this surf clam but I am not sure if I have the right Japanese translation. The clam came beautifully presented with the shell. I thought the meat was crunchy but not overly firm, and a bit lighter in flavor although having a similar sweetness to mirugai.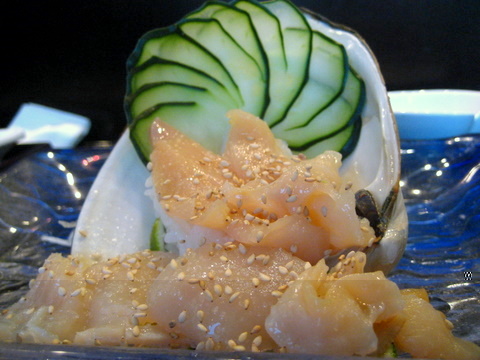 Onto yellowtail, this trio consisted of yellowtail belly, yellowtail, and young yellowtail

15 Hamachi Toro - Yellowtail Belly
Quite nice, a softer fattier version of the classic yellowtail. Yellowtail has long been a favorite of mine, this had all the same flavor and more. Although I do think I like the firmer texture a bit better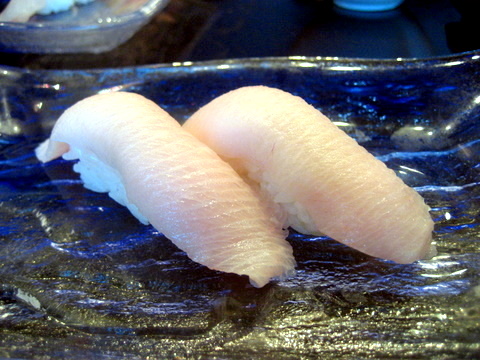 16 Hamachi - Yellowtail
The aforementioned classic yellowtail. This was a solid but not particularly noteworthy especially after trying the belly. I probably should have eaten these two in reverse order.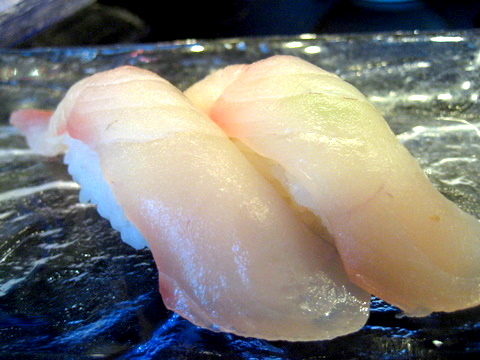 17 Inada - Baby Yellowtail
A vivid pink color serves as a clear distinction from its older cousin. The inada had a soft silky texture and a subtle flavor, as if the fish hadn't had the chance to build up the classic fish oils before being devoured.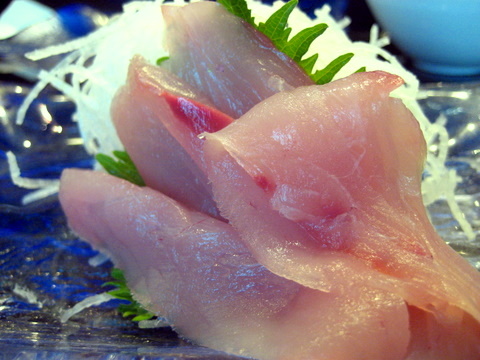 18 Uni - Sea Urchin
I was looking forward to this all night. All too often restaurants serve uni they shouldn't, resulting in a mushy bitter mess. I figured nothing could beat live sea urchin right? Sadly this wasn't quite as good as some of my past experiences, there was still a bitter tang on the finish. Despite that I would rank this fairly highly on my scale of uni experiences, just not at the top.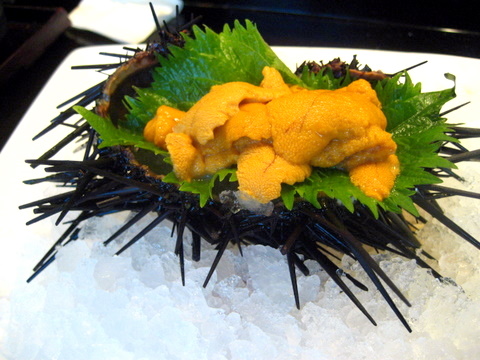 Home stretch now, only the tuna nigiri left, first a white tuna, then maguro with and without uni and lastly ohtoro.

19 Shiro Maguro Toro - White Tuna Belly
Every experience I can recall with shiro maguro has been a good one. This was no exception, although a piece of gristle kept this from being perfect.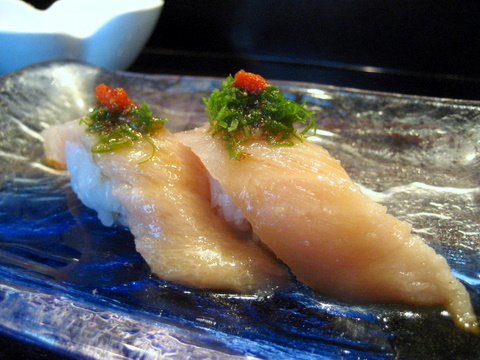 20 Maguro - Bluefin Tuna
I was very impressed with this maguro, softer and oilier than most, this was almost toro-like.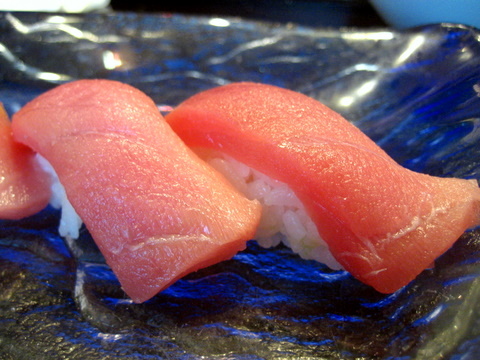 21 Maguro and Uni - Bluefin Tuna topped with Sea Urchin
I love uni, I love maguro, stands to reason this paring should be great right? Well not quite, the two flavors just didn't pair well, each sort of blunting the other and masking the subtle characteristics I enjoy so much out of them separately.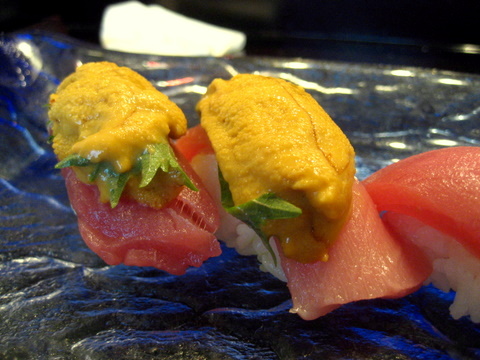 22 Ohtoro - Fatty Tuna Belly
If the maguro is toro-like, what is the toro like? Great, not the best texture-wise perfect, but the flavor was a bit lacking. I expected my taste buds to explode with the buttery-rich flavor but it wasn't even that much more intense than the maguro. I am willing to chalk this up to chance and betting a second experience will be better.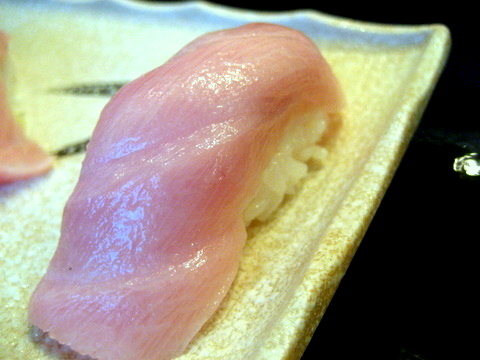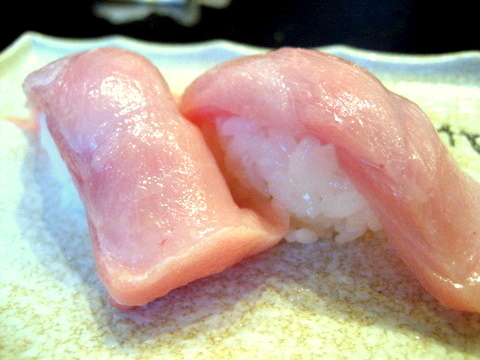 At this point we signaled we were too full to continue. At the start of the meal I mentioned I wanted to try everything on the menu. Smiling, Sakamoto-san mentioned there were still more things he could make, then offered us each a complementary dessert to commemorate our first trip to the restaurant.

23 Coffee Jello - with vanilla ice cream
I really could have done without this, the coffee was intense but also had a strong flavor of alcohol which left an unpleasant bitter aftertaste.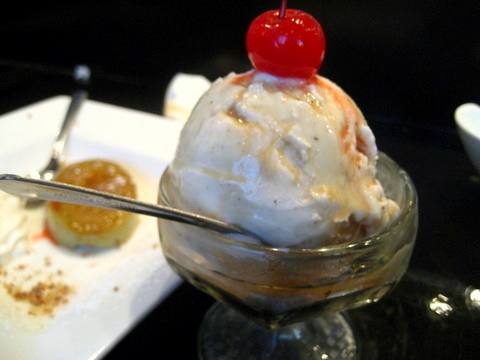 24 Green Tea Creme Brulee - with toffee crumbs
Slightly sweet and herbal, with a soft texture that contrasted very well with the sweet crunch of the toffee crumbs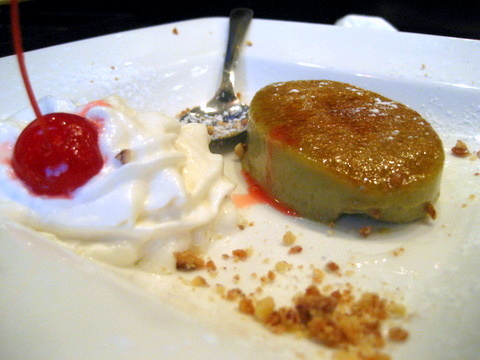 The quality of the fish is top-notch and the selection unparalleled in Orange County. I'd probably have a hard time picking between this place and Sushi Wasabi as the top sushi in Orange County. The price here is a bit higher than at Wasabi and about what you would expect from a restaurant of this caliber. Ultimately I walked out of there a bit disappointed, I didn't particularly care for the fried fish bones or wasabi he used. I felt the flavor of the wasabi was a bit off, clashing with the flavor of the soy and fish and the relatively large pieces made it difficult to eat with nigiri. Despite these setbacks I would like to try the restaurant again, this time with an emphasis on the fish.

For a first time diner, I would still recommend the omakase. There are just so many things you may not have the chance to experience elsewhere. Heck I didn't even get to try everything, supposedly the hairy crab is incredible. If you do go, try to make it on a Friday since that is when they get their new stock in from Japan and everything is at its freshest.