401 N La Cienega Blvd
West Hollywood, CA 90048
(310) 659-7708

This is an old review from before I was on blogspot. I thought I'd post it since I was just thinking of the restaurant recently.

My friends and I are suckers tasting menus, the more courses the better. Sona is clever in the sense they offer 9 course tandem tasting menus. This means each course has two dishes except for the course between the savory and sweets and the optional cheese course.

When we sat down to order we immediately chose the 9 course tasting with wine pairings, we also ordered 4 ounces of Kobe beef for the entire table. There were a couple discrepancies from the website. First the menu has changed drastically, and the price was a touch higher; 169 rather than 125. We later found out this was because the tasting menu already included Kobe beef as the final savory course. Also online there are two wine pairings for the menu, but at the restaurant the lower-end wine pairing was nowhere to be found.

Sona is located on La Cienega just North of other luminaries such as Matsuhisa. The outside of the restaurant has a cozy white facade that sort of belies the gustatory experience that occurs within. The furniture and decor is contemporary yet far from cold. The restaurant is quite small with maybe seating for around 60 and the dining room fills up fast and gets quite loud.

We arrived maybe 5 minutes early and our table wasn't quite ready. We went to the bar where one of my companions ordered a Mojito (hes been hooked on those since Spago) another friend and I had each had a Vesper (3 parts gin, 1 part vodka, 1/2 part lillet blanc).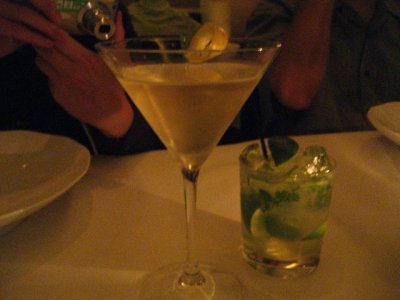 The meal actually started off on a pretty bad note, while passing me the wine list, my friend spilled my drink all over the front of my shirt. The waitstaff was prompt and attentive offering me towels and club soda to help mitigate the damage. As I sat with a growing sense of discomfort, the staff offered me a chefs coat to replace my soaked shirt. Along with the shirt came the requisite ribbing from the staff and my friends who offered quips like "get back to work" and "the chef needs you to plate the next 3 dishes."

Patty Pan Squash Tempura, Goat Cheese, Tomato Confit
Audoin de Dampierre Cuvee des Ambassadeurs 1er Cru, Reims
The first dish brought out wasnt any better, the squash had a dense texture with a bitter herbal flavor I didn't care for. This is one of the few times I remember a wine being paired with the Amuse. I think the champagne had a nice dry flavor high acidity and a touch of apricot.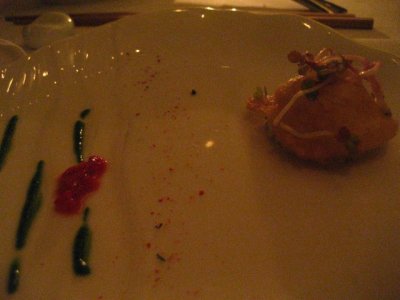 Tuna 3 Ways, Vitello Tonnato, Sweetbread Croutons
English Pea Soup, Pearl Tapioca, Hamachi, Geoduck Clam
Pio Cesare Arneis, Langhe, Italy 2005
As I mentioned earlier the main courses would mostly be tandems. Our first duo was raw tuna and hamachi. I felt the tuna was an interesting mix of textures with a semi-uniform flavor. Very fresh and nice but nothing stood out as particularly noteworthy. The hamachi which had a stronger natural flavor and a more complex. The hamachi had a more varied flavors sweet soup, subtly bitter radishes, and of course the fish. The texture also ran the gamut from soup and tapioca to the crisp clean crunch of the geoduck. I prefered the hamachi but all my companions favored the tuna. The Pio Cesare was a nice white with a floral fruity nose and a delicate off dry taste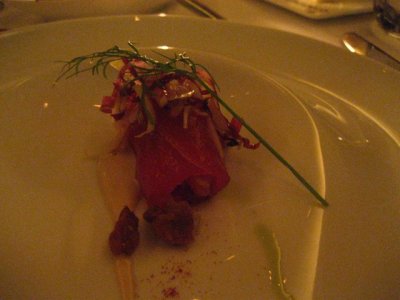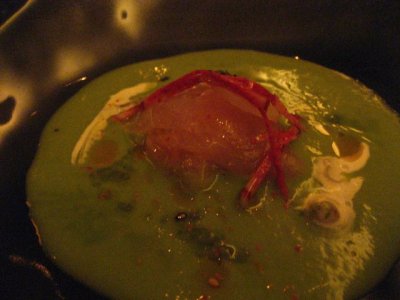 Maine Lobster, Stinging Nettle Farfalle, Morels
Crispy Sweetbread, Pea Shoots, Crab Sauce
Chateau Smith Haut Lafitte, Pessac-Leognan, Bordeaux, France
The lobster was a touch overcooked to my taste but the morels and the sauce added a heavy creamy flavor that somewhat offset the tough texture. The sweetbreads were excellent paired with bitter Chinese greens and mushroom cannoli. The whole dish had a distinctly asian flavor like that of a heavy fish with overly heavy notes of ginger. The wine was an excellent white Bordeaux with scents of apple and vanilla and a moderatly sweet intense body and good finish.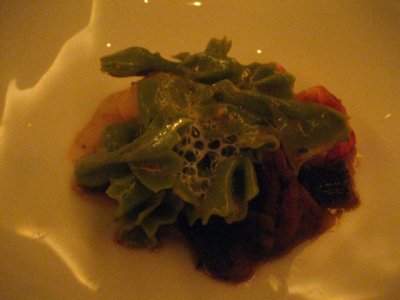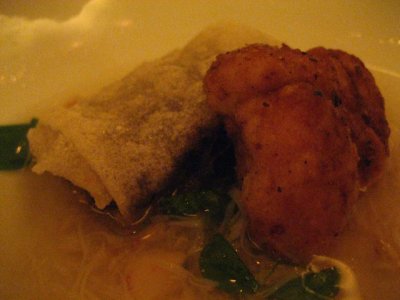 Slow Cooked Alaskan Halibut, Sauteed Bitter Greens, Coconut Milk Broth
Opakapaka, Sea Beans, Wasabi Potato Puree, Braised Oxtail
Peay Estate Chardonnay, Sonoma Coast 2005
Looking at the halibut one would expect a thai-style dish and it this lives up to it. The halibut was delicately slick, the flakes slightly resist separation but finally separate cleanly, the sign of a perfectly cooked fish. The coconut milk had flavors of ginger and curry. There is a bit of confusion on the next course. I believe they wrote the menus for us on the spot at the end of the meal. Mine lists blue nose bass, but I recall the waiter calling this fish Opakapaka which was listed on one of my companion's menu. This was a dense fish, buttery flavors from the oxtail, crunchy sea beans, and lightly spiced potatoes. The presentation seems very Western but the use of wasabi and braised oxtail definitely exhibit an Asian influence. This course got a split vote two for halibut two for bass/opakapaka. The wine was a nice chardonnay with lemon/citrus notes and very light oakiness.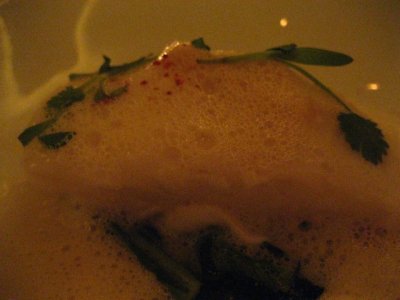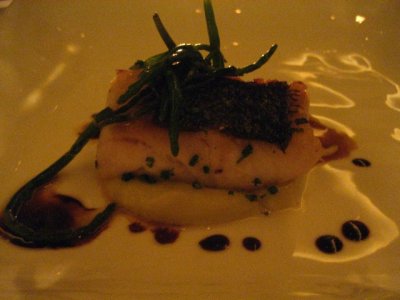 Duck, Beet Cloud, Roasted Beets, Arugala, Honey Vinegar Reduction
Roasted Squab, White Asparagus Wrapped with Bread, Blood Orange Marmalade
Domaine Dominique Mugneret Vosne Romanee, Burgundy, France 2002
Oh man this was an amazing course, both dishes were delicious. The first dish I tried was the duck. Looking at the duck meat lined with a rim of fat and crisp skin, my mouth watered. The flavor was unctuous with a sweet spicy sauce. I thought for sure I'd prefer the duck, but the squab topped it. The meat was fatty, slick, and super-tender. I think this may be the best squab I ever had. The pairings had a similar theme, a sweet sour sauce and a slightly bitter vegetable accompaniment. The wine was a classic Burgundy, dirty earthy flavors. i normally don't really enjoy red Burgundy but I found this surprisingly easy to drink.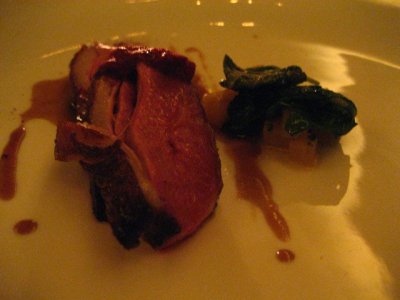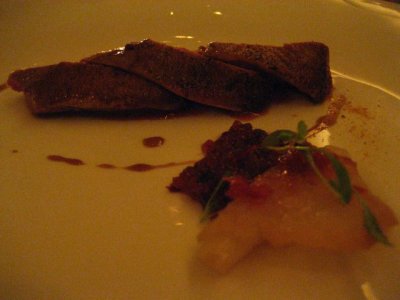 Venison, Smoked Eggplant Puree, Maitake Mushroom, Salted Plum, Shiso
Colorado Lamb Rack, Cauliflower Puree, Curried Lentil Vinaigrette
Raido-Coteau Syrah "Timbervine," Russian River Valley 2005
I have never really enjoyed venison because I usually find it gamy. This was quite different a nice smoky flavor, and a bit more tender than I am used to. The gaminess was there but all in all still my favorite venison ever. The lamb was peppery and tart and came topped with a green almond. Odd that a couple months ago I didnt know what a green almond was but now I find it a very pleasing addition to many dishes. The wine was nice and spicy and I thought it paired better with the lamb than the venison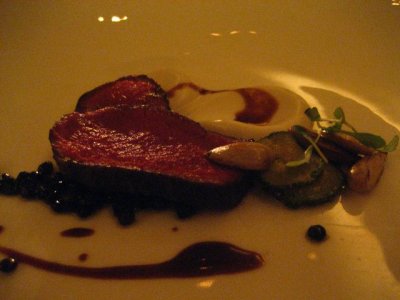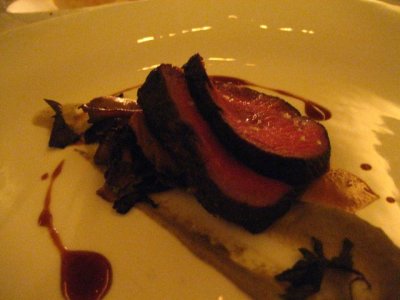 Kobe Beef from Kagoshima, Pickled Young Ginger, Celery Shiso Salad
Chateau Monbousquet Saint Emilion, Bordeaux, France 2003
We originally ordered a serving of Kobe beef from the entrees but it was already part of the tasting menu (hence the increase in price). When we first ordered the Kobe we were told it was A-5, I must admit I was a touch skeptical, having had less than stellar experiences over the last two months, but wow was this a delicious. Cutting the meat was like cutting through semi-melted butter, the meat had a fatty outer ring around a super tender beef center. Not the fattiest Kobe I ever had, but actually the perfect balance. The wine was one of my favorites of the night. Big aromas of coffee, earth, and a hint of dark fruit, and spicy and fruity on the mouth.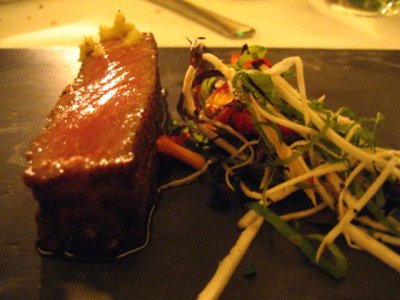 Fromage
Ramos Pinto Porto, Portugal 1997
By this point I was quite tipsy and had trouble keeping up with the blistering fast description of all 6 cheeses. Well here goes nothing. First cheese was a spanish loaf malbriosa firona paired with candied walnuts. Second was a goats milk cheese made with multiple milkings with ash to keep flies off each layer hence the black streaks, this was paired with sun dried tomatoes. Third was comte, French table cheese, with mid-sweetness paired with green apples. Fourth was a blue from the Loire Valley (I think) paired with homemade gurkhins, very creamy and rich with a mild blue cheese flavor. I can't believe I'd ever consider blue cheese mild, but I quite enjoyed the strong flavor and richness of this cheese. Fifth was fin delise cows milk cheese served alone (the stuff on the spoon). I can't understand why but I loved this cheese. Lastly there was a cows milk cheese with sour fig and cherry jam. Amazingly I enjoyed all 6 cheeses although the alcohol may have contributed to that. I had this paired with a nice port from Portugal, classic port flavors but not as thick and viscous as some.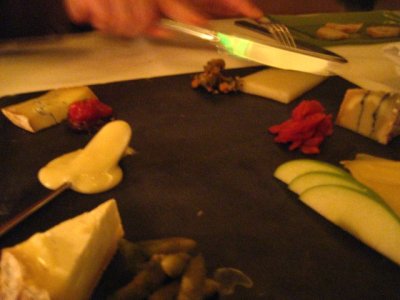 Riesling Granita, Mango, Candied Ginger
The only course without a wine pairing actually came with its own wine. This was a nice light course to shift from the savory to the sweet. The nose was clearly that of a riesling, very fruity and sweet, maybe an auslase or a late-harvest. Tart mango and sweet ginger dominate the flavors with the riesling providing supporting sweetness. I really enjoyed this little treat, but I am a sucker for granita.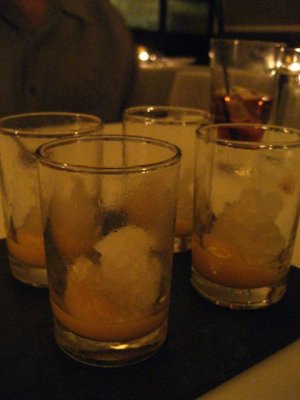 Peach Tart, Juniper Berry Ice Cream, Bitter Almond Cream
Rhubarb Cannoli, Marsarpone Cream, Strawberries, Celery Granita
Domaine de Baumard "Carte D'Or" Coteaux du Layon, Loire Valley, France 2004
Definitely unique dessert flavors the peach tart had a delicate dry pastry with tart peach, herbal creamy ice cream and a slight bitterness to keep the dish from being to heavy. I loved the texture and flavor of the rhubarb cannoli but felt the celery granita was a bit too strong. The wine wasn't quite sweet enough when paired with the desserts but quite nice on its own. Nose of honey, apple, and white fruit, the wine doesnt have the thick mouth coating feel of sweeter wines like the TBA we had next.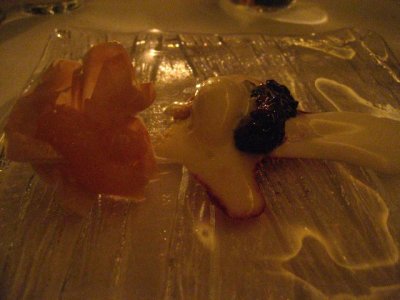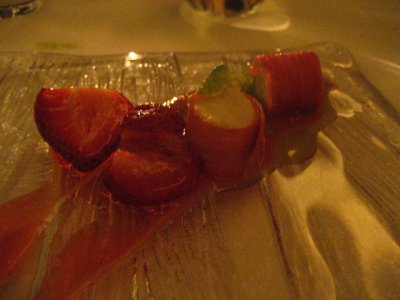 Chocolate Espuma, Araguani Szechwan Peppercorn Ice Cream, Smoked Peanut Puree, Pickled Cherries
Chocolate Tea Sandwiches, Hibiscus Iced Tea
Anselman Trockenberenauslese Ortega "Flemlinger Bischofskreuz," Rheinpfalz, Germany 1999
The chocolate espuma came with a gag candle for our birthday boy and was a very nice touch. The espuma had an interesting peppercorn ice cream. We use those peppercorns at home for cooking and it makes for a very unique ice cream. I wasn't impressed with the chocolate tea sandwiches which had a much milder flavor than the espuma, and were hard to taste. The wine was quintessential TBA, super concentrated sweetness, thick and heavy.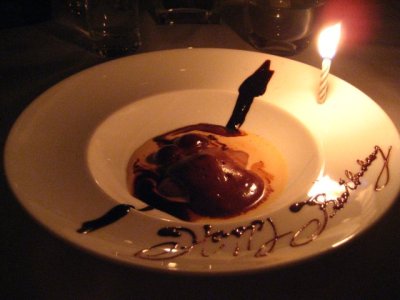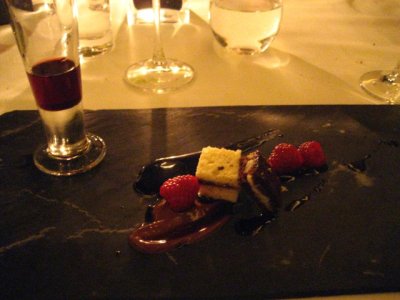 Mignardises
The mignardises included strawberry confit with lime gelee, chocolates with star anise, and something else I missed. I remember enjoying each of the treats, but don't remember distinctive notes for each.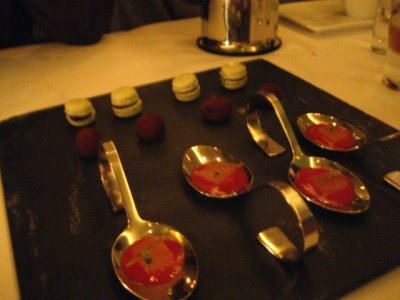 Rosemary Macaroons
Okay now this I dont remember at all but I had the presence of mind to take a picture. The way I figure it I like rosemary and I like macaroons this can't be bad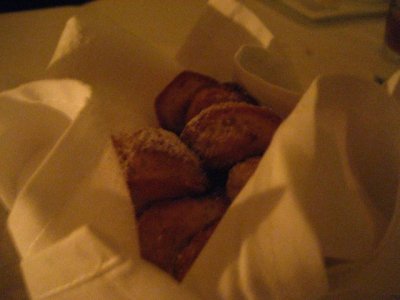 After the meal we were greeted by Chef David Myers who presented us with signed menus and graciously allowed me to keep the coat.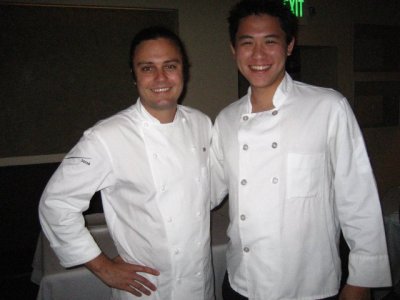 He lead us on a tour of the kitchen which I thought was remarkably small but I guess it was sufficient to serve the small dining room. We asked about Chef Myers wife/co-owner Michelle, but she spends most of her time across the street at Boule. The desserts at Sona are in the capable hands of Pasty Chef Karen Yoo. By the time we finished our tasting menu most of the kitchen was shut down and most of the action was at the dessert station.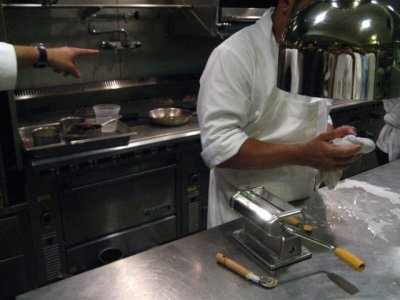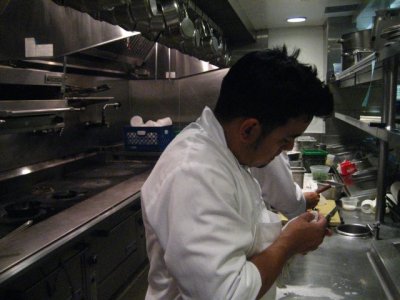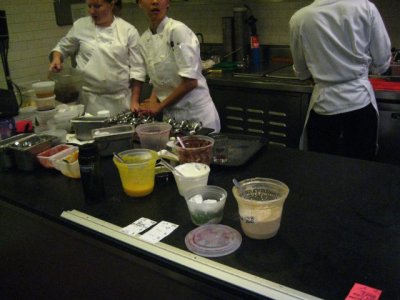 The damage came out to 1500 with Kevin and I paying a significant amount more due to our wine pairings.

Here is a shot of me in the coat after a hard evening of "work"