9500 Wilshire Blvd
Beverly Hills, CA 90212
(310) 276-8500

My friends and I dubbed CUT the best steakhouse in LA after our first visit. Ever since then I've been eager for a return visit and I finally got my wish when Pepsimonster and Gourmet Pigs made plans for a dinner. I believe they were underwhelmed by Wolfgang's Steakhouse during DineLA and were looking for a good steak dinner to put that unpleasantness behind them.

One of the restaurant's traditions is to parade gaudy cuts of ultra-marbled cuts of American and Japanese Wagyu before the diners. I am not sure if it was a trick of the light but the marbling didn't seem as well integrated as I remembered. Still I am sure it will make for a wonderful steak. Our server even remarked the birth certificate was sent with the beef. I remember asking about that during my first visit and getting blank stares in response. Seems like the staff has brushed up since then.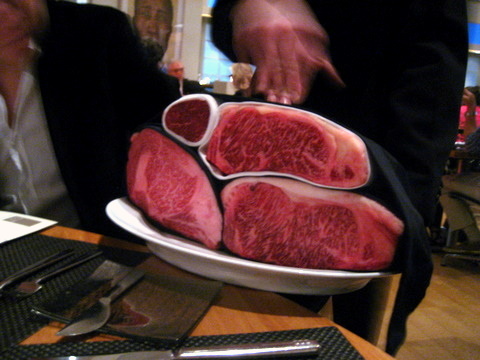 Bread - Breadstick, Gougeres, Puperkickel, Pretzel, Rustic Wheat, and Onion Focaccia
The gougeres are really the star of the bread/amuse offerings. Each of the breads has their unique charms, making this one of the better bread selections.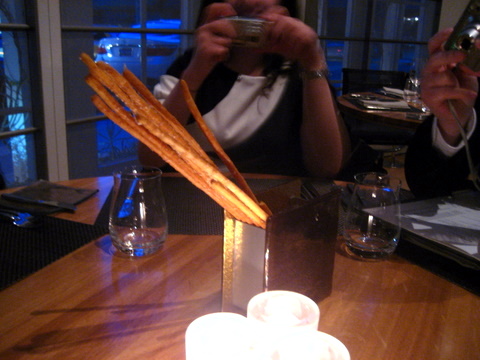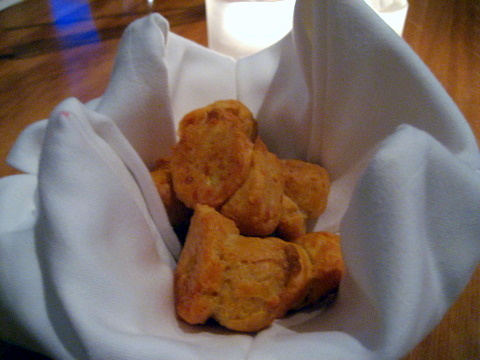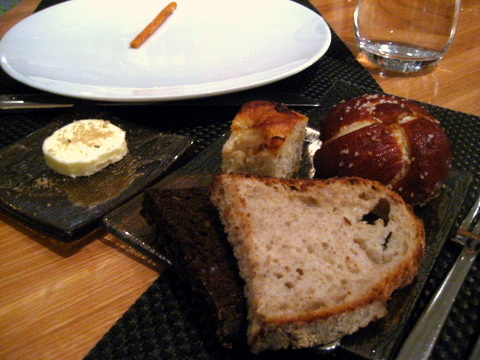 Jose Dhondt Champagne Blanc de Blancs Grand Cru Mes Vieilles Vignes
Kevin selected a nice sparkler to start. The wine had a vibrant grassiness and plenty of yeast/toast notes and just a hint of fruit.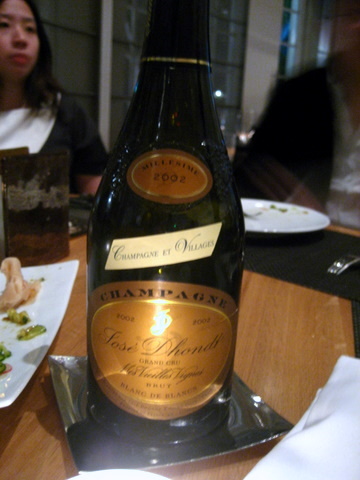 Amazingly the appetizers have not changed much since our last visit. Three of the five courses we ordered were repeats for me.

#1 Grade Blue Fin "Toro" Tartare - Wasabi Aioli, Ginger, Togarashi Crisps, Tosa Soy
My favorite appetizer of the night. The quality of the tuna was much improved and the paired Asian-inspired accoutrements accented the tuna superbly. The use of avocado, while not particularly innovative, provided a creamy textural contrast that balanced the fish nicely.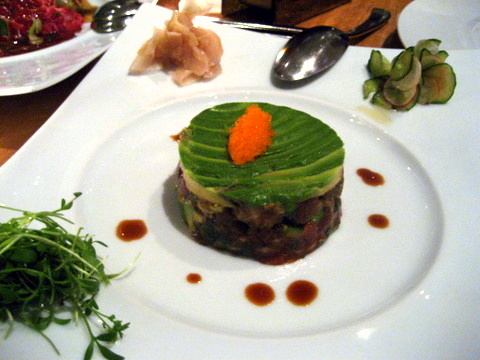 Kobe Steak Sashimi - Spicy Radishes
During my first visit this was the standout appetizer with a slick texture and intensely satisfying richness. This time the beef felt firmer and leaner as if it were lower quality beef. Still quite good but not up to the level set during our first visit.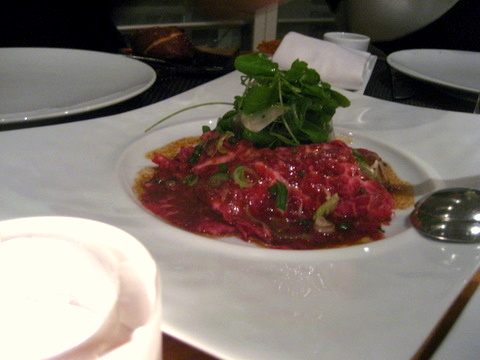 Prime Sirloin "Steak Tartare" - Herb Aioli, Mustard
The steak tartare was fairly traditional and very well done. The beaf was very tender but stood up to the sweet aioli and peppery mustard. The use of quail egg gave the beef a bit of moisture and a slick smooth mouthfeel.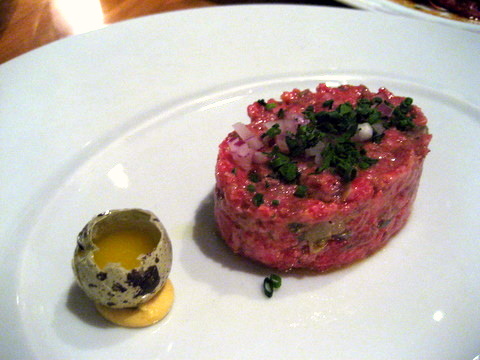 Warm Veal Tongue - Marinated Artichokes, Cannellini Beans, "Salsa Verde"
I had such high hopes for this dish that it was almost painful to eat. The overabundance of artichokes and beans gave the dish an overly coarse pasty texture. The tongue itself had none of the svelte fatty texture normally associated with the muscle.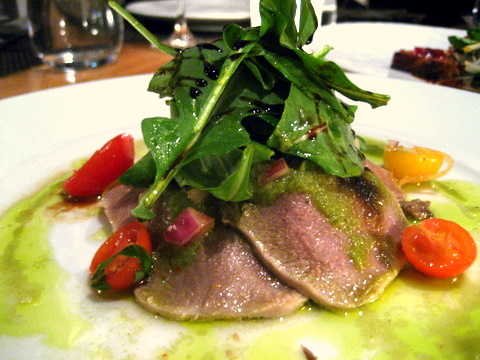 Maple Glazed Pork Belly - Asian Spices, Watercress, Sesame-Orange Dressing, Rhubarb Compote
Another new starter, the pork belly had a good balance of fat and lean elements. The sesame-orange dressing was far too powerful and blunt for the meat, drowning out the pork's natural richness in an astringent sweet sour mixture.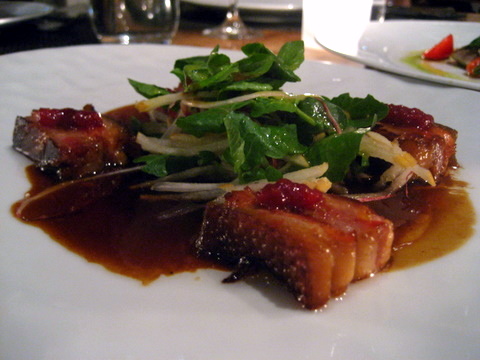 1997 Château de Beaucastel Châteauneuf-du-Pape
For some unfathomable reason Kevin chose to defer selection of the red wine to the entire party. One thing I have learned is having a group pick a bottle of wine never works out well. People are always scared to pick a bad wine and end up overthinking the problem. After deliberations so long that they would make the UN Security Council proud, we settled on a bottle of CDP. The wine had nice elements of smoke and spice but too much young fruit made it a bit too soft for the steaks.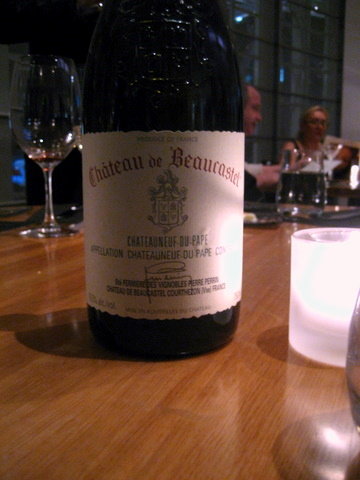 Kobe Beef Short Ribs "Indian Spiced" - Curried Sweet Pea Purée, Garam Masala, Slowly Cooked For Eight Hours
A fairly standard braised short rib. The meat was extremely tender and laced with the richness that only melted fat provides. I did enjoy the use of garam gasala, giving the beef an exotic twist. Truthfully, it seemed somewhat sacreligous to combine Indian flavors with beef.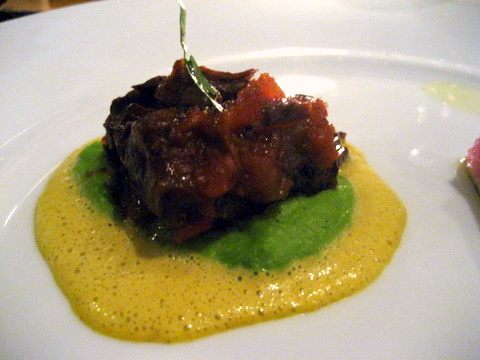 Sashimi Quality Big Eye Tuna Steak
This course took me back to the time Kevin and I went to a good steakhouse (Ruth's Chris) he ordered fish instead of steak. Still the fish was a nice change of pace from typical steakhouse fare. The quality definitely lived up to the billing and the sweet herbal sauce provided a nice seasoning for the fish.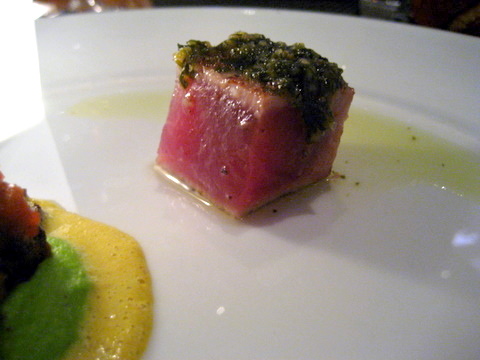 Like before we ordered a sampling of all the steaks the restaurant offers, wet aged, dry aged, American Wagyu, and Japanese Wagyu.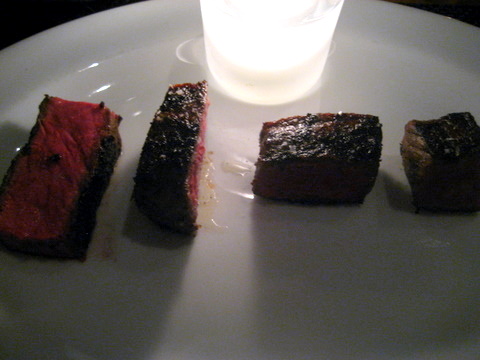 U.S.D.A. Prime, Illinois Corn Fed, Aged 21 Days - Bone In New York Sirloin
A very simple and pure steak. The meat is tougher than the rest with a fairly mild flavor. Good but much better than the steaks my father grills up at home.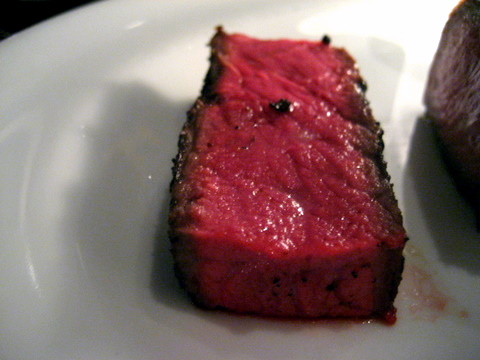 U.S.D.A. Prime, Nebraska Corn Fed, Dry Aged 35 Days - New York Sirloin
The dry-aging process is basically controlled rotting which causes the flavors to concentrate in the remaining meat. Rough and flavorful this is a true steaklovers cut.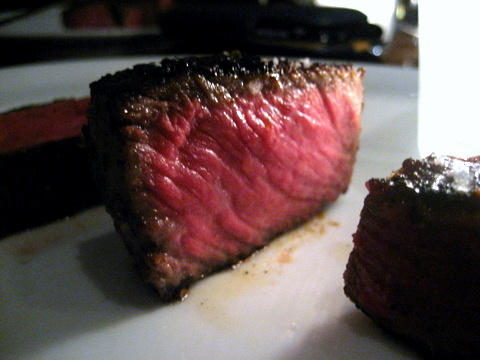 American Wagyu / Angus "Kobe Style" Beef From Snake River Farms, Idaho - New York Sirloin
The "American Wagyu" comes from Snake River Farms and is not a pure Wagyu, but rather a cross-breed with Angus beef. Of all the steaks it is the best compromise between the decadent buttery Wagyu and the simple pure beefy flavor of an Angus steer.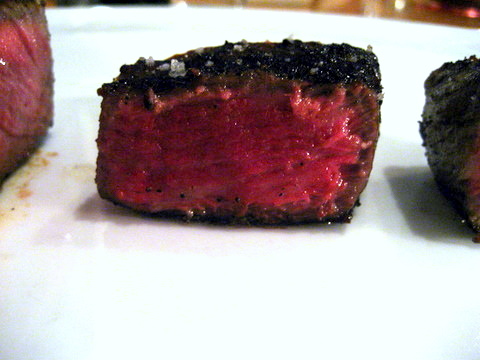 True Japanese 100% Wagyu Beef From Saga Prefecture, Kyushu, Japan - New York Sirloin
Sin on a plate. The true Japanese Wagyu takes marbling to a whole new level. This was almost too fatty to eat. In small quantities easily the most rich and flavorful of the quartet. Still I wouldn't want to try to finish the whole 6 ounce serving.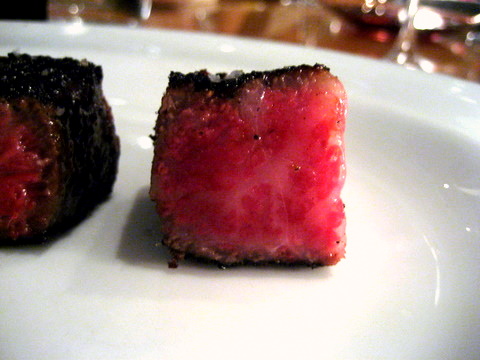 Warm Brioche Doughnuts - Huckleberry Compote, Butter Pecan Ice Cream
Beignettes have become a trendy dessert throughout LA's fine dining scene. I was a bit wary of yet another donut but these were reminiscent of Coffee and Doughnuts a la French Laundry. Warm and puffy the doughnuts were begging to be paired with the sweet nutty ice cream and warm tart fruit. Easily one of the best desserts in LA.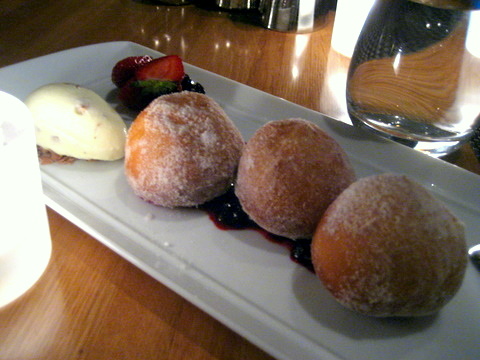 Dark Chocolate Soufflé - Whipped Crème Fraîche, Gianduja Ice Cream
I've never been a fan of Soufflé and this wasn't going to change my opinion. The dough was semi-liquid and spongy. Intense chocolate flavors but the texture just ruined it.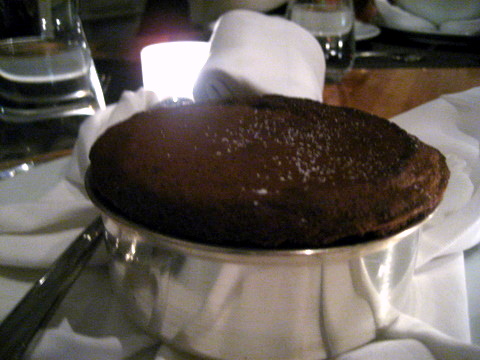 Brooke Cherry Toasted Almond Crumble - Tahitian Vanilla Ice Cream
Sadly I didn't get pictures of this dish since people thoughtlessly partook before allowing me to take pictures (Kevin that means you). The warm cherry crumble reminded me of pie crust with fruit or warm oatmeal. Very satisfying when combined with the chilled ice cream.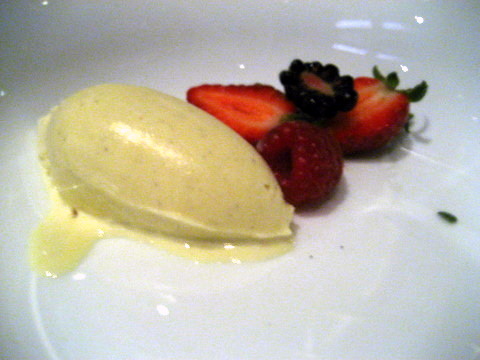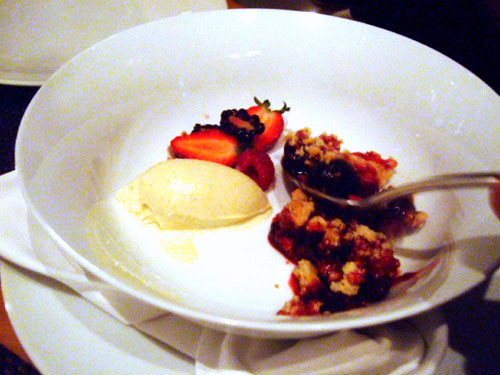 Mignardises - Caramel Crunch, Lemon Bar, Chocolate
All three are fairly simple but very well implemented and intensely flavored. I enjoyed the mouthpuckering feel of the lemon and the toasty dark sweetness of the caramel. The chocolate wasn't bad but definitely the most mundane of the three.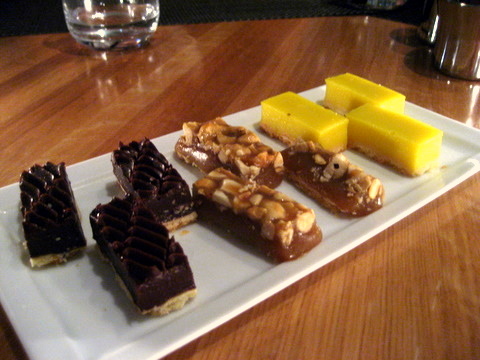 I think Cut has lost a step. Given that the courses haven't changed much in over a year, I wonder if the staff has become a bit complacent, maybe a shake up of the menu would energize the kitchen.

By definition, steakhouses specialize in a very specific type of food and rarely change their menus. While the food wasn't as stellar as my first visit I still think CUT is the best steakhouse in LA.