31441 Santa Margarita Parkway, Suite M
Rancho Santa Margarita, CA 92688
(949) 713-1500

My old roommate from undergrad just moved back to Southern California after a 5 year stint in Madison Wisconsin. We decided to get together and reminisce about old times. Knowing he was a man of simple tastes I decided an upscale pizzeria would be appropriate.

After trying the pizza at Lombardi's I have been looking for a restaurant that serves pizza napolenata in California. Pizza e Vino claims to be "Orange County's Only Authentic Wood Fire Neapolitan Pizzeria."

To be considered truly authentic Neapolitan pizzas are made using San Marzano tomatoes, Mozzarella di Bufala Campana (buffalo milk mozzarella from Compania and Lazio), and natural Italian wheat flour. According to their website, Pizza e Vino uses San Marzano tomatoes, as well as Italian flour. They do offer buffalo milk mozzarella but don't give the origin. In addition the restaurant boasts a traditional wood burning oven from Italy.

The restaurant is located in a strip mall in Rancho Santa Margarita. The dining area is fairly dim and has a number of dark wood tables. Further in there is a small bar area and in the far back, the open air kitchen complete with a view of the oven.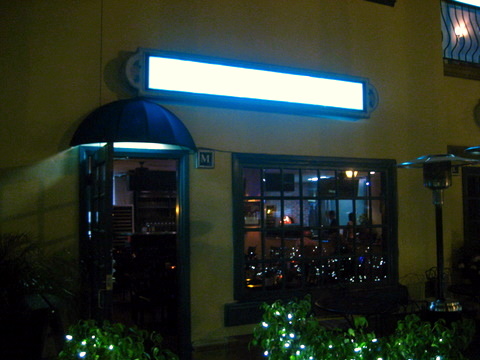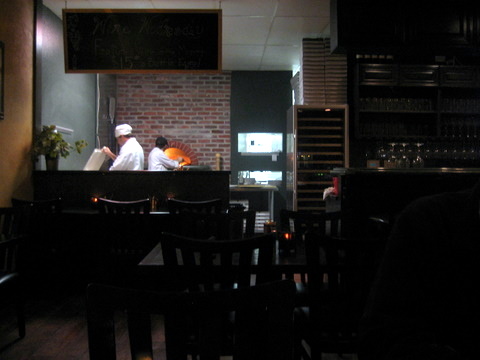 Margherita D.O.C. - fresh mozzarella di bufala, fresh basil
Naturally I had to start with the Margherita as it is one of the three official variants of Neapolitan pizza. The restaurant offers a Margherita and a Margherita D.O.C. (Denominazione Di Origine Controllata.) I chose the D.O.C. since buffalo milk mozzarella is more traditional. The pizza has a light initial bitterness from the wheat reminiscent of the pizza at Lombardi's. This quickly fades as the sweetness of the sauce becomes more apparent. This in turn is tempered by the light salinity and mild gaminess of the bufala cheese.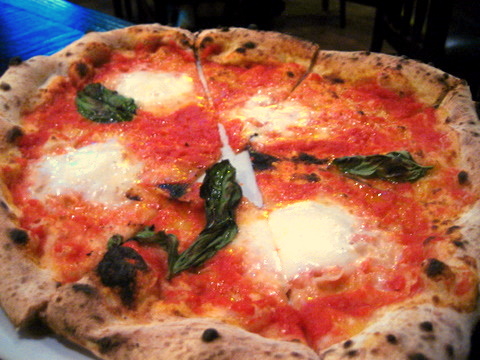 Prosciutto e Funghi - fresh mozzarella, house sliced prosciutto di parma, roasted crimini mushroom
If it were available, I would have liked a pepperoni and meatball for a more accurate comparison with Lombardi's. Instead I ended up trying a prosciutto and mushroom pizza. I enjoyed the subtle sweetness and the delicate supple texture of the meat. The mushrooms served as an earthy foil tempering the saltiness of the meat.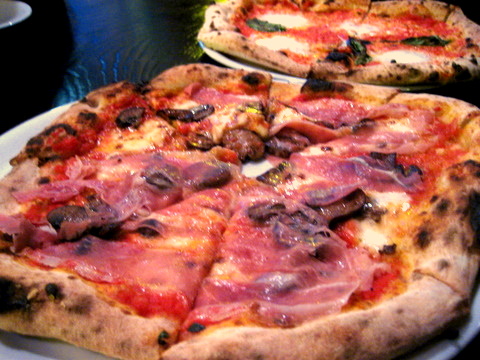 Misto Salumi - fresh mozzarella, sopressata, capicolla, claro's fennel sausage
My old college roommate is strictly a carnivore when it comes to pizza. His pizza came with sopressata (salami), capicolla (ham), and sausage. The whole combination was a far too salty although one of the meats did have a nice spiciness.



My one complaint about all the pizzas is the texture of the dough. Traditionally it is supposed to be crispy but the dough here was pretty soggy, I wonder if it as to do with oil and moisture seeping in from the toppings. The pizza at Lombardi's had a similar texture so it may just be my expectations are out of line with reality. Overall, the quality of the ingredients and complexity of the flavors weren't as good as Lombardis but it's nice to have an authentic Napoli style pizza close to home.