9500 Wilshire Blvd
Beverly Hills, CA 90212
(310) 276-8500

Cut has been one of those places we talked about going to ever since it opened. I called for reservations two weeks in advance and the only time I could secure was 5:30. The host then proceeded to warn me if I wanted a better time then I should call a month in advance. A sure sign of Cut's popularity, I haven't had any problems getting a table in any LA restaurant with two weeks advance notice.

When my friends and I really started getting into food, steak was one of those staples that never failed to satisfy. My favorite cut was always a generous prime rib eye served rare. Since then our palettes have grown but a good piece of steak can still make for a satisfying meal.

The Beverly Wilshire hotel is decorated in elegant style, sadly I did not have much time to admire the beauty since we were running late. I called the restaurant and the hostess said they hold tables for no more than 15 minutes, I think we made it with one whole minute to spare. I actually snapped these pictures after the meal as we were leaving.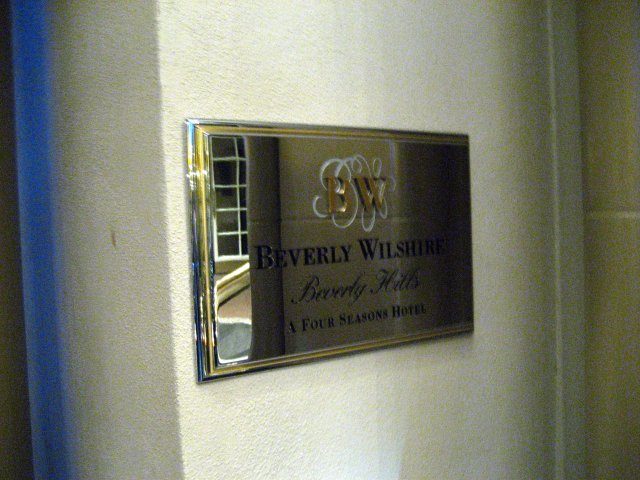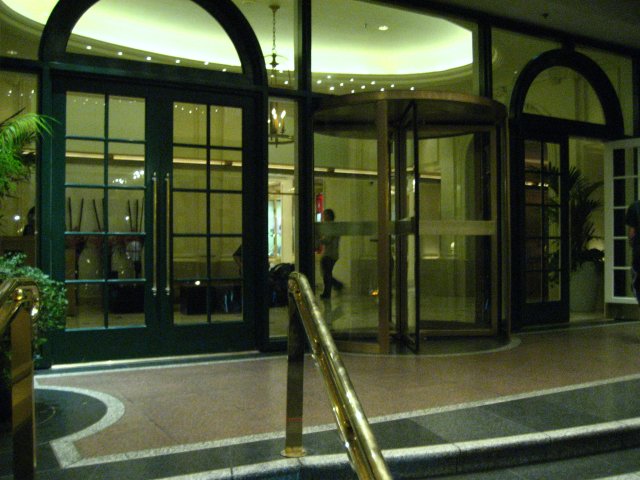 The interior of Cut is airy and light; decorated in contemporary style with glass, light wood, and leather. We were seated on sumptuous leather benches, two on a side. This afforded us a nice view of both the kitchen and the lower dining area. Walking around the rest of the hotel afterward, Cut certainly shows its comparative youth; the modern decorations of Cut contrast sharply with the columned marble and dark wood.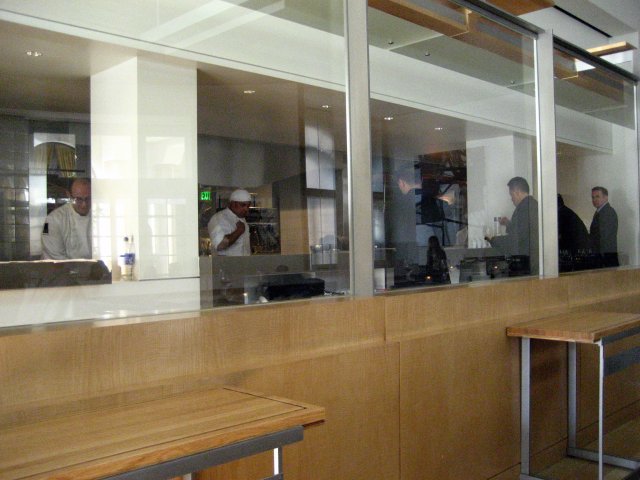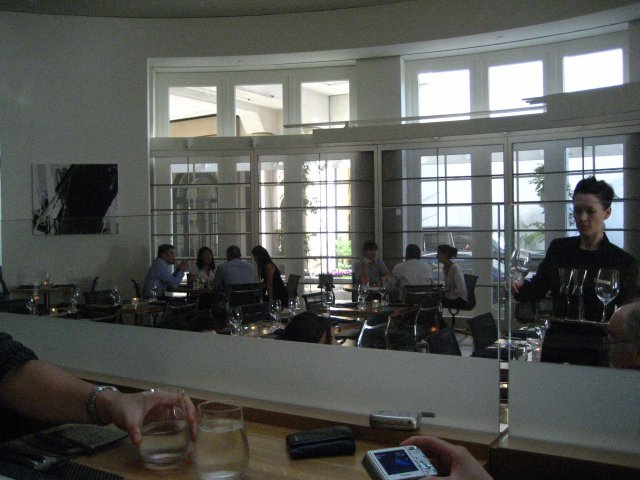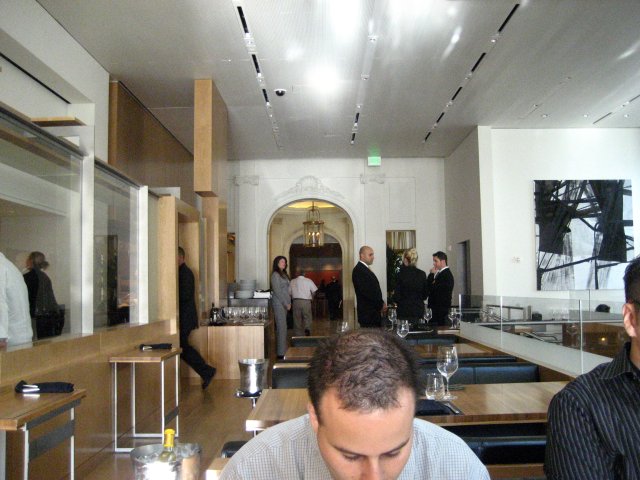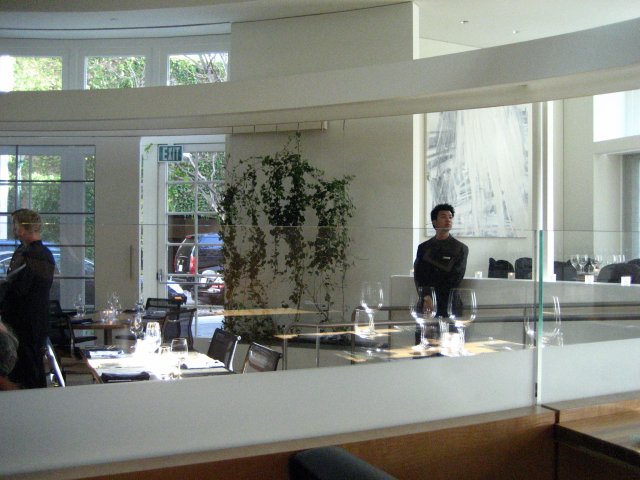 Cut prides itself on serving true Japanese Waygu beef and actually brings out a platter containing the 3 cuts of true Japanese Waygu and the American Angus/Waygu. Our waiter presented us the meat and for some reason I forgot to ask the quality although I am sure he would say A5. I did ask to see and get a copy of the cow's birth certificate but he didn't realize they had one. He went into the kitchen and when he came back he informed us the restaurant throws theirs away. Why you wouldn't show it is a bit of a mystery to me but oh well.

Looking at the meat the one wrapped in white is the American Angus/Waygu beef. It clearly has less marbling than the other steaks and the difference between the marbling and the lean meat is more pronounced. The piece above it is the Japanese New York steak, same cut as below but with noticably more marbling. The small piece up top on the left is the Japanese filet mignon. Lastly the bottom left is the rib eye. This is clearly the most marbled and with the best distribution: small pieces of fat mixing in with the meat to give it an almost pinkish color which lends itself to the super-tender meat that Kobe is known for.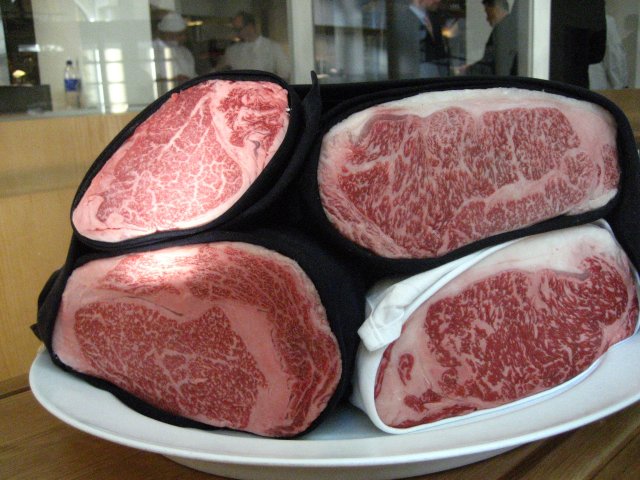 Beverages
Blackberry Anejo - I ordered one of these; a mix of rum and blackberry with some contreau sweet and spicy if a bit girly
Mojito - Two of my friends ordered Mojitos, I found Cut's to be fairly average with no intense shifting flavors I associate with the best mojitos
2002 Beringer Private Reserve - Big steaks warrant big wines and this is definitely a match made in heaven. The wine is very fruit forward, with hits of chocolate and spice
2001 Chateau D' Yquem - The legendary 100 point D'yquem, golden yellow with hints of intense aromas of boytris, honeyed lychee, apricots and a whole host of other flavors easily the best sweet wine I have ever tasted.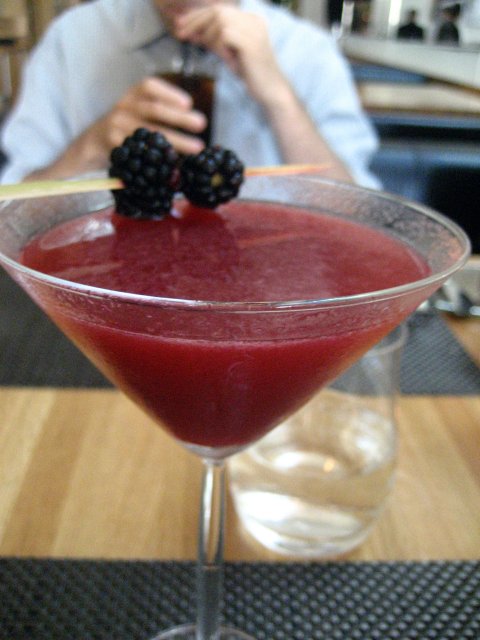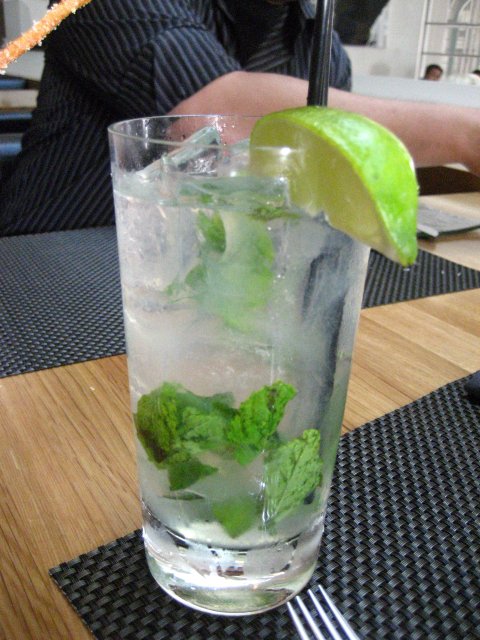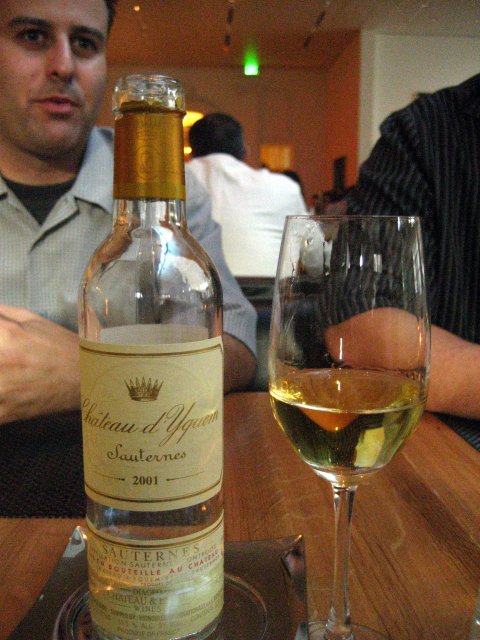 As soon as we sat down we were presented with the breadsticks. One was toasted and salted like a pretzel and the other looked like some sort of wheat and had a grainier texture and flavor. The breads on the tray included pretzel, pumpernickel, wheat, some sort of french loaf or sourdough, and my favorite onion focaccia bread. The focaccia was slightly warm and very soft flavored with sweet grilled onions and mild cheese.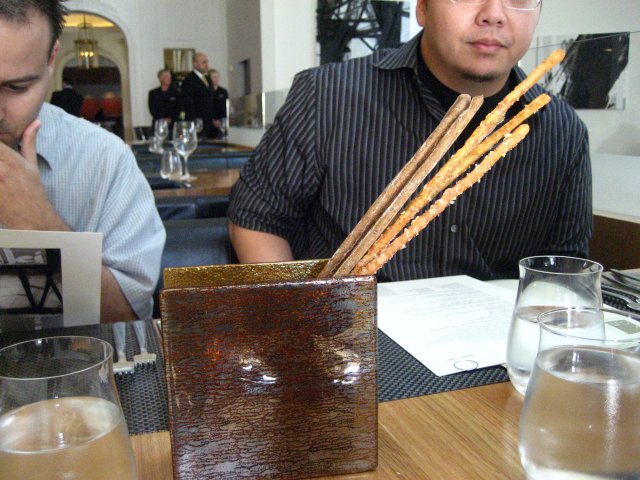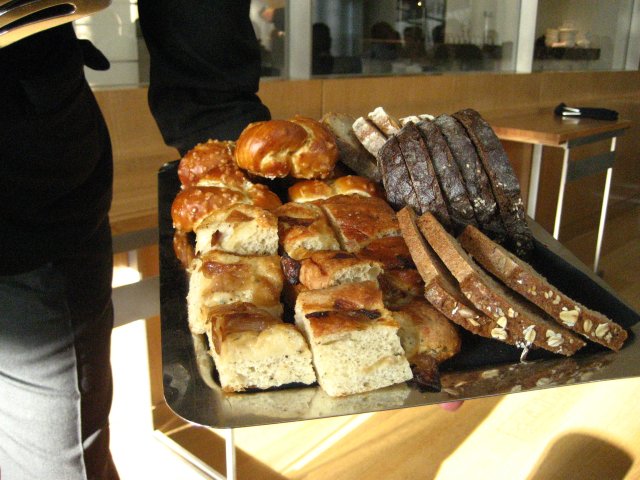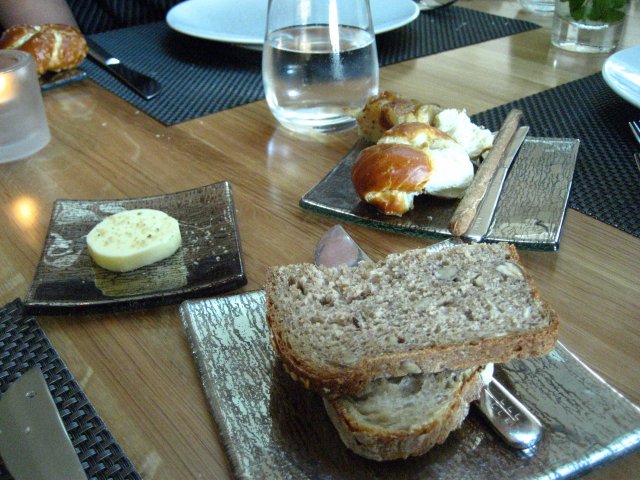 Amuse: Cheese Bread
As if we hadn't been given enough bread we were presented with an amuse of warm cheesebread. Think sticky doughy bread similar to that found in a churrascaria.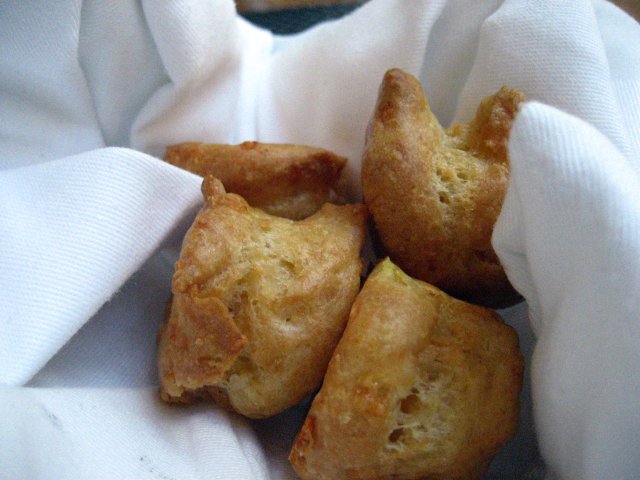 Big Eye Tuna Tartare - Wasabi Aioli, Ginger, Toragashi Crisps, Tosa Soy
My first bite left me thinking this was just your run of the mill tuna tartare. That isn't a bad thing by any means, tuna tartare used to be a staple for me at every restaurant. Of course this is tuna tartare at Cut and ordinary isn't good enough. The wasabi aioli was incredibly complex cool and creamy with a very well balanced wasabi citrus flavor that compliments the fish perfectly.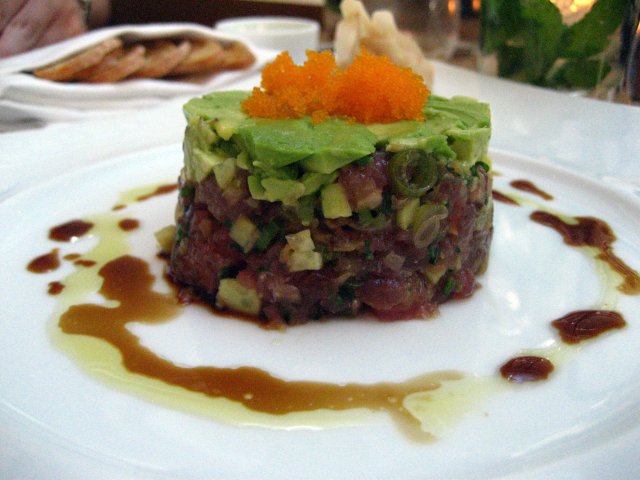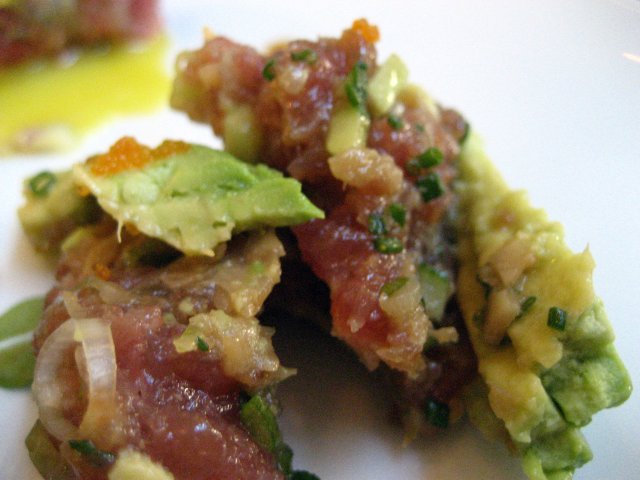 Kobe Steak Sashimi - Spicy Radishes
Hands down the table favorite. The kobe sashimi was slick tender and fatty and the radishes added a bitterness that served as a counterpoint to the fat.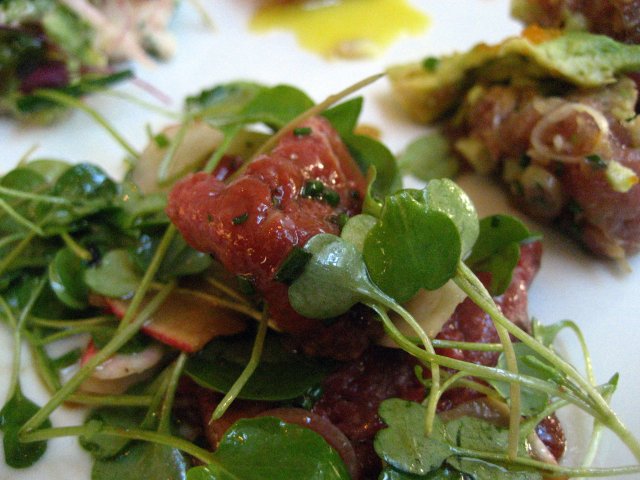 Maryland Blue Crab & Louisiana Shrimp "Louis" Cocktail - Spicy Tomato-Horseradish
This was my least favorite appetizer. The seafood tasted fresh but there wasn't much else to it. The greens were too bitter for me to really taste much other than a bit of creamy mayo.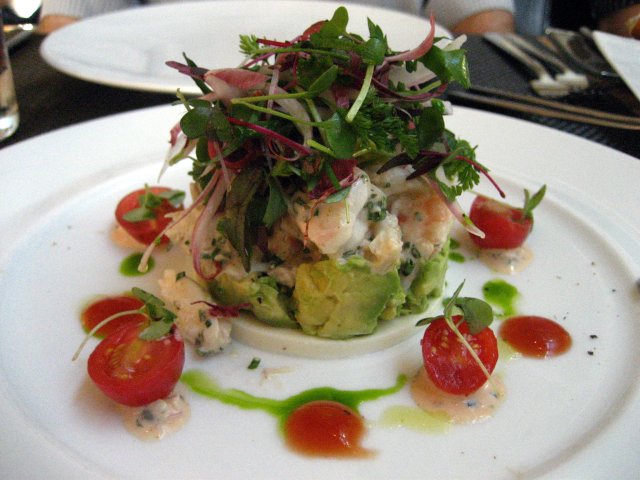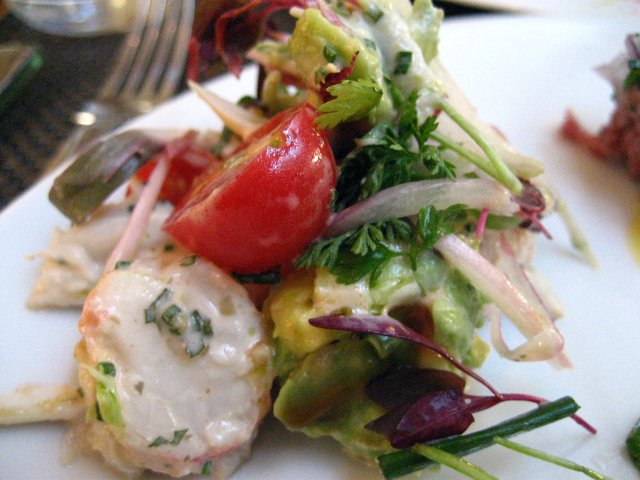 Prime Sirloin "Steak Tartare" - Herb Aioli, Mustard
This was my second favorite appetizer at first, but it was eventually surpassed by the tuna tartare. Like the other tartare, this was a very traditional pairing, mustard, and a raw egg atop a mound of prime beef. I think this dish suffered being paired with the steak sashimi which outclassed the tartare by leaps and bounds.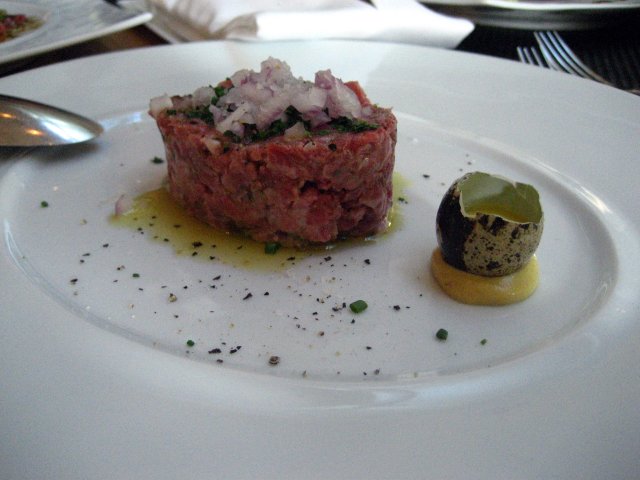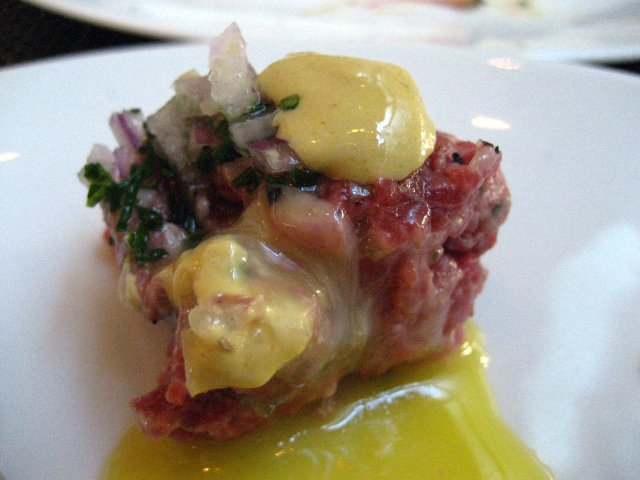 NEW YORK STEAK TASTING
This is why we came. When we sat down, I told our waiter, Dan, that we'd come to do a steak tasting and we wanted to try all the different New York steaks and he seemed to get a glimmer in his eye like he knew he was dealing with true carnivores. He actually recommended we skip the wet aged since it wouldn't compare but withdrew his suggestion when we told him we just had to have it for the sake of completeness. I originally wanted to try the steaks rare but was persuaded to go with medium rare so the fat of the Kobe gets a chance to melt a little. Our waiter even offered to cut the steaks for us so each person got their portions on one plate rather than trading plates.

USDA Prime, Illinois Corn Fed, Aged 21 Days - Probably the toughest and least flavorful of the steaks. Still one of the best pieces of New York steak I have ever had.

USDA Prime, Nebraska Corn Fed, Aged 35 Days - This piece of meat had the most concentrated beef flavor of the four. As our waiter described it for the "true steak lover." I definitely see the appeal of dry aging. The meat felt more compressed and was easier to cut than the wet aged.


American Wagyu/Angus "Kobe Style" Beef from Snake River Farm Idaho - Sort of a cross between the wet aged and real Japanese Kobe. The American "Kobe Style" beef has more intense fattiness than the other two. If you never had the real thing Snake River makes an impressive imitation, but once you try the real thing its hard not to compare.

True Japanese 100% Wagyu Beef from Kagoshima Prefecture, Kyushu, Japan - Finally, cutting through this you can feel the fat jiggling against the knife. Intensely fatty and rich this is like eating steak intertwined with melted butter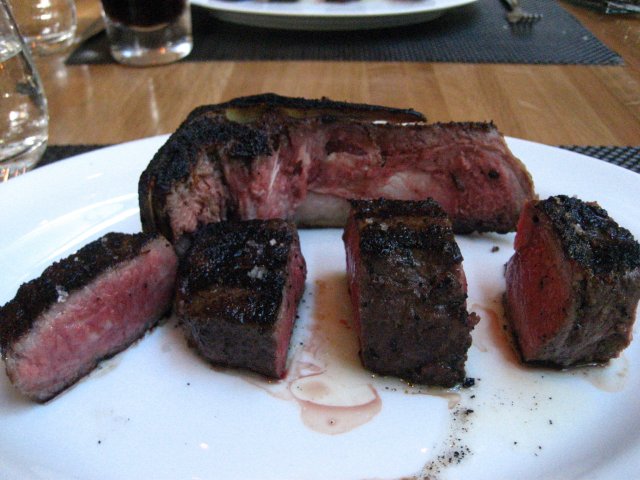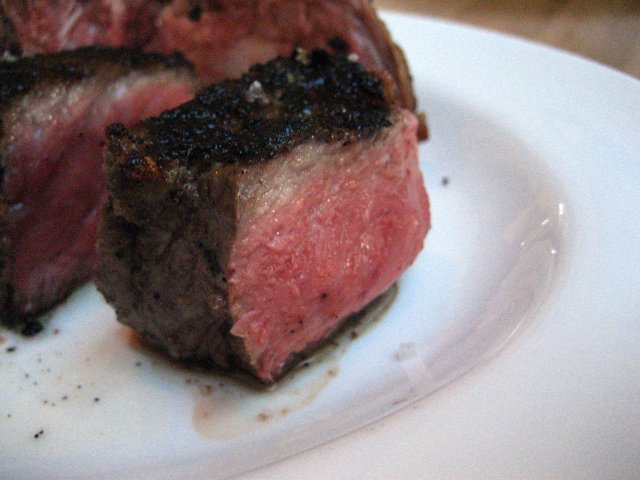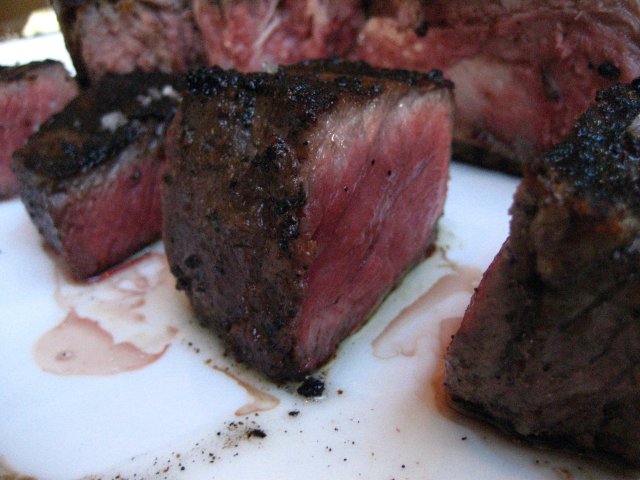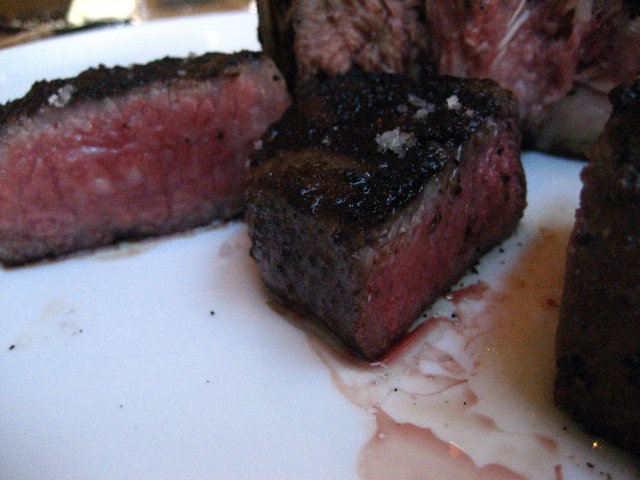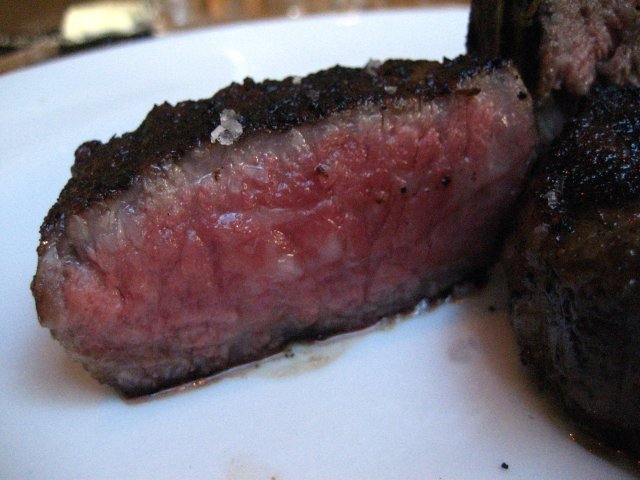 True Japanese Rib Eye
I thought the New York was fatty but even that can't compare to the Japanese rib eye. Rib eye has long been my favorite cut for its fatty nature, and this particular restaurant's came highly recommended. Unlike the New York, when you cut the rib eye, the knife just slides through clumps of fat and you only notice when it grates against a piece of lean meat. Eating this was a challenge since we filled up on the New York steaks. One of my friends noted they only give you 8 ounces and the first time eating Kobe you think theres no way thats enough, but once you eat it... wow. My friends and I struggled through our measly two ounce portions but it really was a good pain.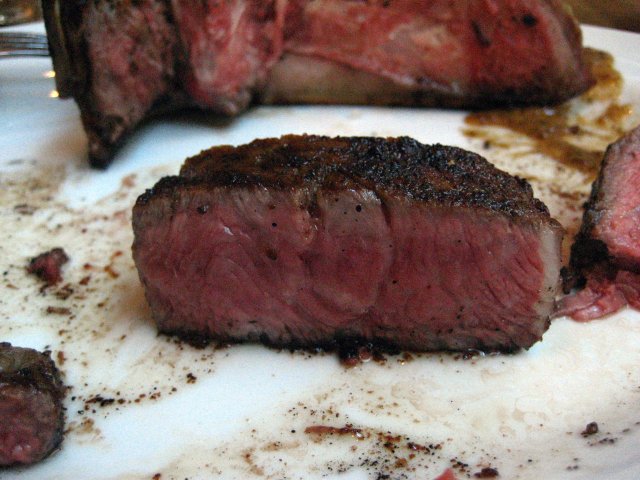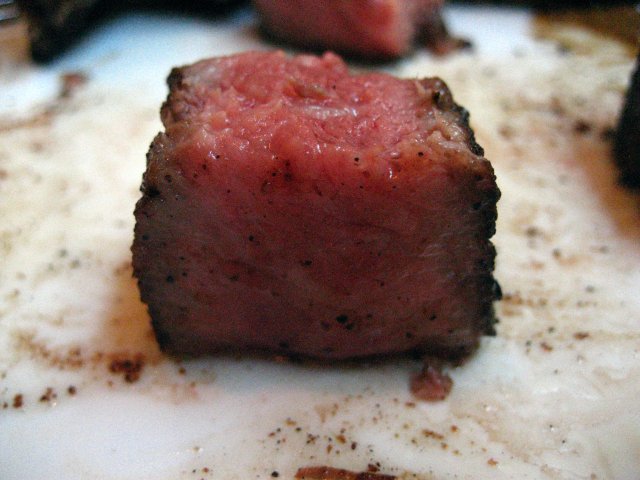 Nougat Semifreddo - Apricot Sorbet, Persian Mulberries
My dessert came with a little candle and a Happy Birthday greeting in chocolate. As I expected the Nougat was sweet and heavy, with something toasty and crunchy inside that made for a delicious surprise. I also liked the way the sorbet seemed to take some of the weight off the nougat and keep it from settling like lead in my stomach.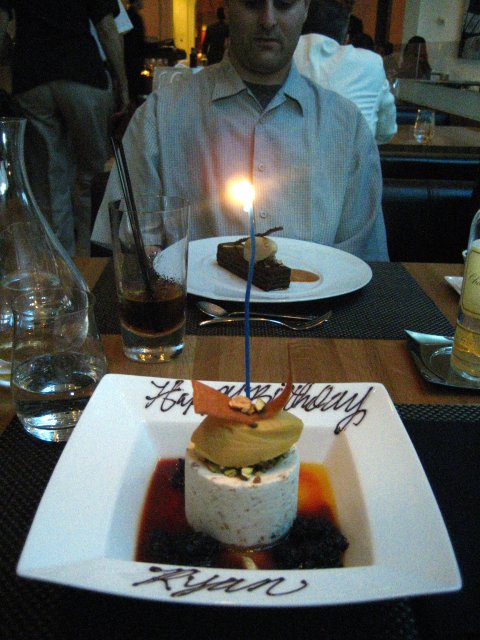 Gaviota Strawberry Shortcake - Creme Fraiche Gelato, Berry Sorbet
Another delicious dessert and a very clever take on a classic dessert using fancy ingredients. The cake was more like a tart with crispy flaky layers than a spongy cake I associate with shortcake.



Chocolate Pudding Cake - Salted Caramel Sauce, Coffee Ice Cream
Rich bitter chocolate with a velvety smooth texture. The salted caramel adds a little salty sweet to the mix. Still the dominant ingredient is chocolate and as good as that is I'll take a light tart fruit dessert anytime.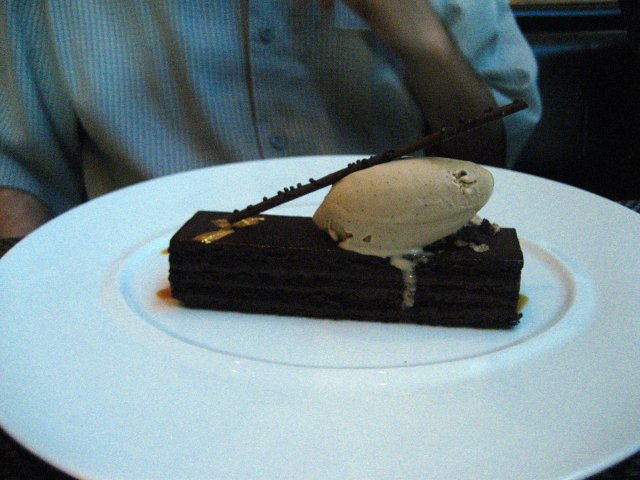 Valrhona Chocolate SouffleMilk Chocolate Hazelnute Glace
My least favorite dessert. The souffle wasn't even that light and the sauces paired with it really didn't contrast or stand out on their own.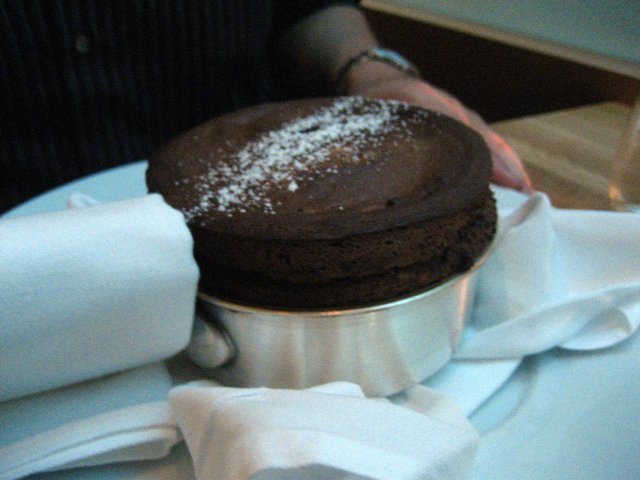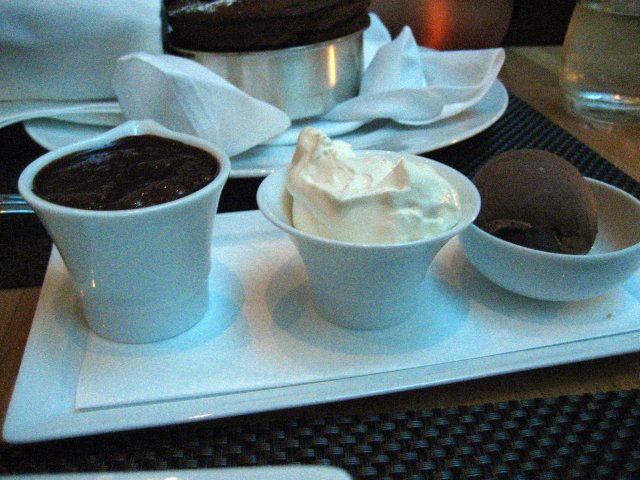 The kitchen has nice large windows and is readily visible where we sat in the dining room. I noticed the kitchen looked modern with cool lighting and lots of stainless steel.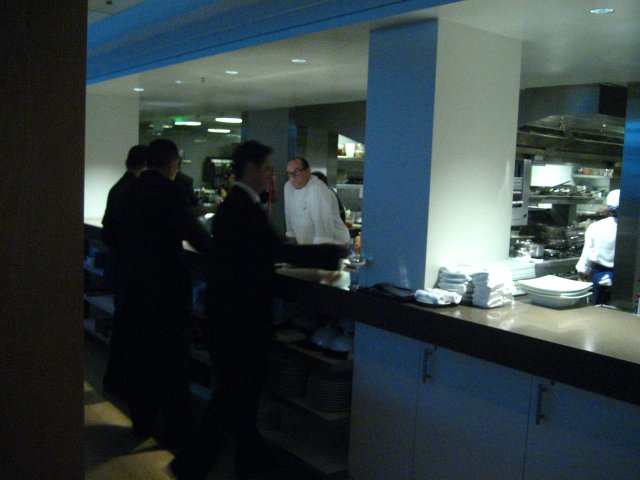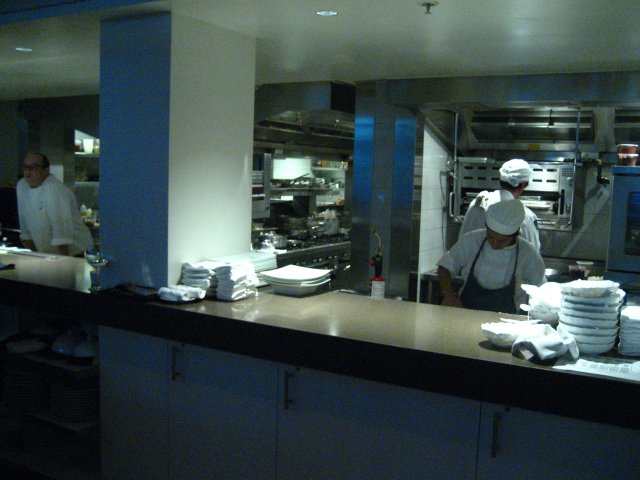 I'd like to give a special compliment to Dan. His passion about steak and the quality of service really speaks volumes about his ability. He went out of the way to accommodate us. At one point we asked him to get our menus signed. He saw the executive chef leaving and actually ran out of the restaurant to get him.

Easily the finest steak I have tasted in the United States. I hope I don't have to wait until my next birthday to come back.