It is unforgivable that it took this long to document experience at the final evening of LudoBites. On the eve, of his latest venture, this time in collaboration with Royal/T cosplay café, I thought it appropriate to look back on the last night of the first incarnation of LudoBites.

Bread
As always the meal opened with an offering of bread accompanied by Ludo's honey-lavender butter. Frankly the star here is the sweet floral butter, the bread is just an excuse to enjoy the lush smooth butter as people might balk at eating it straight.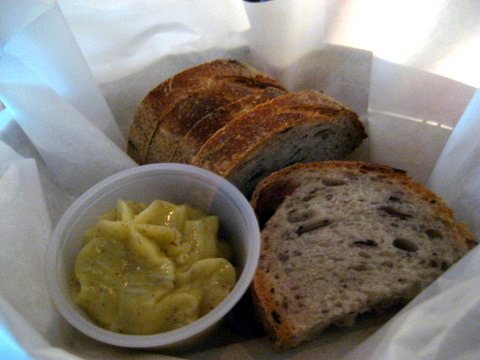 Chorizo Cantaloupe Cornichon
One of my favorite courses from my previous visit, the chilled soup tastes of concentrated smoky sausage tempered by refreshing cubes of melon and brightened with a chilling granita of cornichon. Spectacular, definitely deserving of a place among Ludo's best.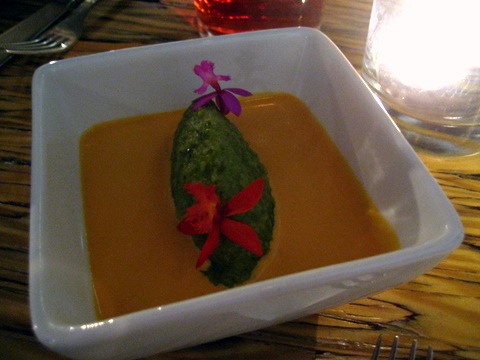 Chicken Liver Mousse Green Apple Gelee Onions Brioche
Next up an airy chicken liver mousse, that exuded a rich foie-like essence as well as a savory iron-y sapor. The apple gelée added a liveliness to balance the fatty decadence of the mousse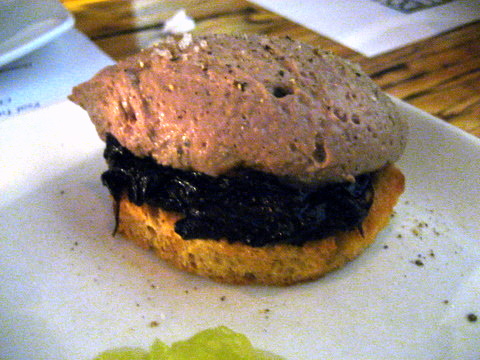 Green Beans Salad Peach Coconut Apple Horseradish & Lemongrass
The vibrant crunch of the green beans stood out immediately, a very light refreshing course, though I wish there was a bit more substance.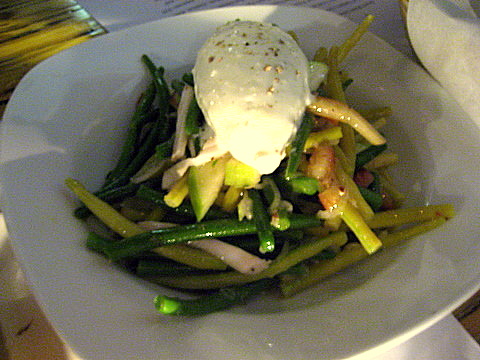 Veal Tartare Oysters Almonds Lemon Avocado Tonnato Sauce
I've had dozens of steak tartares but this was my first chance to try a veal tartare. The meat was firmer and leaner and tasted spectacular with the tonnato sauce, a blend of mayo, olive oil, and tuna. The sauce had a distinctive fishy savor and a light peppery bite on the finish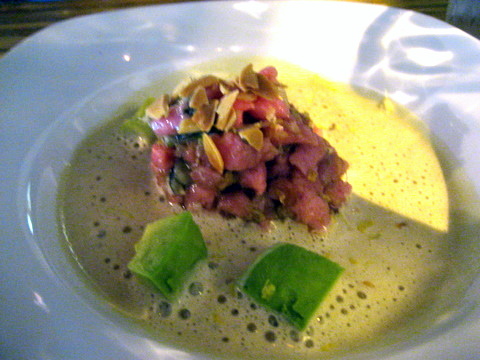 Fried Liquid Foie Gras
A unique and adventurous course, the crispy fried cubes with filled with a thin broth imbued with the essence of foie. A little large to eat in one bite but definitely quite the experience.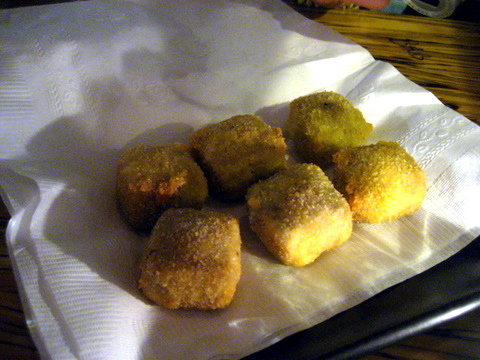 Marinated Heirloom Tomato Red Onions Feta Mousse Olive
A very Greek-inspired dish showing off spectacularly prepared heirloom tomatoes, with the marinade highlighting and enhancing the natural flavor of the tomatoes.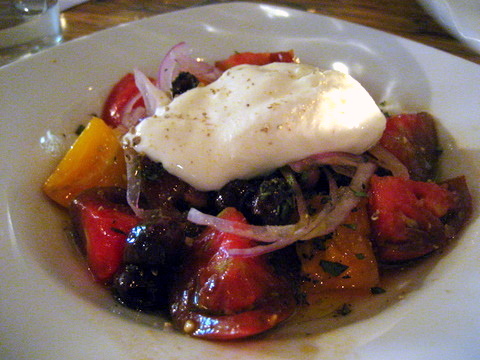 Homemade Boudin Noir Terrine Potato Puree Banana Passion Fruit
One of the rare preparations of blood sausage that I have seen served at restaurants. The texture is nothing like sausage, though the flavor has a spicy savor coupled with a coppery tang. Despite its fearsome makeup, the dish is quite approachable, though I wouldn't have minded some textural variety among the sides.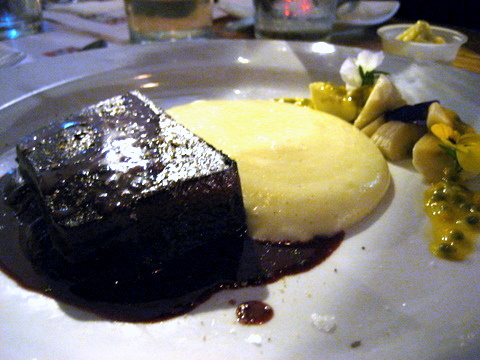 Creamy Polenta Cantal Cheese Black Truffle
Surprisingly, another favorite from my first visit was the humble polenta, a cornmeal mush that has its origins in gruel, the food of orphans everywhere during the industrial revolution as depicted in Oliver Twist. In actually, the dish has a much longer history having served as a staple of the ancient Greeks and Romans. However this is no ordinary gruel, flavored with an intense straightforward cheesiness and a decadent helping of black truffle.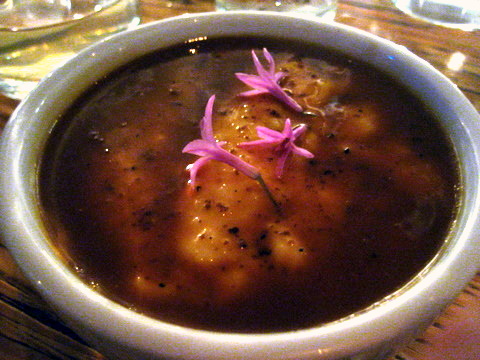 Foie Gras Black Croque Monsieur with Ham Cherry Amaretto
Another repeat from my last visit and just as spectacular and in demand this time around. Krissy was kind enough to save us enough for the entire table to get fairly substantial helpings. Despite having foie gras as the headline ingredient, it was really the ham that came to the fore here. The foie gras added a richness that punctuated the sweet-salty interplay with the cherry compote.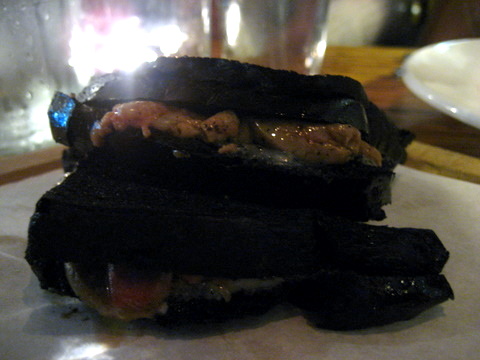 Lacquered Pork Belly Mustard Ice Cream Vadouvan
I am a sucker for pork belly, a slab of that rich artery clogging fat can just about make up for anything. The addition of a tangy mustard only heightened the experience for me.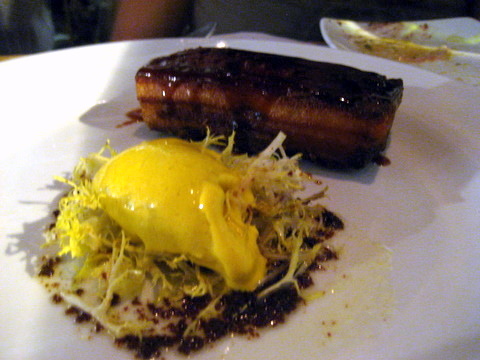 Marinated Fried Chicken in Duck Fat Brown Butter Potato Salad
This was one of the most popular dish of the night and we only were able to sample it by the dint of Krissy's generosity. I admit I was a bit skeptical about fried chicken, but it exceeded my expectations in every way possible; calling the meat juicy, tender, and flavorful doesn't even begin to cover it. I was amazed at Ludo's ability to take such a common dish and preparing it so spectacularly.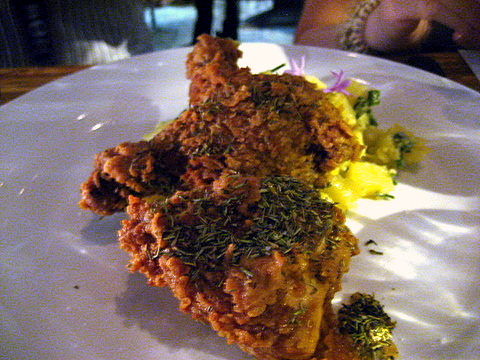 Grilled Duck Breast Carrot Cake Coulis Baby Carrots Ginger
One of the weaker courses of the night, the duck was nicely prepared but seemed a bit plain against the more innovative courses preceding it.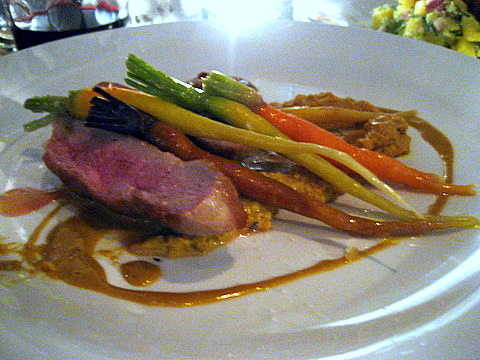 Grilled Beef Tenderloin Black Sesame Miso Smoked Eggplant
A nicely cooked steak, exhibiting just enough char to add an intriguing bitterness. I had a hard time bringing myself to taint natural flavor of the meat, but the smoked eggplant was a surprisingly natural pairing.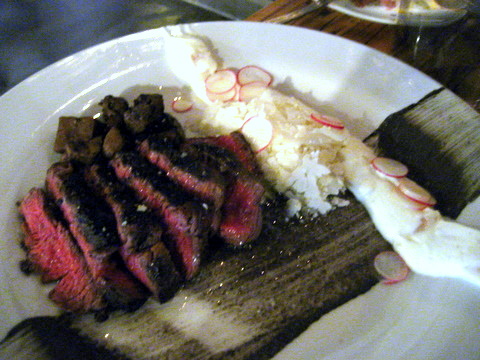 Cheese Plate
A fairly small cheese plate with a pair of accessible yet enjoyable cheeses.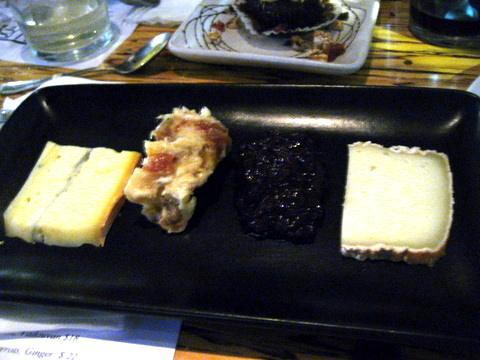 Peach Curry Mascarpone Verbena
What struck me about this dish was the intensity of the peach, a delicious honeyed sweetness alloyed with an exotic heat from the curry marscarpone.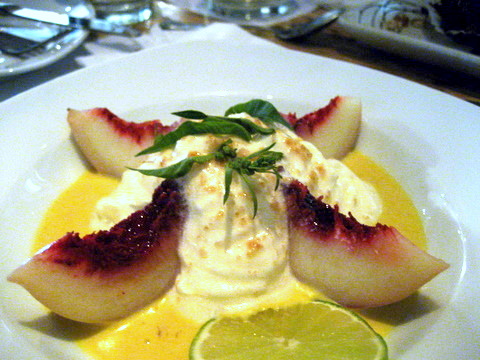 Strawberry Soup Marshmallow Ice Cream Wasabi
There is something incredible about Ludo's soups and the way they showcase the powerful essence of the core ingredient. The marshmallow ice cream reminded me of a heavier variation of whipped cream, the intensity was needed to match the profuse strawberry flavor of the soup.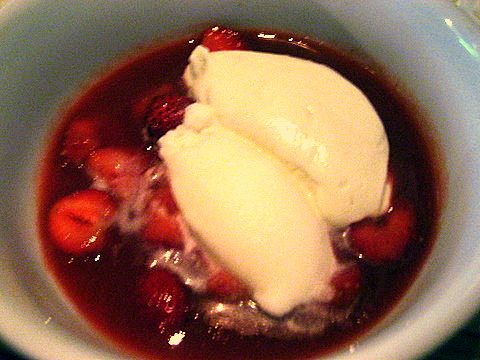 Chocolate Cup Cake Foie Gras Chantilly Candied Bacon Almonds Maple
Foie gras with bacon for dessert sounds like a winning combination. When combined with the straightforward bittersweet chocolate cake, the salty bacon and rich foie provided a plethora of contrasting flavors with each fading in and out a delicious workout for the taste buds.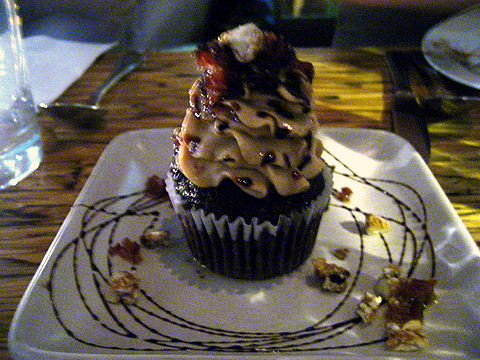 Creme Fraiche Panna Cotta Caramel Caviar
In keeping with the savory-sweet dessert theme, next up was an old Ludo standby, combining caviar, caramel, and panna cotta. The combination of caviar and caramel might sound disconcerting, but the flavors actually pair very well, kind of like a sea salt caramel.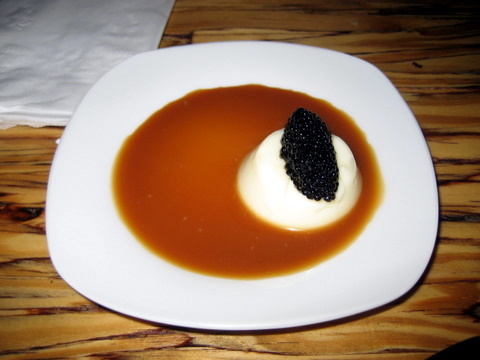 The final hurrah for LudoBites offered up a selection of the best courses from the past few months. The sad part of having a best-of closing dinner is the fact that we'll have to wait to have a follow up experience. Happily I'll have the opportunity to sample Ludo's new creations tomorrow evening. That will just have to tide me over until his next "guerrilla restaurant" or better yet, Ludo's permanent home.