8910 Washington Blvd
Culver City, CA 90232
(310) 559-6300

No sooner had I been introduced to the cuisine of Chef Ludovic Lefebvre some four months ago than it was gone. A necessary evil of his innovative "guerrilla style pop-up restaurant" concept. It must vanish before surfacing again with a new menu but the same spirit. This summer's stint at Breadbar was actually the second incarnation of his LudoBites concept, the first having run at Breadbar during late 2007. I was fortunate enough to secure a seat at the final dinner at LudoBites the second and by the time dinner was out I was ready to make reservations for the opening night at his next endeavor.

On November 3rd, after 3 months of waiting, LudoBites 3.0 was announced at Royal/T, a cosplay café/art gallery/retail store, an environment perfectly suited to Ludo's whimsical approach to food. A bit slow to act on the information, I almost ended up without a reservation; the restaurant was fully booked two weeks in advance of opening. Fortunately one of my friends had an extra seat at her table which I promptly filled. Thanks for the seat Choisauce!

The space has an urban loft-y feel with exposed wood beams and red brick walls and glass enclosures separating a wide variety of art(?) exhibits and a small shopping area with stylish and expensive trinkets including a $950 Hello Kitty diamond ring (I swear I only know because one of the other diners that night bought it.)

Our reservation was for 8:30 and when we arrived we found Will of FoodDigger (who was here the previous night for a pre-opening dinner I might add) and his party sitting at our table, just about done with their savory courses. Rather than rush him, Krissy decided to set up an extra table amidst the art exhibits for us.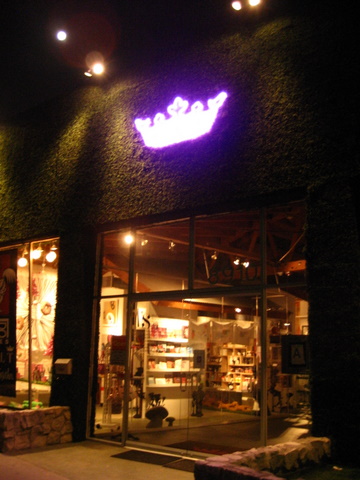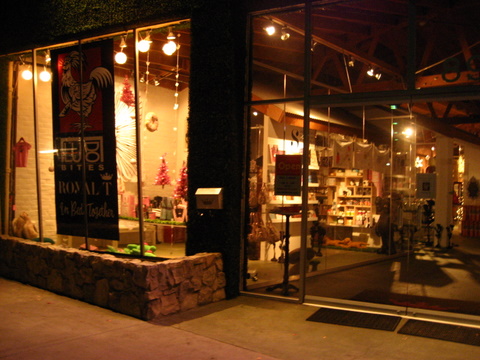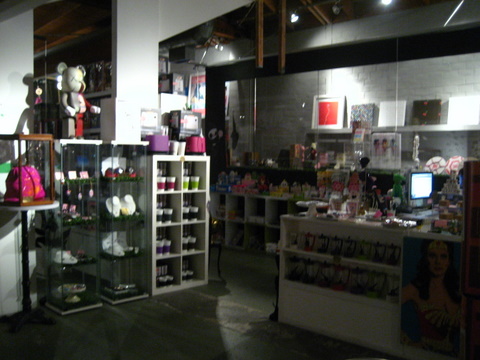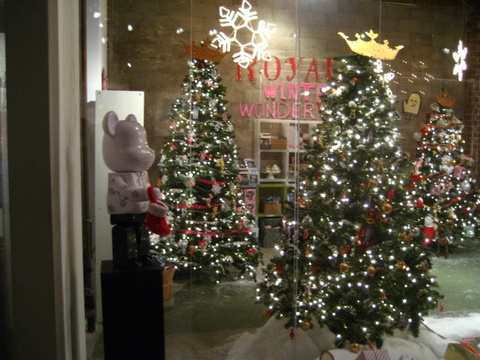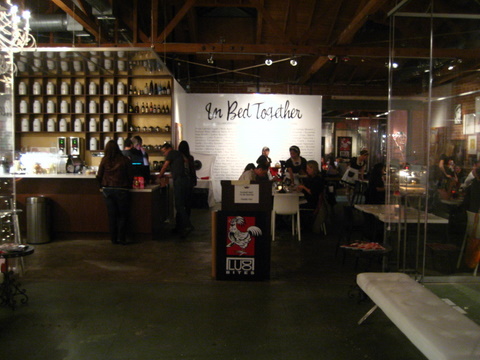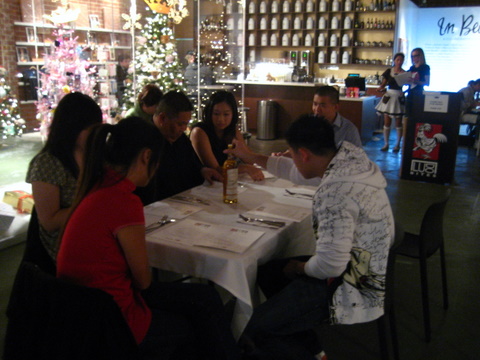 With 9 savory courses, 1 cheese course, and 2 desserts, we ended up ordering two to three of each dish. The photos came out exceptionally well, a far cry from the dim lighting at Breadbar. The difference was due to Krissy who took Kevin's advice and set up a a softbox for us to take photos in. In my party, only Wesley of Two Hungry Pandas and I took advantage of the softbox, much to the rest of our party's amusement including Evelina, the other Hungry Panda who called us geeks.

Scallop, Brown Butter, Pineapple & Black Powder
The first course were scallops, coated in brown butter, the nutty sweetness a fitting pair for the slick shellfish as was the "black powder" which I assumed was pepper but later learned was squid ink. What really made this course exceptional was the pineapple and the interplay between its tartness and the aforementioned flavors.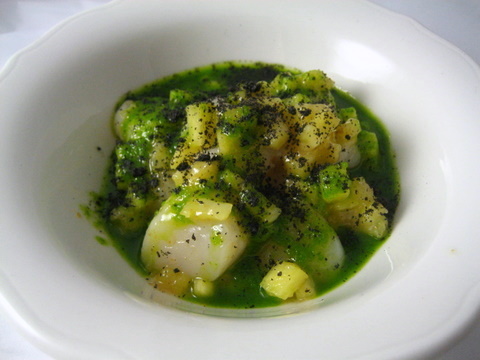 Caramelized Peanuts, Curry
The next course looked laughably simple, sort of like honey glazed peanuts. The initial flavor is similar with a sweet-salty mix but the finish has an unanticipated flash of spice. Still one of the simpler courses of the night, but quite enjoyable for a snack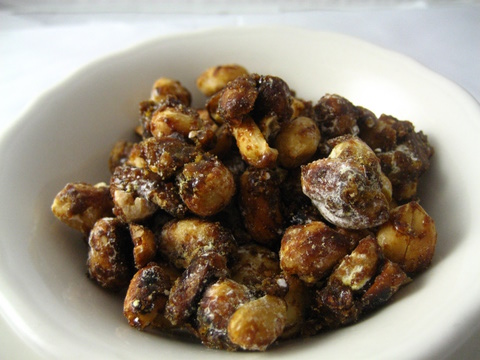 Monterey Squid, Chorizo Oil, Kimchi Puree, Red Onions
One of the standouts of the night for me, the squid possessed a complex texture, snappy yet pliable as well as a distinctly Korean feel courtesy of the kimchi puree a la Choisauce. The smoky flavor of the chorizo oil and the tangy red onions seem like such incongruous condiments for the squid yet the combination worked out wonderfully.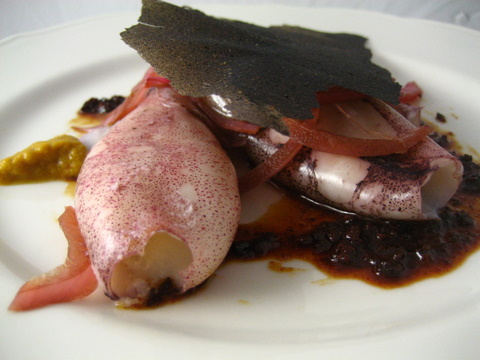 Bread Soup, Poached Egg, Gruyere Marshmallow
Having been thoroughly impressed by Ludo's chorizo soup last time, I had high expectations for this course. The soup base itself was quite creamy and displayed the yeasty essence of bread. Intellectually I can appreciate the dish as a very creative egg and cheese sandwich, still a bit one dimensional especially in light of the two fantastic seafood courses previous.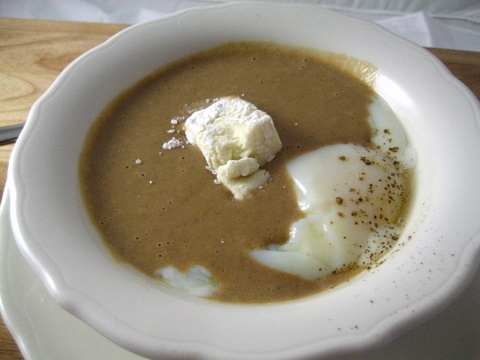 Foie Gras Beignet, Yellow Celery Roots Remoulade
One of the standout courses from the previous two LudoBites was the foie gras croque monsieur with prosciutto, squid ink bread, and cherry gastrique. Despite demands from regulars Ludo has refused to bring it back instead he offered a beignet stuffed with 2 ounces of foie served with celery root. I loved the interplay between the flaky crust and the soft warm foie center though such a simple combination wouldn't adequately reflect Ludo's creativity. The addition of the celery root was sheer genius, the bitter herbaceousness countering the fattiness of the liver superbly. Though the celery root has to be used sparingly, I ordered an extra helping of this dish and the second time around and too much of the celeriac can blunt the complex grace of the dish.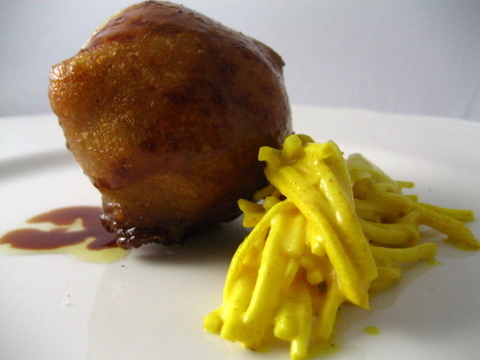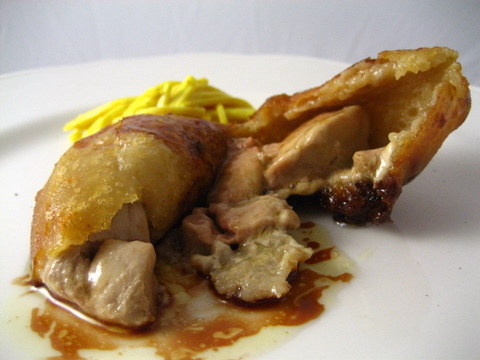 Veal, Udon, Kombu Dashi, Mushrooms & Sesame Seed Miso
The veal was exceptionally prepared, extremely tender with a depth of flavor more akin to a braised beef than the typically lighter veal. Add to this a heady savory broth and plump dense udon noodles and you have the makings of a signature dish that wouldn't be out of place at a Japanese noodle house. This dish met with general acclaim from the group with one of the other diners, Nathan, said something along the lines of "For a French guy, Ludo knows his udon."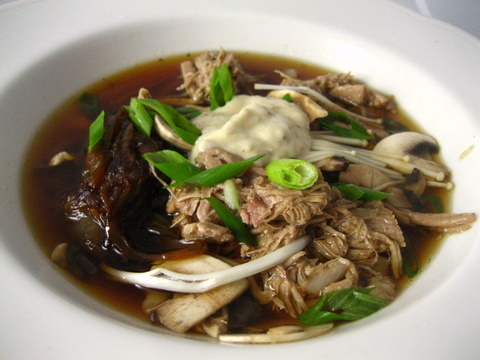 Wild Striped Bass, Garden Vegetables, Yuzu Aioli
I wasn't expecting much from this course, the stark presentation of simple vegetables alongside the fish felt a bit bland. I immediately revised my impression when I cut into the fish with my fork and felt the resistance which suggested a wonderfully supple texture. The fish did not disappoint but it was the tang of the yuzu aioli made this dish for me. I still didn't care too much for the vegetables but the fish itself was superb.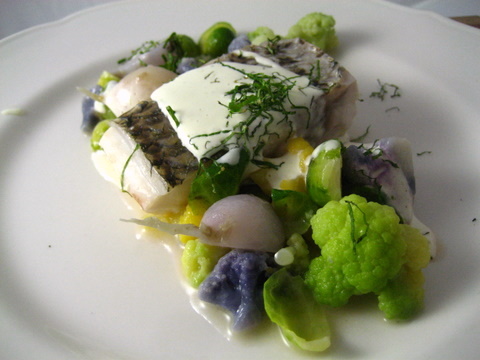 Confit Pork Belly, Pickles Mustard Tartine, Frisee
I got a sneak preview of this course when I arrived courtesy of Will and company. The belly itself was extremely flavorful though a touch dry for my tastes, the mustard seed provided a nice tang though I expected the frisee to be more pronounced. The bread I tried was a touch overcooked and the char seemed to blunt the other flavors in the dish, overall the contrasts just weren't sharp enough with this course.



Marinated Hanger Steak, Crunchy Escargot, Baby Corn, Bok Choy, Black Olive Mole
Hanger steak is one of those steaks that is hard to cook well but can be absolutely delicious if done correctly. The beef here was cooked wonderfully, a bit of char on the outside and an absolutely pure beef character. The addition of escargot is a new experience for me, though the rich garlicky butter is an easy addition to the beef. The smoky sweet mole, which Ludo learned two weeks ago from Teenage Glutster's (Javier) mother was a much more interesting compliment though it is difficult to pin down the interplay clearly, one must simply try it in order to understand.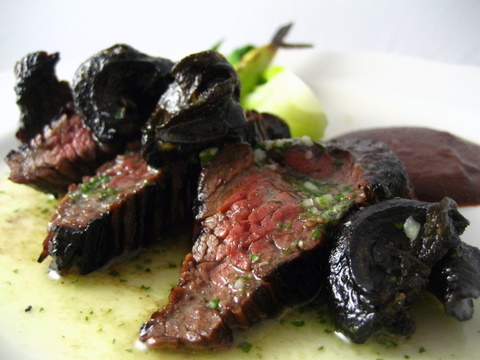 Fourme d' Ambert Tourte, Red Pear, Honey-Balsamic
The cheese course is actually a tart made with Fourme d' Ambert, a cow's milk blue cheese that is aged for 28 days and injected with Vouvray moelleux, a sweet white wine. A number of my companions though the cheese was too strong, but I found the intensity of the blue just right especially considering caramelized sweetness of the tart which was further heightened by the red pear accompaniment.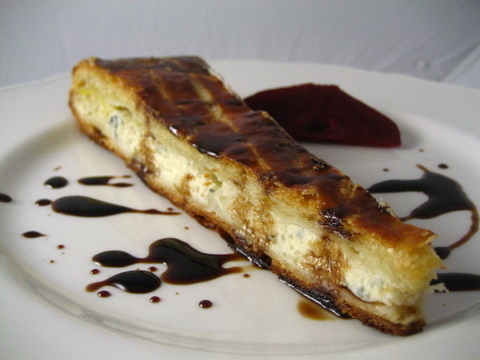 Chocolate Cake, Coconut Sorbet Soup, Pink Pepper Meringue
A very dense rich cake, coupled with a refreshing lightness from the coconut soup. The standout of this course was the meringue, with its airy bite, intriguing enough that I actually preferred it alone rather than as an accent to the course as a whole.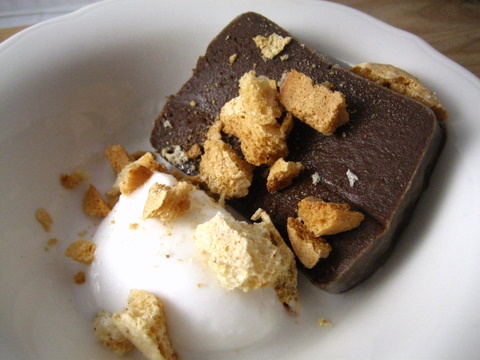 Pistachio Rice Milk & Pound Cake
The final course was a thick rice milk infused with pistachio and served with a pound cake. Like the preceeding dessert, this would be too simple as is. The twist here is the use of creamed horseradish, giving the dish a light heat. An interesting concept though a touch disconcerting for me.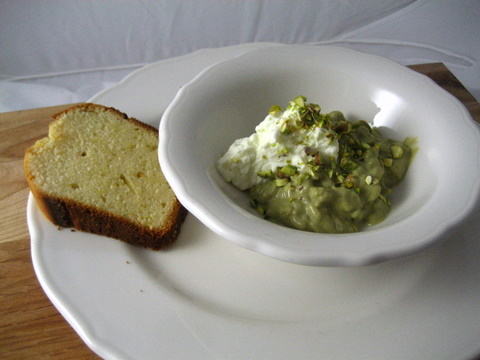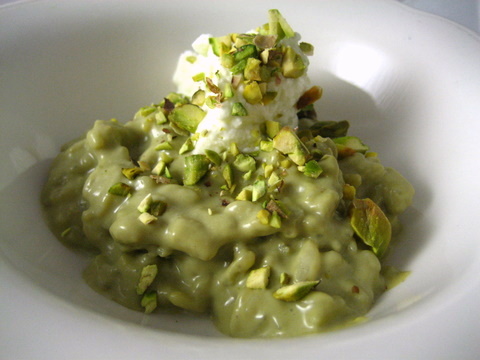 After a three and a half month hiatus, it was gratifying to see Ludo back where he belongs, in the kitchen. For all his cockiness, Ludo is singularly unpretentious when it comes to learning new techniques. Despite his fine dining training and gourmet pedigree, he takes the lessons seriously no matter how humble the origins of the teacher. What's more, he incorporates the new techniques into his food with dizzying speed yet manages to do it so seamlessly After the meal, we got a chance to check out his new setup and one word comes to mind, Lilliputian. The space looks smaller than my old college dorm room and he has to share it with the regular café staff which must make for some interesting working conditions.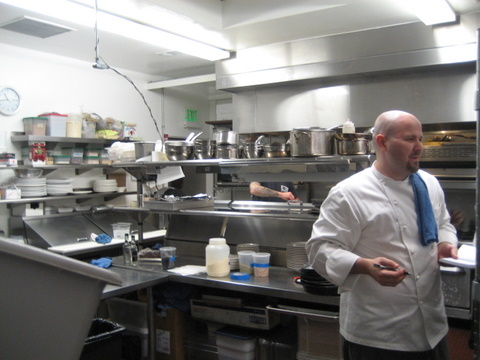 As the evening wound down, Ludo and Krissy had a bit more time to spend with our group. Invariably the conversation gravitated towards food and where Ludo would end up next. The topic of where the next LudoBites will be is always one of intense speculation. Will it be permanent? Where will it be? Have they found a place? Krissy gave us some insight into just how difficult it is to secure a permanent home, with landlords making ridiculous requests even going so far as to seek a hand in the design of the menus. Moreover, with a permanent home, there is always the fear that the menu will stop evolving, so key to the concept of LudoBites. Regulars will come to expect their favorite courses always be available; though if anybody can resist that kind of pressure its Ludo with his thick skin and French haughtiness.

With regards to the food we got a sneak preview of courses to come (sorry no croque) but potentially a new incarnation of Ludo's fried chicken, which was the best I'd ever tasted, and it's even better this time around, according to Krissy. Tasting that chicken alone would be worth a trip back. For those who have reservations, I suggest going in a group and trying all the courses. Those without reservations might have it a bit tougher, but call the day of and I expect there will be a cancellation or two.