8910 Washington Blvd
Culver City, CA 90232
(310) 559-6300

Ah LudoBites 3.0 we hardly knew ye. Earlier in the month Chef Ludovic Lefebvre opened the third incarnation of his transitory restaurant LudoBites and here we are 20 days later to celebrate its swan song. Of course this dinner was booked solid long in advance. I was lucky enough to secure a seat thanks to Wesley of Two Hungry Pandas who immediately booked the table as soon as our meal ended on opening night. The atmosphere in the dining room was similar to a large dinner party, with familiar faces across many tables all gathered to enjoy their last taste of Ludo's cooking for the foreseeable future.

Though the latest incarnation of LudoBites offers alcohol, two members of our party, Will and Remil, were kind enough to bring a couple bottles. We started with a 1975 Chateau Montrose, the wine opened with a noticeable funk but eventually opened up revealing notes of tobacco and earth with light hints of red fruit on the finish. Next up was a superb 2006 Les Clos Sacrés which smelled powerfully of honeyed apricot and peach and presented a medium body and ripe spiced stone fruit on the palate. We continued onto a very fruit driven 2006 Domaine Serene Yamhill Cuvée that delivered a classic scents of red cherry and strawberry; pleasantly sweet and easy drinking. Remil's contribution to our collection was a N.V. Smith Woodhouse Porto, Lodge Reserve from Portugal, that came packed with flavors spiced raisins and sweet cherry syrup.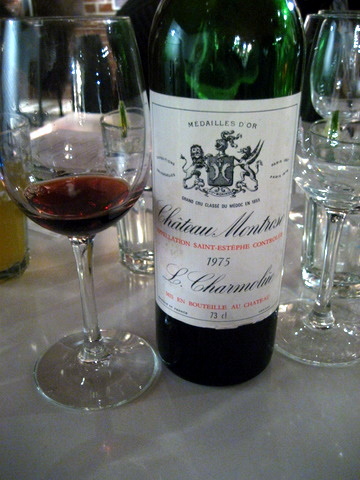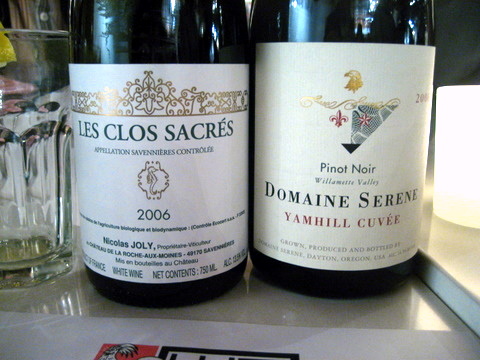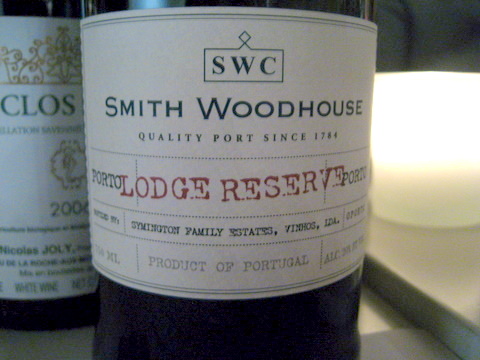 Tuna, Sushi Rice Ice Cream, Soy Sauce Gelee, Smoked Ginger
I like to think of the first course as a tuna nigiri crudo, combining the classic elements of sushi: fish, rice, soy, and ginger in a contemporary presentation. The flavor profile was anything but classic, with an almost meaty smokiness and a refreshing counterpoint from the sprouts, dimensions lacking from a traditional maguro nigiri.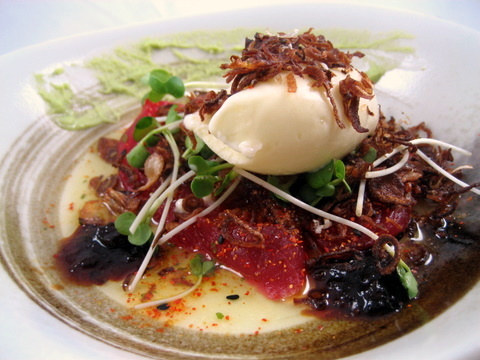 Caramelized Endive Orange Grapefruit Salad, Gingerbread Croutons
One of the most one dimensional courses I can recall in recent memory and that dimension is bitter. Danny pointed out that the cooked endive reminded him of bitter melon and there were quite a few double takes around the table as our party got their first taste of this course. I'm not sure what Ludo had in mind with this course but if it was shock value then mission accomplished.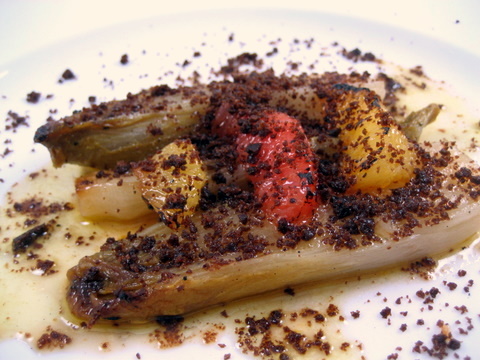 Celery Root Soup, Black Truffle, Parmesan
I thought this might be similar to the soup at Guy Savoy but the celery root proved to be remarkably neutral, more like a cream of potato soup. The black truffle was almost undetectable leaving the Parmesan as the dominant flavor component.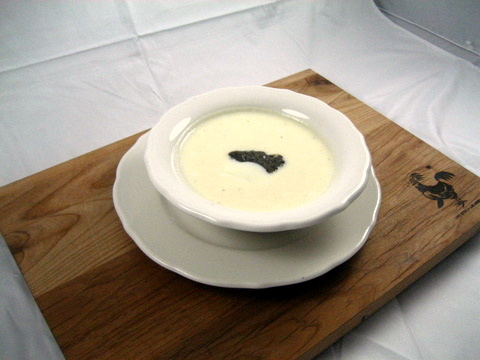 Slowly Sauteed Monterey Wild Squid, Chorizo Oil, Kimchi Puree, Black Olive
This course was held over almost in its entirety and with good reason, this was easily one of my favorites during the opening night. The only new addition, black olive added a pronounced earthiness though I preferred the tangy red onions of the earlier version.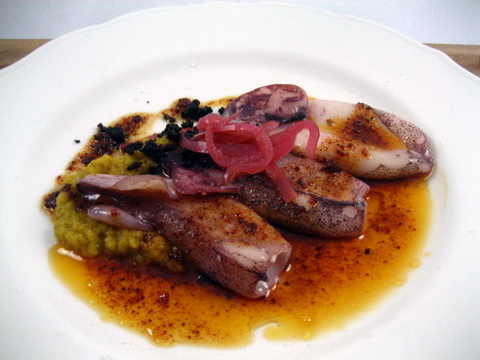 Egg "Meurette," Red Cabbage, Lardo Toast
The table favorite of the evening was Ludo's take on the classic Oeufs en meurette, poached eggs in red wine sauce, the runny egg combined beautifully with the robust sauce. As if the dish wasn't flavorful enough already, we slathered the mixture on slices of thick toast covered in delicious lardo, or cured pork fat.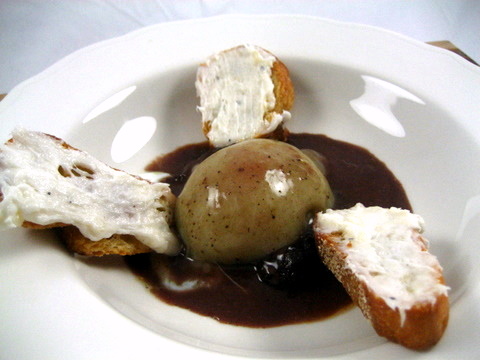 Foie Gras Beignet, Saffron-Dried Apricots
Another holdover with some changes, the foie was served cold giving it luxurious density that certainly felt like a lot more than two ounces. A classic pairing of jammy sweet apricot though with a fragrant musk from the saffron. The lighter celery root previously paired with the dish would have been a better counter for the weightier foie of this presentation.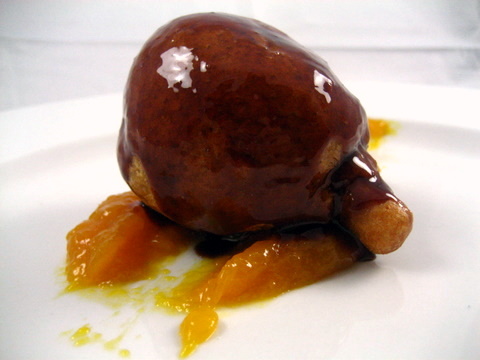 Shrimp, Udon, Kombu-Ginger Dashi, Baby Carrots, Vadouvan Butter
The veal udon generated a great deal of buzz around the table during our previous meal, the savory heft of the veal making for a particularly umami-laden noodle soup. The shrimp is a more conventional pairing, but Ludo demonstrates his creative flair with the addition of Vadouvan butter; the resulting udon was far sweeter with an exotic curry flourish.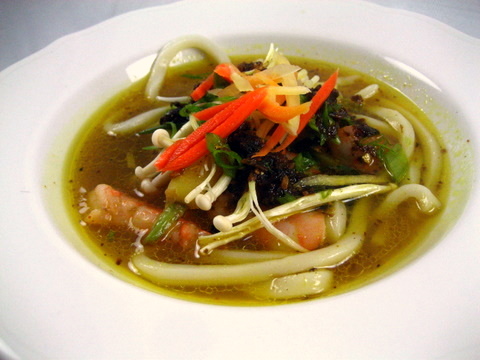 Fried Chicken, Cantal Polenta, Baby Corn, Mole
Ah yes fried chicken, long the province of fast food chains has seen new life in the hands of chefs like Ludo. My first taste of "LFC" was a revelation, I never thought fried chicken could be so juicy and flavorful and at the opening, Krissy mentioned the chicken was even better this time around. This was probably my most anticipated dish of the night and it did not disappoint the meaty blocks of chicken were just as tender and delicious as I remember with a hint of spice and rosemary to boot. The mole was a substantial improvement over the previous version with more clearly defined flavor and a distinctive dark chocolate essence. Despite the quality of the accompaniments, the chicken was just too delicious on its own.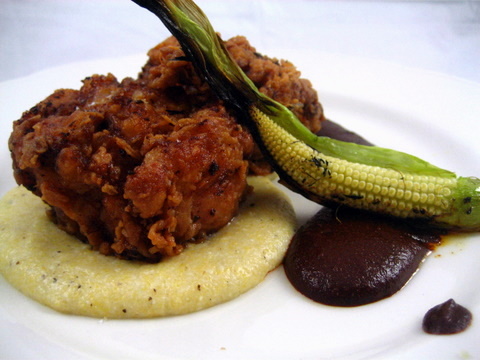 Marinated Hanger Steak, Eggplant, Goat Cheese, Shallots, Radish
Ludo has demonstrated an exceptional mastery of steak and dressing a beef course. This marks the third steak I have had at LudoBites, each drastically different and though all have been exceptional this may be the best one yet. As always the steak was cooked perfectly but what makes this is the goat cheese. Creamy and smooth it takes on the flavor of the beef while adding an appreciable heft, this inexplicably simple pairing left me in awe.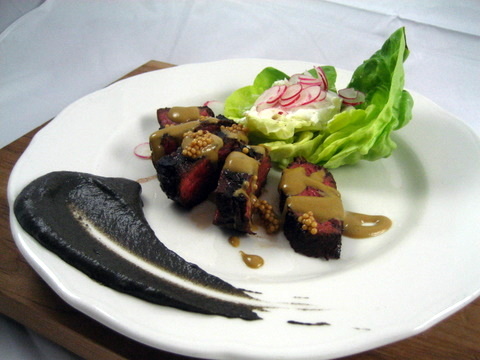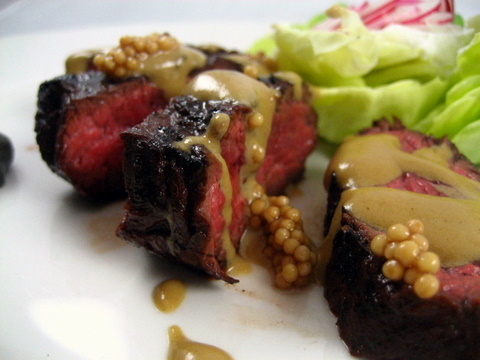 Fourme d' Ambert Tourte, Red Pear, Honey-Balsamic
The only course to survive LudoBites 3.0 completely unaltered was the cheese tourte. Perhaps the course that received the most mixed reviews last time, the tourte proved to be quite popular with this crowd. Most members of our party either had multiple pieces or took some home for breakfast, for my part I did both.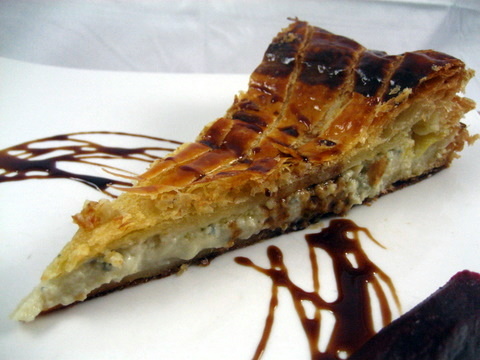 Vanilla Crème Brulee, Rose Ice Cream
Traditionally crème brulee comes in a near perfectly shaped cylinder, by comparison, this presentation had a rustic feel with an extra-thick layer of custard and uneven caramelized top. I prefer crème brulee with a thick layer of caramelized sugar on top which adds complexity to the sweet custard though the rose ice cream provided a mild floral aroma that kept things interesting.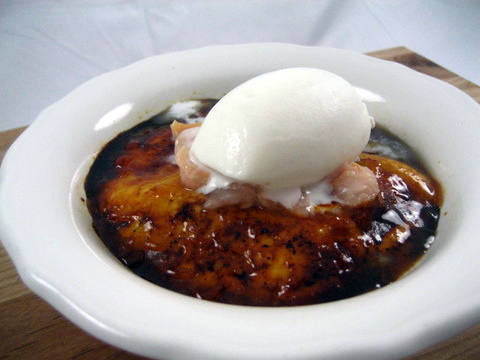 Jalepeños Chocolate Mousse, Green Tea Soy, Extra Virgin Olive Oil
Though not much to look at this turned out to be an exceptional finish to the meal. The rich chocolate base was just the starting point for this dessert which featured a bouquet of fragrant olive oil, an earthy savoriness from the soy, and finished with a palpable heat from the jalepeños.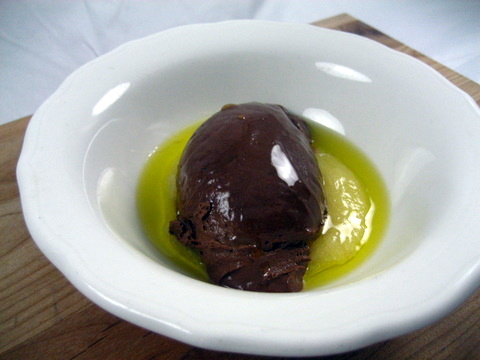 With a party of 8 we ended up ordering two of everything with supplements of the stronger courses. While this helped keep costs down, it typically left people with one bite of each course, hardly enough to get a decent tasting. I felt the menu was a bit less to my taste than at the start of the month; no doubt the result of an Ludo's incessant tinkering. On the plus side, if whats being served one day doesn't agree with you, you can come back a week later and its a safe bet things will have changed.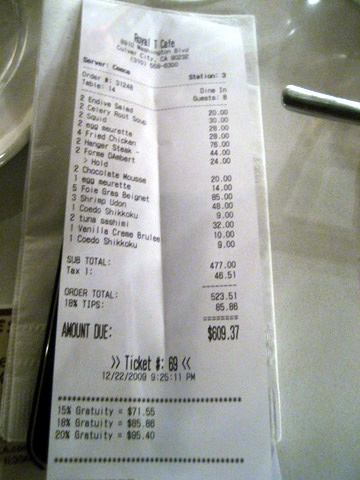 Our party started getting restless around the time dessert came out, with people getting up to visit the kitchen or chat with friends at other tables. Part of the unique charm of the last two LudoBites finale is the camaraderie about the dining room. We lingered for over an hour after our meal chatting with staff, guests, and of course Ludo and Krissy, listening to stories about the kitchen and trying to tease out where Ludo would end up. Despite our efforts we were left in the dark with regards to Ludos future, but one thing I do know is that I'll be there day one wherever Ludo pops up again be it LudoBites 4 or at his permanent home.