I am not sure how this debauchery came about, I guess a discussion on the rise of upscale burgers particularly in Los Angeles and Las Vegas. With a trip to Vegas upcoming it felt like the ideal time to do some primary research into the various gourmet burger offerings. With only one day, it was difficult to really hit all of the places we wanted to. Two that didn't make the cut were the Burger "A la Française" at Guy Savoy and The Original NY DB Burger at Daniel Boulud Brasserie.

Bradley Ogden - 08/28/2009
Caesar's Palace
3570 Las Vegas Blvd S
Las Vegas, NV 89109
(702) 731-7410

Our first stop was at Bradley Ogden for his simple House Ground Steak Burger. Just prior to ordering, we mentioned to our waiter that we met Chef Ogden at Root 246 and how he took superb care of us when we dined at the Kitchen Table there. Our waiter then pointed out that Chef Ogden was sitting at the table next to us talking to some other guests. He stopped by our table and we discussed our other burger tasting stops which prompted him to guffaw and say "what does a Frenchman know about burgers?" Bradley Ogden was the only American restaurant we considered for the tasting, odd given the burger's iconic place in American cuisine.

House Ground Steak Burger & Fries
The burger is made from a blend of 90% ribeye steak and 10% Kobe Beef from Japan that's basted in red-wine butter while cooked over a wood-fire grill. It comes to the table topped with crumbled blue cheese and seasoned with salt and pepper sandwiched between a soft house-made roll. The mouth-wateringly tender beef is extremely flavorful and subtly tinged with red wine essence and wood smoke. Sides of ketchup, mustard, mayo, and bitter greens come served on the side. If you feel obligated to use them do so sparingly, the burger is extremely satisfying in its simplicity, minimal use of the accompaniments keep the attention where it belongs, on the meat.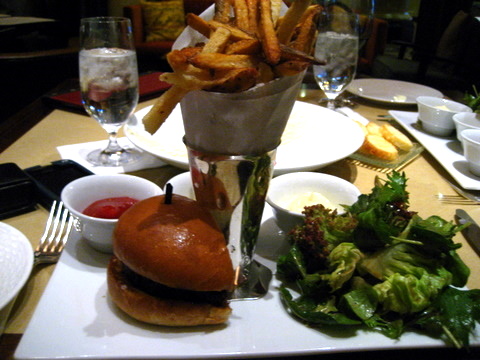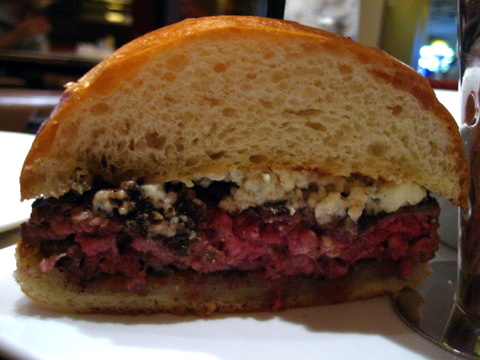 Chef Ogden was also kind enough to bring us a gift of foie gras terrine as an appetizer before the burger. Interestingly, the other two burgers we would try both came with seared foie gras, this could have been Chef's way of making sure we got the same at his restaurant. Though the gift was appreciated, it was unnecessary, the straightforward preparation of the burger captures the essence of the humble hamburger while providing an unmatched level of flavor.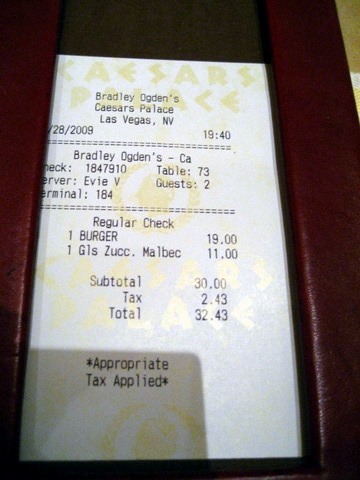 L'Atelier de Joël Robuchon - 08/28/2009
MGM Grand
3799 Las Vegas Blvd S
Las Vegas, NV 89109
(702) 891-7925

Our second stop was at Joël Robuchon's "casual" restaurant. I didn't have the foresight to make reservations, so we were stuck at the bar in the back rather than the counter with a view of the kitchen.

Le Burger - au foie gras et aux poivrons verjutés
Beef and foie gras burgers with caramelized bell peppers
Le Burger is actually two sliders with a slab of seared foie gras resting on the beef patty and vegetables above and below. The beef was exceptionally tender though not as flavorful as the B.O. Burger. Of course the foie more than made up for that with a heavy richness that absolutely necessitated the use of vegetables which added a bittersweet counterpoint. A much more complex burger though not necessarily more enjoyable. The fries that came with this burger almost stole the show, the beautiful golden crispness and the perfect amount of salt made these the best fries out of all three restaurants.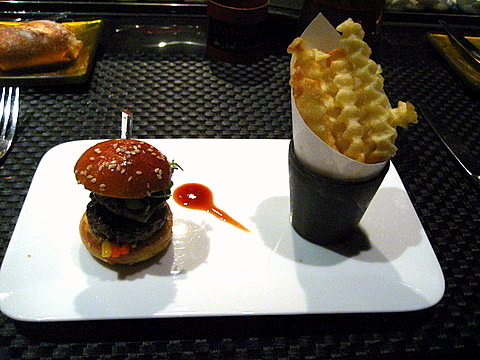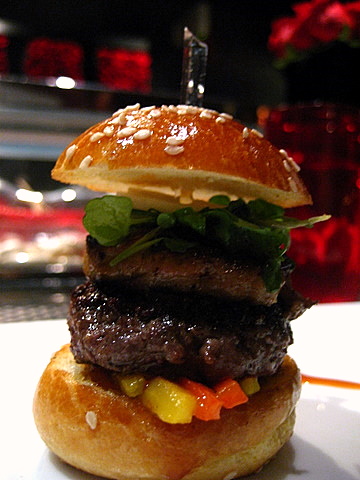 Conceptually, there is something intrinsically appealing about pairing foie gras with a burger. Given the generally unhealthy image of hamburgers adding foie just compounds the sin. Turns out the pairing is a bit unbalanced, the richness of the foie tends to be a bit overpowering though the kitchen tried to remedy that somewhat with the vegetables.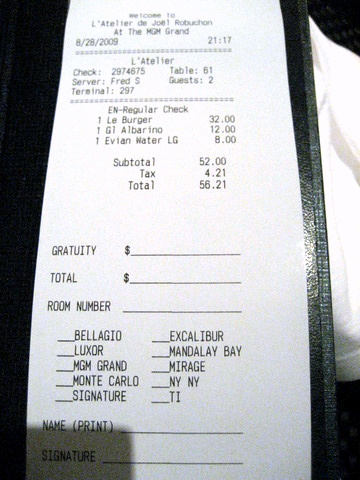 Burger Bar - 08/29/2009
Mandalay Bay
3950 Las Vegas Blvd S
Las Vegas, NV 89109
(702) 632-9364

Our last stop was Chef Hubert Keller's casual eatery, Burger Bar, in the Mandalay Bay for easily the most decadent of the three burgers. Chef Keller also has a fine dining restaurant, Fleur de Lys which offers the exact same burger for $19 more. We opted for the cheaper option feeling that the marginal benefit of better ambiance wasn't worth the marginal cost, boy were we mistaken.

When we first tried to place the order our waitress didn't seem to recognize it and when we pointed it out on the menu her reaction was priceless. "Eww... foy grass." Now I have never worked in a restaurant but it seems to me you shouldn't insult your establishment's food especially as guests are ordering it. After that exchange we decided we could do without the burger just then and came back the next day hoping for a better experience.

Rossini - Kobe beef, sauteed foie gras, shaved truffles, madeira sauce
The burger itself comes with just the aforementioned ingredients, there are no vegetables to speak of and the only accompaniment was a tray of salt, pepper, and more madeira sauce. Kobe beef, foie gras, truffles, each of these ingredients evokes images of luxury and when taken together the overall effect is indeed an exercise in debauchery. Of course the flavors were a bit blunt, with the truffle overpowering everything else. The beef itself was tender, though I couldn't really tell that it was the vaunted Wagyu beef in either taste or texture. Ultimately, people order this burger for the sheer novelty, something to try once just to say you have.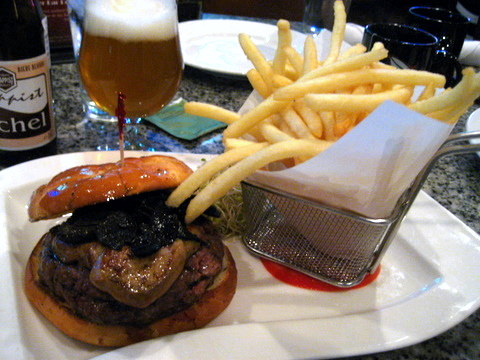 If a $60 dollar hamburger doesn't put a big enough dent in your wallet, the restaurant also offers a $5000 version, the Fleurburger 5000 which comes with a bottle of 1990 Chateau Petrus. I believe if you order the Fleurburger, you also get to keep your stemware AND you get an extra burger to give to a friend, what a deal. I wonder if the Fleurburger was inspired by the $6000 combo meal, a $6 Dollar Burger, Fries, and a bottle of 1982 Petrus offered by the Palms, interesting that the two offer burgers at opposite ends of the spectrum.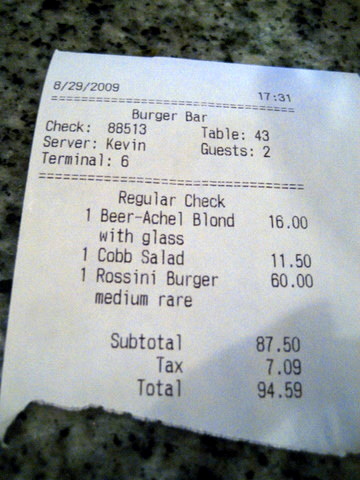 Of the three I'd have to say my favorite was the Bradley Ogden burger. While I appreciated the complexity of L'Atelier's offering but when it comes to a burger, whats most important is the honest flavor of the meat.