8475 Melrose Place
Los Angeles, CA 90069
(323) 651-5950

New head chef Sydney Hunter has some very big shoes to fill at Bastide. Despite the mercurial owner and veritable revolving door at head chef, Bastide has been home to some of LA's top culinary talents. Having worked under not one, but four head chefs at Bastide (Giuraud, Lefebvre, Manzke, and Shoemaker), Chef Hunter likely has the longest tenure of anybody at Bastide. Perhaps his intimate history with the restaurant will allow him a longer stay at the top than some of his more recent predecessors. But regardless of how long it lasts, this should be one hell of a ride.

SCALLOP - CAULIFLOWER, ALMONDS, DRY CURRANTS, RADISH
The meal got off to a slightly rocky start. The scallops were completely cooked through resulting in a slightly rubbery texture. Furthermore, the chosen accompaniments highlighted the sweetness of the mollusk which I found a bit heavy handed, an acidic or umami-driven flavor profile would have provided a more effective start to the meal.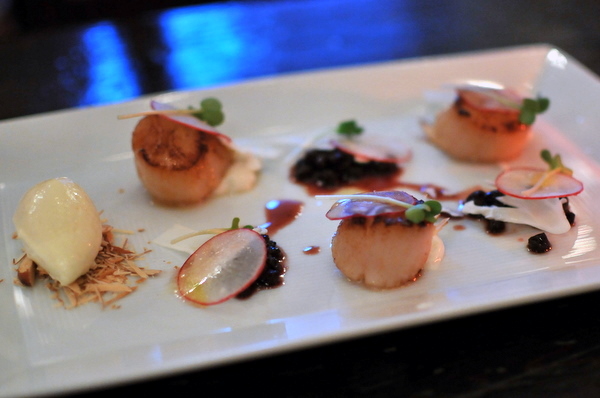 HAMACHI - PICKLED CARROT, ORANGE, WATERCRESS, PEDRO XIMENEZ VINEGAR
The hamachi carried a balanced citrus and spice attack while the watercress added a soothing vegetal temperance. The PX vinegar was an intriguing addition; while I appreciated its ripe sweet tang, the flavor was so potent that it overwhelms the rest of the plate.



WINTER VEGETABLE SALAD - DRIED FRUIT, CITRUS SEGMENTS, WALNUTS, LEMON VINAIGRETTE
A simple yet wonderfully refreshing salad that displays a delightful interplay between the crisp greens, bitter citrus, and sweet candied nuts.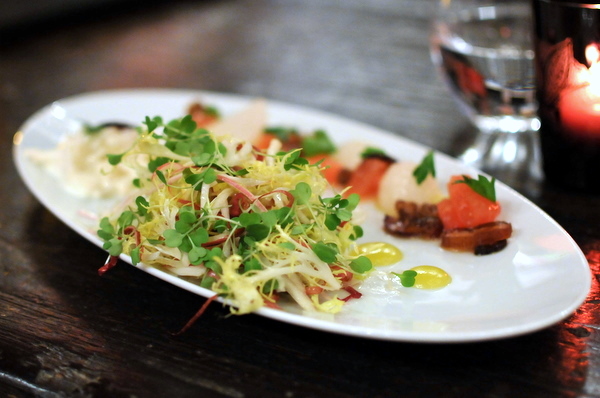 SPICY OCTOPUS SALAD - CHERRY TOMATOES, CHICKPEA PANISSE, SARDINIAN PASTA, ARUGULA, CUCUMBERS, PINEAPPLE
For such an ugly animal, octopus sure cooks up beautifully. The meat is soft and yielding with an even softer outer ring reminiscent of a layer of skin. The accompaniments provided a fittingly rustic Mediterranean feel to the dish, though I wish there was a bit less pasta or perhaps a bit more octopus.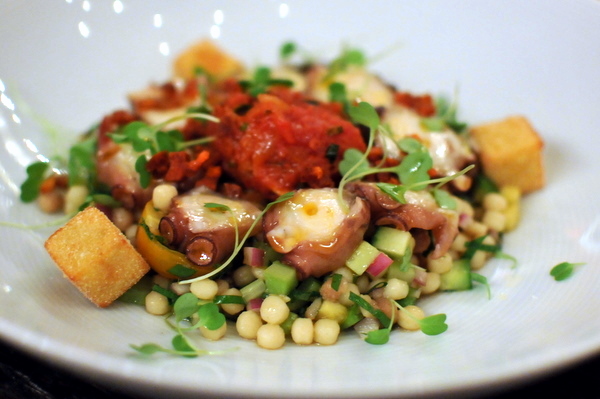 BLACK TRUFFLE RISOTTO - PARMESAN CHEESE
I love truffle risotto and this was a textbook preparation with heady aromas of black truffle and cheese as well as a hint of white wine on the finish. The rice felt a touch underdone though as I detected a slight grittiness in some bites.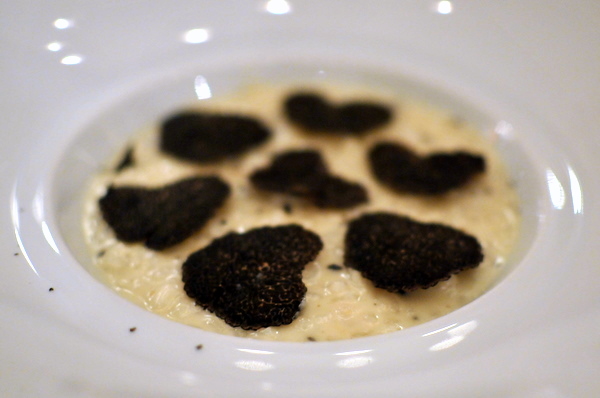 GARLIC SOUP - LOBSTER GLACE, MUSHROOMS, THYME
Inexplicably my first bite of the garlic soup made me think of CornNuts! Beyond that initial sensation, the rest of the soup pretty much conformed to my expectations, a thick potage redolent of garlic with a heavy herbaceous backbone from the thyme. We opted to add fresh French lobster which was lost under beneath the weight of garlic and thyme.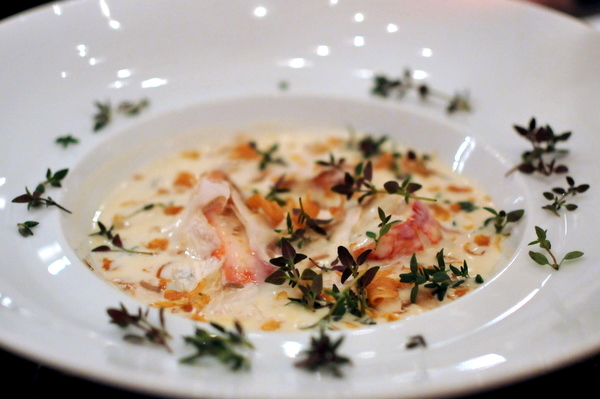 SANDWICH - BRAISED PORK, FRENCH CREAMY CHEESE, PICKLED VEGETABLES, FRIES, BÉARNAISE, OLIVE BREAD
The final appetizer consisted of a single impeccably crafted slider filled with shredded braised pork; its deep porcine sapor is counterbalanced by a mound of tangy shredded vegetables. The fries were superb, wonderfully crisp with an aroma of fat that made me fear for my long term cardiac health.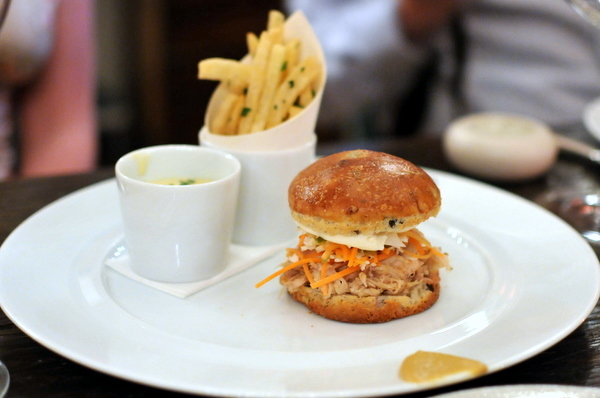 SEABREAM - SUNCHOKE PUREE, ARTICHOKES, BLACK OLIVE, PEARL ONIONS, SMOKED PANCETTA, BARIGOULE SAUCE
Sea Bream is a staple sushi fish known as Tai, but I've rarely had it cooked. Raw the fish is mild like most whitefishes, but cooked it develops a "wild" slightly gamy flavor. The olive bits added a surprising sweet medicinal flavor and chewy candied texture. A lot of interesting flavors going on here, but they just never converged into a finished product.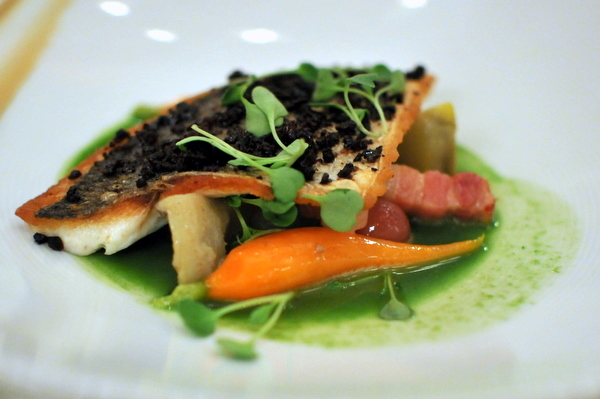 STEELHEAD SALMON TROUT - MANILA CLAMS, GNOCCHI, FENNEL, HERB SALAD
Just what is a Salmon Trout? This question caused our table quite a bit of consternation but Wikipedia provided a quick answer: Salmon Trout is simply another name for Rainbow Trout. The fish itself had a bright orange color like salmon but a lean mild flesh more akin to trout. I thought the clams were a nice touch, giving the fish a taste of the ocean however the near whole bulbs of fennel rendered everything else moot.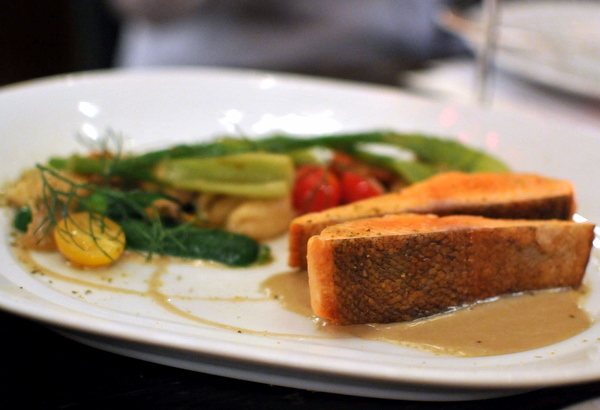 TURBOT ON THE BONE - LEEKS, BUTTON MUSHROOMS, SANCHO PEPPERS, PEARS, BROWN BUTTER
Easily the best of the three fishes, the dense muscular turbot is married to an ideal partner in the brown butter. Holly mentioned Chef Hunter was excited to work with Sancho peppers but I couldn't really detect their characteristic numbing effect. The inclusion of a the poached pear that Elliot described it as eating a Christmas wreath was something of a mystery and the floral bitterness was immensely disconcerting.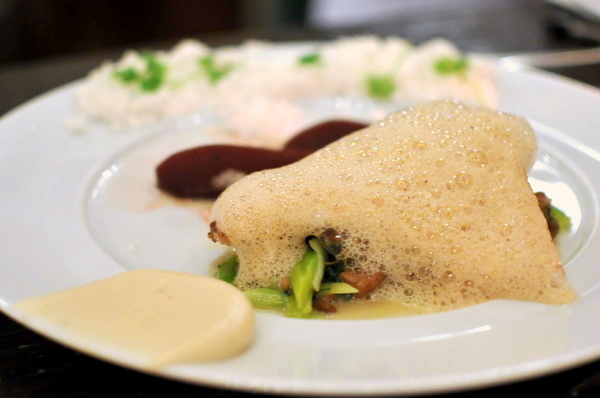 BRAISED LAMB SHOULDER - SCALLIONS, BEANS, DRIED SICILIAN TOMATO, GARLIC CONFIT, POMME PUREE, CARDAMOM BROTH
The consistency of the shoulder was almost like a hash, soft tender and porous enough to sop up the mint tinged broth. The rest of the dish was just as impressive: sweet sundried tomatoes, hearty starchy beans and savory garlic confit, the perfect accompaniments to a rustic gamy lamb.



DUCK - LENTILS DU PUY, RADISH SALAD, CRISPY DUCK SAUCE
The duck itself was delicious the natural flavor of the duck seemed especially potent, perhaps due to the crispy duck sauce. The radishes were a nice contrast but I could have done without the lentils.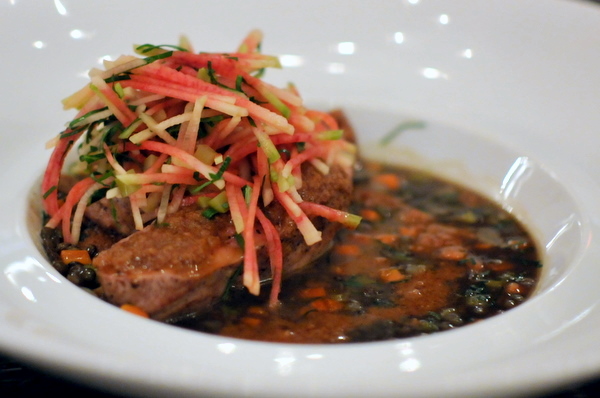 TENDERLOIN - GRAPEFRUIT POLENTA, BROCCOLINI, BEURRE ROUGE
Sadly the broccolini was the best part of the dish. The meat was billed as medium rare but felt tough and sinewy. I was incredibly curious about the grapefruit polenta and how the citrus would play with the boiled cornmeal, but Kevin seemed a bit dubious. Turns out he was right the tart flavor and creamy feel are just unnatural, I kept expecting the mixture to curdle in my mouth.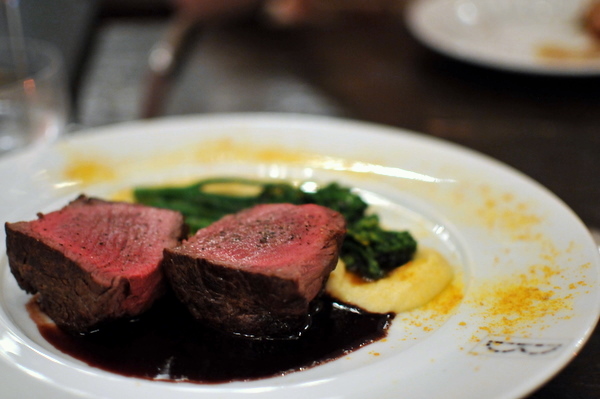 EPOISSES ICE CREAM - HONEY, LEMON PATE DE FRUIT
Finally a dish that fully realizes both daring and deliciousness, though even this was not without its controversies. Half of the party didn't finish their helpings but I was more than happy to help. Being an ice cream the natural inclination is to expect something sweet, but aside from the honey and lemon this was wickedly savory with the pungent flavor of the Epoisses still coming through clearly.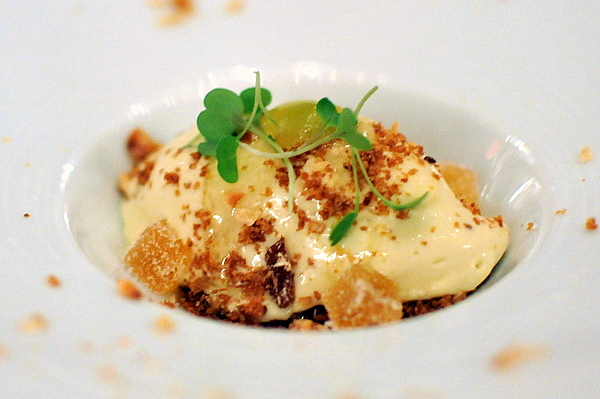 CHEESE - TRADITIONAL GARNISHES
The traditional cheese plate was nowhere near as impressive as the intermezzo. We were presented a selection of four cheeses: Brillat-Savarin Frais, Onetik Chabrin, Schmidhauser, and Crottin d'Antan. Brillat-Savarin was my favorite cheese prior to Epoisses but the fresh version trades the pungency for a grassy sharpness that I didn't care for quite as much.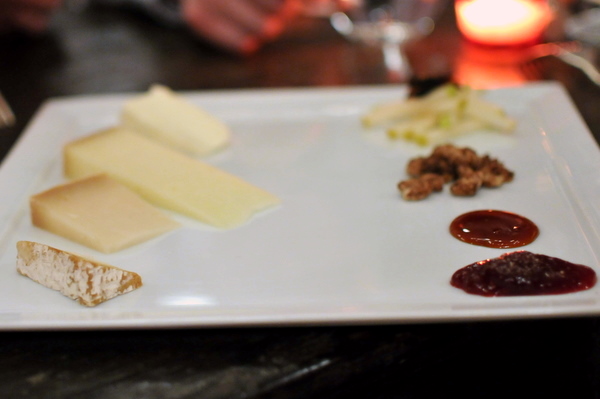 CHEESE CAKE - BLOOD ORANGE SORBET, ALMOND TOFFEE, OPAL BASIL, POMEGRANATE
I'm not a huge fan of cheese cake but this wasn't bad at all. The cheese cake was sweeter and perhaps a bit richer than the norm which made for a vivid contrast with the bracing blood orange sorbet.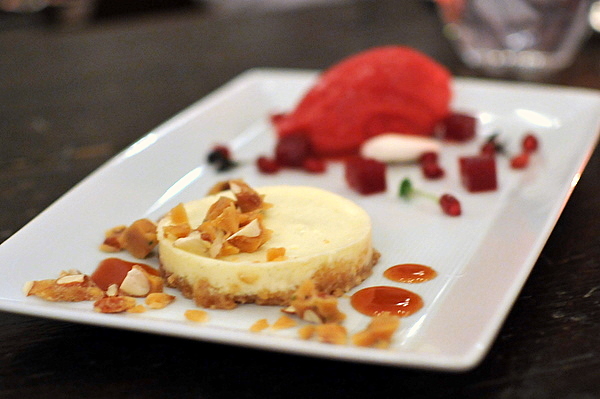 CHOCOLATE COULANT - PASSION FRUIT ICE CREAM, GINGER PEARS, COCOA NIBS
This was a fairly typical molten chocolate cake, laden with decadent chocolate flavor. The passion fruit ice cream was key to tempering the chocolatey heft of the coulant.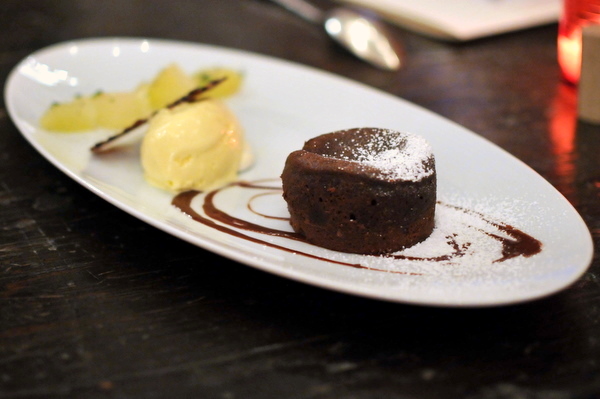 BREAD PUDDING - BRIOCHE, DRY CURRANTS, GIANDUJA ICE CREAM, WHIPPED CREAM, TOFFEE SAUCE, HAZELNUTS
A surprisingly delicious bread pudding, coupled with the toffee sauce, the duo reminded me of French toast. The gianduja, an amalgam of hazelnut and chocolate reminded me of nutella giving the entire dish a very breakfast like feel.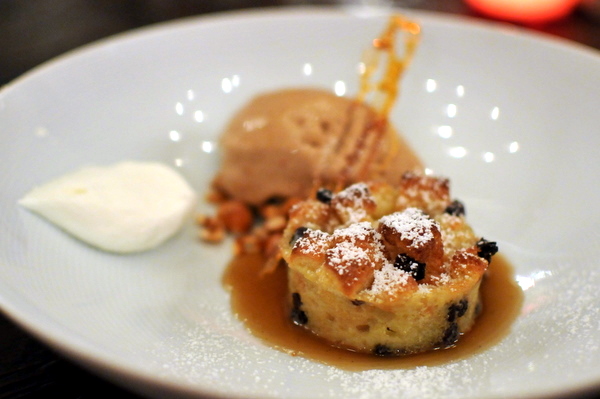 RED VELVET CAKE - PISTACHIO PANNA COTTA, RASPBERRIES, WHITE CHOCOLATE ICE CREAM
Red velvet seems to be a chic choice for cakes these days. Darker than most, the cake was fairly traditional but the combination with the pistachio panna cotta never felt quite right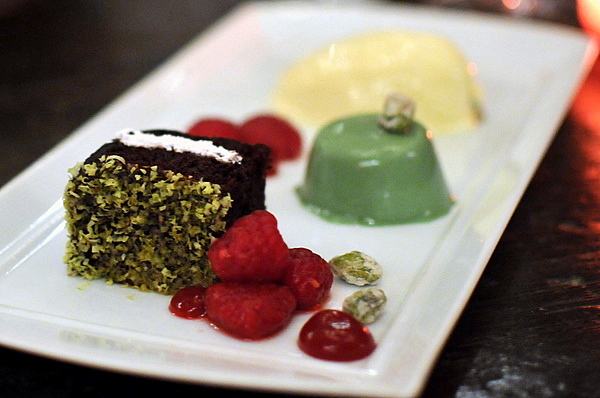 RICOTTA FRITTERS - MANGO, HOT CHOCOLATE MILK, CINNAMON ICE CREAM
The warm little morsels were like fresh donut holes mildly sweet and light despite a fairly cake-like texture. The trio of "dipping sauces" were all enjoyable but the cinnamon ice cream was easily the best and when paired with the fritter reminded me of a fresh churro.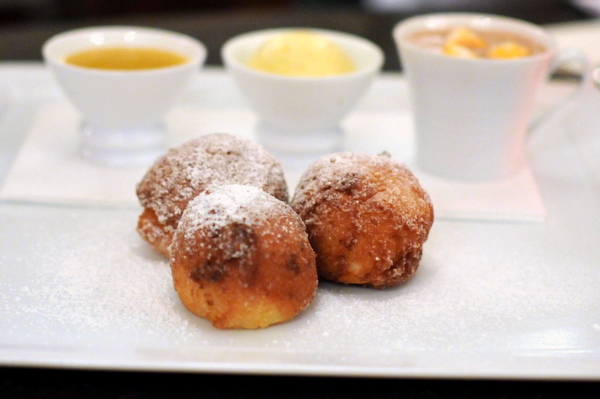 MIGNARDISES - MEYER LEMON MARSHMALLOWS, MINI CHOCOLATE MACARONS, MADELINES, GRAPEFRUIT PÂTE DE FRUITS, SEA SALT CARAMEL, ROASTED PISTACHIO NOUGAT
The mignardises were solid all around with the sea salt caramels being the standout.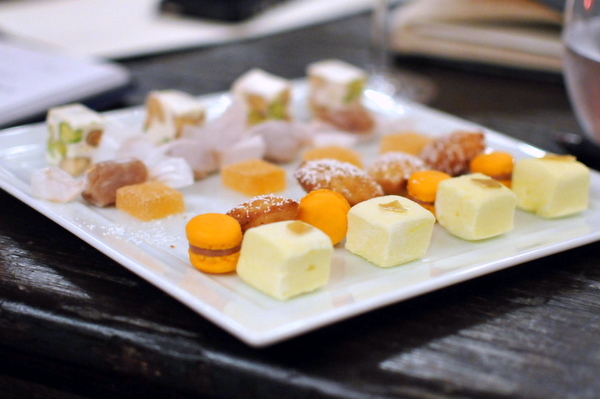 Given the history of the restaurant and Chef Hunter's own history I came into the dinner with high expectations. After being impressed by Sydney's food at Fraiche, I was looking forward to seeing what he could do without constraints placed on his creativity. Having worked for Ludo at three separate establishments, it was inevitable that Chef Hunter would inherit some of his mentor's eclectic style. While I appreciated the brazenness and inventiveness, often the flavors never coalesced into something greater than their constituent parts. While such a daring style isn't necessarily for everyone, I would strongly recommend people to come in and try it for themselves.