14160 Palawan Way
Marina del Rey, CA 90292
(310) 439-3033

Chic monosyllabic name, trendy ocean side hotel location, contemporary menu with facets of molecular gastronomy, excuse me Modernist Cuisine: Vu had all the ingredients of an unmitigated disaster. Still elements on the menu like popcorn jello, chicken-fried watermelon, collard green fluid gel, and sprite ice were intriguing enough to overcome my concerns. Kevin of KevinEats was able to arrange a 27 course tasting so we would be able get a comprehensive look at the kitchen's ability.

The executive chef, Kyle Schutte is a relative newcomer to the LA culinary scene. Prior to joining Vu in 2010, most of his experience was concentrated in the Southern United States. After graduating from the Art Institute of Atlanta in 2006, Kyle worked at One Midtown Kitchen in Atlanta rising to the position of Sous Chef. In 2009 he left to take the helm at a restaurant in XO Lounge & Tapas Bar North Carolina and it was here that he began to experiment with Modernist techniques.

Taste of Caprese - balsamic-injected cherry tomatoes, basil-infused fresh mozzarella, red hawaiian sea salt, evoo, micro basil
I've had many a deconstructed caprese but this is my first experience with a "reconstructed" caprese. By combining everything into a single bite sized ball I was able to taste the salad in its entirety. The flavor was spot on but the texture of the mozzarella was a bit dense.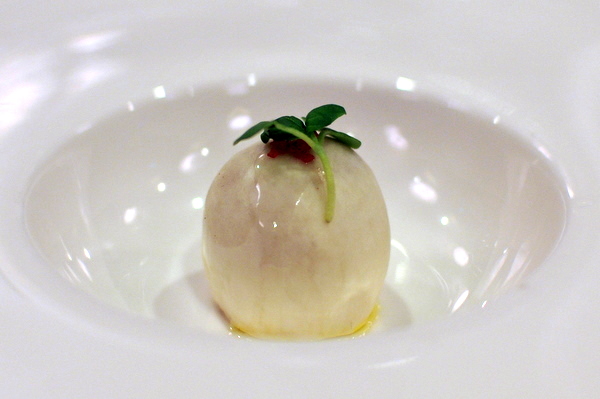 Meat & Cheeses for the Table - House Made King Cole Duck Ham, Knight Salumi Finnochiana, San Diego, Knight Salumi Coppa
N.V., Shcramsberg, Mirabelle, Brut Rose
Molina, San Diego, Jidori Chicken Liver Pate, Citterio Bresaola, Pennsylvania, Cypress Grove "Midnight Moon", Holland, Sweet Grass Dairy "Green Hill", Georgia, Alta Langa Robiola Bosina, Italy, Cypress Grove "Humbolt Fog", California, Redwood Hill Farms Bucheret, California
The first course was a family style spread of meats and cheeses. Solid all around the standouts for me were the decadently soft chicken liver pate and the wickedly spicy Coppa Molina.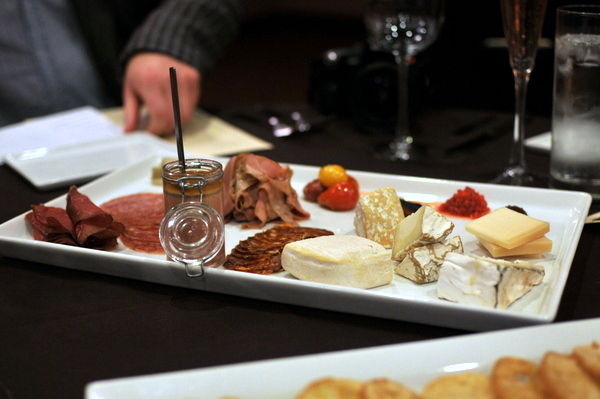 Hamachi - bbq spice, collard green fluid gel, micro cilantro
2009, Tamas, Pinot Grigio
The hamachi was a let down, the texture felt a touch flabby and I would have liked a bolder flavor with the bbq spice and collard greens.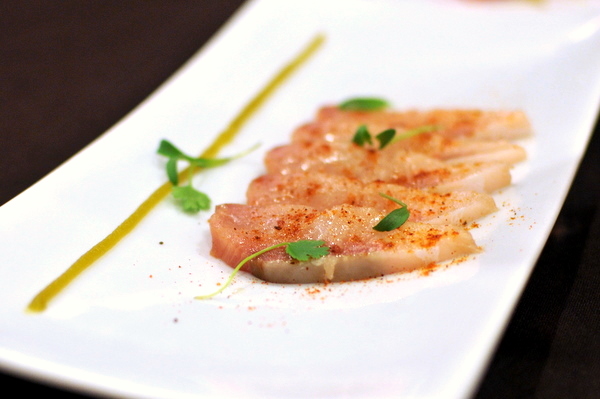 Hiramasa - orange, star anise, candied orange zest, fennel fronds
2009, Tamas, Pinot Grigio
This was a bit one dimensional for me. All I could taste was the licorice flavors of the anise and fennel.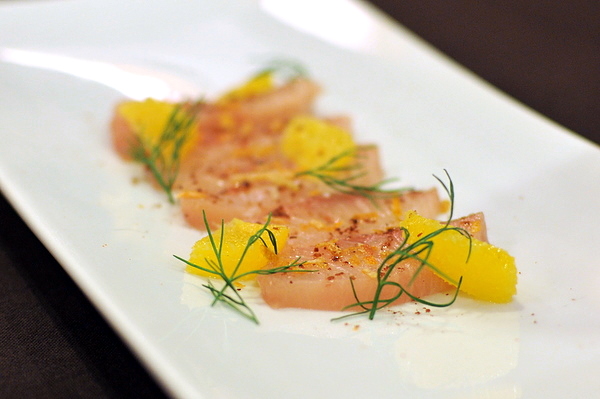 Tuna - watermelon, powdered bacon, kaffir lime, apple
2009, Tamas, Pinot Grigio
This was the strongest of the four fish crudos, there is a fruit driven sweet sour interplay on the attack but the bacon powder injects enough savoriness in the mix to keep the focus on the fish.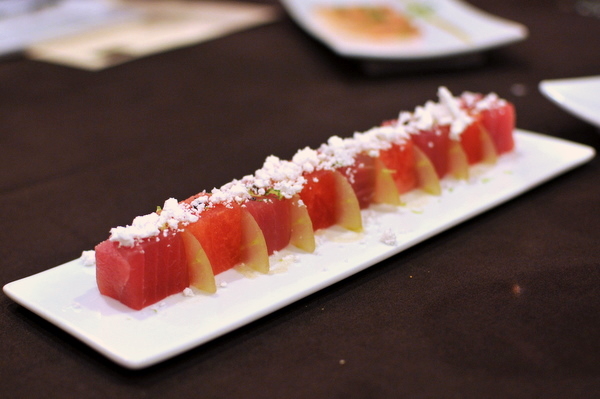 Salmon - strawberry, baby beet, lemon, balsamic
2009, Tamas, Pinot Grigio
Salmon and strawberries is a new one for me, though I enjoyed the interaction between the strawberry, lemon, and balsamic this was supposed to be about the fish which winds up lost along the way.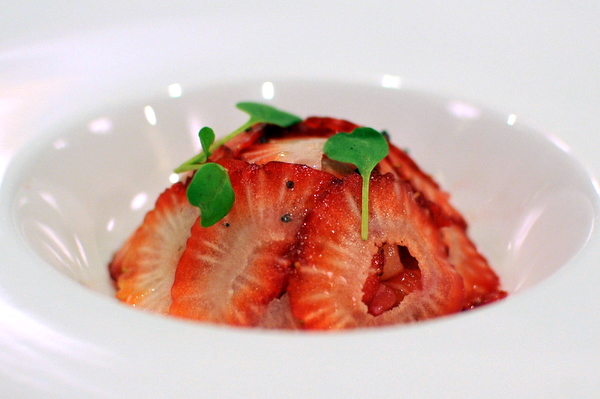 Lobster Tail - citrus, popcorn jello, fritos
2009, Tamas, Pinot Grigio
Next we come to the first of several very divisive courses on the evening. This was supposed to be a nod to Ecuadorean ceviche which apparently always includes popcorn. Personally I enjoyed the dish, snappy lobster with a very Southwestern flavor that someone likened to Doritos. Some of my companions felt the lobster should have featured more prominently,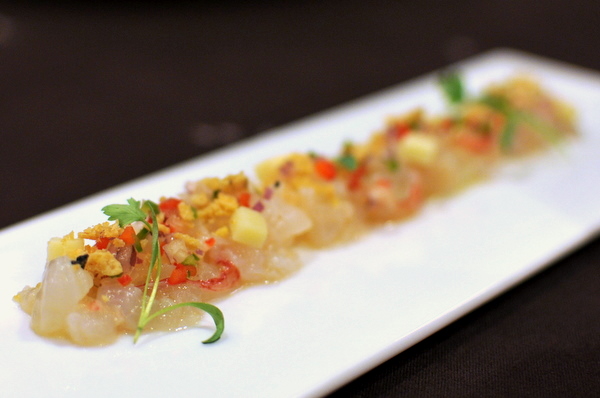 Kumamoto Oysters - cantaloupe, sprite ice, chili oil
2009, Tamas, Pinot Grigio
No arguments here, the oysters were delicious resoundingly briney perfectly fresh and supple, the accompaniments provide a sugary sweet counterpoint to the Kumamoto's salinity.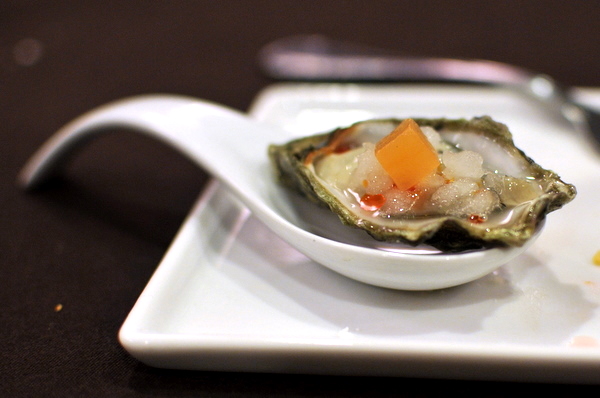 Peas & Carrots - carrot noodles, pea puree, carrot chips
2007, Cambria, Katherine's Vineyard, Chardonnay
This turned out to be one of the best courses of the night. The noodles were made by adding agar to strained carrot juice, I expected the heavy use of carrots would make this too sweet, but the sweetness was remarkably restrained and further countered by the grassy vegetal brightness of the peas.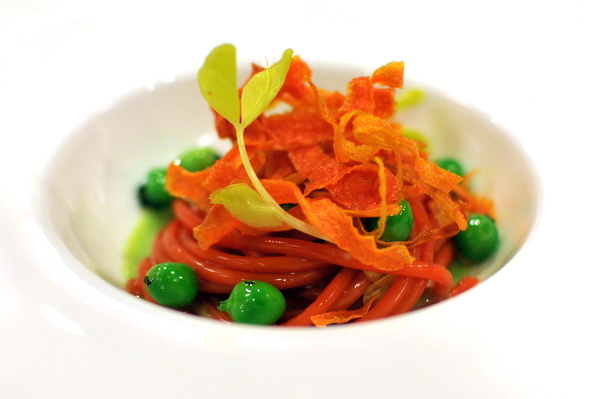 Thai Mussels - green curry broth, hamachi salad, coconut jello, scallion, micro cilantro
2007, Cambria, Katherine's Vineyard, Chardonnay
Classic Thai curry rich velvety coconut on the attack is backed up by a creeping heat and finishes with a lingering essence of the mussel.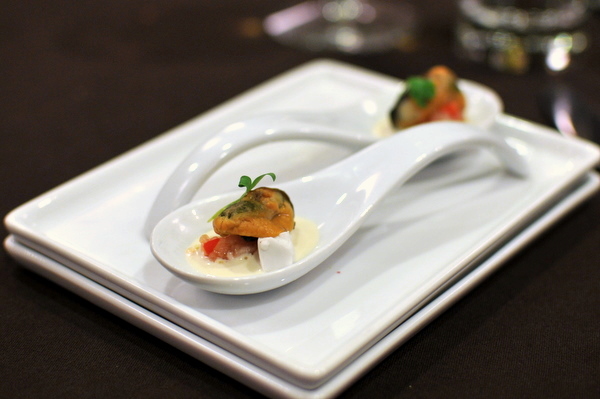 "PB&J" - pate, brioche, jam
2007, Cambria, Katherine's Vineyard, Chardonnay
Somehow I don't think pate is ever gonna replace peanut butter in this beloved staple. While the name is clever, the flavors are pretty standard, pairing pate and some sort of preserve is common in many charcuterie plates, in fact I think we had it earlier in the meal. I appreciate the sense of whimsy the chef was trying to create, replicating a typical childhood lunch with adult ingredients.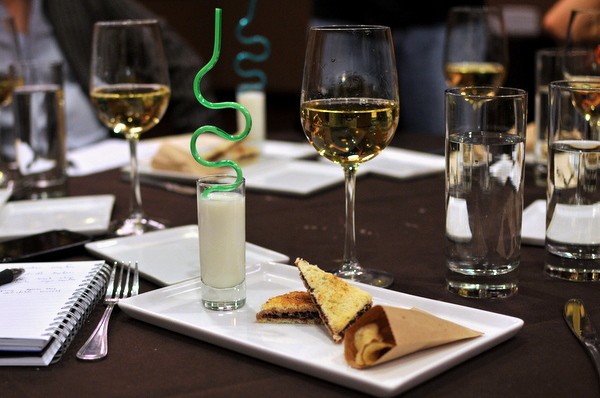 Tuna Nicoise - red onion, tomato, potato, nicoise olives, rosemary jello, green bean puree, fried quail egg
2007, Cambria, Katherine's Vineyard, Chardonnay
This was another of the evenings controversial dishes. I thought the combination was one of the most focused and on point nicoise preparations I've ever had. Other diners took exception with the tuna which was made from the trimmings of the crudo, the meat was processed to remove the tendon and gristle then reconstituted into the rings.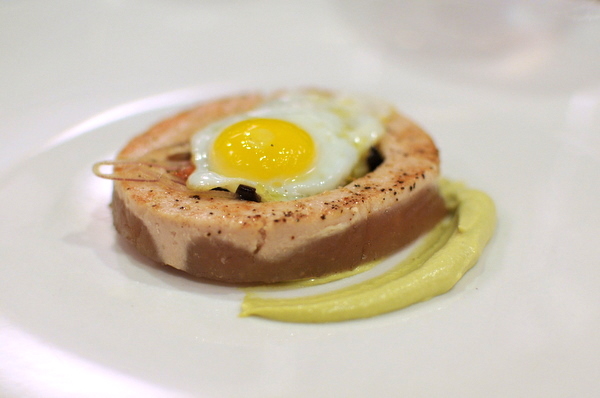 Bison Carpaccio - mustard seared, pickled shallots, celery root confit, peppercress, extra virgin
2007, Cambria, Katherine's Vineyard, Chardonnay
My companions all enjoyed the dish but I was expecting a bolder flavor on the bison, instead the taste was like a cold roast beef tinged with a iron-tinged brawn.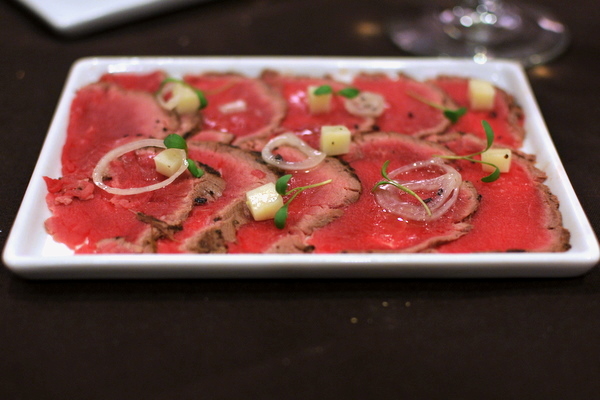 Chicken-Fried Watermelon - pickled rind
2007, Cambria, Katherine's Vineyard, Chardonnay
Chicken-fried watermelon, there has to be a stereotype hidden somewhere in the dish. Apparently Chef Schutte first created the dish for the owner at XO. Such a simple course really, watermelon wrapped in a seasoned buttermilk batter. The result is a complex dance of salty, sweet, and sour wrapped up in a crunchy skin and lush juicy core.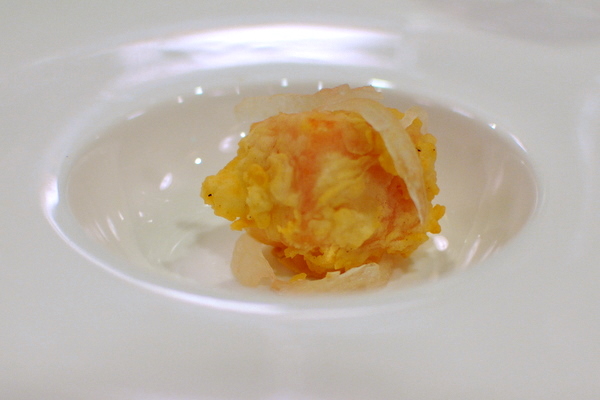 Vichyssoise - potato & leek broth, melted leeks, potato waffle, leek butter
2008, Miura, Pinot Noir
History credits Louis Diat for creating Vichyssoise, a cold potato leek soup, in 1917 working at the Ritz-Carlton in 1917 though there is some debate as to whether this is an American creation or if it is the result of French culinary tradition. Despite its contentious origins, the course itself received universal applause from our group. The soup is a cool satisfyingly heavy melange of pepper, potato, and leek while the potato waffle adds a profound textural and temperature contrast.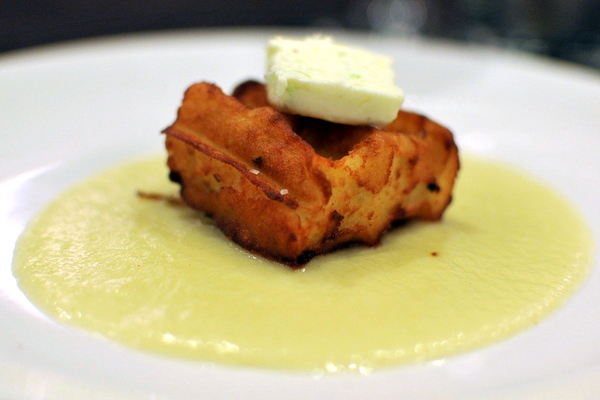 Grilled Polenta - asparagus, tomato, pickled red onion, aged balsamic
2008, Miura, Pinot Noir
The polenta and its accompaniments couldn't be any more different. The polenta was slightly gritty with a weightiness and subtle aroma of vanilla. The vegetables were bracingly tart with a nice kick of spice the herbaceousness and acidity a pleasing contrast to the weight of the starch.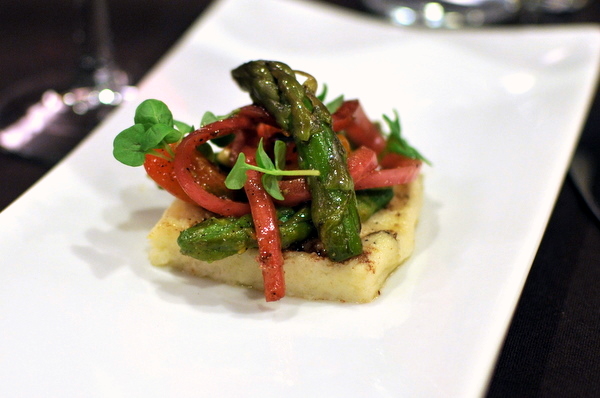 Grilled Cheese - toasted brioche, "midnight moon", tomato jam, micro basil
2008, Miura, Pinot Noir
Another childhood favorite that I never grew up eating, a couple people at the table found the cheese a bit too firm, prefering a runnier melty consistency. For my part I was more focused on the tomato jam, its flavor reminding me more of a cheese pizza than a grilled cheese sandwich.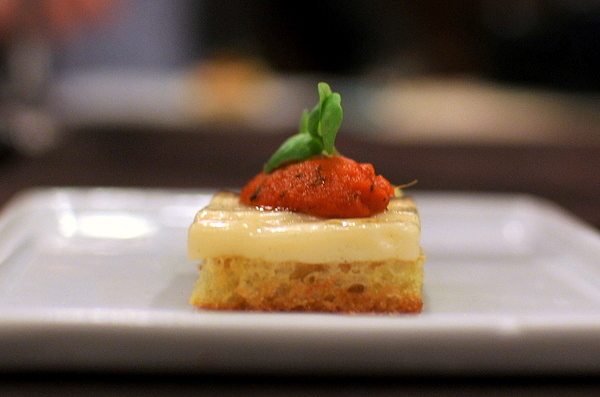 Bone Marrow - bok choy, parsley, pickled strawberries, candied red onion, balsamic pudding, preserved lemon, toasted brioche
2008, Miura, Pinot Noir
Probably one of the best bone marrows I've ever tasted the richness is palpable on the back of the palate but the tart balsamic and sugary onion help keep the richness in check.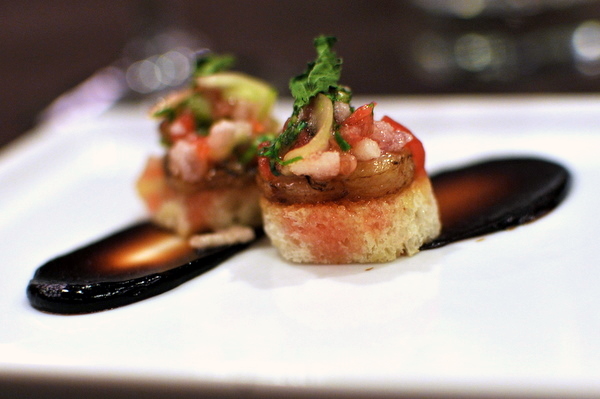 Charred Octopus - "romesco"
2008, Miura, Pinot Noir
I was expecting the octopus to be super tender seeing as it was sous vided, but the texture was a bit dense and heavy, more like a thick piece of gum than octopus. Textural issues aside, the octopus and Romesco were a classic pairing.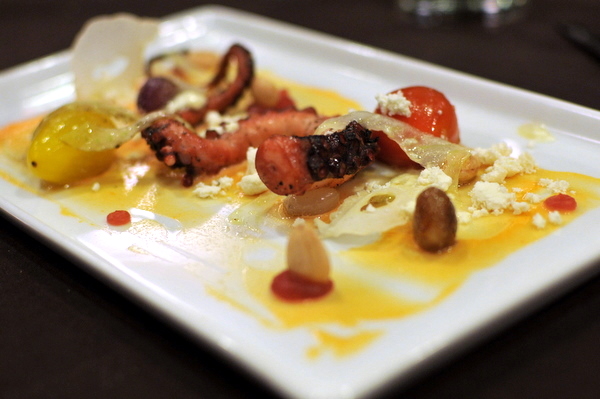 Calamari - chicken-fried, pink lemonade mayo
2008, Miura, Pinot Noir
Odd how the octopus can be tough and the squid, simply marvelous. The texture was soft and yielding while the seasoned chicken-fried batter added a nice crunch and a peppery taste reminiscent of Burger King's chicken tenders. I was a bit wary of the pink lemonade mayo but the sauce was rich and creamy with just the right amount of acidity thrown in.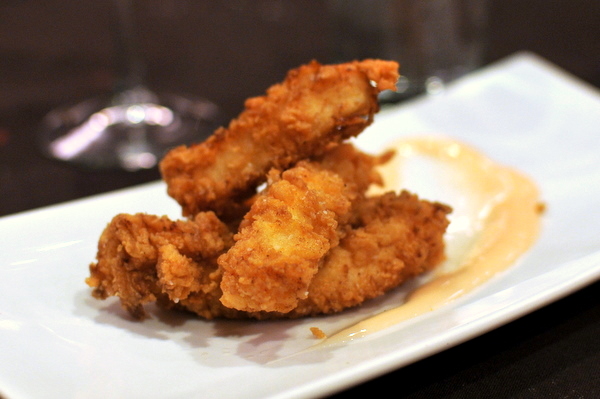 Pork Belly - crispy grits, root beer jello
2007, Bianchi, Petit Syrah
While the belly wasn't as moist as I would like the decadent richness more than made up for that. The belly was served resting on a brick of crispy grits that reminded me of Chinese Dan Ta (egg custard tart). Everyone else at the table thought the root beer was too sweet but I thought the flavor matched up well to the richness of the belly.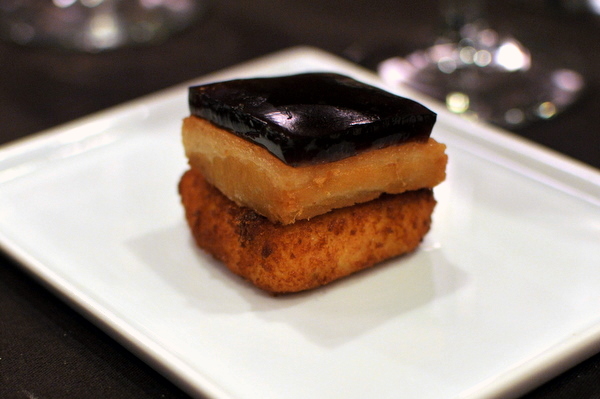 "Lamb Lollipops" - sweet tea poached, rosemary, roasted grape relish
2007, Bianchi, Petit Syrah
The final course of the meal was a ball of ground lamb with a cheese center redolent of rosemary served on a bed of grape relish. Unfortunately this course didn't do it for me, the lamb and cheese were overwhelmingly gamy while the grape relish added a disconcerting sweetness.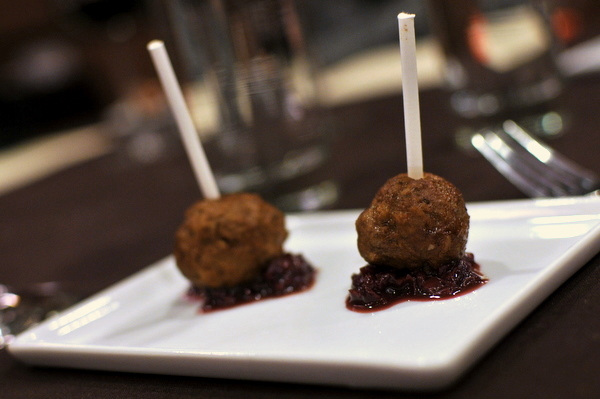 Buttermilk Panna Cotta - liquid nitrogen coke-a-cola, carbonated blackberries
2008, Quady, Elysium, Black Muscat
The panna cotta was well made but fairly uninspired, but this course was really more about the coke and blackberries, their effervescent tingle interjected some much needed levity to the dish.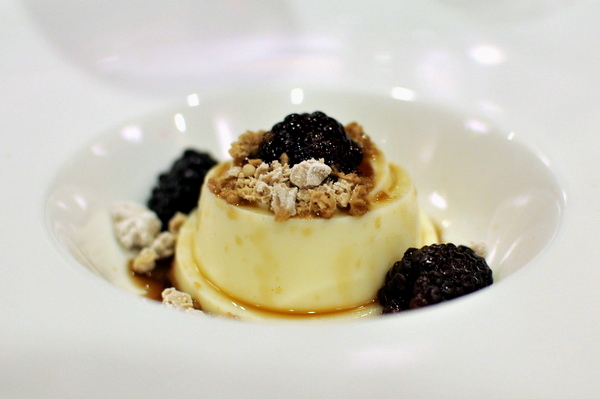 French Toast - strawberry jam, maple syrup ice cream, strawberry & thyme relish
2008, Quady, Elysium, Black Muscat
I wish I could make this at home for breakfast. The French toast has a spongy almost runny consistency while the maple ice cream and ripe fruit add differing shades of sweetness.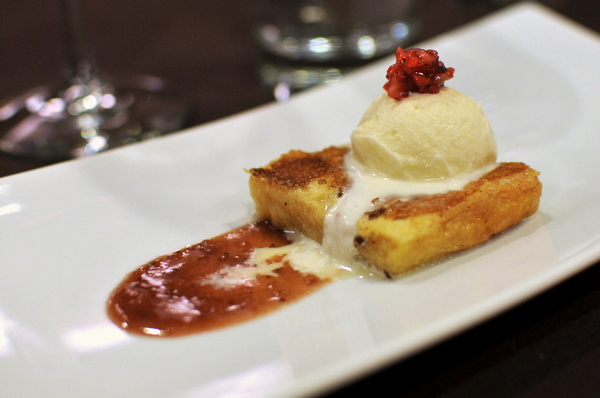 Chocolate Ganache - lime sorbet, tequila, micro cilantro
2008, Quady, Elysium, Black Muscat
Chef Schutte suggested we take the chocolate and lime together as either one on their own would be overwhelming. Indeed the pair contrast sharply dense decadent chocolate and a brisk almost bitterly acrid sorbet but by matching the clashing pair their rough edges are smoothed out. The little bits of tequila jelly have a light woody scent but nothing that could stand up to the exhilarating chill of the sorbet.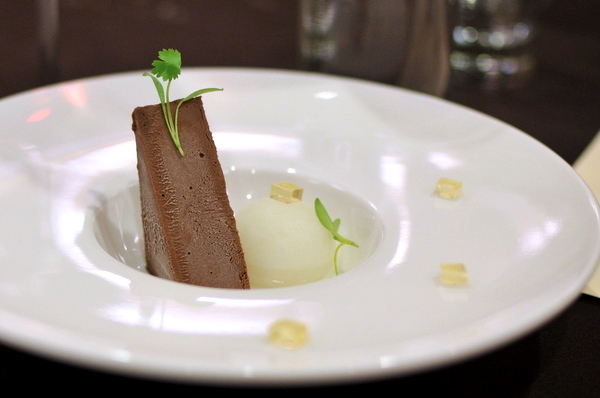 White Chocolate Polenta - frosted flakes, chambord-flambéed berries
2008, Quady, Elysium, Black Muscat
Here we have another breakfast redux. The savory cast of the polenta is subsumed into the grainy sweetness of the cereal while the alcohol tinged berries have sweet ripeness that pairs well with the Frosted Flakes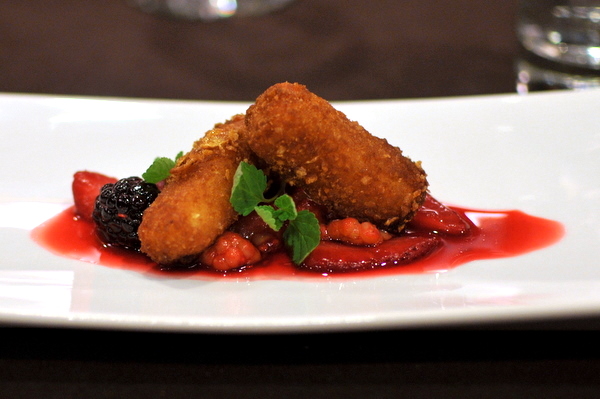 Mint Ice Cream
2008, Quady, Elysium, Black Muscat
The meal ended with a final dessert of liquid nitrogen mint ice cream. The pure soothing note of mint was the ideal palate cleanser after such a long meal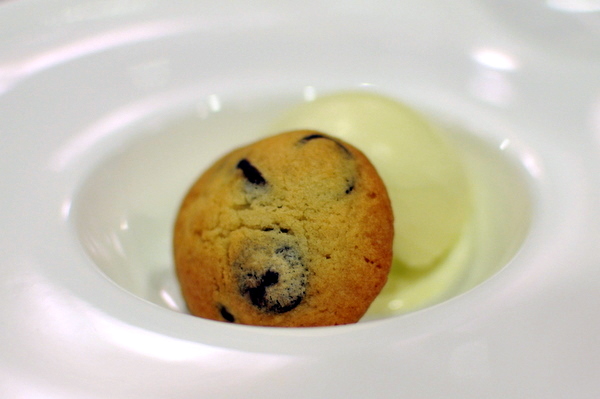 Vu might be the most contentious meal I've ever had, several of the courses inspired very passionate debates between strong advocates and equally strong critics. Chef Schutte clearly has a passion for his work and with most of the courses took the time to come by to personally explain his vision and rationale. He wields modernist techniques with skill, using them as a tool to enhance his cooking rather than for their own sake. After a couple false starts on the crudo the meal improved markedly with several truly impressive courses like the peas & carrots, chicken fried watermelon, and Vichyssoise. Naturally there were some dishes I didn't care for but that is certainly understandable with 27 courses. If you ever find yourself in the area and are looking for something different I recommend stopping by and checking out the Vu.