225 E 7th Avenue
Denver, CO 80203
(303) 832-4778

After getting a degree in finance, Chef Frank Bonnano returned to his first passion, food. Prior to opening his own restaurants, Chef Bonanno honed his skills primarily at the side of Mel Masters, as well as with stints at The French Laundry and Gramercy Tavern. Since then Chef Frank Bonanno has created what is arguably Denver's most successful restaurant empire, with the crown jewel being Mizuna. Opened over 9 years, ago Mizuna was tied with Restaurant Kevin Taylor for the top rating on Gayot when I first visited Denver back in 2007 and 5280 rated it as Denver's second best restaurant.

Bourbon Lavender Sour - Knob Creek, Cointreau, Lavender Honey, Soda
This was definitely more bourbon and less lavender sour, the stiff woody heat leads to a tang on the finish, pity that the lavender was lost.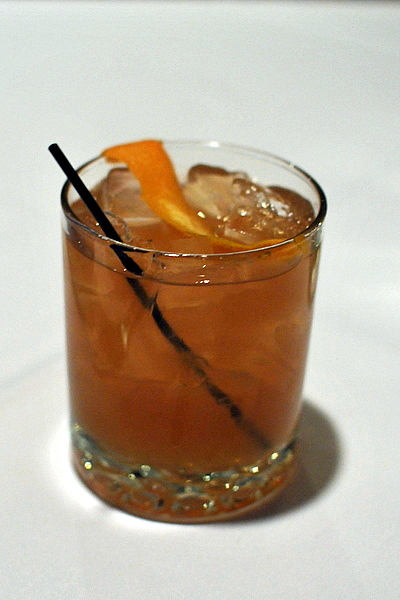 Canapes - Butternut Squash Soup, Rossini Terrine, Ostrich Tartare, Clams Casino
Marquez De Gelida, Brut Cava, Spain
I can't believe I forgot to take a picture of the first course. The canapes were all quite impressive but the ostrich tartare was the clear standout. This was actually my first experience with ostrich, the bird is muscular yet supple with a palpable oceanic brine. The pairing was a fairly generic cava with light aromas of citrus as well as a tostiness on the palate

Amuse: Duck Confit en Croute - Seared Foie Gras, Grilled Ramp, Garlic Fondue
2007, Patrick Size, "Clos des Montaigres" Mercury, 1er Cru
Though this was labeled as an amuse, the size and complexity made it feel more like a full course. The potency of the seared foie gras is matched by the savoriness of the tender duck. The wine was a fairly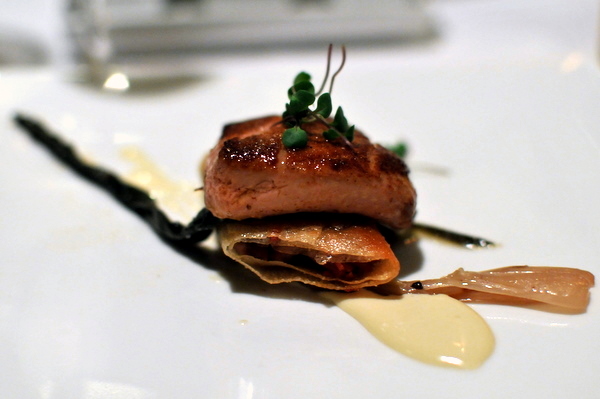 01: Braised Veal with Garganelli - Veal Consommé, Gruyere Fondue
2007, Bouchard Aine et Fils, Pouilly Fuissé
Part pasta part french onion soup this was perhaps the most sublime and flavorful veal I've ever eaten. The meat comes with a fatty trim and deep meaty flavor heightened by a complimentary savoriness from the caramelized onion and melty Gruyere. The chardonnay opens with a honeyed nose that devolves into light citrus threaded with a stony smokiness.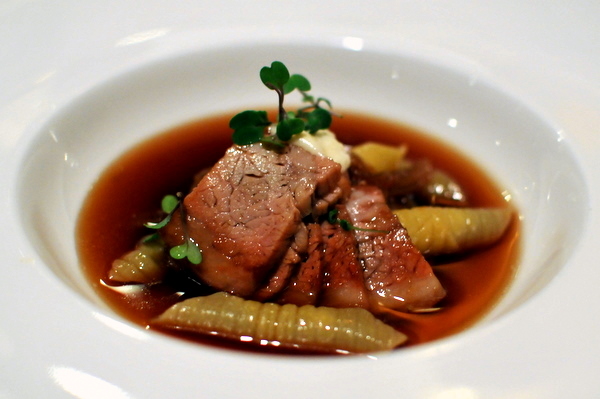 02: Risotto Agolotti - Parmesan Emulsion, Freshed Shaved Truffle, Poached Quail Egg
2007, Merlin Cherrier, Sancere, Loire, France
Despite having some doubts about this course , but I couldn't refuse the siren's song of truffle risotto and poached egg. While the egg added a lovely textural component, the course proved to be fairly one dimensional with the decadent creamy cheese dominating the palate.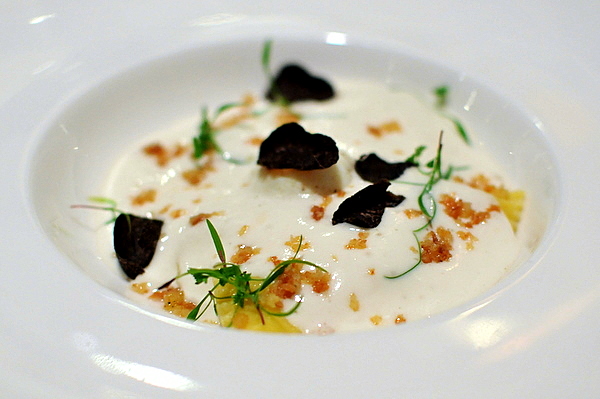 03: Pan Roasted Halibut - Celery Root Purée, Potato Gratin, Crispy Leeks
2008, Sass Pinot Noir, Willamette Valley, Oregon
The fish was cooked just enough to cause it to flake under pressure but not so much that the meat felt dry. The vegetal puree, savory potato, and crispy leeks were fairly prototypical accompaniments, but the flawless execution still made this course a joy. Despite being a lighter course, the paired pinot was heavier than the Burgundy paired with the foie; fruit driven with a darker fruits and a thicker silkier texture.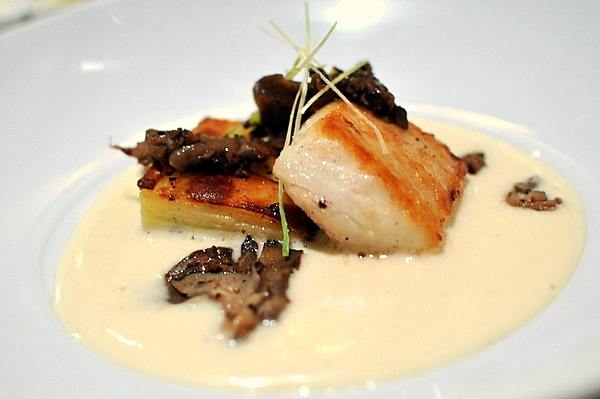 Intermezzo: Blueberry Sorbet - Lemon Spritzer
Another simple but well executed course. The blueberry sorbet was intensely saccharine despite not having any extra sugar added. The weight of the ripe dark fruit is balanced by an incredibly pure note of lemon.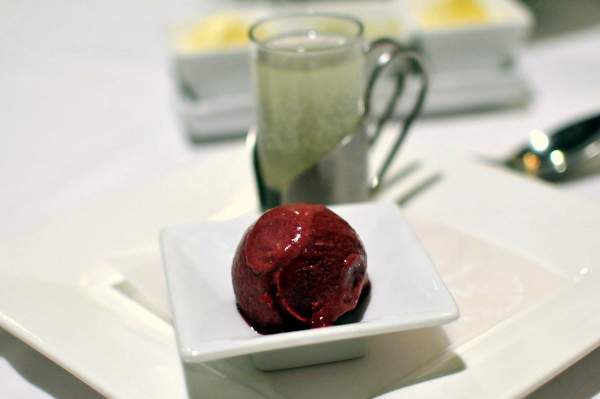 04: Meyer Ranch Beef Strip Loin - Smashed Fingerling Potatoes, Spring Onion Emulsion
2005, Rochemorin, Bordeaux, Pessac-Leognan
The final savory was a straightforward strip loin; nothing groundbreaking but like the last few courses the course was well cooked and thoughtfully designed. The accompanying wine was well matched to the beef, elegantly balanced, the fruit is kept in check by tobacco and earth as well as minerality.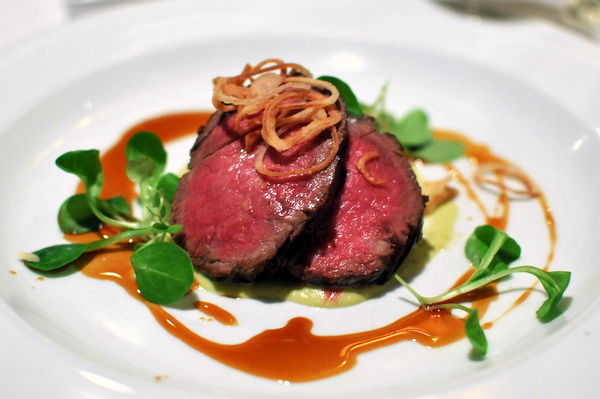 05: Vanilla Panna Cotta - Macerated Apricot, Vanilla Wafer
2009, Michele Chiarlo, Moscato D'Asti, "Nivole"
The dessert felt a bit lackluster, the panna cotta was a touch firm and to be frank quite vanilla. The macerated apricot needed more pop and potency, the jammy flavor might have offset the blandness of the custard. Thankfully the paired wine had some life to it, a classic Moscato D'Asti, bubbly floral and sweet.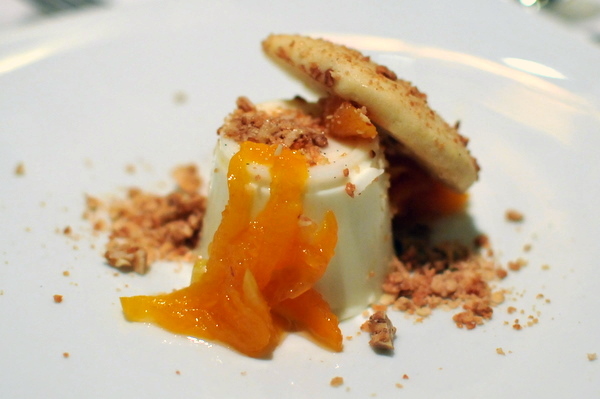 Mignardises - Valrhona Chocolate, White Chocolate Kahlua
The chocolates were a nice change from the lackluster dessert. The dark chocolate had a flavor reminiscent of a Klondike while the white reminded me of a snickerdoodle.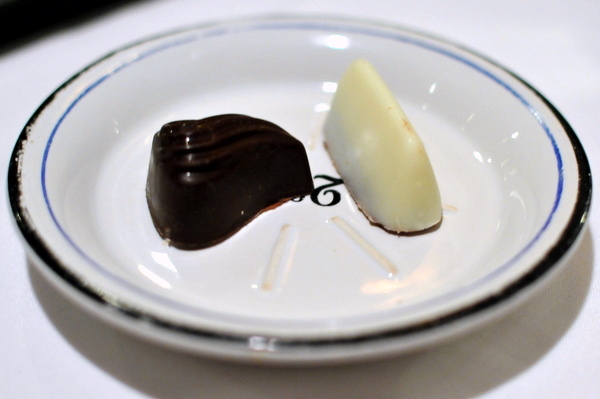 Despite billing itself as a food laboratory where chefs are free to experiment, the style of food at Mizuna is fairly ordinary. That is not to say the restaurant is lackluster; where the restaurant does shine is in execution, using time honored combination and high quality ingredients to craft delicious cuisine in a warm inviting neighborhood restaurant. If you are looking for Denver's answer to Jose Andres, keep looking but if you simply want some good food come to Mizuna.