11500 W Pico Blvd
Los Angeles, CA 90064
(310) 479-3939

In 2000, Mori Onodera opened his eponymous Mori sushi after working at a number of top sushi restaurants including Katsu, R23, and Matsuhisa. Since then, Mori Sushi has established itself as an elite restaurant with many considering it second only to Urasawa in terms of sushi; in a city brimming with sushi joints this is no mean feat. My first visit to Mori was four years ago and I recall being disappointed and with a friend in town who considers Mori his favorite sushi in the city, I thought a return trip was in order.

While the restaurant offers a la carte dining, we opted for the complete omakase experience. While we weren't served by Mori himself, our Itamae, Masanori "Maru" Nagano, has been with Mori since 2000 and took very good care of us.

Allagash White, Allagash Brewing Company, Portland, Maine
The Allagash White is made in the mold of a classic Belgian Witbier, with the typical flavors of orange peel, spices, and coriander this refreshingly light beer paired nicely with the lighter flavors of the omakase.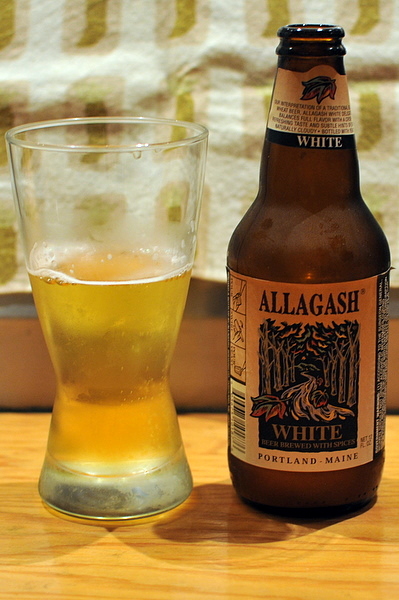 01: Housemade Tofu - with fresh grated wasabi
The starting course was a block of silky homemade tofu served with a dollop of fresh wasabi as well as a concentrated soy sauce. The tofu itself is remarkably creamy with the concentrated flavor of soy beans tinged with a light nuttiness. We were warned to use the soy sparingly, but I found the bean curd a bit bland and ended up using all of the sauce.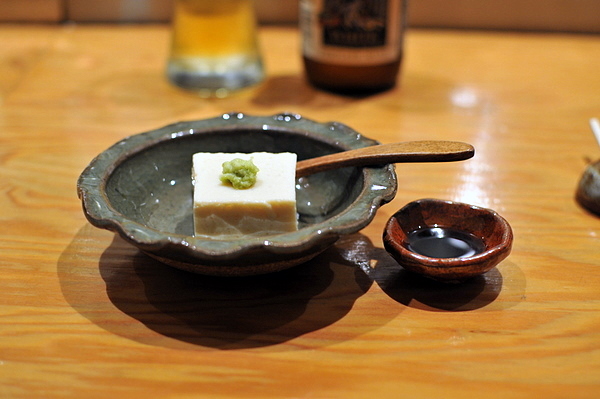 02: Ankimo and Kumamoto Oysters with Sudachi
Next up were fairly traditional preparations of Ankimo and Oysters. The two flawless Kumamotos looked as if they had just been harvested from the ocean, dense, crisp, and redolent of fresh seawater. The ankimo came with grated radish, ponzu, and seaweed. I especially appreciated the textural contrast of the seaweed and the way the ponzu balanced the richness of the liver.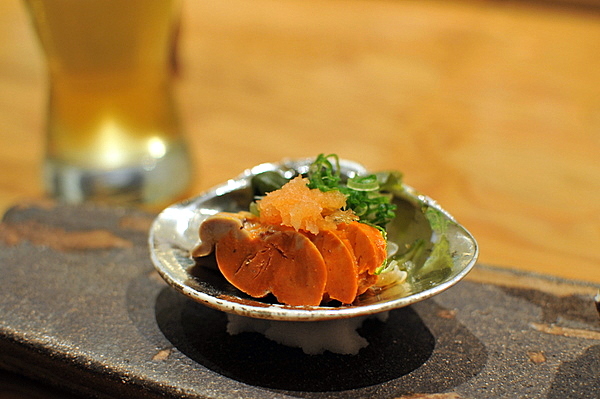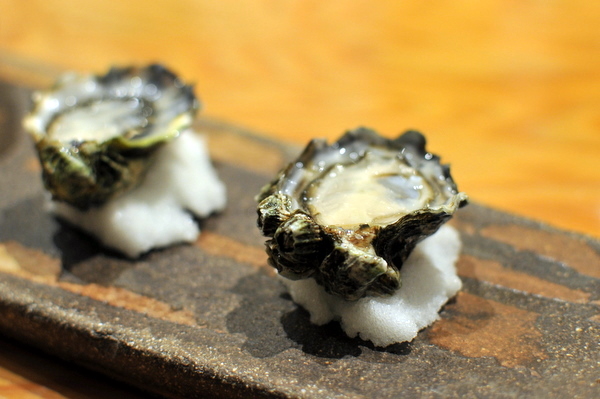 03: Seasonal Seafood Soup - with Red Snapper, Asari Clam, Shrimp, Bell Pepper, and Mitsuba
Last time I was here it was matsutake mushroom season but at the time I wasn't able to appreciate the fungi's distinct flavor. The seafood soup was more apparent, the broth has a hearty soulful warmth that belies its thin texture while the vegetables and mistuba help add some depth to offset the fishiness of the seafood.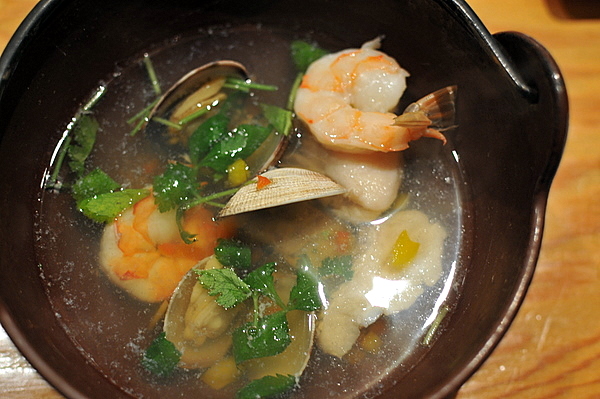 04:Grilled Alaskan King Crab Sunomono - with Vinegar Sauce
The crab comes bursting with flavor an initial sweetness is followed by a gradual mouth-filling brine that actually becomes a bit overwhelming on its own. With something like king crab, I am an advocate of letting it stand on its own, but here the vinegar sauce was an improvement over the crab's natural flavor.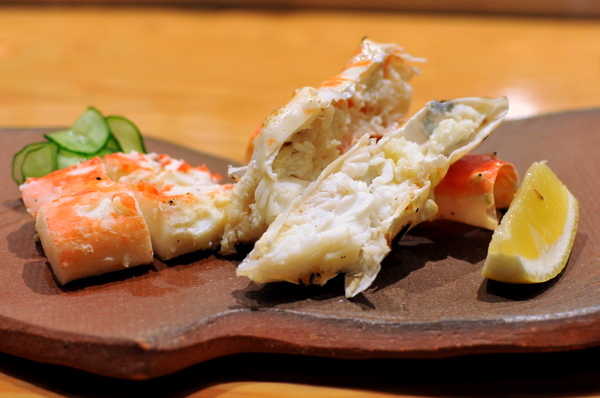 Hoyo, Shining Prince, "Kura no Hana," Junmai Daiginjo, Miyagi, Japan
After polishing off our beers we transitioned to sake. The Kura no Hana was an expressive sake with enough sweetness to be approachable mixed with a refined touch of herbal aromatics.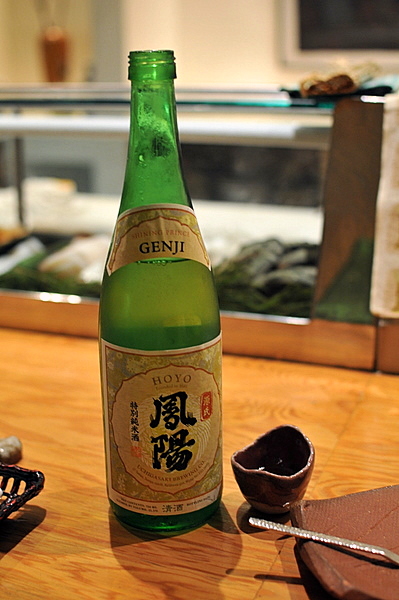 05: Abalone and Shishito Tempura - with Sea Salt
I tend to find abalone at sushi restaurants a bit too crunchy for my tastes but the tempura was quite tender. The mollusk is a bit bland on its own but a spray of sudachi juice and a quick touch of sea salt fixed that right up. The bitter vegetal shishito helped cleanse the palate between bites.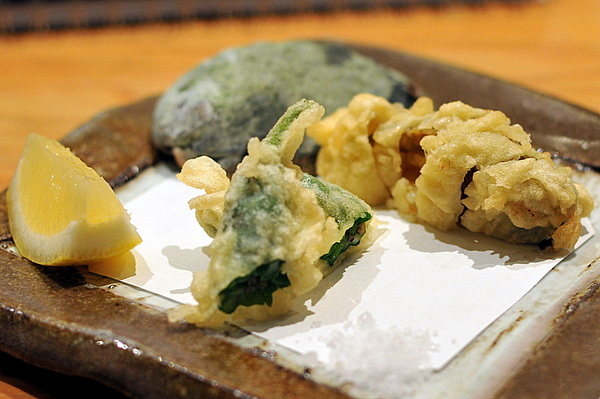 06: Tai - Red Snapper
The snapper came wrapped in kobujime and seasoned with a splash of yuzu juice giving the fish a whisper of citrus and seaweed.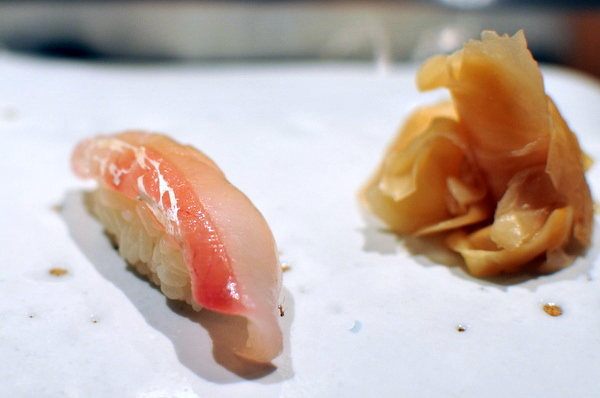 07: Sayori - Needlefish
Sayori is always one of the most visually arresting fishes, with a blue-silver streak over translucent white flesh. The fish is fairly mild with a palpable sting of wasabi on the finish.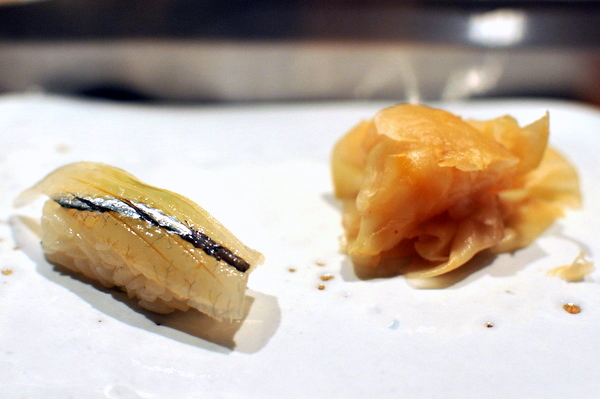 08: Seki Buri - Wild Yellowtail
With a more complex flavor, Wild Yellowtail is superior to its farmed cousin in every way. The firm jellied flesh gives way to a unique succulence while the fish's fatty oils become more apparent on the finish.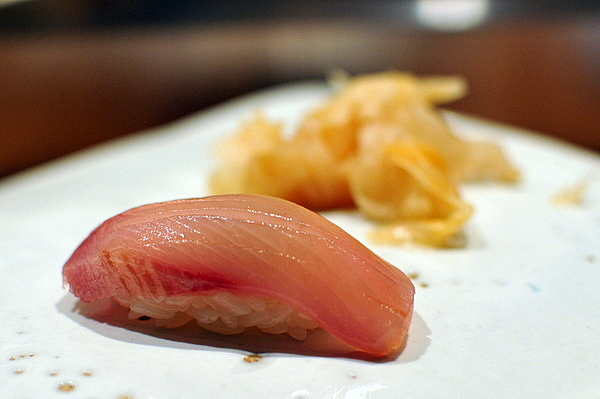 09: Mebachi Chu Toro - Big Eye Medium-Fatty Tuna
The chu toro was laced with the tiniest strands of white but the flavor and texture were richer than the bright red flesh suggested.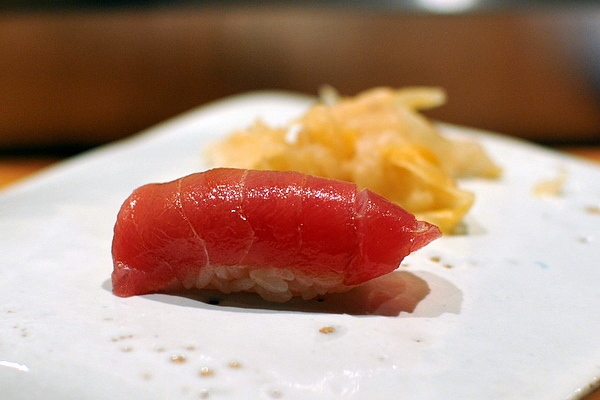 10: Saba - Japanese Mackerel
According to our itamae, the mackerel was in season and was one of the best offerings of the evening. The fish was firm and fleshy with the flavor of soy upfront with a growing mouth-filling oiliness on the back end.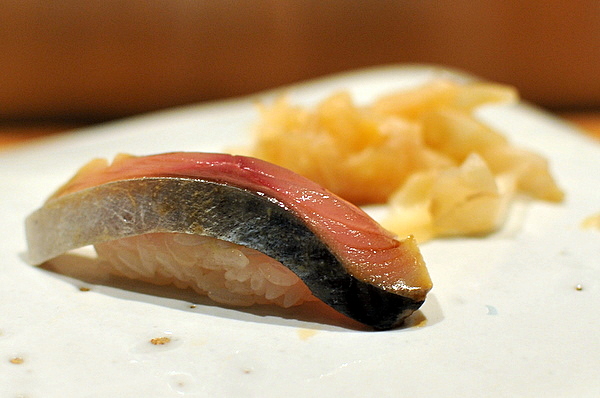 11: Hon-Maguro Chu Toro - Bluefin Medium-Fatty Tuna
Having this right after the Big-Eye Tuna starkly highlights why Bluefin is so highly prized. This piece possessed substantially more marbling than the Mebachi which showed in the luxurious mouthfeel and unctuousness.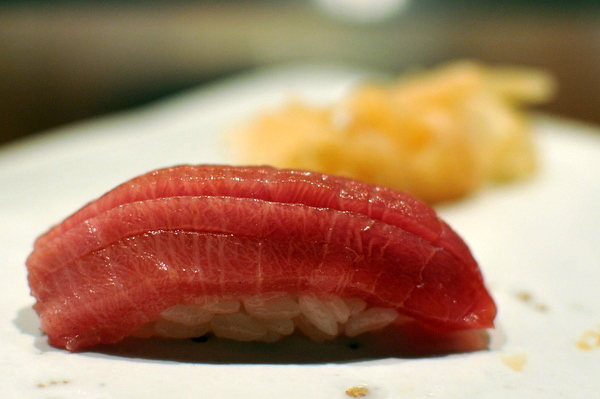 12: Kohada - Gizzard Shad
Maru mentioned the Kohada was pickled giving the fish a sharp tang in addition to the pungent fish oils. My one complaint with Kohada is the texture can be a bit mealy but this had a pleasing firmness.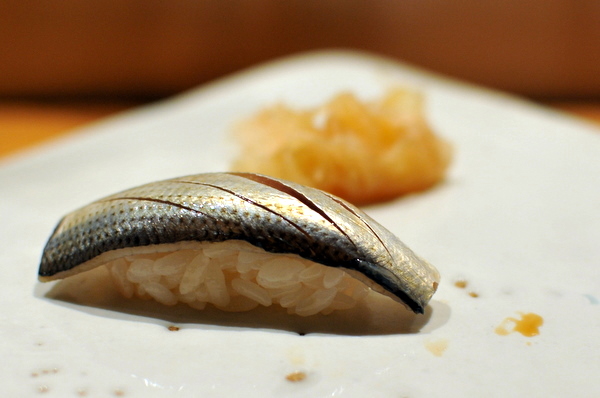 13: Sumi Ika - Cuttlefish
This was my first experience with fresh cuttlefish and I found it difficult to distinguish from regular squid. The cuttlefish has an initially resistant chewiness but turns creamy upon mastication. Mori does a traditional preparation with a piece of shiso between the rice and fish that imparts a bouquet of bright citrus and green mint.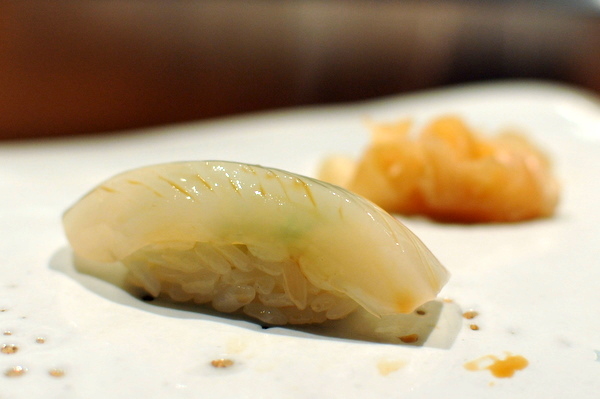 14: Amaebi - Sweet Shrimp
This was the smaller style of sweet shrimp from Boston, the flavor is similar to its larger cousin but the mouth feel is noticeably creamier.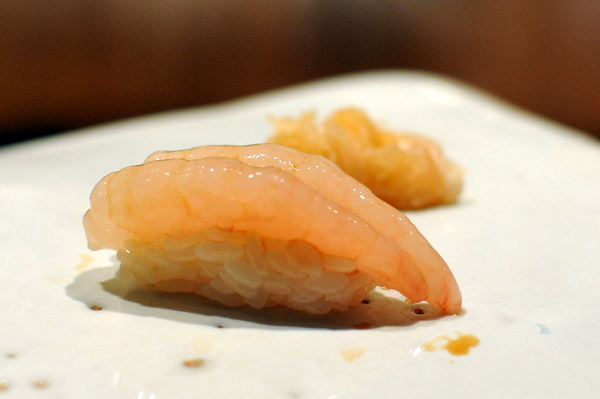 15: Mirugai - Geoduck
Mirugai isn't the most visually appealing looking sushi but looks can be deceiving. The giant clam is wonderfully crunchy and kissed with a sweet shellfish brine.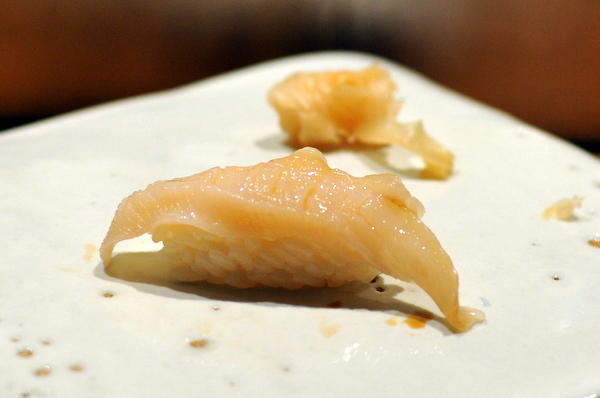 16: Kamasu - Barracuda
I've only ever had the grilled baby barracuda at Mori and it remains the most memorable dish of my first visit. Elegantly tender, the fish exudes an aroma of woody smoke yet possesses a sweetness similar to shellfish on the finish, easily one of the best pieces of the night.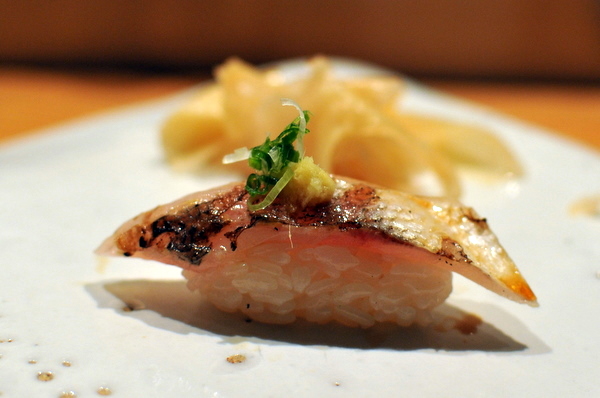 17: Uni - Sea Urchin
Mori is one of the few restaurants that I've seen offer uni from both Hokkaido (left) and Santa Barbara(right). Both were delicious and tasting the two back to back, I thought the orange-tinted Japanese version sweeter while the lighter colored Santa Barbara uni was brinier. I was alone in this opinion as the rest of my party thought the exact opposite.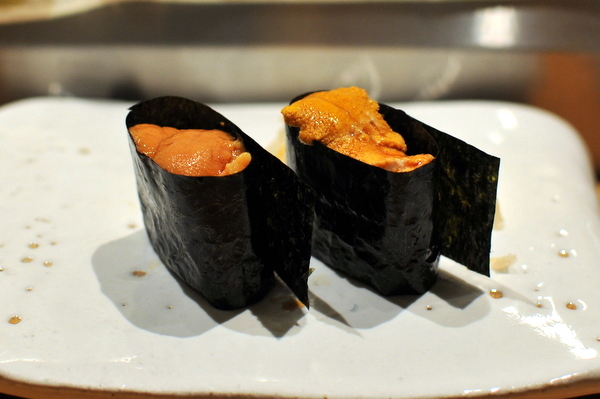 18: Ikura - Salmon Egg
The globules of chilled ikura were seasoned with a light dusting of yuzu zest that adds a subtle scent of citrus on the attack. The eggs burst with a pleasing pop that looses a flood of smoky brine on the tongue.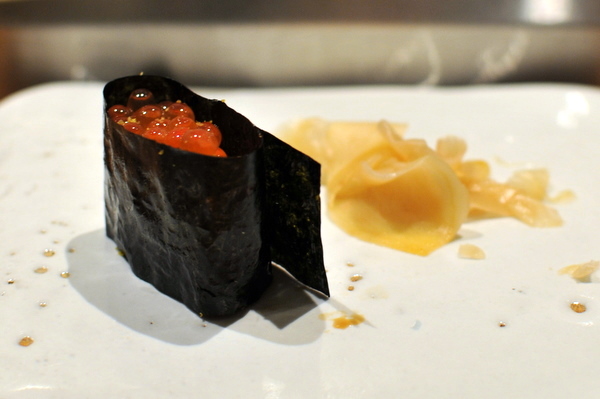 19: Anago - Sea Eel
Maru seemed particularly proud of the sea eel calling it a special finish to the meal. The succulent grilled eel dissolves on the tongue leaving behind a sweet smoky essence.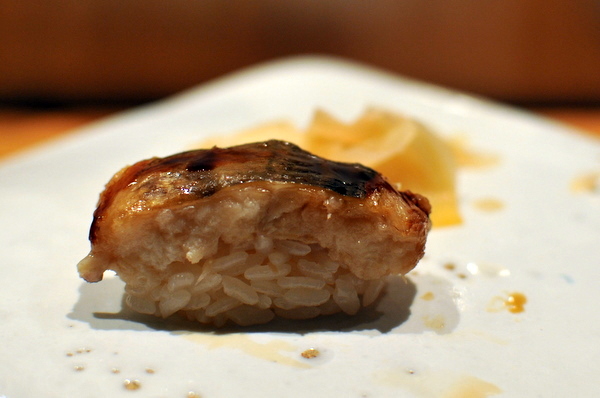 Canella, Prosecco di Conegliano, Veneto, Italy
It felt a bit odd ending the meal with a sparkler but this sweet fruit forward Prosecco paired nicely with the heavier courses we had left.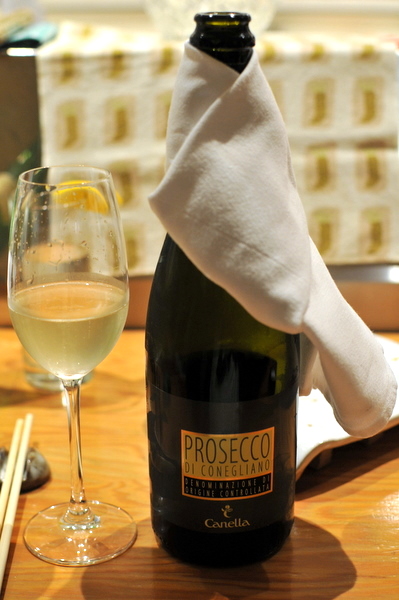 20: Tamago - Egg
Here we were presented with two types of tamago, the traditional preparation, albeit presented more stylishly and a variation that combines the egg with fish cake resulting in a presentation very much like Urasawa's. The classic preparation is eggier with touches of smoke and seaweed on the edges while the other has a semisweet flavor tinged with fishiness.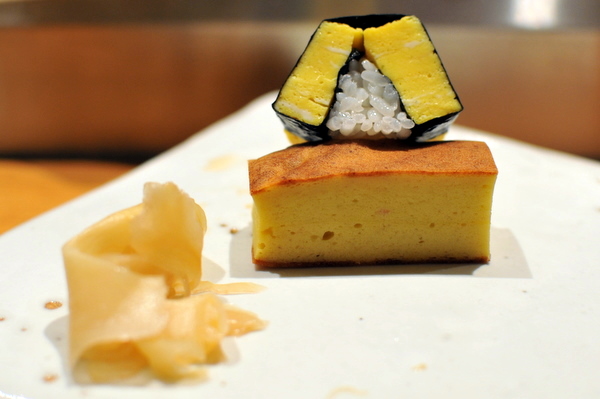 21: Uni #2 - Sea Urchin
I felt compelled to see if the previous uni tasting was an anomaly, but the second round just confirmed my opinion.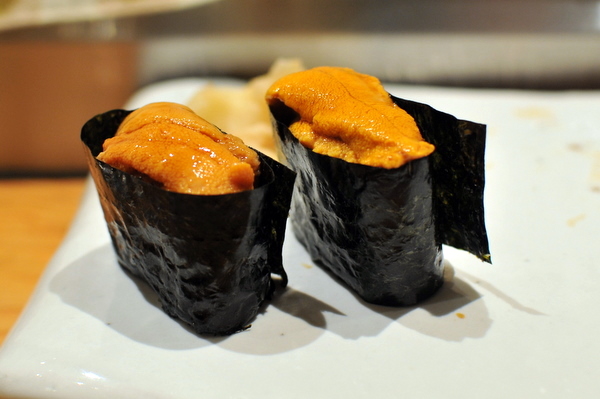 22: Black Sesame Ice Cream - with Hojicha
The finish was a duo of sesame ice cream and roasted tea a la Urasawa. The ice cream is house made with a textbook flavor and slight grittiness to it. Meanwhile the Hojicha's abiding aromas of sweet smoked wood was a soothing way to close out the meal.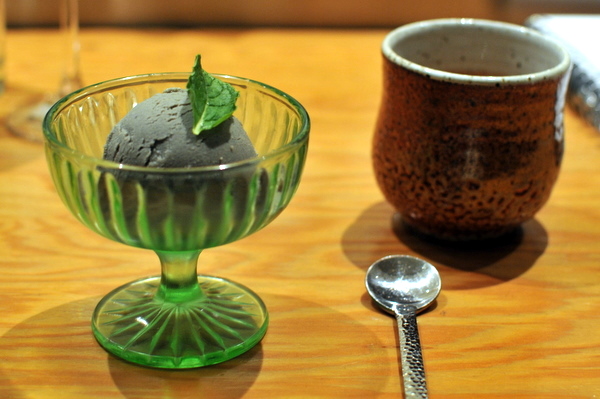 With this meal I was hoping to finally decide if Zo or Mori would be my number two spot for sushi behind Urasawa. At $170 for the Omakase Mori's price is certainly second only to Urasawa's, but what about the food? Zo takes a more focused with a clear emphasis on nigiri sushi and the omakase. My only knock against the restaurant is that my three experiences there, while superb, have essentially been the same. Mori offers a wider range of options with a substantial selection of seasonal dishes from the kitchen and that make up the initial omakase courses. Their approach to sushi differs as well, Mori offers a more nuanced holistic experience with minimal soy and the rice playing a larger role than most places. By comparison, Zo relies heavily on a yuzu soy combination that ultimately plays more to my palate.