350 S Grand Ave
Los Angeles, CA 90071
(213) 617-3474

After a week of eager anticipation, here we are at night two of LQ's 18-course white truffle dinner. Laurent is justifiably renowned for his annual truffle dinners and I'd first heard about them in 2010 but couldn't end up attending that 19-course affair. WIth the shuttering of Bistro LQ earlier this year, I feared I'd never get my chance to indulge in this tuberous extravaganza. Fortunately Laurent has found a new home with the LQ@SK dinner series and was audacious enough to use his pop-up as a forum for this white truffle debauch.

LQ@SK is strictly a BYOB affair, but for an occasion of this magnitude they partnered with Domaine LA to tailor a wine pairing for the meal. I had originally planned to stop by but was thwarted by the downtown rush hour. With only a few minutes to spare I stopped in at a local store and grabbed whatever looked handy. We ended up with a rich Belgian Pale Ale, a versatile cremant, to a earthy pinot.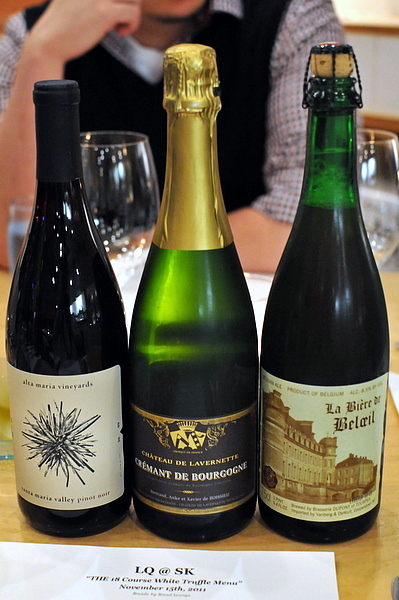 Amuse: Truffle Gel 3 ways - Vodka, Gin, Tequila
The amuse consisted of three alcohol spherifications. First up was a savory sweet huckleberry infused vodka. The gin featured a slice of mandarin that combined tasted oddly like seafood. The tequila was the most powerful of the trio, the deep woody burn overwhelming the delicate accompaniment of lime and salt.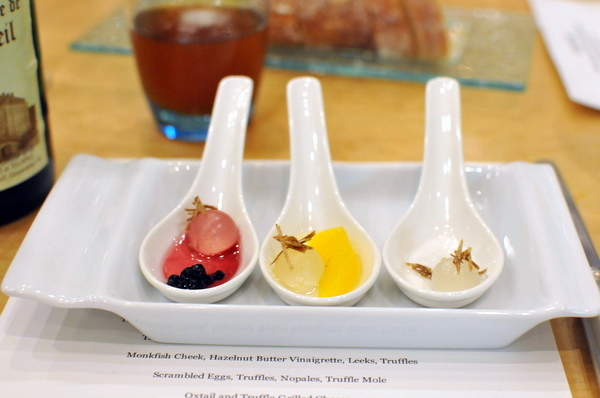 01: Cucumber Ice Cream - Salmon Roe, Blinis, Truffles
I expected the cucumber ice cream to be fresh and light but the yogurt and ice cream was reminiscent of a tatziki but with a more intense piquancy. The salmon roe and blinis added a warm essence of smoke and salt to counter the icy tang of the cucumber.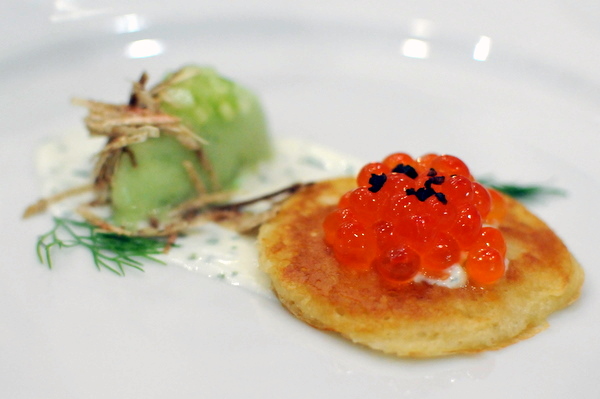 02: Cold Poached Quail Eggs Mold in Pork Aspic - with Celeriac, Fresh Truffles
This was one of the best courses of the night. The jellied egg and pork combined the flavor of a meaty consommé with a deep truffle earthiness while the micro orchids provided a contrasting light flavor similar to watermelon rind.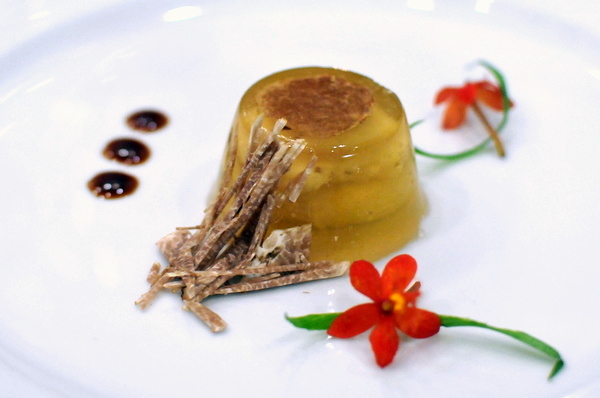 03: Truffle Panna Cotta - Sea Urchin Emulsion, Tosaka Seaweed
Despite being a quintessentially Japanese ingredient, I've seen Laurent work wonders with uni and this was no different. The truffle panna cotta was remarkably light, like eating a dense pillowy cloud. The sea urchin provides a wonderful livery brine to compliment the fungi-infused custard. Unfortunately there wasn't enough uni to go around and the last couple bites of panna cotta were a touch bland.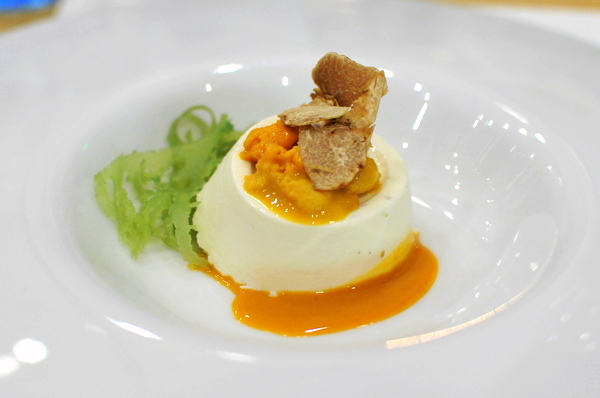 04: Rabbit Tartare - with Truffle, Celery Root Truffle Remoulade, Argan Oil Vinaigrette
This was my first time having raw rabbit and hopefully not the last. The texture and flavor reminded me of a hamachi enlivened by a peppery kick and the heavenly aroma of white truffle. The celery root added a sense of complexity and contrast to what was already an immensely delicate and satisfying course, making this my favorite of the night.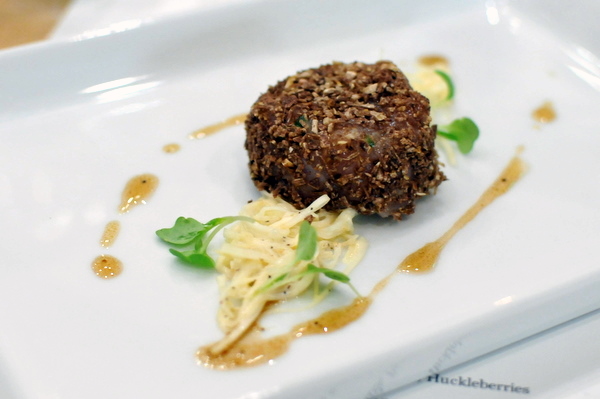 05: Green Daikon - Dungeness Crab, Serrano Ham Pico De Gallo
As was expected the daikon and crab was one of the night's lighter dishes. The creamy crab and crisp daikon complimented each other well, but the serrano laced pico de gallo gave the crab a slightly fishy cast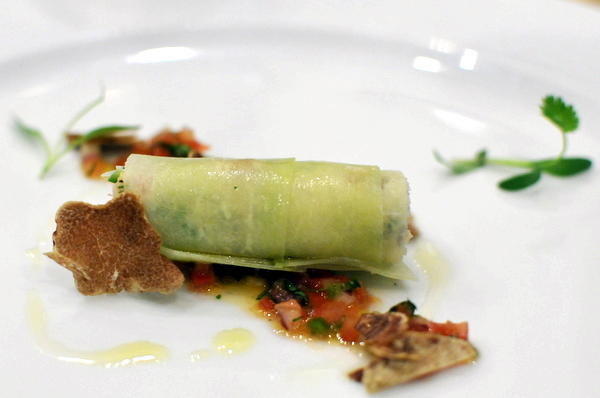 06: Scottish Hare Truffle Consommé - Boudin Blanc, Hare Shu-Mai
One of my chief complaints with consommé is the general lack of flavor, but that wasn't a problem here, the deep rich savoriness of the soup was reminiscent of pho broth but with a slightly gamy disposition. The hare shu-mai was similarly rich and gamy thanks to the incorporation of offal with the hare meat. The sausage was a repeat of the corn dog from our last visit and just as delicious as I remember.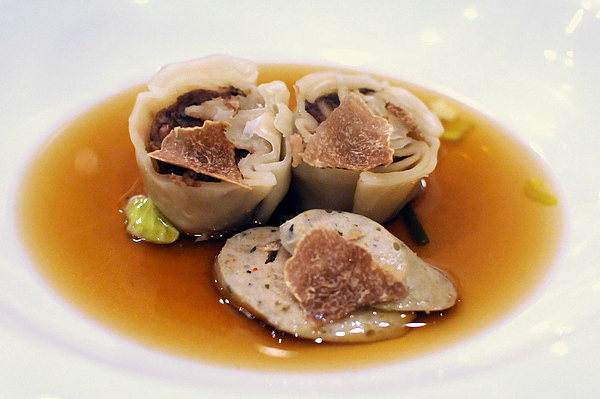 07: Truffle Lobster Tapioca Pudding - Diver Scallops, Green Tea Sabayon
A week ago I remarked that the scallop was a very slight bit overdone, but this time it was spot on perfect, quivering alabaster flesh with a sweet perfume of shellfish amplified by the heady essence of the lobster pudding.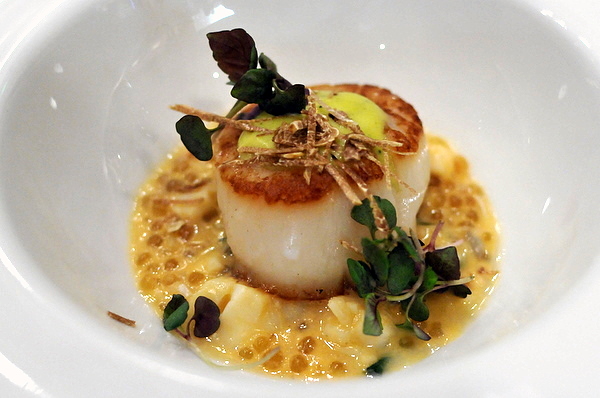 08: Truffle Congee - Spiny Lobster, 24 months Comte Cheese
This was another of the courses that caught my eye when I first heard about this dinner and it lived up to my every expectation. The cheese soaked rice is tender and robust with whiff of barley or some other more flavorful grain while the lobster has a beautifully rare snap and deep shellfish sweetness.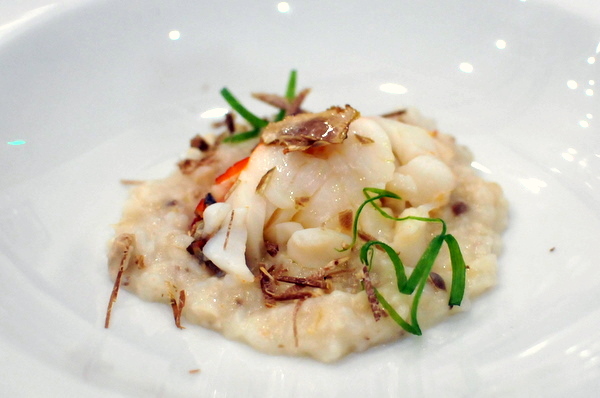 09: Monkfish Cheek - Hazelnut Butter Vinaigrette, Leeks Truffles
I almost cringed when I saw how large the monkfish cheek was. The muscular cheek is mush firmer and more full bodied than most fish cheeks I've tasted. Still the keys here were the rich aroma of butter and truffle making this one of the evening's simpler courses.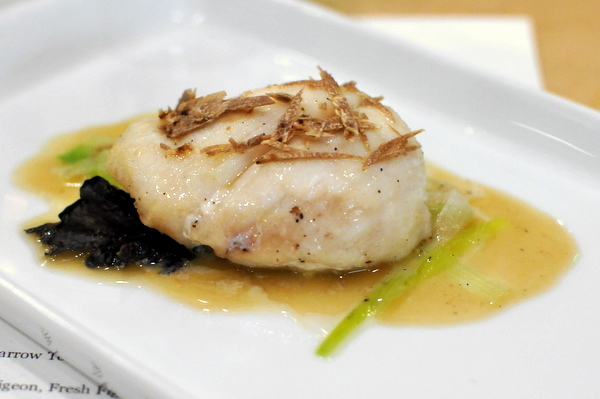 10: Scrambled Eggs - Truffles, Nopales, Truffle Mole
Scrambled eggs are one of the most classic accompaniments with truffles. For my part, I prefer runny yolks, finding scrambled preparations a bit too eggy for my taste tho the textural contrast and vegetal character of the nopales did much to balance the egg. I thought Chef Quenioux was taking a page from Ludo's playbook with the mole, but instead of a true mole, Laurent made a darkly savory sauce from game offal that mimics the consistency of a true mole.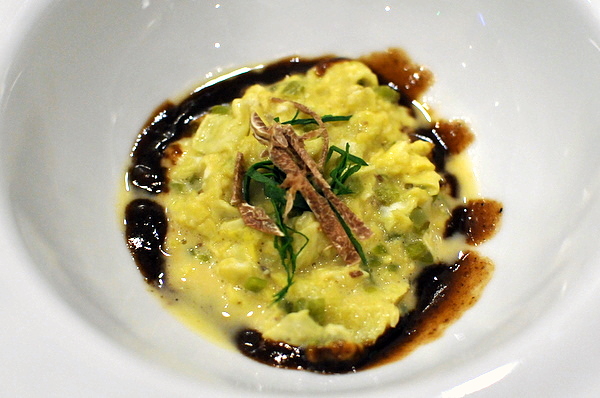 11: Oxtail and Truffle Grilled Cheese
This was another standout when I first perused the menu. The grilled cheese is simply exquisite, buttery toasty bread wrapped around a tender semi molten cheese. The braised oxtail adds a pleasing richness while the two slivers of radish seem like an afterthought their succulence was crucial to tempering the weight of the meat and cheese.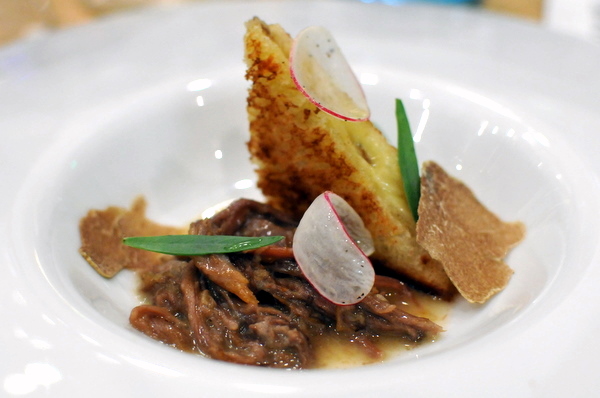 12: Bone Marrow Toast - Beef Culotte, Truffles, Huckleberries
I was expecting the bone marrow to be overly heavy and while it does add an oleaginous sensation to the morsel, it is the concentrated beefy flavor of the culotte that comes through most clearly.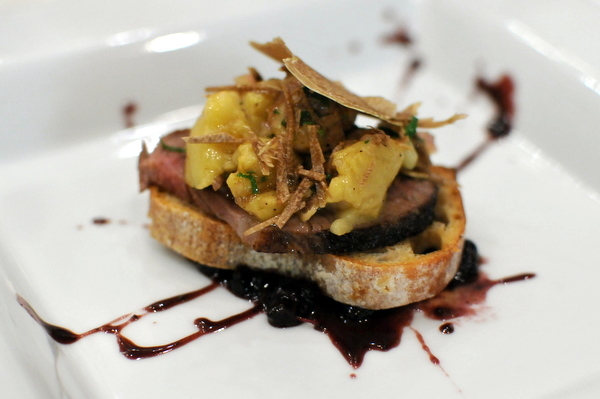 13: Scottish Wood Pigeon - Fresh Fig, Green Lentils, Parsnip, Miso, Nameko
I was really curious how wood pigeon differed from the more common species present at other restaurants. The wood pigeon turned out to be substantially more gamy as well as leaner, giving the meat a much tougher texture. As full as I was at this point, the accompaniments, of fig and parsnip were a bit heavy but I did like the savory-sweet essence of the miso.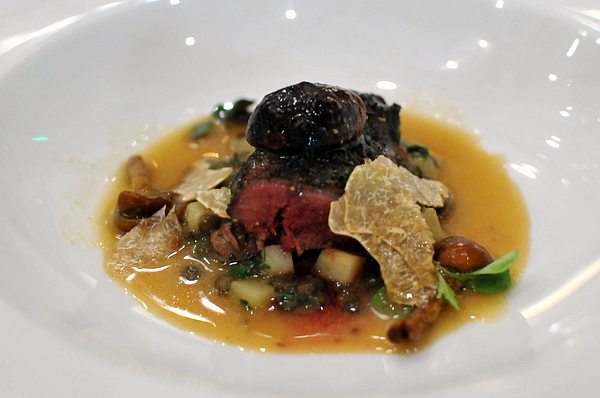 14: Veal Sweetbreads - Duck Foie Gras Soft Taco, Chanterelles
I have to be honest this course actually scared me, combining foie gras with sweetbreads sounds like a heart attack waiting to happen. As it was the two kinds of offal played off each other quite nicely. The sweetbread was firmer with a more bitter iron sapor while the foie gras was almost saccharine by comparison. The duo was wrapped in the softest tortilla that I've ever tasted all around a lovely course and I ate every bite despite being bursting full.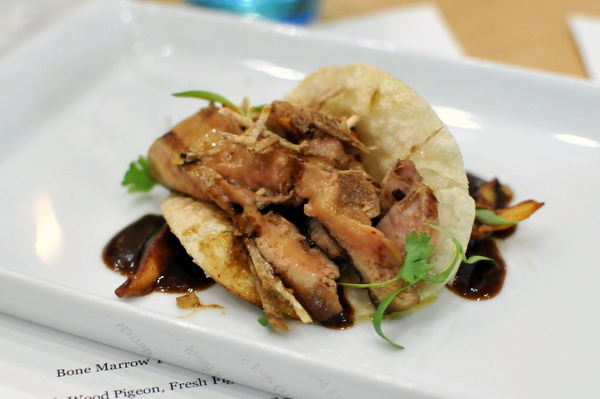 15: Purslane Salad - Curdled Yolk, Truffles
Kind of odd ending the meal with a simple salad, maybe Laurent felt bad for destroying our arteries with the preceding 14 courses. All things considered, the salad was quite refreshing, combining the herbaceousness of pea shoots with a concentrated acidity.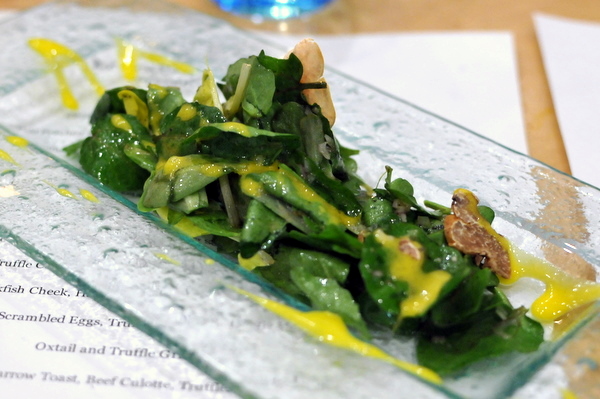 16: Cheese Cart
The cheese course was back in full force though I was too full to properly appreciate it. The one bright spot I clearly recall was the presence of Epoisses, a pungent runny cheese that is one of my favorite cheeses of all time.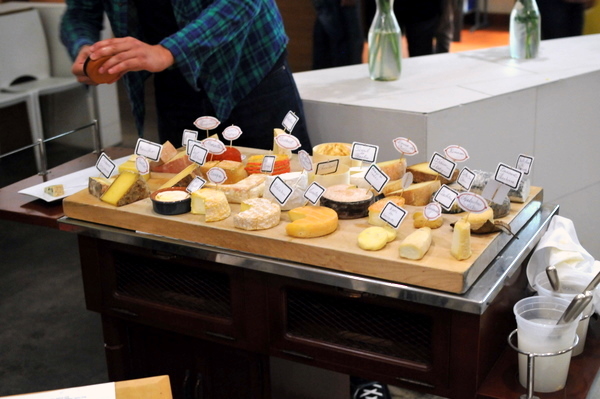 17: Truffle "Elote" Tamale - Steamed Milk
With generous slices of white truffle steeping, the steamed milk was actually one of the single most expressive flavors of the night. The composed ambient truffle essence was perfect with the cakey savory flavor of the sweet corn tamale.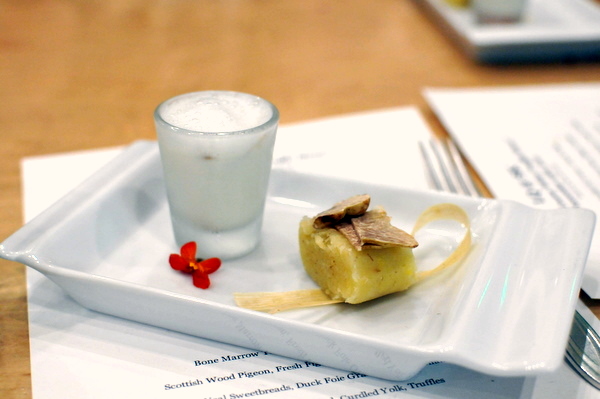 18: Beer Taffy - Truffle Barley Ice Cream, Hop Caramel Fleur de sel Cremeux, Beer Truffle Varnish, Cacahuates Japoneses
Nguyen described this as the most intense course of the night and he was dead on. The plate was sprinkled with actual chunks of truffle just in case diners didn't get enough during the previous 17 courses. Incorporating the basic elements of beer along with beer nuts, Nguyen described this course as a deconstructed beer experience. I could have done with a bit less of the cremaux as the hoppy kick reminded me of a concentrated and reduced IPA. The sweetness of the the barely ice cream and sticky beer varnish were absolutely critical to balance the explosive musk of the white truffle and bitter grassiness of the hops.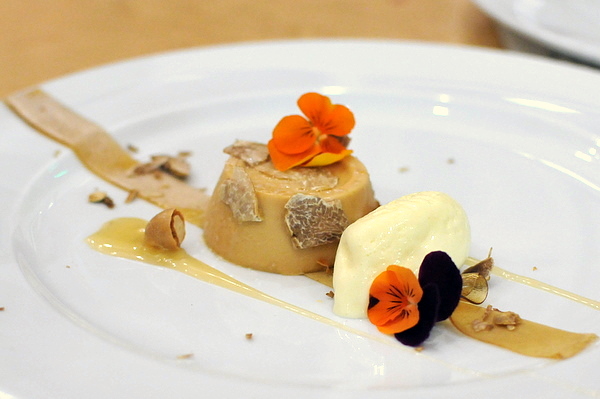 As expected, the white truffle dinner far and away exceeded anything I've seen from Laurent before. When using something as spectacular as white truffle, there is a desire to let the ingredient stand on its own. Instead these dishes were complex and well thought out, incorporating large amounts of game and other hearty flavors. While the luxurious aroma of the truffle played a part in all of the dishes , most of the courses could have stood on their own just as well without the truffle. For those of you who missed this meal, don't worry, Laurent mentioned this wouldn't be the last truffle dinner and the next one might be coming sooner than expected.