3801 E Coast Highway
Corona Del Mar, CA 92625
(949) 760-0331

Back when I first started eating out regularly, I was a meat and potatoes kind of guy, and a good steak was my idea of the pinnacle of culinary indulgence. Despite my love for beef, I never really ordered prime rib with any regularity. In fact, I still haven't had the prime rib at Lawry's though I did visit Five Crowns once before on the recommendation of a friend. Even though the details of that meal have been lost to antiquity, I distinctly remember being disappointed, finding the food tired even to my unrefined palate at the time. Hence my return wasn't a voluntary decision but rather something forced on me by familial obligations.

Crispy Rock Shrimp - horseradish aioli, tomato foam
Crisp in name only, the shrimp had a rubbery texture while the blunt tomato sauce saturated the batter, giving it a wet mealy consistency.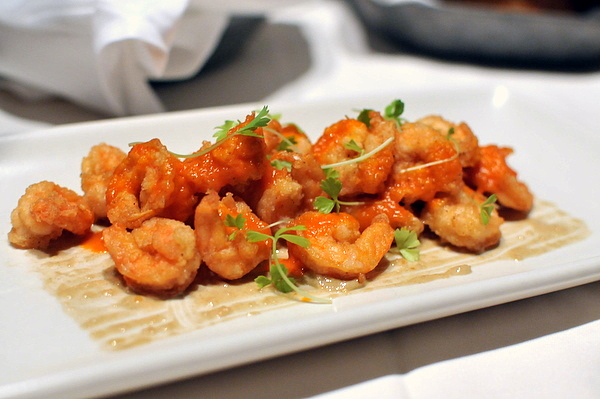 Seared Dayboat Scallops - preserved cherry tomatoes, toasted hazelnuts
This was the best of the appetizers. The scallops were a touch small, but still offered a nice balance of caramelization with a sufficiently rare center with a spray of fresh lime juice to heighten the bivalve's salinity.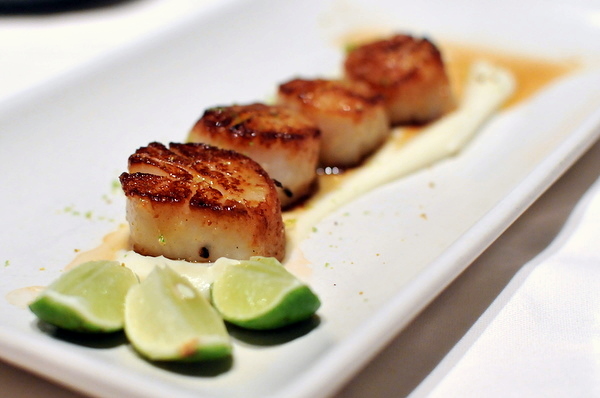 Caesar Salad - roasted cherry tomatoes, crispy squash
Despite being a bit tired, the salad was enjoyable enough with crisp succulent Romaine and a tangy peppery sauce. A traditional Caesar doesn't include the tomatoes or squash, but I found their presence on the plate unnecessary.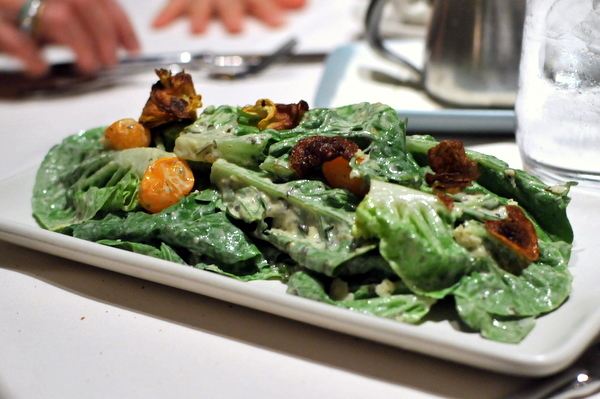 Oxtail and Farro Soup - roasted chanterelles
I was expecting something with oxtail and chanterelles to be more robust instead of the thin vegetable-tinged beef consomme. My aunt seemed to enjoy the broth but I found it seriously lacking in flavor.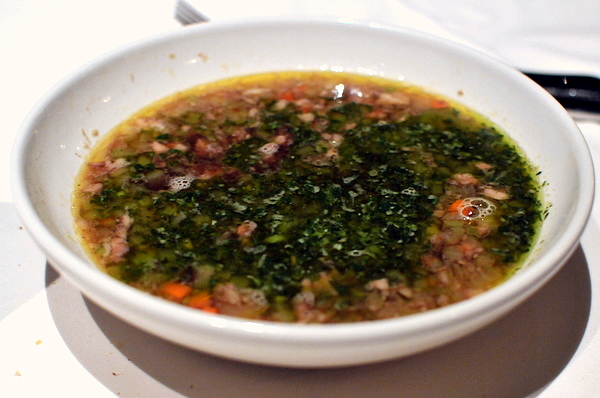 Seared Wild King Salmon - white corn risotto, blistered cherry tomatoes
Messy presentation aside, this was probably the most enjoyable dish of the night. The fish was cooked to a nice temperature with a charred crispy skin. The risotto was equally competent with a tinge of sweetness which along with the tart cherries helped counter the weight of the dark savory sauce.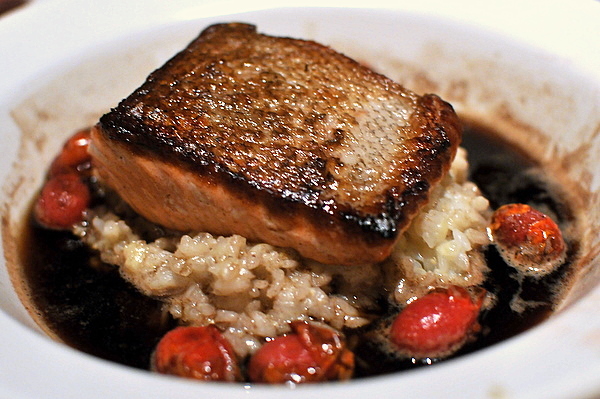 Henry VIII - served with au jus, Yorkshire Pudding, whipped cream organic horseradish, creamed corn, mashed potatoes
As part of the Lawry's family of restaurants, Five Crowns is known for its prime rib. Here we have a rare Henry VIII cut, the largest serving the restaurant offers. Though I typically enjoy my meat rare, I found the muscle fibers and sinew didn't have enough time to soften making it difficult to cut and chew the meat. Fairly traditional sides accompany the slab of meat with the yorkshire pudding being the standout; an airy puff of baked batter that was the perfect vessel for the meat jus and gravy.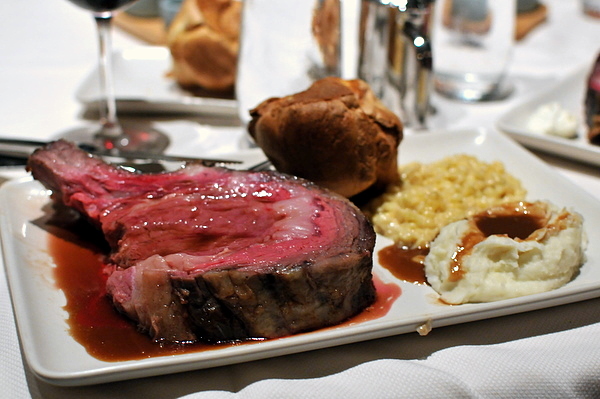 Though the menu seems to have been revamped since my last visit, the food hasn't shed its institutional feel. That being said I did find some things to enjoy about my experience this time around though not enough that I would ever feel the need to return.